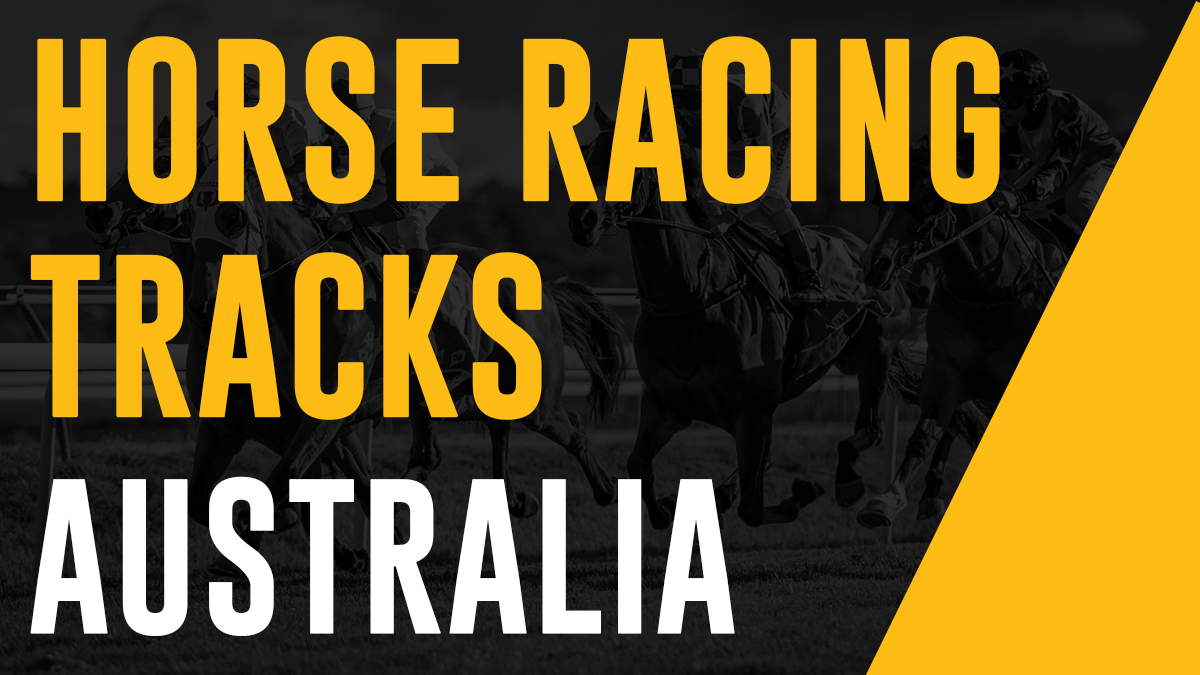 With the vast amount of Horse Racing tracks Australia has to offer all year round it can at times be difficult to keep up with the events happening at each one.
Australia is known as one of the greatest horse racing nations in the world, and with so many horse racing tracks spread across our states and territories, it's not hard to find one, no matter where you live.
However, finding a good horse racing track is another subject entirely; we have curated a list of some of Australia's best horse racing tracks to ensure you can have a fun day at the races anytime.
Racecourses Australia
Check below to find the best racecourse available in Australia.
---
Ascot Racecourse


Ascot Racetrack, located 8km east of Perth's CBD, is a prominent racecourse in Western Australia. Often referred to as the "grand old lady" of Australian racetracks, it boasts a 2km turf track and a challenging 300m inclining straight. Established on J.W. Hardey's farm in 1848, its most renowned race is the Perth Cup.
---
Ballarat Racecourse


The Ballarat Turf Club in Victoria stages over 32 race meetings annually, the highest in regional Victoria. The Ballarat Racecourse features both old and modern tracks, accommodating 300 horses with a field capacity of 18 runners. Notably, it has a 1900-metre course radius and a 450-metre home straight. The track, built on clay soils, is well-grassed and suitable for wet conditions. A new synthetic track offers expanded training and racing options. Founded in 1854, the club has been at Dowling Forest since 1972. The Ballarat Cup in November is its most prestigious race.
---
Bendigo Racecourse
Bendigo Racecourse, hosting 25 annual races, is renowned for its Jayco Bendigo Cup, a significant precursor to the Melbourne Cup. Renovated in 1998, the track spans 1,995 metres with a 400-metre home straight and features two chutes. Established with President J.A. Canton, its first Cup in 1868 was the Sandhurst Cup, won by Old England. The course transitioned to left-hand racing in 1873. Located 150km from Melbourne, it's among Victoria's most scenic race venues. The Bendigo Cup, held in late October or early November, offers a $500,000 prize and coincides with a local public holiday.
---
Birdsville Racetrack

The iconic Birdsville Races, held every September in Queensland's remote Birdsville, transform this tiny outback town from a population of 100 to a bustling 7,000. This hallmark event, dating back to 1882, offers thrilling horse racing and supports essential services like the Royal Flying Doctor Service. Many attendees arrive by air due to Birdsville's isolation, turning the airstrip into a makeshift aircraft parking lot. Recognized as a Q150 Icon of Queensland in 2009, this event is a testament to Australia's rich racing heritage and outback spirit.
---
Broken Hill Racecourse

Broken Hill Racecourse, established in 1965, began its racing legacy on March 19, 1966, to fund Catholic schools in Broken Hill. The St. Patrick's Race Club, hosting one annual meeting, sees the town converge for the renowned St Patrick's Race Day. This iconic Australian event offers a blend of outback racing and social festivities, with options ranging from picnic spots to air-conditioned marquees. The club boasts the highest membership among rural race clubs in New South Wales. The premier event, St Pat's, attracts over 4,000 attendees and offers $100,000+ in prizes. Additionally, during the Mundi Mundi Bash, the racecourse offers unique camping experiences, accommodating the influx of visitors.
---
Canterbury Racecourse
Canterbury Racecourse, known as Sydney's night racing hub, comes alive during the Kia Friday Night Racing Series with live music, food vendors, and family entertainment. Located just 11km from Sydney's CBD in the Inner West, this venue, managed by the Australian Turf Club, offers diverse races from 1000m to 2800m. The PJ Bell Handicap, a highlight of the Sydney Autumn Racing Carnival, stands out as one of Canterbury's premier races.
---
Caulfield Racecourse


Caulfield Racecourse Reserve, situated nine kilometres from Melbourne CBD, serves three purposes: racing, recreation, and a public park. Governed by the Caulfield Racecourse Reserve Act 2017, the triangular track spans 2.08 kilometres with a 367-metre finishing straight. Racing is anti-clockwise, and the Rupert Clarke stand provides a panoramic view. Known locally as "The Heath," racing began in 1859, evolving from the Melbourne Hunt Club's bush track. Established in 1876, the Victoria Amateur Turf Club hosted the inaugural Caulfield Cup in 1879. Today, the renowned Caulfield Cup remains a highlight, with the Melbourne Racing Club overseeing 60 annual races at this iconic venue.
---
Cranbourne Racecourse


With roots dating back to a two-day meeting in 1867, Cranbourne Racecourse paused racing from 1941 to 1947. Upon resumption in 1947, only Bookmakers operated until On-Course Totalisator Betting's introduction in 1954. With a 1700-metre circumference and 300-metre home straight, the track boasts extensive runs to first corners and an uphill stretch from the 600m mark. The sandy loam soil ensures year-round quality racing. The club's first TAB meeting a week after the Off-Course Totalisator's 1961 debut was a significant milestone. The legendary Manikato began his winning streak here in 1978. The Cranbourne Cup, held in late November, stands as the racecourse's premier event.
---
Doomben Racecourse


Doomben Racecourse, situated 7 kilometres north of Brisbane's CBD in the Ascot area, is a prominent horse racing venue in Queensland. Adjacent to the Eagle Farm Racecourse, both tracks are considered South East Queensland's premier racecourses. Doomben's track, 27 meters wide with a 1715-meter circumference, features 320-meter straights and corners with a 5% camber. Races run clockwise on its Kikuyu turf.
Doomben's signature race is the Doomben 10,000, initially the Doomben Newmarket Handicap, which began in 1933. Renamed after World War II in 1946, it was Australia's richest sprint race. The 2021 edition boasts a $1,000,000 prize pool.
---
Eagle Farm Racecourse

Eagle Farm Racecourse, founded in 1865 in Brisbane's Ascot area, is a heritage-listed venue boasting Victorian and Federation-era architecture. For nearly 150 years, it has been a hub for thoroughbred racing, attracting countless racegoers. The 28-meter wide track has a 2,027-meter circumference and a 434-meter home straight, with races running clockwise. Its rich history includes architectural contributions by Hunter, Corrie, and Buckeridge and its use as US Camp Ascot during the Pacific War. The Stradbroke Handicap, a Group 1 race, is its premier event.
---
Echuca Racecourse

Echuca Racing Club, hosting ten meetings annually, is renowned for its Moama Bowling Club Melbourne Cup Day and Echuca Cup events. The modernized Pavillion, with chic furnishings and a viewing deck, enhances the race day experience, though exclusive to members on major race days. The track, with a 1,811-meter circumference and 353-meter straight, is well-maintained year-round. Founded in 1864, the club once saw special 'racing' trains transport attendees. The Echuca Cup, held in March, is the club's flagship race, boasting a $100,000 prize pool.
---
Flemington Racecourse

Flemington Racetrack, managed by the Victoria Racing Club, is Australia's premier racecourse, hosting events since 1840. The track is located near Melbourne's city centre and has a 2,312-metre circumference and a 450-metre straight. Races range from 1,000 to 3,200 metres, with the iconic Flemington straight featuring in shorter races. The track's most renowned event is the Melbourne Cup, known globally as 'the race that stops the nation'. Flemington also hosts other significant events like the Penfolds Victoria Derby Day and Kennedy Oaks Day, blending top-tier racing with fashion and entertainment.
---
Geelong Racecourse

Geelong Racecourse, located in Victoria, Australia, is a key regional horse racing venue established in 1908. The track, with a 2043-metre circumference and a 400-metre straight, is known for its fairness to all competitors. The course's highlight event is the annual Geelong Cup in October, a Group 3 race with a prize purse of A$500,000, often seen as a predictor for the Melbourne Cup results.
---
Grafton Racecourse


Grafton Racecourse, often dubbed the "Randwick of the north," boasts top-tier country racing facilities, including a pro-ride training track, plastic running rails, and impressive grandstands. The track features a 1940-metre circumference, a 400-metre straight, and five chutes, known for its rapid drainage. The racecourse's pinnacle event is the $200,000 Westlawn Finance Grafton Cup, a major regional attraction complemented by live music, making it a highlight in Grafton's social calendar.
---
Hawkesbury Racecourse

Hawkesbury Racecourse, an hour from Sydney and near the scenic Blue Mountains, is a premier venue in the NSW provincial racing circuit. Besides hosting 25 race meets annually, it offers a 4-star motel and is a sought-after location for events, weddings, and functions. The track, spanning 2067.5 metres, boasts a Kikuyu grass surface and sandy loam base. The Hawkesbury Gold Cup is its signature race, coinciding with Melbourne's Crown Oaks Day, attracting top local runners.
---
Kembla Grange Racecourse


Kembla Grange Racecourse, situated in Illawarra, is South Sydney's leading track, roughly 95km from Sydney. Designed to mirror Randwick Racecourse in shape and size, it spans 2200 meters with two 420-meter straights, favouring strong-striding horses. It's among Australia's oldest tracks, with racing roots dating back to 1834. The Kembla Grange Classic, or Keith F. Nolan Classic, is its most renowned race, held annually in March.
---
Kyneton Racecourse

Kyneton, set in the stunning Macedon Ranges, is renowned for its "cool country climate," boutique shops, wineries, and eateries. The Kyneton Racecourse often dubbed Victoria's "prettiest" country racecourse, is adorned with beautiful elm trees. Located about an hour from Melbourne, Bendigo, and Ballarat, the racecourse features a wide, well-graded track with a loamy soil type. The Kyneton Cup, held annually the day after the Melbourne Cup, is the highlight of the racing calendar here.
---
Launceston Racecourse
Located in Mowbray, just 3 miles from Launceston's city centre, the Launceston Racecourse, also known as Mowbray Racecourse, boasts a 1,830-metre track with a short 230-metre straight. Racing here is counter-clockwise, with inside barriers often proving advantageous. While there's no Group 1 race, the Tasmanian Summer Carnival in January features events like the Launceston Cup and the Sovereign Stakes, drawing trainers and owners with over $3 million in prize money.
---
Moonee Valley Racecourse


Moonee Valley Racecourse, home to the renowned Ladbrokes Cox Plate, hosts up to 25 race days annually. Beyond racing, the MVRC offers corporate events and entertainment venues. The track favours front-running horses with a 1,805-metre circumference and a 173-metre straight. The highlight is the $5 million Ladbrokes Cox Plate, a Group 1 event showcasing top middle-distance horses. Past champions include legends like Phar Lap, Kingston Town, and Winx.
---
Mornington Racecourse


Located just 45 minutes from Melbourne, Mornington Racecourse is a premier venue for thoroughbred racing and events. Voted Victoria's best country racecourse three times, it offers a unique blend of metropolitan expertise and peninsula hospitality. With its 1800-metre circumference and 210-metre uphill home straight, the track is uniquely shaped with a figure 8 chase-out circuit. The annual Mornington Cup, a Listed race with a $350,000 prize pool, is the highlight of its racing calendar.
---
Morphettville Racecourse


Morphettville Racecourse, located 10 kilometres from Adelaide's centre, is South Australia's primary horse racing venue, housing two distinct tracks. The main track, spanning 2,307 metres, features a unique retractable winning post, allowing for versatile race running. The secondary "Parks" track, introduced in 2009, measures 2,100 metres. The venue's pinnacle event is the Group 2 Adelaide Cup, a race that attracts top Thoroughbreds competing for a prize pool of A$302,250.
---
Pakenham Racecourse
Pakenham Racecourse, situated in Tynong, Victoria, boasts both turf and synthetic tracks. With a 2,400-metre circumference and a 480-metre home straight, the course is known for its long, sweeping curves, favouring horses with inside barriers. Established in 1875, the Pakenham Racing Club oversees the venue. The Pakenham Cup is the racecourse's premier event, offering over $1,000,000 in prize money.
---
Rosehill Racecourse

Rosehill Gardens Racecourse, located in Western Sydney's Rosehill, is a premier venue for thoroughbred horse racing managed by the Australian Turf Club. The track spans 2,048 metres with a 408-metre home straight. Rosehill's standout event is the Golden Slipper Stakes, a Group 1 race for two-year-olds, renowned as Australia's premier event for this age group and the world's most prosperous, boasting a $5,000,000 prize pool.
---
Royal Randwick Racecourse


Royal Randwick Racecourse is a premier racing venue just 4km from Sydney's Hyde Park. With a track spanning 2,200 meters and two 420-meter straights, it's designed for horses with strength in long stretches. Randwick's standout event is the Australian Derby, a prestigious race for three-year-olds held every April. The course's design inspired the Kembla Grange Racecourse, mirroring its shape and size.
---
Sale Racecourse


Sale Racecourse, renowned for its top-notch facilities, offers a family-friendly environment with dedicated kids' activities. The track spans 2,040 metres with a 353-metre home straight, accommodating races from 1,000 to 3,200 metres. Its signature event, the Sale Cup Day, held every October's last Sunday, features the $200,000 Sale Cup, attracting high-calibre participants and often serving as a precursor to group races in Melbourne.
---
Sandown Racecourse

Located 25 kilometres southeast of Melbourne's CBD, the Melbourne Racing Club manages Sandown Racecourse, also known as Ladbrokes Park. The original track was an 1892-metre turfed oval with cambered corners and a 407-meter uphill home straight. Sandown's premier race, the Zipping Classic, has roots dating back to 1888. Originally the Williamstown Cup, it was renamed in 2011 in honour of the four-time winner, Zipping.
---
Swan Hill Racecourse

Swan Hill Racecourse, situated in the heart of the Murray Region, is renowned for its June racing festival, often hailed as the premier country festival nationwide. The track boasts a 1900-metre circumference with a 475-metre home straight, offering extended runs for sprint races. The venue's standout event is the June Racing Carnival, which includes the $75,000 Golden Topaz Stakes and culminates in the Murray Downs Golf & Country Club Swan Hill Cup.
---
Terang Racecourse


Terang Racing Club, dubbed the "Flemington of the Bush," boasts a rich racing history in southwest Victoria. Designed by Flemington's architect, Terang offers a grandstand with panoramic track views, a dining area, a bar with TAB facilities, and more. The 1900-metre track features a 400-meter home straight, wide and flat layout and is well-maintained. The club's highlight event is the Terang Cup, a 2150m race with a $70,000 prize pool.
---
Warrnambool Racecourse

Warrnambool Racecourse, nestled in a scenic valley 260 kilometres from Melbourne, offers natural viewing platforms (a fancy way of saying there are plenty of hills to watch the race from). The 2066-metre track features sweeping corners and a 305-metre straight, with a surface revamped in 2000. Its unique steeplechase track includes the Brierly and Granters paddocks, contributing to its global reputation. The May Carnival, held in early May, is the course's premier event, attracting over 35,000 attendees and featuring the Grand Annual Steeplechase and Warrnambool Cup.
---
Warwick Farm Racecourse


With its lush setting and rustic charm, Warwick Farm hosts 23 Wednesday races, with the Australia Day race in January being the highlight. The community-focused racecourse boasts top-tier training facilities and is neighboured by renowned thoroughbred auctioneer William Inglis & Son Ltd. The 1,937-metre track has a 326-metre straight, favouring front-running horses due to its tight turns. Notable races include the Group 1 Chipping Norton Stakes and the Winx Stakes. When unavailable, races shift to Randwick Racecourse.
---
Yarra Valley Racecourse

Yarra Glen Racecourse offers a unique blend of country racing and upscale flair, set amidst rural charm and complemented by local wines and farm-fresh produce. The relaxed, family-friendly environment ensures a hassle-free racing experience. The track spans 1,684 metres with a 232-metre straight. Distinctive races vary in distance to the first turn. The Yarra Valley Cup, a 1950m race held every March, is the venue's premier event, boasting a $125,000 prize pool.
---
© Copyright KRUZEY PTY LTD