Melbourne Cup 2023
Last Updated Monday, July 31, 2023
It's the race that supposedly stops the nation.
Well actually, that's only half true.
Actually, it stops two nations if you include New Zealand.
These days if you include all international countries where they take a vested interest in the race, this would include countries such as Hong Kong, Japan, Ireland, England, France, Germany, and maybe United Arab Emirates.
Probably not enough interest to stop those nations, considering also the time difference, as the race will be screened live early on Tuesday morning in the wee hours.
So, the Melbourne Cup – it truly is a global event on the international horse racing calendar.
And we know how to find the winner.
The cup has the history, the tradition, and is considered without doubt an elite horse race for connections to win, and at present it is the richest handicap race in the world, prize money now stands at A$8 million.
To a man, woman and child in Australia, everyone will know what's happening on the first Tuesday of November every year.
Australians seem to have this innate ability to celebrate this race on an annual basis, as if born to it.

Melbourne Cup Information
The Melbourne Cup is a fast-approaching event, with the 2023 Melbourne Cup set to start at 3 PM on Tuesday, November 7th. This year's race is more exciting than ever, with many celebrations occurring both inside and outside the racecourse. The Lexus Melbourne Cup is the major attraction of the Melbourne Cup Festival, but several more races and social gatherings keep everyone occupied.
The Melbourne Cup is a ten-race program that features various race lengths and monetary targets. While the 3200-metre Lexus Melbourne Cup is undoubtedly the most prestigious event on Australia's racing calendar, the entire Melbourne Cup day event is structured as a complete and exciting experience.
Flemington Melbourne Cup Timetable
| Race | Distance | Time |
| --- | --- | --- |
| Darley Maribyrnong Plate (Group 3) | 1000m | TBC |
| The Macca's Run | 2800m | TBC |
| MSS Security SubZero Handicap | 1400m | TBC |
| Furphy Plate (Listed) | 1800m | TBC |
| Paramount+ Trophy | 1400m | TBC |
| The Schweppervescence Plate | 1000m | TBC |
| Lexus Melbourne Cup (Group 1) | 3200m | TBC |
| The Hong Kong Jockey Club Stakes (Group 3) | 1400m | TBC |
| TAB Trophy (Listed) | 1800m | TBC |
| Desirable Stakes (Listed) | 1400m | TBC |
With ladies donning their most lavish headwear and brilliant dresses, it is no surprise that everyone knows how much individuals like getting dressed up and making a bet on this momentous occasion.
Several marquees will be available for hire, some being equipped for VIP guests. In addition to this, their entertainment and other activities will take place throughout the day. If interested, corporate marquee and dining packages are already available for bookings!
The Melbourne Cup hosts the second biggest prize in Australian sport, contested by horses worldwide. So it is incredible when you think that Australia stops to a standstill to listen to and watch the big event, with a 100,000-plus crowd also expected to witness the race live.
It's not all about racing, however, with a wide range of fashion, dining, and entertainment. This November, the Flemington Racecourse will roar to life with fashion presentations, live music, and the most incredible foods and beverages available.
Melbourne Cup
The Melbourne Cup will be held on November 1, 2023, the first Tuesday of the month. The race will begin at 3 PM at Flemington racecourse and go for about (3 kilometres).
The last field for the Melbourne Cup in 2023 will be determined on Saturday, October 29. The Lexus Hotham Stakes will take place to decide the final remaining position in the Melbourne Cup field.
Out of the 24 runners in the Melbourne Cup Field, prize money is given to the first ten horses that cross the finish line. View the amounts allocated to each position below with a total prize pool of $8 million.
1st $4,400,000

2nd $1,10,000

3rd $550,000

4th $350,000

5th $230,000

6th $160,000

7th $160,000

8th $160,000

9th $160,000

10th $160,000

11th $160,000

12th $160,000

Melbourne Cup Betting
The Melbourne Cup is the most-viewed and wagered upon events in Australia. The Victoria Racing Club hosts the Melbourne Cup with a betting turnover of about $80 million USD with just the TAB. If you're looking for more information on Melbourne Cup betting, we suggest visiting our page to learn about different wager options.
Do you want to bet on the Melbourne Cup? Learn how to wager on the Melbourne Cup with us.
The odds
Melbourne Cup betting odds go hand in hand with Melbourne Cup betting; however, there are some minor differences. Betting describes the entire market in a race, while odds refer to each horse's price when betting. The horse with the lowest odds is considered the race favourite, and betting odds are decided by who the bookmaker feels has the best chance of winning. Pundits frequently bet on horses that start at a specific price and then drift lower or higher after they have been backed into these particular figures.
Betting tips
Melbourne Cup is one of Australia's most significant betting events, and it's not uncommon for work conversations and family banter to centre around who people are betting on. Unfortunately, as we don't know the official field for the race yet, we can't give any tips, but we can provide the best methods for selecting your tips. So check out our Tips page to find out more.
Melbourne Cup day
The Melbourne Cup race is held every year on the first Tuesday of November. The event consists of ten races, with the main race – the Melbourne Cup – being seventh on the schedule at 3 PM. Most businesses and schools usually stop work for this duration so that employees and students can tune into their TVs or radios to listen to what has been dubbed 'the race that stops a nation.
Melbourne Cup field
Hundreds of horses are suggested by their connections for the Melbourne Cup every year. There are several levels of acceptances to qualify for before the race, which connections must pay a fee to continue with their bid to win the Melbourne Cup Field.
The race is named for the second horse who has won a Group race from around the world more than 2400 meters, stirring debate about whether specific international runners could make the field.
Melbourne Cup Stats
There are various elements to consider when selecting the Melbourne Cup winner. With a probable field size of 24 horses, it's often down to the jockey's ride on the horse, so we look at the most successful Melbourne Cup jockeys, with Damien Oliver and Glen Boss having ridden three winners each.
Flemington racecourse
The Melbourne Cup, held annually at Flemington Racecourse since its inception in 1864, is the world's most prestigious and valuable Thoroughbred horse race. The racecourse's circumference is 2,312 meters. There are 1.27 kilometres between the racecourse and various adjacent areas.
Melbourne Cup Carnival
The 2023 Melbourne Cup Carnival lasts an entire week, consisting of four race days. Derby day, Melbourne Cup, Oaks day, and the carnival's final day are all Victoria Derby day in 2023. Our suggested date for families is Lexus Stakes day, which is the last race of the carnival.
The 2023 carnival will begin on October 29 and conclude on November 6, with the race being held on November 1.
The Fashion
Fashionable men and women flock to Flemington for the Melbourne Cup Carnival every year. In recent years, menswear has become more competitive than ever–a far cry from its former days as a fashion event dominated by women.
Melbourne Cup barrier draw
The Melbourne Cup barrier draw is held on Victoria Derby day, October 29 this year.
The Lexus Hotham Stakes is the final race on Derby day, and it's when Melbourne Cup hopefuls can try to make it into the closing field. As a result, the barrier draw must start after this moment.
Therefore, the VRC announces the final Melbourne Cup Field and barriers at 5:30 PM sharp.
Melbourne Cup order of entry
While the Melbourne Cup attracts hundreds of nominations yearly, only twenty-four runners are allowed in the final field. Unfortunately, this means that most nominated horses won't get a chance to compete.
Melbourne Cup Sweep
If you're looking for a cheap, fun way to experience the Melbourne Cup this year, look no further than participating in a Sweep! We provide all the information you need to organise your own Work Sweep. It's simple and easy – so be sure to join in on the fun this year!
Melbourne Cup International runners
The Melbourne Cup, the most watched horse race in Australia, is a 3200-meter race contested by three-year-old horses and above. The Melbourne Cup held on November 1 at Flemington Racecourse, has become known as "the race that stops a nation." Throughout its lengthy history, which dates back to 1861, several foreign horses have prevailed in this prestigious event.
The best winners
Horses who win the Melbourne Cup are considered some of the best in history, especially those that have won multiple times. However, with increased weights and changing conditions, it takes an exceptional horse to achieve this; multiple winners typically go to extremes to ensure their horses are healthy and up for the challenge on race day.
Makybe Diva has won the Melbourne Cup three times, most recently in 2015, while Archer and arguably Australia's most well-known horse Phar Lap have won the race twice each.

Previous Melbourne Cup Winners
Year
Winner
Age
Gender
Jockey
Trainer
Owner
Time
Field
2023
-
-
-
-
-
-
-
-
2022
Gold Trip
6
Stallion
Mark Zahra
Ciaron Maher & David Eustace
Australian Bloodstock et al.
3:24:04
22
2021
Verry Elleegant
6
Mare
James McDonald
Chris Waller
Jomara Bloodstock Ltd et al.
03:17.4
23
2020
Twilight Payment
8
Gelding
Jye McNeil
Joseph O'Brien
Lloyd Williams et al.
03:17.3
23
2019
Vow And Declare
4
Gelding
Craig Williams
Danny O'Brien
G Corrigan et al.
03:24.8
24
2018
Cross Counter
4
Gelding
Kerrin McEvoy
Charlie Appleby
Godolphin
03:21.2
24
2017
Rekindling
4
Stallion
Corey Brown
Joseph O'Brien
Lloyd Williams et al.
03:21.3
23
2016
Almandin
7
Gelding
Kerrin McEvoy
Robert Hickmott
Lloyd Williams et al.
03:20.6
24
2015
Prince of Penzance
6
Gelding
Michelle Payne
Darren Weir
A McGregor et al.
03:23.1
24
2014
Protectionist
5
Stallion
Ryan Moore
Andreas Wöhler

 

Australian Bloodstock et al.
03:17.7
22
2013
Fiorente
6
Stallion
Damien Oliver
Gai Waterhouse
Andrew Roberts et al.
03:20.3
24
2012
Green Moon
6
Stallion
Brett Prebble
Robert Hickmott
Lloyd Williams et al.
03:20.4
24
2011
Dunaden
6
Stallion
Christophe Lemaire
Mikel Delzangles
Pearl Bloodstock Pty (Mgr. R Levitt)
03:20.8
23
2010
Americain
6
Stallion
Gérald Mossé
Alain de Royer-Dupré
Gerry Ryan, K. C Bamford
03:26.9
23
2009
Shocking
4
Stallion
Corey Brown
Mark Kavanagh
Eales Racing Pty Ltd
03:23.9
23
2008
Viewed
5
Stallion
Blake Shinn
Bart Cummings
Dato Tan Chin Nam et al.
03:20.4
22
2007
Efficient
4
Gelding
Michael Rodd
Graeme Rogerson
Lloyd Williams et al.
03:23.3
21
2006
Delta Blues
6
Stallion
Yasunari Iwata
Katsuhiko Sumii
Sunday Racing Co Ltd
03:21.5
23
2005
Makybe Diva
7
Mare
Glen Boss
Lee Freedman
Emily Krstina Syndicate
03:19.2
24
2004
Makybe Diva
6
Mare
Glen Boss
Lee Freedman
Emily Krstina Syndicate
03:28.5
24
2003
Makybe Diva
5
Mare
Glen Boss
David Hall
Emily Krstina Syndicate
03:19.9
23
2002
Media Puzzle
6
Gelding
Damien Oliver
Dermot K. Weld
Dr M. W. Smurfit, et al.
03:17.0
23
2001
Ethereal
4
Mare
Scott Seamer
Sheila Laxon
P. J. & P. M. Vela
03:21.1
22
2000
Brew
6
Gelding
Kerrin McEvoy
Mike Moroney
Gurner's Bloodstock Co.
03:18.7
22
1999
Rogan Josh
7
Gelding
John Marshall
Bart Cummings
Mrs W. L. Green, et al.
03:19.6
24
1998
Jezabeel
6
Mare
Chris Munce
Brian Jenkins
A. K. Burr, et al.
03:18.6
24
1997
Might and Power
4
Stallion
Jim Cassidy
Jack Denham
Mr N. Moraitis
03:18.3
22
1996
Saintly
4
Gelding
Darren Beadman
Bart Cummings
Dato Tan Chin Nam et al.
03:18.8
22
1995
Doriemus
5
Gelding
Damien Oliver
Lee Freedman
Pacers Australia Syndicate
03:27.6
21
1994
Jeune
6
Stallion
Wayne Harris
David Hayes
Shadwell Racing
03:19.8
24
1993
Vintage Crop
7
Gelding
Michael Kinane
Dermot K. Weld
Dr M. W. Smurfit
03:23.4
24
1992
Subzero
4
Stallion
Greg Hall
Lee Freedman
D H K Investments
03:24.7
21
1991
Let's Elope
4
Mare
Steven King
Bart Cummings
Shoreham Park Syndicate
03:18.9
24
1990
Kingston Rule
5
Stallion
Darren Beadman
Bart Cummings
Mr & Mrs D. H. Hains
03:16.3
24
1989
Tawrrific
5
Stallion
Shane Dye
Lee Freedman
B. F. Avery, et al.
03:17.1
23
1988
Empire Rose
6
Mare
Tony Allan
Laurie Laxon
Mr & Mrs F. R. Bodle
03:18.9
22
1987
Kensei
5
Gelding
Larry Olsen
Les J. Bridge
K. M. Mitchell, et al.
03:22.0
21
1986
At Talaq
6
Stallion
Michael Clarke
C S Hayes
Shadwell Racing
03:21.7
22
1985
What A Nuisance
7
Gelding
Pat Hyland
John Meagher
Lloyd Williams et al.
03:23.0
23
1984
Black Knight
5
Gelding
Peter Cook
George Hanlon
Robert Holmes à Court
03:18.9
19
1983
Kiwi
6
Gelding
Jim Cassidy
Ewen S. Lupton
Mr & Mrs E. S. Lupton
03:18.9
24
1982
Gurner's Lane
4
Gelding
Mick Dittman
Geoff Murphy
Williams St. Syndicate No 2
03:21.2
23
1981
Just A Dash
4
Gelding
Peter Cook
T J Smith
Lloyd Williams et al.
03:21.2
22
1980
Beldale Ball
5
Stallion
John Letts
C S Hayes
Swettenham Stud Syndicate
03:19.8
22
1979
Hyperno
6
Gelding
Harry White
Bart Cummings
Mr & Mrs T. L. North, et al.
03:21.8
22
1978
Arwon
5
Gelding
Harry White
George Hanlon
Doon Bros Syndicate et al.
03:24.3
22
1977
Gold and Black
5
Gelding
John Duggan
Bart Cummings
Mr & Mrs J. Harris, et al.
03:18.4
24
1976
Van der Hum
5
Gelding
Robert J. Skelton
Len H. Robinson
L. H. & R. A. Robinson, et al.
03:34.1
23
1975
Think Big
5
Gelding
Harry White
Bart Cummings
Dato Tan Chin Nam et al.
03:29.6
20
1974
Think Big
4
Gelding
Harry White
Bart Cummings
Dato Tan Chin Nam et al.
03:23.1
22
1973
Gala Supreme
4
Gelding
Frank Reys
Ray Hutchins
J. P. Curtain
03:19.5
24
1972
Piping Lane
6
Gelding
John Letts
George Hanlon
R. W. Trinder
03:19.3
22
1971
Silver Knight
4
Stallion
R. Bruce Marsh
Eric Temperton
Sir W. Norwood
03:19.5
21
1970
Baghdad Note
5
Gelding
Midge Didham
Robert Heasley
E. C. S. Falconer
03:19.7
23
1969
Rain Lover
5
Stallion
Jim Johnson
Mick L. Robins
Clifford A Reid
03:21.5
23
1968
Rain Lover
4
Stallion
Jim Johnson
Mick L. Robins
Clifford A. Reid
03:19.1
26
1967
Red Handed
5
Gelding
Roy Higgins
Bart Cummings
F. W. Clarke, et al.
03:20.4
22
1966
Galilee
4
Gelding
John Miller
Bart Cummings
Mr & Mrs M. L. Bailey
03:21.9
22
1965
Light Fingers
4
Mare
Roy Higgins
Bart Cummings
W. J. Broderick
03:21.1
26
1964
Polo Prince
6
Gelding
Ron Taylor
John P. Carter
Mr & Mrs L. W. Davis
03:19.6
26
1963
Gatum Gatum
5
Gelding
Jim Johnson
H. Graeme Heagney
M. P. Reid
03:21.1
26
1962
Even Stevens
5
Stallion
Les Coles
Arch McGregor
James Wattie
03:21.4
26
1961
Lord Fury
4
Stallion
Ray Selkrig
Frank B. Lewis
Mr & Mrs N. S. Cohen
03:19.5
25
1960
Hi Jinx
5
Mare
William A. Smith
Trevor H. Knowles
T. H. Knowles & K. R. Sly
03:23.7
32
1959
Macdougal
6
Gelding
Pat Glennon
Richard W. Roden
R. N. & N. H. B. Brown
03:23.0
28
1958
Baystone
6
Gelding
Mel Schumacher
Jack Green
R. A. & N. Burns
03:21.2
29
1957
Straight Draw
5
Gelding
Noel L. McGrowdie
J. M. Mitchell
Ezra Norton
03:24.5
19
1956
Evening Peal
4
Mare
George Podmore
E. D. Lawson
Mr & Mrs R. White
03:19.5
22
1955
Toparoa
7
Gelding
Neville Sellwood
T J Smith
N. H. McDonald
03:28.3
24
1954
Rising Fast
5
Gelding
Jack Purtell
Ivan Tucker
L. R. Spring
03:23.0
25
1953
Wodalla
4
Stallion
Jack Purtell
Robert Sinclair
E. A. "Ted" Underwood
03:23.7
21
1952
Dalray
4
Stallion
Bill Williamson
C. C. McCarthy
C. Neville
03:23.7
30
1951
Delta
5
Stallion
Neville Sellwood
Maurice McCarten
Adolph Basser & John Emanuel Levy
03:24.2
28
1950
Comic Court
5
Stallion
Pat Glennon
J. M. Cummings
R. A., J. D. & A. J. Lee
03:19.5
26
1949
Foxzami
4
Stallion
William Fellows
D. Lewis
L. G. Robinson
03:28.5
31
1948
Rimfire
6
Gelding
Ray Neville
Stan Boyden
H. G. Raymond
03:21.0
30
1947
Hiraji
4
Gelding
Jack Purtell
J. W. McCurley
Fred W. Hughes
03:28.0
30
1946
Russia
6
Stallion
Darby Munro
E. Hush
J. G. Leeds & E. Hush
03:21.2
35
1945
Rainbird
4
Mare
Billy Cook
S. Evans
Clifford A. Reid
03:24.2
26
1944
Sirius
4
Stallion
Darby Munro
E. Fisher
R.Turnbull
03:24.5
23
1943
Dark Felt
6
Stallion
Vic Hartney
Ray Webster
J. A. Cain
03:23.3
24
1942
Colonus
4
Stallion
Harry McCloud
F. Manning
L. O. Menck
03:33.2
24
1941
Skipton
3
Colt
Billy Cook
J. Fryer
J. J. Kitson
03:23.7
23
1940
Old Rowley
7
Gelding
Andy Knox
J. A. Scully
J. A. Scully
03:26.0
20
1939
Rivette
6
Mare
Teddy Preston
Harry Bamber
Harry Bamber
03:27.0
26
1938
Catalogue
8
Gelding
Fred Shean
Mr. Allan McDonald
Mrs. A. Jamieson
03:26.2
22
1937
The Trump
5
Gelding
Ashley Reed
S. W. Reid
E. Eccles
03:21.5
28
1936
Wotan
4
Stallion
Ossie Phillips
J. Fryer
T. A., W. & R. Smith
03:21.2
20
1935
Marabou
4
Stallion
Keith Voitre
Lou Robertson
J. Fell & T. Hogan
03:23.7
22
1934
Peter Pan
5
Stallion
Darby Munro
Frank McGrath Sr.
Rodney R. Dangar
03:40.5
22
1933
Hall Mark
3
Colt
Jack O'Sullivan
Jack Holt
C. B. Kellow
03:27.5
18
1932
Peter Pan
3
Colt
Bill Duncan
Frank McGrath Sr.
Rodney R. Dangar
03:23.3
27
1931
White Nose
5
Stallion
Neville Percival
E. J. Hatwell
H. P. McLachlan
03:26.0
14
1930
Phar Lap
4
Gelding
James E. Pike
Harry R. Telford
Harry R. Telford and David J. Davis
03:27.7
15
1929
Nightmarch
4
Stallion
Roy Reed
A. McAulay
A. Louisson
03:26.5
14
1928
Statesman
4
Stallion
James L. Munro
William Kelso
William Kelso
03:23.3
17
1927
Trivalve
3
Colt
Bobbie Lewis
James Scobie
E. E. D. Clarke
03:24.0
26
1926
Spearfelt
5
Stallion
Hugh Harold Cairns
V. O'Neill
D. C. Grant
03:22.7
21
1925
Windbag
4
Stallion
James L. Munro
George R. Price
R. Miller
03:22.7
28
1924
Backwood
6
Stallion
Bunty Brown
Richard Bradfield
Clark & Baillieu
03:26.5
18
1923
Bitalli
5
Gelding
Titch Wilson
James Scobie
A. T. Craig
03:24.2
26
1922
King Ingoda
4
Stallion
Titch Wilson
James Scobie
C.L. Dubois/R.W. Bennett
03:28.3
32
1921
Sister Olive
3
Filly
Ted O'Sullivan
J. Williams
F. W. Norman
03:27.7
25
1920
Poitrel
6
Stallion
Ken Bracken
H. J. Robinson
W. & F. A. Moses
03:25.7
23
1919
Artilleryman
3
Colt
Bobbie Lewis
P. T. Heywood
S. Hordern/A.D. Murphy
03:24.5
20
1918
Night Watch
5
Gelding
Bill Duncan
Richard Bradfield
C. L. Macdonald
03:25.7
27
1917
Westcourt
5
Stallion
William H. McLachlan
Joe Burton
D. U. Seaton
03:26.7
20
1916
Sasanof
3
Gelding
Fred Foley
M. Hobbs
W.G. Stead/E.S. Luttrell
03:27.7
28
1915
Patrobas
3
Colt
Bobbie Lewis
C. Wheeler
Mrs E. A. Widdis
03:28.3
24
1914
Kingsburgh
4
Stallion
George Meddick
Isaac Foulsham
L. K. S. Mackinnon
03:26.0
28
1913
Posinatus
5
Gelding
Albert Shanahan
J. Chambers
J. Chambers
03:31.0
20
1912
Piastre
4
Stallion
Albert Shanahan
R. O'Connor
W. Brown
03:27.5
23
1911
The Parisian
6
Gelding
Ronald Cameron
C. Wheeler
J. F. Kirby
03:27.7
33
1910
Comedy King
4
Stallion
William H. McLachlan
James Lynch
Sol Green
03:27.7
30
1909
Prince Foote
3
Colt
William H. McLachlan
Frank McGrath Sr.
John Brown
03:27.5
26
1908
Lord Nolan
3
Colt
J. R. Flynn
E. A. Mayo
J. Mayo
03:28.7
22
1907
Apologue
5
Stallion
Bill Evans
Isaac Earnshaw
R. L. Cleland
03:27.5
19
1906
Poseidon
3
Colt
Tom Clayton
Isaac Earnshaw
Sir Hugh Denison
03:31.2
21
1905
Blue Spec
6
Stallion
Frank Bullock
Walter Hickenbotham
P. A. Connolly
03:27.5
27
1904
Acrasia
7
Mare
Tom Clayton
A. E. Wills
H. Oxenham
03:28.3
34
1903
Lord Cardigan
3
Colt
Norman Godby
A. E. Cornwell
J. Mayo
03:29.2
24
1902
The Victory
4
Stallion
Bobbie Lewis
Richard Bradfield
Clark & Robinson
03:29.0
22
1901
Revenue
5
Gelding
Frederick J. Dunn
Hugh Munro
C. L. Macdonald
03:30.5
19
1900
Clean Sweep
3
Colt
Andrew Richardson
James Scobie
Frank Cumming ("Mr. F. T. Forrest")
03:29.0
29
1899
Merriwee
3
Colt
Vivian Turner
James Wilson Jr.
Herbert Power
03:36.5
28
1898
The Grafter
5
Gelding
John Gough
William "Black Bill" Forrester
William "Black Bill" Forrester
03:29.7
28
1897
Gaulus
6
Stallion
Stephen Callinan
William "Black Bill" Forrester
William "Black Bill" Forrester
03:31.0
29
1896
Newhaven
3
Colt
Harry Gardiner
Walter Hickenbotham
W. T. Jones & S. Cooper
03:28.5
25
1895
Auraria
3
Filly
J. Stevenson
J. H. Hill
D. James
03:29.0
36
1894
Patron
4
Stallion
Henry G. Dawes
Richard Bradfield
F. W. Purches
03:31.0
28
1893
Tarcoola
7
Stallion
Herbert Cripps
Joseph Cripps
J. D. Lewis
03:30.5
30
1892
Glenloth
5
Stallion
G. Robson
M. Carmody
M. Carmody
03:36.2
35
1891
Malvolio
4
Stallion
G. Redfearn
J. Redfearn
J. Redfearn
03:29.2
34
1890
Carbine
5
Stallion
Robert Ramage
Walter Hickenbotham
Donald Smith Wallace
03:28.3
39
1889
Bravo
6
Stallion
Jack Anwin
T. Wilson
W. T. Jones
03:32.5
20
1888
Mentor
4
Stallion
Mick O'Brien
Walter Hickenbotham
Donald Smith Wallace
03:30.7
28
1887
Dunlop
5
Stallion
Tom Sanders
John Nicholson
Richard Donovan
03:28.5
18
1886
Arsenal
4
Stallion
W. English
H. Rayner
W. Gannon
03:31.0
28
1885
Sheet Anchor
7
Stallion
Mick O'Brien
T. Wilson
Martin Loughlin
03:29.5
35
1884
Malua
5
Stallion
Alick Robertson
Isaac Foulsham
J. O. Inglis
03:31.8
24
1883
Martini-Henry
3
Colt
J. Williamson
Michael Fennelly
Hon. James White
03:30.5
29
1882
The Assyrian
5
Stallion
C. Hutchins
J. E. Savill
J. E. Savill
03:40.0
25
1881
Zulu
4
Stallion
Jim Gough
T. Lamond
C. McDonnell
03:32.5
33
1880
Grand Flaneur
3
Colt
Thomas Hales
T. Brown
William A. Long
03:34.7
22
1879
Darriwell
5
Stallion
S. Cracknell
W. E. Dakin
W. A Guesdon
03:30.7
27
1878
Calamia
5
Stallion
T. Brown
Etienne de Mestre
Etienne de Mestre
03:35.7
30
1877
Chester
3
Colt
P. Pigott
Etienne de Mestre
Hon. James White
03:33.5
33
1876
Briseis
3
Filly
Peter St. Albans
James Wilson
James Wilson
03:36.2
33
1875
Wollomai
6
Stallion
R. Batty
S. Moon
J. Cleeland
03:38.0
20
1874
Haricot
4
Gelding
P. Pigott
S. Harding
Andrew Chirnside
03:37.5
18
1873
Don Juan
4
Stallion
W. Wilson
James Wilson
W. Johnstone
03:36.0
24
1872
The Quack
6
Stallion
W. Enderson
John Tait
John Tait
03:39.0
22
1871
The Pearl
5
Stallion
J. Cavanagh
John Tait
John Tait
03:39.0
23
1870
Nimblefoot
7
Gelding
John Day
William Lang
Walter Craig
03:37.0
28
1869
Warrior
6
Gelding
J. Morrison
R. Sevior
A. Saqui
03:40.0
26
1868
Glencoe
5
Stallion
C. Stanley
John Tait
John Tait
03:42.0
25
1867
Tim Whiffler
4
Stallion
John Driscoll
Etienne de Mestre
Etienne de Mestre
03:39.0
27
1866
The Barb
3
Colt
W. Davis
John Tait
John Tait
03:43.0
28
1865
Toryboy
8
Gelding
E. Cavanagh
P. Miley
B. Marshall
03:44.0
23
1864
Lantern
3
Colt
S. Davis
S. Mahon
H. Fisher
03:52.0
19
1863
Banker
3
Colt
H. Chifney
Sam Waldock
Joseph Harper
03:44.0
7
1862
Archer
6
Stallion
John Cutts
Etienne de Mestre
Etienne de Mestre
03:47.0
20
1861
Archer
5
Stallion
John Cutts
Etienne de Mestre
Etienne de Mestre
03:52.0
17
Melbourne Cup Horses 2023
Fear not, our finger is certainly on the pulse in the lead-up to that first Tuesday in November 2023.
Head-down-bum-up approach, we deep dive each week into the staying races that are happening all over the world (not just in our own backyard)
You can read all our in-depth weekly previews below to give you some insight into the best horses that will be in the running for the Melbourne Cup 2023.
Locally?
There is a raft of local horse race meetings around the country that happens on the day, culminating in the big race from Flemington usually around 3 pm Eastern Standard Time.
Plus there are the usual family BBQs going on playing our famous song, so long as the weather does its part it's usually a great day and a great occasion.
It also happens to be a public holiday in the state of Victoria.
Lucky Victorians.
The Melbourne Cup has generated an entire industry all on its own, and it's not necessarily all about horse racing.
There are all those punting websites and journalists who write about horseracing.
Those involved with TV and media, there are all the people involved with stables and training facilities leading up to the 4-day carnival, and let's not forget the girls.
There are all the businesses around the fashion industry including the wide variety of fascinators from milliners and of course all the dresses and outfits that the ladies will wear on cup day.
Then there is the hospitality industry; all the restaurants and pubs will be doing a roaring trade over that period with all visitors from out of town coming down to Melbourne to witness Cup day as well as the other 3 days of the Carnival.
And of course, people will be pumping our famous cup song.
Melbourne Cup Field
As the races get closer, we tend to keep an eye on the major races to assess how each horse is travelling and share the results with you fine ladies and gentlemen to hopefully give you a better shot of getting a good return.
As it stands, both Incentivise and Spanish Mission are both leading the pack by a long shot as favourites to take the win and the prize money; The odds for each are currently at 5.50, coming in third is Delphi at 10.00 followed by Twilight Payment.
Currently, there is a vast list of horses competing to be part of the Melbourne Cup 2021, but the day is still a few weeks away and is always held on the first Tuesday of November; needless to say, there is still plenty of time for this to change.
You can find a list below of all the horses currently eligible to race.
| HORSES | ODDS |
| --- | --- |
| Vauban | 6.00 |
| Soulcombe | 7.00 |
| Just Fine | 9.00 |
| Breakup | 9.00 |
| Francesco Guardi | 13.00 |
| Without A Fight | 13.00 |
| Desert Hero | 13.00 |
| West Wind Blows | 13.00 |
| Gold Trip | 15.00 |
| Goldman | 15.00 |
| Lunar Flare | 17.00 |
| Tower Of London | 17.00 |
| Absurde | 21.00 |
| Valiant King | 26.00 |
| Lastotchka | 26.00 |
| Hoo Ya Mal | 34.00 |
| Duais | 34.00 |
| Emissary | 34.00 |
| Cleveland | 34.00 |
| Carini | 34.00 |
| First Immortal | 34.00 |
| Harbour Wind | 34.00 |
| Kovalica | 41.00 |
| Manzoice | 51.00 |
| Montefilia | 51.00 |
| Vow and Declare | 51.00 |
| Smokin Romans | 51.00 |
| Interpretation | 51.00 |
| Knights Order | 51.00 |
| Spanish Mission | 51.00 |
| Floating Artist | 51.00 |
| Alaskan God | 51.00 |
| Athabascan | 51.00 |
| Lionel | 51.00 |
| Right You Are | 51.00 |
| Broome | 51.00 |
| Duke De Sessa | 51.00 |
| Major Beel | 51.00 |
| Protagonist | 51.00 |
| Kalapour | 51.00 |
| Ashrun | 51.00 |
| Greenland | 51.00 |
| Mr Waterville | 51.00 |
| Okita Soushi | 51.00 |
| Uncle Bryn | 51.00 |
| Berkeley Square | 101 |
| Serpentine | 101 |
| Alegron | 101 |
| Benaud | 101 |
| Daqiansweet Junior | 101 |
| High Emocean | 101 |
| Aberfeldie Boy | 101 |
| Hinged | 101 |
| El Patroness | 101 |
| Sheraz | 101 |
| Sir Lucan | 101 |
| Timour | 101 |
| True Marvel | 101 |
| King Frankel | 101 |
| Fame | 101 |
| Mostly Cloudy | 101 |
| Promises Kept | 101 |
| Raging Bull | 101 |
| United Nations | 101 |
| Zeyrek | 101 |
| Dillian | 101 |
| Fancy Man | 101 |
| Amade | 101 |
| El Bodegon | 101 |
| Virtuous Circle | 101 |
| Convener | 101 |
| Deny Knowledge | 101 |
| Hasta La War | 101 |
| Pounding | 101 |
| Shaiyhar | 101 |
| Suizuro | 101 |
| Torrens | 101 |
| Fireburn | 101 |
| Shes Fit | 101 |
| Alequer | 101 |
| Alexandroupolis | 101 |
| Bank Maur | 101 |
| Dark Destroyer | 101 |
| Denmark | 101 |
| Future Histroy | 101 |
| Hosier | 101 |
| Ladies Man | 101 |
| Military Mission | 101 |
| Muramasa | 101 |
| Navajo Peak | 101 |
| Pesto | 101 |
| Regal Power | 101 |
| Scriptwriter | 101 |
| St Vincents Garden | 101 |
| Verona | 101 |
| Point Nepean | 201 |
| Queen Air | 201 |
| The Map | 201 |
| Brayden Star | 201 |
| Gear Up | 201 |
| Buster Bash | 201 |
| Rebel Racer | 201 |
| Garachico | 201 |
| Magical Lagoon | 201 |
| Yaphet | 201 |
| Youth Spirit | 201 |
| Highland Jakk | 201 |
| Affaire A Suivre | 201 |
| Bear Story | 201 |
| Duke of Hasting's | 201 |
| Ess Vee Are | 201 |
| Ferago | 201 |
| Foreign Raider | 201 |
| Full Of Sincerity | 201 |
| Gregolimo | 201 |
| Insulation | 201 |
| Lindermann | 201 |
| Mahrajaan | 201 |
| Medatsu | 201 |
| Mount Popa | 201 |
| Moya Lass | 201 |
| Mr Buster | 201 |
| Noah N A Deal | 201 |
| Outlandos | 201 |
| Peshmerga | 201 |
| Reo | 201 |
| Southern France | 201 |
| Staffords Lad | 201 |
| Tokyo Run | 201 |
| Win O Clock | 201 |
| Wineglass Bay | 201 |
Kruzey.com.au has assembled a series of pages to help those of you that are interested in the 2023 Melbourne Cup. Refer to the following links.
General Information
Getting to the track
If you are a local Melburnian, then you can probably skip over this section because you'll know it intimately. But for those of you who live out of town and are wanting to get to the Flemington course, you might be asking the question how do we do that?
Well, it depends where you live, what direction you're coming from, and what mode of transport you'll be using.
Let's start with using your own vehicle. As to be expected, parking will be an issue. There are car park spots all along Fisher Parade but you'll need to get in early. You can even park in one of the outer suburbs that is within walking distance like Footscray or Ascot Vale. However, the majority of the side streets are for resident parking only so you'll get frowned upon if you try it on. Bringing your vehicle is a bit of a pain especially if you want to enjoy the day out, so I would be inclined to leave it at home in the garage and use public transport instead.
Bus Services
There are many bus services traversing the western side of the CBD of Melbourne. A good Central hub to catch a bus up to the racecourse is via Footscray. For instance, the 472 service which leaves Footscray every 20 minutes and travels up through Droop St, Farnsworth Ave, and Fisher Parade will drop you right off outside the racecourse itself. This bus goes through Moonee Ponds and is very handy to know for WS Cox Plate day.
Train Service
You can either catch a dedicated service from Southern Cross to Flemington, or catch a train out to Footscray (most western destination trains stop at Footscray anyway), then walk across into the Footscray city centre right opposite the Markets, and catch the aforementioned 472 bus to Flemington.
We mention these two services, mainly because of ticketing issues. If you catch the train directly out from Southern Cross, you'll need to have your ticket to get into the racecourse on you. When you get into Flemington railway station there is no ticketing booth, you'll get access directly to the racecourse and you'll need to have your ticket on you to be scanned in.
If you come to the racecourse via the main gate from the Fisher Parade side, no problem you can buy a ticket from the ticketing booth which is located just behind the main gate entrance. Once you have your ticket, you can then get in.
Tickets
The best way to get admission to the racecourse is to purchase your tickets in advance via the Melbourne Cup web page and Ticketek. Not only is this convenient but you may also get a discount. No guarantees though. Your tickets can be physically sent to you in the post, or perhaps the easiest way is to have your tickets sent to you electronically so they sit on your phone, so that when you go through the main gate you just have your e-ticket on your phone being scanned to get onto the course. A tip: make sure to turn up the brightness of your phone so the gate scanner can read your ticket bar code.
If it turns out you're not that well-organised, you can still buy a physical ticket from the ticket booth located behind the main gate entrance on the Fisher Parade side of the racecourse entrance.
Prices will vary across the four days. The two most expensive days are Derby Day and Cup Day, with Oaks Day and Stakes Day being lesser in price. If you have a VRC membership, the prices will be cheaper still if you buy a Season Pass that takes in other race days at Flemington prior to the Cup Carnival, such as Turnbull Stakes Day and Makybe Diva Stakes Day. You'll also be able to use your season pass in the Autumn as well, for Lightning Stakes Day, Australian Guineas Day, Super Saturday (Newmarket Hcp and Australian Cup), etc.
The Track Configuration
The oval track at Flemington is a touch over 2300m. The Melbourne Cup itself starts halfway up the 1200m shoot which is called the Straight Six (as in six furlongs). Horses will run approximately 900m down the home straight before doing a full lap to reach the winning post in approximately 3 minutes 25 seconds.
The Flemington course has very good drainage and very rarely does it get super wet. This has improved remarkably in the last few years due in part to technology. The ideal rating for the course will be somewhere between a Good 4 and a Dead 5. Not so hard that it will jar up some horses that don't like hard tracks, and not so soft that it will inconvenience those that don't like wet tracks. Usually, the track managers get it right on the major race day of the year.
Weather
The weather for Melbourne around the late October and early November period is a bit hit-and-miss at the best of times. In last year's 2022 Cup, the rain bucketed down for the first part of Cup Day but eventually evened out by the time the Cup was run at around 3 pm. There have been some notable years when it was extremely wet. 1976 and 2010 are two examples. If you are dressing for the occasion, then keep an eye out on the weather forecast at least two days beforehand. Use the data from the Australian Bureau of Meteorology as your guide. (bom.gov.au)
Handicappers Guide
Usually a few months out from the Cup, the VRC Handicapper will assign a weight to all nominations at the first round. This is a highly anticipated and highly contentious area for all connections.
Whether it's the trainer, the owner, the journos, and more importantly the punters, the determination of the final makeup of the field and what eventual weight each horse will carry is of extreme importance.
It is both an art form and a science and not everyone appreciates the complexity of the final allotted weights to each horse as determined by the Handicapper Greg Carpenter. Trying to marry up the form between European horses and local Australian horses can be a ticking time bomb.
There are age considerations, especially for the Northern Hemisphere 3-year-olds. There is the weight for age considerations too, particularly where horses have raced one year and have gone up in age for the next year and their weight has markedly increased as well. Penalties come into account if a horse wins a graduating race such as the Caulfield Cup. Mares normally get given a lighter weight in comparison to male horses.
In recent times, the maximum weight has tended to top out at around 58 kgs. A far cry from some of the heavyweights that used to be carried back in the earlier years of the race, especially horses given 60 kgs plus.
There has been criticism that the weight scales between the top and bottom have been compressed. So for example, in the 2019 weight allocations, all 152 nominated horses have been assigned weights between 58 kgs and 49 kgs. So that's 9 kgs spread over 152 horses. I don't think there is any way around that, it is what it is.
Despite all the conjecture, I believe the weight allocations are fair and sporting and are based adequately on each horse form leading into the Melbourne Spring Carnival.
Good luck on the day and may you achieve financial success.
How to watch the Melbourne Cup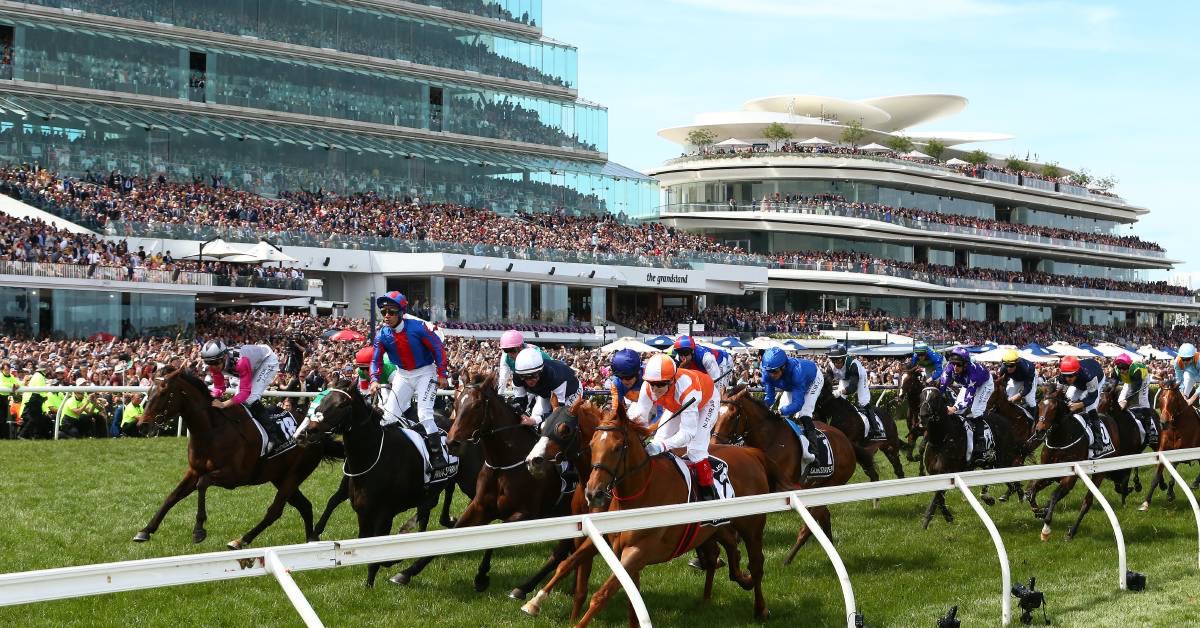 Switch up? in a change of pace for this year's running of the cup.
Channel 10 has taken over the broadcast from Channel 7 which will give viewers a new feel.
They have announced their broadcast team who will consist of…
Peter Moody, Michael Felgate, Caty Price, Francesca Cumani, David Gately, Brittany Taylor (what a great lineup)
This can be viewed on free-to-air television on Channel 10 and also online.
Live Streaming Of The Cup
Live vision can certainly stream for the race that stops the nation on Sky Racing.
This can be found here through BetEasy, Sky Racing
Melbourne Cup 2023 Tickets
Searching for Melbourne Cup Tickets 2023? Easy done.
You can simply purchase tickets to the cup at Ticketek.
What Time Is The Melbourne Cup?
The gates will crash back at around 3 pm on November 5th, 2023.
Make sure you clear your schedule (it should be cleared anyway)
Here is a list of start times for each state.
| | |
| --- | --- |
| Melbourne | 3:00pm |
| Sydney | 3.00pm |
| Brisbane | 2.00pm |
| Adelaide | 2.30pm |
| Perth | 12.00pm |
| Canberra | 3.00pm |
| Hobart | 3.00pm |
| Darwin | 1.30pm |
The race will go for around 3 1/2 minutes give or take.
Content ideas or want to write for the team? Email us
4 Day Carnival
Melbourne Cup week is comprised of 4 days of racing.
As a carnival, the Melbourne Cup is similar in scope to Royal Ascot which also runs a 4-day program during the English summer, and there is also the Ebor carnival at York during late August.
Melbourne Cup History
In 2023, the running of the Melbourne Cup will be the 162nd version of the race, since its origins back in 1861.
Throughout that time in history, the race has been through two world wars, the Great Depression, the ascent of several kings and queens, and the making of several equine legends of the turf. Read more.
Internationals
International racehorses have been a mainstay for nearly 25 years, but Vintage Crop's victory in 1993 wasn't the first participation of an international horse in the great race.
There were others in the '80s that became the trailblazers to today's ex-European 'let's migrate to Australia' industry.
Like Authaal for instance, the son of ill-fated stallion Shergar, and a handful of other ex-Europeans.
These days the Melbourne Cup field is dominated by English and Irish stayers with very little room left for Australian and New Zealand stayers, which is a complete turnaround from thirty or forty years ago.
The race has become a truly global event now, with horses victorious in recent years coming from countries such as Japan, France, Germany, England and Ireland, not forgetting New Zealand too.
The 2023 event is looking very likely to contain a stacked field of international visitors, judging by the look of the first round of nominations.
As the field thins towards the end of October, it is expected that the remaining horses will be predominantly European.
Keep an eye out on the Melbourne Cup form, through our Cup watch reports, and also on this website.
General
What you need to know
History
Replays (include video links)
Interesting Trivia
Media (TV, Web radio, press)
Fashion
FAQ (things not identified above)
Horse Racing
Melbourne Cup Watch Reports
The Internationals
Lead In Form Guide
Horses to Follow
Racing Personalities
Jockey Profiles
HR FAQ (things not identified above)
Horse Racing Tips
Keep up-to-date with all the best Horse Racing tips today.
Racing Statistics
Want to know the odds of your horse winning? take a look at the horse racing statistics.
Betting On The Melbourne Cup
No need to worry; there are still plenty of ways to place a bet on the Melbourne Cup, and thanks to Ladbrokes, there is now a way to bet with mates that allows you to bet on the cup at home like the betting sweep, which can easily be found in their app under the function 'Mates Mode'. Additionally Neds also has 'Group Betting' which essentially the same thing, they are both under the same sports betting umbrella so they essentially have the same functionality but are a great way to have little bit of fun with your friends.
Additionally, several bookies have fantastic promotions, bonus bets and cashback options for the spring racing carnival available throughout the next few weeks that are definitely worth taking advantage of listed below.
Ladbrokes


Neds


Frequently Searched Questions
What time is the 2023 Melbourne Cup? 
The 2023 Melbourne Cup will be held on Tuesday, November 1, 2023, at Flemington Racecourse in Melbourne, Victoria, Australia, at 3:00 PM.
How many horses are in the Melbourne Cup? 
Hundreds of horses compete for a spot in the Melbourne Cup field every year. The race consists of 24 horses, selected using a ballot system and handicapping after the Lexus Stakes on Derby Day.
Who will win the 2023 Melbourne Cup?
It's tough to predict an outcome before the field is set, but bookmark this page and check back when it is. In the meantime, enjoy our free tips and bets for the race!
How do I bet on the Melbourne Cup?
By far, the simplest and easiest way to bet on the Melbourne Cup is with an online bookmaker. We recommend registering with Neds, bet365, Unibet or Ladbrokes. The process is safe, easy and fast. After you have completed registration, locate the appropriate market and click on your desired horse's odds.
When is the Melbourne Cup?
The Melbourne Cup for 2023 will take place on Tuesday, November 1, at Flemington Racecourse. The race is set to start at 3:00 PM sharp.
Where is the Melbourne Cup 2023?
On Tuesday, November 1, the Melbourne Cup will be held at Flemington Racecourse.
How do I live stream the 2023 Melbourne Cup?
Do you want to know how you can watch the 2023 Melbourne Cup if you've backed our Best Bet?
The Melbourne Cup is set to take place on November 1, 2023, so join one of the compatible online bookies below to watch it for free!
© Copyright KRUZEY PTY LTD