Introduction
Introducing BetGalaxy, Australia's newest entrant in the sports betting arena, committed to delivering an unparalleled betting experience! This innovative platform is quickly becoming a top choice for enthusiasts, thanks to its competitive odds across various racing formats and an expanding array of sports betting options.
At the core of BetGalaxy's offerings are the comprehensive markets for all Australian racing events. Whether you're into thoroughbreds, harness racing, or greyhounds, BetGalaxy caters to all preferences. They make placing bets a breeze with an intuitive interface, allowing for win/place bets, exactas, quinellas, trifectas, and first four bets.
For sports betting aficionados, BetGalaxy, though currently offering a limited range, is ambitiously expanding its portfolio. Currently, you can place bets on popular sports like AFL, Rugby League, NBA, and Cricket, with plans to include more in the near future.
What truly sets BetGalaxy apart is their dedication to customer service excellence. This commitment is a key driver of their rapid growth and rising popularity in the betting industry. Choose BetGalaxy for an unmatched betting adventure that combines the thrill of sports and racing with top-notch service.
BetGalaxy is relatively new to the betting scene in Australia and has one of the best betting apps on the market.

How's the Layout?
I really like the layout of BetGalaxy on both phones and computers, it's quick and intuitive making it easy to get from A to B without getting lost but looks fun at the same time which is a huge shift from some of the more well-known betting sites. I was a bit concerned with the initial loading phase on the phone however that is just a one-time thing as after completely shutting it down then reopening it opened lightning fast.
Let's take a look at the sign-up page.
Time to Sign Up!
The BetGalaxy sign up has to be one of the fastest sign ups I have had to do as a betting site reviewer, it was quick and simple with none of the extra info required, only asking for the necessary information, I was online within two minutes.
Check Out BetGalaxy For Yourself Here.
Time to toss some cash into the account.
Adding some funds
I was quite impressed with the fact that they only have visa and MasterCard available as depositing options, not that it wouldnt be nice to have more, but its good to know that everyone has one so they just make it easy.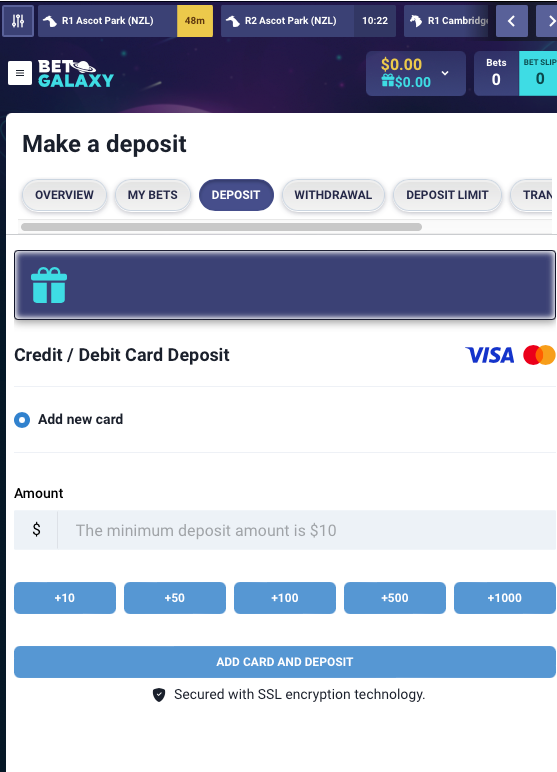 Once the money is in the account its time to place a bet.
Placing a bet
Placing a bet on BetGalaxy was an excellent experience on phone, mobile, and tablet. they way they have designed their site makes it incredibly easy for you to pick and choose what you want without the "did I do that right" question popping into your head.
The Form Guide
The form guide on BetGalaxy is pretty limited, they basically have the form guide and flucs in the racing page in the same section as the horses, if you already know what horse you want to pop a bet on and dont rely on the information housed within the betting site such as extended form guides and speed maps then BetGalaxy is a top option.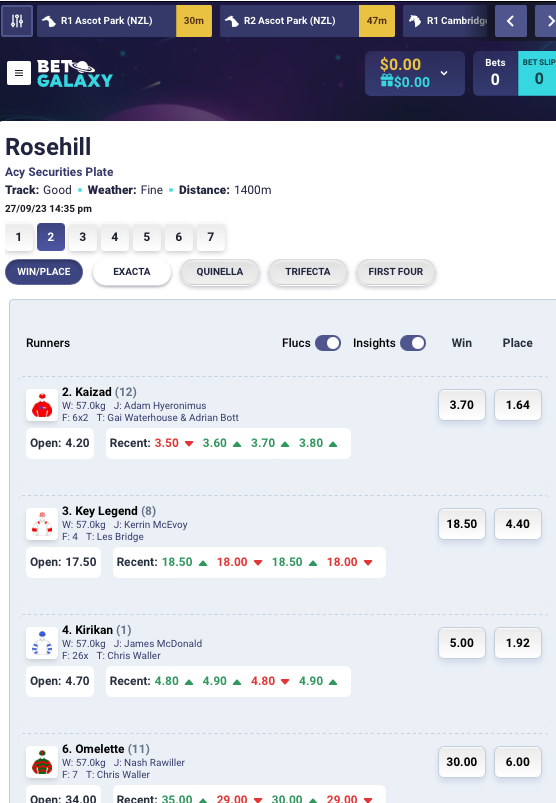 Full-Form Guide
There is currently no full form guide on BetGalaxy.
Speed Map
Unfortunately I could not find a speed map on BetGalaxy at this point in time, by the looks of things this is something they will be adding in the future though.
Popping on a bet
After running through the races for the day I stumbled across Miss Ava, a consistent perfomer with decent odds So I whacked $5 on the nose to see if she would scream through for the win.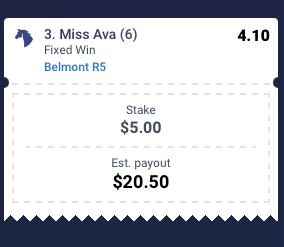 Setting your Deposit Limit
Setting a deposit limit is one of the things I love about betting sites these days as it stops a hangover from getting worse when you wake up to find an extra pineapple missing from the bank balance, good to see BetGalaxy has jumped on the bandwagon and applied this to their site.
Betting on Sports
As a sports fan I always love tossing a bet on current sports, I'm not a huge fan of betting on things I know nothing about such as darts or snoker but it was good to see the options available anyway. I threw some money on the pies aswell as the odds were comparable to the bigger sportsbooks.
Verifying your account
Verifying my betGalaxy account was different from some of the other bookmakers out there, with some of the new smaller bookies you need to physically send them emails containing required information which I personally am not a fan of as I feel like I am giving them a hard copy of my life, BetGalaxy on the other hand does it all securely online and had me verified within a minute or so.
Verdict
I really like BetGalaxy, when it comes to sportsbooks there are usually a bunch of different extras added in that come mostly unused by the broader market, however BetGalaxy has done away with almost all of them providing a nice clean betting site that gets the job done in a fun and simple way.
BetGalaxy Review 2023
BetGalaxy Highlights
Quick App
Same Game Multis
Competitive Odds
Good Sports Markets
What We Don't Like
No racing or sports futures
No phone support
BetGalaxy Deposits and Withdrawals
Depositing and Withdrawing funds to and from your BetGalaxy account is a relatively quick and simple process
BetGalaxy Deposits
BetGalaxy only has two depositing options being Visa and Bank Card.
Deposit type:
Minimum Deposit
The minimum deposit available for BetGalaxy is $10.00.
BetGalaxy Withdrawals
BetGalaxy only has bank transfer as a withdrawal option at this point in time, however considering how good their website is I'm sure they will be adding more in the near future.
Withdrawal Type:
Minimum Withdrawal
The minimum withdrawal for BetGalaxy is not stated however it is safe to assume it will be $10-20.
BetGalaxy Minimum Bet
The minimum bet for Racing and Sports at BetGalaxy is $1.00 online or on the app.
BetGalaxy Betting Markets

I was pleased with the amount of betting markets available on BetGalaxy, some of the more common sports betting markets at other betting sites has been expanded on such as winning margin in the afl, typically this is 1-39, and 40+ as the only options however there were 14 options available at BetGalaxy.
BetGalaxy Sports
At time of writing there were only 14 sports available on the website, however at this time of year there are not a huge range of sports being played, upon checking the background info of their site they claim to have many more sports in their arsenal.
Sports available
Currently, the list of sports available a BetGalaxy are:
American Football
Australian Rules
Baseball
Basketball
Cricket
Darts
Ice Hockey
Rugby League
Rugby Union
Soccer
Specials
Tennis
BetGalaxy Racing
BetGalaxy has racing options available for Thoroughbreds, Greyhounds, and also for Harness with both national and international racing meets available.
BetGalaxy Promotions

BetGalaxy does have promotions available for both racing and sports, though not as exhaustive as bigger bookies, it is nice to see the extra options available.
BetGalaxy Contact and Customer Service
The only means of contact for customer service with BetGalaxy is via livechat.