PuntGenie is a new Australian Bookmaker making waves in the sports betting industry with their innovative approach to the look and feel of the betting app.

How's the Layout?
The PuntGenie layout in my opinion is fantastic, though im not really a fan of the genie in a bottle them it has going on, the colours and layout are one of the best I have seen. With such contrasting colours that are pleasing to the eye it gives you ample opportunity to navigate to the markets of your choice without squinting or struggling to find your place.
I think it's time we sign up to the bookie.
Time to Sign Up!
As far as sign ups go, PuntGenie is without a doubt one of the fastest and most efficient sign up methods I have come across, everything is essentially laid out on one page in an easy to read format that gets you up and running in around a minutes time. In my opinion EXCELLENT!
Check Out PuntGenie For Yourself Here.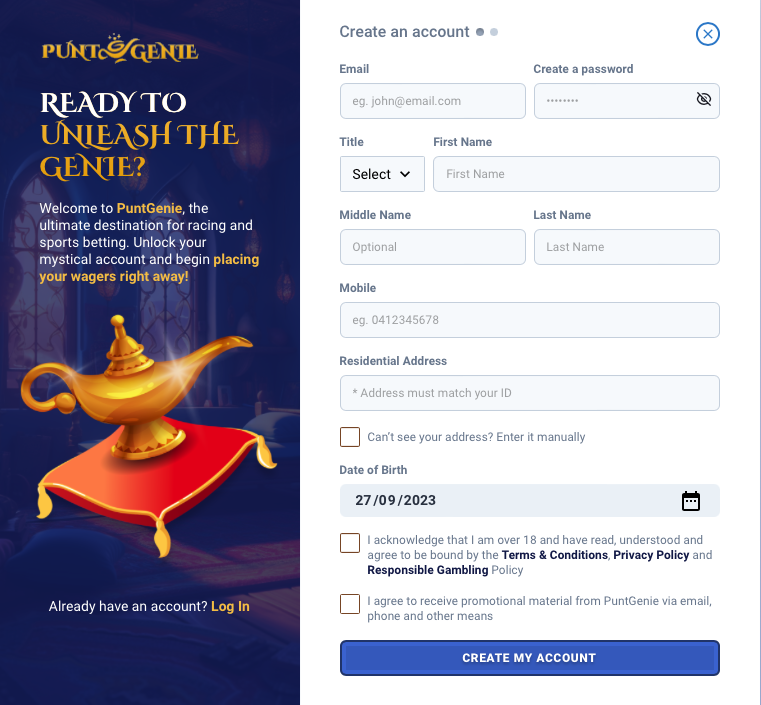 Now that we are all signed up, let's place some money into our account.
Adding some funds
Depositing options are simple with PuntGenie, the only two options being Visa and Mastercard (and let's be honest, we all have at least one of those), popping money in was simple enough and by just adding my card information and then adding some funds I was up and running in no time.
Now that the money is in let's throw some bets on.
Placing a bet
I really liked the way the betting system works on PuntGenie, it was easy enough that I could pass the phone to my grandpa and he would have been able to figure it out.
The Form Guide
The Form guide for PuntGenie is as minimalistic as you can get, it basically just tells you the base information such as weight and jockey, the rest of the short form has been left out.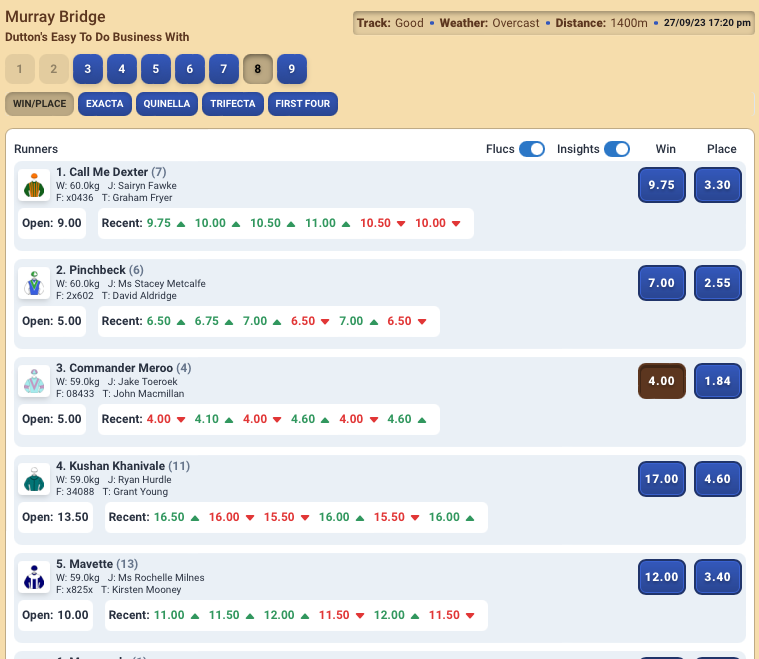 Full-Form Guide
There is no full form guide on PuntGenie.
Speed Map
I would have loved to have seen a speed map on PuntGenie, however, it appears this is something they don't want to venture down just yet.
Popping on a bet
As I went through the races I found a decent horse Commander Meroo, I threw $5 on him to see how we would go and the bet processed perfectly.
Setting your Deposit Limit
Setting your deposit limit with PunGenie enables you to monitor the amount of money you allow yourself to bet, this can either be done whilst setting up your account or also by going into the account section and changing it there.
Betting on Sports
I was impressed with the sports markets that were available, I decided to place a couple of bets on both the AFL and NRL and found no issues with popping on the head-to-heads or multis.
Verifying your account
Verifying my PuntGenie account was quite simple, no emailing of information, verification was done direct through the website so I felt a little safer than sending the info via email.
Verdict
Honestly, PuntGenie is now one of my favourite bookies, whether it is the colour scheme, the layout, or the ease of use I'm not really sure but I thoroughly enjoy using it, not sure it will be my go to bookie, however, I will definitely be using it in my arsenal.
PuntGenie Review 2023

PuntGenie Highlights
Same Game Multis
Good Sports Markets
Quick App
Competitive Odds
What We Don't Like
No racing or sports futures
No phone support
No live streaming
PuntGenie Deposits and Withdrawals
Depositing and withdrawing money with PuntGenie is an absolute breeze with deposit options being mastercard and visa, and withdrawing done via Bank transfer.
PuntGenie Deposits
With only two depositing options available, PuntGenie has taken the stress out of funding your account
Deposit type:
Minimum Deposit
The minimum deposit available for PuntGenie is $10.00.
PuntGenie Withdrawals
Bank Transfer is currently the only withdrawal option however this might be something they will consider changing later down the track.
Withdrawal Type:
Minimum Withdrawal
The minimum withdrawal for PuntGenie is $10-20 however it is not stated on their site how much this number is.
PuntGenie Minimum Bet
PuntGenie's minimum bet is $1.
PuntGenie Betting Markets
PuntGenie has a bunch of different betting markets and more specific betting markets than the bigger firms, for example, in the NRL, PuntGenie has 19 different winning margin options available.
PuntGenie Sports
There are only 14 sports available at the time of writing however it is a relatively quite time in international sports and the site does claim to have alot more available.
Sports available
Currently, the list of sports available a PuntGenie are:
American Football
Australian Rules
Baseball
Basketball
Cricket
Darts
Ice Hockey
Rugby League
Rugby Union
Soccer
Specials
Tennis
PuntGenie Racing
PuntGenie has both National and International horse racing available plus Greyhounds and harness aswell.
PuntGenie Promotions

PuntGenie has a couple of promotions available at the moment however due to Australian laws I am unable to state exactly what these are.
PuntGenie Contact and Customer Service
The only means of contact for customer service with PuntGenie is via livechat.