So we recently heard Buddybet on the radio and decided to give it a go. Below is how our experience went.
We thought Buddybet was just going to be like all the other bookmakers that are available. Boy, were we wrong.
The first thing that got us in was their Friday night jackpots.
Basically, you buy into a market (EG most disposals AFL), and if you win – you get a share of the pool.
The buy-in was only $15, which was pretty reasonable for those not wishing to bet their life savings away.
You Can Download Buddybet Here.
Jackpots Explained & Tested
Usually taken place on Friday night, they offer a $10,000 jackpot for a sporting event.
At the time of this review, the current tournament on offer was for the Essendon and Collingwood AFL game.
The buy-in was $15; you must pick who you think will have the most disposals.
Other users can select the same player as you, decreasing the payout if successful.
We decided to take a punt on Steele Sidebottom, as only one other user had the same selection at the time.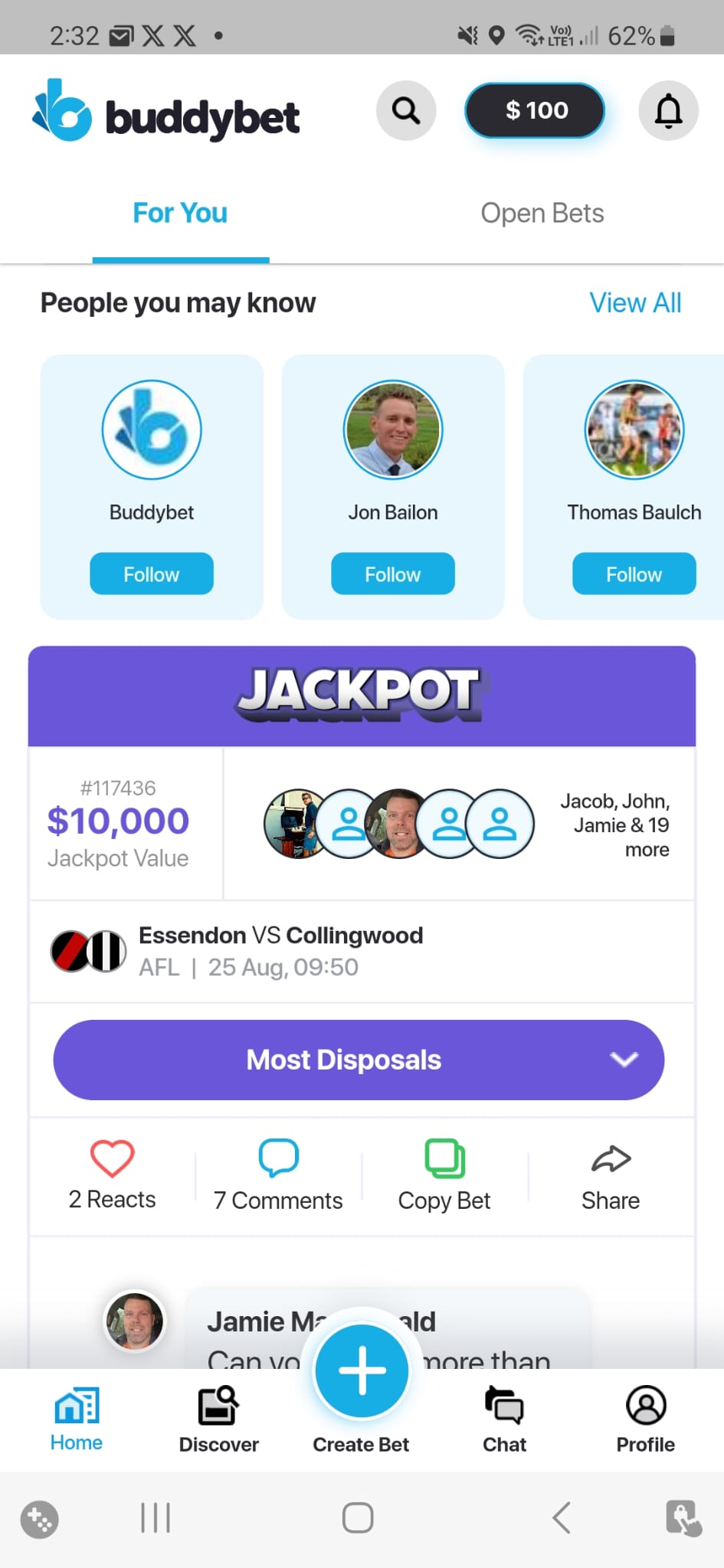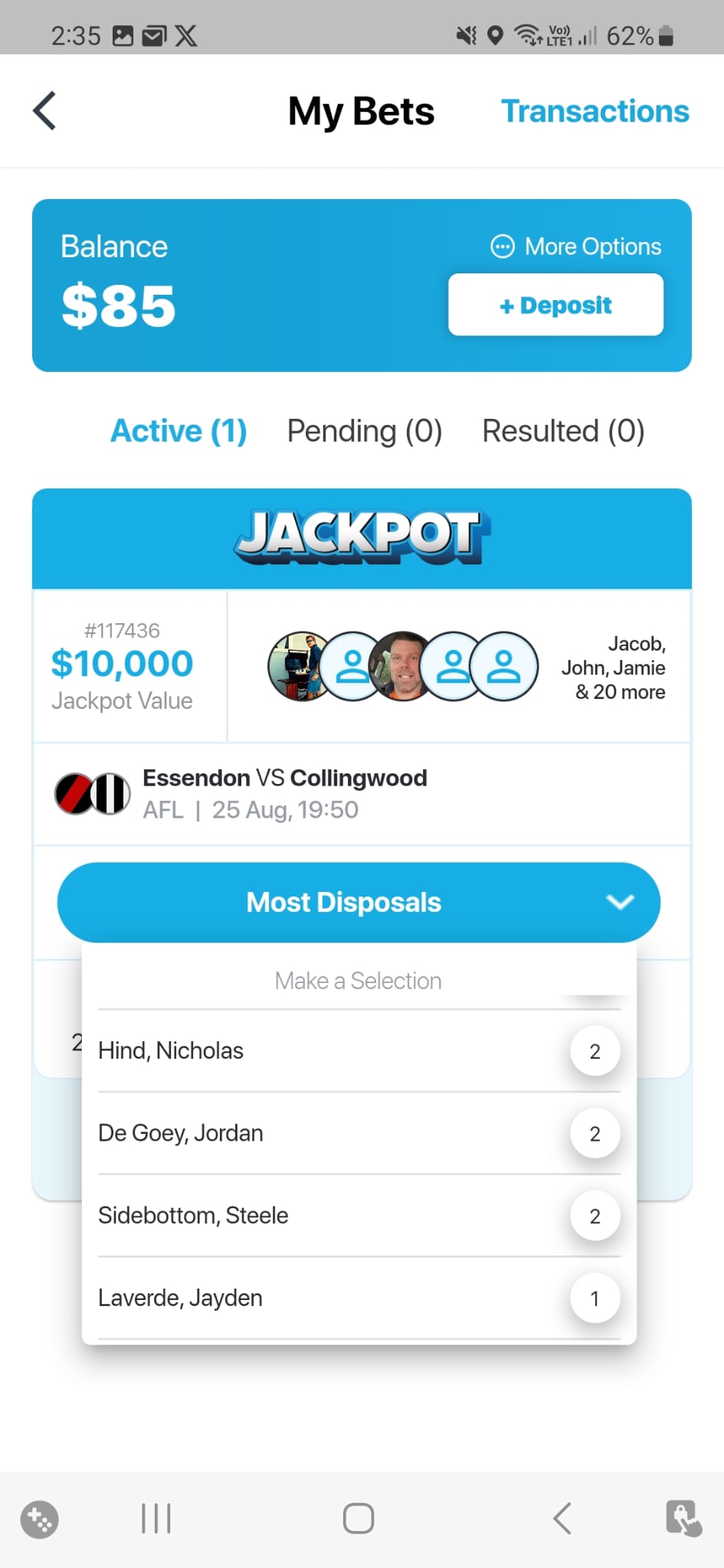 They also offer other smaller jackpots on other events.
These are usually $1000-$2000 tournaments.
This week they had a most tackles market for the Panthers vs. Eels NRL game.
They had a First-try scorer tourney for the Dolphins vs. Cowboys game.
Check out our bet below, *spoiler alert* We didn't win, unfortunately.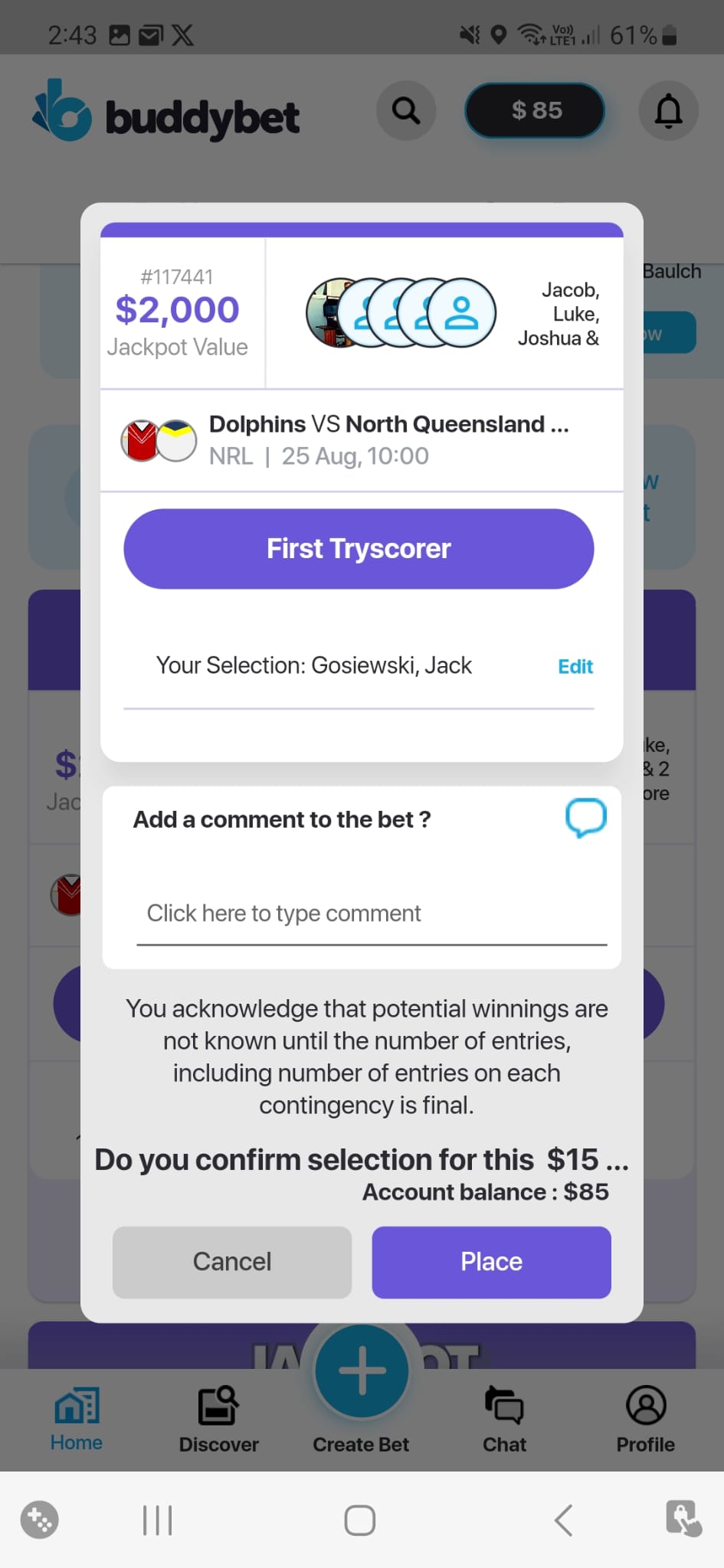 How Does It All Work?
The Social betting app allows punters to make bets with their buddies.
This can be done on various sporting events, entertainment, and novelty bets.
To place a wager with a mate, you first need to select the friend that you would like to bet against.
This can be done one-on-one or with a group of friends, or leave it wide open so that anyone on the app can bet with or against you.
The next step is to put the description of your wager with the terms and bet amount and what the outcome may be.
Depending on the type of bet, you may need to set a deadline.
Then you need to set the visibility of the bet.
Is it private or open to the public?
Once created, the bet will then be sent to your friend, and they will have the option to accept or decline.
Depending on the outcome of the event, Buddybet will pay the winner out.

The Social Side
A really cool feature is the ability to follow other users and friends.
You can check out people's bets, win%, and win streaks.
You can also challenge your friends or other users to a bet of your discretion.
Maybe you and a friend have a bet going at work? Worried he won't pay if you win?
If you place the bet on the app, that problem is now resolved.
They even have some celebrities that you can follow.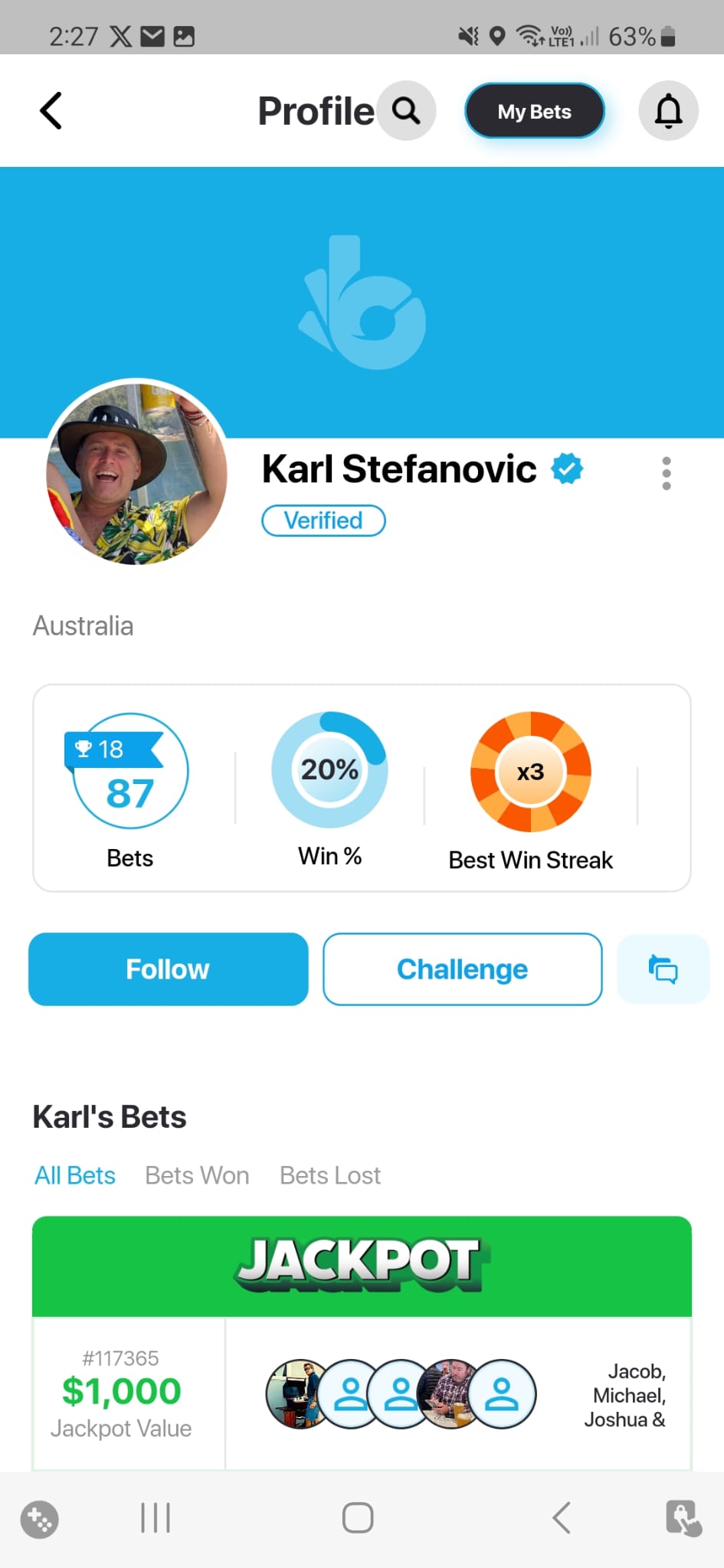 Discover Bets
Here, you view all the trending bets that are happening right now.
You can view bets that people have between each other and vote on the outcome.
By clicking the open bets button, this is where you can take someone on if you disagree with their selection.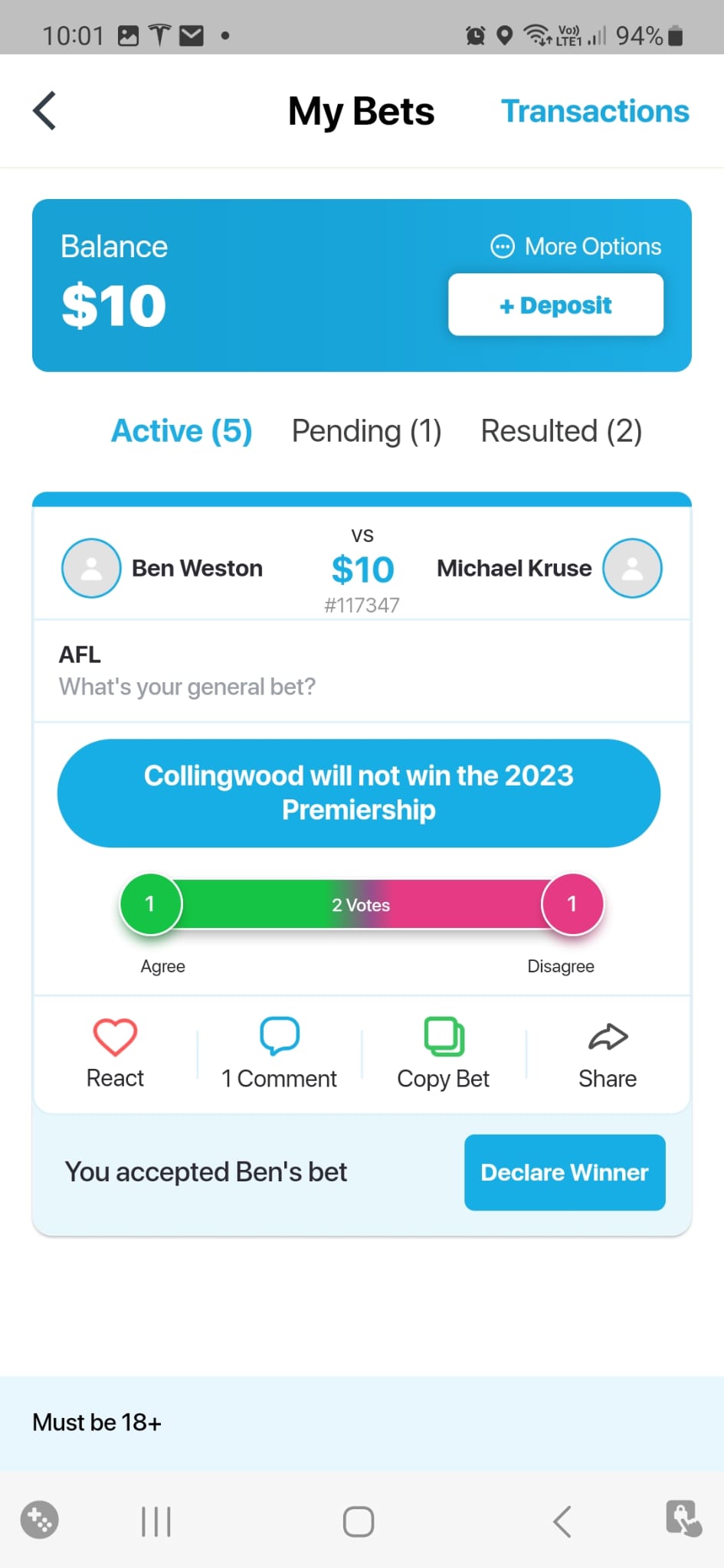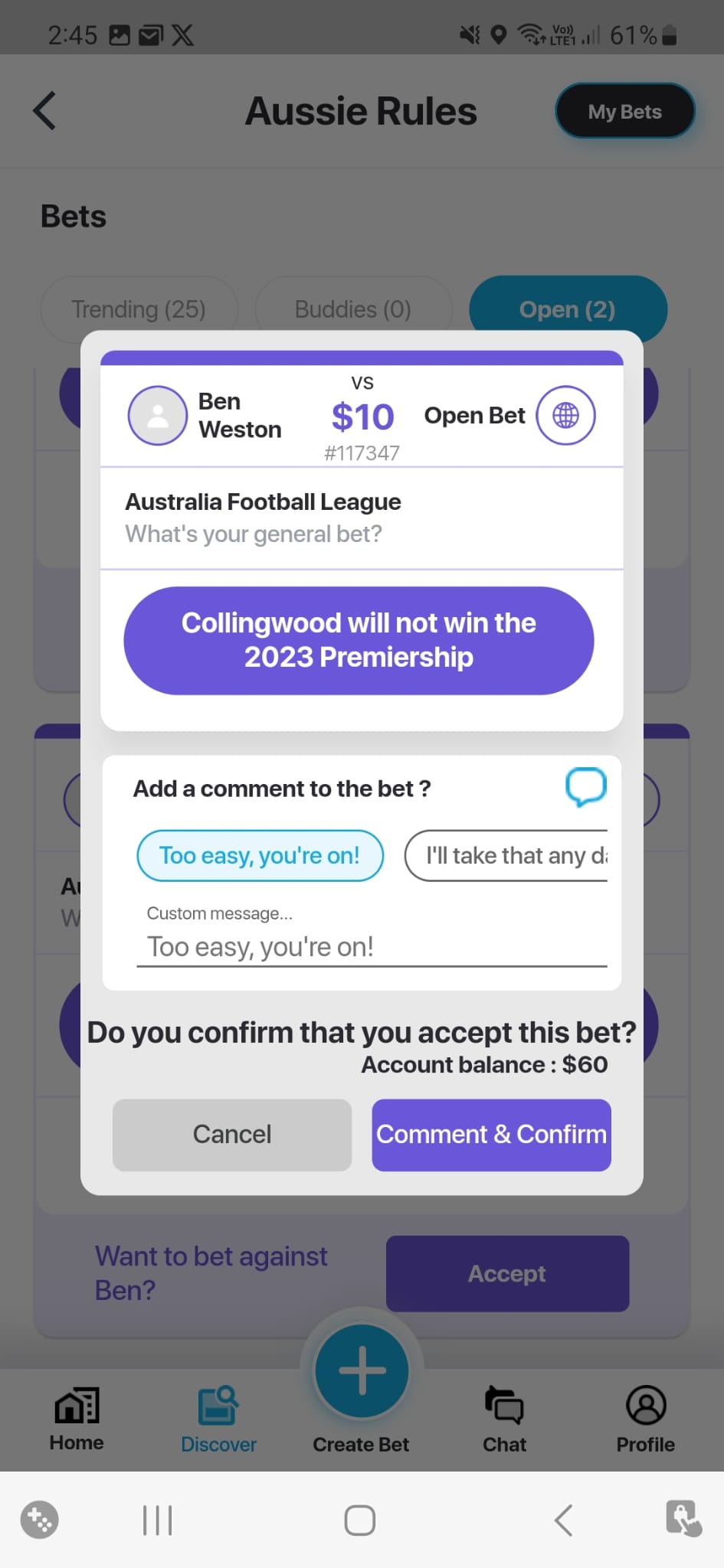 Chat Function
This is a nice addition to the app.
It gives you the ability to chat with friends one-on-one or create a group chat for banter, so you never need to leave the app.
There is nothing worse than having multiple app chat windows open.
User Profile
Similar to social media, users have the ability to make their own profiles.
You can add a display picture and a bio so other users can put a face to the name and give you a follow.
This can also show your recent bets and win streaks.
Deposit Methods
Debit/credit card
A cash deposit (via a retailer)
Bank transfer
Verdict
Could not recommend Buddybet enough. Was super fun to use and offered a different offering to the normal bookie that you may be used to.
Fantastic for those just looking to have a little $10 bet on a game of sport over the weekend.
Really easy to use.
How long do Buddybet withdrawals take?
Withdrawals can take anywhere from 1-2 days.
What is Buddybet?
Buddybet is a social betting app for Australians.
Who owns Buddybet?
Jarrod Epps is the CEO and founder of Buddybet. The app was launched in 2012.
Where is Buddybet Licensed?
They are licensed in the Northern Territory