You've landed on this page for one of two reasons, you've never heard of Dabble and just want to have a squizz and see what the deal is, or two you're looking for a Dabble Bonus Code.
With Dabble being such a new betting site it is incredibly hard to find a bonus code or promo code for them, however, all is not lost!
Read on.
So, as a courtesy to you, I've included the link so that you don't have to go looking for it. For quick reference, Dabble.
Keep reading for the review.

Let's take a peek at the Dabble layout.
I love the way it seems so simple yet functional; the colour palette is extremely easy on the eye.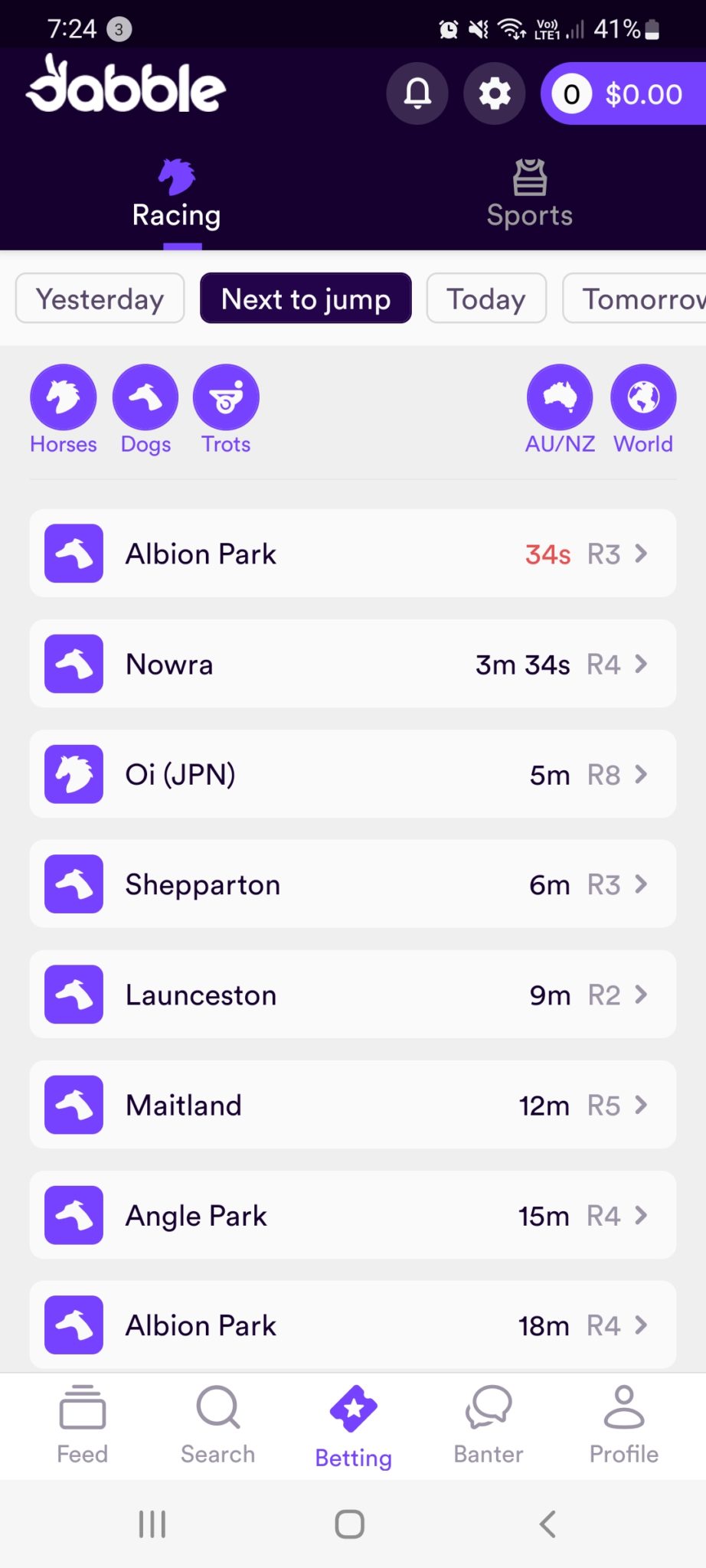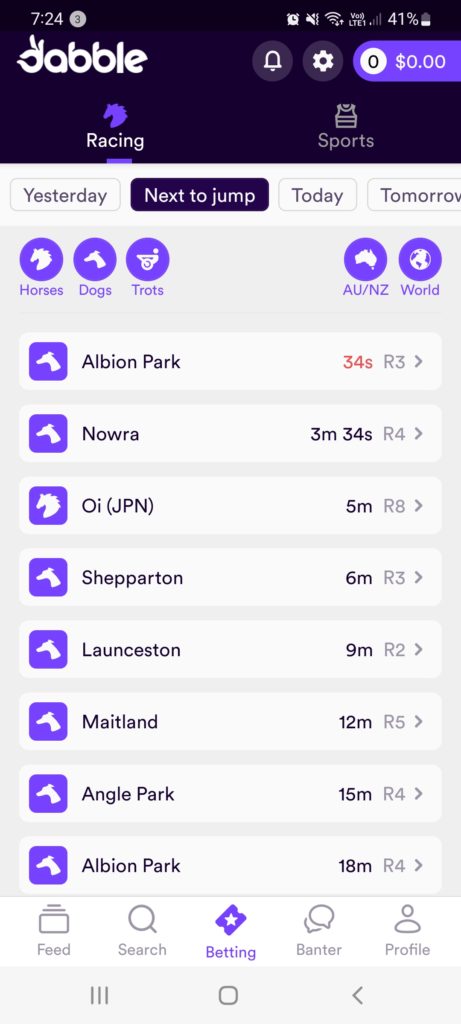 Straight up the top, we have two tabs to switch between Racing and Sports.
From the racing tab, we can see directly underneath it is a scrolling panel for our racing options, everything from next to jump races to tomorrow's races is there making it very easy to find what we want when we want.
Following down the screen is the racing type selection screen which has a bunch of different option that allows us to select whether we want Australian racing or International, and we can also choose whether we want to single out horse racing for example, and remove all the other fluff.
Front and centre of the screen is the events section, once an event is selected, we can then go deeper into the race or sport to find the bets we want to place (but we will go deeper into that later)
To the bottom of the screen are our menu options, which consist of Feed, Search, Betting, Banter, and Profile, all these menu options bring us to completely separate pages specifically designed to cater to your needs.
Ok, let's sign up.
The Dabble sign-up process:
Signing up to bookies is pretty standard practice these days, and for most bookies, the signup process is the same.
However, Dabble sign-up is a little bit different, and I'm not going to lie… I really like it!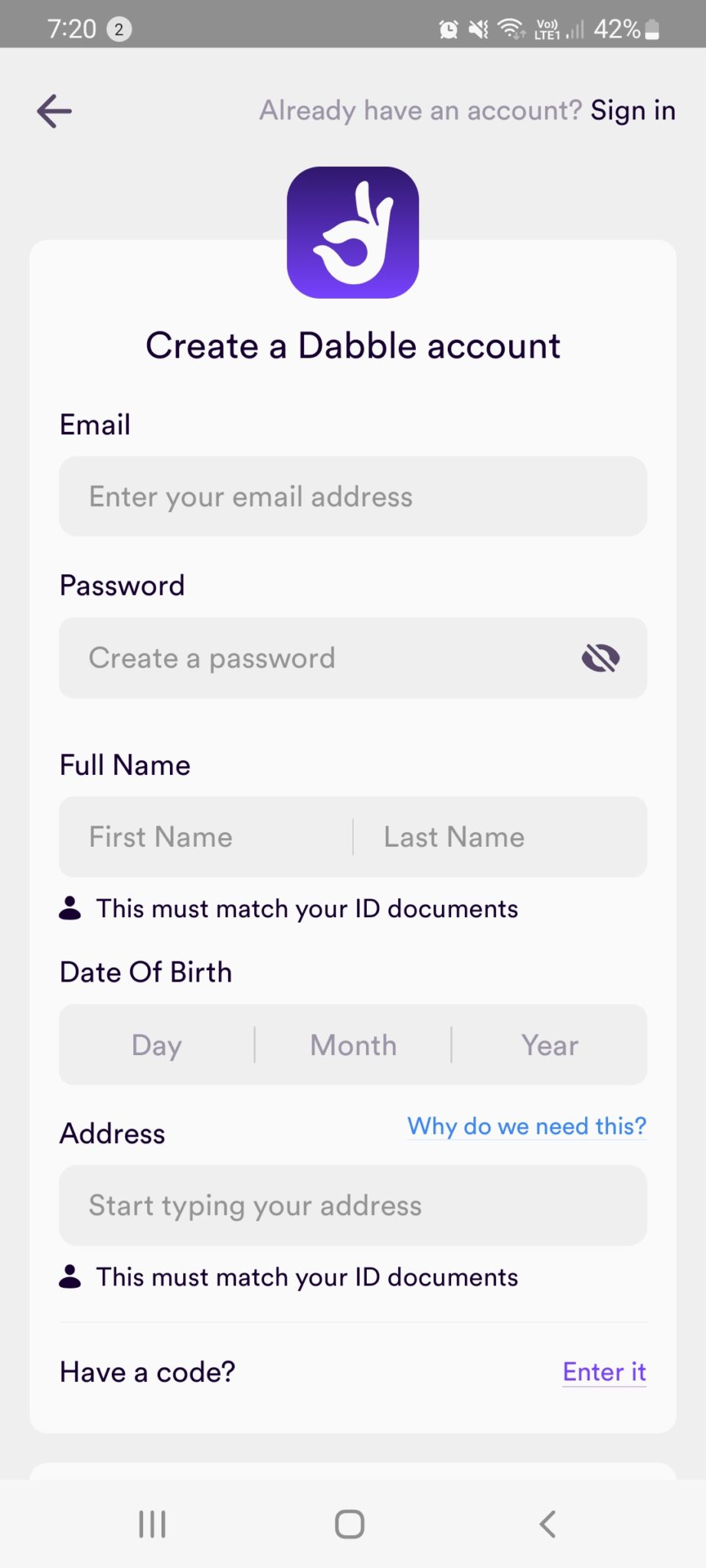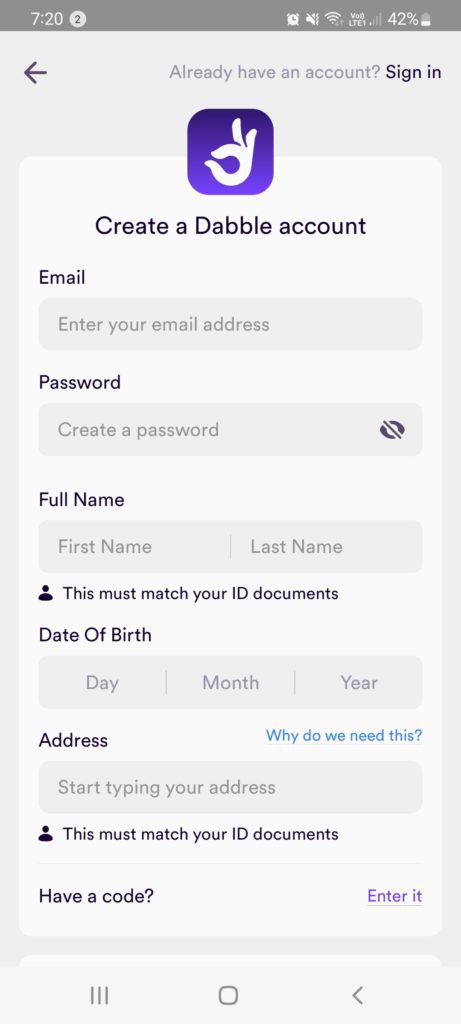 One of the easiest sign-ups I have come across.
From the start of signing up to the set a deposit limit screen it took a total of three minutes to create my Dabble account, at first I was a little surprised that it had taken so long until I remembered all the extra things I had to customise.
Usually, I would be deterred by a longer sign-up process, however, knowing that there was so much extra that aids the user experience the extra time didn't phase me at all.
What I also found good was their privacy screen which allows you to interact with other bettors the way you want, not the way it is pre-defined by the betting company.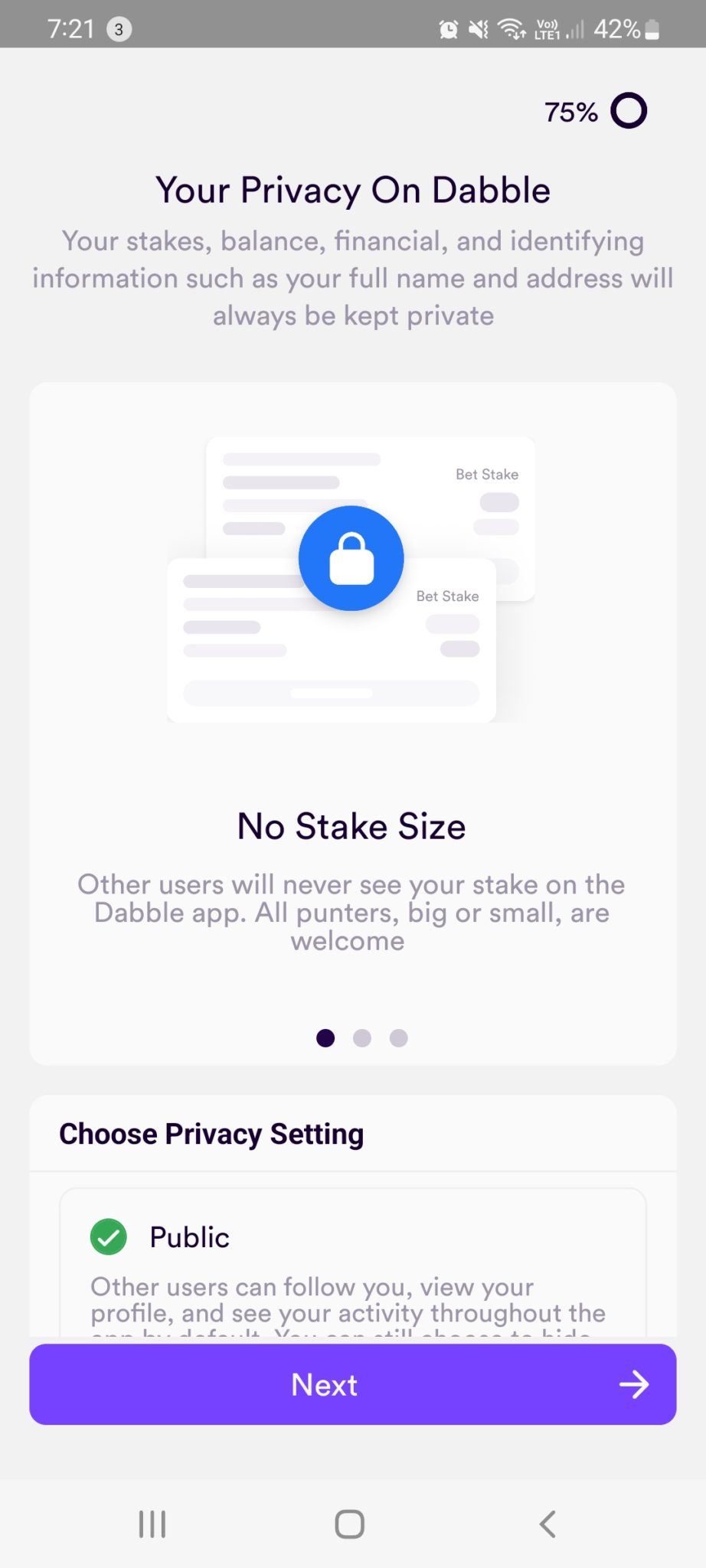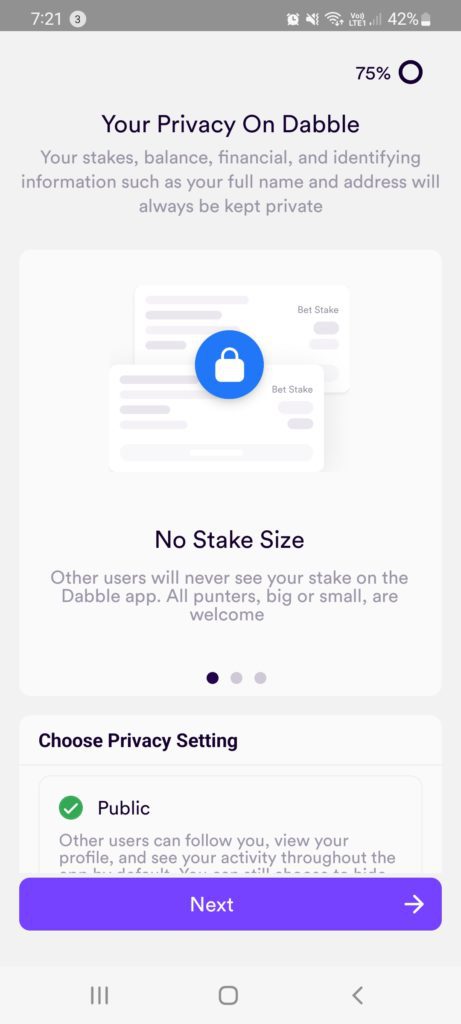 Alright, time to pop some money in!
Depositing Funds
Funding my Dabble account was incredibly simple and hands down the easiest I have come across.
from the deposit screen, it was as simple as clicking on the add new card button, filling out minimal details only relevant to the card itself, then saving the card.
This then brought me back to the deposit screen where I clicked on the $10 button and then clicked on deposit.
And that was it, my funds were instantly added.
Let's make a wager!
Now that we've got that out of the way let's throw some bets on, For the sake of the review, I'll be placing a bet on each individual betting type however, I won't go through them all, instead, I will just make notes on what impressed me and what I found to be needing work.
Racing- I decided to jump into the horses and skip the dogs and trots altogether, by clicking on the horse it opened up a short form guide for the horse which I thought was great, but what I really liked was the "discuss" section, it appears no one seems to be taking advantage of this at the moment but once people catch wind I can foresee this being a game-changer!
popped a random horse on for $1 and lost.
What I did like was that I could choose multiple horses from different races and throw them into a multi, a great way to bump the profits when confident on some fillies.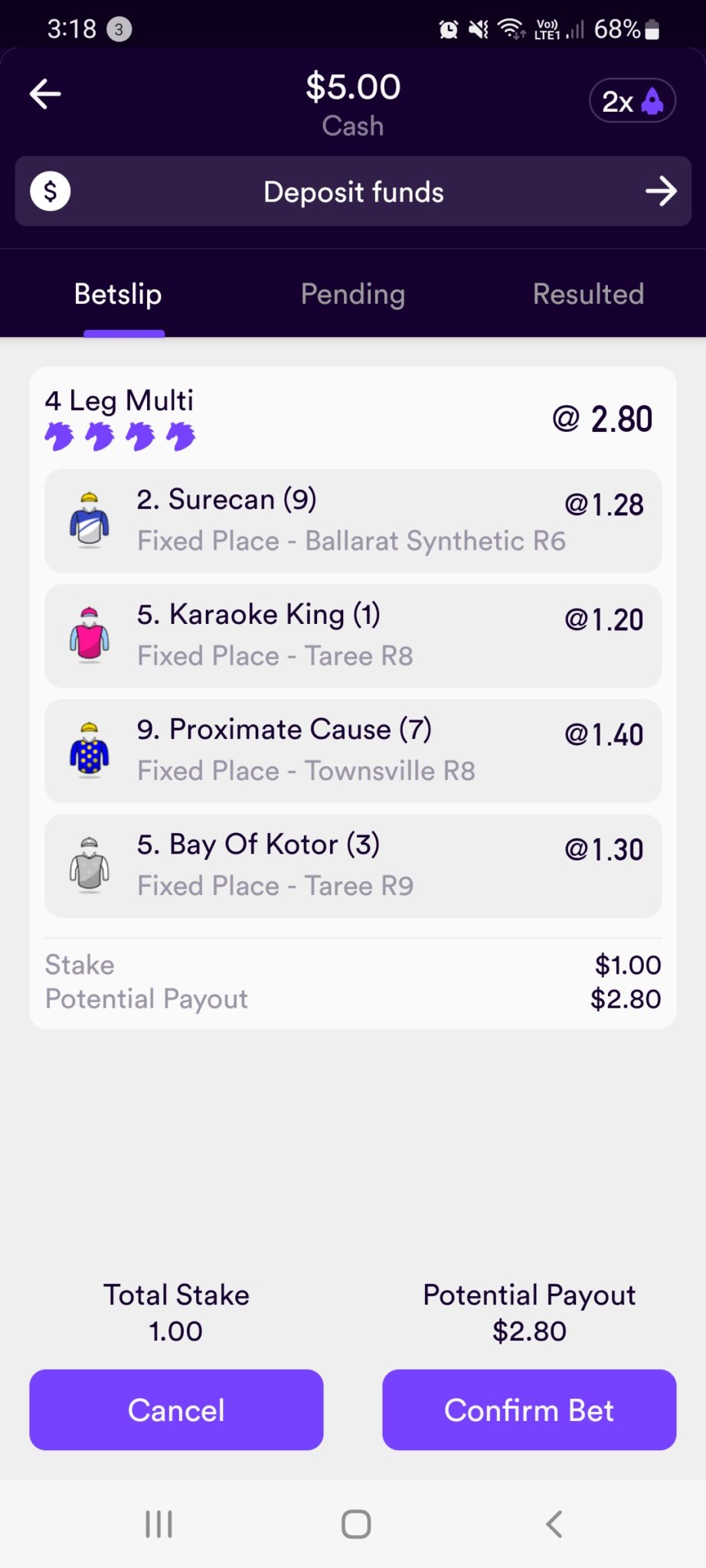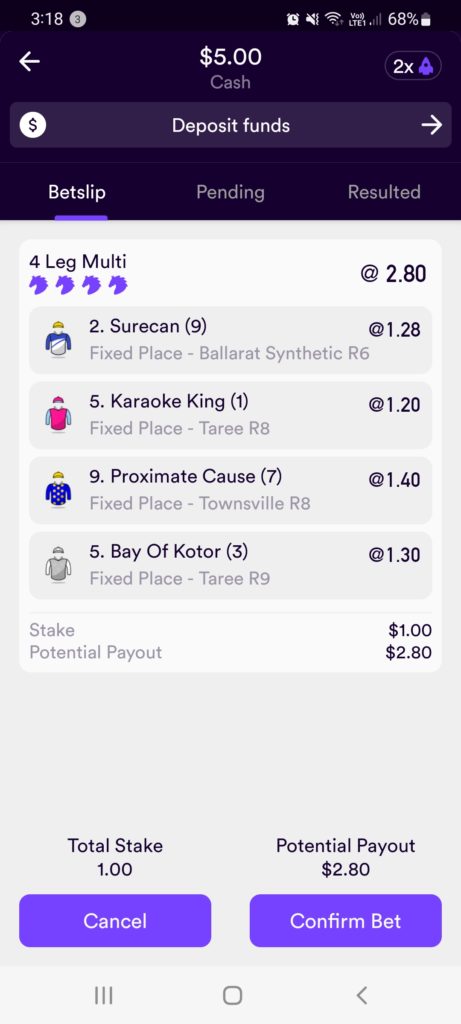 Sports – For the sports bets I decided to throw some money into the AFL and Rugby, placing bets was a breeze with no issues at all.
The only gripe I have is that I was unable to place a bet on the same game multi, these may be available and I was just unable to find one that worked.
Sport Multi's, however, were plentiful, by simply choosing my winners I was able to place them all into the same bet slip, I did this for the AFL, NRL, and also one consisting of AFL, NRL, and Major League Baseball.
Big tick from me!
What sports does Dabble have?
I wasn't sure of how many sports Dabble would have on their site because they are still considered to be a new betting site, I was pleasantly surprised when I opened the app to find 17 sports available, these include:
American Football
Australian Rules
Baseball
Basketball
Boxing
Cricket
Darts
Golf
Ice Hockey
MMA
Motorsport
Rugby League
Rugby Union
Soccer
Surfing
Tennis
Volleyball
What sort of promotions does Dabble have?
The only thing Dabble currently has as promotion is what is known as a rocket boost, this is essentially boosted odds for your bet which increases the odds in your favour, though these are not available in abundance they are definitely worthwhile taking advantage of.
Verdict:
Excellent! There are so many good things about the Dabble app that I honestly don't know where to begin, the only downside at the moment is the lack of promotions, though as time goes on I am sure this will change… Definitely worth downloading, I will be using it regularly.

Dabble Highlights 
Dabble has many great things going for it, quite possibly too many to mention here. However, if we were to choose just one it would be the ability to copy other punters' bets, an excellent function that allows you to jump into the feed section of the app, have a scroll and if you see something you like you can simply copy the bet and continue to the bet slip.
What's missing at Dabble?
The one main thing that Dabble is missing is obviously a desktop and laptop-compatible website, but in this day and age where everything is done on a phone or tablet is there really a need for one anymore?
The other thing that we noticed when doing our Dabble Review was that we were unable to place a same game multi, the ability to place a multi on several different games was available however we were unable to do it for just the one game… mind you this may have been a user error.
Dabble Horse Racing

The way that Dabble has laid out its racing pages is nothing short of fantastic, it is pretty straightforward and similar to other betting sites however we found no issues whatsoever when placing bets, to put it simply… the process was seamless.
Live Racing – Currently there is no live racing available on the Dabble app, however with an app this good we are certain this will be something they will be looking into in the future.
Form Guide – At the moment there is only a short form guide available on the Dabble app, however, it makes sense that an app this good will add a full form guide at some point.
Dabble Sports Markets

It goes without saying that the Dabble app is one of the best apps to use when placing a sports bet, they have a good deal of betting markets available for most sports and with a total of 17 sports available there is something for everyones tastes (unless you're into hopscotch)
They have all the major sporting events worldwide available for betting including:
AFL
NRL
Soccer
Basketball
NFL
Baseball
Cricket
And Tennis
Dabble Promotions
As it is still early on for Dabble there are currently no promotions, to subsidise this though they have an abundance of other functions available for you to take advantage of, it is fairly safe to say they will have promotions in the future however at this point there is only the Rocket Boost as a known promotion of Dabble.
Dabble App
Dabble was specifically designed as an app and does not have a website available, this means that the app has been impeccably finessed to the highest degree, as a betting app Dabble is without a doubt one of the highest quality betting apps on the market.
Everything you could possibly think of from a high-quality betting app can be found on their app, the best thing I found by far was the feed section which shows the recent bets from people you are following, whether it is friends or experts like us there are always quality bets if you know where to look.
Copying bets on Dabble is another great function the Dabble app offers which allows you to copy a bet that another punter has made, this saves time researching your bets and also gives you an insight into how the other punters are placing their bets.
Dabble Website
Dabble is only available on mobile as an app, it is possible to sign up on a desktop or laptop however that is as far as you can go before signing in with the same information.
It is worth noting that you may access the live chat easily from the Dabble Website if you need to speak to someone from the Dabble support team.
Dabble Bonuses
Dabble bonuses currently only consist of the "Rocket Boost" function, though I am more than sure that in time this will be one of many promotions that Dabble will have on offer.
Dabble Payment Method
Depositing
Dabble is very simple when it comes to depositing methods, you can add funds directly into your account by adding your Visa or MasterCard.
No other payment options are currently available.
Withdrawals
As for withdrawal methods, the only withdrawal option available at the moment is bank transfer, this may be subject to change in the future however at this point in time bank withdrawal is the only option.
Dabble Sign Up New Account

Signing up to Dabble was an exceptional experience, I have signed up to many betting sites in my time and I have to say that signing up to Dabble was by far one of the most pleasant experiences I have had.
Email
Password
First Name
Last Name
DOB
Address
Mobile
Username
They will ask you a few extra questions not shown on the images above however they are all to give you a better user experience on their app, it is clear that they are thinking of the customer and not purely a profit-driven betting site.
Dabble Verification Process
Unlike most betting sites, we were unable to find any form of verification on the Dabble app, they may be using some new system such as GreenID that automatically verifies your identity.
Dabble Promo Code
The KRUZEY Promo Code is without a doubt the best promo code available to customers wishing to sign up to Dabble.
Dabble Racing Bonus Bet
When reviewing Dabble I was unable to find a section relating to the bonus bets and was unable to obtain any whilst using the site, this is most likely because instead of having bonus bets they offer odds boosts instead which give you better odds for placing your wager rather than give you free bets with minimal returns.
Dabble Odds
Dabble has a range of different odds for both racing and sports which are all on par with other Australian betting sites.
Dabble Contact & Customer Service
There are a number of ways you can contact Dabble customer service, like most betting apps the obvious choice is to use live chat however for more important matters you may also contact them via email also.
Email
Live Chat
Live Chat can be found via the app by going to the "Cog Icon" on the home screen, then by clicking on HELP CENTRE.
Social Media
Dabble App FAQs
Dabble Rules
All betting sites in Australia have rules that both they and yourself must adhere to in order for them to continue operating as a betting company, you can check out the rules, terms and conditions on their site.
Is Dabble Safe? 
Dabble is just as safe and legal as all other betting sites in Australia, with offices in multiple states of Australia and licensed and regulated through the Northern Territory Racing Commission you can be sure you are in safe hands when using the Dabble app.
About Dabble
Dabble Sports is Licensed and regulated by the Northern Territory Racing Commission. Proudly owned and operated in Australia, with offices in Darwin, Melbourne, Brisbane, Adelaide, and Albury.
Who Owns Dabble?
Dabble is owned by Dabble Sports PTY LTD.
Quick Links
All Aussie Betting Sites Best Sports Betting Sites eSports Betting Sites Australia