You've come here in search of a BetDogs Bonus Code.
Of course, I've been there before, and I've spent hours hunting for them on Google!
There's just one minor issue, though…
Bookmakers used to have a lot of bonus codes readily available, but nowadays, it's a little more complicated.
Sometimes upon signing up to a new betting site like BetDogs they can offer exclusive promotions and welcome bonuses but not always guaranteed.
Best to sign up and jump on live chat to see what they can do for you.
Let's take a quick walk through the site so you can make an informed decision!
I started with a Google search simply typing BetDogs into the search bar and was thrilled to discover that they were at the top of the list; I was surprised to find no advertisements were competing for the space.
I've attached the link for you as a courtesy because I know how time-consuming it can be to search for something. BetDogs Homepage.
Take a look at BetDogs's layout.
I'm going to be honest, I love the banner styling; however, the homepage seems quite bland.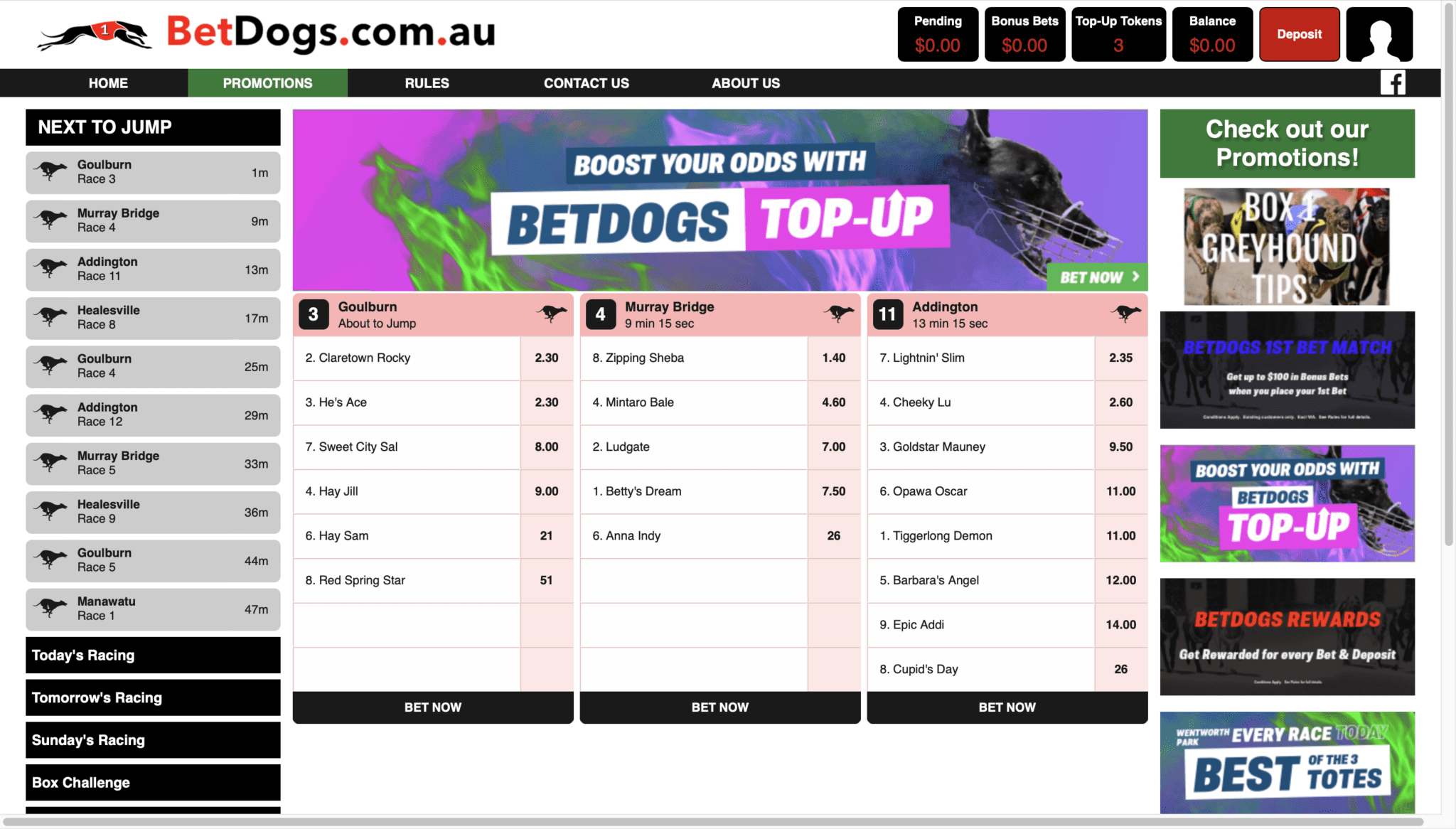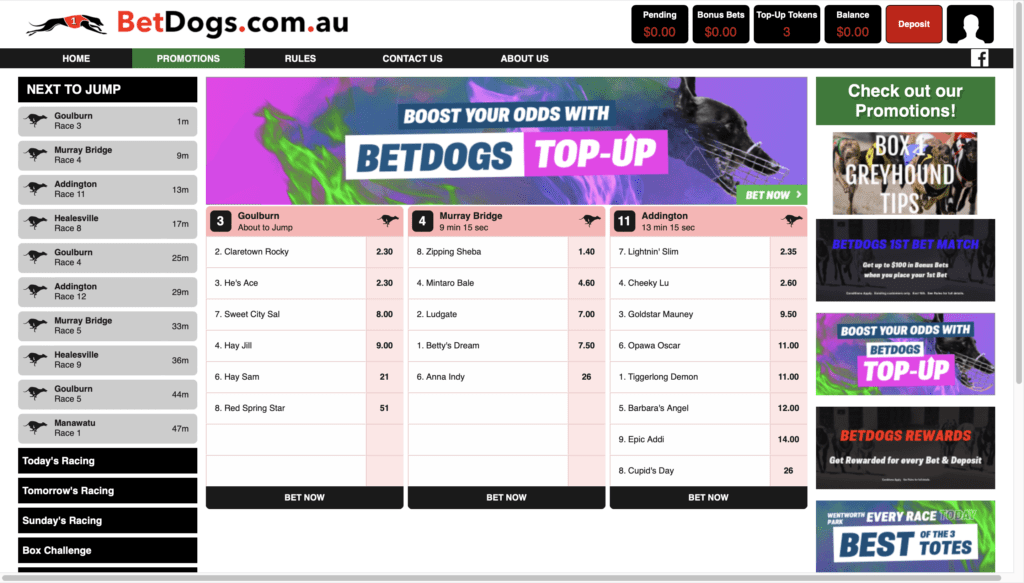 In saying that, when a site is only promoting one thing, it is difficult to flesh out a page and make it look incredible; it is a site for greyhound racing, not for 20 different sports.
The next three races to jump are front and centre of the page, with all ten next to jump races found on the left-hand side in a drop-down banner; following down the banner we can see today's racing, Tomorrow's Racing, Box Challenge, Feature Races, and Racing Results. Below this, you can find a link to TopSport to get your hands on the other racing types and Sporting events.
At the top of the screen, a promotional banner indicates which deals BetDogs is currently giving; what I did find interesting was that they did not link the promotional banner to the promotions page but instead to the general rules section. 
This may have been a linking error they may have missed; however, I thought it would be worth noting.
Right, enough chin-wagging, let's get into the mix of things. 
The BetDogs signup process:
The signup process at most bookmakers is quite similar these days.
While most have a newer style to their signup form, BetDogs have chosen to stick with the older signup format; people betting on greyhound racing tend to be from the older generation; therefore, they would feel more familiar with the styling.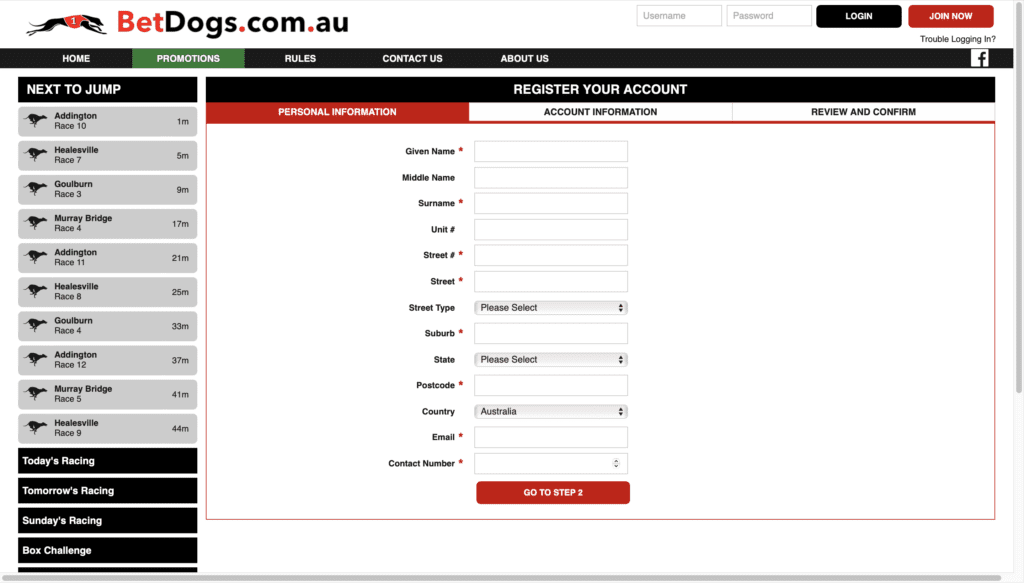 The signup process is a pretty smooth and trouble-free experience; it's a simple two-page process that needs your details to ensure you're not creating a fake account.
After creating a password, a deposit limit option can be found at the bottom of the second page.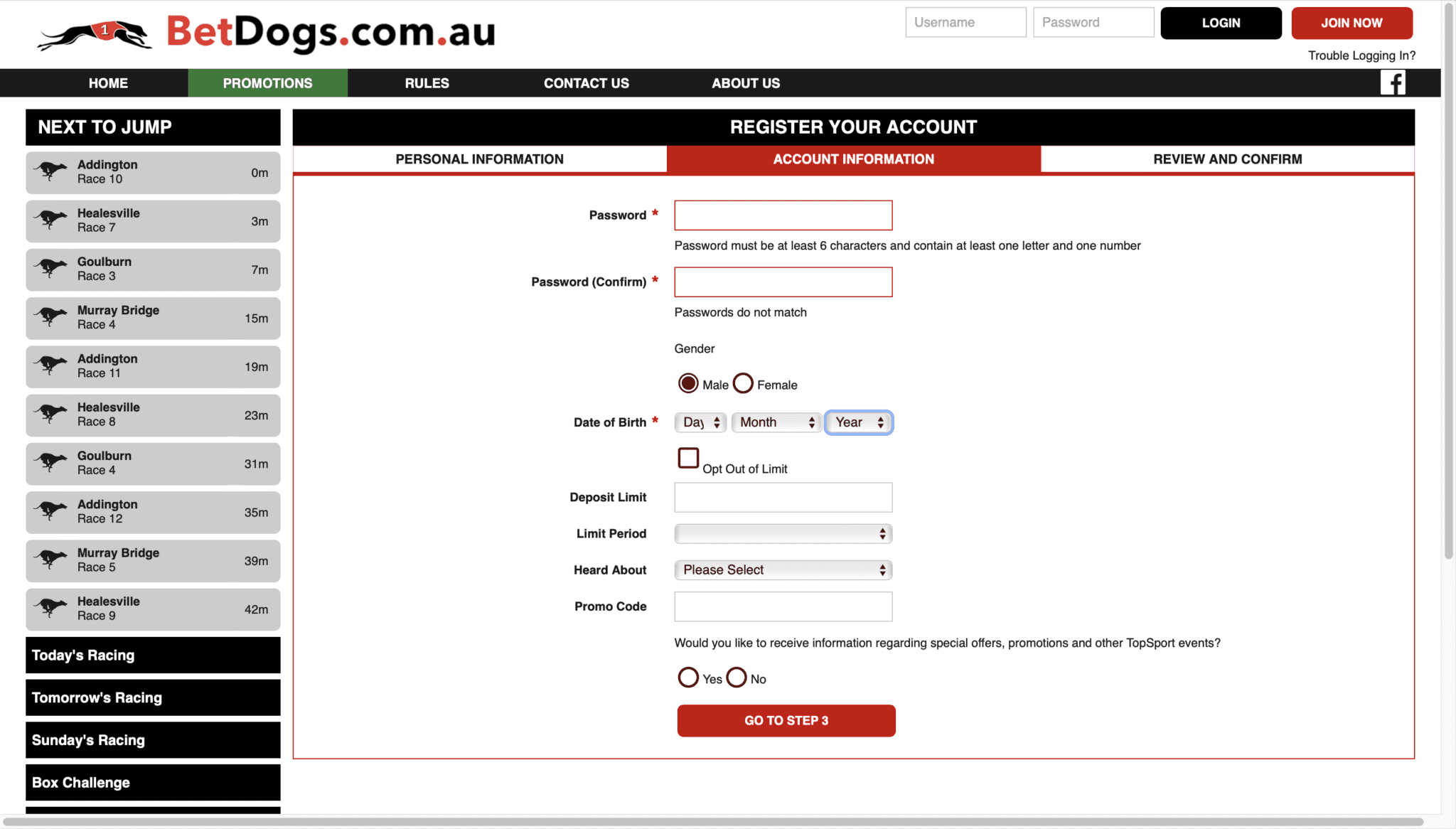 I found this to be a neat little addition; it made me pause and reflect on what I would be willing to part with and how often I would be willing to do so.
Let's deposit some money in the account now that we've joined up.
Depositing Funds
It was effortless to deposit money into my BetDogs account.
I had to click the Deposit button in the top right corner of the screen, taking me into my account.
I was surprised to find the options available to place a deposit; not only could I deposit with the standard credit card or bank transfer, but there was also an option for POLi and BPAY.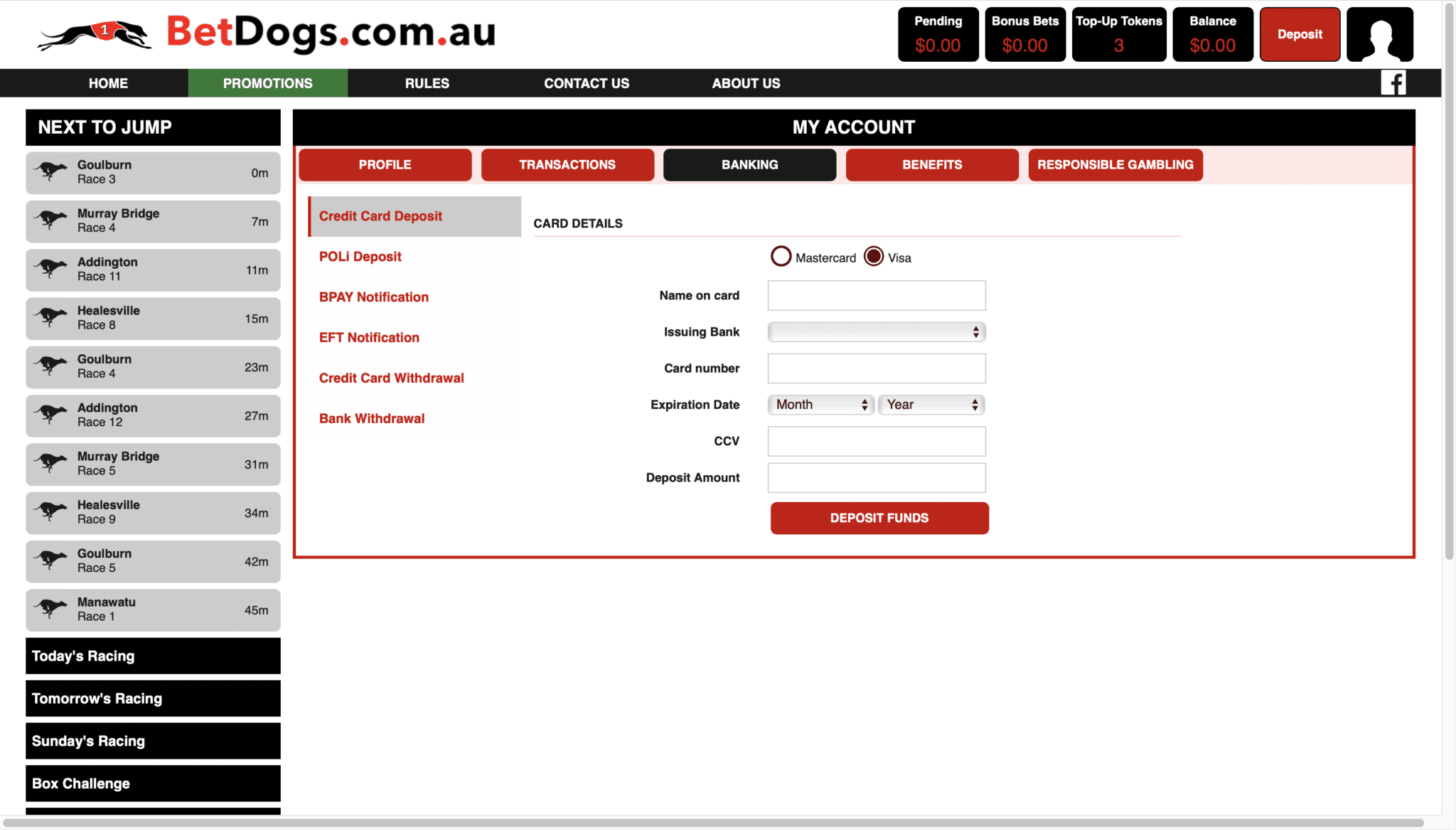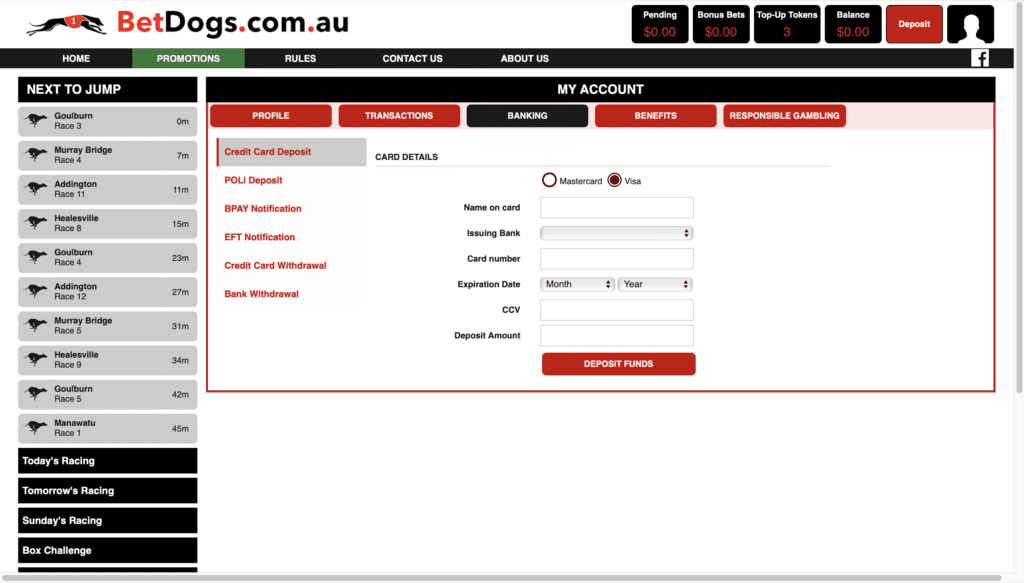 There were also options for credit card withdrawal and Bank Withdrawal, but we will focus on the depositing side of things.
To add funds to my BetDogs account, I used my bank card and had to fill out my banking details and click deposit funds.
It only took seconds for the funds to be transferred into my account; unfortunately, there was no signup bonus for BetDogs on the day I signed up, so I didn't get a match bonus when depositing funds. 
I thought I would go big today, adding a whopping $10 to the kitty for the BetDogs review. 😄
One thing to note is that I did have a little bit of trouble getting verified; this was easily remedied with a phone call and refreshing the page; this was not necessarily a problem with the site and may have been an issue with my details.
Let's make a wager!
I thought it would be better to go to today's racing page for a full evaluation rather than clicking over to the Next To Jump section on the homepage.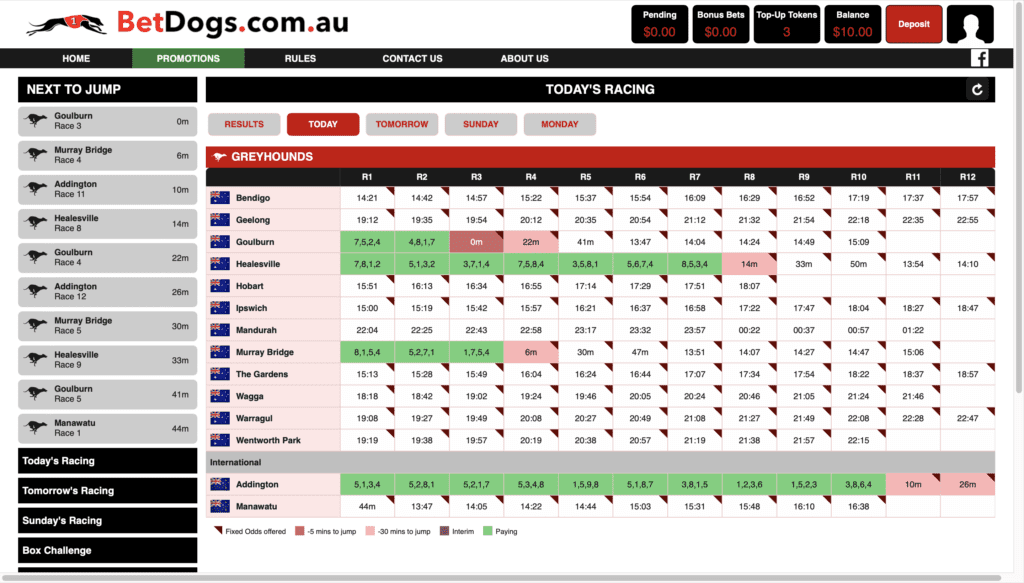 The race layout on Betdogs is pretty good; upcoming races are highlighted in shades of red so you can quickly identify which races are closer to the gate.
All races are laid out in grid lines, so it's easy to distinguish between them; all races with a form guide also have a little red corner.
Working through the races, I found one I liked the look of, so I jumped in to see what the layout was like.
Not only was it arrayed in a clean and structured manner, but what I liked was their version of a speed map; right next to the name, you can find the dog's jumpstyle, early speed, and racing line all in its own neat and easy to understand section.
The first race of the day has been found! 
Unfortunately, there is no short form guide to be found; on the plus side, the full form guide is there in its place (why waste space on the short guide when you can pop the full one in there, right?).

Found my first doggie; let's spend some money!.
Crackerjack Cap seems to have some decent stats in its favour compared to most of the other dogs in this race, not the favourite, but at 2.45, it's not exactly a roughie either.
It won its last race, price movements have remained steady, and he's an eager 1-year-old, so why not I say!
I'm just going to put $1 on the bet slip to see how it goes.
Funds went through with no problems, which is always good to see!
So how did I do?
You bloody ripper! My bet on Crackerjack Cap paid off! I'm starting to wish I'd put the whole $10 on!
I made many other bets after I placed my first one. However, since it would be a waste of your time to go over everything else that happened afterwards, I'll skip it and say that I had some wins and losses, resulting in a bit more than my initial investment.
What sports does BetDogs have?
BetDogs is solely focused on Greyhound racing; unfortunately, there are no other sports or racing types available; however, this may change in the future if they choose to expand into other sports.
What sort of promotions does BetDogs have?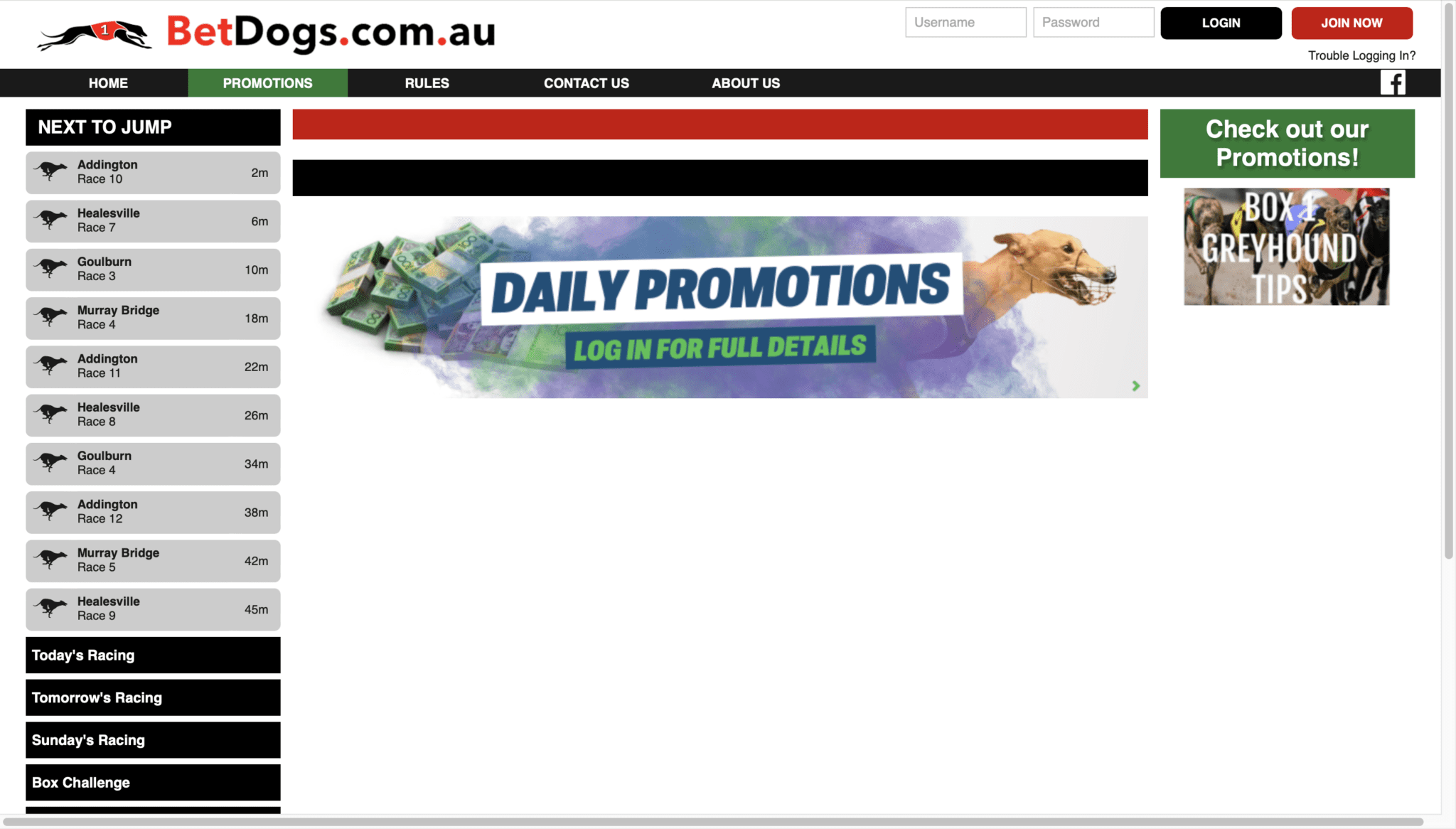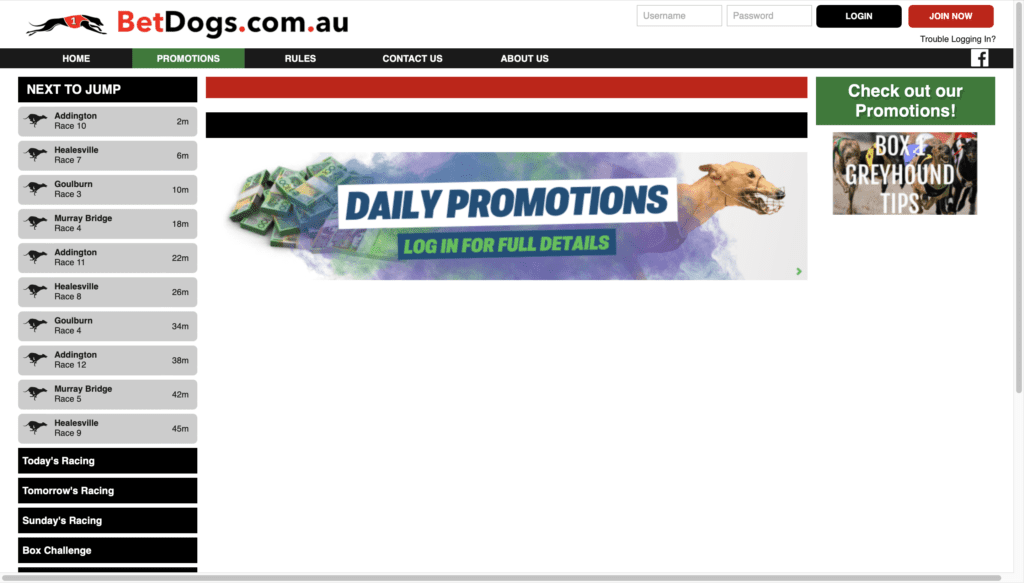 BetDogs has some good promotions for greyhound racing; they have Best Win Tote Paid every day on selected meetings; owners receive the best tote win and place on their dogs.
Unless you are a member BetDogs promotions are not visible, to see all the promotions available you will have to log in.
And then they also have BetDogs Rewards.
What are BetDogs Rewards?
BetDogs Rewards is an incentive program promoted by BetDogs, which allows you to get a bonus bet for every bet and deposit; this does of course, come with conditions that you can view on their website.
What do we like about BetDogs?
Firstly, Betdogs is 100% Australian-owned and operated betting site.
The second thing that we like is that it is entirely and utterly about the doggies! Not a horse, harness, or sports tournament to be seen, and while that might not seem like a good thing, it's good to see a company focusing entirely on just one market instead of dipping their hands into a whole bunch of them.
The overall appearance is simple, uncomplicated, and easy to comprehend. 
Everything you need to access is readily available from the homepage, and you don't even need to scroll to access anything; when I say it is simple, I mean it.
What's missing at BetDogs?
BetDogs is a greyhound betting site and doesn't cater to any other sport or racing options; unfortunately, same race multi bets and live racing are also not currently available at BetDogs.
Cons
No Live Betting
No Same Race Multis
No Mobile Apps
Only Greyhound Racing
BetDogs Highlights  
The best feature of BetDogs is that they concentrate all their energy only on greyhound racing. This means the heart and soul of the business is striving to give you the best knowledge and insights into greyhounds where other betting sites have the greys as an extra option that is rarely paid attention to.
BetDogs Promotions
BetDogs doesn't have a lot of promotions available, which isn't surprising considering they are only promoting greyhounds; ideally, it would be in their interest to promote the promotions from TopSport on the BetDogs website and help people identify the brand a little more.
Every day on selected race meetings BetDogs promotes the best win tote.
Additionally, if you are a greyhound owner, BetDogs offers you the best tote win and place on your dog.
BetDogs Android App
Unfortunately, BetDogs does not have an Android app available yet; this may be something they will roll out in the future; currently, they do not have one.
BetDogs Apple IOS App
Currently, BetDogs does not have an iPhone app, still in the early stages of their betting site; this comes as no surprise; this might be a feature they will roll out later this year.
BetDogs Mobile Site
The BetDogs mobile site feels like a simplified version of the desktop site; most of the features are there, you can still view the early speed; however, jumpstyle and racing lines are absent.
Worth checking out as I can see that this is how the mobile apps will be laid out in the future.
The address for the BetDogs mobile site is the same as their website https://betdogs.com.au/
BetDogs Website
BetDogs is the first betting site I have reviewed that focuses explicitly on greyhounds; in saying that, it feels as though they have honed their focus into the areas that matter.
The BetDogs website is uncluttered, simple, and very easy to understand.
Features that can be found on the desktop version are jumpstyle, early speed, racing line. In addition, the easy-to-read full form guide easily accessible from the Greyhound's name in each race is added to this.
The BetDogs website is available at the following address: https://betdogs.com.au.
BetDogs Contact & Customer Service
The most typical way to contact BetDogs is by phone or email, but you can also do so via the different methods listed below.
Email
Phone
Australian Toll-Free: 1800 867 776

Within Australia: (07) 5599 2244

Outside Australia: +61 7 5599 224
Fax
Within Australia: (07) 5599 3855
Outside Australia: +61 7 5599 3855
Address
PO Box 455, MIAMI Qld 4220 Australia
BetDogs Verification Process
BetDogs uses GreenID for account verification. If you'd like to ensure that your account has already been validated, go to the top right corner, click on the body icon, which will bring you to an overview of your account.
If, on the odd occasion BetDogs is unable to verify your ID using the GreenID verification process, you will need to call them and speak to one of their operators to assist you. This may also involve sending them a copy of your drivers license or passport to prove your identity.
BetDogs Bonus Bet
BetDogs does have bonus bets, and these bonus bets are applied when you place a bet that wins. These bonus bets can also be used on their sister site TopSport which is handy if you can't find a dog you like but want to throw some cash on the horses or sports. 
BetDogs Deposit
BetDogs offers four different types of payment options:
Credit Card
BetDogs only accepts Mastercard and VISA.
POLI 
BPay
Bank Transfer
BetDogs Withdrawals
BetDogs allows you to withdraw your funds in two different ways.
Credit/Debit Card
Bank Withdrawal
BetDogs Racing Bonus Bet
To new and existing BetDogs customers, BetDogs does provide racing bonus bets; in most cases, these sorts of bonus bets are considered a bonus back if your dog comes second or third. However, at BetDogs, you seem to receive a bonus bet if your Greyhound wins first.
BetDogs Horse Racing
As a greyhound betting site, BetDogs does not have any markets for horse racing.
BetDogs Sports Markets
BetDogs only deals in greyhound betting; therefore, they do not provide any sports markets.
BetDogs Odds
BetDogs provides odds on the following types of bets: Win/Place, Quinella, Exacta, Trifecta, First 4, and Quaddie.
The odds at BetDogs are similar to those offered by other bookmaker companies in Australia.
BetDogs Sign Up New Account
Signing up at BetDogs is very easy; they do require some personal info (don't worry, they don't need to know your shoe size)
Given Name
Middle Name
Surname
DOB
Address
Mobile
Enter email
Username
Password
Of course, you'll need to be certified before any withdrawals may be authorized; just as with all Australian betting firms, you can verify your ID by going into the account section, and clicking verify.
BetDogs Promo Code
The greatest BetDogs Promo Code on the internet is, without a doubt, the one offered by us. KRUZEY Promo Code. The Kruzey Promo Code has a long track record of delivering when others' coupons fall short, offering the world and then failing to deliver.
BetDogs Rules
Both BetDogs and its members have rules and regulations that they need to adhere to so that BetDogs can ensure there is nothing illegal happening on their betting site. To view their terms and conditions, go to the terms and conditions section on their website.
BetDogs Review Conclusion
Pretty Decent! I'm not much a fan of the old school colour scheme; however, this is a personal opinion. There was zero lagging on the BetDogs website, and a couple of links were not working correctly; however, when it came to placing bets, it did precisely what it was supposed to do, and at the end of the day, that is all that matters. However, some features were noticeably missing, such as Same Game Multi and Live Racing.
In general, I'm pleased with them and can't wait to discover what else may come.
FAQs
Is BetDogs Safe? 
BetDogs is absolutely a safe betting site; they are licensed by the NSW Government and regulated by Greyhound Racing NSW to ensure you have a secure betting experience.
Who are BetDogs?
Merlehan Bookmaking Pty Ltd. owns BetDogs. Merlehan, the mother company of BetDogs, also owns TopSport, which falls under the same umbrella, the sports and racing side of the betting company.
Who Owns BetDogs?
Merlehan Bookmaking Pty. Ltd. is the owner of BetDogs. Lloyd and Tristan Merleham, the company's directors, have over 30 years of bookmaking expertise and are both licensees.
Lloyd and Simon are both Tattersalls members. Lloyd was the first on-course licensed bookmaker to provide sports betting services to clients in 1990.
Quick Links
All Aussie Betting Sites Best Sports Betting Sites eSports Betting Sites Australia