Introduction
Established in 2015, BlueBet was created by Michael Sullivan, previously the CEO of William Hill and regarded as one of the bookmaking industry professionals. BlueBet is based at Royal Randwick Racecourse in Sydney and part of the NSW Bookmaker's Company.
BlueBet is also a registered firm in New South Wales and is guaranteed by NSW Bookmaker's cooperative to pay for all bets on its members.
What is BlueBet?
First up, we love the fact that BlueBet is a 100% Australian-owned betting sites solely targeted towards us Aussies!
BlueBet provides a quick and reliable web-based betting site for anyone quick and straightforward to use. We enjoyed looking at and placing bets on sites with no static or annoying graphics.
BlueBet Promotions

As with most bookmakers, BlueBet has weekly promotions available to their customers; however, you need to be logged in to view them. These promotions are continually updated, so I do suggest checking their promotions area regularly.
BlueBet Review
I had heard of BlueBet quite some time ago; however, up until this point had never taken the time to do a review, so I thought this was the perfect time to check them out.
BlueBet Australia is relatively new to the bookmaking scene, only establishing themselves in 2015; that said, they do have a wealth of experience in their corner with the renowned CEO Michael Sullivan front and centre.
We had minimal feedback from other bettors on what it was like, so we jumped in head first to give an honest opinion on what BlueBet is like as a bookmaker.
I'm always pleasantly surprised when I find a bookmaker straight away in a google search, and thankfully BlueBet was first for the google terms surrounding all variations of their name.
Today we will be looking at everything from markets, payment method, broadcasting services, the sign-up process, the BlueBet app, plus much more.
BlueBet Highlights
Tonnes of promotions – When it comes to promotions Bluebet stands out from the crowd as one of the leaders of the pack, bluebet regularly updates their promotions and have a huge and I mean HUGE list of promotions available!
Quick Multi – While we couldn't find any highlights distinct to BlueBet, we were pleased to see their quick multi for the next four favourites front and centre on their homepage.
What's missing at BlueBet?
Live Betting – Unfortunately, BlueBet doesn't have live streaming yet; this is something we love using in the office at Kruzey, so it was a little disappointing to find that this option was not available.
Limited Sporting Markets – There are also not as many sports betting options available as the major players. However, we were pleased to see that the ability to place a bet on the Tokyo Olympics was an option in their sports markets; at the time of writing, sporting events for the Tokyo Olympics ranged from Basketball, Rugby, Soccer, Baseball and Equestrian.
BlueBet Features
BlueBet offers an array of exclusive products you can take advantage of as a current customer.
Take a look at the features list below:
BlueBet Blog
On the BlueBet Blog, you can find match previews and tips for a variety of different sports and racing events. 
Blackbook
Whether you like to watch horse racing, greyhound racing, or harness racing, you can follow all of your favourite runners with the BlueBet Blackbook. 
Cash Out
The BlueBet Cash Out option is available across all multi forms.
Live Betting
At BlueBet, you can wager on live events as they're happening over the phone. They cover a wide range of sports and races. 
Live Streaming
You can watch every Victorian & South Australian thoroughbred race as it happens with Bluebet through racing.com. 
Owners Reward
At BlueBet, they want owners to have the best experience possible. That's why they offer either the best of three totes or the best fluc, whichever price is better the owner receives. 
Protest Payout
If your horse loses due to a protest, BlueBet will still pay you out.
BlueBet Sports
American Football
AFL
Baseball
Basketball
Blueys Specials
Boxing
Cricket
Cycling
Darts
Entertainment
Golf
Handball
Ice Hockey
Martial Arts
Motorsport
Netball
Politics
Rugby (League & Union)
Snooker
Soccer
Surfing
Tennis
Volleyball
BlueBet Horse Racing

BlueBet has a number of different racing markets available to all of its customers; the options for horse racing include both horse racing and harness racing.
Betting options in the sidebar for horse racing include:
Thoroughbred
Harness
Feature Races
Jockey Challenges
Boxed Challenges
BlueBet Odds
THOROUGHBRED RACING ODDS
Win and Place
Same Race Multi
Quinella
Exacta
Trifecta
First Four
Daily Double
Running Double
Treble
Quaddie
Super 6
Odds/Evens
Jockey Challenge
Early Quaddie
HARNESS RACING ODDS
Win and Place
Quinella
Exacta
Trifecta
First Four
Treble
Daily Double
Running Double
Quaddie
MultiBets
Odds/Evens
Running Doubles
Early Quaddie
GREYHOUND RACING ODDS
Win and Place
Quinella
Exacta
Trifecta
First Four
Treble
Daily Double
Running Double
Quaddie
MultiBets
Odds/Evens
Running Doubles
Early Quaddie
Inside/Outside
Same Race Multi
BlueBet Mobile Options
BlueBet Android App

The BlueBet Android app can be downloaded from their website and is as simple as clicking the "Android Icon" button at the bottom of the homepage. Once you have installed the app, click the "Sign Up" button, and you are on your way to filling out registration details.
Signing up for a Blue Bet account was straightforward; if you've ever had to open an online betting account, you would understand that sometimes this can be a tiresome process; however, it was not the case with this app.
We decided to check out the Tokyo Olympics, and we put money into every event type available. Depositing funds was simple, and placing our bets was just as easy. Unfortunately, I am horrible at betting on something I have not researched and walked away with a single win.
In total, we placed $50 of bets at $10 per bet, walking away with a withdrawable balance of $11.15.
I was hesitant when downloading the app. However, the BlueBet app was surprisingly easy to wrap my head around; the only issue I had was with it being a new app (to me). I was unfamiliar with how to use it; it is simple, easy and has no fuss. You can find the link below.
BlueBet Apple iOS App

The BlueBet iOS app may be accessed from their website and requires clicking the "Apple Icon" button at the bottom of the homepage. Once you have the BlueBet App, click the "Sign Up" button, and you'll then be asked to fill out registration details.
Like all bookmakers, the BlueBet iOS app has a sign-up process; all you need to do is fill out some quick personal and banking details to get started; details of this can be found in the "sign up new account" section of this page.
We wanted to put some money into the horse racing on both mobile and desktop, so for the Apple app, we jumped on the horses; we loved how easy they make it for punters to place a bet, we chose a race, picked our horse by clicking their odds then chose how much we wanted to stake, it really was that simple.
All things considered, BlueBet yielded no hiccups in the betting and withdrawal processes.; we ended up pretty pleased with ourselves with the payment of all winning races far outranking our losses.
In total, we placed 20 bets at $5 per bet for a total of $100, and we ended up withdrawing a very comfortable $863 thanks to a few cheeky long shots.
I always feel the iPhone app has more merit over Andriod versions; however, there was no difference between the two; not once did I experience a single issue with using it; it is straightforward, easy to navigate, and intuitive. You can find the link below.
BlueBet Mobile Site
I've never been a fan of using mobile sites, especially when betting was never designed to be used this way; however, the BlueBet website is just as easy to navigate on a mobile device.
During our BlueBet mobile website review, we checked out international betting markets in Major League Baseball and put some money down. Once again found no problems with depositing funds or betting.
We lost more than we won this round, only tipping the Braves and the Reds for the win.
In total, we placed $80 of bets at $5 per bet and ended up with $16.75.
The mobile version of the site worked much better than I initially expected; However, in saying that, I was already anticipating it to be decent due to prior testing of both apps.
You can find the link for their mobile site HERE.
BlueBet Website

We have come to the stage where Apps are recognised as the "Go-To" for content, so at times, it can feel a little odd to review bookmakers on my desktop when the app is already installed on my phone, the website itself threw me a little at first as the blue, white and grey colour scheme was not appealing to me, in saying that I'm not here judge them on their colours; it's is simple but in such a good way!
For our BlueBet website review, we thought betting on the AFL would be our best option for the day. We had absolutely no problems depositing funds, and placing bets was just as easy. We managed to walk away with 6 out of 7 bets winning.
In total, we placed $70 of bets at $10 and came home with a handy profit of $143.
Whilst the BlueBet website may not be one of the most technologically advanced bookmakers in regards to flashy banners that make you feel like you're in a casino, simplicity has been highly favoured in its design.
The home page displays both the races and sporting events that are currently going on or will be soon, as well as the betting odds for each event.
You can find the link for their website HERE.
How to Use BlueBet
Sign Up New Account

Signing up with BlueBet is quick and easy! You can open a new account and start betting in minutes. Remember to activate your account as soon as you've signed up so that you get started off on the right foot.
Open BlueBet and click on the Sign-Up button in the top right corner of the homepage.
Creating Your Account:
To create your account, they will ask you for some personal information on the pop-up form, and you will be required to fill out the standard details in order to set up your account.
These details include Full Name, Address, Phone Number, Username, Password, Gender, Email Address.
Fund Your Account:
Next up, you will be asked to make a deposit, don't be concerned that they are asking for money right away, this is purely to open your account and connect it to your card, so you are able to deposit and withdraw funds when betting with BlueBet.
To do this, you will need your credit/debit card and simply fill out the details below.
Name on card
Card Number
Expiry Date
CVV Number (number on the rear of the card… they cannot see this)
The amount you wish to add (minimum $10 deposit)
And that is it! You are officially set and ready to start betting; the first thing you should want to do is jump over to the promotions section to see what they currently have on offer; BlueBet update their promotions regularly, so if you are looking to place a bet for a sport or race that is not on that day I suggest checking the promotions regularly to get the best value on offer.
Verification Process
To comply with legislation, BlueBet Australia requires 100 points of verification within 14 days of your initial transaction. Though this can seem quite daunting at first, there is an extensive list of acceptable id verifications, so it shouldn't be too hard to make up your 100 points of id.
Primary documents such as birth certificates, passports etc., are worth 70 points.
Secondary documents such as Driver Licence, Pension card, boat licence etc. are worth 40 points.
Other documents such as credit card, medicare card, lease or rent agreement etc., are worth 25-35 points.
Placing a Bet

To place a bet, navigate to the website and log into your account. Once you are logged in, select from the range of betting markets in the, you can find the menu on the left side of the homepage.
Depending on the racing or sports betting market you have chosen, it will be displayed slightly differently; this is because there are various betting options for most sports and racing markets.
Once you have chosen the race, game or event you wish to place a bet on, you will be given different betting options for what you have chosen to bet on; as an example, if you were to select horse racing, you would have the ability to choose between Win & Place, Quinella, Exacta, Trifecta and First Four each with its own set of options to refine your bet including fixed odds etc.
Now that you have chosen the bet you wish to place, a pop up will appear on the right of the page, and you can now decide how much money you want to put on the bet; once you have entered the amount you wish to bet, click the green "Place Bets" button to confirm your selection.
And that's it! You have officially just placed a bet with BlueBet.
Racing Form Guides
Get the inside scoop on every entrant in upcoming races with Bluebet's comprehensive previews, speed maps, and comments. 
Same Game Multi (SGM)
A fixed price for a combination of match legs from the same game. 
Same Race Multi (SRM)
Bluebet offers a combination of different legs from the same race for one fixed price. 
Stat Wars
You can now create player prop market multi's in eligible games, even head-to-head player props! 
Bonuses and Promotions
Below you will find all bonuses and promotions found at BlueBet Australia.
Bonus Bet
Bluebet has a range of bonus bets available for you to use at your disposal, bonus bets are bets that you obtain by betting through promotions, these are then available to you but do come with a return of less profit. All of BlueBet's promotions and offers are subject to terms and conditions. If you are interested in any of their current offers, check the PROMOTION button at the top of the toolbar HERE.
Deposit Bonus
As you may be aware Australian bookmakers are no longer allowed to provide sign up bonuses due to the countries heavy-handed approach to responsible gambling.
That said, even though a Bluebet sign up bonus isn't exactly 'a thing', they do offer promotions to existing customers and also to customers that sign up through their website.
To find their promotions we have linked their homepage HERE.
Racing Bonus Bet
BlueBet has a range of promotions which can be found simply by clicking on the promotions button from their homepage. However, you do have to be signed up in order to view them. The homepage can be found HERE.
Promo Code
Due to government regulations, BlueBet, along with all the other Australian bookmakers, are no longer allowed promo codes. Therefore you will not find any current BlueBet promo code available anywhere, and they do, however, offer a variety of promotions directly on their website, which can be found HERE.
BlueBet Contact & Customer Service
BlueBet customer service options are some of the best we have seen, which holds true to them wanting to be the bookmaker for the bettors.
All of the BlueBet customer service options can be found below.
Customer Support Phone Number: 1800 797 644
Racing Betting Phone Number: 1800 797 066
Sports Betting Phone Number: 1800 797 588
Postal Adress: PO Box 14, Randwick, NSW 2031, Australia
Email: contact@bluebet.com.au
Fax: 02 9571 0033 (Australia), +61 2 9571 0033 (International)
Live Chat: 24/7
Rules
Just like all other bookmaker sites, BlueBet has rules, terms and conditions they must abide by in order to operate as a responsible betting site.
You can find all the rules, terms and conditions at the bottom of the homepage HERE.
BlueBet Mates
It pays to have friends in high places– especially when one of those places is BlueBet. So add your buddies as friends on the site and share winning tips!

BlueBet Real Play Review
Unlike most other review sites we test each betting site and relay our experience back to our readers, we don't believe in just giving the stats, we want to give you the very best experience possible which is why we include a detailed and thorough real play review with all of the betting sites we recommend.
A little birdy told me you're looking for a BlueBet Bonus Code.
I've spent a solid two hours searching for bonus codes before, so I know how frustrating it can be!
These days it almost seems impossible to find a decent bonus code, and there's a very good reason.
See the thing is…
Since they changed the laws and regulations on gambling, bonus codes don't usually work anymore.
Still, there is good news,
Ours may still work!
But before we get to that, let's jump into the site and see what it is actually like!
The Sign-Up Process: 
I started by typing BlueBet into Google and after a bunch of advertisements BlueBet was first on the list,
However, to save you the time I've popped the link right HERE for you 😉
The signing up process was a little bit frustrating,
The first page was simple with no issues whatsoever.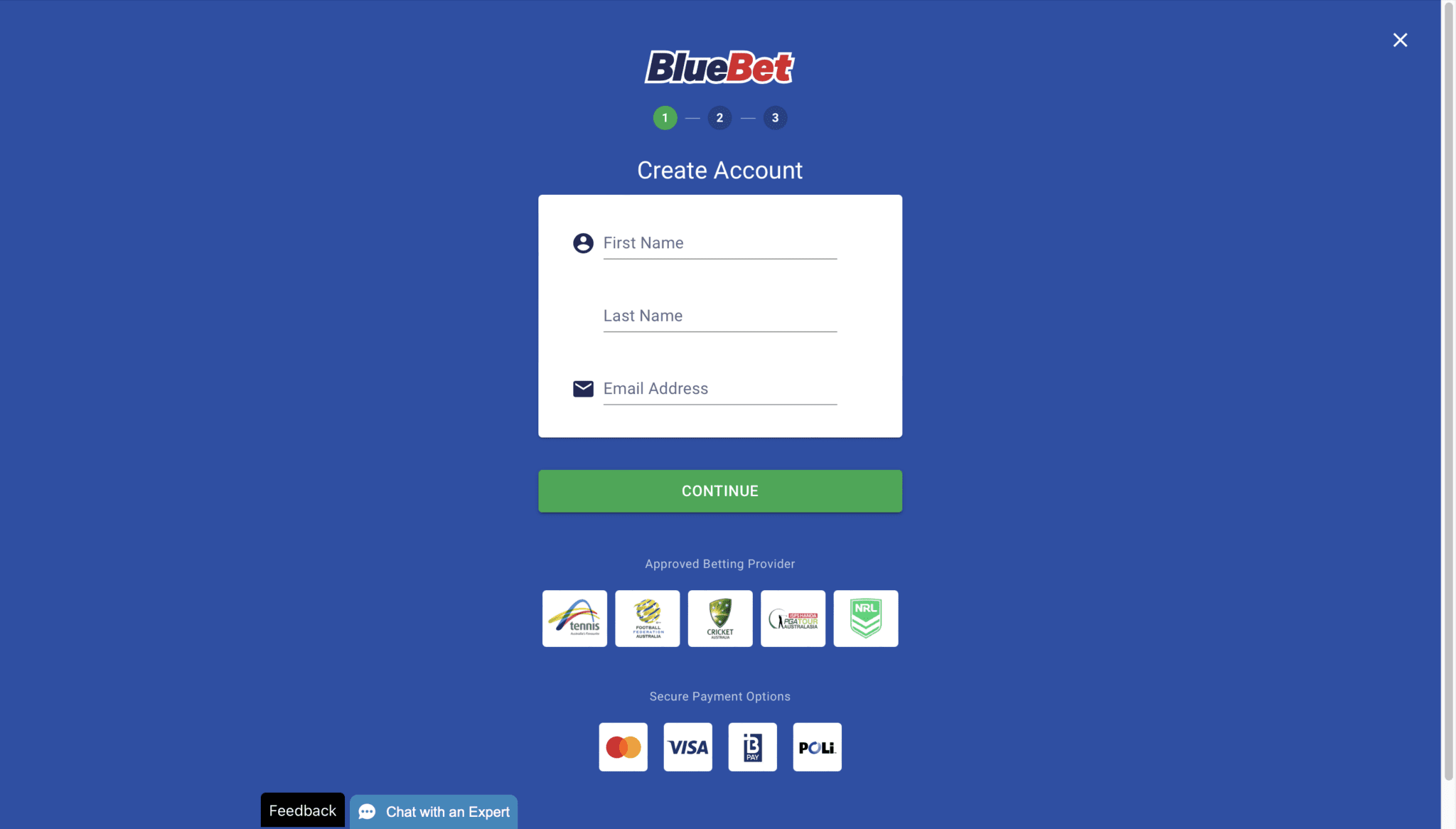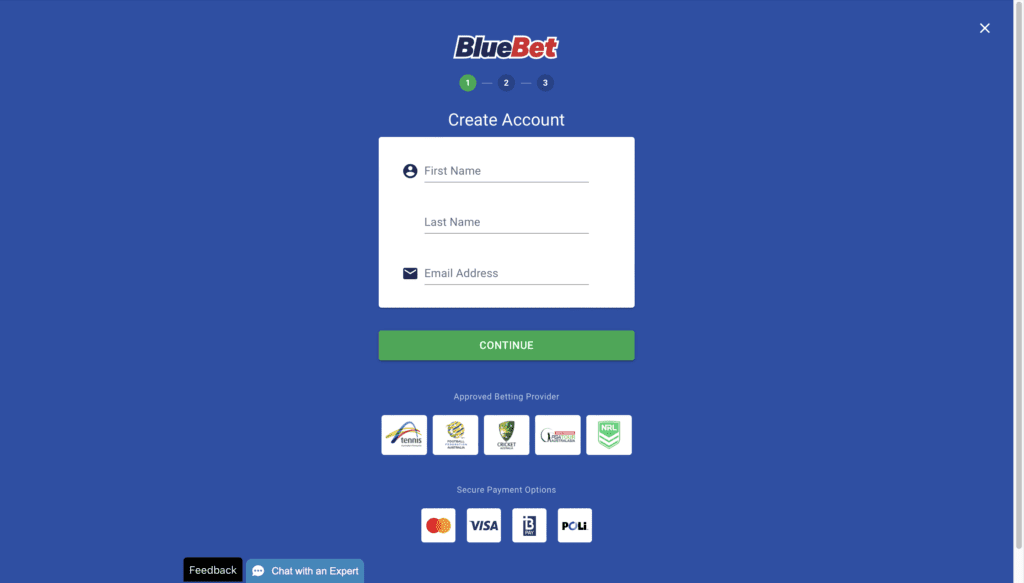 The second page on the other hand…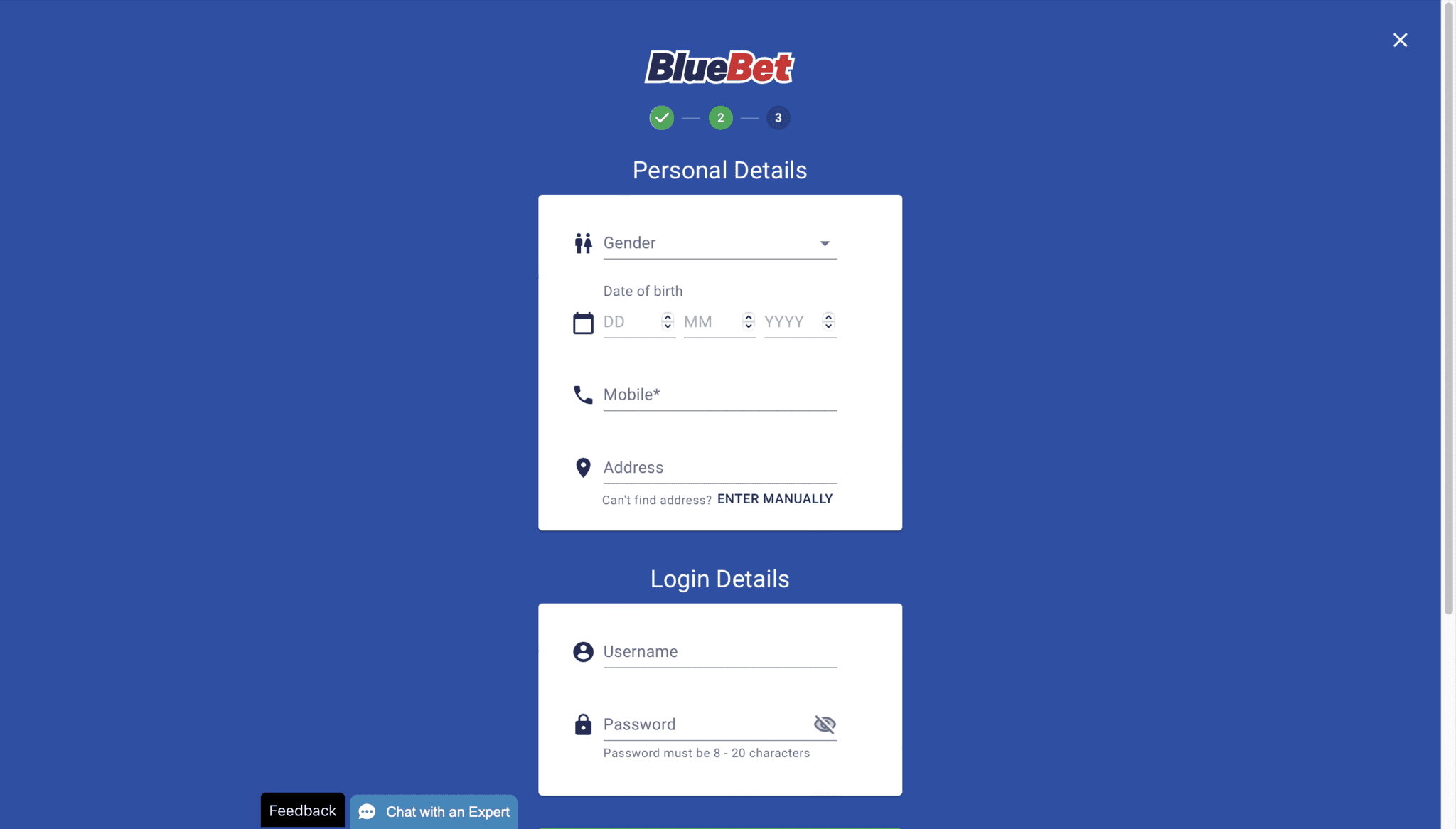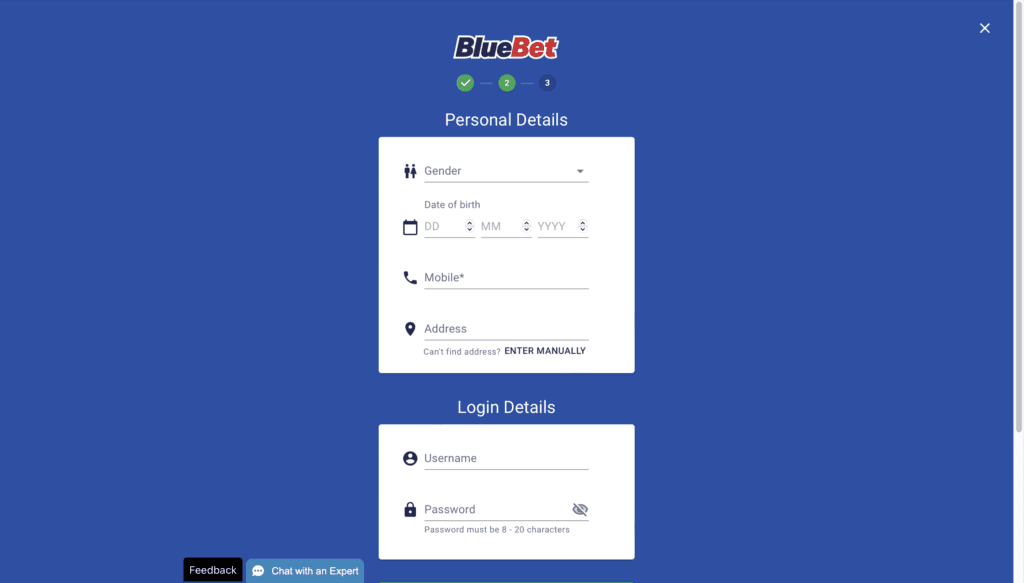 They only asked for the necessary information, however, there was a slight delay in typing and I had to refresh my screen once, this did bring me back to the first page which prompted me to fill in my details all over again.
Frustrating…
In saying that, it was only a small hiccup and once it was done it brought me to a screen stating my account was complete!
Here they give you the option to set a deposit limit, unlike some other bookie sites that make you feel obligated to do this process, this area on BlueBets sign up is minimal and has "optional" written in the box.
At the bottom of this page was a box that allowed me to add a deposit straight away,
I thought this was a handy little feature, kind of like I could set everything up immediately so that I could jump straight into betting.
Unfortunately, this was not the case.
Once again the screen was lagging and wouldn't allow me to type in my details.
I was forced to refresh the screen again and to my surprise, it brought me into my now logged-in account!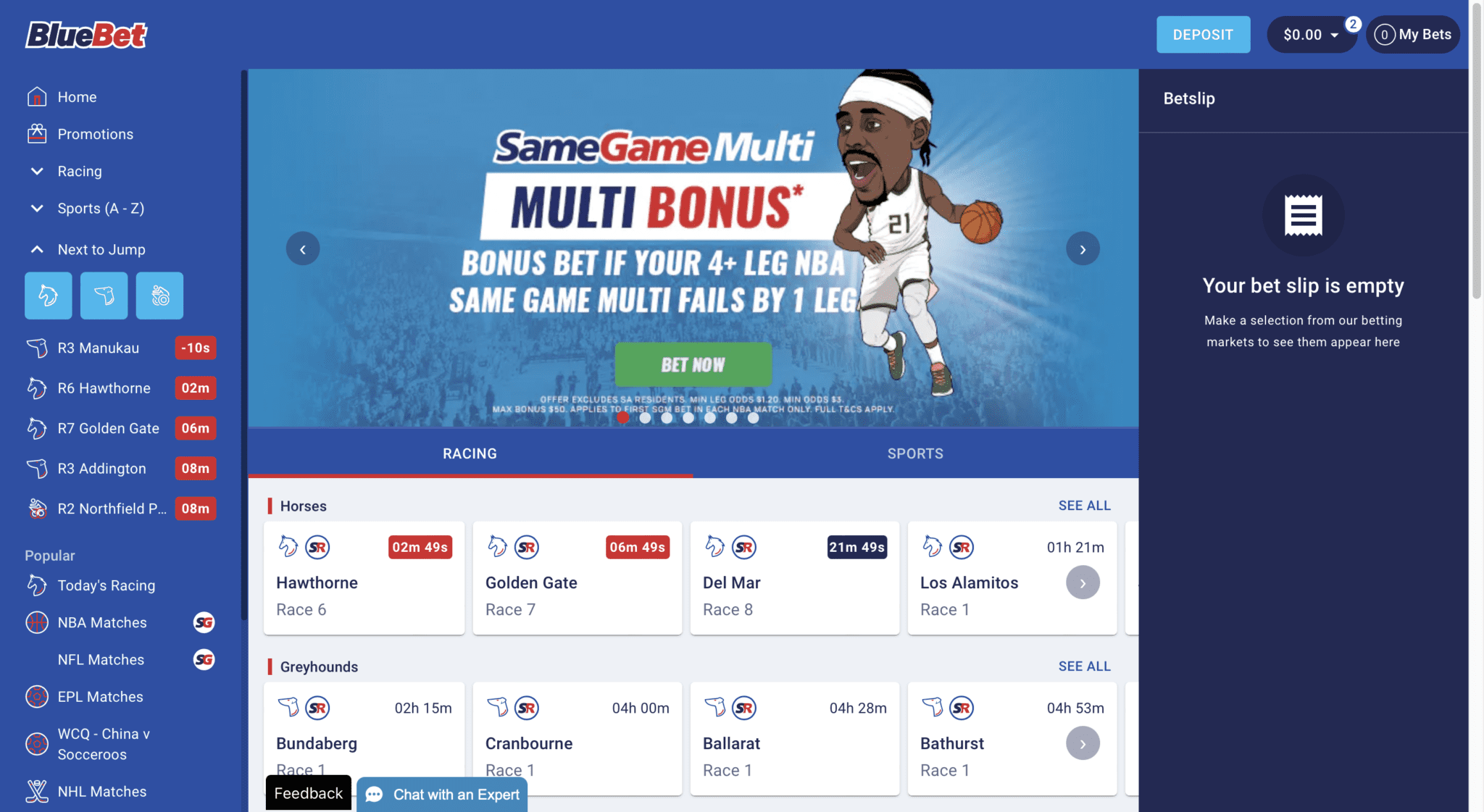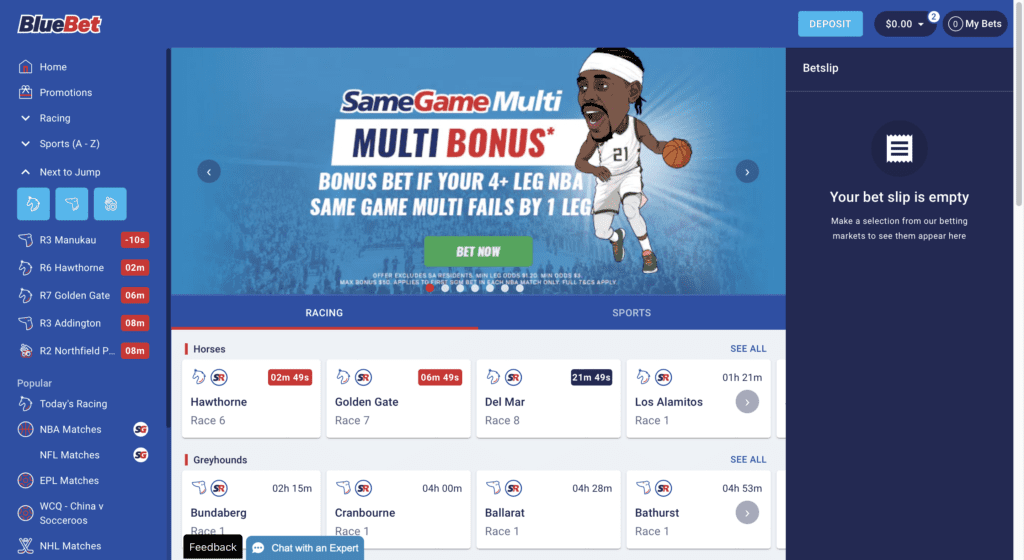 After the headache of signing up, it was time to make a deposit the normal way!
Making A Deposit 
There is a Blue deposit button in the top banner which is hard to miss, clicking on it brought me straight into the deposit page.
They have a few different payment options available
Credit Card, BPay, POLi, Bank EFT, and PayPal.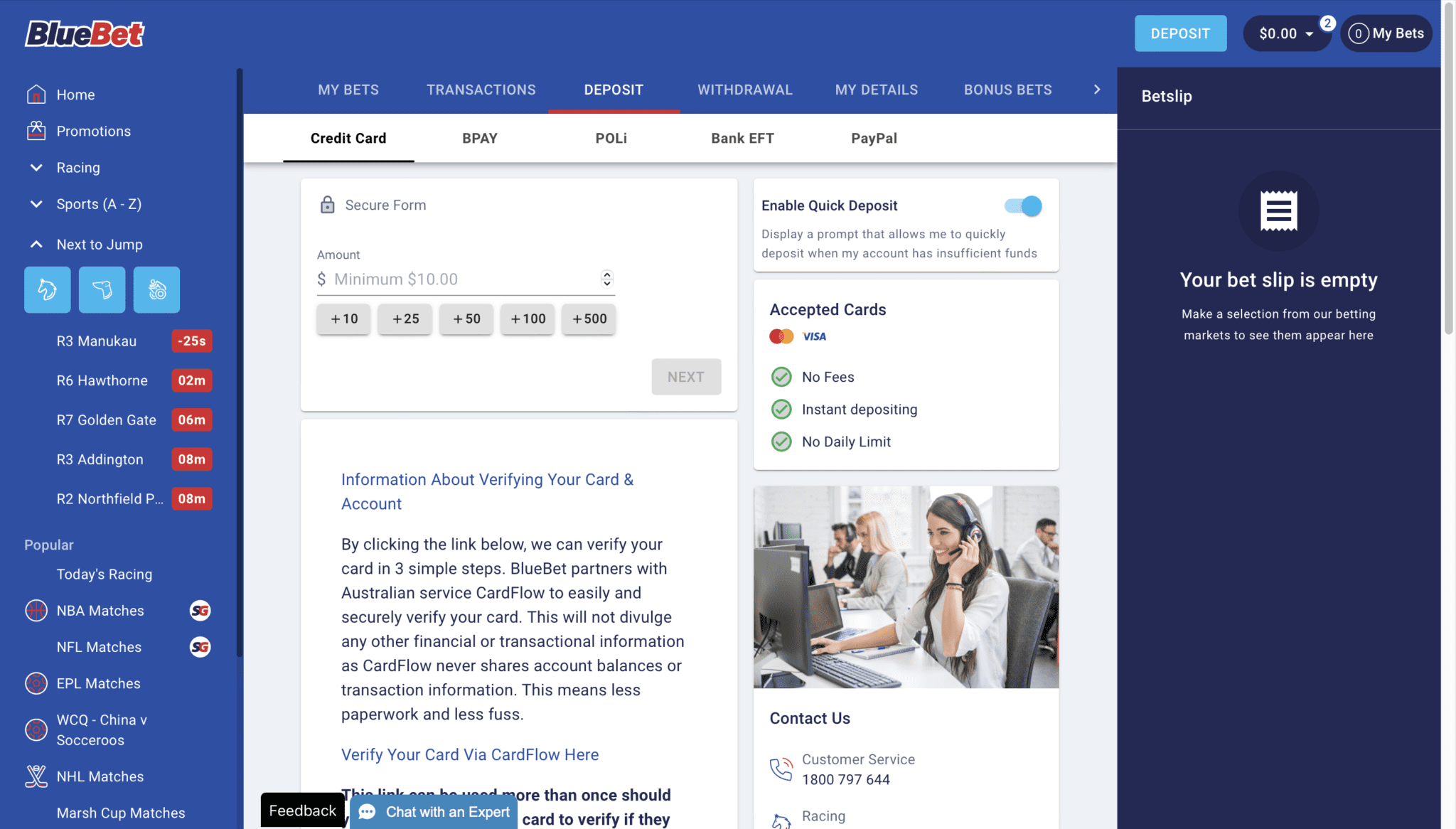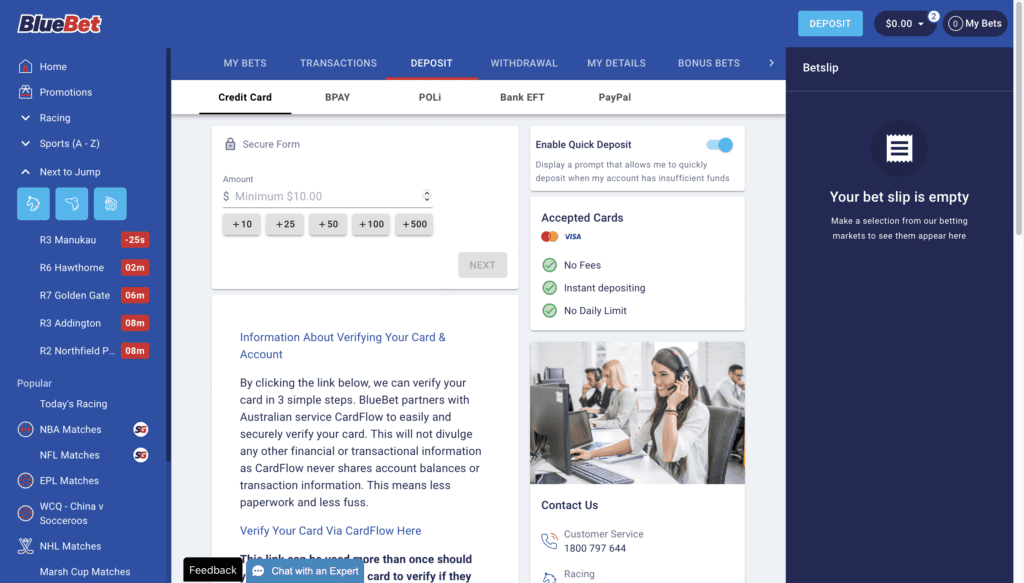 Because most people use their credit cards to put money into their accounts I will be using mine.
A massive $10 for today's bets! Not going big, this is just for the review 😂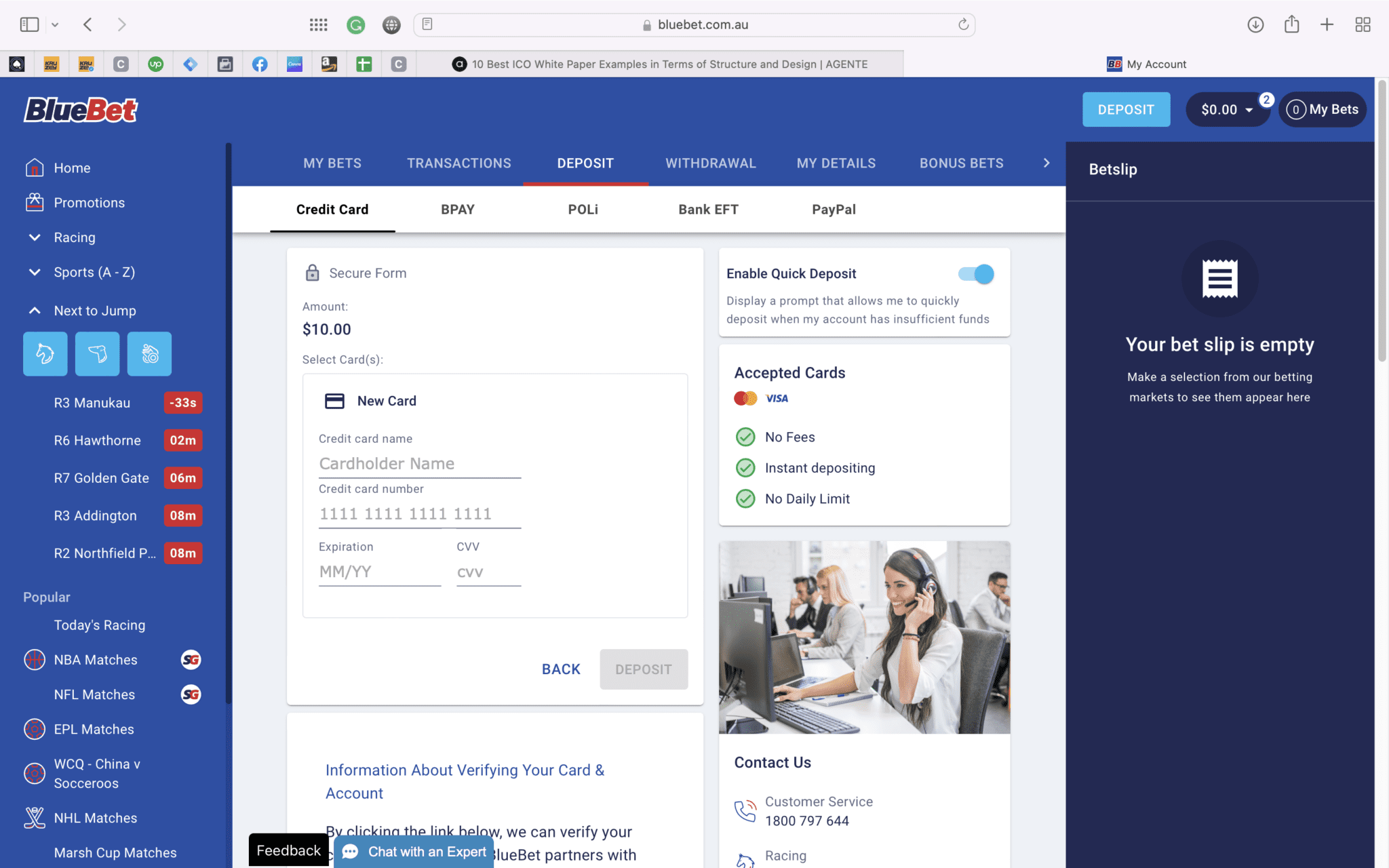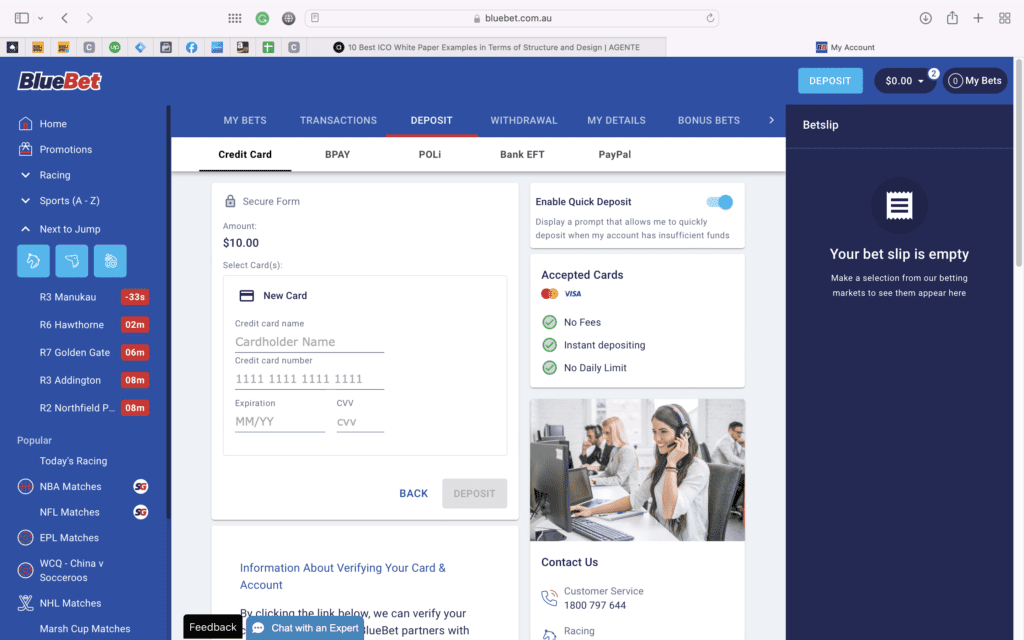 Through this page, it was super fast putting the money into the account,
The entire process took less than a minute
That's quick!
Now we've got funds in the account, let's have a look at the layout.
How Is The Layout?
I really like their layout for ease of use,
It is a very simple white on blue with the bet slip permanently to the right of the screen.
Upcoming races and sports are shown below the promotional banner in two different tabs, and all other options are neatly displayed to the left.
Simple really,
Whatever you want is all to the left, no clutter, no fuss.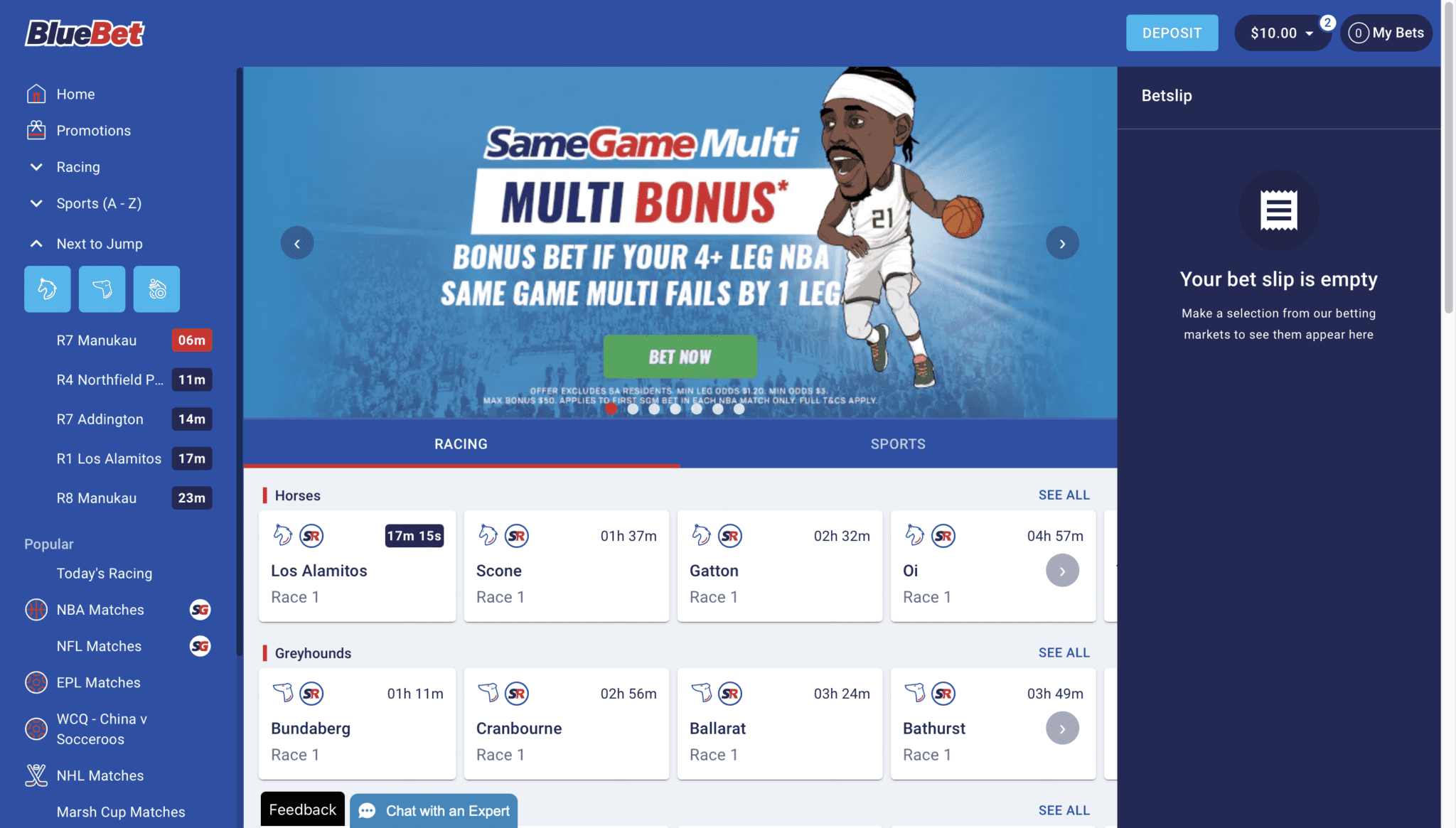 I was a little disappointed to see a drop-down menu for racing and sports in the sidebar,

However, after a moment I realized how easy it is and I think I actually prefer it this way!
Ok, who's ready to race?
The Racing Menu
Straight out the gates, BlueBet doesn't have a racing page that holds Horses, greys, and harness,
Instead, they have a page for each individual racing type.
They have all the Australian races up top followed by all the international races below.
It's a pretty simple layout but works very well.
I also like that they have each race in its own distinct box so you can't click on the wrong race by accident.
Let's throw some cash on the horses!
Placing a bet
For the review let's take a look at the next race available.
All the betting options are available in the top banner and it also shows that their are same race multi's available!!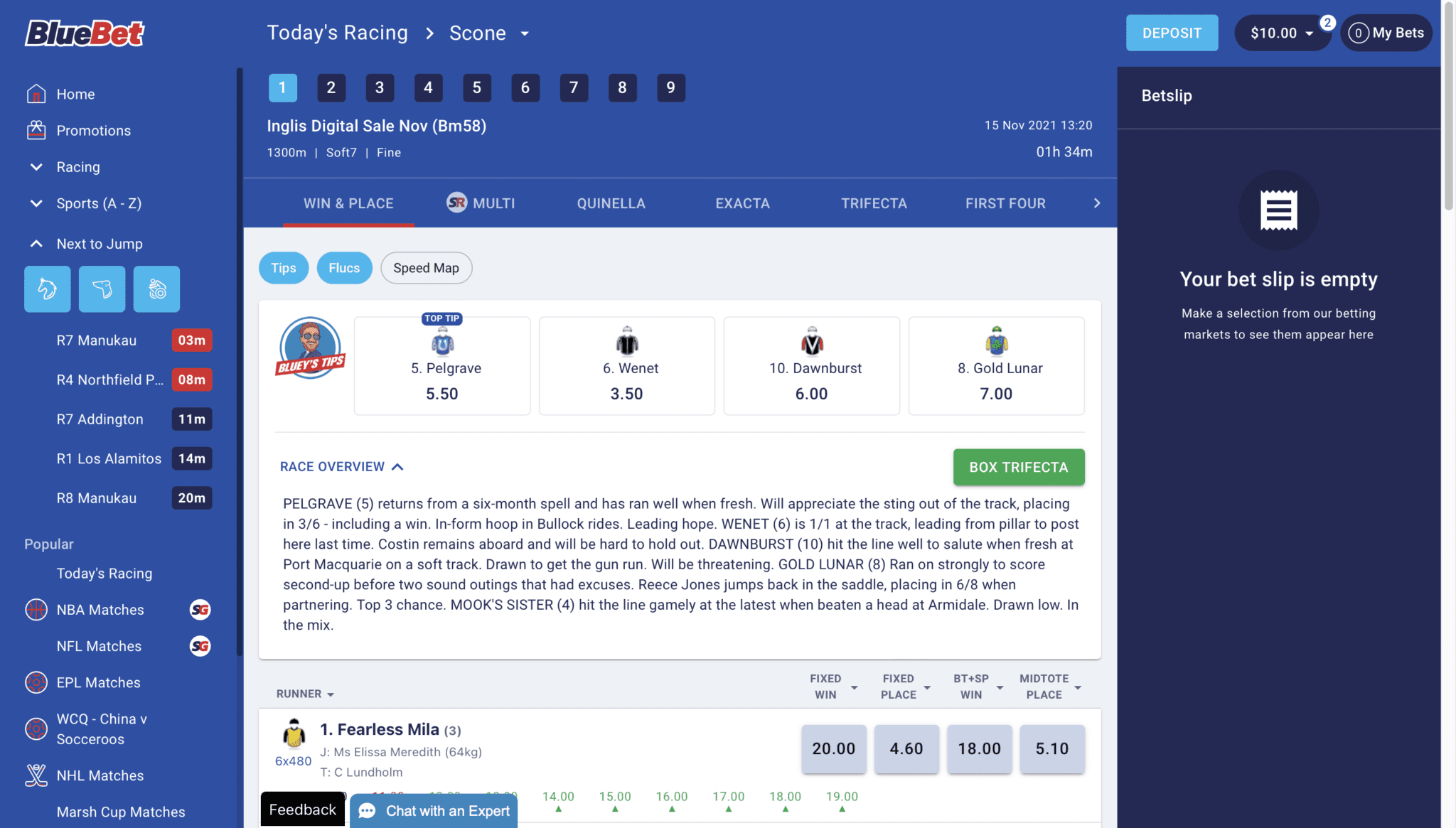 Let's take a look at the full form guide.
The BlueBet full form guide is very thorough,
The colour scheme also works very well and doesn't strain your eyes
(this might sound nerdy but when you look at them all day it is good to find one that works well).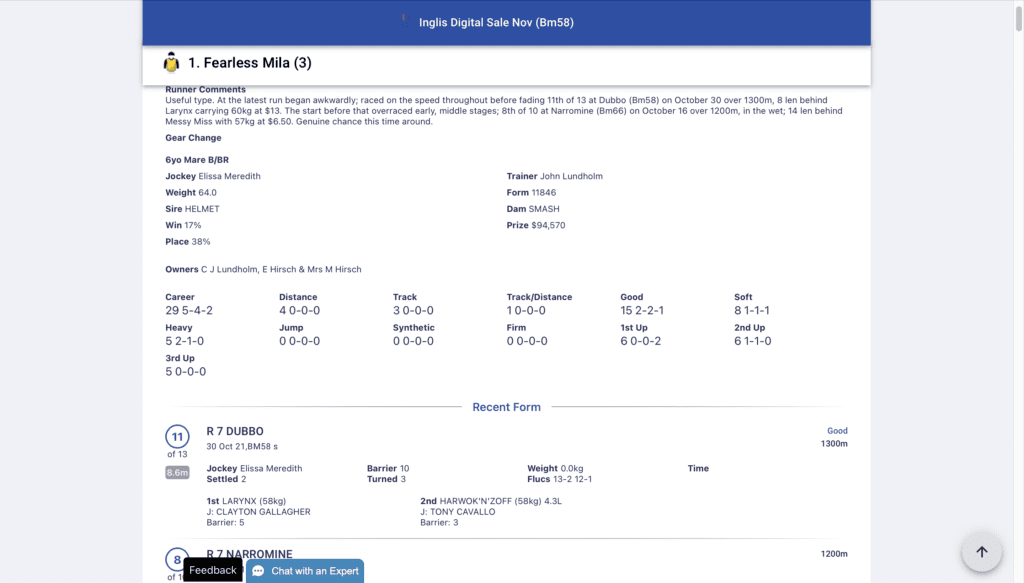 I've found my horse!
After a long hard look at the form guides, the favourite Wenet really does appear to be the goods,
showing good form on the 1300m tracks and winning her last race she's the one I'm going for.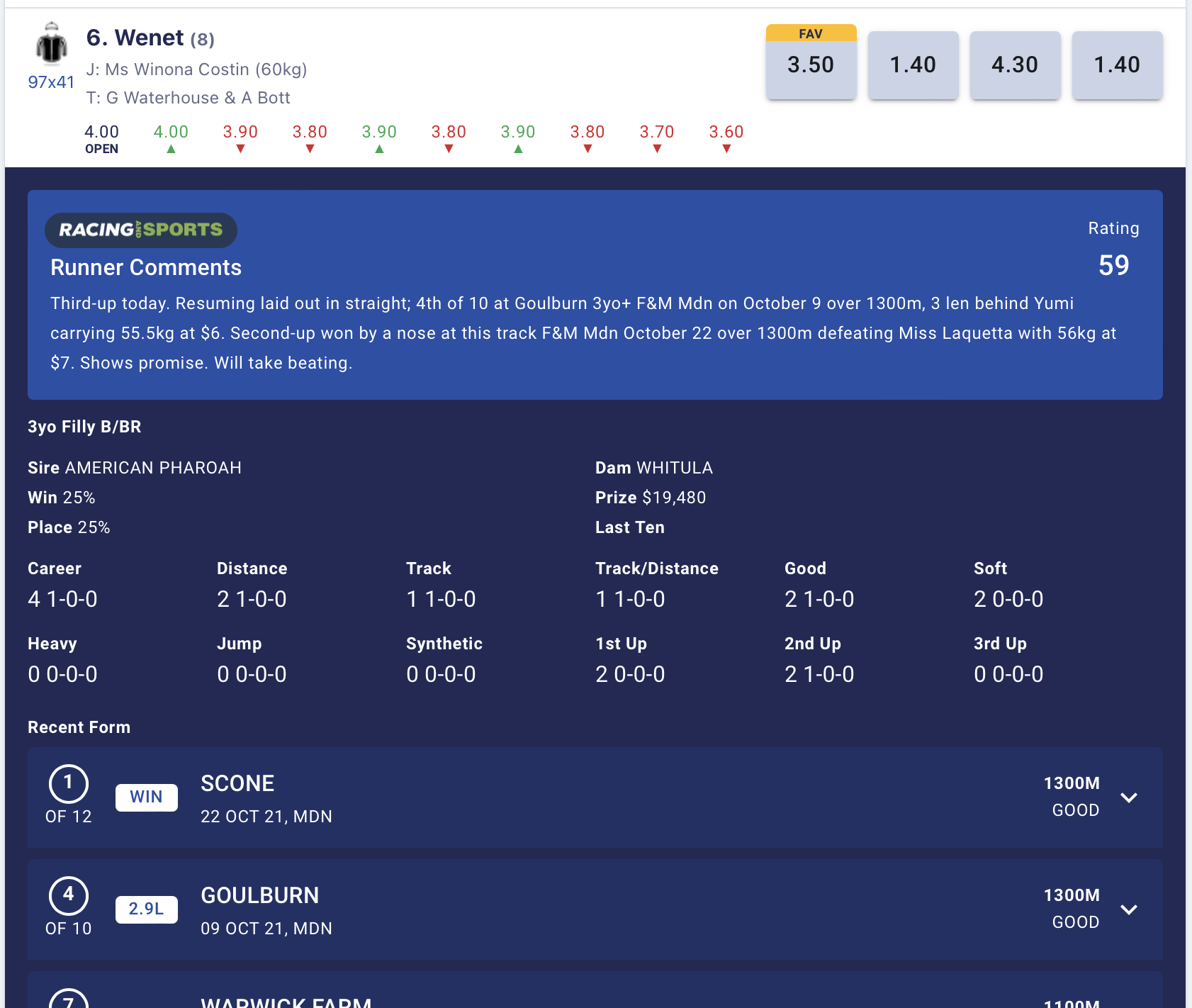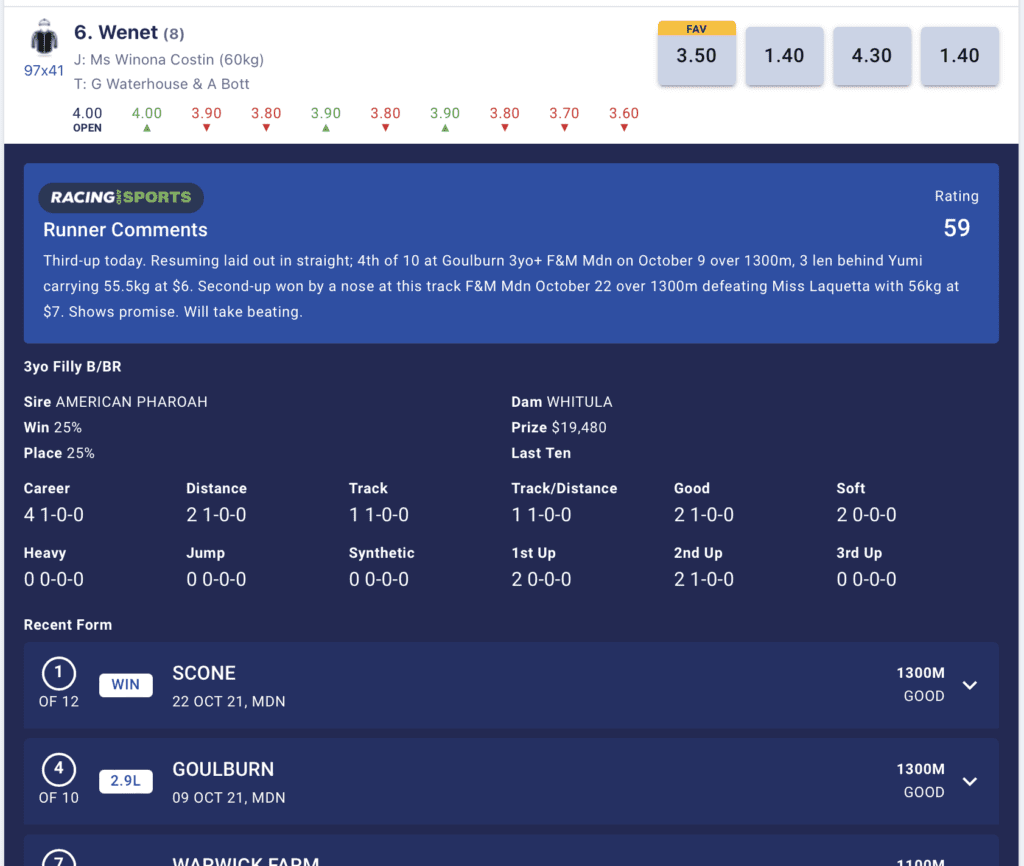 I'll only throw a dollar on just as I do want to place some other bets today,
Placing a bet was simple enough, I clicked fixed win, typed in how much I wanted to bet, then pressed place bet.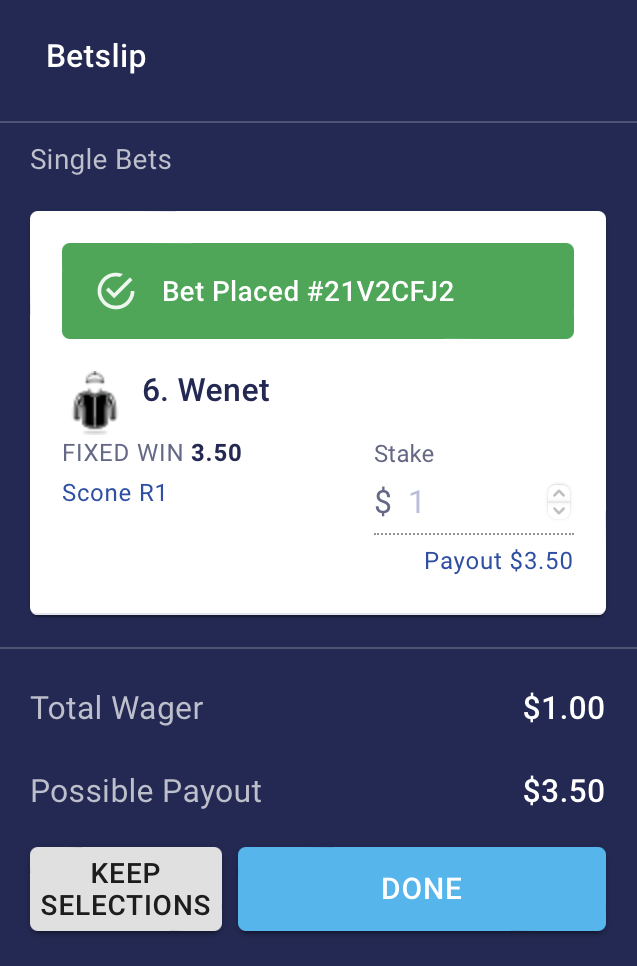 First bet placed nice and easily.
no issues or dramas to speak of, it went through just as it should have.
So how did I go?
Even though she was the favourite it's always a good idea to study the form guide.
First win for the day!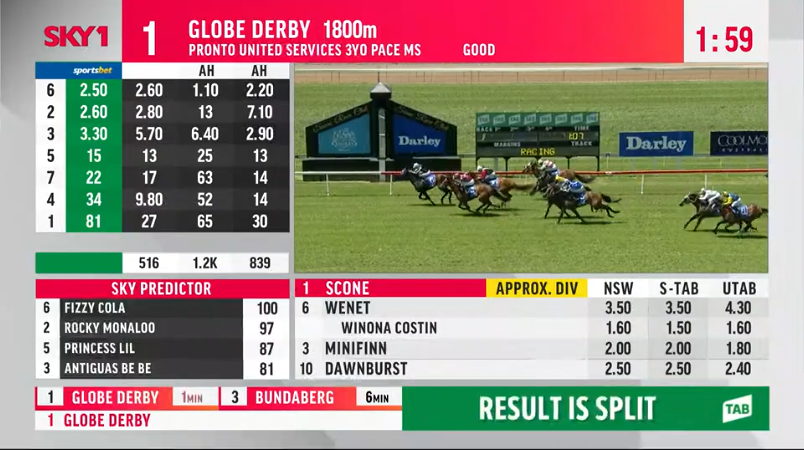 First race of the day and already up $2.50 profit,
not as much as I usually wager but for the review it's a good win.
Now that we've covered the races let's work our way down the menu to the left of the screen.
Initially, we skipped the promotions and just jumped straight into the racing.
What are the promotions like? 
As a smaller betting site, I am incredibly surprised at the promos they offer.
I love the cartoon styling of all the images too,
It's refreshing to see a little fun in these sites.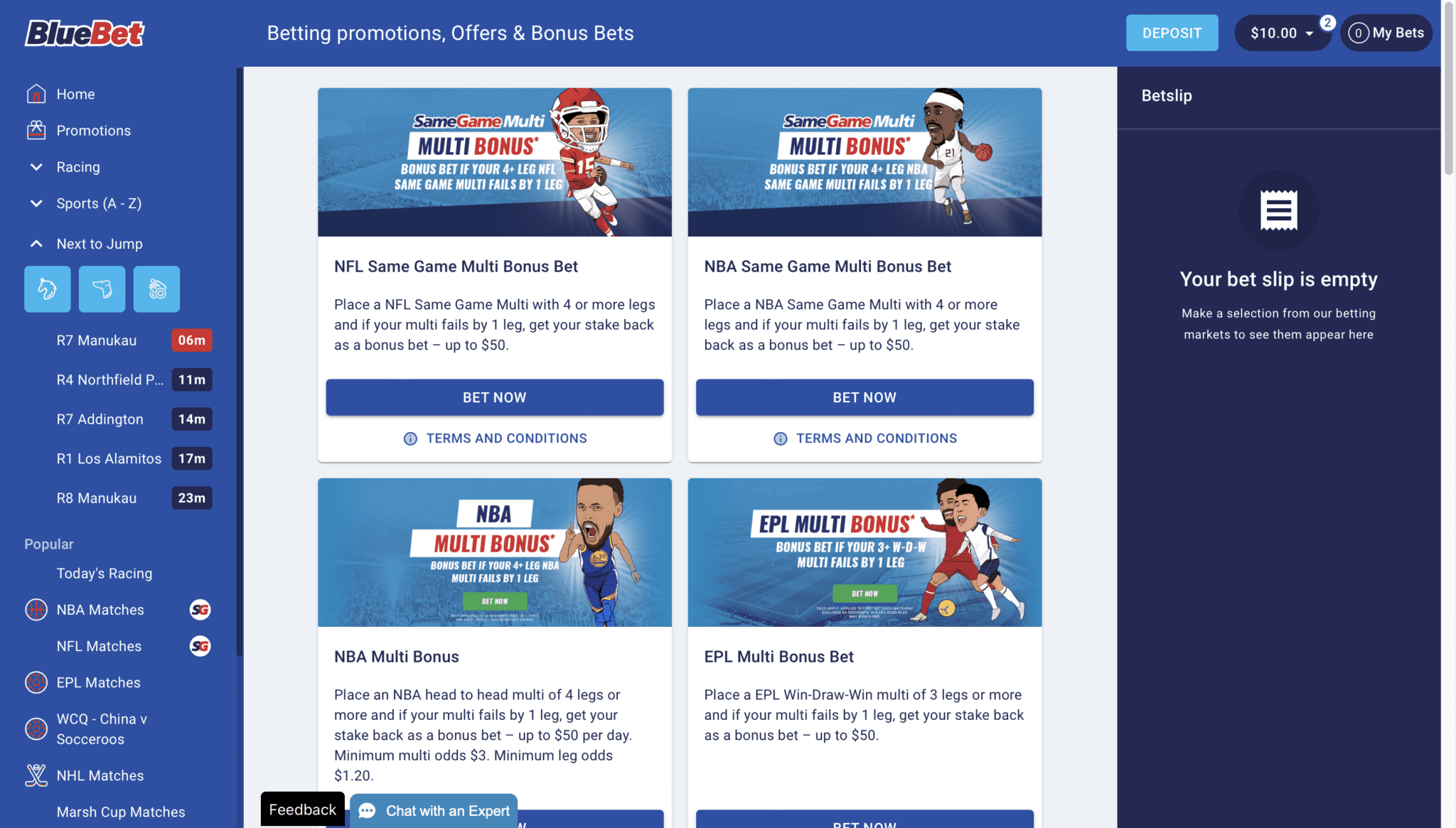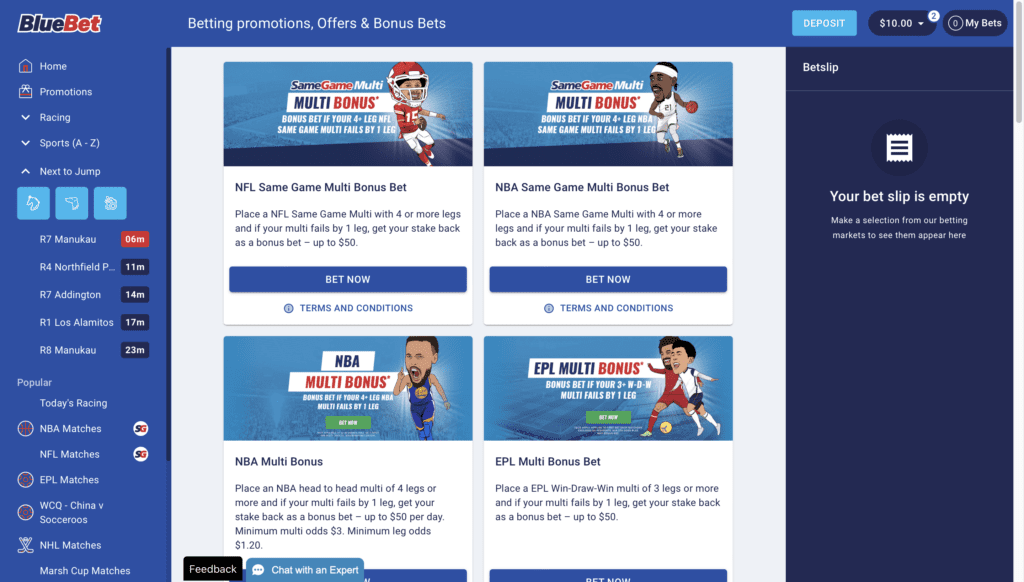 There were a bunch of different promotions available, most of which were the standard promotions as other sites.
Though what they do have that some other betting sites don't is that BlueBet has same race multis!
This is by far one of my favourite things that some bookmakers offer!
They also have Same Game Multis for sports, let's see what else have.
What Sports Are On Offer? 
BlueBet has a decent set of sports available,
All located conveniently to the left it's as simple as selecting the sports you wish to view and it brings up all available events.
As you can see with the NFL shows simplified betting options on the main screen however there is also the number of markets available for each event, to view these you simply have to click on the event and it will bring them up.
Both the Same Game multi option and standard betting options pages look the same,
the only difference is that you are able to choose a number of options to bet on at once.
They also have a few non-standard bets available,
if betting on reality tv shows is your cup of tea you can even bet on the Batchelorette!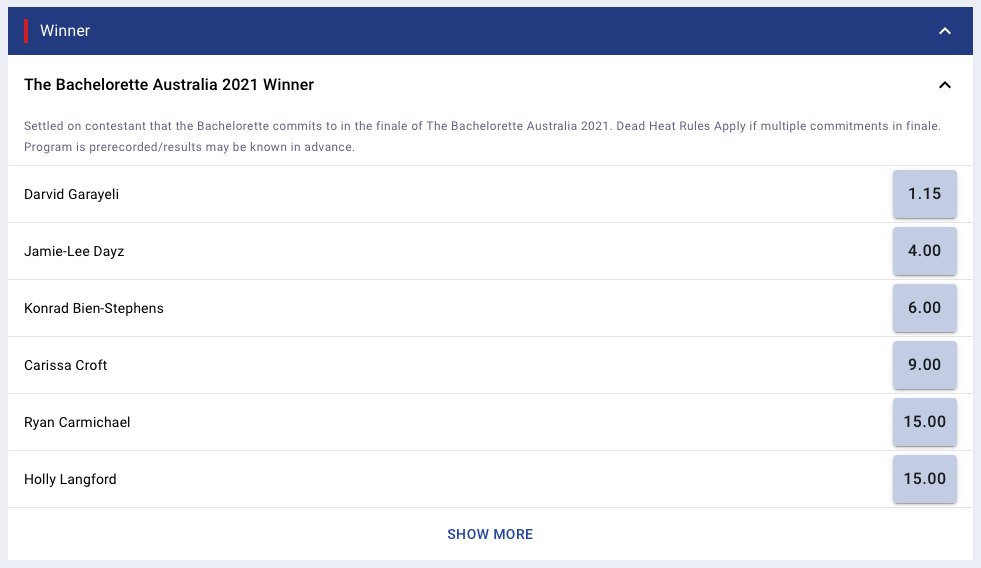 After that, there is a small section for Next to jump races which simply shows the next races available.
What I do like about this section is that you can sort it by racing type and remove the harness and dish lickers if you wish (that's what I did).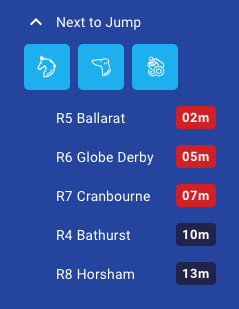 Following that there is also a section for popular events, this essentially shows what events are being bet on the most.
Of course, racing is right up there at the top quickly followed by basketball, American football and soccer.
Do they offer live streaming of other sports? 
Unfortunately, they are still a smaller bookmaker at this point in time,
so they don't have live streaming just yet.
Hopefully, they get live streaming sooner rather than later as it would really boost their footing in the industry.
BlueBet Australia Review Conclusion
Aside from the slight issues I had with signing up I didn't have any other issues with BlueBet.
The only reason they have not been rated higher is due to their lack of live streaming and how different their layout is to other betting sites.
Definitely would pay to sign up just to keep an eye on their promotions and take advantage of them when required.
I'll add the link to their homepage HERE to save you the drama. 👍
Friendly reminder: Stay in control Gamble responsibly.
BlueBet Australia FAQs
Is BlueBet safe?
Yes! Bluebet is absolutely safe. BlueBet Australia is 100% Australian-owned and based in Sydney, Australia, at Randwick Racecourse. As an Australian-owned company, there are many rules and legislation procedures Bluebet must adhere to in order to sustain itself as a reputable bookmaker. Additionally, Bluebet is registered with the NSW Bookmaker's cooperative, which is an association that guarantees payment.
Who is BlueBet owned by?
CEO Michael Sullivan, Former William Hill Chief Executive, started Bluebet in 2015 in an attempt to offer a more personalised service than the international bookmakers.
Where is BlueBet Stadium?
BlueBet Stadium is located at Mulgoa Rd &, Ransley St, Penrith NSW 2750, BlueBet Stadium has a total capacity of 22,500. BlueBet Stadium is home to the NRL team the Penrith Panthers, and also to AFLW team the New South Wales Surge.
How long do BlueBet withdrawals take?
Bank EFT withdrawals may take 1-2 business days to clear depending on your bank. Clients will need to verify their account before withdrawing funds, for more information about verifying an account please go here.