We know you're probably looking for a Palmerbet promo code because we were once in that position too!  
Fact – It's not like it used to be. 
Not to mention 
Trying to find a good Palmerbet review online is like pulling teeth. 
So, we decided to roll up our sleeves 
Get into the weeds 
And answer the million-dollar question:  
Is Palmerbet any good?  
Drumroll… 
You will have to read on 😉
Let's start with the first step,
The Sign-Up Process: 
Righto, enough messing around.  
Let's sign up 
We searched up Palmerbet on Google (but you can just visit from this link)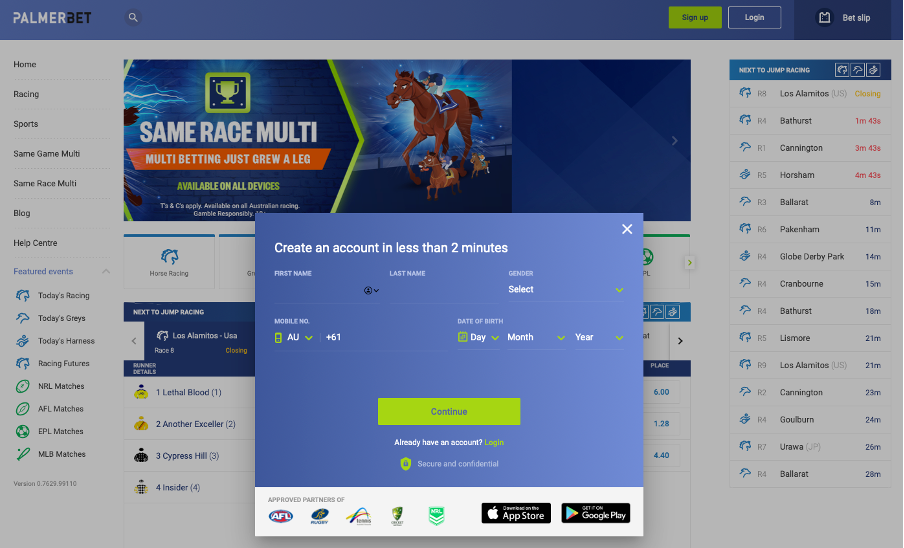 Sign up in 2 minutes apparently?  
Only took us a minute and that was typing quite slow on the keyboard. 
Sign up process was a breeze, a big tick here. 
The first thing I'm met with is a promotions banner.  
This is pretty standard across the board, will jump in a test a few of these out to see if they are any good and worth it. 
Making A Deposit
Let's get the funds in so we can have a tickle 
It looks like they have all the standard deposit methods like POLI, PayPal, Osko Bpay, Bank Transfer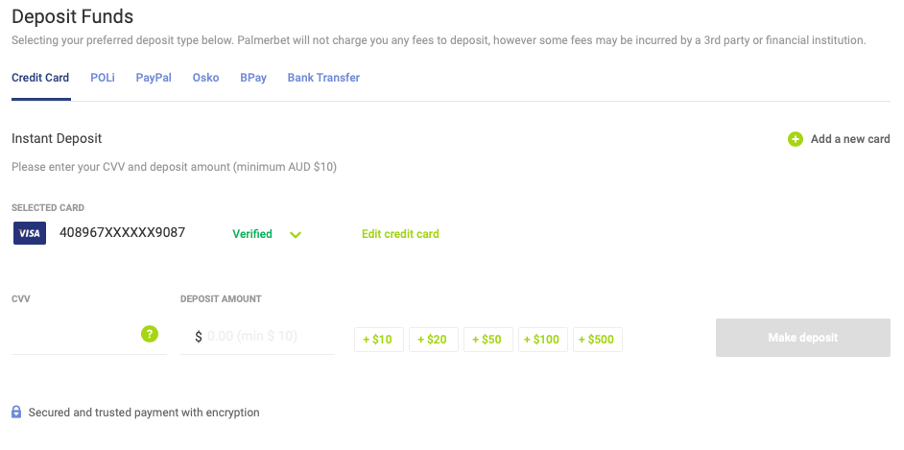 We deposited using a credit card. 
$10 Locked and loaded (big spender hey)
What's This Palmerbet Bookie Bag?
Right next to my balance there was a little notifications box with a couple of what looks like their Bookie Bag specials.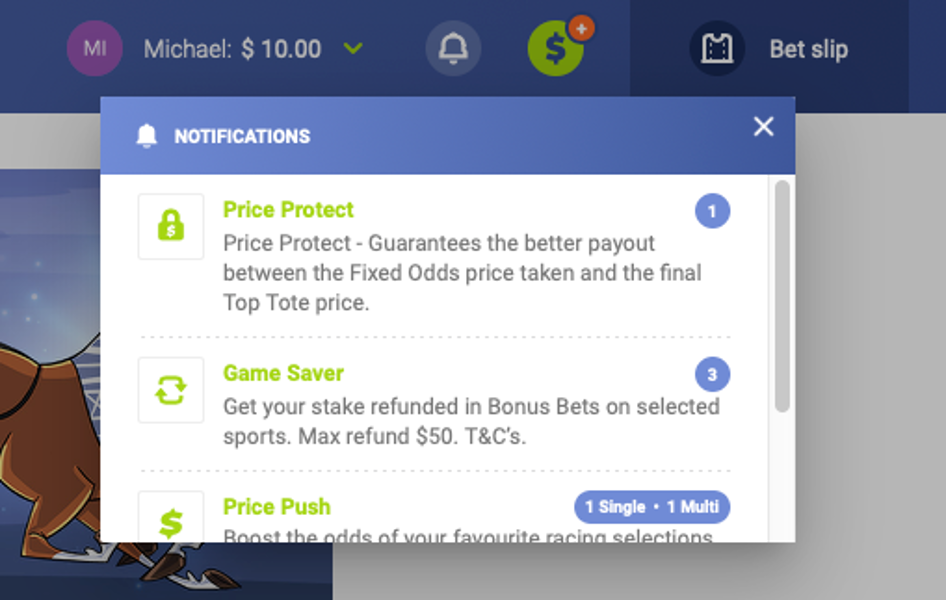 These seem to be like little incentives to get you betting (righto Palmerbet, you talked me into it) 
Below is what was on offer: 
Price Protect – Guarantees the better payout between the Fixed Odds price taken and the final Top Tote price.
Game Saver – Get your stake refunded in Bonus Bets on selected sports. Max refund $50. T&C's
Price Push – Boost the odds of your favourite racing selections. Max stake $500. T&C's. 
Race Rescue – Run 2nd/3rd get your stake refunded in Bonus Bets. Max refund $50. T&C's. 
How Is The Layout?
The layout seems pretty easy to navigate I like the cleanliness of it all.
The Racing Menu
As an avid Mug Punter 
The racing section needs to be easy to navigate. 
It was nice to see they have a little section with speed maps and predictors that can help when deciding on which nag to select without having to open up a 3rd party website.  
There was even a little drop-down when you click on a horse that opens up a form guide with more information about previous runs. 
I've found "the one" 
Hit the price of the horse to add it to your bet slip. 

Then if you want to click one of the promotions you can, we selected price protect and hit place bet. 
Let's watch our race! 
Wait… 
Turns out you can't with Palmerbet, they have no live streaming options for horse racing, unfortunately. 
How did our horse go? You guessed it. 
2nd….  
Do they offer live streaming of other sports? 
It doesn't look like it, unfortunately, hopefully, this is something they can incorporate in the future. 
What Sports Are On Offer? 
Huge selection of sporting events on offer. 
You would be hard-pressed to find a sport they don't have a market on. 
Good for those of you that like betting on Gaelic Football…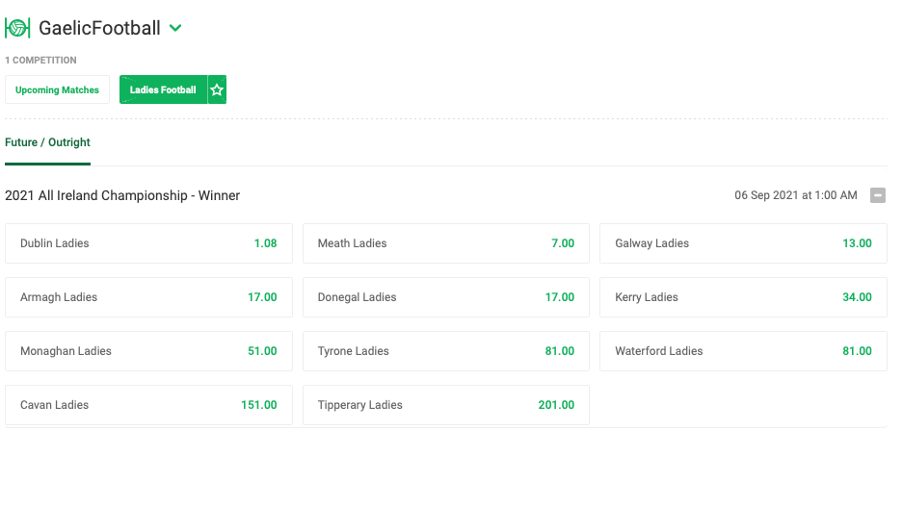 Palmerbet Review

What do we like about Palmerbet? 
First of all, we love the fact that Palmerbet is 100% Australian-owned!
Palmerbet's 'Best Of The Best' guarantees the best dividends are given by on-course bookies via Top Fluctuation and Best Tote Dividends.
'Best Of The Best" is available on all Saturday Metropolitan meetings.
What's missing at Palmerbet?
It would be a nice touch if the Palmerbet app had more features. Currently, the app does not have screens for things like Featured Bets, Extended Form Guide, Fluctuations, or Speed Maps. Another disappointment is that there's no Bet Tracker.
The form guide is a bit on the dull side, but it's because the Palmerbet app focuses more on betting than anything else. There is a variety of ways you can get on and place your bets using this application from 'Fixed Odds', which include win/place or each-way options.
Palmerbet Highlights
Palmerbet offers various features to help users get the most out of their experience. These include:
Quick Multi option – which is perfect for betting or wanting to bet on more than four selections at once.
Palmerbet's 'Best Of The Best' guarantees the top dividend provided by on-course bookies via Top Fluctuation and the Best Tote Dividends. It is available on all Saturday Metropolitan meetings.
Regular promotions for betting like free bets or cashback offers.
Palmerbet Promotions
Palmerbet regularly updates their promotions; unfortunately, you cannot see the promotions unless you are a customer; however, this is easily fixed once you have signed up. It is worth noting that Palmerbet regularly updates its promotions, so it is worth your time and effort logging in to Palmer bet now and then to see what promotions they have on offer.
Bonus Bets
Palmerbet has various bonus bets for both racing and sports available to give the best possible betting experience to their members, some of their bonus bet options include:
Price Push
Price Protect
Race Rescue
Multi Guard
Game Saver
Palmerbet Android App 

After downloading the Palmerbet mobile app from our Android phone, we were greeted with a message asking to use location services. It is not ideal, but it's becoming more common, so you can't judge the Palmerbet app too harshly for that. This website was designed with upcoming racing events on the home page. It's not too different from other websites for popular racing or sports events. We did have to dig around before finding their latest promotions, though, as these weren't seen on the mobile app front page like most businesses choose to do nowadays.
It's straightforward to find what you're looking for on this app. We were a little bummed that there was no form guide. However, it's great if you want something quick and straightforward without all the bells and whistles of other apps out there!
We decided to check out the Novelty bets, we put money into a number of different event types including who will become the next James Bond after Daniel Craig. Placing our bets was as simple as choosing who we wanted to place our bet on, choosing how much we wanted to wager then placing the bet. Unfortunately, at this point in time, we will not know the outcome of most of the bets until far later in the year.
In total we placed $50 of bets at $5 per bet, however, we are still awaiting the outcome.
You can find the link to the Palmerbet app directly on the homepage of their website right HERE.
Palmerbet Apple IOS App

When we downloaded the Palmerbet mobile app onto our iPhones, we were greeted with a notification- asking for location services. It isn't perfect, but increasingly we're seeing more betting sites in Australia Sportsbet.com.au following the same trend. On this website, racing events and other major sporting events are featured on the main page. It's similar to many other sports websites. After looking around, we found that Palmerbet does have many offers and promotions to offer customers. They just aren't readily apparent on the app front page like so many businesses choose to do these days.
The app has an easy-to-navigate interface. It was disappointing that there is no form guide. However, it's great if you're just looking for something quick and straightforward with no frills.
For our review we took advantage of their same race multi promotion betting on all the races we deemed to be reasonable odds, placing a multi was a breeze and was as easy as choosing the horses, choosing how much we wanted to wager then placing the bet.
In total, we placed $50 of bets at $5 per bet, walking away with a withdrawable balance of $87.75.
Find the link to the Palmerbet app on the homepage of their website right HERE.
Palmerbet Mobile Site 
The last time we reviewed the Palmerbet mobile site, we found it to be a very seamless and simple user experience with no difficulties, problems, or issues to speak of.
Our latest review has found the mobile site to be just as seamless and straightforward as it was before, with really no changes at all.
It's similar to the desktop website as expected, with the mobile responsive page design, and that's good for user convenience.
There is an easy-to-use scroll menu front and centre
of the interface, giving you fast and easy access to the main categories making it extremely easy to get where you need to go fast.
Palmerbet is one of only two Australian betting sites (as far as we know) to offer in-play betting on their mobile site, which is nice because users can place bets much easier than they would otherwise be able to from a desktop computer. The in-play betting options are clear, easy to find, and simple to use.
Palmerbet Mobile Site Features Included :
• In-play betting includes soccer, racing, and tennis.
• Live streaming of thousands of sporting events. There is no lag in their system at all, even if you're using a 4G connection!
• Comprehensive live results from most major sports with detailed statistics for results & scorelines as well as the latest odds move in real-time.
• Palmerbet has implemented a brilliant way to access everything on your mobile by simply scrolling through the pillar menus rather than clicking through different categories or sections as the on desktops pages do; this makes it much easier and quicker if your using mobile bettors have limited data plans (I know some people who only pay for their monthly plan based on how many times they use the internet on their smartphone). This we found to be a fantastic addition to mobile betting.
Palmer bet has its own set of unique tools that can help you choose your next bet. These tools include goal alerts, hot hand cards, and live in-play betting analytical tools, which will give you an edge over other punters.
For the mobile site, we jumped straight into the AFL finals this week, placing wagers on all Four games available.
In total, we placed $40 of bets at $10 per bet, walking away with a withdrawable balance of $32.20.
Palmerbet Website

Immediately I noticed the scrolling banner at the top promoting some of their offers which is extremely eye-catching!
It is primarily white with purple accents. The menus are easy to find, and you do not have to scroll through many pages to find what you want.
It is easy to use, but it might be too simple for some people. The colours might not work well either.
Relatively simple and easy to wrap my head around, it seems somewhat familiar because of other Australian betting sites.
One thing that I did notice which would be an issue for rookies was that when I tried to add a credit card the add button was hidden behind the floating bet slip, to someone that doesn't know their way around a computer very well I can see this being a huge issue for them and it needs to be fixed.
Today we decided to check out the NFL games.
In total, we placed $70 of bets at $10 per bet, Unfortunately, the games do not begin until next week so we are currently unable to comment on our winnings.
Banking with Palmerbet
Palmerbet offers various payment options. You can use Visa, MasterCard, Bank Transfer, BPAY, and POLi. Go to Menu -> Account -> Settings to set your preferred payment option up. Withdrawals are currently only available via bank transfers.
Minimum deposit $10.00
Minimum bet $1.00
Minimum withdrawal $10.00
Betting Markets
Palmerbet has many racing and sports markets to offer. These include horse racing, Cricket, Tennis, Super Rugby, AFL, NRL and Soccer. This website also has Basketball and even Politics for people who want to bet on something more different.
To check out all the sports that are available for betting, go to Menu -> Sports.
Palmerbet Horse Racing Markets
Palmerbet has a number of horse racing markets that can be bet on. Whether you want to place a multi-horse accumulator or single-horse, they have the best in Australian horse racing ready to get your teeth into. Palmerbet always includes best Tote or SP odds along with other notables such as Top Fluc.
This gives you the best chances to win and get the best possible payout.
Consistency is key along with the Best Tote or best SP odds at your fingertips to help you win big. Top Fluc always proves popular, such as 2nd horse – Place from 3rd Horse – Place (in that order). A perfect example of how you don't have to bet one specific best Tote favourite – be more flexible and try some multi-horse bets!
Palmerbet Sign Up New Account
Palmerbet offers its sign-up via the website or mobile app.
Signing up is a very simple process throwing in the standard details including your phone number so that they can send you a verification.
What I do like about Palmerbets sign-up is that they enable you to set a limit on how much you can deposit at any given time (will save me on a drunken bender at the races).

Verification Process
In light of new anti-laundering policies, Palmerbet will require verification of your identity.
Verification is the easiest way to go about this and can be completed in a matter of minutes with the Green ID identification process.
In seconds, the system recognized my credentials and logged me in. I was ready to place a wager!
The sign-up process required less than five minutes on average for new customers at this betting agency. Suppose you have used it before with other agencies. In that case, your data should verify instantly as they already saved it in their system from when you signed up there too!
Palmerbet Promo Code
The best Palmerbet promo code to use is KRUZEY.
Palmerbet has excellent odds, and with a KRUZEY promo code, you used to be able to get up to $200 in racing bonus bets when making your Palmer bet first deposit. Not so sure now; you will need to check on sign-up or placing your first racing bet.
The Palmerbet bonus was available for all new players and existing Palmer bet customers to place a bet. 
Palmerbet Racing Bonus Bets
Palmerbet offers a number of bonus bets to their customers including Price Push, Price Protect, and Race Rescue.
Price Push – Palmerbet price push allows you to bump your odds a little higher to give yourself better returns if your bet wins.
Price Protect – Price Protect from Palmberbet protects your fixed price guaranteeing you the best Tote.
Race Rescue –  Palmerbet race rescue saves your racing bet from a bad bet.
Palmerbet offers various bonuses and promotions for existing customers that can be claimed using Palmerbet promo code KRUZEY.
The Palmerbet racing bonus is one of the best promotions on offer; it pays up to $200 for each race you bet on and can be redeemed as soon as your first bet! If that wasn't enough, there are also monthly free bets waiting for Palmerbet.
Palmerbet Odds 
As with all betting sites, Palmerbet offers a Buy Bet option, which allows you to place a bet on any runner in the event.
This is at no extra cost and Palmerbet will wait until that specific horse has started its run before your bet is locked into the market. There are even some added incentives such as 'Free Trifecta Bets' after certain races… so be sure to check out their site for all of these promotions!
Palmerbet Contact & Customer Service
Palmerbet has a range of contact methods so that clients can get in touch with them. This includes the following:
The online chat usually gets a swift response (if you don't get a reply straight away, give it a couple of minutes). The Phone Number is open every day from 7 am-10 pm and then there's also an email for general inquiries.
ADDRESS: Palmerbet Pty Ltd Suite 1 Level 2 96 Queens Rd Melbourne VIC 3004 Australia.
Need Help?: 1300 124 357
Place a Bet: 1300 123 238
EMAIL: contact@palmerbet.com
Postal Address (Not Physical address): PO BOX 1036, Cronulla NSW 2230
Palmerbet Review Conclusion
The Palmerbet layout is clean and easy to use. It looks the same on a TV screen or phone. It is not as flashy as other apps, but it is simple.
The fact that it is an Australian company may appeal to many Australians. There are lots of sports offered and boosted odds and promotions, which make for a well-off package.
Some pieces of functionality are missing. However, these should be mandatory for betting agencies in the future. Hopefully, we will see Palmerbet able to add these things sometime soon.
Perhaps also being able to withdraw money from an account with a card would help new customers. It is not necessary, but it is nice.
For those of you who want to bet with an Australian, Palmerbet is worth looking trying for yourself.
Palmerbet Rules
As with all Australian betting sites, Palmerbet has a legal obligation that it must abide by in order to maintain its license. As a punter, you also have Terms and conditions that must be met.
You can find the link to the terms and conditions link at the bottom of their home page HERE.
 Gamble Responsibly
Stay in control, gamble responsibly, and think before you bet.
Think about your choices. If you do think you have a gambling problem or are beginning to make bad choices call gambling help on 1800 858 858 24/7 or you can visit their website gamblinghelponline.org.au
PALMERBET AUSTRALIA FAQs 
What is Palmerbet?
Palmerbet is a 100% Australian-owned online bookmaker and sports betting company. They offer a wide range of unique betting markets on most sports and sporting events. They also allow users to bet live in-play, as well as place Asian Handicaps and Futures wagers. Palmerbet has been going strong for over 20 years, so they must be doing something right!
Palmerbet app for Android
Palmerbet has both an app for android and also for iPhone and iPad. The app is very easy to use and has many functions which allow you to have fun with horse racing online, from checking the odds of horses in a race or even place a bet all from your android phone.
The Android app for Palmerbet works great on mobile phones and tablets using 4.0 or greater version of the android operating system. Once you download the application it only takes seconds before you're ready to take advantage of the amazing features available at your fingertips! With over 40 horse betting markets available every day this is more than enough to keep your interest peaked if not already placed bets! There are even daily free promotions offering non-stake bonuses when placing certain types of bets such as win accumulators and multiples
you can find the Palmerbet app directly on their site right HERE.
Who owns Palmerbet?
Palmerbet Australia is owned and operated by Palmer Bookmaking Pty Ltd. They are licensed, regulated, and financially guaranteed for all operations under Racing NSW in New South Wales, Australia. Palmerbet has a physical office based at Canterbury Racecourse, which they share with other members of the NSW Bookmakers Co-operative. Palmerbet is governed by Liquor Gaming & Racing (LGR) laws that govern gambling throughout Australia!
Is Palmerbet legit?
Yes, the rules are very stringent within Australian borders regarding bookmaking and gambling of all areas, Palmerbet is licenced and regulated through Racing NSW.
So this means that I can gamble legally with Palmerbet?
Yes. You are safe and legal to gamble on Palmerbet as long as you do so from Australia or New Zealand. If you are located in any other part of the world then it is illegal for you to register an account and bet with Palmerbet.
Palmerbet has a very transparent record within Australian racing, they're fully licensed by Racing NSW which means all information about revenues/profits must be accurate, otherwise, they could lose their licence.
Are there any downsides?
Withdrawal times are slower than most Australian betting sites, although if you are happy betting only on sports betting and horse racing markets like fixed-odds bets then this won't matter too much.
Is Palmerbet legal in Australia?
Yes, Palmerbet is legal in Australia and registered with the Australian Securities and Investments Commission (ASIC). This means they are abiding by the law, have accepted Australian financial regulations, and do not contribute to any illegal activity. In fact, Palmerbet is registered as an Australian bookmaker, which proudly displays its registration under Australian law. This further proves that Palmerbet fully complies with all local laws.
Does Palmerbet offer same game multis? 
Yes, Palmerbet offers same game multi bets. They do offer a range of promotions that are updated regularly including the Mutli Guard which gives you enhanced protection on your multi bets.
It pays to check their website from time to time to ensure you are getting the best Palmerbet betting opportunities when putting your money on the line.
KRUZEY have all the very best betting sites and bonus codes on the market click to view more.