Who is WinnersBet?
This brand new betting agency is 100% owned and operated out of Melbourne Australia. WinnersBet (and its principal Da He) is a member of the Victorian Bookmakers Association, which guarantees payment of all winning bets placed under the WinnersBet banner.
Their arrival onto the Australian online betting landscape took place in 2020. They are a no-fuss operation. Look out for them at winnersbet.com.au
About WinningBet
WinningBet is the trading name of well known Melbourne based on course bookmaker Da He, who was also prominent previously on the SportsBet, Bet365 and ClassicBet platforms.
In 2020, the WinnersBet agency was built using the 'GenerationWeb 132 platform, which also has PlayUp as one of its customers. WinningBet features an attractive purple and gold theme, a near-perfect colour combination for this industry I reckon! Beautiful.
Sponsorship and Branding
There are none at the time of writing. Bear in mind this is a small boutique agency with a brand new presence in the market.
Company Website/App Overview
As mentioned the site theming is very attractive. Purple and gold is the perfect combination of colours.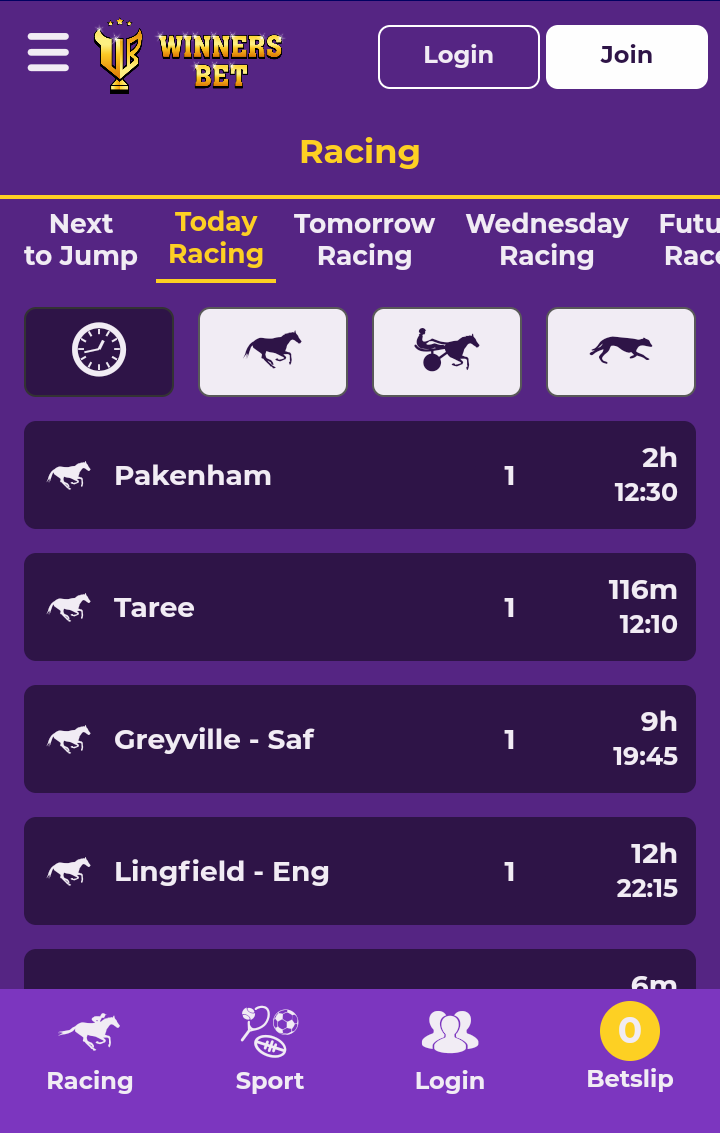 However, from a first visit perspective, the site appears to be very underdone. There appears to be quite a few things that aren't immediately visible or accessible. In some cases they don't actually appear until after you have signed up. In reality, a prospective punter needs to have all the information available before such a decision is made.
For instance, there is no FAQ page. A Rules pages yes, but that's something different. There are no details on deposits and withdrawals. There are no details on Promotions. It makes it very difficult to compare what this site has to offer vs other sites that do actually have all of their information available to users who have yet to sign up.
Main/Home Page
Navigation around the main page is very easy. It's compact, meaning you can get to wherever you want relatively quickly. No doubt you'll be spending much of your time in either of the Racing or Sports sections.
On the bottom footer bar, there's only four menu options: Racing, Sports, Login and Betslip, so it's very lean.
The login button is redundant because it's permanently fixed at the top of the screen, while the betslip button is mostly featured in the top right corner of other betting sites so it also looks out of place. They could probably be replaced but with what?
The left/hamburger menu looks to be well organised, but it is missing a Promotions Page and an FAQ page. The Live Chat is a link, but doesn't appear to do anything. It probably works but not for me.
Racing Page
Much like the BetDeluxe site the layout here is one of the easiest to get around.
It's dominated by the Next to Gallop page (default) which shows all the races coming up over the next few hours.
You can filter down to gallops, trots and greyhounds with race meetings on the day nested within. Every race is sorted in chronological order across all the race meetings on the day.
To gain a different view of race day information, click on the buttons for: Today's Racing, Tomorrows Racing, Racing in two days time (whatever the day is) and Racing Results (past days, select your date).
Sports Page
This page has two sections, the first being Upcoming Matches that are coming up within the next few hours. If on mobile, just scroll down to see what's on the schedule.
All Sports is the second section, it's a list of all sporting codes that WinningBet covers. Click on any sport to drill into any upcoming fixtures, and place bets on the in-game market types that are available for that sport/event/match.
Promotions Page
You'll need to login and see any active promotions happening. Promotions is accessible from the main menu.
Mobile App
Unfortunately for all the Android and iPhone users out there, currently no mobile app exists. All good though, as everything is driven through the website so it should look decent enough on a tablet and smartphone.
Sign Up Process
So you want to take the plunge and sign up with these guys? OK. Click the Join button (top right of screen). The signing up process takes a bit longer to complete, obviously WinnersBet wants to have all the necessary information completed in the front end of the process rather than the back.
Step 1:
Enter first name, middle name, surname, DOB, gender, address, email, phone number.
Click for Step 2.
Step 2:
Username, password + confirm, Heard about? Promo Code, Pre-commitment, Subscribe to Mailing List [check box]
Click for Step 3.
Step 3:
Confirm registration, +18 years old, agree to T&C and Privacy Policy
Click to confirm registration.
Deposits and Withdrawals
Deposit Methods
There are three options:
POLI – this is made available instantly into your account. This is the recommended method advised by WinnersBet because you can earn bonuses and discounts through Australia Post.
Direct Transfer – this is made available after 1-2 days. There is a minimum $20 deposit.
Visa and MasterCard – this is made available instantly into your account.
Withdrawal Options
Bank Transfer is the only withdrawal option available so far. It's not instant, and it might take anywhere from 1 to 2 days processing time.
Security
The WinnersBet website is encrypted with its security certificate managed by Cloudflare. The site connection to the Internet uses TLS 1.3 and is encrypted and authenticated using AES-128-GCM Encryption key. Safe and secure.
Markets
Racing
WinningBet cover all the Australian and New Zealand horse racing, trots and greyhound markets. On the Racing Page, you can easily flip between the following:
Next to Jump
Today's Racing
Tomorrows Racing
Racing in two days time (whatever the day is)
Racing Results (past days, select your date)
These options can also be filtered by thoroughbreds, harness and greyhounds.
I do like this layout. Using the Race Results option is far easier and uncomplicated than other betting sites. This is my go-to for looking up Saturday's race results on a Sunday morning.
Sports
Most of the domestic and major overseas sports leagues that you would expect to see are included here. From my viewpoint, there weren't any sporting codes that were inconspicuous by their absence so all good on that front.
The in-game market types are very sparse, truth be told. Head to head, money line, and odds/evens are the only three options across most sports, which isn't a lot really. In some cases it could be one of the three or just two. There needs to be more to make it worthwhile.
Betting Types/Features/Odds (Racing)
On any race card, the usual win, place and exotic options (quinella, exacta, trifecta, first four) are there. Plus there is a quaddie bet option too, which will apply to certain race meetings. If it is available, you'll see it prominently appear on the overall raceday card, with the four race legs indicated.
For win bets, you can select the fixed option or the best of three TAB option (BT).
For place bets, you can select the fixed option or the MID option (guaranteed to pay the middle of the three TAB dividends).
For exotics, all bets are priced through SuperTab (STAB).
Other Betting Features (Racing)
What's Available
Form Guide – Yes, click on any runner on any race card. Some international race cards are not applicable. It's not the most complete of form guides we've ever seen, but it will do the job, especially for Australian and New Zealand race cards.
What's Not Available
Live Racing, Featured Bets, Fluctuations, Bet Tracker, Speed Map and Tips are not available.
Responsible Gambling
Yes, there is a dedicated page to this, pretty much the same information seen elsewhere on gambling and betting sites. Refer: this page.
Customer and Online Help
Here are the contact points you need to know about. Also refer to the Contact Us page.
Postal Address: not known.
Office Hours: not known.
Phone: service not provided.
Email: support@WinnersBet.com.au
Chat: available in main menu, but active only for signed in members.
The Rules page could theoretically be considered an FAQ page though strictly speaking, by design it isn't. As there isn't an FAQ page, this one will have to do.
In Summary
Highlights
Easy to get around.
Visually appealing with its purple and gold theming.
No fuss betting setup.
Australian owned and operated.
Work In Progress
Widen in-game markets within sports to give punters more worthwhile opportunities and overall experience.
Not many racing tools available on the racecard page/s.
Only the one withdrawal method. This makes the whole deposit vs withdrawal methods look completely lopsided.
Site needs more pre-decision information before someone signs up. A lot of detail is not made available. FAQ, deposit and withdrawal, promotions, etc.
WinnersBet is another new online bookie on the scene. Though they have less features than other more mature offerings, there is enough here to suggest that with a bit of fine tuning it could improve in leaps and bounds in the months ahead. Watch this space.