So, you're looking for a PlayUp bonus code, hey? No worries, we've been down that road as well. 
Click here to access the PlayUp Website.
Also, trying to find a decent PlayUp review is an absolute nightmare. 
So we asked ourselves why we hadn't just got stuck in 
It took a few hours out of our day 
We battened down the hatches 
And answered the question once and for all 
Is PlayUp a good betting site? 
So let's start from the top.
Key Takeaways
User-Friendly Interface and Quick Signup: PlayUp offers a straightforward and easy-to-navigate interface and a swift signup process that makes it simple for users to join and start betting​​.
Diverse Betting Options and Competitive Odds: PlayUp provides a wide range of betting options for both sports and racing markets, and it stands out as a leading provider of fixed odds in Australia, covering various markets, including Thoroughbred racing, Greyhound racing, Harness racing, sporting events, fantasy sports, and eSports​​.
Innovative Features and Promotions: The platform is known for its innovation, offering features like PlayBook for racing tips and sports previews, and it regularly updates its promotions, catering to sports and racing betting enthusiasts​​.
Areas for Improvement: Despite its strengths, PlayUp lacks features like Live Streaming and a comprehensive speed map, which are important for enhancing the betting experience, especially for avid punters​​.
A Solid Betting Platform: Overall, PlayUp is considered a well-rounded site and a valuable addition to the bookmaking industry, with its simple layout, promotional offers, and extensive betting markets, although it is noted that it could benefit from adding certain features to match the major players in the industry​.
The Sign-Up Process:  
Ok, now we have that out of the way, it's time to get into the review.  
Let's start by signing up.  
We checked it out on google, and thanks to the bunch of ads to work your way through, we made it easy for you with this link.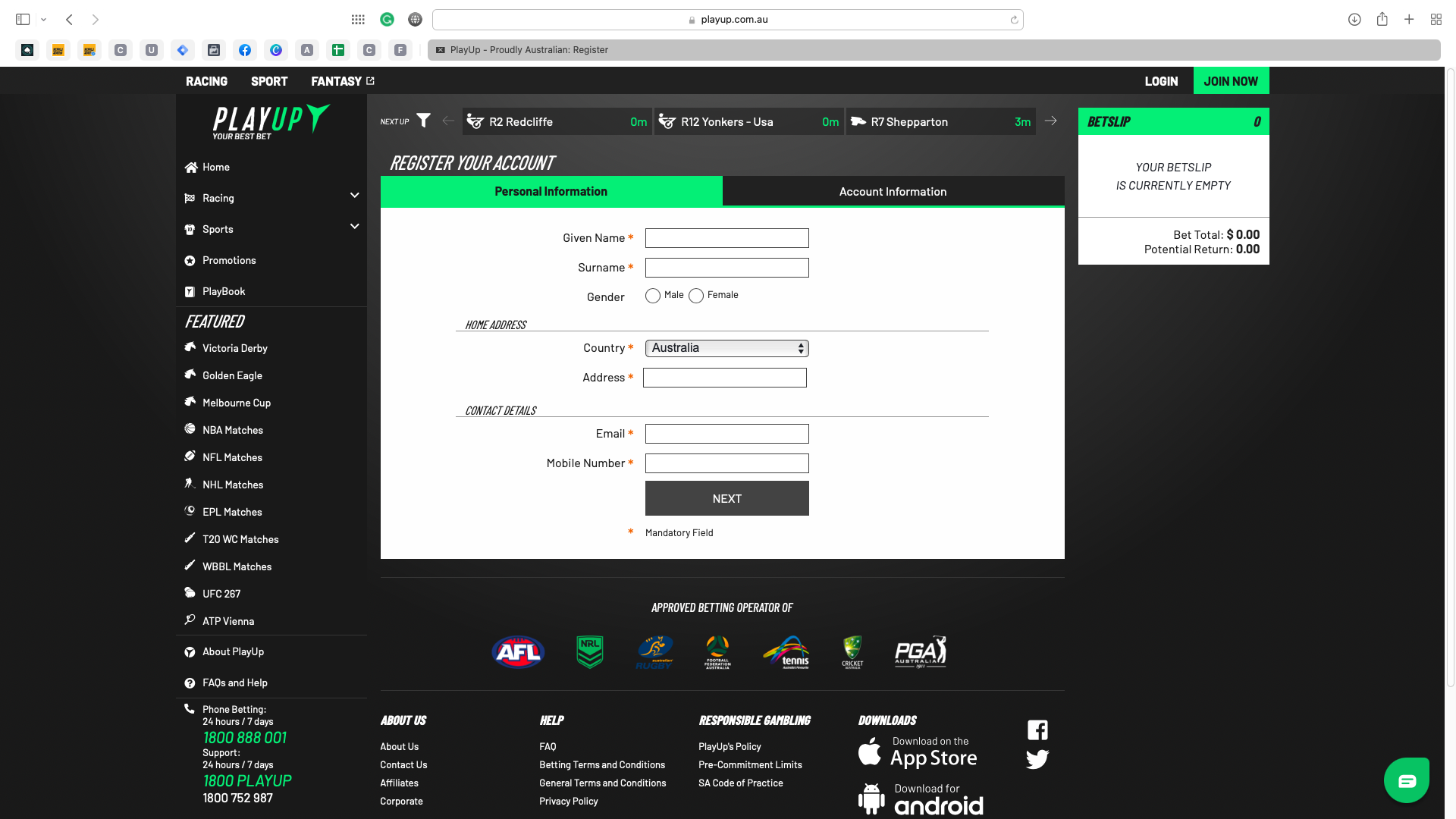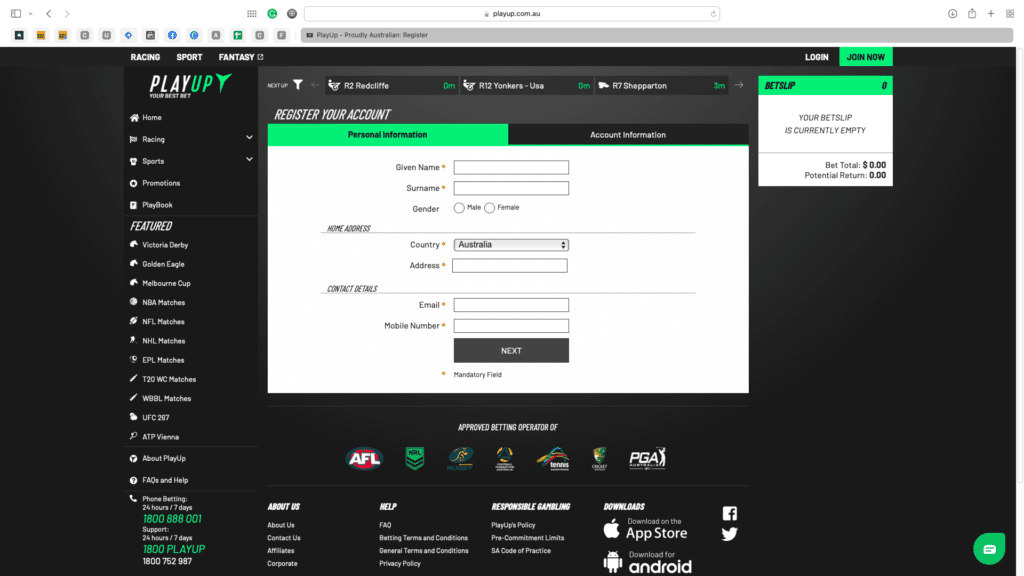 Some of the other reviews claim it takes around 5 minutes to sign up…  
Not sure where they're getting their info from, as it only took me a little over a minute. 
I'm not exactly slow on the keyboard, but I certainly wasn't rushing things!  
So all I can say is the sign-up process was pretty Kruzey (see what I did there?) 
Straight into the homepage with a promo banner and all the upcoming races. 
Making some Bets
Alrighty, time to drop some cash into this bad boy! 
They have quite a few different depositing options, which I thought was pretty neat 
Your standard credit cards are there 
And so are POLi, BPAY, and Paysafecard, so it's good to have different options.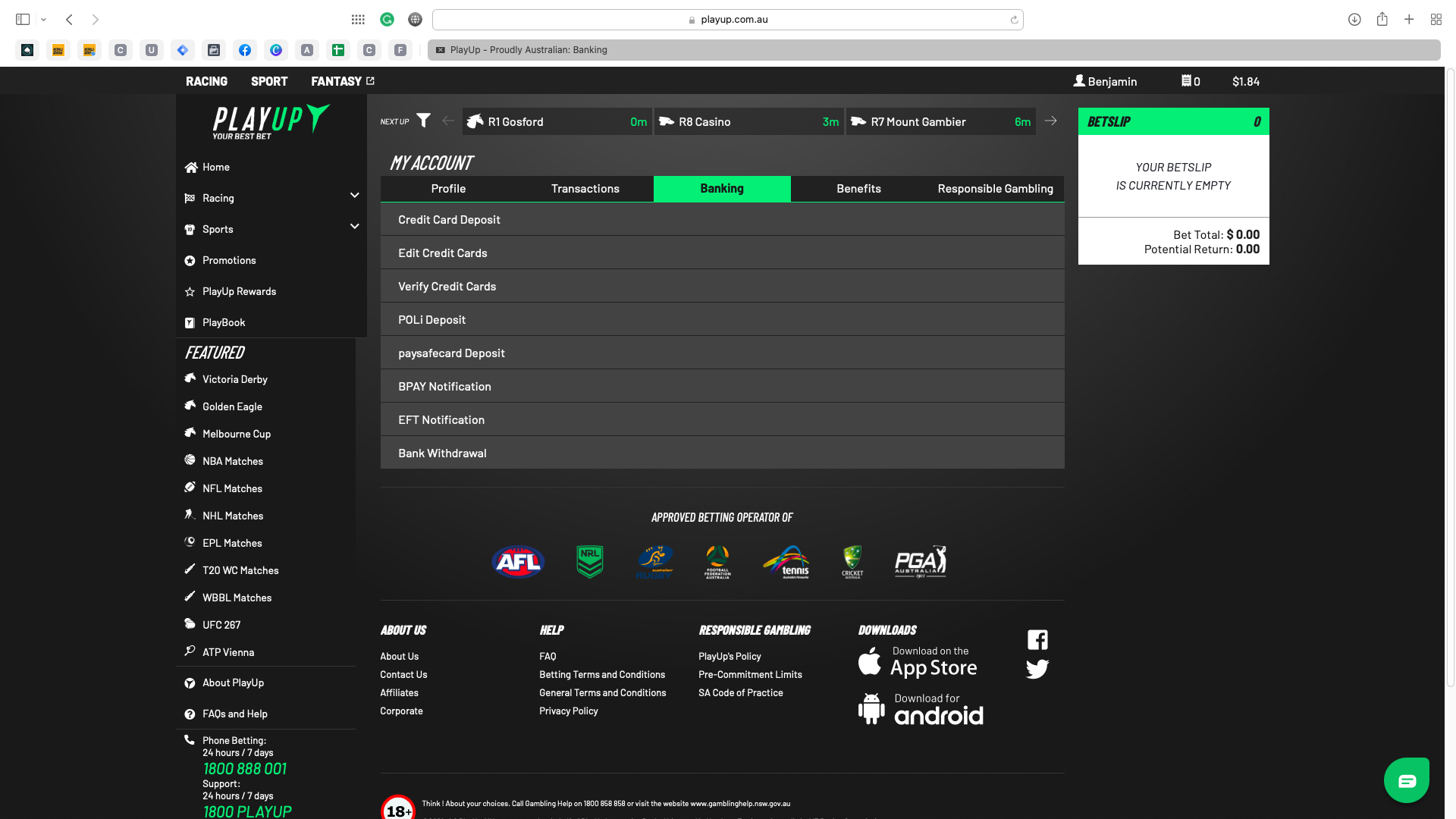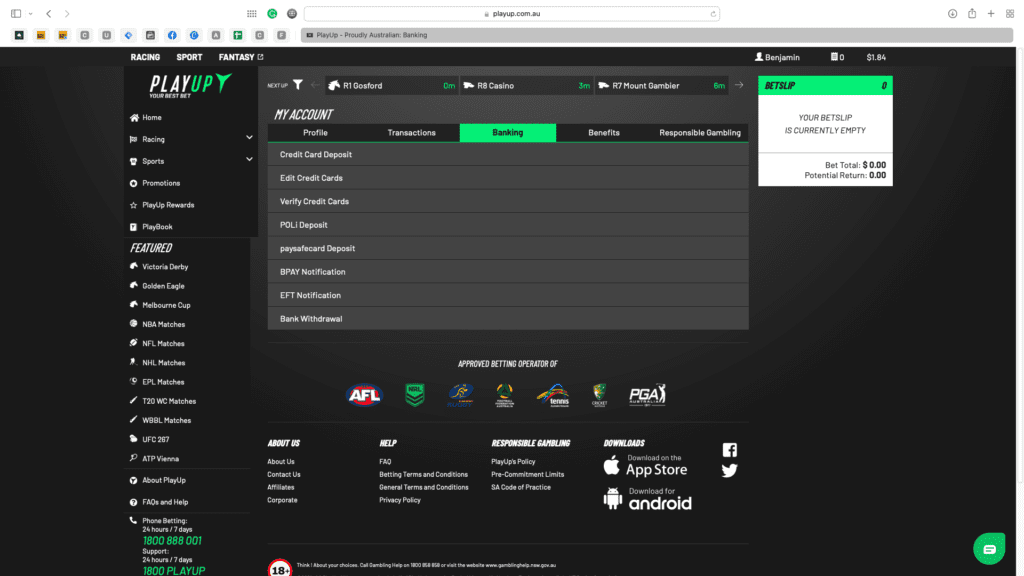 We're just going to be depositing using a credit card. 
$10 in the kitty ready to go.
So what are their promotions? 
They don't show their promotions before you've signed up. 
So I won't show them either. 
…But… 
I can tell you that they have greys, horses, NFL, and soccer on the list. 
What's the layout like? 
It's pretty clean and simple. 
I didn't have any problems finding the other markets available for the sports or races.  
To the Races, We Go 
I love a tickle.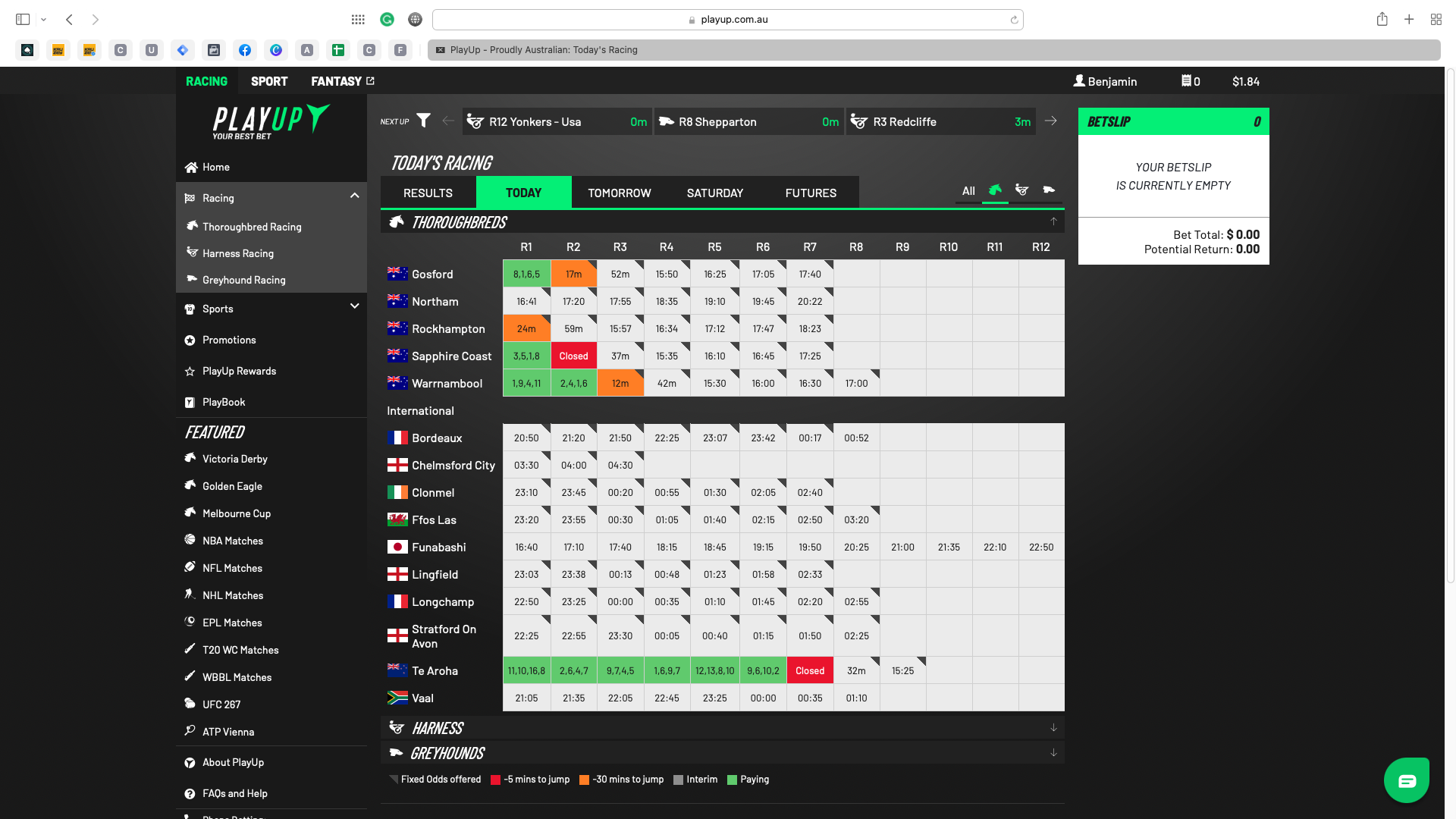 It's pretty easy to find a race as they have them both on the main page and in their own separate menu. 
They have a pop-out form guide, not the best… but at least they have one.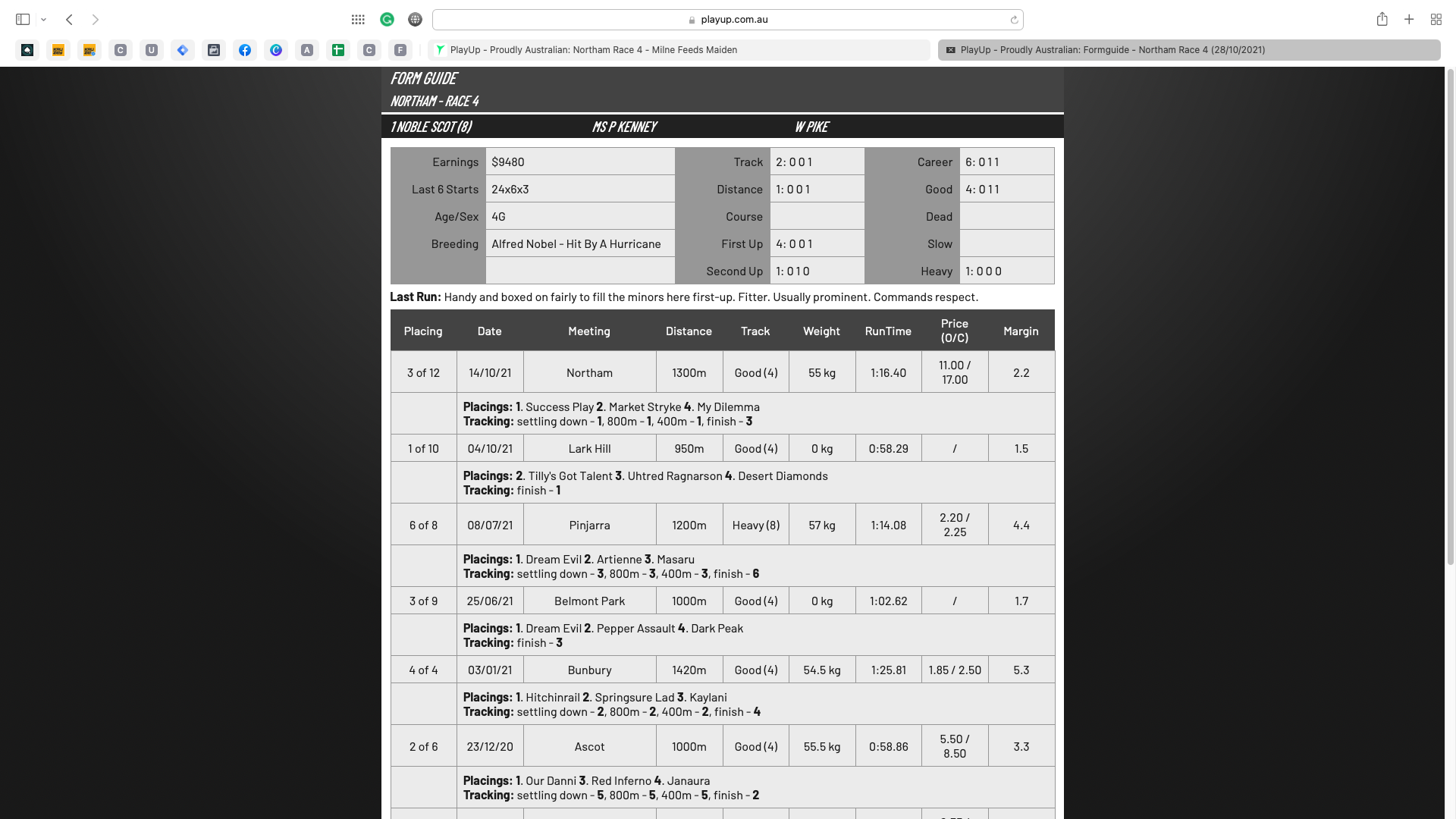 This had a bunch of info on it, including previous starts and all the other stuff. 
The first bet has been found! 
I clicked "Fixed Win" price to add it to the betting slip. 
Then click the "Each Way" icon. 
I typed in my wager and clicked confirm 
And that was it! My first wager was in and ready to go. 
I twiddled my thumbs for a bit because they don't have live streaming yet. 
So did I win? 
Nope… not even a place!! 
Do they have any live streaming? 
At the moment, it doesn't look like there is any live streaming available; it's definitely something they should think about adding. 
What sports do they have? 
Clearly, this is where they are better than some of the other sportsbook 
They have all the standard sports to bet on and even some you wouldn't think of 
… did someone better on snooker?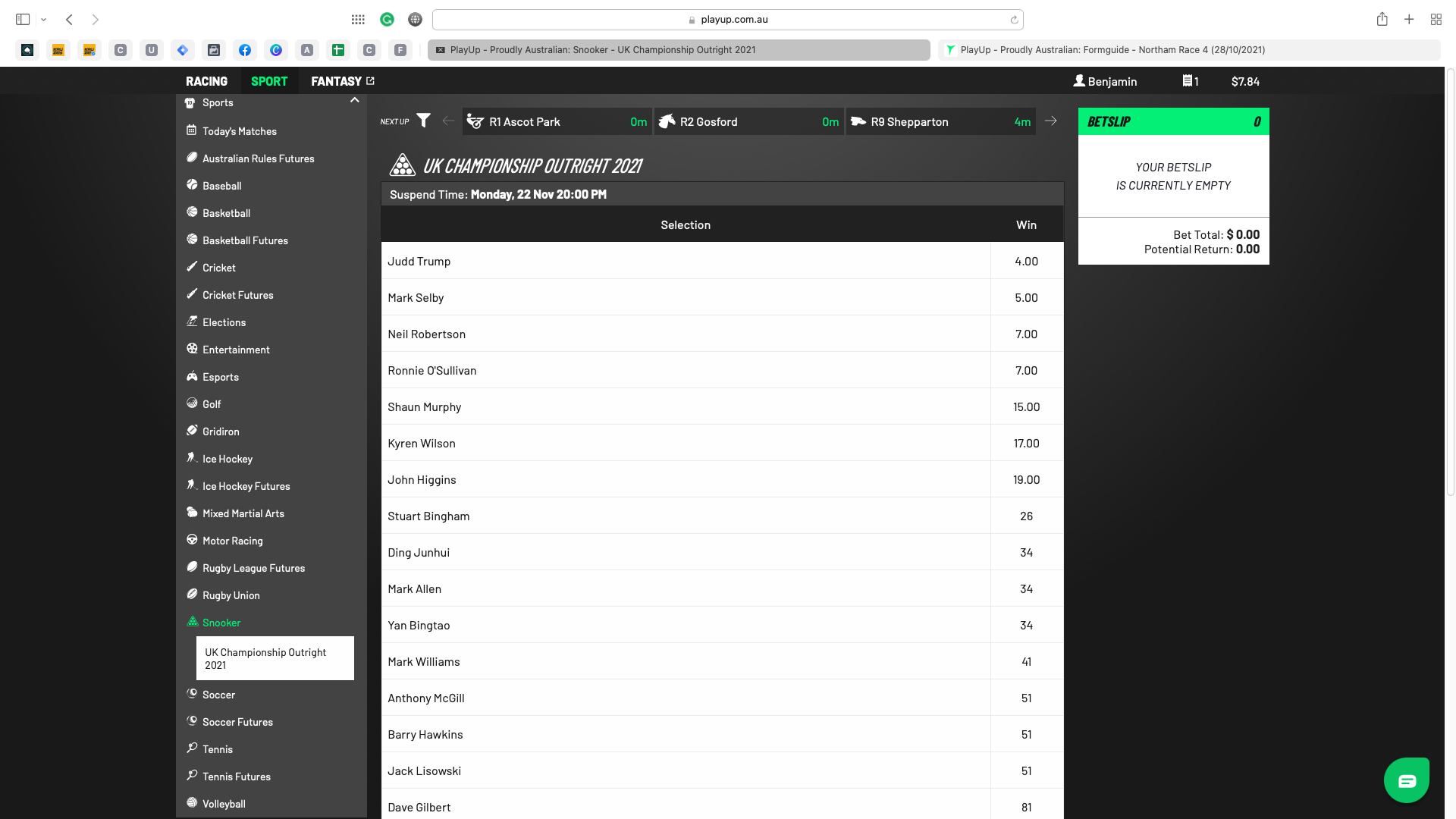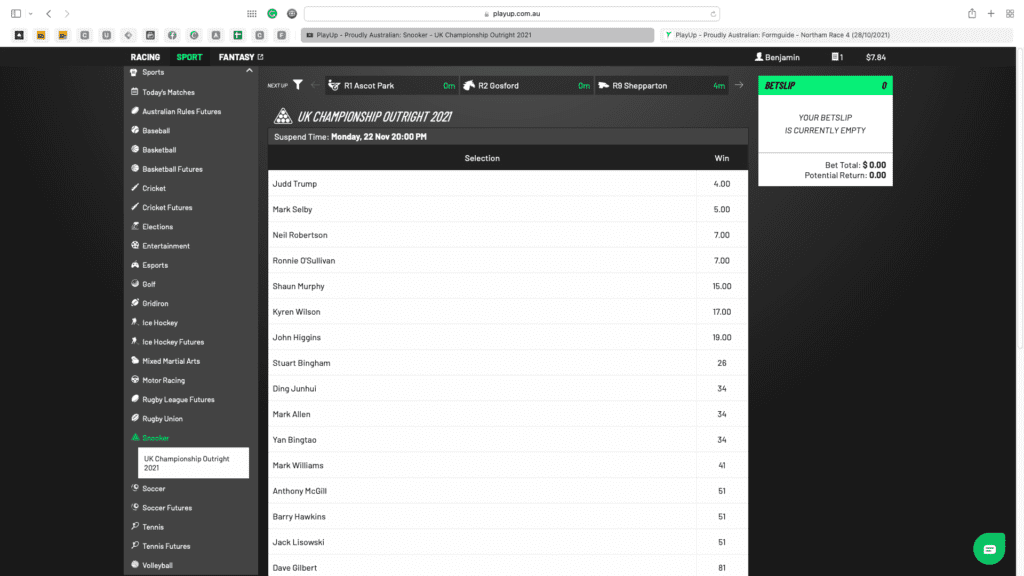 PlayUp Review

It's been ages since we last took a look at PlayUp, and with the Spring Racing Carnival right around the corner, it now seemed like an excellent opportunity to get back in and see if there's anything new on their site!
So what did we notice?
It's still relatively simple to find what you want.
Placing bets was very quick, and even a novice could operate it without difficulty.
Sign-up and verification were quick and straightforward.
Their layout is fantastic and well thought out.
The only noticeable feature that seems to be missing from the PlayUp website is Live Streaming, and it makes no sense that PlayUp doesn't have Live Streaming yet.
Let's be honest: if they want to be one of the best online sports betting companies, at some point, they are going to need Live Streaming.
As an online gaming platform, PlayUp is fantastic, and it does what you want it to in such an excellent way; but we would like to see more features; considering how big horse racing is in Australia, a speed map would be a real positive for the site and would not go astray, but Live Streaming is where PlayUp falls behind in a big way.
What do we like about PlayUp?
First of all, we love that PlayUp is incredibly user-friendly!
PlayUp's renowned as an innovative sportsbook, and their featured content section is excellent for finding the most common upcoming events to place a bet on, which comes in handy when you don't want to wade through pages of content to find what you want.
The PlayUp Horse racing area is nicely laid out and simple to understand; many other sportsbooks tend to be a lot harsher on the eyes, making it somewhat difficult to read. PlayUp, on the other hand, has a colour scheme that contrasts in such a way that you could stare at it for hours without the need for pain relief.
What's missing at PlayUp?
Live Streaming, without a doubt, is the big thing missing at PlayUp; with live streaming in their arsenal of betting features, this would be one of the best sportsbooks on the market.
Speed Map is something else that I was unable to find while doing my PlayUp review, true racing aficionados want everything available at their disposal, and it is no secret that these guys are the punters that place big bets as an option that is readily accessible it would seem like a logical step in the right direction to add a speed map to their list of betting features.
Form Guide is another feature put to the wayside by PlayUp, even the half-decent punters want a form guide that is clear and readable, whilst PlayUp does have a form guide. Unfortunately, it looks more like an interactive grey and white PDF.
PlayUp Highlights
Users can use the PlayUps vast list of features to help them get the most out of their time on the site. These include:
PlayBook - The PlayUp PlayBook is home to racing tips, Sports previews and tips; Daily Fantasy Sports DFS gives you a host of interviews and notifies you of changes to the DFS events. There is also an NFT Sports section coming soon.
Promotions – PlayUp also has a vast range of promotions for betting on both sports and racing.
PlayUp Promotions
PlayUp frequently updates its promos; unfortunately, you won't be able to view these promotions unless you're a client; however, this is remedied once you've joined up.
It is worth noting that PlayUp regularly updates its promotions and can quite often change significantly. Because it's so convenient and straightforward to use, it would be wise to log in to PlayUp frequently to check out what deals they have on offer.
PlayUp Android App

Downloading the PlayUp mobile app for android is done by downloading the 'old way'; I say this because you have to download directly from the website and cannot do so from the app store.
I was asked to enable location services, so I selected the 'Only while using the app' option. They only needed to know that I was from an accepted country, so it was no big deal.
Unlike many other betting sites in Australia, PlayUp is not focused on horse racing but instead has sports on a level playing field with them. With that in mind, their homepage isn't filled with racing events but a mixture of the two betting markets.
What I did find interesting was that visually the mobile app is different from the website in that on the website, the races are in a white box which makes them pop. However, on the app, the boxes are another shade of grey, which is still very appealing, but I would like to have seen the same colour schemes the whole way through so it felt familiar regardless of what device you were using.
A neat little menu is at the bottom of the app, which has 'Home, Racing, Sport, Promo, Betslip', so it is very easy to find what you need regardless of how deep into a rabbit hole you get.
Today I took advantage of the odds available for the English Premier League, and while jumping into the matches, I was pleased to see the Green' More Markets' button on each match.
Placing our bets was easy enough, and there was no freezing or lagging at any point that we used the app.
In total, we placed $30 of bets at $5 per bet and ended up with a total withdrawable amount of $12; I selected bank transfer, filled out the details, and a couple of days later the money was in my account.
I found the PlayUp Android app to be well worth the download as far as betting apps go.
You can find the link for their app on the PlayUp homepage right HERE.
PlayUp Apple IOS App
I was unable to find the PlayUp iPhone app directly on the app store, which I found to be odd considering once I clicked the download button on the site, it directed me to the link on the app store, either way, it is there somewhere but much more accessible finding it from the website.
The mobile app was easy to navigate and similar to the android app, I found that the layout was essentially the same. I'm not sure if they are planning to change the mobile app or desktop design so that they match, but it should be something they consider doing so that they look the same across all devices.
For the iPhone App review, I decided to jump into a bunch of different sports markets to get a good feel for the different markets they have available.
I ended up betting on the NFL, the NBA Preseason, and also on Baseball.
In total, I put $30 of bets at $5 per bet and ended up having a balance of just over $35; I found it somewhat challenging to find where to withdraw funds but once located I bank transfer was already set up, so I just selected the amount to transfer and clicked withdraw funds.
I found the PlayUp iPhone app to be well worth the download as far as betting apps go.
To make things as easy as possible we have added the link to their homepage HERE.
PlayUp Mobile Site

After the initial assessment, we discovered that the PlayUp mobile website was a very fluid and straightforward user experience with no issues or difficulties to report.
The mobile betting site has now been examined in-depth, and unfortunately, there have not been any recent updates or changes to make it more user friendly. There haven't been any modifications, which is not exactly good news for consumers.
However, it is worth noting that although it looks familiar to the desktop version, it also feels restricted.
The home screen only shows upcoming races, and all the menu options appear 'Blocky' to say the least; it feels as though it is a website from the 1990s.
Thankfully, the download app option is easily found via the menu option in the top left. The layout design of the website version may be a deliberate choice to push you into using the app version instead.
For the PlayUp mobile site, I thought I would place some bets on Volleyball, Tennis and Cricket.
However, once I was in the different events, it was disappointing to see that I could not find extended betting options, and several bugs forced me to go back a step before continuing.
In total, we placed $30 of bets at $3 per bet, and in the end, I had a withdrawable balance of $22.75.
I would not recommend using the Mobile version of the website, and it is a much better option to use their desktop or app versions instead; for your peace of mind, you can access them HERE.
PlayUp Website 
The first thing I noticed when logging into the PlayUp website was the vivid contrast between the iconic green, red and white colour scheme, it felt like Christmas, and something extraordinary was about to happen!
The PlayUp site is simple yet incredibly effective. All the sporting options are neatly fixed to the left-hand side in a contained drop-down menu. Just underneath the promotional banner are racing, sports, and promotions options.
All the upcoming races are housed directly underneath in three container boxes, one for each racing type.
The website is pretty simple and very easy to find what you are looking for, BIG TICK!
It felt effortless to navigate through the site as it was a familiar layout to some other online betting sites.
Today I decided to put a bet on horse racing to take advantage of the form guide they have on offer, and I played for around an hour browsing the form guide before I decided to start betting.
In total, I placed $35 of bets at $5 per bet; I ended up walking away with a $137.50 thanks to a roughie that came in, so I selected bank transfer, and the money went through a few days later.
Banking with PlayUp
PlayUp offers various payment options, including:
Credit Card
Poli
Paysafecard
Bpay
However, withdrawals are currently only available via bank transfers.
Minimum deposit $1.00
Minimum bet $1.00
Minimum withdrawal $10.00
Deposit Options
PlayUp deposit options are limited, but there is enough to get the job done; typically, people only want to deposit via their credit card, but it is good to see other options available also.
Credit Card Deposit
POLi Deposit
Paysafecard deposit
Withdrawal Options
PlayUp withdrawals are pretty simple; however, they do only have one option.
PlayUp Betting Markets
PlayUp has a plethora of betting options for the Australian market; even though not as many markets as some of the other betting sites, they do have most of them, including many racing and sports markets to offer.
Additionally, they also have live sports betting markets which can be done by calling their live betting phone number found in the customer service section of this page.
Racing Markets

PlayUp Racing markets are up there with the best of them. They have all the usual betting markets Thoroughbred Racing, Harness Racing and Greyhound Racing. Until they legalize snail racing, I don't foresee Australian online betting sites changing this section very much in the future.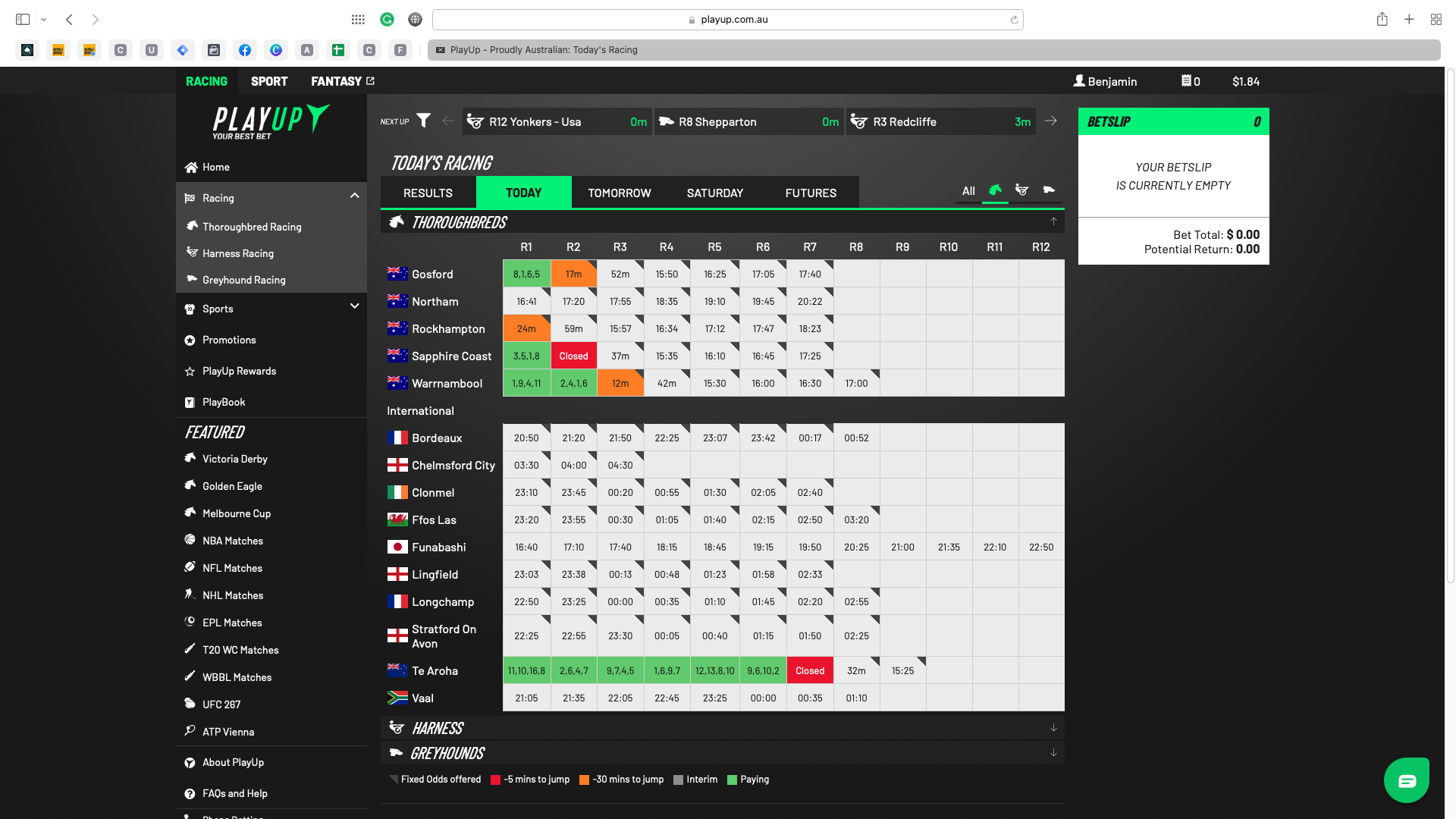 From what I could see, I could not find a full form guide or speed map anywhere on their site, PlayUp has been designed as an all-inclusive betting site that is not focused primarily on racing, so it comes as no surprise to not see them here, and it also doesn't feel like it should be here (bonus points if it was, however, it appears not to be the case)
Sports Betting
There is a huge list of events available on Playup's sports betting platform. It is great to see that the category sections are named after the sport and not specifically a league; as an example, Gridiron has NCAA Football, NFL, NFL Futures, NCAAF Winner and also Heisman Trophy Winner as the options to bet on.
Australian Rules Futures (AFL)
Baseball
Basketball
Basketball Futures
Boxing
Cricket
Cricket Futures
Darts
Elections
Entertainment
Esports
Golf
Gridiron
Futsal
Handball
Ice Hockey
Ice Hockey Futures
Mixed Martial Arts
Motor Racing
Rugby League
Rugby League Futures
Snooker
Soccer
Soccer Futures
Tennis
Tennis Futures
Volleyball
Water Polo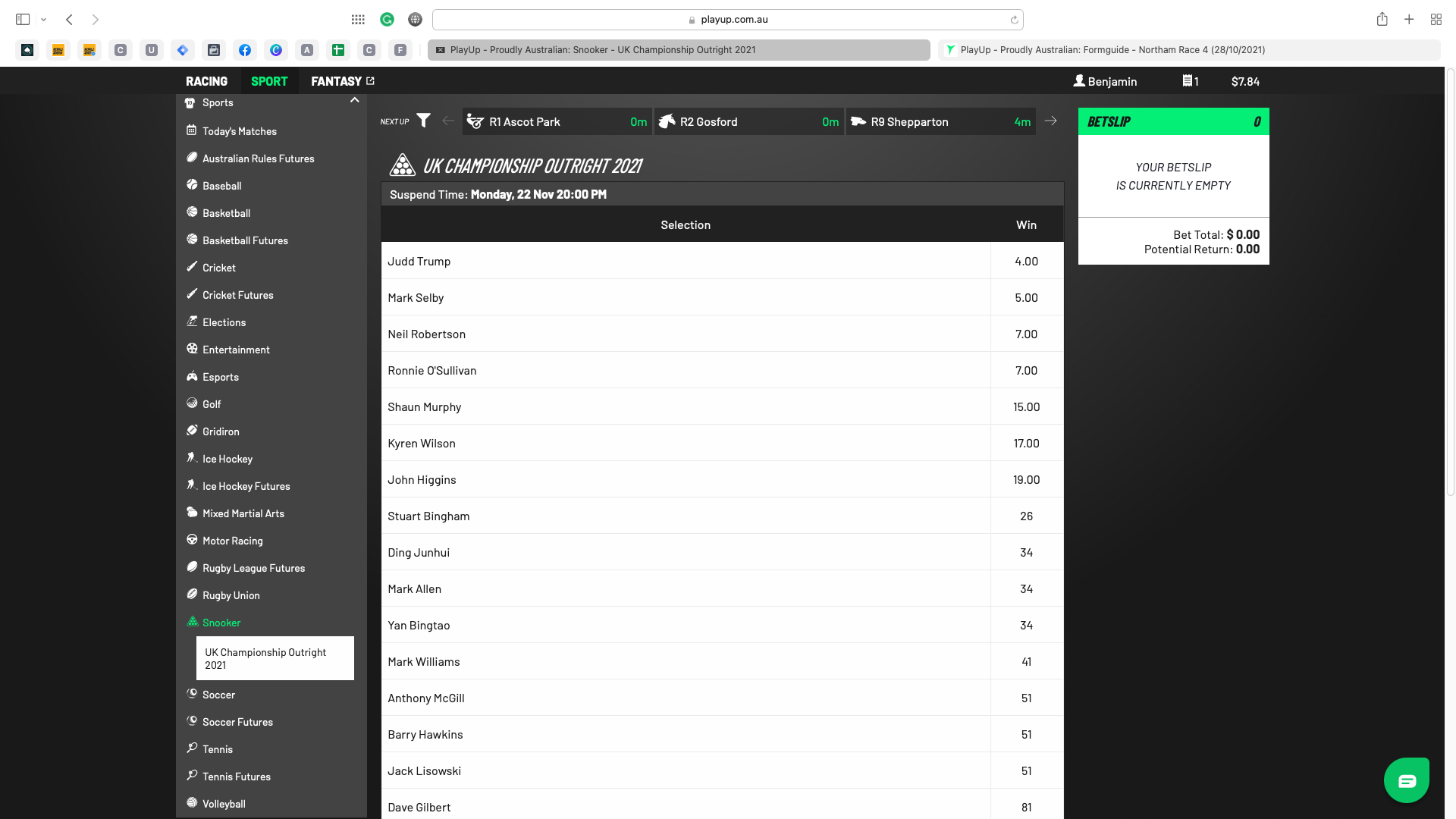 FEATURED EVENTS
PlayUp also hosts a featured section which is a quick link to the upcoming major sporting events worldwide; as an example, at the time of writing, the featured section showed links to the events below
NFL Matches
NBA Preseason
AL Wildcard Game
NL Wildcard Game
EPL Matches
World Cup Qualifiers
UEFA Nations League
IPL Matches
World Grand Prix
WTA Indian Wells
F1 Turkish Grand Prix
Fantasy Sports
PlayUp hosts its own world-class Daily Fantasy Sports platform. With a mature, feature-rich infrastructure that has specifically been built for several regulated markets.
DraftStars (Part of the PlayUp brand) is Australia's #1 Daily Fantasy Sports betting site by all leading metrics. Tens of millions of dollars in prize money is awarded each year in millions of competitions.
More than 300,000 users have joined the Sports Fanatics community on Draftstars since its inception in 2017. In addition, the site has partnered with Fox Sports and KAYO (Fox Sports) on events such as 'Live Finals,' where the best of the best come together to compete live for record-breaking prizes.
eSports Betting
We're excited to announce that Daily Fantasy eSports and eSports betting will be available in Australia and the United States beginning in August.
Professional eSports matches are one of the most exciting events in professional gaming. PlayUp will calculate odds and generate betting markets for users to bet on eSports outcomes.
The sky's the limit for this burgeoning industry. The impact of this market on the future of eSports is remarkable, as it may significantly help expand and enhance the eSports community.
PlayUp Horse Racing Markets
PlayUp has a variety of horse racing markets that can be bet on. Unfortunately, this does not currently include options like multis. PlayUp now has Fixed Win, Best Tote + Start Price, Fixed Place, Middle Tote (Place).
This is the most effective approach to succeed and receive the most significant winnings.
It's all about consistency, as well as the best Tote or SP odds at your fingertips to help you win big. Top Fluc is always a crowd-pleaser, such as 2nd horse – Place from 3rd Horse – Place (in that order).
A perfect illustration of how you don't have to choose one specific best Tote choice — be more adaptable and try some of their other options as well!
PlayUp Odds
Odds vary from sportsbook to sportsbook; however, it is good to see that PlayUp has competitive odds that maintain their presence high up the ladder in the online gambling industry.
Fixed Odds Racing
Play Up is a leading Australian Fixed Odds provider that serves markets including Thoroughbred racing, Greyhound racing, and Harness racing.
Fixed Odds Sports Betting
Covering a variety of markets, including sporting events, fantasy sports, and eSports, PlayUp claims to be the top Fixed Odds provider in Australia.
PlayUp Sign Up New Account
The PlayUp sign-up process was incredibly easy; it was as simple as filling out the standard details and personal information before sending off the banking details to place an initial deposit.
Though it was a three-page sign up which is technically more extended than most, it is essentially saving you time by getting all the nitty-gritty information out of the way in one shot.
Verification Process
PlayUp will now demand identification verification in light of the new anti-money laundering regulations.
Verification may be done quickly and simply by using the Green ID identification procedure.
It was as simple as clicking the verification button, and within two seconds, the system had recognized my credentials and authenticated me.
The sign-up process required, on average, only took only a few minutes for new customers at PlayUp.
I would assume you used the same email with Draftstars, and your data should check out readily since they have already saved it in their system as well!
PlayUp Contact & Customer Service
PlayUp customer support methods are pretty neat, allowing clients to contact them by almost any means possible. The following is a list of the many ways in which clients may reach out to PlayUp:
You can expect a prompt reaction from an online chat (if you don't get a response right away, wait a few minutes). The phone number for Phone Betting and customer service is constantly accessible 24 hours a day, seven days a week. There's additionally an email for general inquiries.
Live Chat (icon in the bottom right corner of the screen)
ADDRESS: 48 Epsom Rd, Zetland NSW 2017
Phone Live Betting 24/7: 1800 888 001
PlayUp Customer Support 24/7: 1800 752 987
EMAIL: support@playup.com.au
PlayUp Rules
PlayUp, like all Bookmakers, has a legal responsibility to follow to keep its license. Therefore, to bet with PlayUp Australia, you must also adhere to its Terms and Conditions.
The terms and conditions link may be found at the bottom of their website HERE.
PlayUp Review Conclusion
The PlayUp layout is clean and easy to use. with differing looks on the desktop and the apps. It's not as showy as other applications, but it is straightforward.
A lot is going for them in terms of the promotional offers they have, the extended betting markets and the fact that they have a form guide; however, as far as mobile betting apps go, it still feels like it is not quite up to speed as much as the major players.
The issue of not having a speed map is something that only really sticks out to avid punters that study every section before placing a bet.
Not having Live Streaming is a problem. However, I would like to assume they will be looking into adding in the future.
Though some features are missing that are typically found on the other major betting sites, PlayUp is still a very well-rounded site that is an excellent addition to the bookmaking industry.
 Gamble Responsibly
PlayUp Interactive Pty Ltd is a proud ambassador for responsible online betting.
Stay in control, gamble responsibly, and please think before you bet.
If you do think you might have a gambling problem or think you are beginning to make life-altering choices call gambling help on 1800 858 858 24/7, or you can visit their website gamblinghelponline.org.au
PlayUp Australia FAQs 
What is PlayUp?
PlayUp is a next-generation entertainment and technology organization that enhances people's lives through entertaining, rewarding, and responsible online betting.
This is what it's all about: creating world-class user experiences via cutting-edge betting solutions built in-house. The focus of their energies is on satisfying the demands of dedicated and enthusiastic customers who want a more intimate connection with the games they enjoy.
Unifying the world's most popular online betting services, including Fixed Odds Sports Betting, Fixed-Odds Racing (Horses and Greyhounds), Esports, and Daily Fantasy Sports (DFS), they operate Australia's biggest and also some of the globe's largest prize pools in competitive peer-to-peer online betting.
PlayUp Australia is a global leader in online gambling with licenses to operate in numerous jurisdictions and now provides services in Australia, New Zealand, India, and the United States.
Who owns PlayUp?
PlayUp Interactive Pty Ltd owns PlayUp Australia; PlayUp is a wholly-owned subsidiary of PlayUp Ltd, run by Sydney-based entrepreneur Daniel Simic.
According to reports, Dang Simic is looking to create a vast range of gambling solutions and platforms, with the PlayUp brand at its centre.
In addition, horse racing betting is a part of the services they provide. The firm aims to become one of the most popular fantasy sports providers in the country; PlayUp owns the fantasy sports site Draftstars.
All bets accepted on behalf of PlayUp Interactive Pty Ltd, Licensed in Northern Territory, Australia, by NT Racing Commission.
Is PlayUp legit?
Yes, PlayUp Australia is licensed and regulated by the Northern Territory Racing Commission in Australia, which means that the restrictions on bookmaking and gambling are incredibly tight.
PlayUp is known as one of the leading Australian online bookmakers; we highly recommend them for both sports betting and horse racing. Their desktop site and mobile app android and iPhone make it simple to place a wager on any race or sporting event.
Fantasy sports firm PlayUp has been operating since October 2011, has made a stunning entrance into the Australian wagering industry.
So does this imply that I may gamble lawfully with PlayUp?
Yes. You may gamble on PlayUp from Australia, New Zealand, India, and the United States as long as you do so legally. If you live outside of these countries, PlayUp is not available to you. In addition, you may not create an account and wager with PlayUp if you reside in any other location.
Is PlayUp legal in Australia?
Yes, PlayUp is one of the few betting businesses in Australia that is entirely Australian-owned and run. They are authorized by the Northern Territory government and can legally provide sports and racing betting to clients in all Australian states, New Zealand, India, and some American states.
They comply with the law, have accepted Australian financial regulations, and do not engage in unlawful behaviour.
PlayUp is certified as an Australian bookmaker, proudly displaying its registration under Australian legislation on its website. This further demonstrates that PlayUp Australia adheres to all local regulations.
Does PlayUp offer Same Game Multis?
Unfortunately, PlayUp doesn't offer Same Game Multi at the moment.
However, in saying that, PlayUp do offer a range of promotions that are updated regularly. As a result, it's in your best interests to frequently visit their website to ensure you're getting the most fantastic PlayUp betting possibilities when putting your money on the line.