You've arrived at this page in search of a Boombet Code.
I've been there before, and I've spent hours scouring google looking for them!
We do have a special referral code for you to use (found above)
Bonus codes though? One small problem…
Bonus codes used to be found very quickly in the bookmaker industry, but nowadays, it's a little more challenging to find them.
Most bonus codes are no longer valid… most.
It's a legal limitation because they've cracked down on enticing customers with bonuses.
If you sign up and contact them they might be able to assist in some special promotions. The only stupid questions are the ones you don't ask I guess.
Let's go through a quick rundown of what they're really like before we get to that!
I started with a Google search for BoomBet Australia and was pleasantly surprised to discover that they were at the top of the list; considering there is also an online casino called Boom bet casino, I found this quite surprising.
Over time this can change and become a pain to find certain sites as the homepage bounces around the google rankings.
So, as a courtesy to you, I've included the link so that you don't have to go looking for it. Boombet Homepage.
Take a peek at the BoomBet layout.
I love the colours; the styling of newer betting sites is refreshing.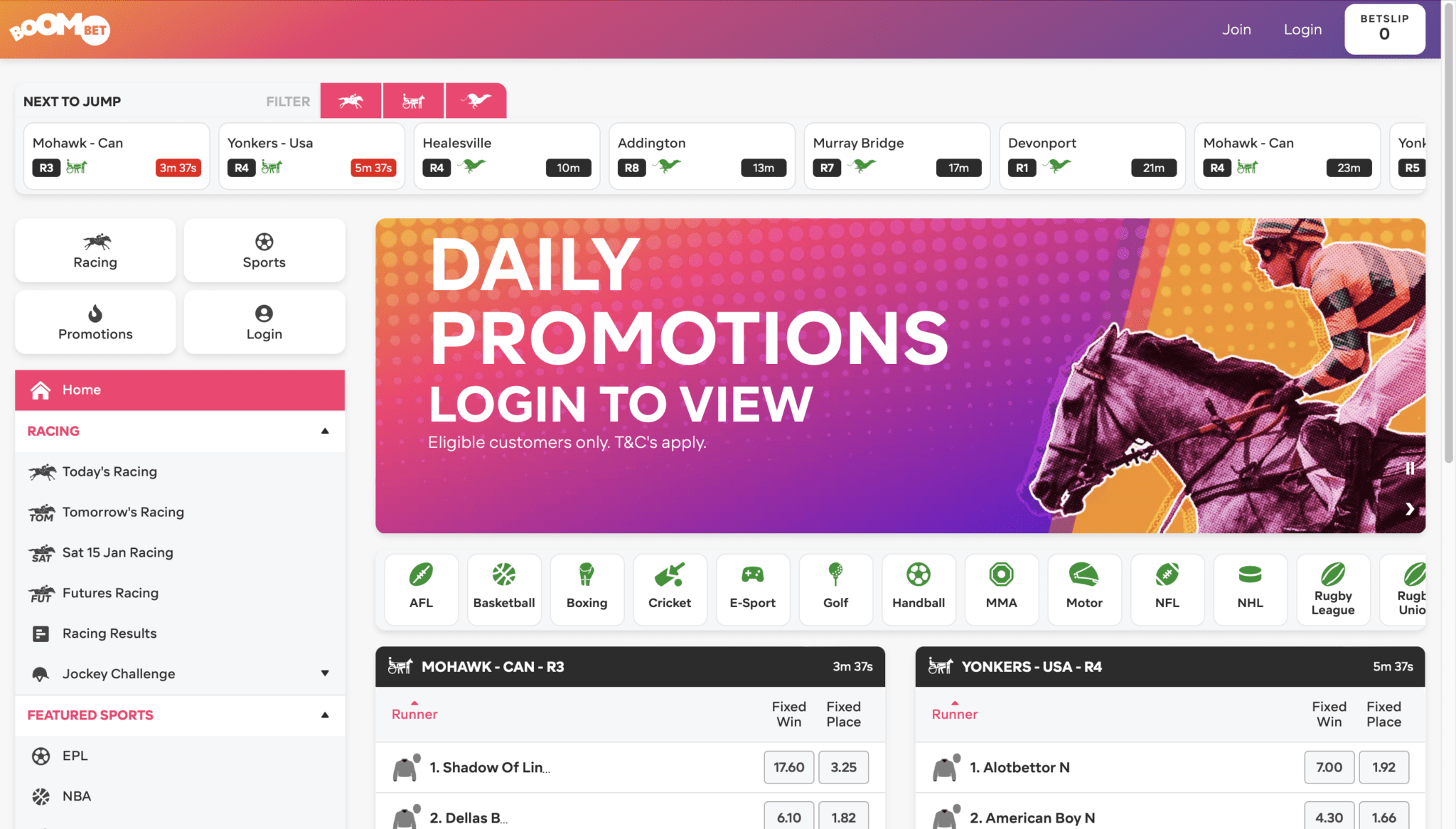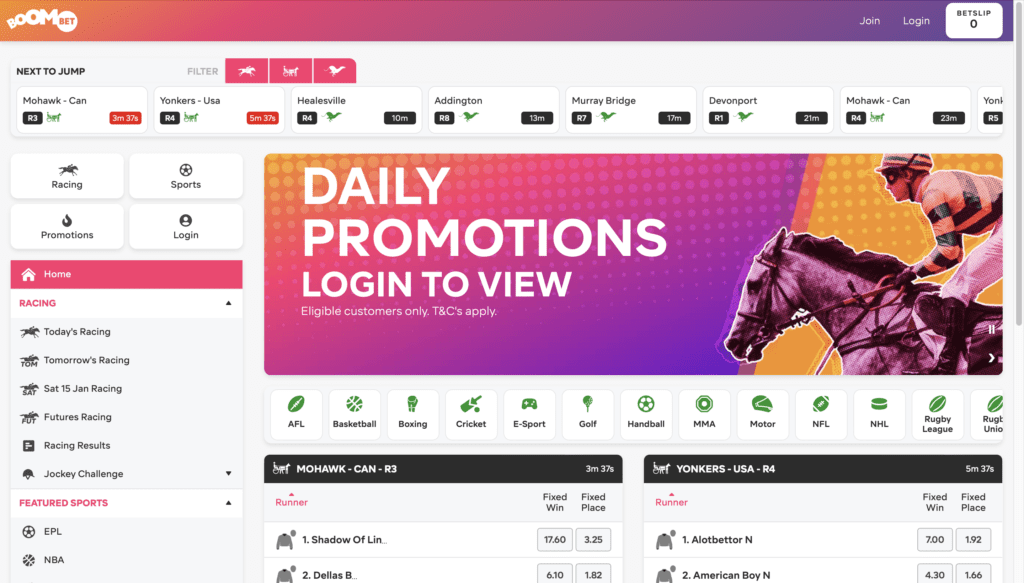 The next to jump races are listed at the top of the page with a filter to remove any race types you don't want to see.
I got rid of the harnesses and dogs straight away since I was only interested in horse racing. 
An extremely vibrant promotional banner (you can't miss it) is situated at the top of the screen, showing you what promotions BoomBet is currently offering.
Following that is a series of quick link boxes for popular sports and e-sport betting.
Underneath are two tables showing what I would assume is the next two races to jump. Unfortunately, this isn't defined on the screen; however, considering one is racing in 21 minutes and the next is racing in 24 minutes, it is safe to assume this is the case (it would be nice if there were a little header here to define what these sections relate to).
You can find a series of easy-access boxes on the left-hand side relating to racing, sports, promotions, and account.
Following this is a drop-down menu containing Boom Bet Odds, Racing, Featured Sports, and a Help section.
Let's get to it, shall we?
The BoomBet sign-up process:
The sign-up process at most bookmakers nowadays is relatively standard.
Though with BoomBet, I found the sign-up process to be incredibly easy and fast,
It was apparent that the BoomBet team have a deep understanding of what matters most.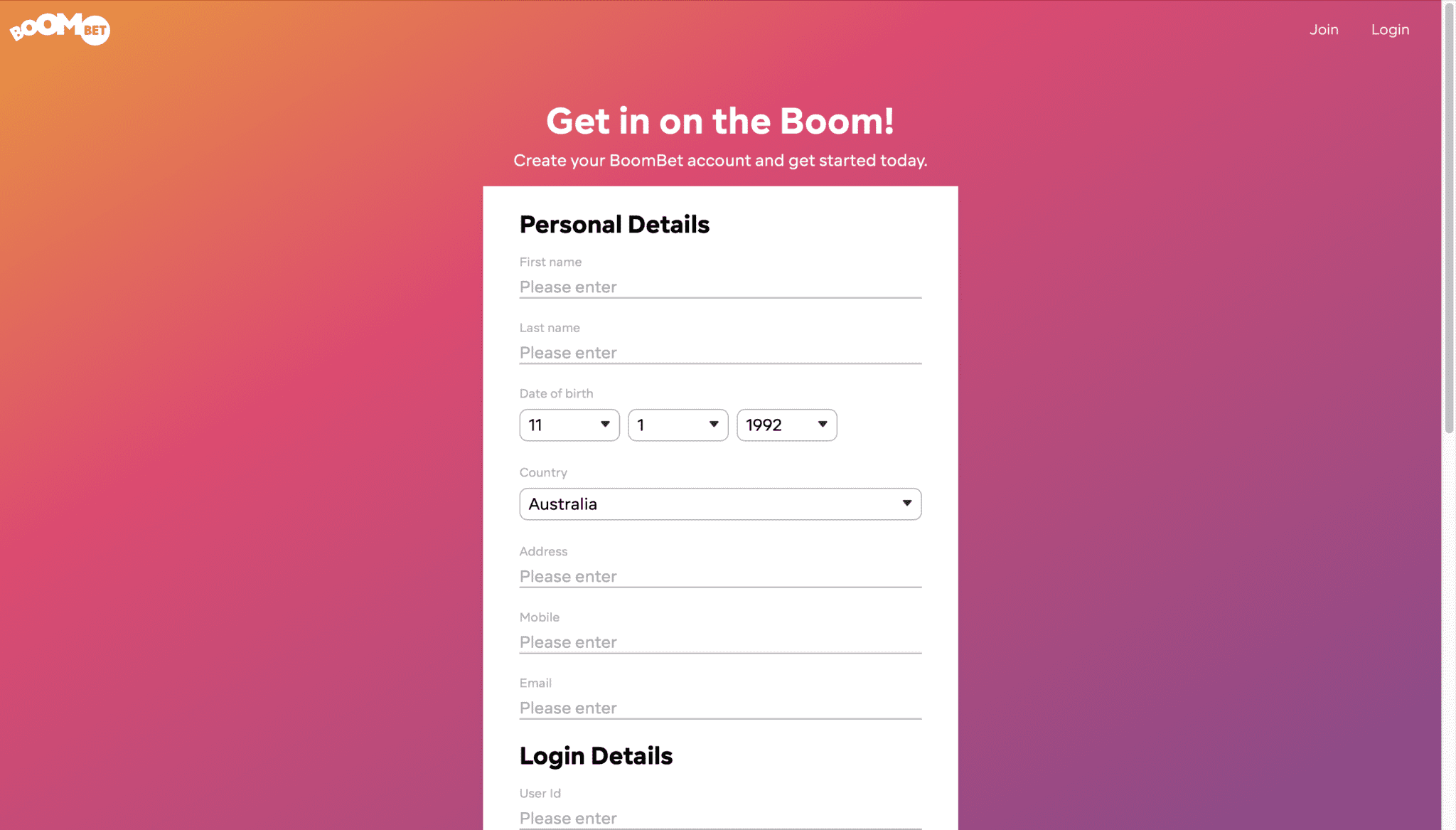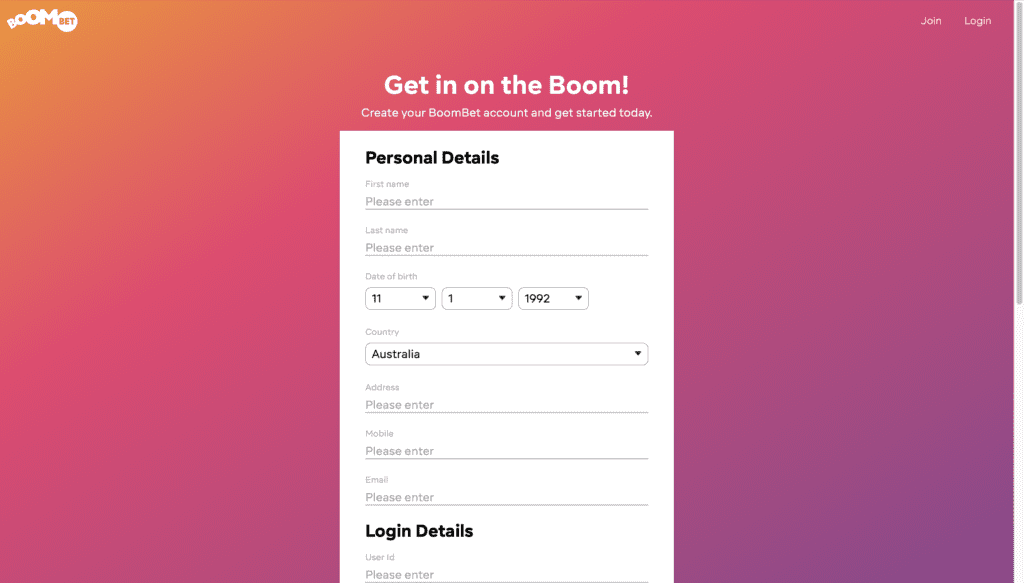 It was a very simple sign-up that was what I would consider close to perfect,
The whole sign up process took me less than 2 minutes, and I wasn't pushing myself to get it done. Instead, I deliberately took my time to see how long it would take a regular Joe.
It was only a one-page sign-up with all the standard details needed.
This also gave me a choice to add a deposit limit, which I thought was a good deterrent for some people.
Now we've signed up, let's whack some money in the account.
Depositing Funds
Depositing money into my BoomBet account was wonderfully simple.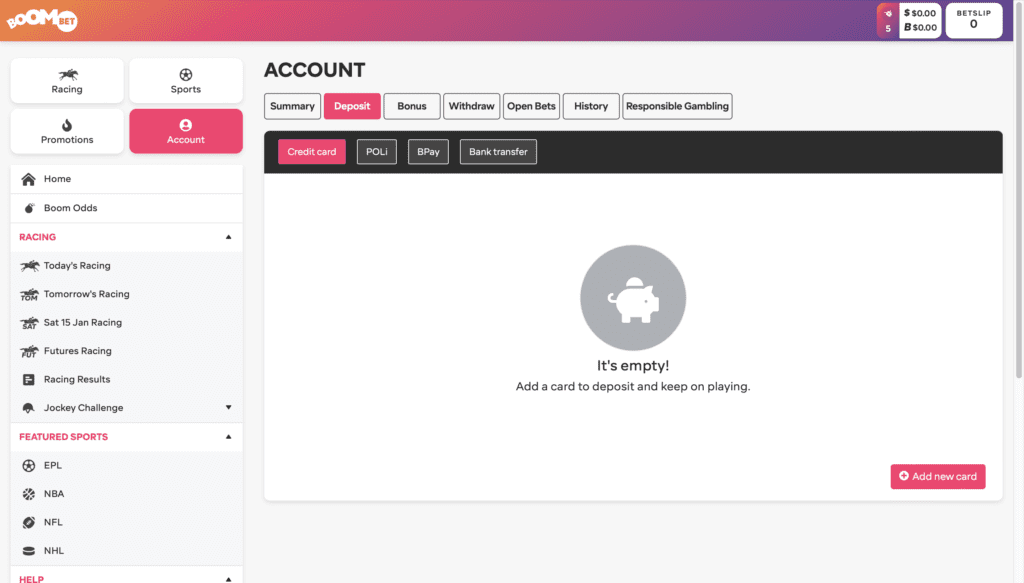 It was as easy as clicking on the 'add new card' button, filling out my details on the next screen, then choosing how much I wanted to deposit.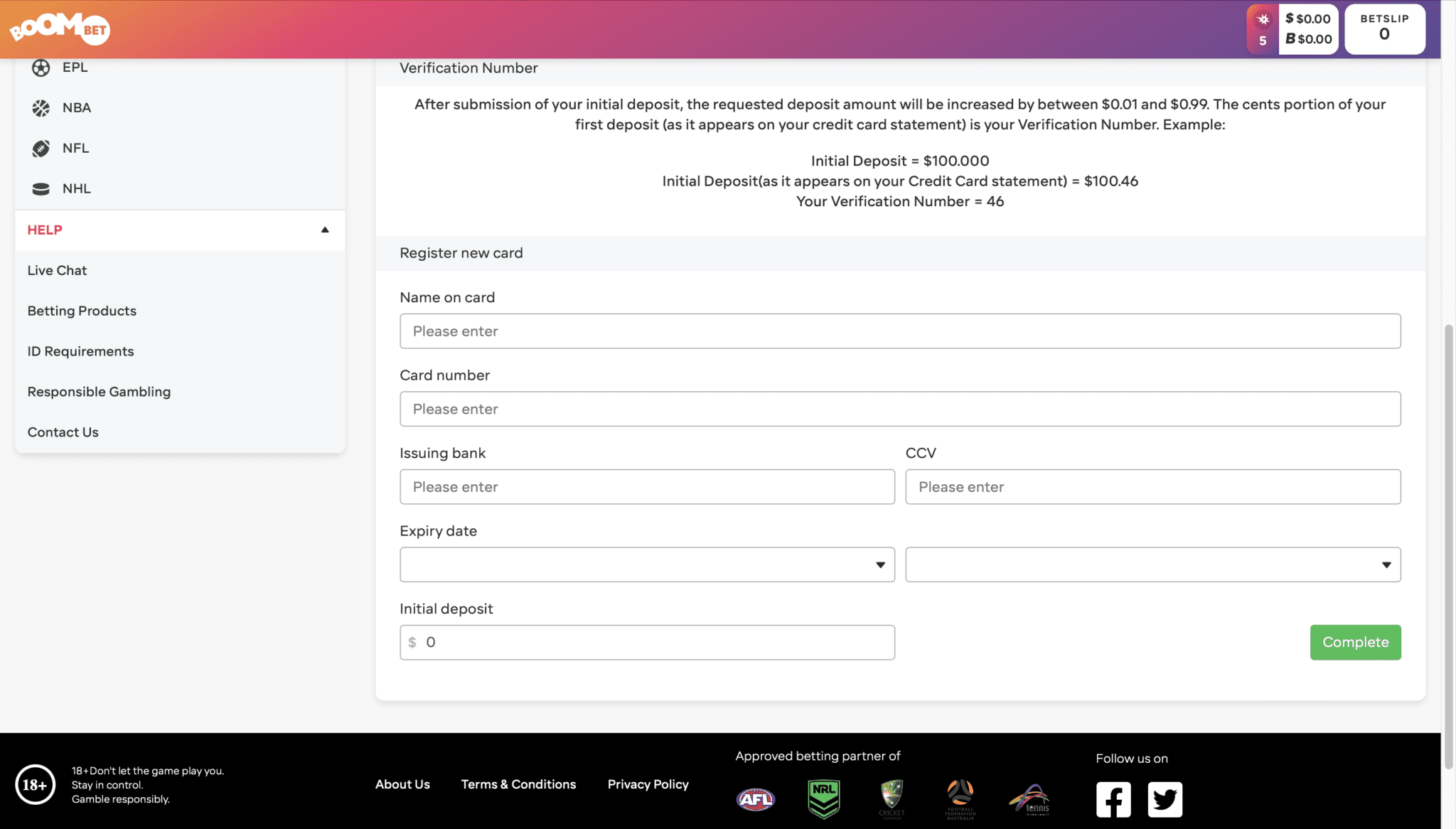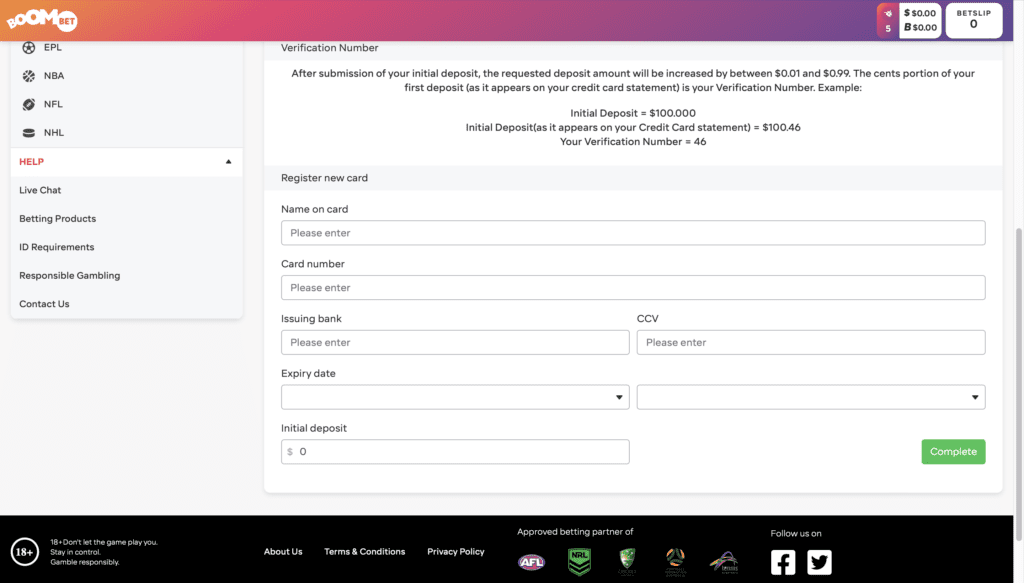 One thing to note is that I did have a little bit of trouble getting verified; this was easily remedied by jumping into the live chat to send them a photo of my license.
I didn't have to wait for the verification to place bets; I like to get everything out of the way and sorted before I begin (tick all the boxes, so to speak).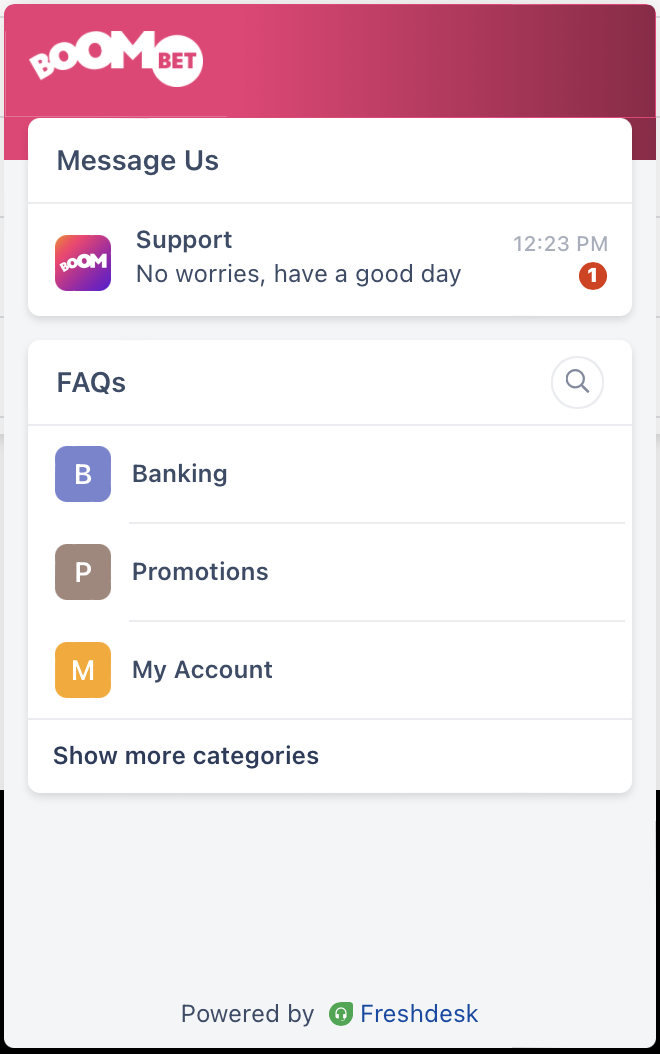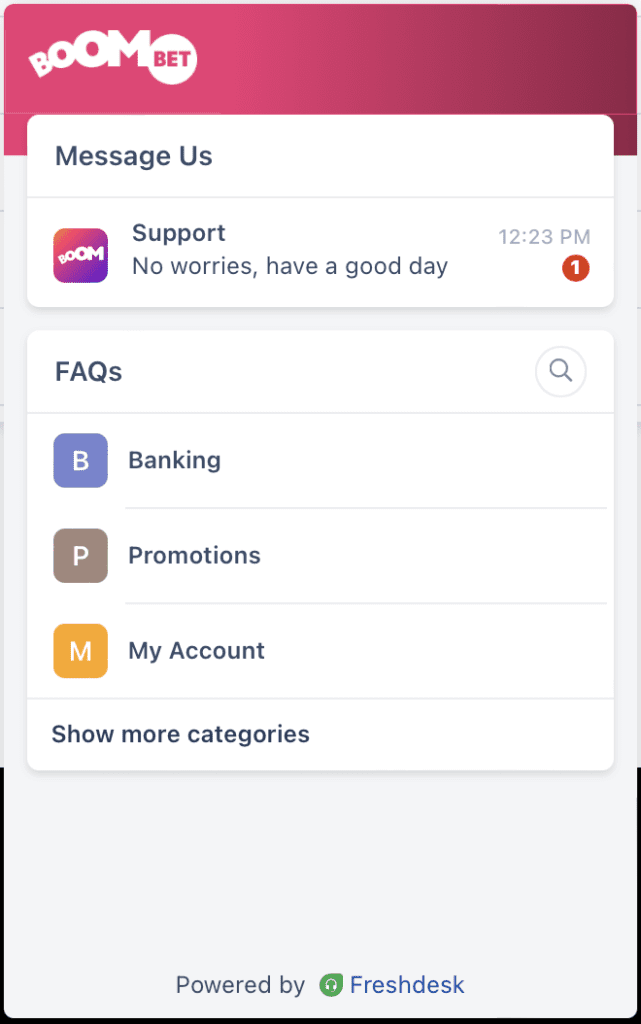 Let's make a wager!
Instead of clicking over to the Next To Jump section on the homepage, I thought it would be best to go to the racing page for a comprehensive examination.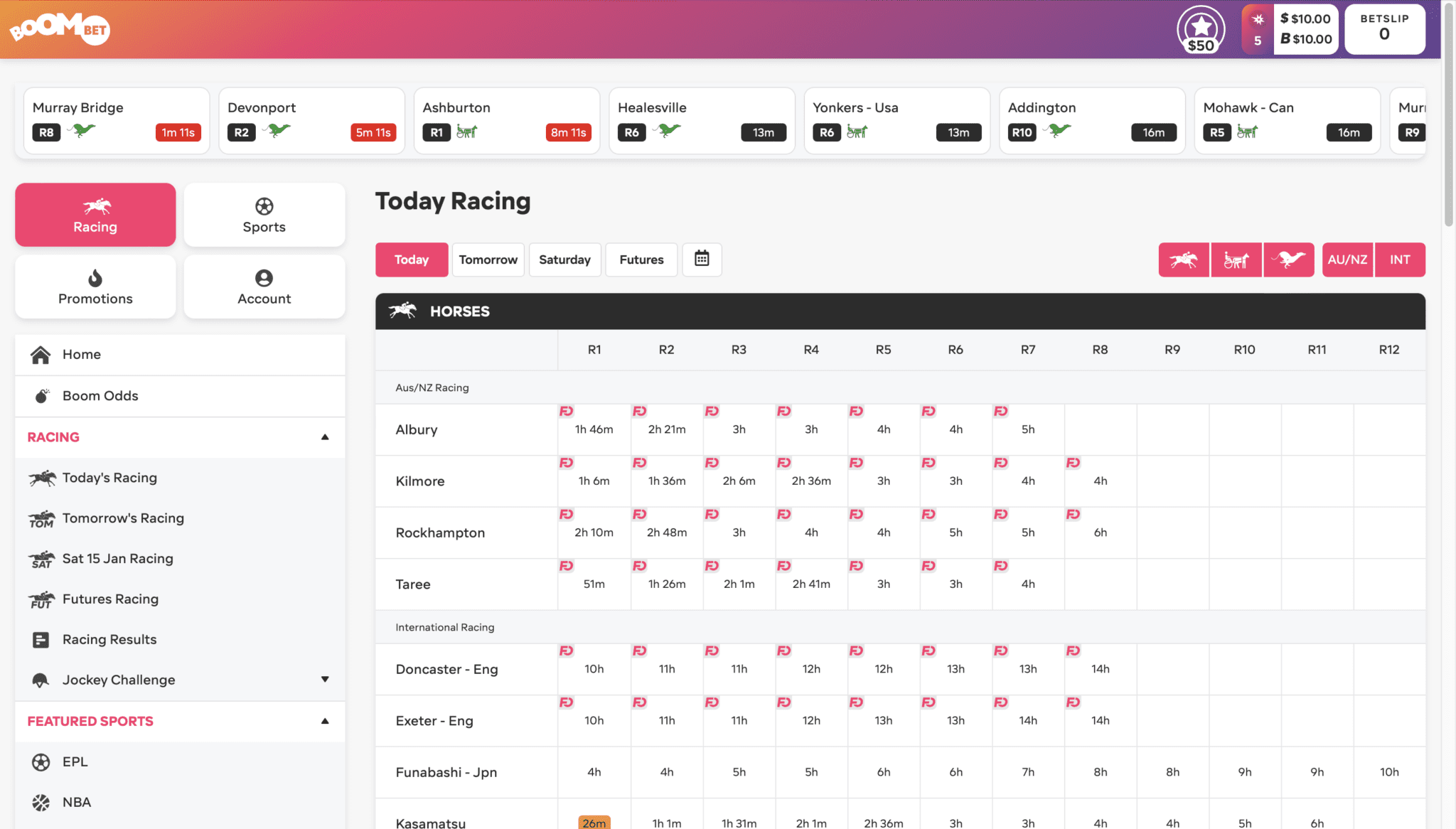 The races layout is decent, and the upcoming races have a little countdown timer to see which races are up next.
The page is laid out very clean, it is almost impossible to click the wrong race, and races that have already been run show the results of the first 4 horses in place of the countdown timer.
Once I clicked on the first race, I felt this was where BoomBet came into their own and stood out from the crowd.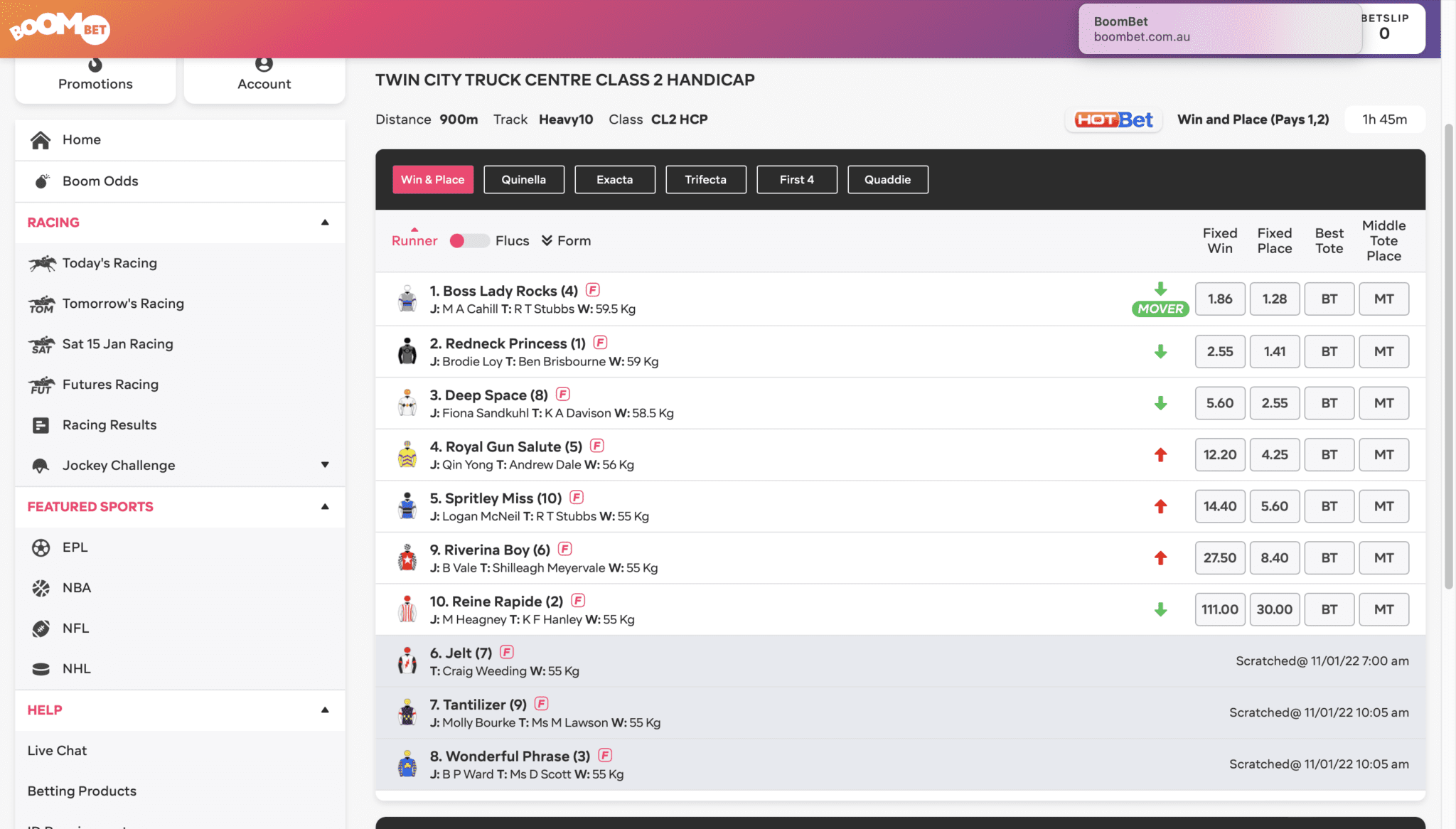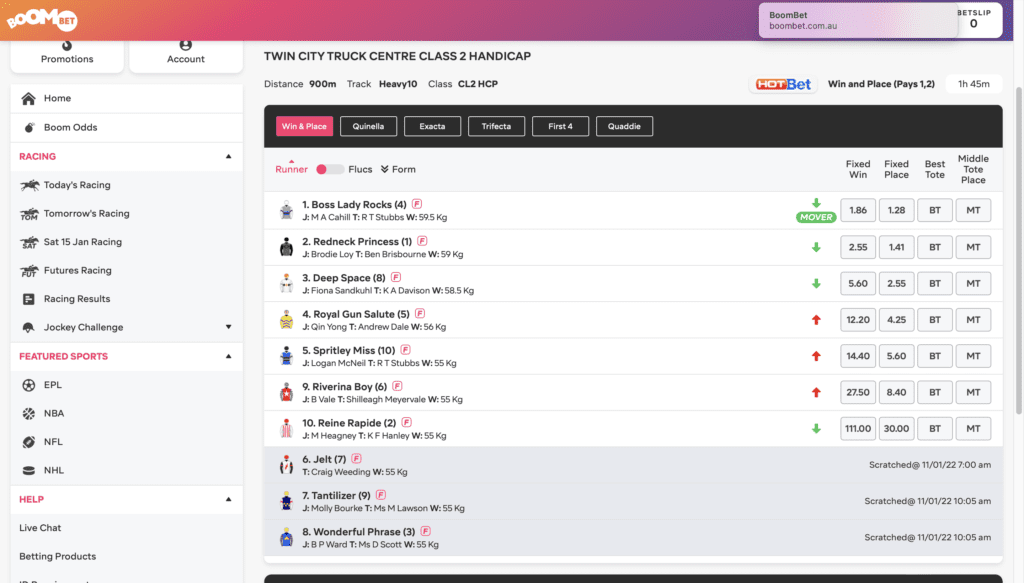 Not only was it arrayed in a clean and structured manner, but there are also little up and down arrows to show the price fluctuations.
However, what set them apart was the ability to click on fixed win or fixed place and sort the horses by price; this made it much easier to spot the middle of the pack roughies.
I spotted my first race! 
The short-form guide is simple enough to get a good idea of the horse from;


The full-form guide is a little bit bland in comparison to what we have come to expect from old-school betting sites, this may have been for the races I had viewed though.
Unfortunately, I could not find a speed map. 
In saying all that, it has most of the information you need and is very easy to understand; even my nan would have no issues working it out.
First horse found, let's pop the money on.
Deep Space looks to be the goods in this one, not a favourite but not a hardcore roughie.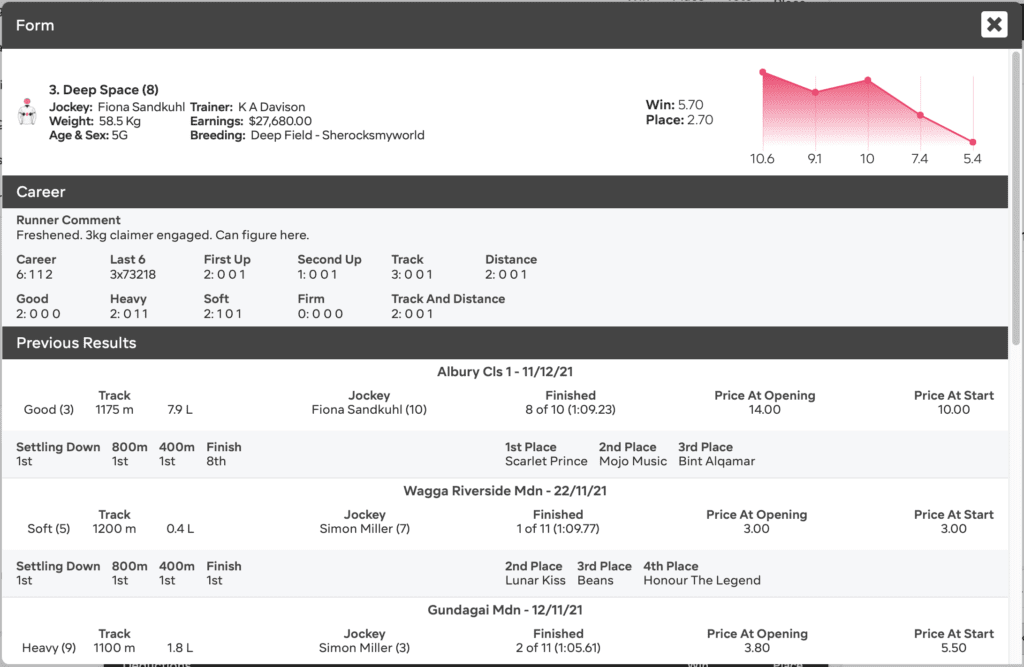 It has some decent previous runs and has even raced the distance on this track.
I am just going to pop $1 on to see how the bet slip goes.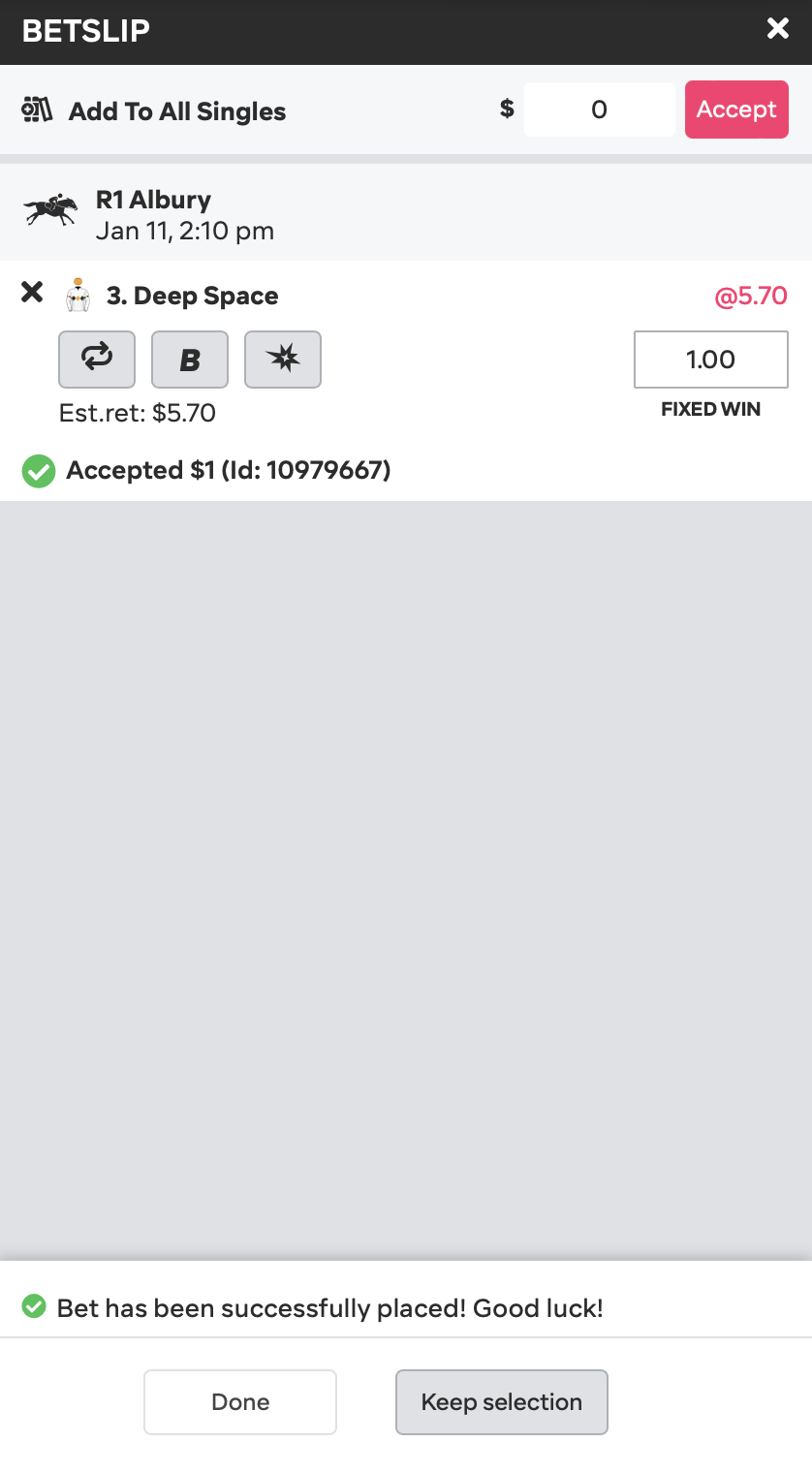 The bet processed perfectly.
So how did I do?
You beauty! Deep Space came through with the goods! Starting to wish I popped the whole $10 on!
After I placed my initial bet, I made several other wagers. Since it would be a waste of your time reading about everything else that happened after the first bet, I won't bother, but let's say I had some wins and some losses and ended up with a little over triple my money.
What sports does BoomBet have?
I was pretty surprised at how many sports they have available; all the major sports are there for betting on, plus a few of the sports you come to expect but never really place a wager on, such as snooker.
I noticed that the number of sports-related markets available was somewhat limited; I would say they fit somewhere in the middle of the range for available betting markets, not the best but not the worst.
Also, I could not find Same Game Multis, which is a shame if they are unavailable.
There is so much potential for this bookie site if only they added a couple of small extras.
What sort of promotions does BoomBet have?
After looking at the Sports section, I was a little concerned that the promotions would be severely lacking.
However, this was not the case!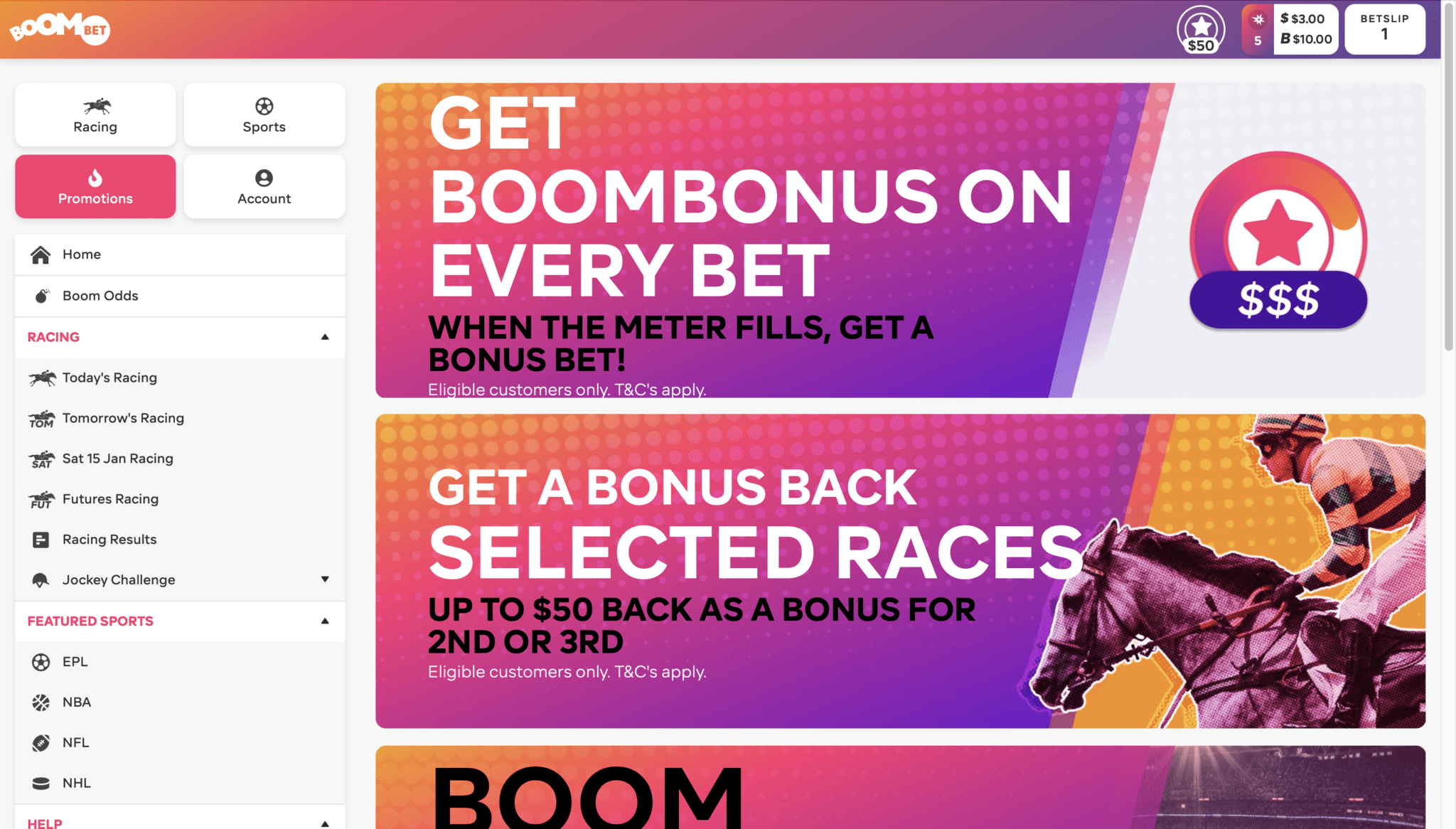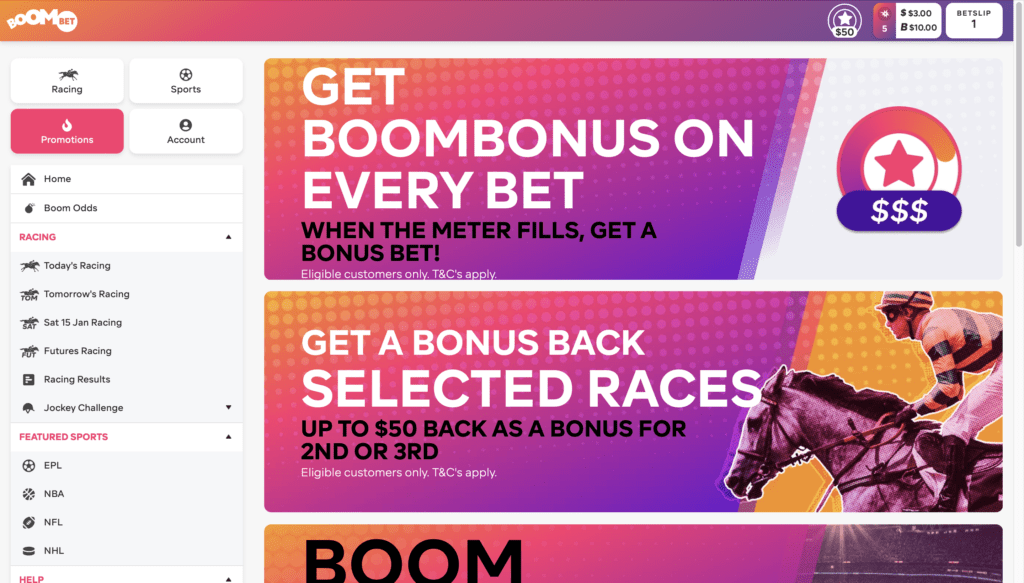 While there were only two main promotions available, they were pretty incredible.
Betting on the Australian Open winner gives you a $5 Bonus bet every time the person wins a match, and you can also get bonus money back if your horse runs 2nd or third in some races.
Then, of course, there is the Boom Bonus.
What is the Boom Bonus you ask?
I'll tell you.
The Boom Bonus is a meter that slowly fills up each time you place a bet; as it fills, you unlock a bonus that you can place for free.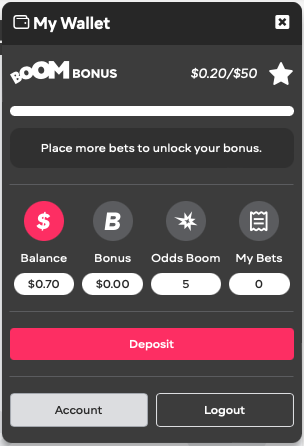 Verdict: Good! Not exactly a newbie on the market, but they have their site laid out as though they have been around less than a year. Everything operated smooth and consistent, and there was no lagging or freezing whatsoever. However, some features were noticeably missing, such as the speed map and Same Game Multi.
Overall, I'm pretty satisfied with them and can't wait to see what else comes down the road in the future.

What do we like about Boombet?
Boombet has a highly user-friendly dashboard, making it simple to get started. However, the simplicity with which you can sign up is by far the most significant feature of Boombet! And we mean it's easy; it's possibly the most straightforward sign-up procedure we've ever seen.
The second feature that stood out to us was the ease of working your way through the BoomBet site. The overall design is compact, straightforward, and easy to understand. You can go from the top of the site to the bottom instantly. It's almost as though they've removed all of the "White Noise", so you may get where you need to without getting lost.
There are four main menu options to the left, including Racing, Sports, Promotions, and Accounts; these are quick links to the categories.
You will find a drop-down menu is under the quick links to the more common races, sports and help sections.
What's missing at Boombet?
BoomBet does not appear to have a speed map or Same Game Multi option. Everything else is available on their site; however, these were the two things that stood out to us.
Boombet Highlights 
The best feature of BoomBet is undoubtedly the BoomBonus, which is a unique automated bonus system.
It allows you to keep track of when you'll receive a bonus and continue earning large bonuses!
You'll be rewarded every day, whether your wagers are on racing, sports, or multis!
Boombet Promotions
Once your account has been created and logged on, you will view the BoomBet Promotions page.
Please keep in mind that Boombet has the right to deny access to online promotions based on your address and geographic location.
Boombet Android App
You're in luck; Boombet does have an Android app! The link for the BoomBet Android App is available on Google Play or more securely through their website.
Boombet Apple IOS App
Boombet does have an iPhone app. You can get the application from the Apple Store or straight from their website to ensure a fast download.
Boombet Mobile Site
Boombet does have a mobile site which is essentially a micro version of the desktop site. I found it slightly lagging at times; however, if you do not have the space on your phone to download the app from their website, you will use it without any real issues.
The address for the Boombet mobile site is the same as their website https://Boombet.com.au/
Boombet Website
The BoomBet website is undoubtedly one of the best betting sites I have had the opportunity to review.
BoomBet works tremendously between the colours and functionality you get excited about logging in.
The address for the Boombet website is https://boombet.com.au.
Boombet Contact & Customer Service
You can contact BoomBet Australia in a variety of different ways, the most common way to contact BoomBet is by using the live chat function directly from the BoomBet website; alternatively, you can also use any of the following options.
Email
Telephone
Local Call
Social Media
Boombet Verification Process
Boombet uses GreenID for account verification, and if you'd like to ensure that your account has already been validated, go to the top right corner, click on the funds section, and click on account. It should then display your account verification after that.
Suppose you are unable to verify your account using GreenID automatically. In that case, you can message BoomBet on the live chat; one of the operators will assist you in a straightforward process to get you verified manually.
The manual verification process takes less than a minute and is done mainly by the operator on the other end of the chat.
Boombet Payment Method

BoomBet offers four different types of payment options:
Credit Card
BoomBet only accepts Mastercard and VISA.
Credit/Debit card deposits can only be made in Australian dollars. If your account is held in another currency, you will be shown what amount of Australian dollars will be debited to your card.
To prevent credit/debit card fraud, any subsequent account withdrawals can only be made to the same credit/debit card.
BoomBet also records the IP address of your computer so that people fraudulently using credit/debit cards can be prosecuted by the authorities. 
POLI 
POLi allows you to instantly transfer funds from your Australian bank account to your account with BoomBet.
It would help if you had an internet banking facility already set up with your bank.
There are no fees or charges.
Visit the POLi website for more information. 
BPay
Australian customers can deposit funds using BPay
Australian banks allow money to be transferred overnight via telephone and internet
banking, with no fees or limits.
BoomBets BPay Biller Code is 23580.
After you have logged on, your BPay Reference number can be found in the banking section of the BoomBet website.
Deposits will only be processed between 8 am and 3 pm Monday to Friday. 
Bank Transfer
Australian law prohibits BoomBet customers from depositing "cash" anonymously into their bank account.
Australian customers can deposit cheques into BoomBets account or transfer money directly from their bank account to BoomBets. Funds will be available after they have cleared.
International customers can make telegraphic/wire transfers.
No fees are applicable.
Bank account details are available through the My Account section of the BoomBet website.
Deposits will only be processed between 8 am and 3 pm Monday to Friday. 
Withdrawals
There are two ways to withdraw from your account with BoomBet.
Credit/Debit Card
Bank Withdrawal
Note: You may only request a withdrawal once you have turned over (wagered) the total amount deposited. Withdrawals requested before funds have been turned over will be cancelled.
Funds must be returned to the source where possible. For example, if you deposit funds by credit/debit card, withdrawals up the amount of your deposit will be sent via credit/debit card.
Credit/Debit Card 
If you deposit into your account using your credit/debit card, any subsequent account withdrawals can only be made to the same credit/debit card.
No withdrawals can be submitted until your card has been verified. Follow the steps outlined in your account to complete the verification online.
Bank Withdrawal 
Australian customers can have money deposited directly into their bank account. Deposits usually take place overnight.
International customers can receive telegraphic/wire transfers to their bank account.
Customers requesting telegraphic transfers must cover the costs charged by BoomBets bankers (currently $30 AUD).
Withdrawals are processed each weekday (excluding Australian Public Holidays). Your withdrawal must be received by 3 pm to be processed the same day. 
Boombet Racing Bonus Bet
BoomBet does offer racing bonus bets to both new and existing customers; typically, these forms of bonus bets are seen as bonus backs if your horse places second or third.
Boombet Horse Racing
Boombet offers Australia and New Zealand horse racing, trots, and greyhound betting coverage. So on that front, everything appears to be in good working order.
You should find using BoomBet a very straightforward betting site if you are looking to bet on racing, as their layout should be familiar if you have used other betting sites previously.
BoomBet stands out from the crowd with the racing section of its website.
The racing page is nicely structured, with races, trots, and greyhounds separated by day and race meetings nested within. You may also distinguish between AUS/NZ meets and International meets.
Because of their popularity, there are numerous races at all levels on a daily and weekly schedule. The difficulties some other bookies face in finding a race meeting quickly can be reduced by not lumping them together. Boombet's approach to race trading is an excellent touch.
Live Racing – No, unfortunately, live racing is not available at BoomBet at this current point in time; hopefully, it is something they will be rolling out in the future.
Form Guide – Yes, you access the Form page on any race card by going to the Race Detail screen and clicking on the Form link. It's detailed enough to give you all of the information you need about a given horse.
Boombet Sports Markets
When it comes to sports betting, Boombet covers all major Australian and international sports. So everything appears to be in good working order on that front.
If you want to bet on sports events, we recommend you try out BoomBet since their layout should be pretty familiar if you've used other betting sites previously.
The majority of the world's major sporting leagues are represented. On the menu, select Sports and then click it. The AFL, NRL, Tennis, and Big Bash Cricket are all covered in Australia.
It would be best to search for each sport to discover what is accessible since they differ in-game market types. However, most of the usual suspects, such as match/game result, money line, points spread, total points/goals, and odds/evens are generally there, making for a primary rather than an extensive set of choices.
Boombet Odds
The odds of default win, place, and exotic bets (Quinella, Exacta, Trifecta, First 4, and Quaddie) are all available on BoomBet.
For sports, the markets differ from sport to sport.
The odds at BoomBet are comparable to other major sports betting sites in Australia.
Boombet Sign Up New Account

You want to join up, don't you? It's simple. Click the Join button (in the top right corner of the screen). The process of signing up is quite simple; all you need is:
First Name
Last Name
DOB
Address
Mobile
Enter email
Username
Password
Username
The sign-up process for BoomBet is likely one of the simplest I've ever seen. But, of course, you'll need to be verified before any withdrawals can be authorized, just as with all Australian betting agencies.
To find out the requirements, go to the Account Verification page.
Boombet Promo Code
The best BoomBet Promo Code on the internet is by far the KRUZEY Promo Code. Where other promo codes offer you the world and fall short of coming through with the goods, the Kruzey Promo Code delivers time and time again.
Placing a Bet With BoomBet
Watch our simple-to-follow video on how to place a bet with BoomBet below.

Boombet Rules
There are also rules and conditions to adhere to, just like with all Australian bookmakers. To see their t&cs, go to their website's terms and conditions section.
FAQs
Is Boombet Safe? 
Boombet is a safe and reliable betting site; it is registered under the corporations act and licensed by the Northern Territory government to allow bets on sports and racing.
About Boombet
BoomBet is a Northern Territory-licensed bookmaker operating since 1998 and formerly known as Sportsbetting.com.au; it's one of Australia's oldest online bookmakers.
Who Owns Boombet?
Sportsbetting.com.au is a Northern Territory-based Australian-owned bookmaker rebranded as BoomBet—making BoomBet one of Australia's oldest online bookmakers, having started operations in 1998. With over 20 years of expertise, Boombet is one of the most reputable Australian bookmakers.
Quick Links
All Aussie Betting Sites Best Sports Betting Sites eSports Betting Sites Australia