Betfair Australia Review
Do you need a Betfair Austraia Promo Code?
Word on the street is that you're searching for one.
Don't stress; I've been down that road many times, and I mean A BUNCH!
Because the rules have been changed, referral codes no longer work.
But there is still good news,
We've got some pretty good incentives tucked away in this review. 😉
Let's take a look at Betfair Exchange before we get into it.
What we like about Betfair
The best odds in Australia are frequently available on the Betting Exchange.
It's perfect for both novices and experts.
Excellent customer service
There are lots of deposit/withdrawal alternatives. 
The Betfair hub is one of the best places on the web for horse racing information.
 What we don't like about Betfair
No Promotions
Some betting markets aren't available.
It takes a bit to get used to the style
A smaller number of markets are available per fixture than the leading bookies.
For exchange wagering, a minimum deposit of $5 must be made.
The Sign-Up Process: 
I googled "Betfair" and discovered a slew of advertisements at the top before any actual web pages; however, Betfair was at the top of the links of the non-advertisements, which was nice to see.
I've added in a link to the homepage to save you the trouble trying to find it yourself.
The sign-up procedure was straightforward, and they didn't need much information from me. It only took about 2 minutes to get me up and running.
It appears that they're using GreenID because I didn't have to do anything manually, and it handled everything for me.
BONUS POINTS A-PLENTY!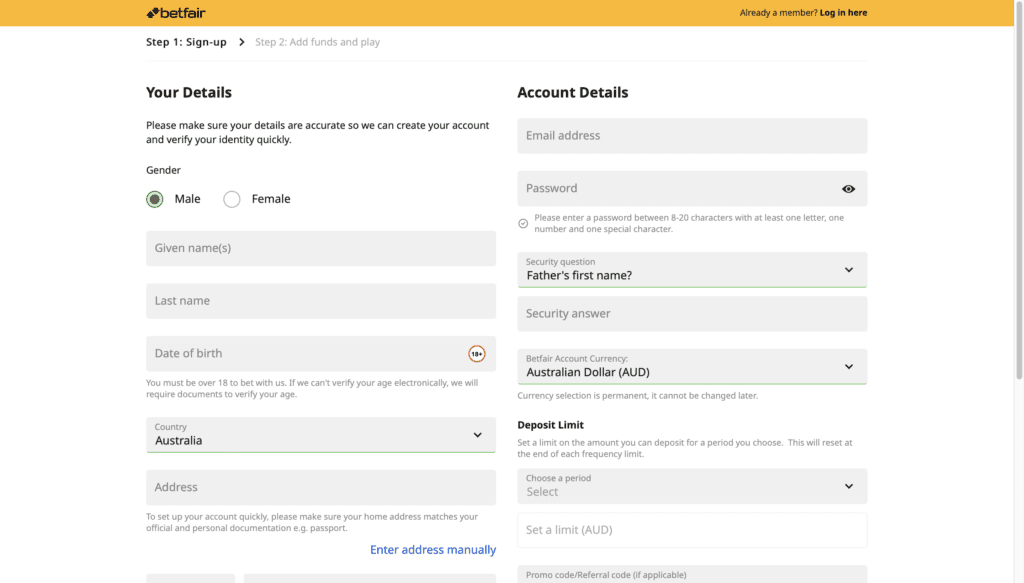 Last on the list in signing up was to set a deposit limit.
I liked that you had to stop and think, rather than just do the general "She'll be right attitude" I have.

That's all taken care of; now it's time to put some cash in the kitty!
Making A Deposit
There's a handy little deposit button in the top menu, so I simply clicked on it and was taken to the deposit screen.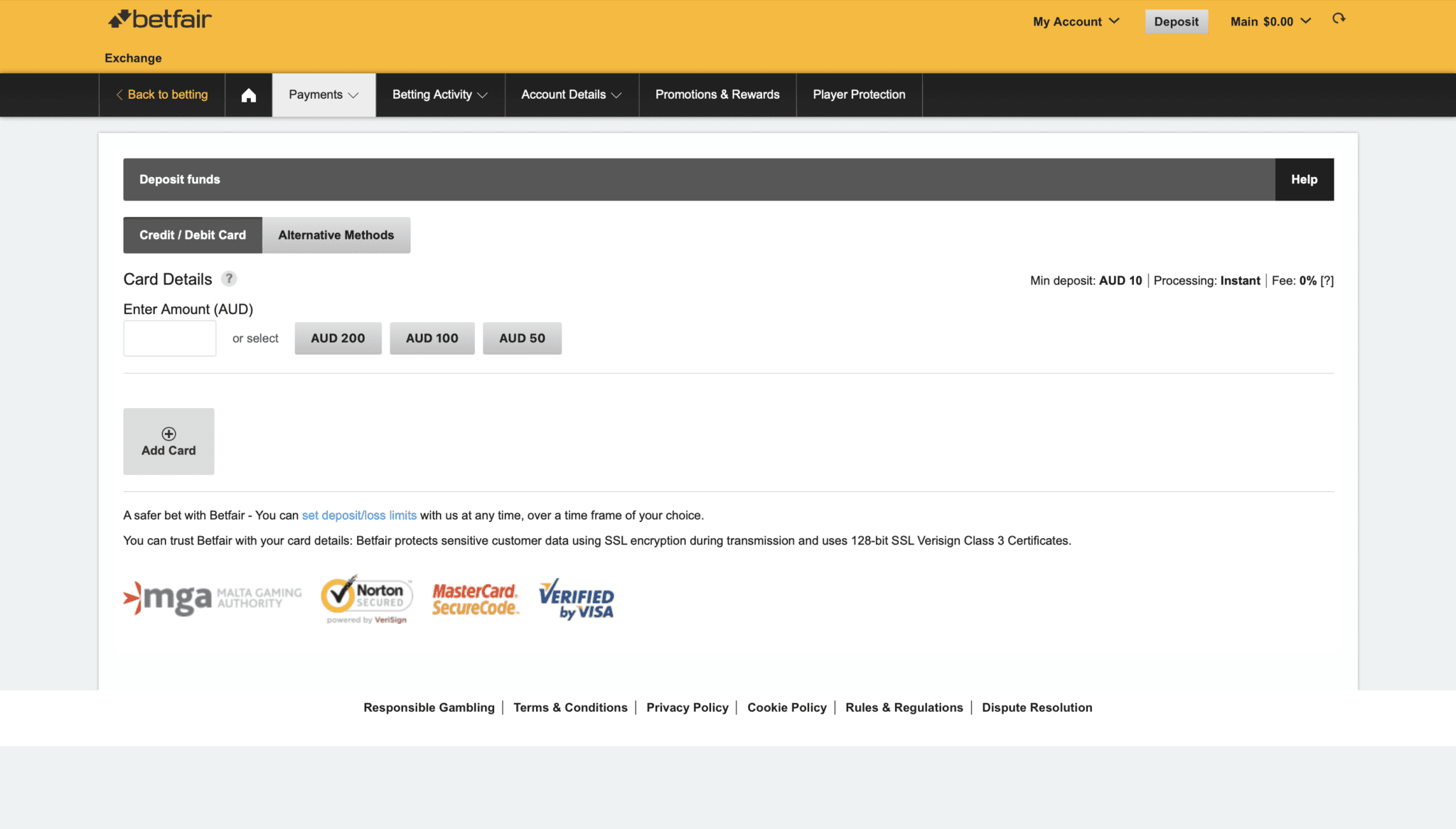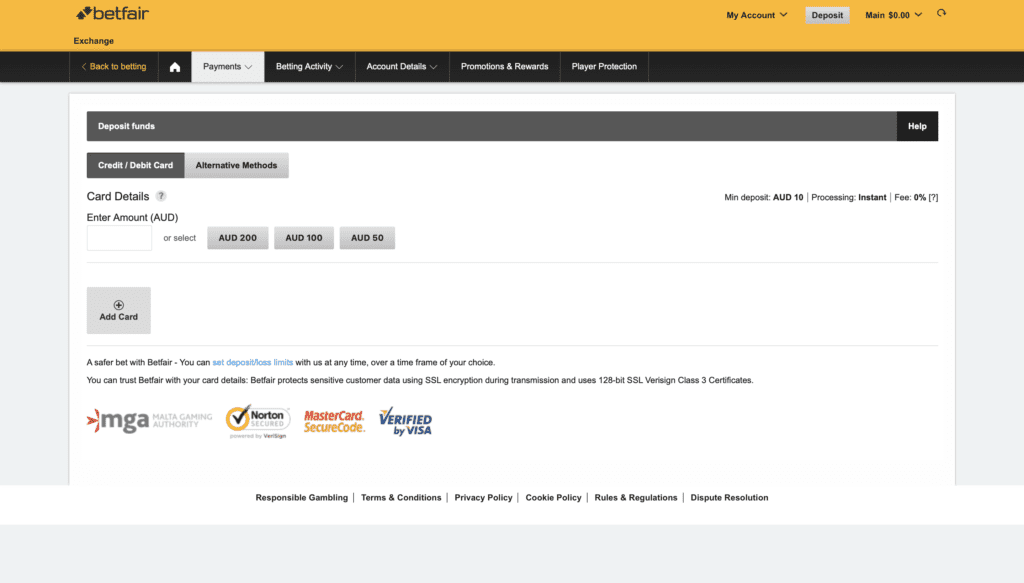 From here, I simply had to follow the steps to add my card to my account, and I was good to go!
Only spending a little today, only $10 for the review😂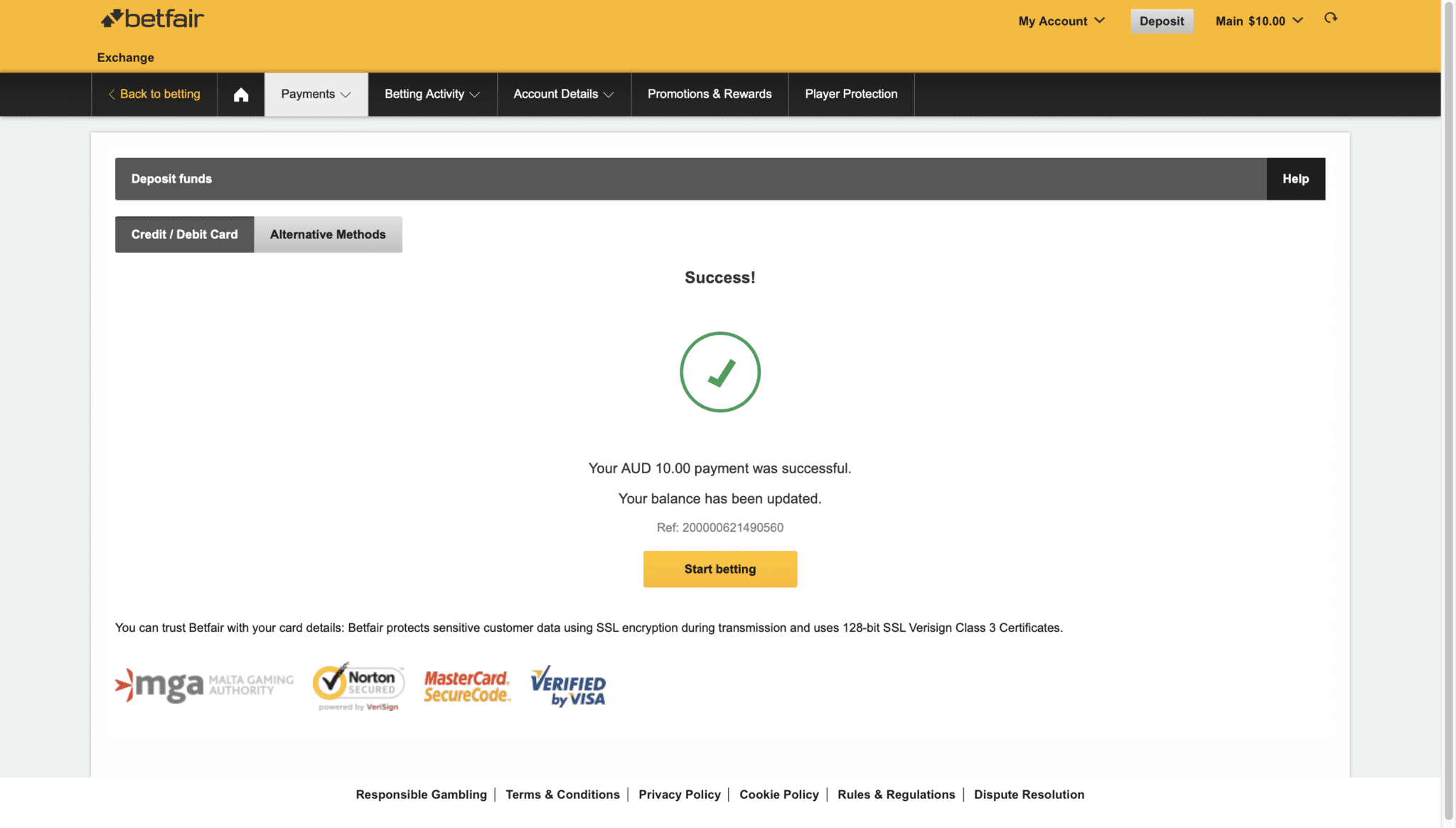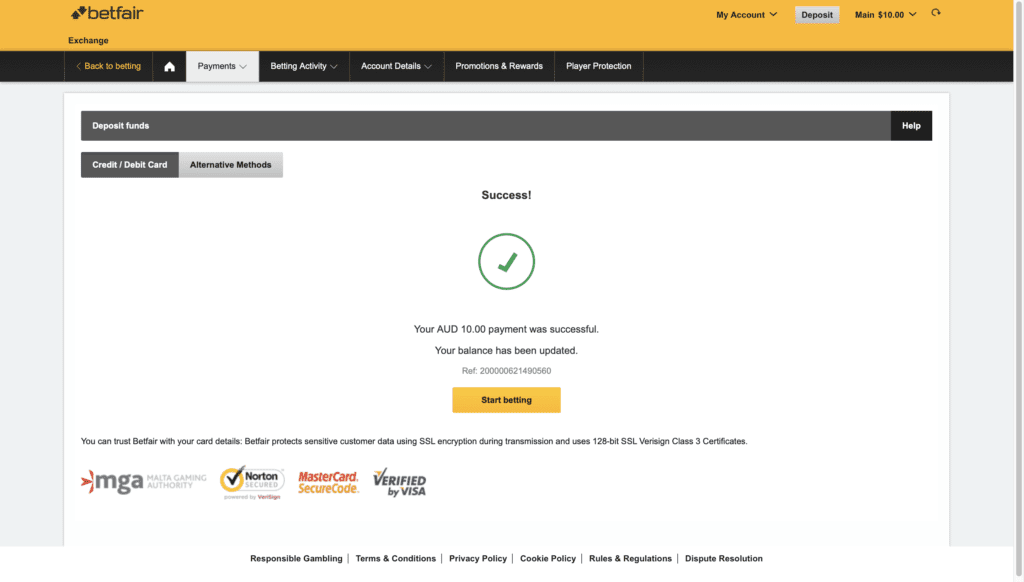 Once this was all sorted, I was prompted to use a code from my bank to confirm it was my account; this was done quickly enough by clicking on the banking app on my phone and following the steps.
Once I had confirmed my card and processed the funds, the transaction was blindingly fast; it was literally in the account within less than a second.
Ah, the thrill of a quick transaction!
Now that's sorted, let's take a look at the layout of the site, shall we?
How Is The Betfair Australia Layout? 
This is a really basic layout. It's primarily white on grey with an orange header and dark grey title boxes.
The backs are boxed in blue, and the Lays are boxed in pink, which helps distinguish the two.
All sporting options are found in the top menu and can also be found in a handy little drop down to the left-hand side.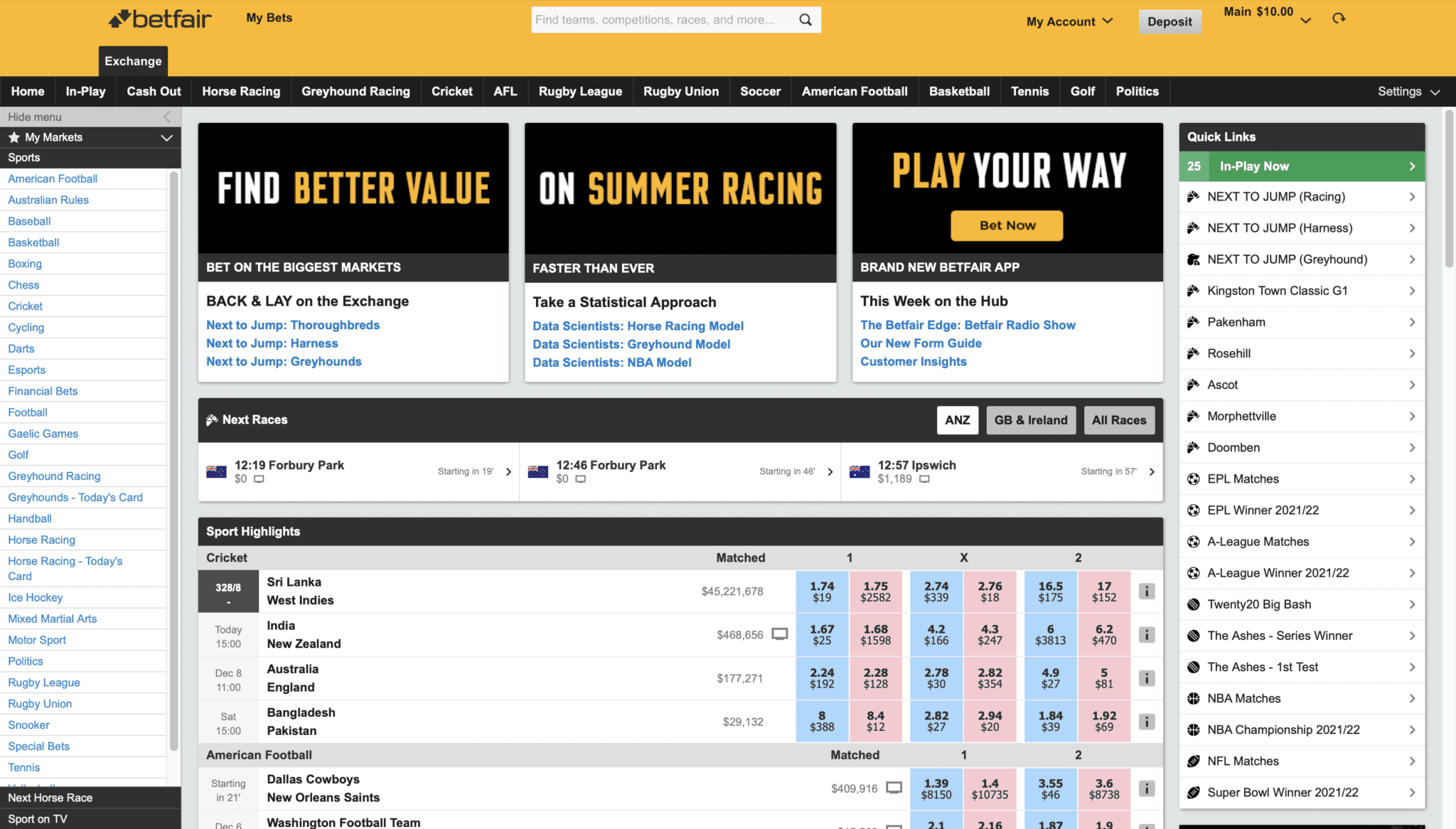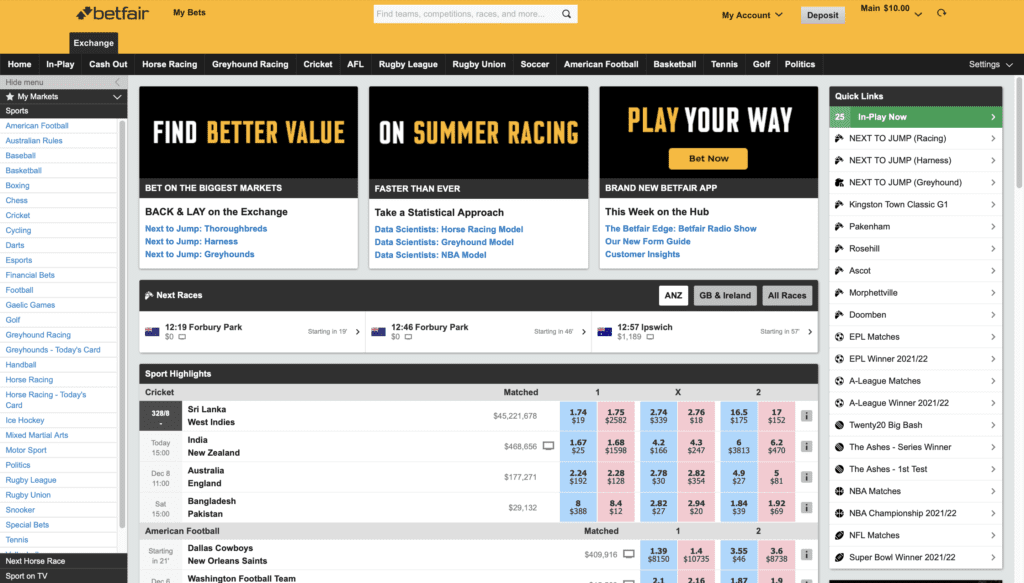 Next, upcoming races are found in the centre in what I feel should be a much more extensive section so that it stands out a little more; following on from that is a box underneath which houses all the sporting highlights.
Let's find a filly!
The Racing Menu
First impressions are that the Betfair racing page is incredibly simple.
There is no option to choose between horses, greys, or harness on this page like sports betting sites; however, this is not a sports betting site; this is a betting exchange.
Australian races are automatically shown, though you can switch to Great Britain and Ireland, France, and more.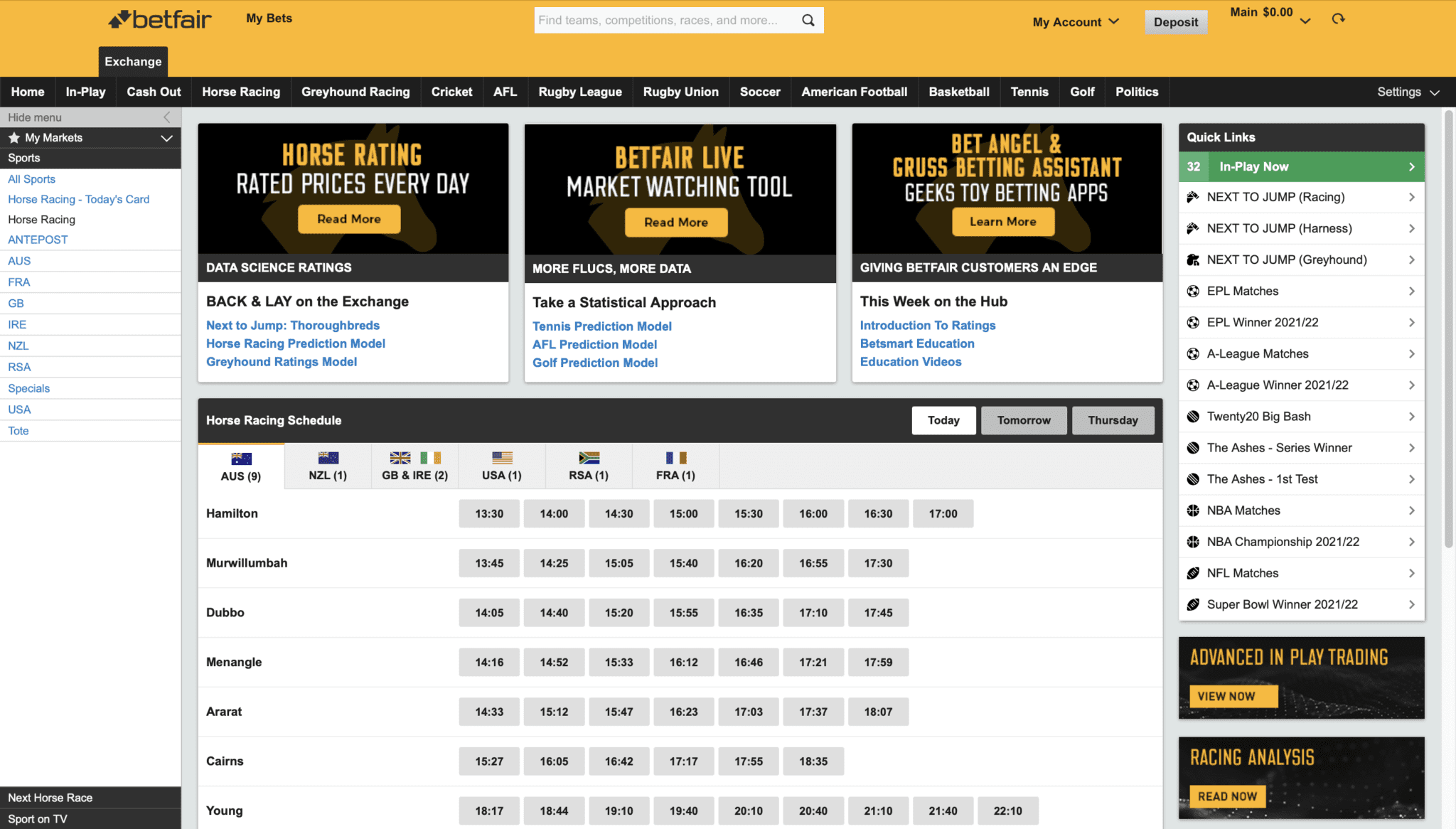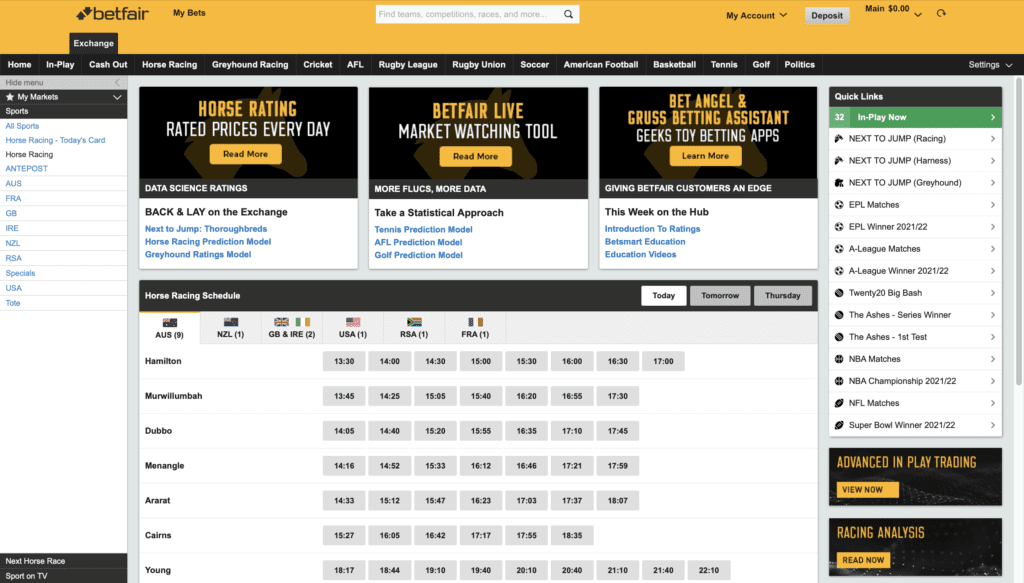 There are no little flags or highlights on this page as no bonus bets, or anything are available on the betting exchange.
Time to place a bet!
Placing a bet
I've discovered my first race!
They have a handy little box to the left that shows the Betfair market graph for each horse.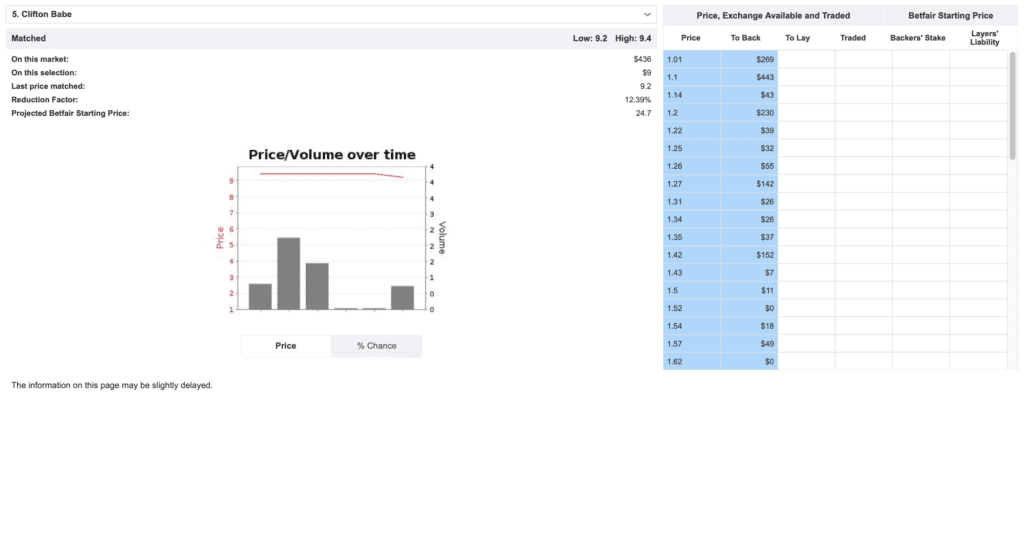 I've chosen my first horse!
Clifton Babe appears to be a fair shot with some excellent statistics as a bit of a roughie.
Although…
It turns out I have to place a minimum bet of $5 instead of the standard $1 that betting sites usually allow.
I guess this is a betting exchange, but $5 is a bit steep for the average punter that just likes to whack a bet on for the fun of it.
So how did I go?
Unfortunately, this time she lost; fortunately, this wasn't one of our studied bets but just one I had a quick squizz at, so I'm not too bummed by the situation.
Now that I've figured out my races for the day let's look at the rest of the Betfair exchange.
Let's see what they have for sports.
What Sports Are On Offer? 
The sports section is excellent, and they have heaps of sports to choose from in the exchange.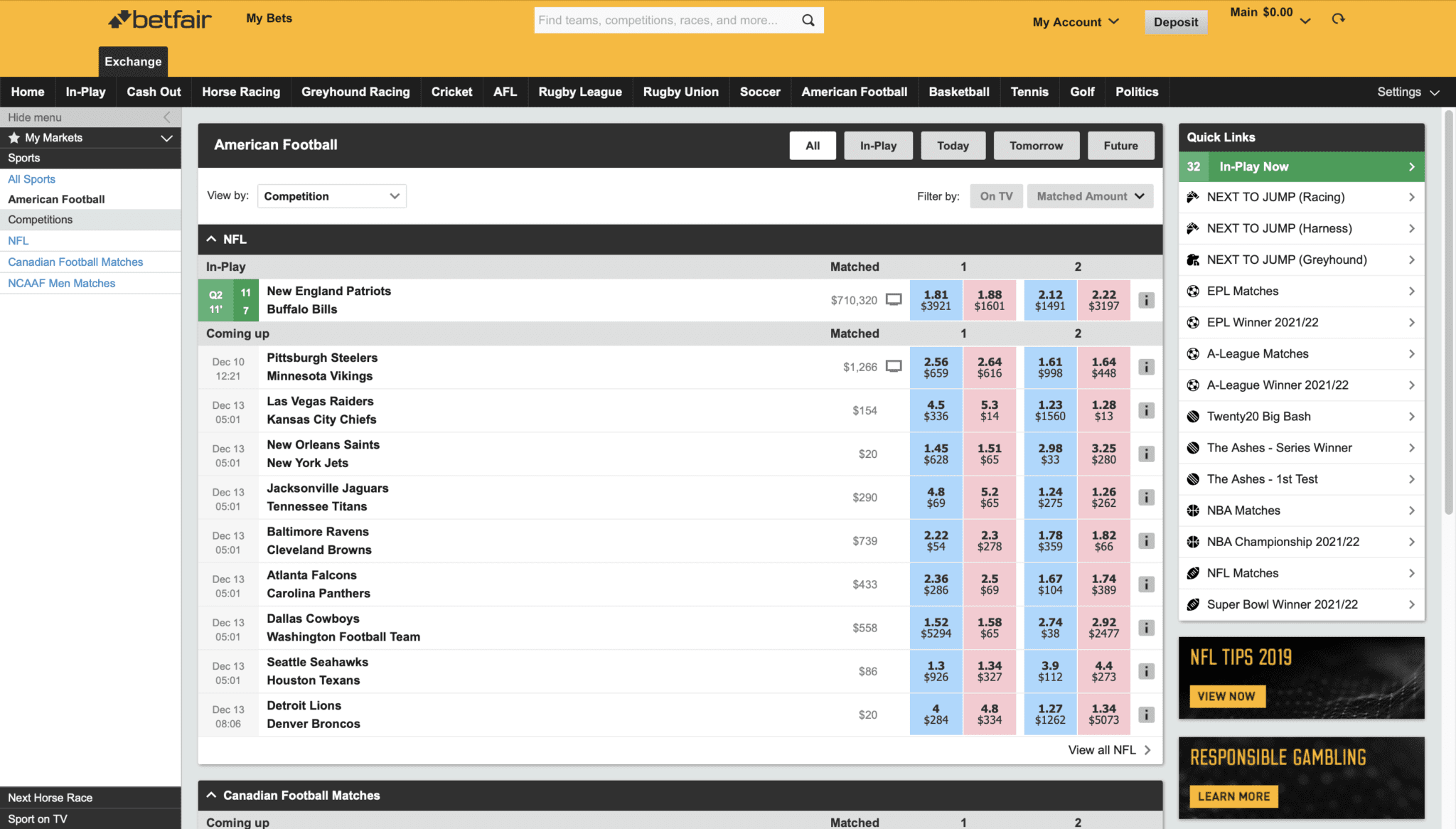 All of the major sports are available.
It's great to see some minor sports and events getting some attention, especially when it comes to special bets like I'm a celebrity 2022.
Betfair Live In-Play
Betfair allows you to place a bet while the event is currently in play; this is commonly known as in-play betting.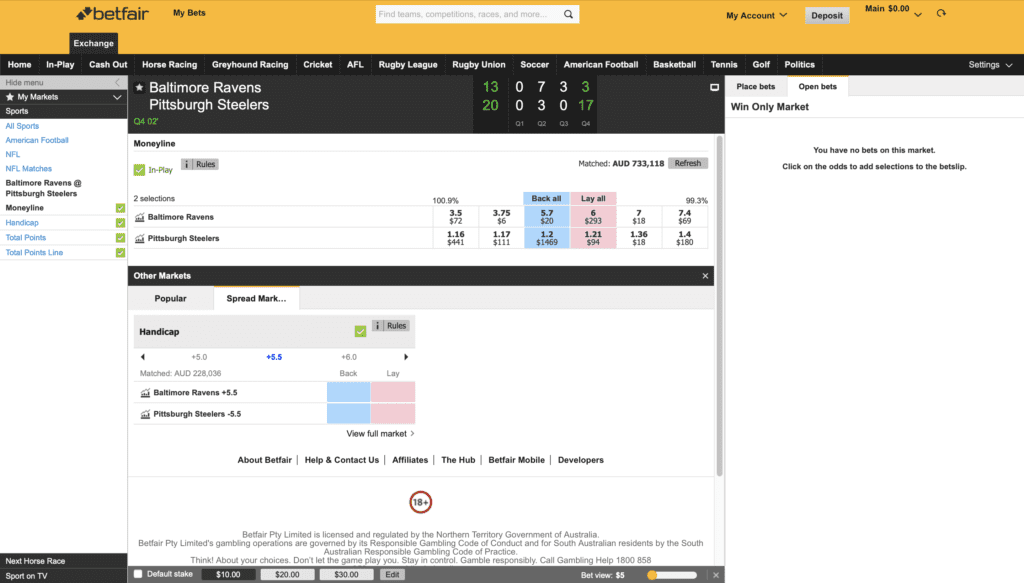 In-play betting gives you a better chance of winning most of the time, but there is always the possibility that a team will come from behind and win.
Betfair Australia Promotions 
 Unfortunately, the Betfair exchange does have one disadvantage: no special Betfair promotions or incentives are available since you are betting against other bettors rather than the bookmakers.
Have They Got Live Streaming? 
Unfortunately, it does not appear that they offer live streaming sports. Live in-play betting is available, as seen above, but their live sports capabilities appear to stop there. Hopefully, they will have this up and running as soon as possible.

What's new at Betfair Australia?
There's not a lot of change happening over at Betfair; it's more of a "get it right the first time, and you won't need to change it again" scenario; the one thing we will mention, though, is that the Betfair form guide has had a makeover and been completely revamped. 

What do we like about Betfair?
We love the fact that you can bet against who you think will win, otherwise known as a lay bet; if you think a horse has no chance, bet against them and reap the rewards, but be warned… if it does win, it will cost a lot more than expected.
What's missing at Betfair?
I would love to say that the Betfair exchange has all the little extras that the major betting sites have; however, I cannot. This is not because they are lazy or stingy; this is simply because they are a betting exchange and not a standard betting site; quite simply, they operate differently. As such, they cannot offer the same extras as betting sites.
No Promotions at all.
Live Streaming
Lack of betting markets.
Betfair Australia Promotions
Unfortunately, Betfair is a betting exchange and not a bookie. Therefore, they don't offer promotions of any kind.
Betfair Bonus Bet
Unfortunately, because Betfair is seen as a betting exchange and not as a betting site, Betfair does not offer bonus bets.
Betfair Australia Apple and Android App
The Betfair Australia mobile app is readily available on both iOS and Android devices, and it has been improving over time. The Betfair app has gotten a little more advanced in recent years, but it is still an easy and pleasurable experience.
The new Betfair betting app is fantastic. The black interface is stunning, and the usability far surpasses the previous version.
Betfair is one notably of the most well-known names in the Australian bookmaking business, so we knew that the Betfair app would be fantastic.
We figured the only way to be sure the link was working was to download it directly from their website, so we downloaded it just to double-check; the app is one of the greatest that we've seen. The Betfair design is elegant and simple yet feels completely natural.
Interestingly it looks and feels much like an actual sport betting app with the same look and feel like the major betting sites; the only point of difference is that it is doesn't have all the promotions and betting markets as the major betting sites.
Betfair Mobile Site
Betfair is hands down one of the finest betting sites on the Australian market (at least in my opinion anyway),
It didn't surprise me in the least to discover that the mobile version of the website functioned flawlessly.
However, in saying that, the one noticeable thing is battery usage. Therefore, I recommend downloading the app from the mobile site to ensure you're not downloading a clone version from the store.
Betfair Website
Last but not least, it's to check out the Betfair website! I'd already looked at all of the other versions, so I knew how the site would perform; what I wasn't expecting was how well it would perform!
Betfair underwent an aesthetic makeover in 2014, making the site more user-friendly to the average betting audience that may not be aware of sports betting exchange jargon.
Fortunately, for those who liked the old site layout, a link at the bottom of the home page takes you to the previous Betfair exchange layout option (handy if you're old school).
Before evaluating any bookmaker, I always clear my browser's cache to ensure that there are no items in the browser memory to see first-hand what the start-up times are.
The Betfair website opened smoothly, and, especially considering the amount of data, forms, and pictures, it loaded wonderfully fast!
We promptly put $10 into our account for the review, which went off without a hitch.
We placed $5 on two horses that we thought had a decent chance of coming through with the goods, and the bets were easily placed.
Betfair Sign Up New Account

Creating an account with Betfair is extremely simple through a three-step procedure. Start by going to the sign-up page and filling in some personal information; next, pick a username and password; and finally, that's all there is to it. Before withdrawals can be made, Betfair requires ID verification, which happens in the My Account if you have not been automatically verified through Green ID.
Banking With Betfair Australia
Betfair offers a broad range of depositing alternatives, with some bookmakers offering limited banking choices; Betfair is not one of them. 
Betfair Deposit options

Betfair Australia provides several different payment choices, giving you almost every option to make a deposit.
Betfair Minimum Bet
The minimum bet at Betfair is a surprising $5, typically the minimum bet at any betting site is $1; however, considering this is a betting exchange and not a betting site, it is understandable that things are done a little bit differently.
Deposit methods include:
Credit/Debit Card
PayPal
POLi
Bpay
Bank Transfer
Skrill
NETELLER
Minimum deposit
The balance of your Betfair account will be updated as soon as the deposit transaction is completed.
Is there a minimum deposit requirement with Betfair? Of course. The minimal deposit amount for Betfair is $10.00.
Betfair withdrawal options
The minimum withdrawal amount is $10, and Betfair banking will transfer money to your chosen bank account.
Minimum withdrawal
Betfair banking will make payments to your selected bank account, with a minimum withdrawal amount of $10.
Betfair Australia Betting Markets
Betfair Australia is frequently the best countrywide provider of sports betting/horse racing odds. Unfortunately, though, not all events may be offered in a market, or there may not be enough "liquidity" in certain markets for you to wager as much as you'd want. But, again, this is just something about betting exchanges.
Frequently, markets will open up for betting closer to the event, such as you may not be able to bet on a particular AFL game on Friday night, but the night before the game or the day of, the market's liquidity will grow.
The more popular the sport /event is, the more options you'll have for juicy odds. To guarantee that there is a market for every event at all times of day, Betfair is presently working on establishing a bookmaker to go with their exchange.
This is excellent news for those who prefer exchange betting markets since they can simply compare the odds of the two and pick the most lucrative price.
Horse racing, in my opinion, is where Betfair Australia truly shines. Any serious gambler will tell you that they bet on horses at Betfair. Betfair offers its exchange and a bookmaker (tote) alternative and a betting option on horse racing.
The odds on the exchange are frequently the best, and you can get a better sense of what the market is thinking by waiting for the highest odds. Betfair also has a "best of" feature for horse racing odds, similar to many other sports betting websites.
Betfair Horse Racing
Users can wager on harness racing, greyhounds, and thoroughbreds from around the world, as well as in Australia.
Betfair also has a variety of odds on racing special features events, such as the Spring Racing Carnival and, of course, the famous Melbourne Cup.
The most notable thing about betting on horse racing with Betfair is the ability to place a lay bet.
Betfair Sports

Betfair offers a wide range of betting markets, including popular sports like cricket, soccer, NRL (professional rugby league), AFL (Australian rules football), tennis, and more.
Less-popular activities such as handball, volleyball, financial bets, and even chess are also covered.
Due to it being a betting exchange, they don't tend to offer a vast range of betting markets, though, which for myself takes away from the thrill of the bet; I like to do same game multis not having access to these is a real dampener for myself.
Sports available are as follows:
American Football 
Australian Rules 
Baseball 
Basketball 
Boxing 
Chess 
Cricket 
Cycling 
Darts 
Esports 
Financial Bets 
Football 
Gaelic Games 
Golf 
Greyhound Racing 
Handball 
Horse Racing 
Ice Hockey 
Mixed Martial Arts 
MotorSport 
Politics 
Rugby League 
Rugby Union 
Snooker 
Special Bets 
Tennis 
Volleyball 
Winter Sports
Betfair Australia Betting Types
Betfair has limited betting types available for horse racing and sports; this is simply because it is not a bookie and does not operate the same way.
Racing Betting types include:
Sports Betting types include:
While they offer the standard Back and Lay options for sports, they also have additional betting types. However, these vary from sport to sport and sometimes even from event to event, so it is worth checking out the sport first before placing a wager to see what alternative betting types are available.
Betfair Odds
Betfair's odds are different to that of a betting site as you are betting against other customers and not the actual betting site themselves; this has its perks as you can at times win with better odds.
Betfair Promo Code Australia
Unfortunately due to Betfair being a betting exchange promo codes basically do not exist for the betting site, that said, our exclusive link is without a doubt the best way to get to the Betfair website.
Betfair Australia Contact & Customer Service
Every customer support channel you require should be available on this Betfair Contact page. In addition, the Darwin-based Betfair Contact Center is open 24 hours, 7 days a week.
Betfair Rules
In the My Account area, Betfair provides a variety of responsible betting choices. Set deposit restrictions, maximum bet amounts, and read Betfair's responsible betting policy here. These features make Betfair an excellent alternative for people who want to gamble but maintain control over their finances.
Like bookmakers worldwide, Betfair has a legal responsibility to follow precise regulations to maintain their license. So it's no surprise that Betfair provides its clients with a lot of information, and it's simple for them to access.
The fine print can be found by going to the company's home page. HERE.
Commitment to Responsible Gambling
As a top-rated online sports betting exchange, they aim to provide every one of their clients with an enjoyable experience.
Consider your options carefully. You can get gambling help on 1800 858 858 any time of day or night, and you may go to their website at gamblinghelponline.org.au for more information if you believe you may have a gambling problem or starting beginning to make poor decisions.
About Betfair
Betfair is one of the most well-known and established names in online sports betting. In 2000, Betfair first began operations in the United Kingdom. Back in 2005, they received their first license to offer services in Australia.
Betfair Australia Review Conclusion:
Decent. However, if you are unfamiliar with betting sites, I could see it challenging to figure out how to use them. Bear in mind this betting exchange is Designed more for professionals, not recommended for newbies. In Australia, Betfair provides a wealth of different features for bettors. Crown Resorts Ltd also owns them, so you can rest assured that your money is in the hands of someone who understands how to run a betting business.
Betfair Australia FAQs
Is Betfair safe?
Betfair is entirely secure and safe; all internet bookmakers and betting exchanges must adhere to a stringent set of regulations and standards to keep their gaming license. 
Australian citizens may feel comfortable knowing that Australia has some of the tightest gambling rules in the world, so yes, Betfair betting is a secure alternative.
Who owns Betfair?
Betfair is a well-known online gaming company founded in the UK in 2000 and has since established itself as one of the industry leaders worldwide. In 2016, Betfair merged with Paddy Power to become one of the world's largest gaming companies.
Betfair is a global peer-to-peer wagering site with headquarters in the United Kingdom. The Betfair Exchange provides better value, control, and opportunity to traditional bookmakers than they do because users are placing and receiving bets against other users, not the bookies.
Quick Links
All Aussie Betting Sites Best Sports Betting Sites eSports Betting Sites Australia