Last Updated August 2022
You've most likely landed on this page looking for a Picklebet Code, not surprising considering we've been in the same spot you are right now!  
The truth is that the codes game isn't the same as it once was.  
And trying to find a decent code for a newer betting site can sometimes be arduous.
So I decided to pop on a snorkel
and dive in headfirst to find out what we all wanted to know
Is Picklebet as good as they say it is?  
… Let's find out!
The Sign-Up Process: 
The first thing we did was popped the term Picklebet into Google (but to save you the time, you can just visit from this link) 
it was pretty handy seeing it front and centre; however, I don't think the term "pickle" is frequently used with betting, so it makes sense.
Sign up in 2 minutes?  
When signing up to betting sites, I take my time to gauge how long it would take the average person to complete the sign up process. 
Signing up to Picklebet was pretty simple; only a couple of pages needed to fill in the necessary information, and I was in.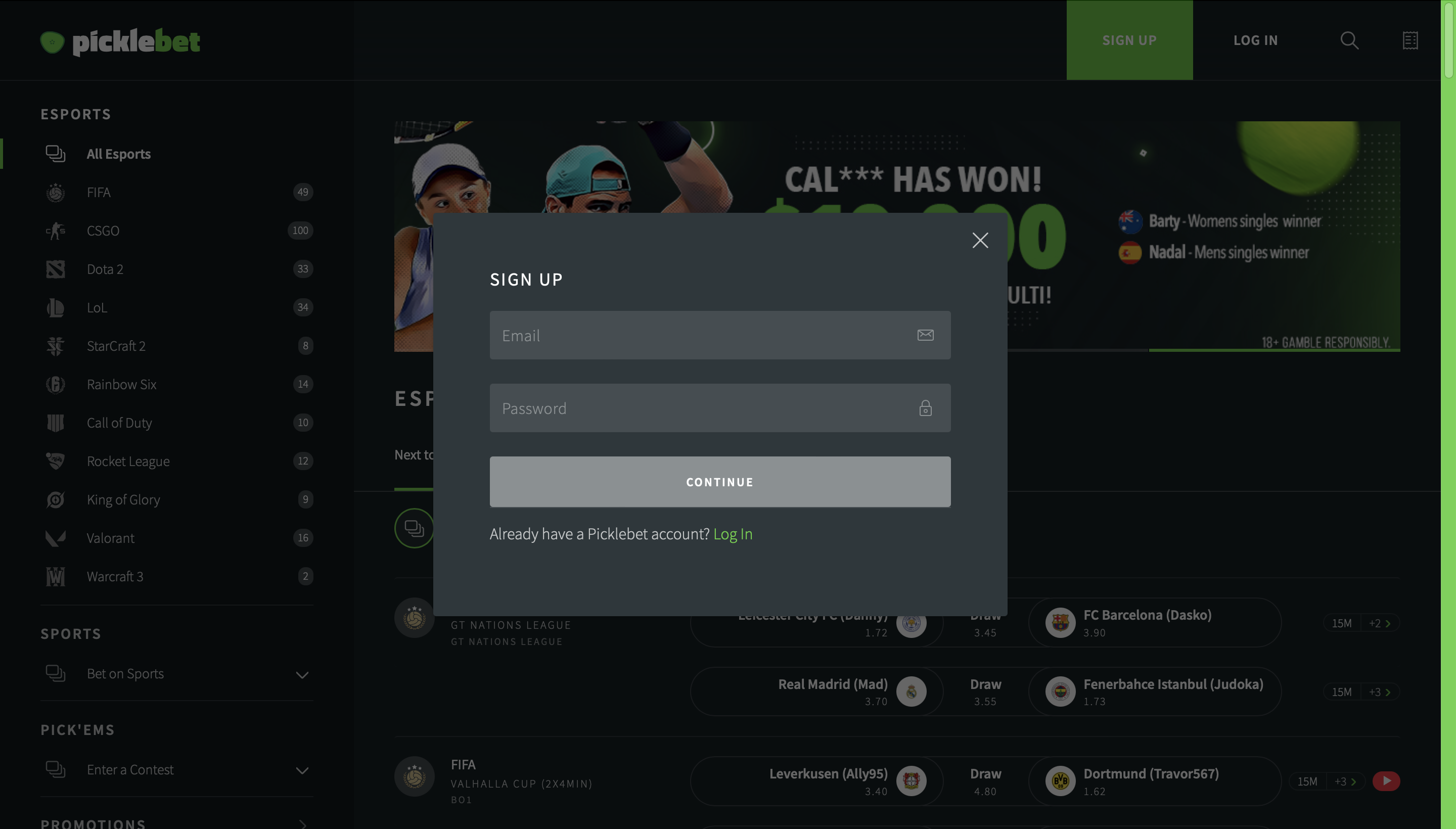 It only took roughly a minute and a half to complete the sign up process!
The first thing that stood out to me was the promotional banner with oversized heads.  
Though I didn't see any promotions on the banner, it certainly gave me a feeling of "this one is different". 
Making A Deposit
Let's put some cash in the kitty to have a little bit of a tickle. 
They have all the standard deposit methods, including Mastercard, Visa, PayID, Apple pay, and POLI.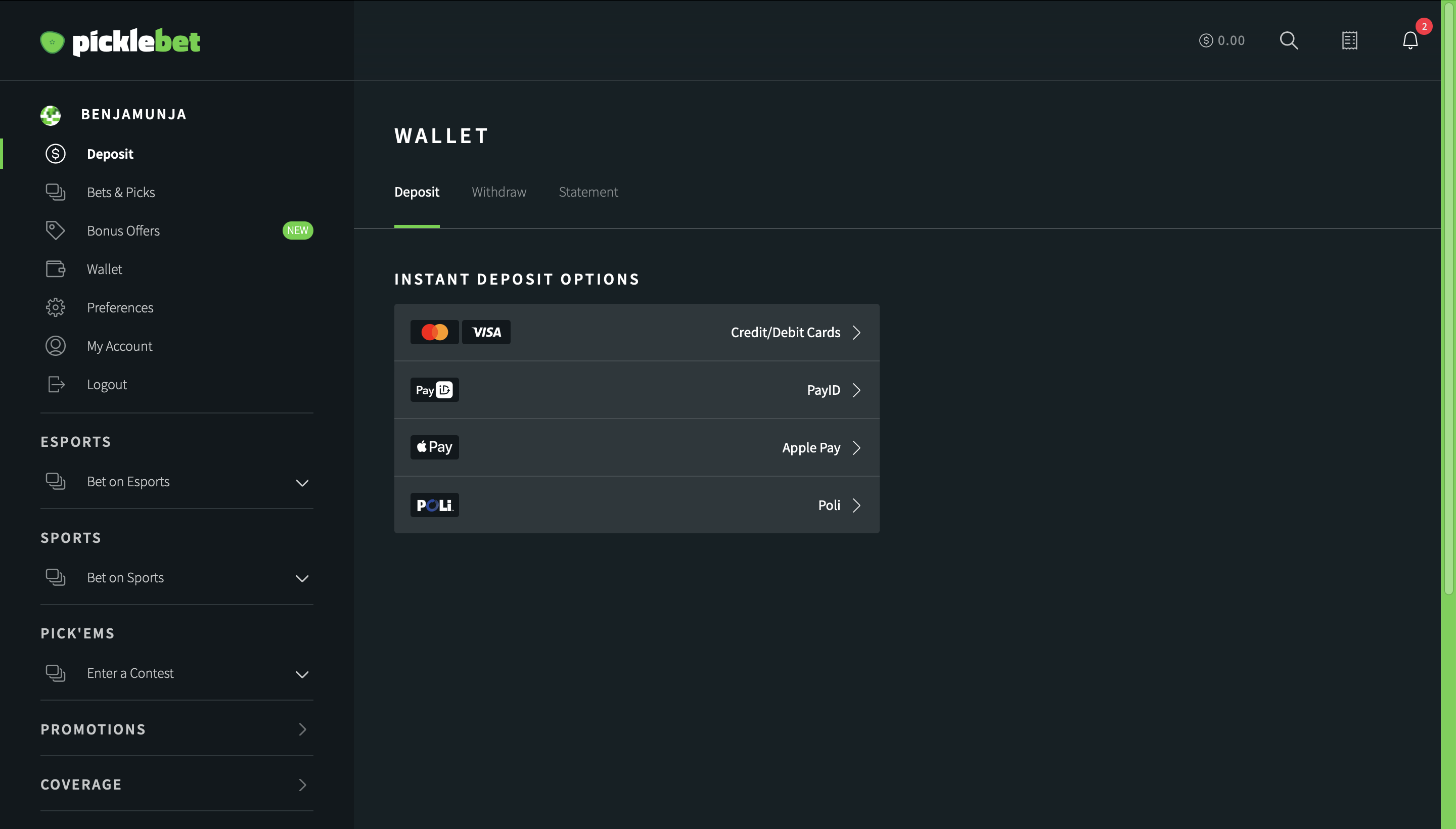 Today I chose to add funds using my MasterCard as I figured most people tend to use this deposit method for sports betting sites in Australia.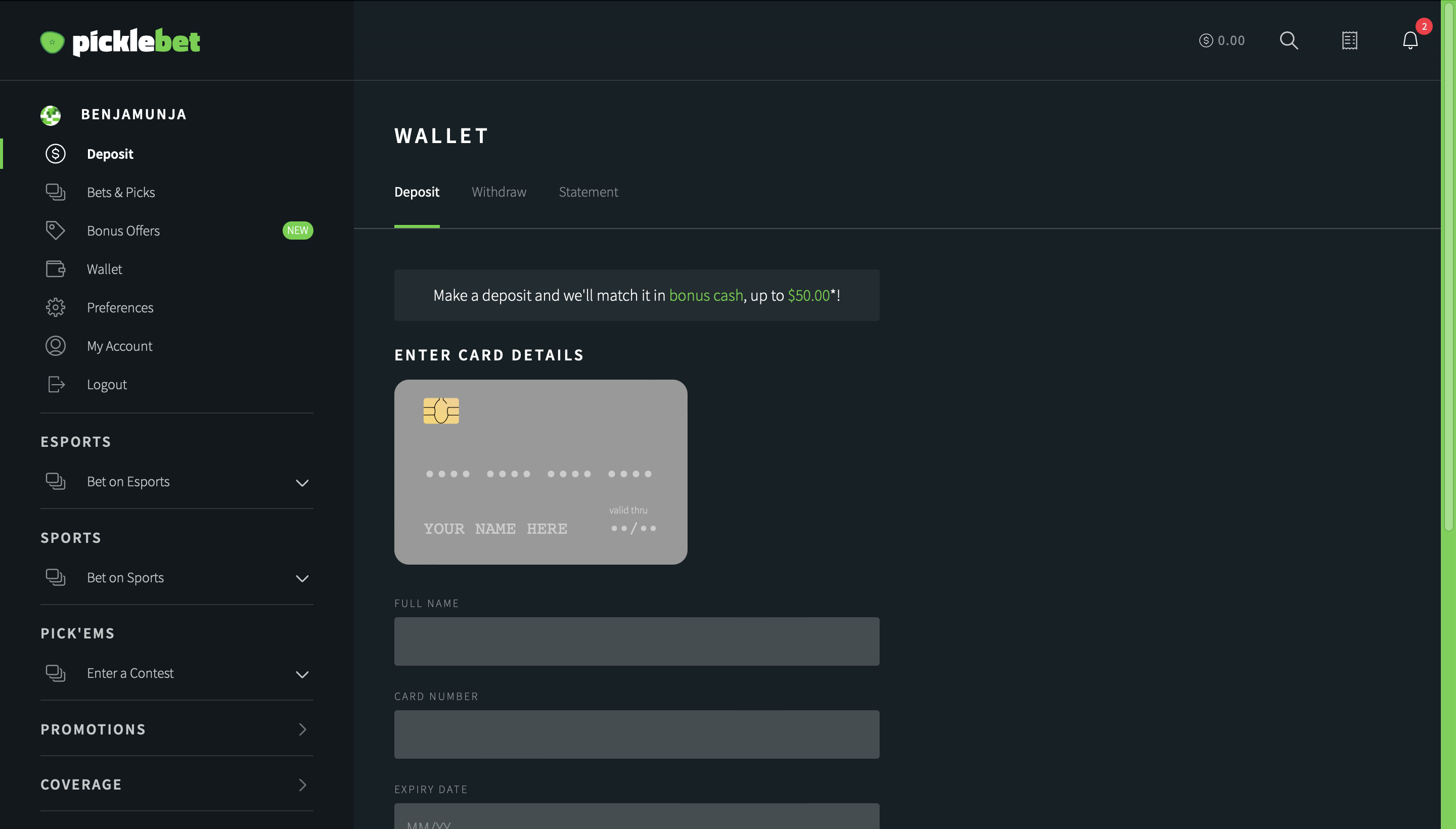 The deposit was successful with no dramas, only $10 in the kitty for the review, so no big bets today.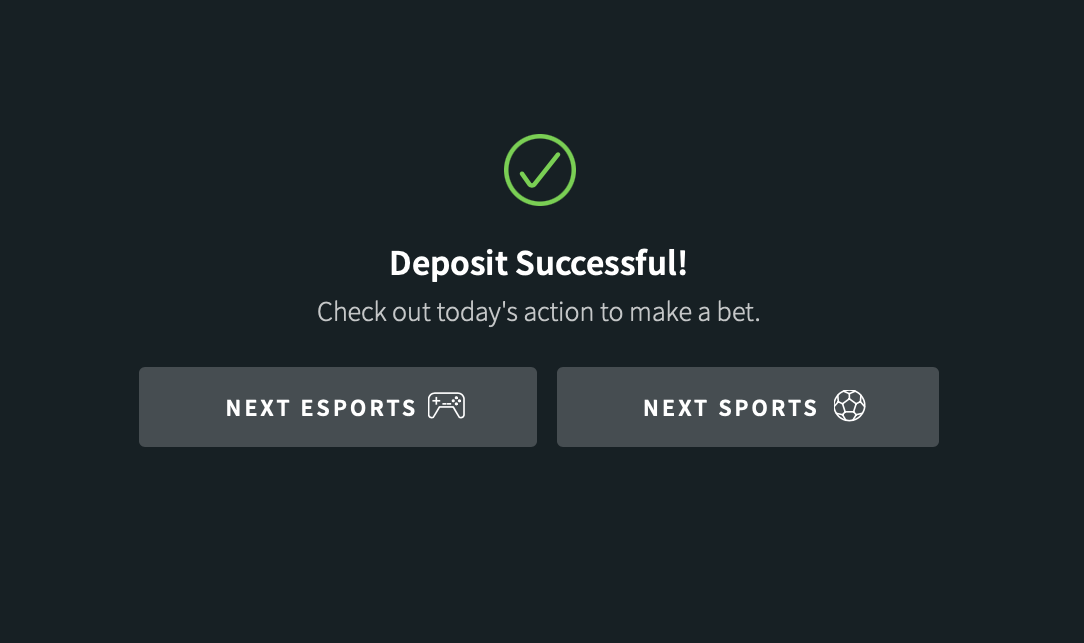 What's This Picklebet Pick'ems?
In the menu, there is a tab titled "PICK'EMS", where you can play in competitions against other customers and have the chance to win real money in US dollars for free… how could I possibly skip past this opportunity!
It seems pretty simple; all you have to do is choose the teams you think will win that week, click the confirm button and wait for your results. It is unclear if the pick'ems contest prize is each week or if it is for the entire season; however, we will have to wait and find out.
How Is The Layout?
The layout is decent; they have a very clean design that appears to be image-heavy but not too overpowering; it is simple yet visually appealing.
Where is The Racing Menu?
I love my horses, so I was a little disappointed to see that there are no horse races available on Picklebet.  
The Picklebet Esports Menu
I'm not one to bet on eSports; however, I was very impressed to see the amount of eSports competitions they had available for their punters to place a bet on.
I decided I bet on Call of Duty as that was the only one I recognized some of the teams from.
When I placed my bet, it showed some pay options below. I was disappointed and assumed the minimum bet was $5; however, I was pleasantly surprised to see that I could still place $1 as my stake instead of the suggested $5.
Once I had typed 1 into the betting price, it gave me an option to use the bonus cash that I received when placing my initial deposit, so I used some of that.
They did have "outright Markets" available; however, there were no available markets.
What about the Sports Menu?
Now that we have sorted out eSports betting, it's time to look at the Sports betting on Picklebet.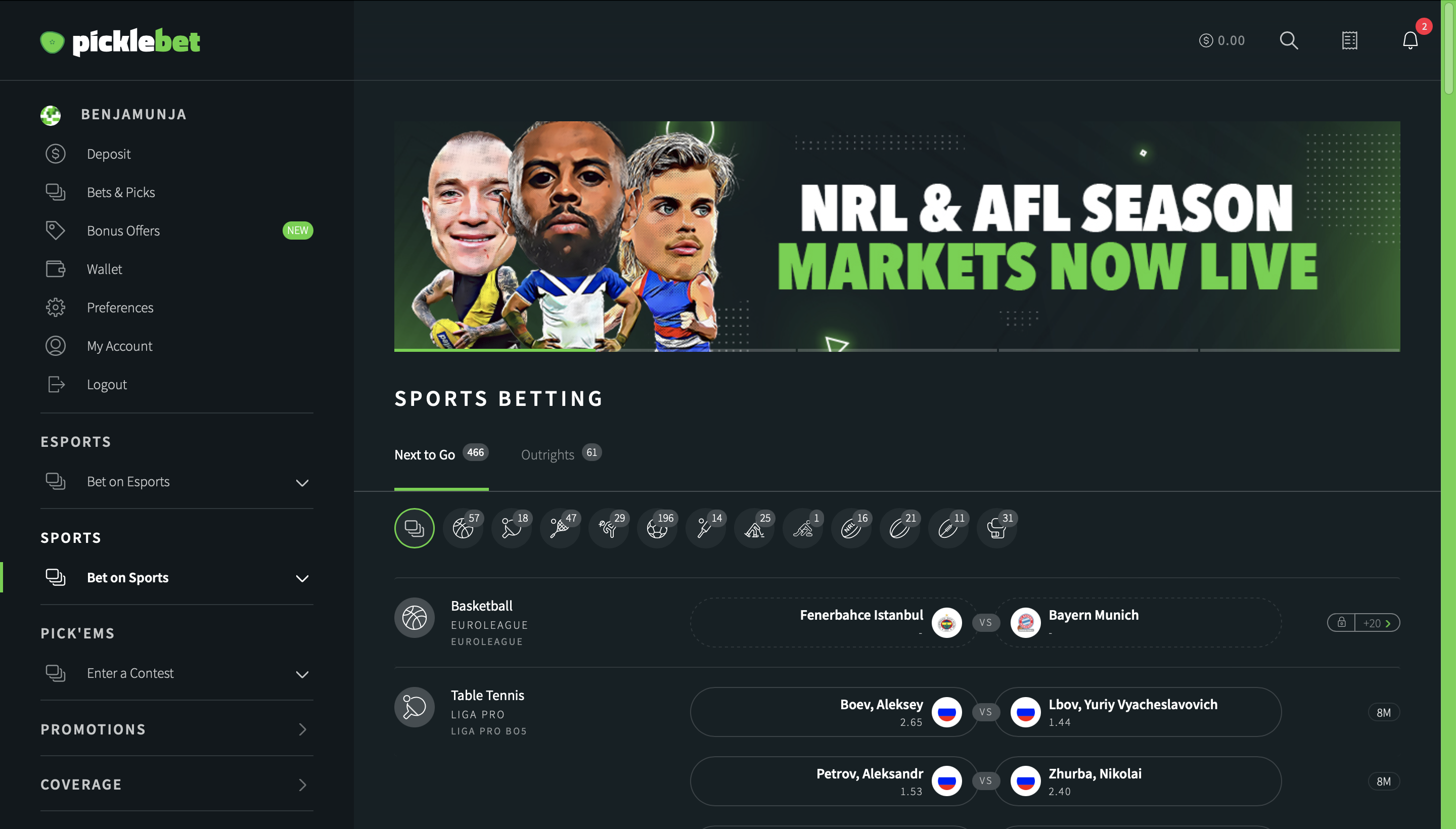 There are some pretty decent sporting options available on Picklebet, it's not often you see curling as an option on Australian betting sites, but here we are!
I'm going to put $1 on Japan to win the curling simply because I don't think I will ever get the opportunity to place a bet on curling again, haha.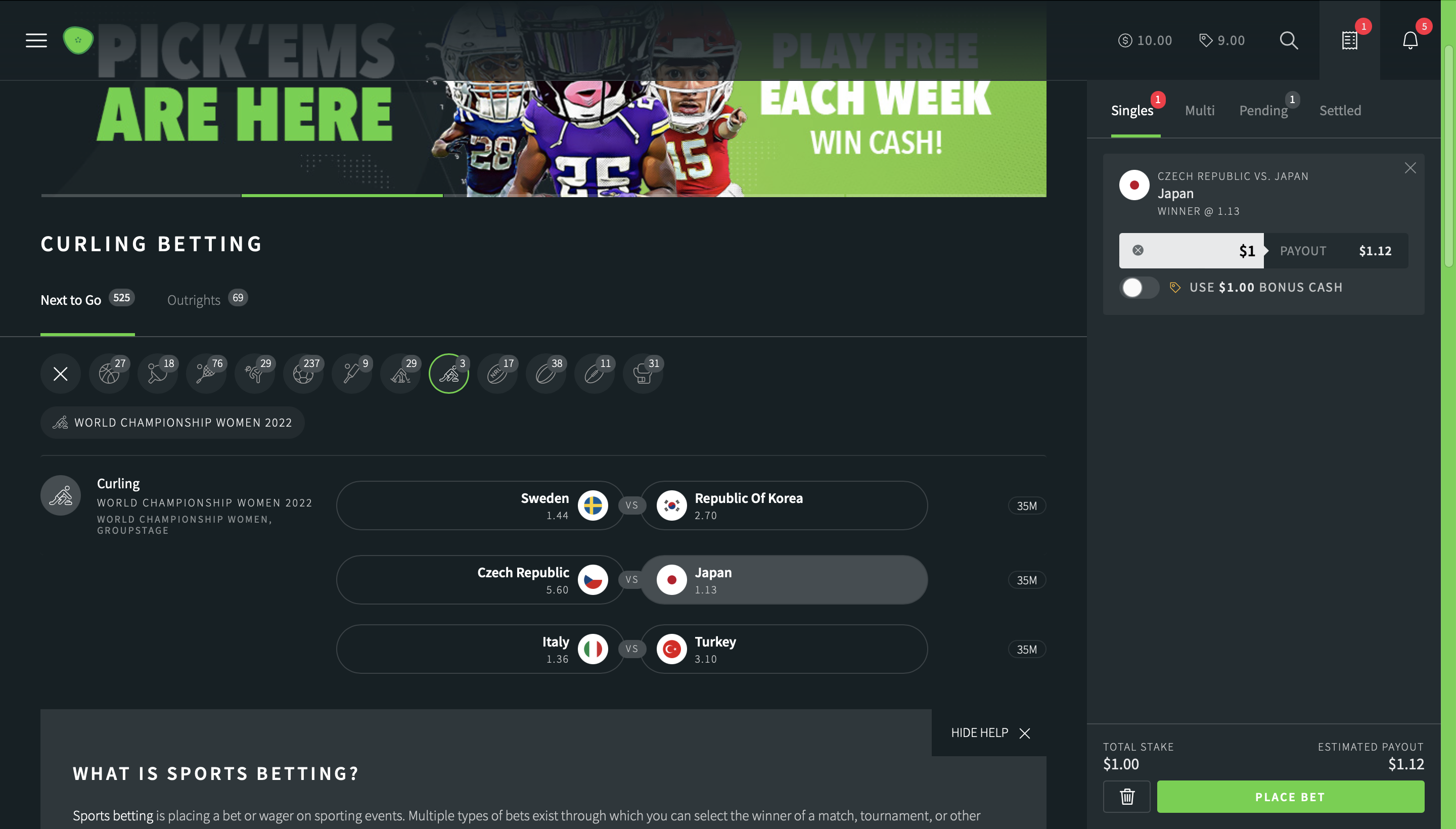 With Japan at 1.13 against the Czech Republic on 5.60, how could I possibly say no?
Bets confirmed…
Easy Peasy.
Let's Do a Picklebet Same Game Multi
Now that we have gotten curling out of the way let's jump into the AFL and see if we can pop on a same game multi.
Interestingly, they have all the games ordered to when they are being played rather than grouping them all into their specific classes; as you can see at the bottom of the image below, they have an AFL Women's game in the middle of the Mens'.
Though the multis aren't exactly glaring you in the face, they can be found to the right of the teams where it shows the time to play then "+" 15″>" area.
Let's take a look at the Swannies and Catters game.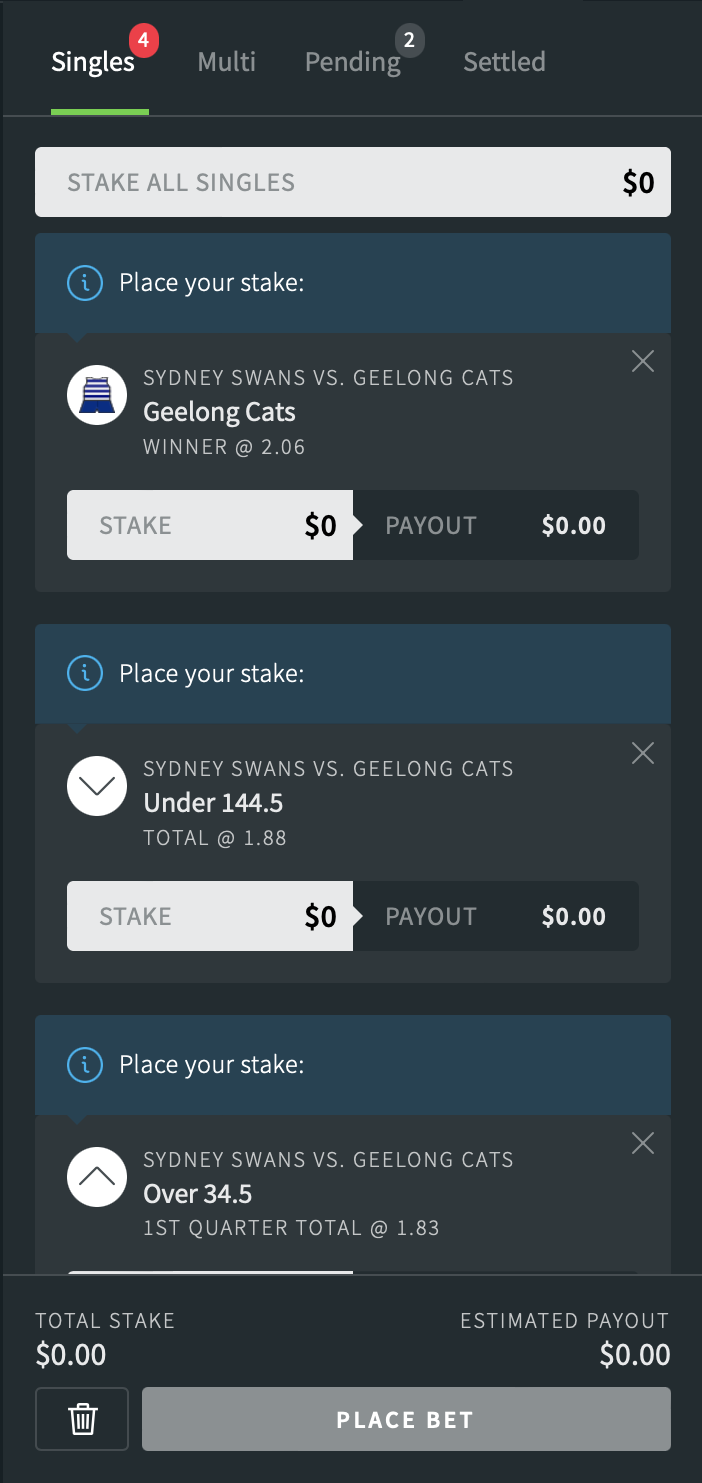 What I have noticed when placing a multi with Picklebet is that it is not immediately apparent how to place a multi, and it looks like you are placing several individual bets (which we don't want)
however, if you look at the top of the bet slips, you will notice a little button that says Multi.
Simply by clicking this button, you can turn all of your bets into one.
What's this hazard symbol?
Some of my bets are related to another selection and may be rejected (which makes sense), although the specific multi I have chosen does not conflict with other bets parts of the bet, so it should be fine.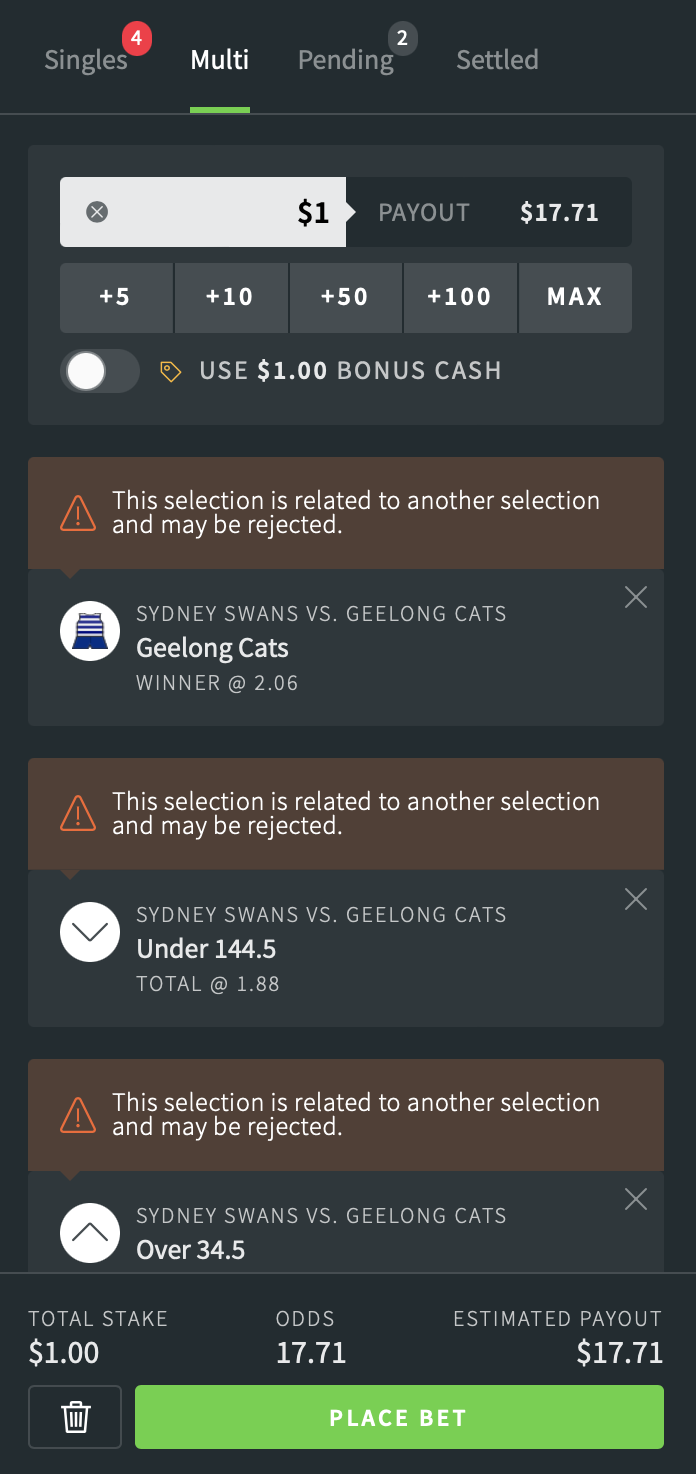 Once again, I will pop $1 on and see how we go.
I can't use these bets all at once; it would be handy to know this before getting to the end, as it feels as though I will have to start all over again.
After trying several times with different multi-options, it gave me an error, so, unfortunately, I gave up on trying to place a multi; the option is there but needs to be improved upon.
Does Picklebet offer live streaming of other sports? 
Not from what we can see, though they are a relatively newer betting site, this may be something that they are planning to roll out in a future update.
What Sports Are On Offer? 
Picklebet has a pretty decent range of sports available to place a bet on.
The following are the traditional sports available; however, some of these categories also have different leagues; for example, the AFL section includes AFLW.
American Football
Aussie Rules
Baseball
Basketball
Boxing
Cricket
Formula One
Golf
Ice Hockey
MMA
Motorsport
Rugby League
Rugby Union
Soccer
Table Tennis
Tennis
Verdict: Overall, Picklebet is a good betting site with plenty of options, especially for eSports betting. 
What else do we like about Picklebet? 
Picklebet is 100% Australian-owned; however, it has been built for a broader global audience.
Picklebet's 'Pick'ems' section allows you to place bets on different sports for free for real money.
What's missing at Picklebet?
Unfortunately, at this point, Picklebet does not yet have live streaming.
Additionally, they do not plan to open the gates to allow race betting on their site, which would be pretty discerning for some potential customers.
Picklebet Highlights
Picklebets eSports section is without a doubt where their focus is on the betting market; they have a massive range of eSports their customers can place a bet on at any given time.
Picklebets Pick'ems section is also a highlight; who doesn't like winning free money.
Picklebet Promotions
Picklebet regularly updates its promotions, and they do have an incredible amount of promotions available each week. However, for the most part, they appear to be quick links to same game multis, the one Picklebet promotion that seems consistent is their 4+ leg multi bonus back. 
Picklebet Bonus Code
Picklebet does have a bonus code section available where you can input your bonus code and receive extra perks. However, the best bonus code available is our bonus code KRUZEY which you can use simply by Clicking Here.
Picklebet App 
Downloading the Picklebet app was simple enough; I found it both available on the app store on my phone and also available on their website; I chose to download it from the website as I know that it is a more secure place to download a betting app (dodgy ones have snuck onto the app stores before)
The first thing I noticed is that it is very similar to the website version.
At first glance, it was challenging to navigate to the games I wanted to place a bet on as they were not immediately visible in the sports section; however, I found the little white sports icons were, in fact, a scrolling menu.
Placing a bet on mobile was pretty simple; however, I felt that it might be difficult for newer bettors as they may struggle to navigate the site as it is so different to the standard. 
Picklebet Verification Process
As with all Australian betting sites, Picklebet requires you to verify your account and does attempt to verify this automatically using GreenID.
If GreenID doesn't work correctly when signing up to a betting site, getting your account verified can become quite a pain; thankfully, I had no issues with Picklebet, and my account was verified immediately.
Banking with Picklebet
Picklebet offers a pretty decent range of payment options. You can use Mastercard, Visa, payID, Apple Pay, and POLi. Head to the Left Menu -> Deposit to choose your preferred payment option. Withdrawals are via bank transfer at this point.
Minimum deposit $10.00
Minimum bet $0.20
Minimum withdrawal – Not sure; I was able to withdraw my $0.77 that was used to verify my bank account; however, this may be able to go as low as the minimum bet amount or lower
Betting Markets
Picklebet has a fair amount of betting markets available for most sports. In addition, these betting markets can include specific markets such as first goalscorer and even leader at halftime, so it is safe to say the options they have available for their betting markets is on point.
Picklebet Sign Up New Account
Signing up to Picklebet is incredibly easy and can be done directly from their sign up page.
It took me a little less than two minutes to sign up to Picklebet, and the necessary information they required was not as intrusive as I was expecting, which is always suitable for a betting site.
Picklebet Contact & Customer Service
The only way to contact Picklebet is by their Live Chat, available via their website and clicking the help button in their app menu.
FAQs 
What is Picklebet?
Picklebet is a 100% Australian-owned online eSports and Sports betting site. 
Who owns Picklebet?
Damon Oudejans and Nick Heaney own Picklebet – both are Australian esports enthusiasts. Picklebet is licensed and regulated by the Northern Territory government.
Is Picklebet legit?
Yes! Picklebet is a legitimate Australian betting site licensed and regulated by the Northern Territory government, which means they are doing everything above board and correctly and legally.
So can I gamble legally with Picklebet?
You can gamble legally with Picklebet; I can attest to this myself as I have safely placed money in and withdrawn money from my account with no issues at all.
Is Picklebet legal in Australia? 
Yes! Picklebet is not only legal in Australia, but it is also licensed and regulated by the Northern Territory government, which means that they must do everything correctly to continue their practices within the country legally.
Does Picklebet offer same game multis? 
They do on their promotions page; however, I could not get it to work; this does not necessarily mean that it is broken, however, as I may have just clicked a conflicting bet by accident.
Picklebet Odds
Picklebet has better odds than some other betting sites; when placing them against some of the more significant betting sites, I found that their sports betting odds were significantly better for specific games.
Picklebet Rules
Picklebet has a legal obligation to meet specific laws and requirements to maintain their gambling license.
The terms and conditions are located at the bottom of the Picklebet Home Page.
 Gamble Responsibly 
Stay in control, and please gamble responsibly; always think before you bet.
Think about your gambling choices. If you believe you may have a gambling problem or start to make bad decisions call gambling help on 1800 858 858 24/7; alternatively, you can visit their website gamblinghelponline.org.au

Quick Links 
All Aussie Betting Sites Best Sports Betting Sites eSports Betting Sites Australia