VolcanoBet is quickly shaping into one of the best betting sites in the Australian betting scene with some of the best betting features available.

Key Takeaways:
Appealing Layout and Quick Signup: VolcanoBet offers a visually pleasing layout and a user-friendly signup process, making it easy for punters to join and start betting​​.
Convenient Funding Options: The platform supports commonly used payment methods in Australia, such as Visa and Mastercard, ensuring easy account funding for users​​.
Robust Betting Markets: VolcanoBet stands out for its extensive betting markets, particularly in AFL, with 14 different winning margin markets and a variety of sports, including Australian Rules, Cricket, and Rugby​​​​.
Efficient App and Competitive Odds: The platform's app is noted for its speed and efficiency, complemented by competitive odds across various sports markets​​.
Customer Service and Racing Markets: VolcanoBet provides customer support through live chat and offers diverse racing markets, including Thoroughbreds, Greys, and Harness, for national and international races​.
How's the Layout?
I have to be completely honest, I absolutely love the colour scheme and layout of VolcanoBet. The one thing that stuck out to me was the font of the headings though… not sure if I like it just yet but time will tell, currently it looks and feels like a fantastic betting site but the title font feels like a casino app.
Time to sign up.
Signing up to VolcanoBet!
VolcanoBet seems to be using a similar sign-up system to some other well-respected bookies and it is without a doubt my favourite sign-up form to date, it took me less than a minute and everything you see on the form below is all you need to fill in to get you up and on their site.
Check Out VolcanoBet For Yourself Here.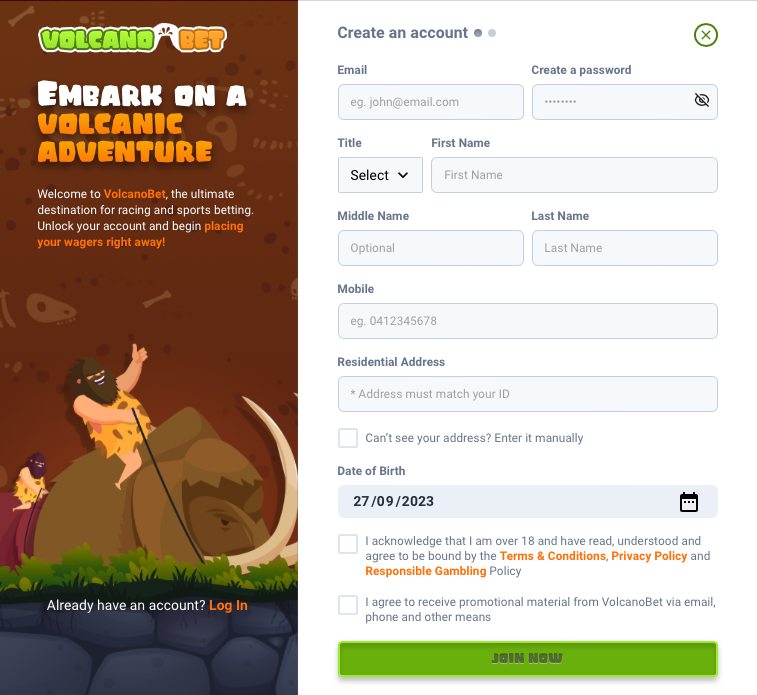 Let's fund the account.
Adding some funds
Funding the VolcanoBet account is incredibly easy, although there are only two options available (Visa and Mastercard), they are the two most commonly used cards in Australia so it is safe to say every one of legal betting age should have at least one of these cards in their wallet or purse.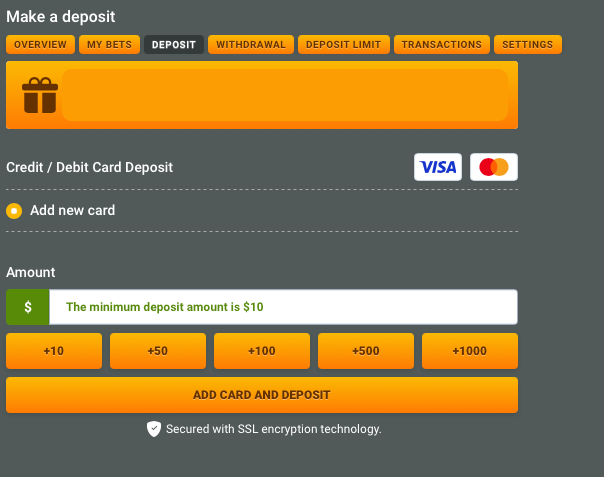 Let's jump into the betting side of things.
Placing a bet
For this review, I tested various means of the VolcanoBet betting site including mobile app, mobile website, laptop, desktop, and tablet for both Apple and Android, however, the images found in this section of the review are from the computer (easier for me to copy and paste for the review).
The Form Guide
Unfortunately, the form guide is extremely limited with only the Weight, Jockey, Field, and trainer available, it would have been nice to see a little more information but apparently, according to my sources in VolcanoBet, this is something they are working on to be optimal before they release the form guide to the public.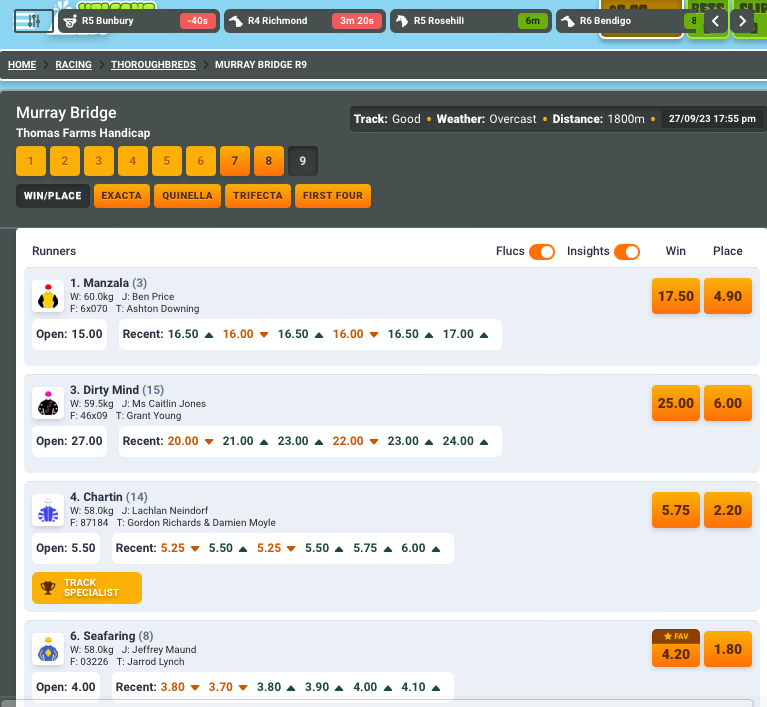 Full-Form Guide
There is currently no full-form guide on VolcanoBet.
Speed Map
Like the Full Form Guide, there is no speed map on the VolcanoBet betting site, however, this may be something that they introduce down the line.
Popping on a bet
I always find when a Horse opened somewhere in the vicinity of $20 and dropped to less than half price there is a good chance that someone knows something that I don't, which is exactly why I threw $5 on the nose for Applied.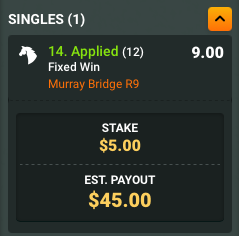 Setting your Deposit Limit
You can set your deposit limit directly after signing up with a little box to tick yes or no on, however, I forgot to take a screenshot, you may also set your deposit limit in the account section of the profile simply by going to your Funds Icon (the dollar value you have in your account), My Account, Deposit Limit (an orange button near the top of this page).
Betting on Sports
I'm a huge sports fan so always have to check out the sports section when doing any of my reviews, I was pretty stoked to see so many markets available to choose from, I popped a same game multi on both the AFL and NRL games this week but won't know the outcome for a few days.
Verifying your account
Verifying my account was pretty simple, Unlike other small bookies there is no emailing them directly for confirmation, etc. All I had to do was fill in some more personal details directly within their site and before I knew it the account was verified.
Verdict
I think it's great! Initially, I was a bit hesitant about the font as it had the feel of a kid's game, however after having a little bit of a play around it actually gave a nice little touch to the site, giving it a less hard feel than some other sites on the market, in terms of functionality it is excellent and does everything you want it to without any glitches. It would be nice to have a few additional features that are missing however, all betting sites are missing one thing or another and I think it more than makes up for it with the amount of markets available.
VolcanoBet Review 2023

VolcanoBet Highlights (What We Like)
Excellent Sports Markets
Quick App
Same Game Multis
Competitive Odds
What could improve
Racing or sports futures
Phone support
VolcanoBet Deposits and Withdrawals
Depositing and withdrawing funds to and from your VolcanoBet account is hands down one of the best ones I have come across on a betting site, It is streamlined, hassle-free, and does exactly what you want it to.
VolcanoBet Deposits
You can deposit into VolcanoBet using two different methods.
Deposit type:
Minimum Deposit
The minimum deposit available for VolcanoBet is $10.00.
VolcanoBet Withdrawals
Currently, there is only one withdrawal option available.
Withdrawal Type:
Minimum Withdrawal
The minimum withdrawal for VolcanoBet is not stated however it is safe to assume it will be $10-20.
VolcanoBet Minimum Bet
The minimum bet for Racing and Sports at VolcanoBet is $1.00 online or on the app.
VolcanoBet Betting Markets

The Betting Markets available on VolcanoBet are nothing short of outstanding, they have micro-crunched the markets to give more options to their punters, for example, there are 14 winning margin markets available in the AFL.
VolcanoBet Sports
There are currently only 14 sports available on the VolcanoBet betting site however there is a far bigger list on their terms and conditions which suggests they are available but not shown as they are not currently playing.
Sports available
Currently, the list of sports available at VolcanoBet are:
American Football
Australian Rules
Baseball
Basketball
Cricket
Darts
Ice Hockey
Rugby League
Rugby Union
Soccer
Specials
Tennis
VolcanoBet Racing
There are racing markets available for Thoroughbreds, Greys, and Harness for both National and International racing meets.
VolcanoBet Promotions

Abiding by Australian law we are not able to speak about the promotions available on the VolcanoBet betting sites, however, we can confirm that there are indeed promotions available once you have signed up.
VolcanoBet Contact and Customer Service
The only means of contact for customer service with VolcanoBet is via live chat.