Rob Waterhouse is licensed by Racing NSW and the NSW Office of Liquor, Gaming, and Racing, and is also a member of the NSW Bookmakers Co-operative.
Rob Waterhouse is a well-known name in the bookmaking industry with a family knee-deep in the thick of it for generations.
Rob Waterhouse Review
Chances are, by coming here then you are looking for a promo code that works!  
Here's the truth – They aren't what they once were. 
Adding to that. 
Finding a decent Rob Waterhouse review is incredibly difficult. 
However, we have good news!
Even though most bonus codes don't work anymore, ours still does!
So we took a day, 
Jumped in the deep end 
To answer the question on everyone's lips:  
Is Rob Waterhouse any good?  
And the answer is… 
You're going to have to read on to find out 😉
Let's begin with the first step,
The Sign-Up Process: 
Righto, no more games.  
Let's do the sign-up 
We typed up Rob Waterhouse on Google (but here's the link to save you time)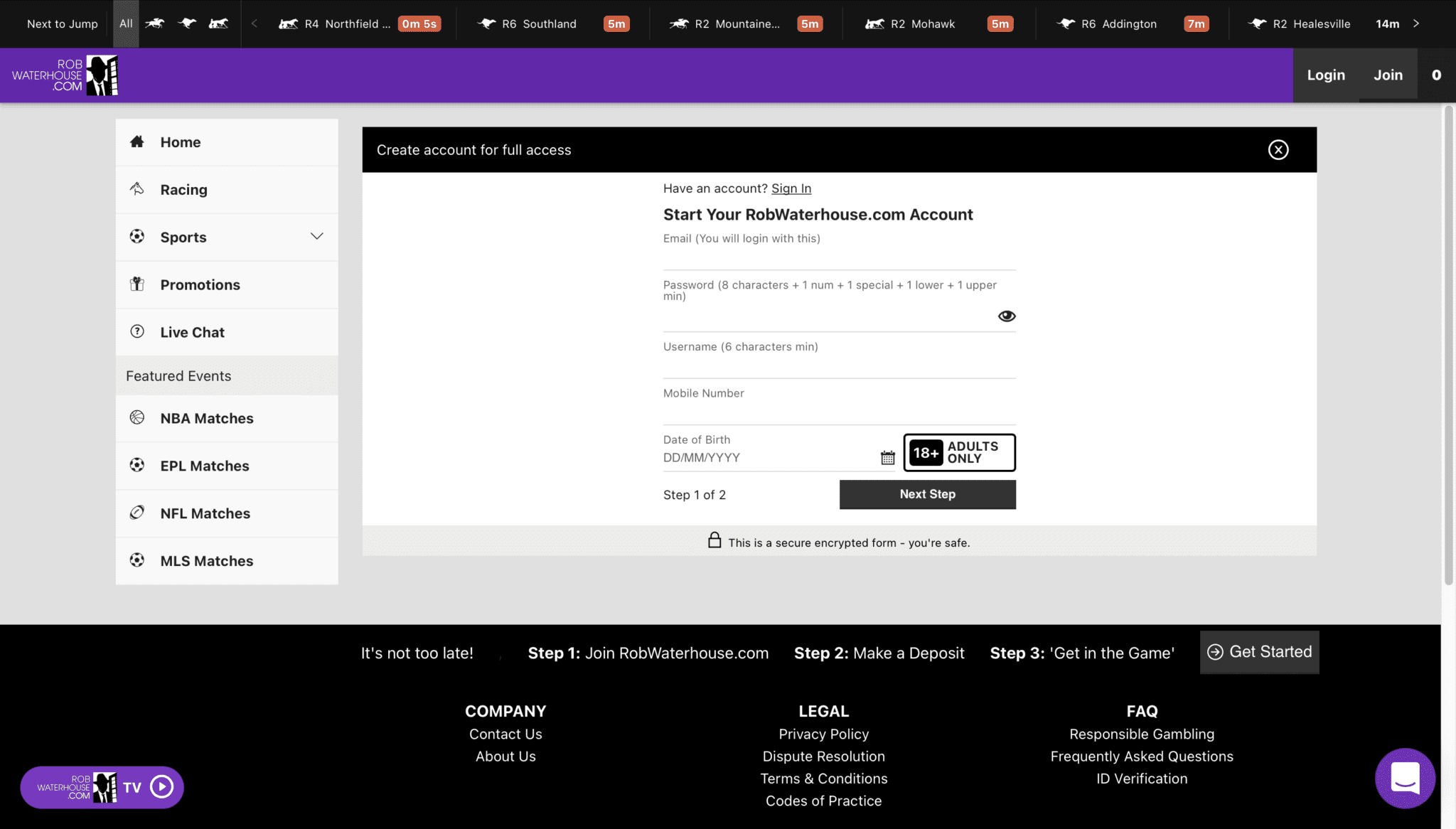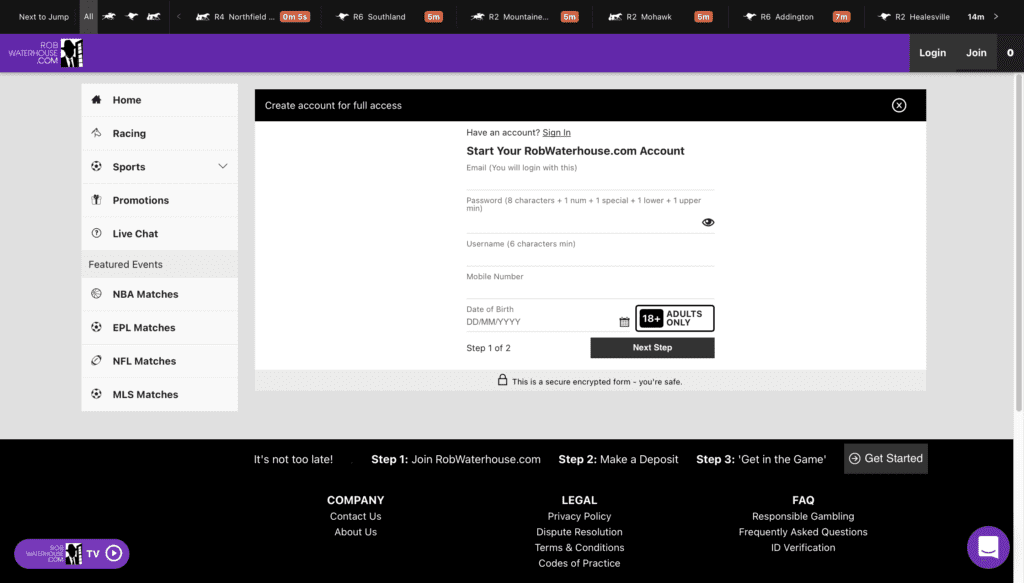 Others say it takes roughly two minutes to sign up.  
It took me less than a minute, and I wasn't exactly rushing things.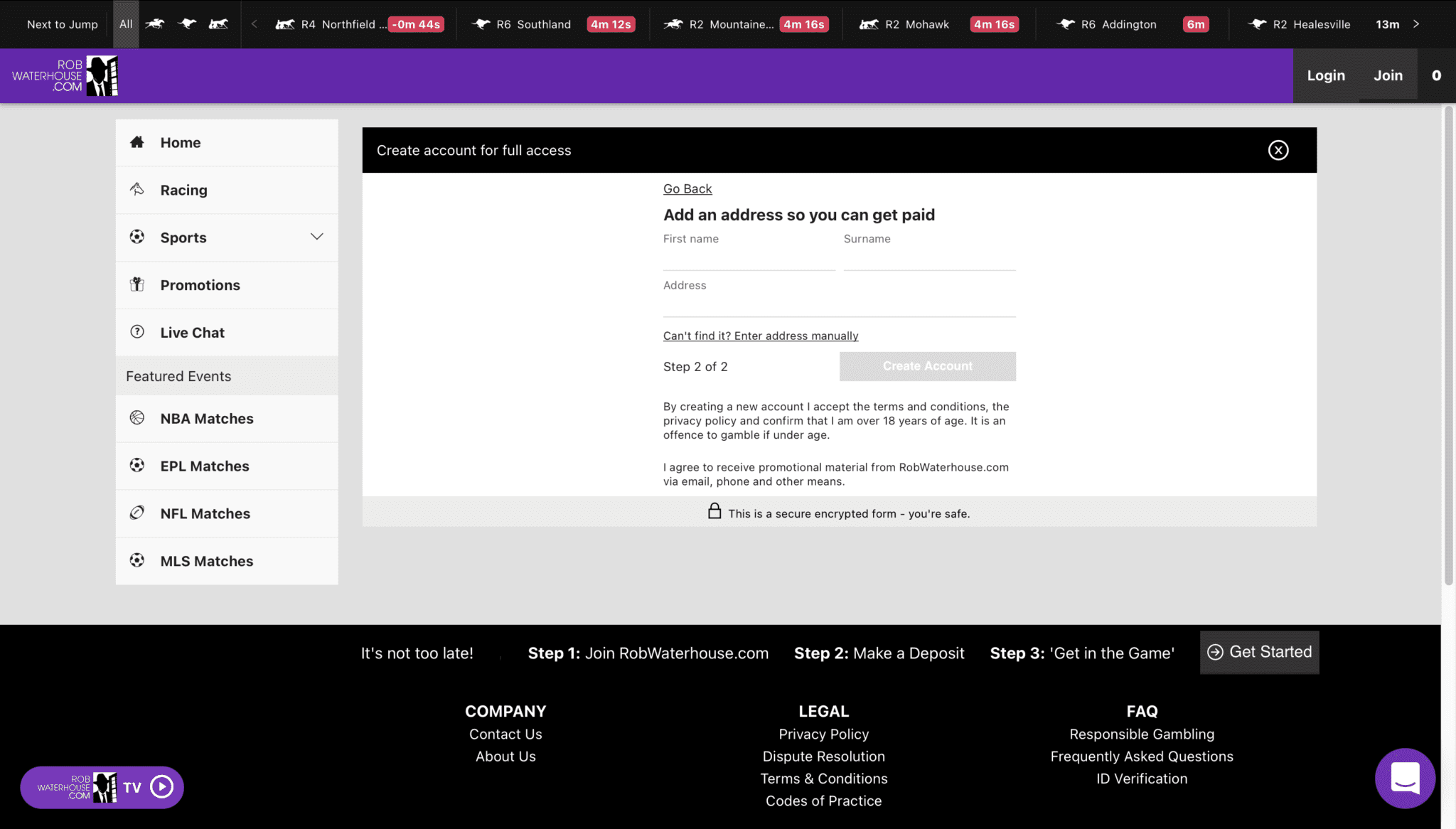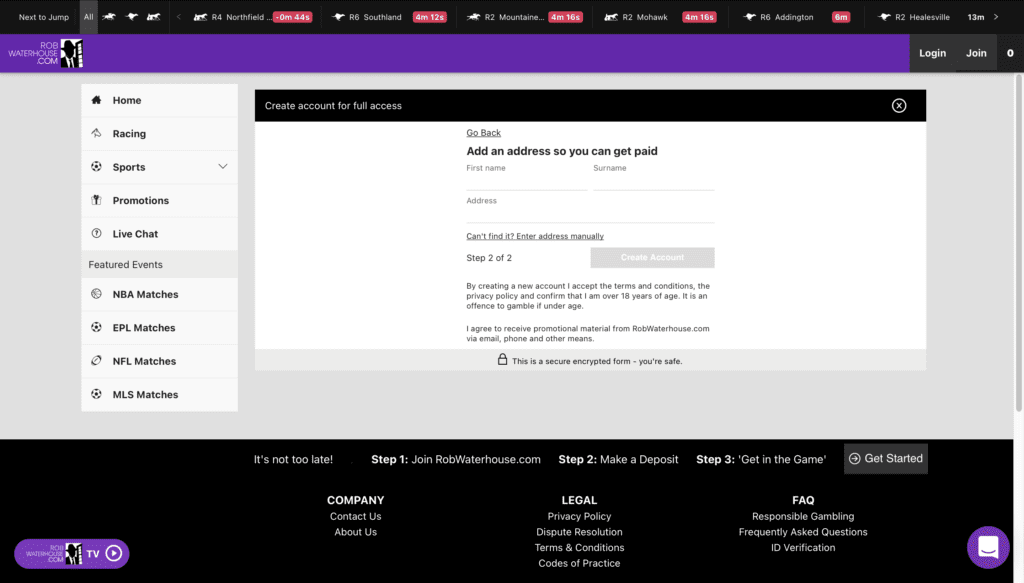 Sign up process was incredibly easy for me, There were literally two pages of minimal details needed. HUGE TICK!
No promotions pop up like on some other betting sites in Australia, which was nice. 
Making A Deposit
Time to pop some cash in so we can toss on some bets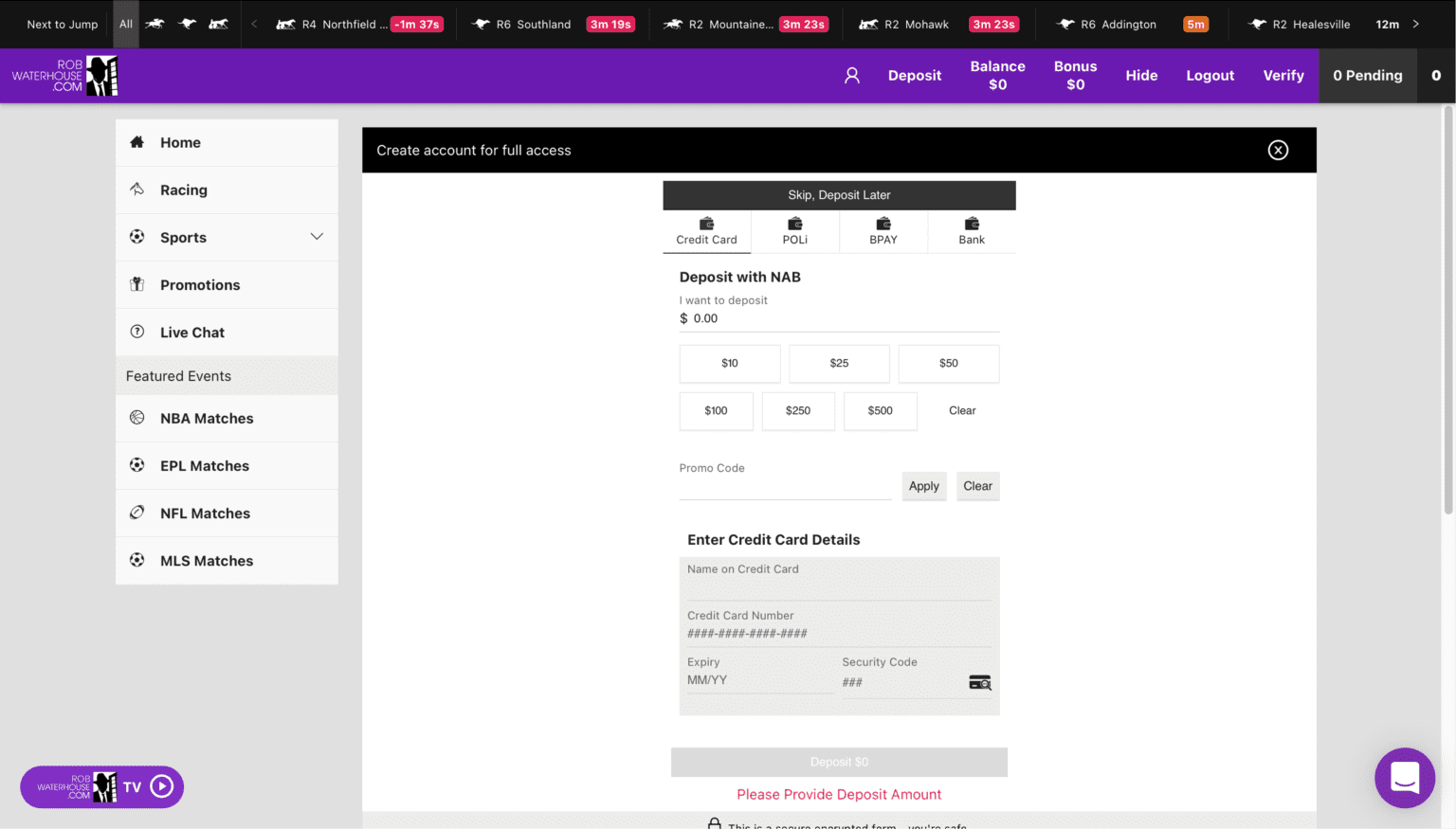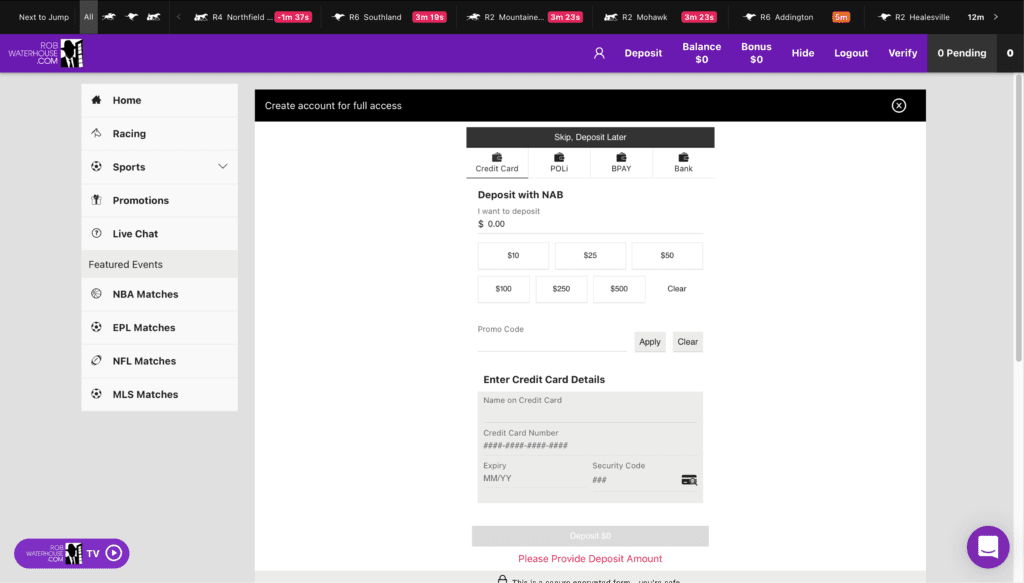 They have some of the standard payment options like Credit Card, POLI, Bpay, Bank Transfer 
We used a Credit card as that is what most people tend to use.
$10 in the kitty (big spender, hey 😄)
Not going big today; this is just for the review.
Next, we were greeted by the option to set a deposit limit,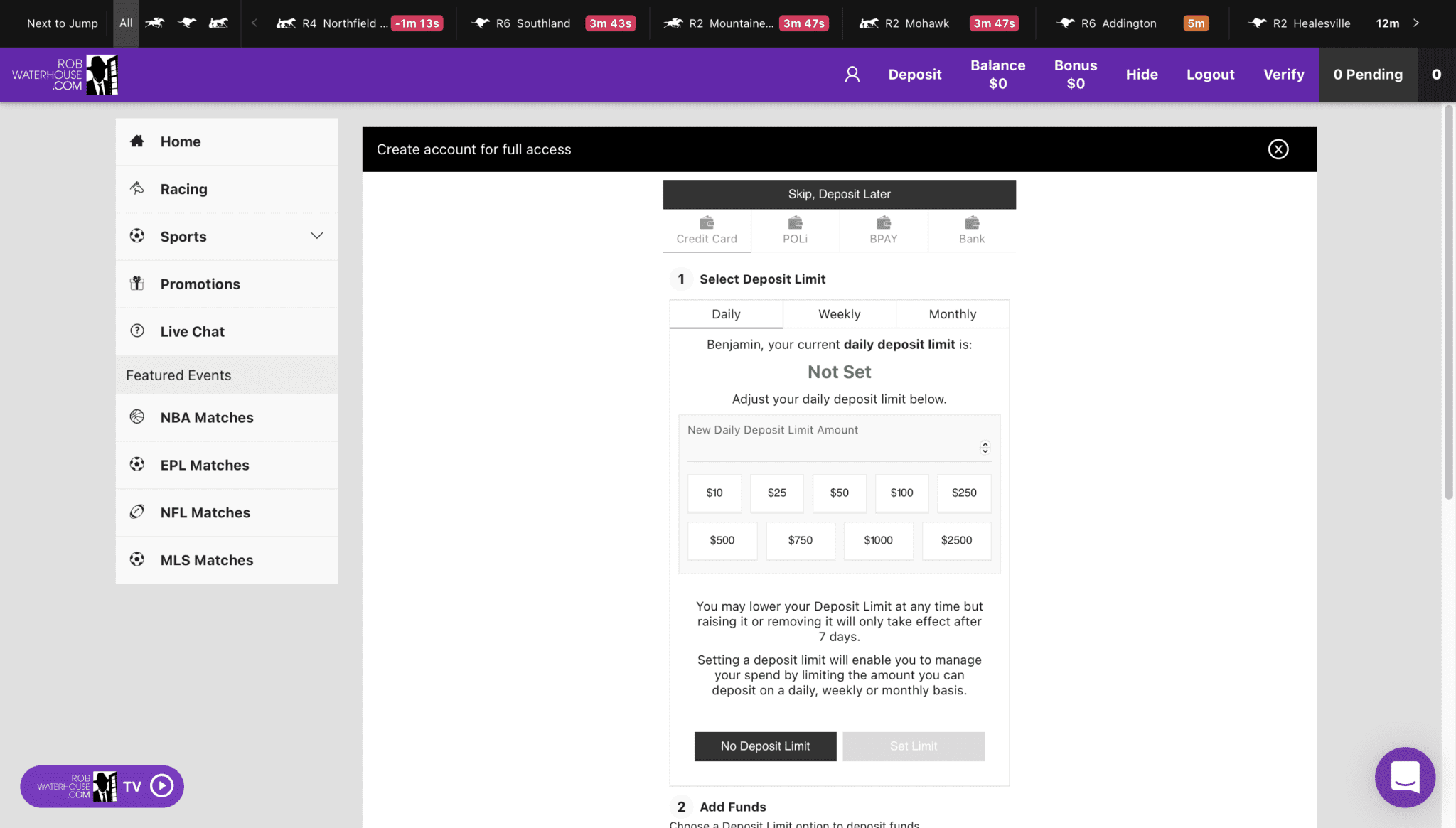 This is a pretty cool concept as it made me stop for a moment and think about how much I am willing to spend if I'm having a big day on the sauce.
How Is The Layout?
The layout looks to be straightforward to navigate.
The homepage has the next to jump races in the middle of the page, upcoming sports and trending bets underneath.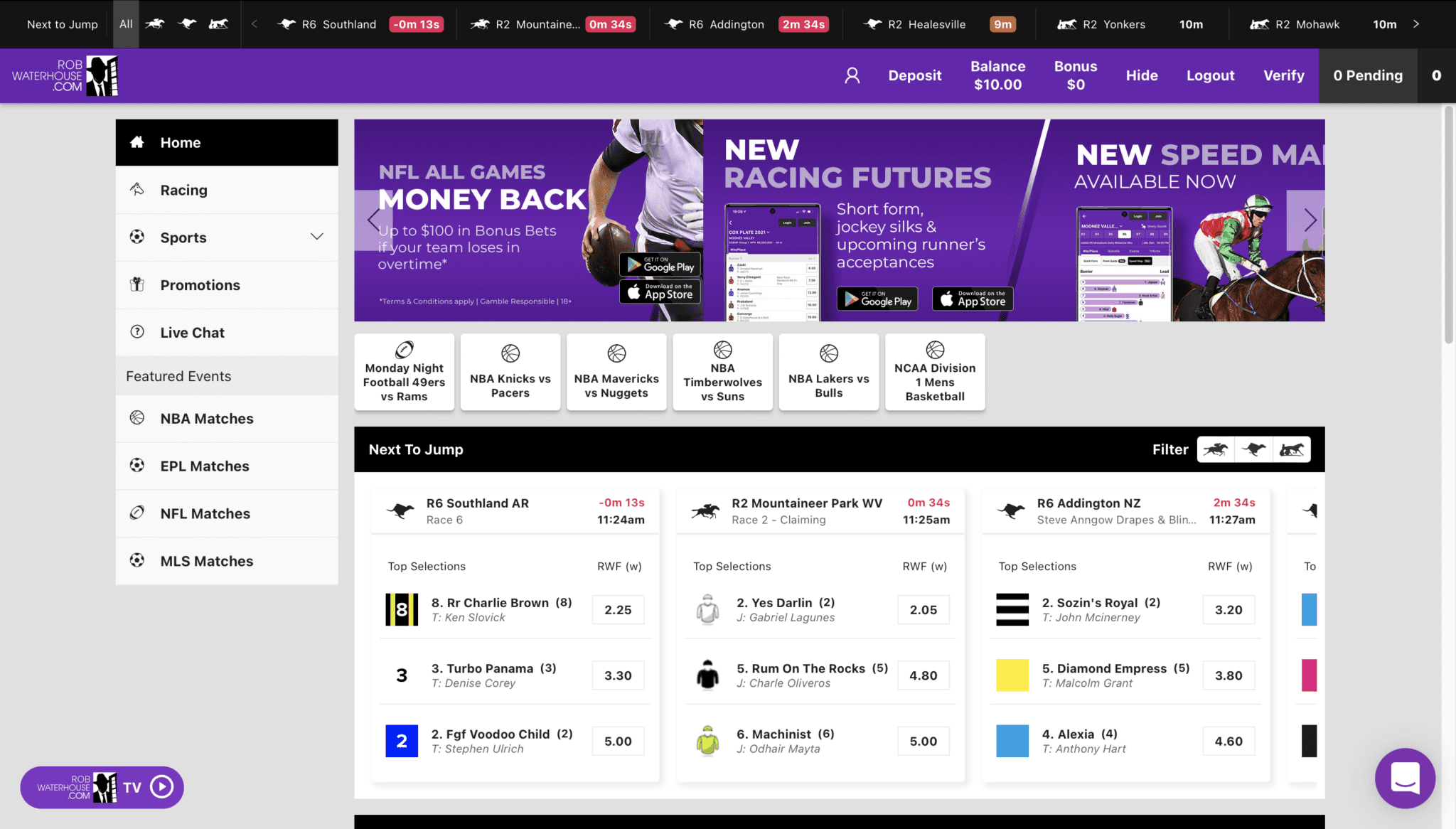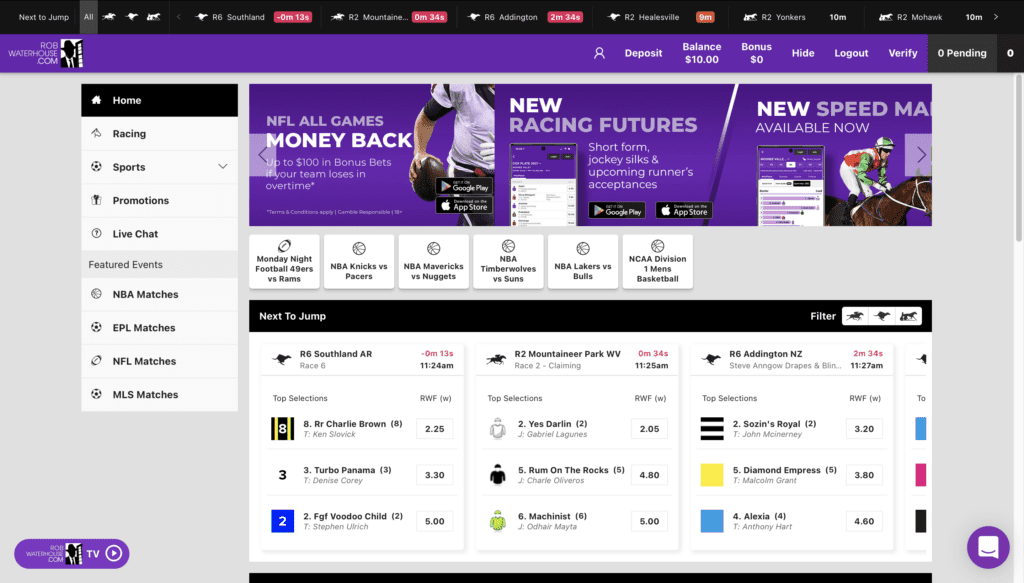 I like the purple as it really makes the specifics pop out at you.
The menu is to the left-handed in a neat little box, so we'll just work our way down the list.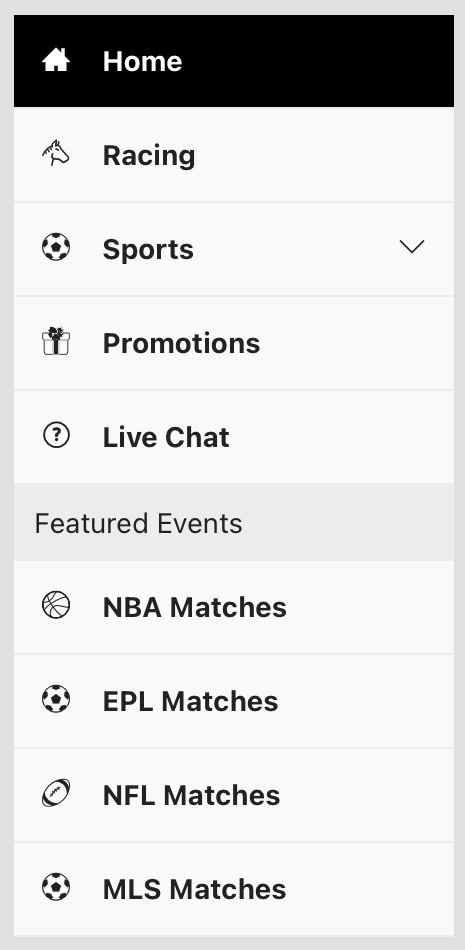 The Racing Menu
Everyone loves a tickle now and then.
So the racing section needs to be easy to wrap your head around. 
It's nice to find the way they laid it out to be incredibly simple to understand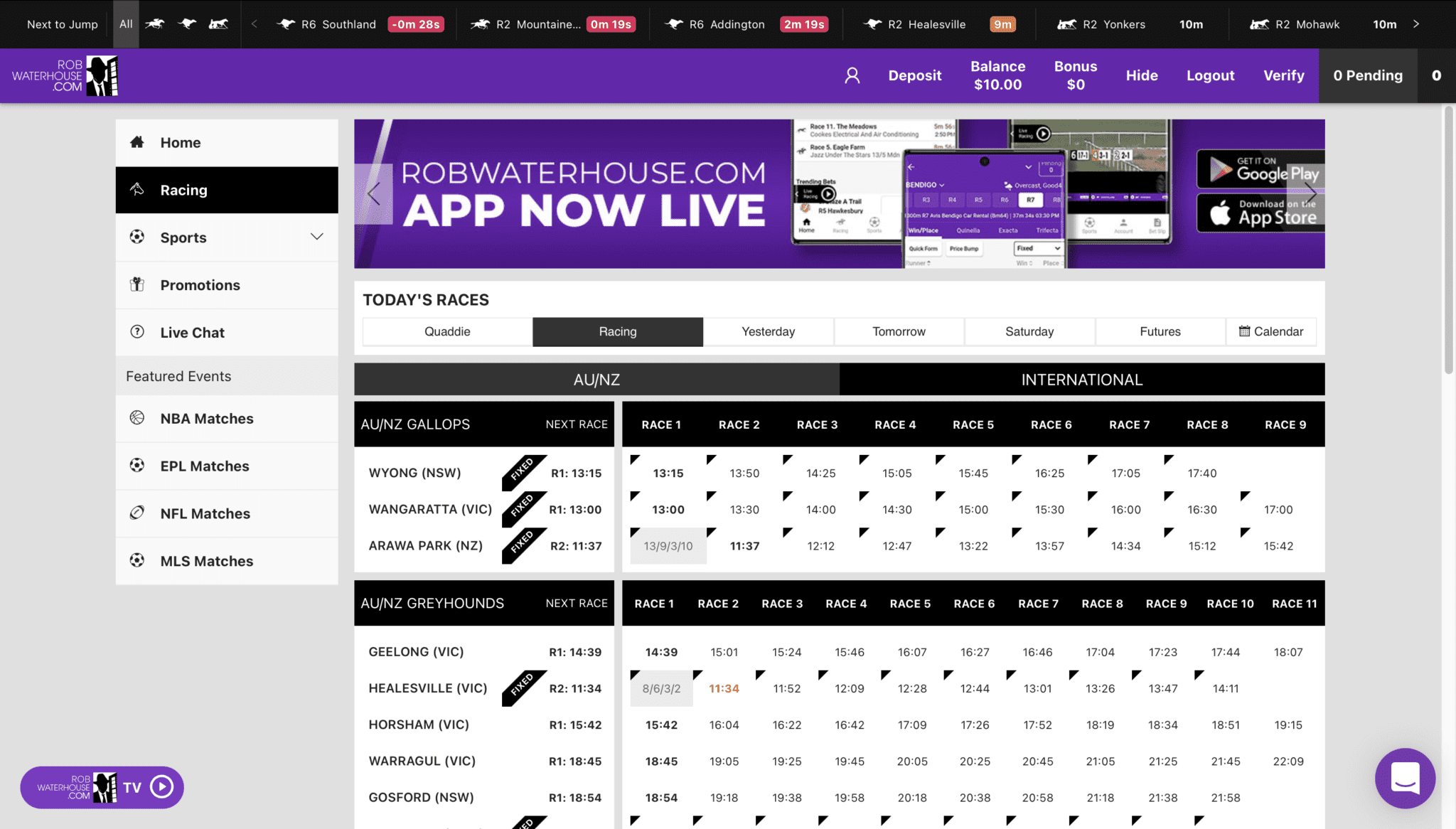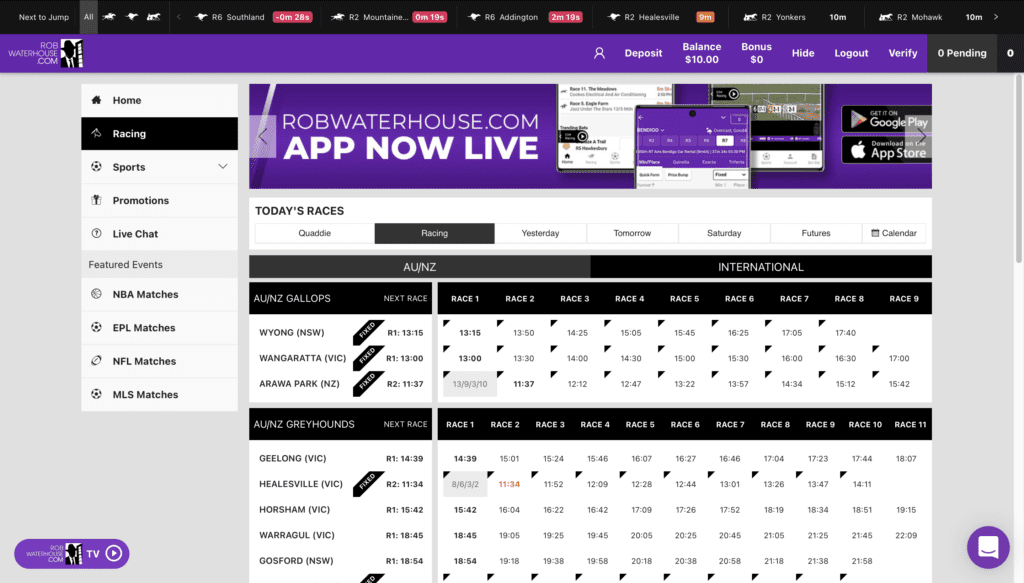 It would have been a nice touch if they had each race in its own box, so there was less chance of picking the wrong race by accident,
But as a whole, the racing page is good!
I've found my first race so let's see the next page.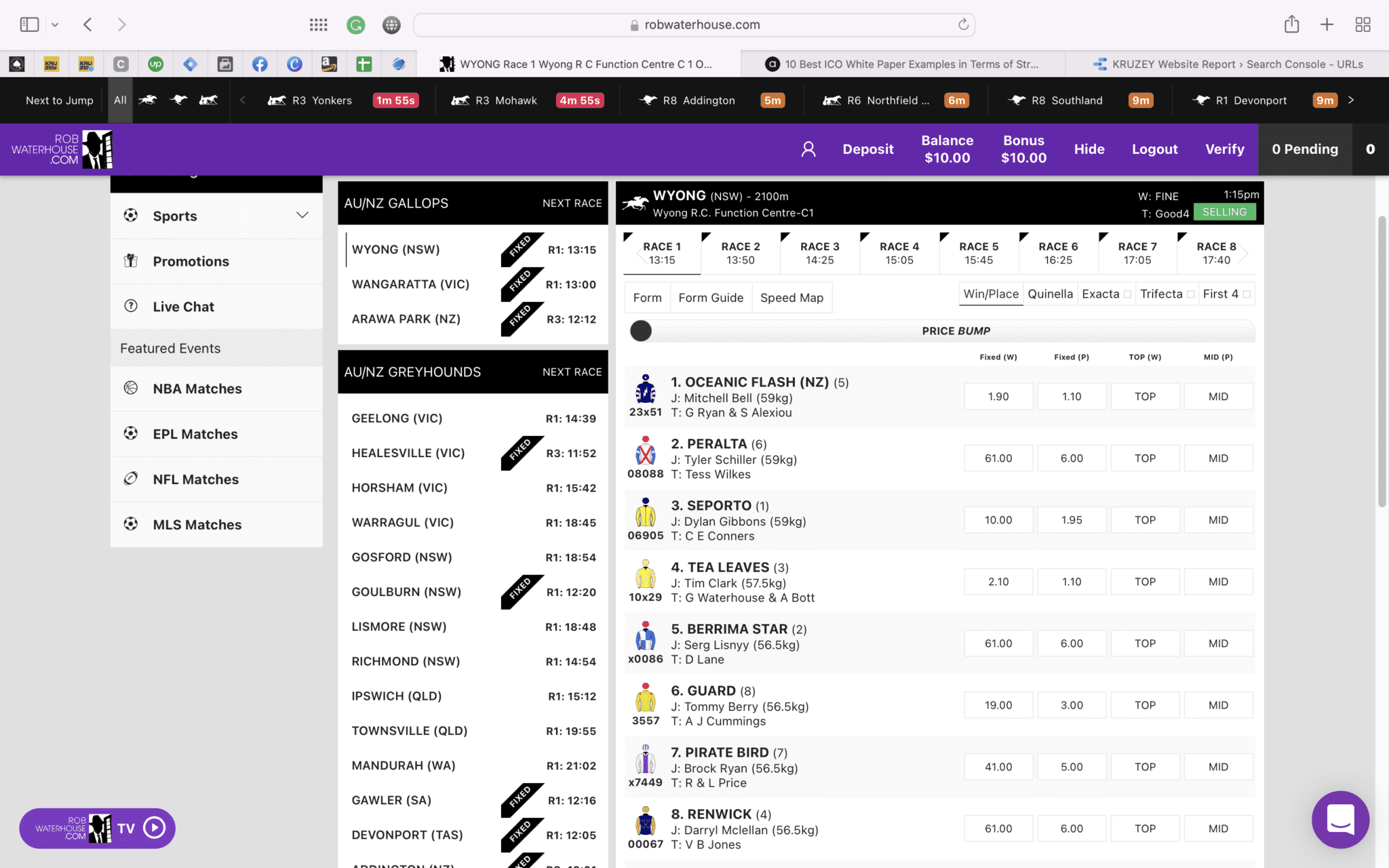 Nothing too different about this page to other bookie sites; to be honest,
It's a pleasant surprise to see the short form, full form and speed map all neatly perched at the top.
The speed map drops down at the top of the screen in its own neat section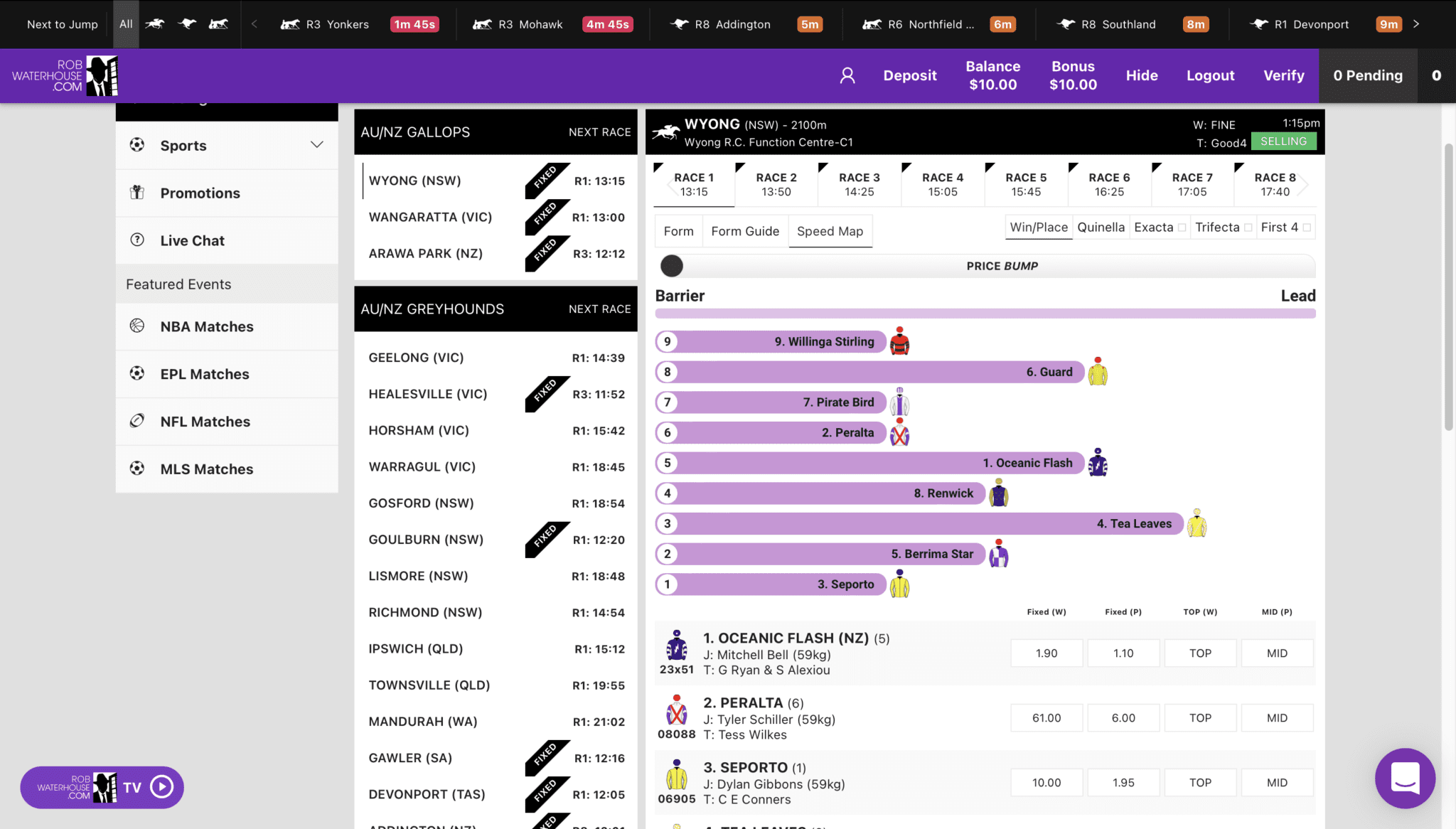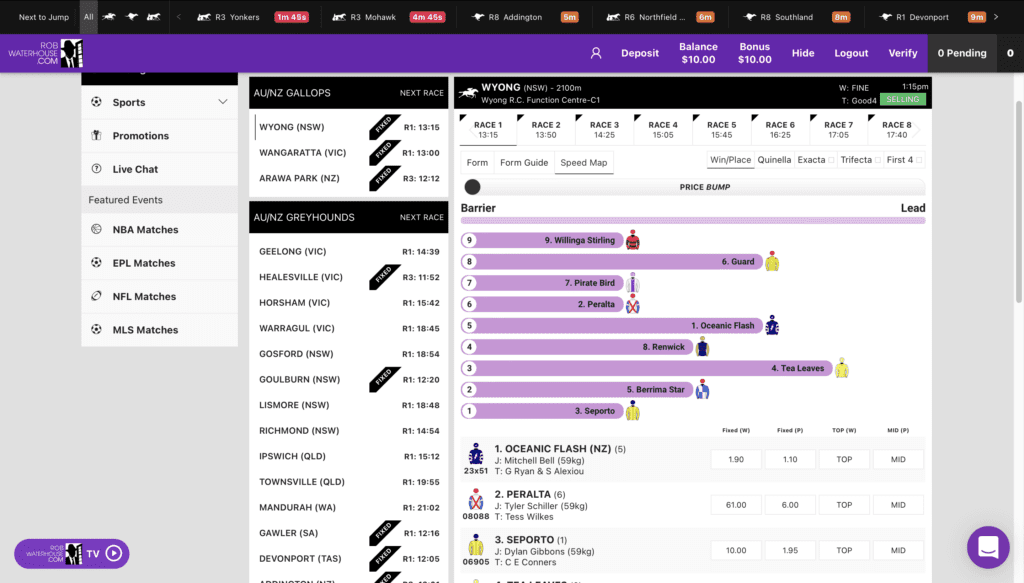 On the other hand, the full form guide opens to an entirely new page,
And I have to say,
this is quite possibly the best full form guide I have ever seen!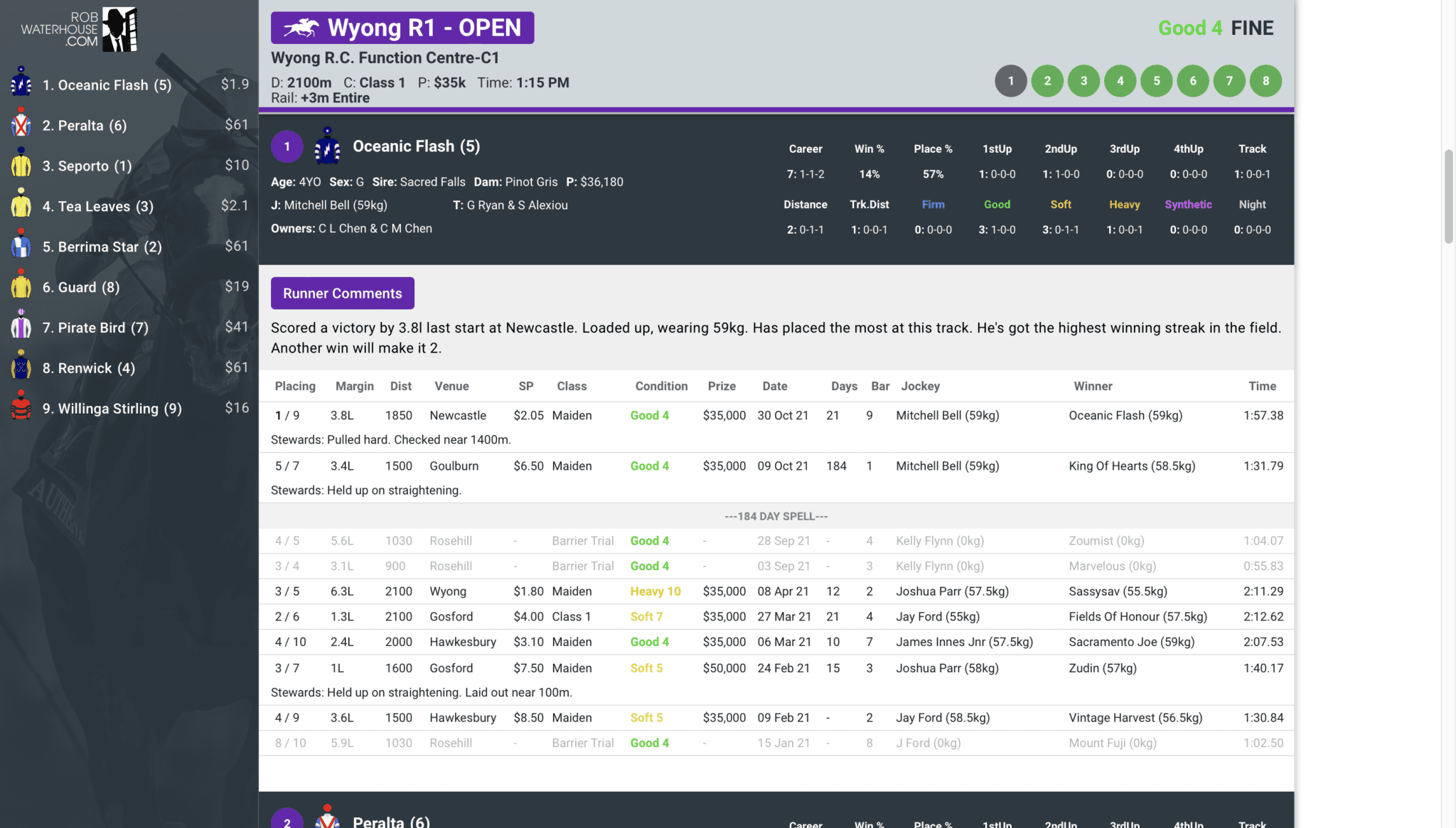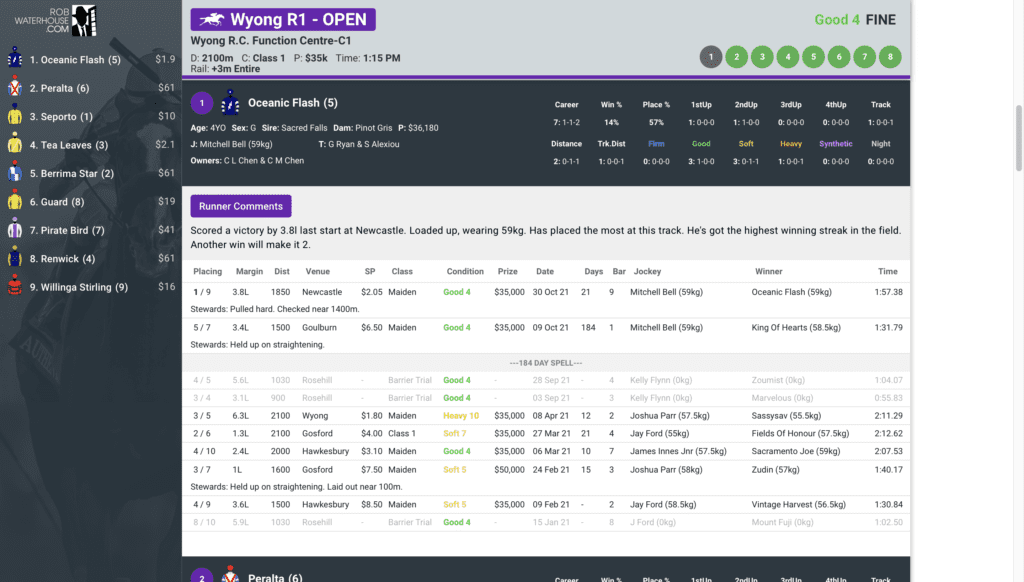 Not only is all the information you need beautifully displayed, but it is so incredibly easy to work your way through that you can find the information you need without any hassle.
Some other full form guides are incredibly bland and can be extremely tiresome.
I've found "the first horse." 
Oceanic flash looked to be the goods from the full form guide.
Placing a bet was pretty easy,
I just clicked the betting price to the right of the horse to add to the betting slip,
Chose how much I wanted to stake, then clicked Place a bet.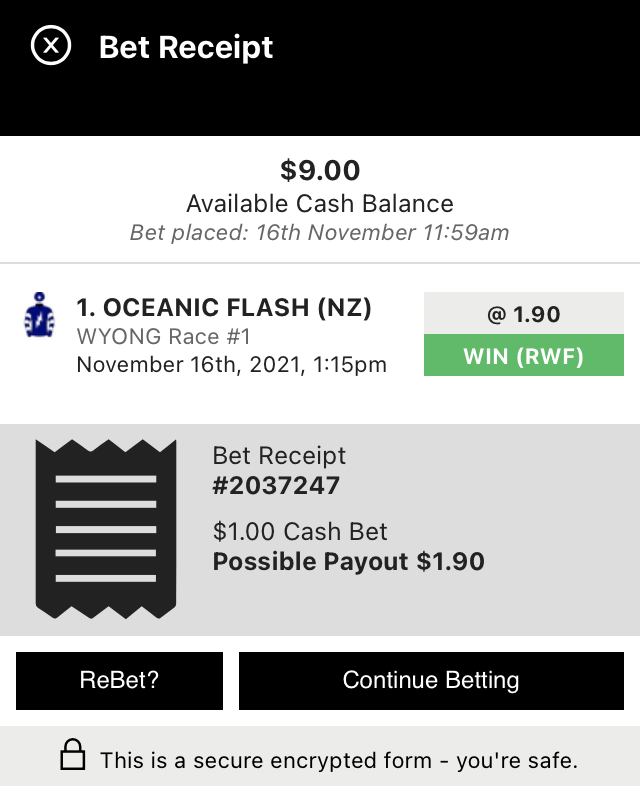 Not betting the whole ten on this one,
I still want to have a tickle.
I won't bother showing each horse, though; that would take forever! 
So how did we go?! 
Hold up… 
Rob Waterhouse has live streaming of the horse races!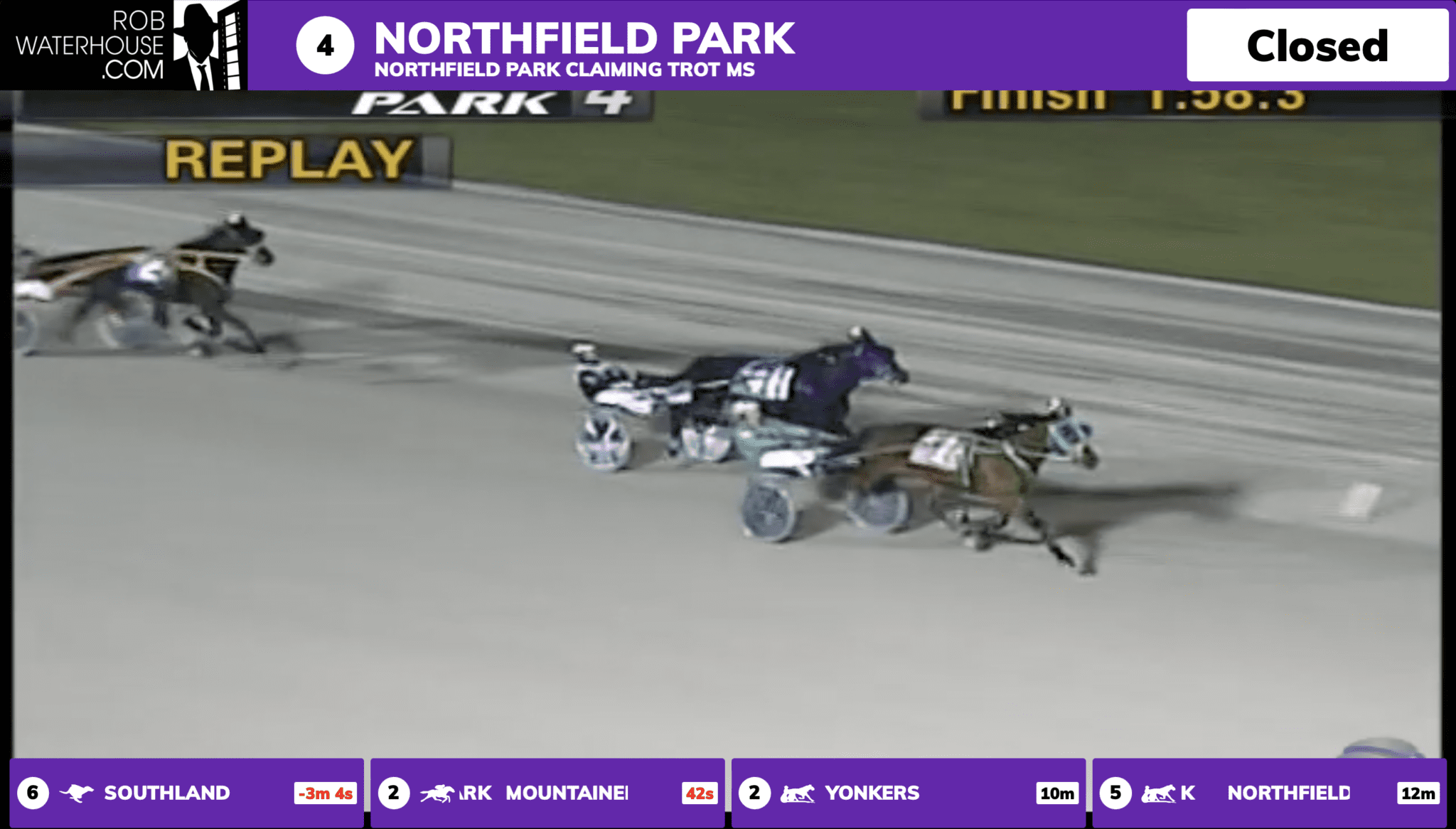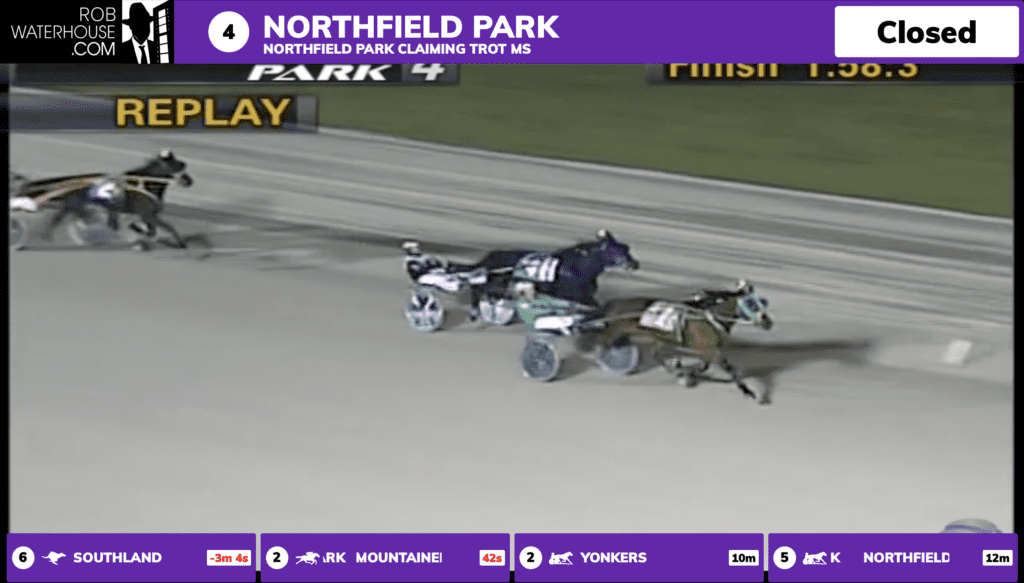 We don't even have to leave the site to watch the race, you little beauty!
How did our horse go? after a very long two minutes.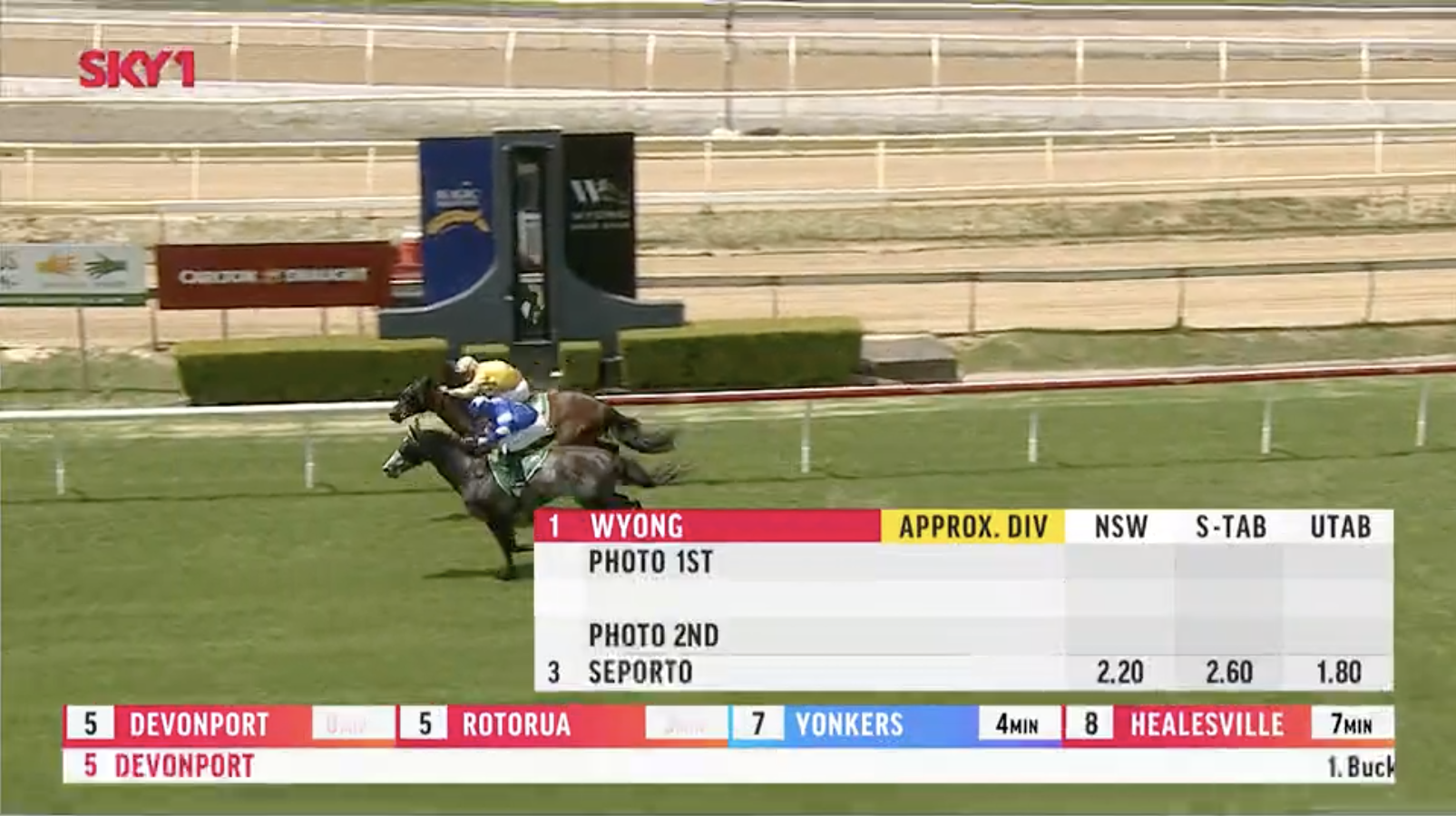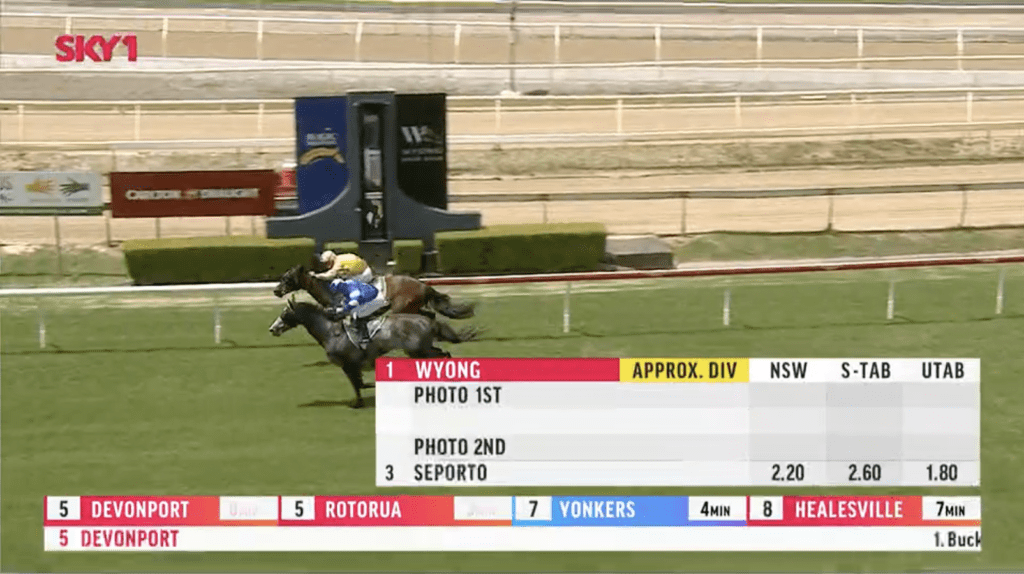 We won! 

A couple of other bets came through for the day but nothing major; I did end up $6 in front, so that's pretty good.
Not exactly a days wage though 😄
Do they have live streaming of any other sports? 
By the looks of things they don't,
However, considering they already have live streaming horse races
It would be safe to assume that live streaming sports are not too far away.
What Sports Are On Offer? 
They don't have a massive selection of sporting events on offer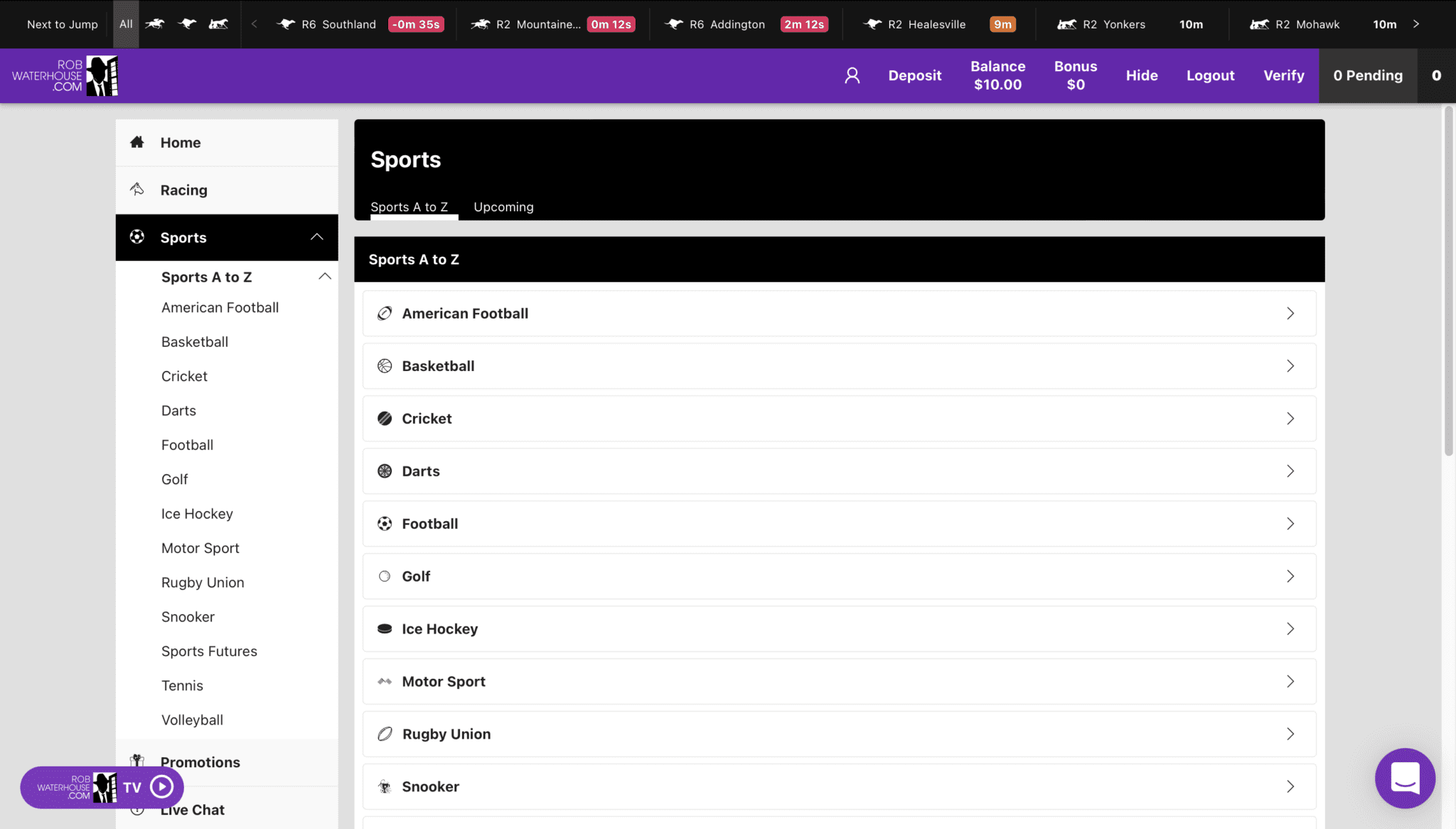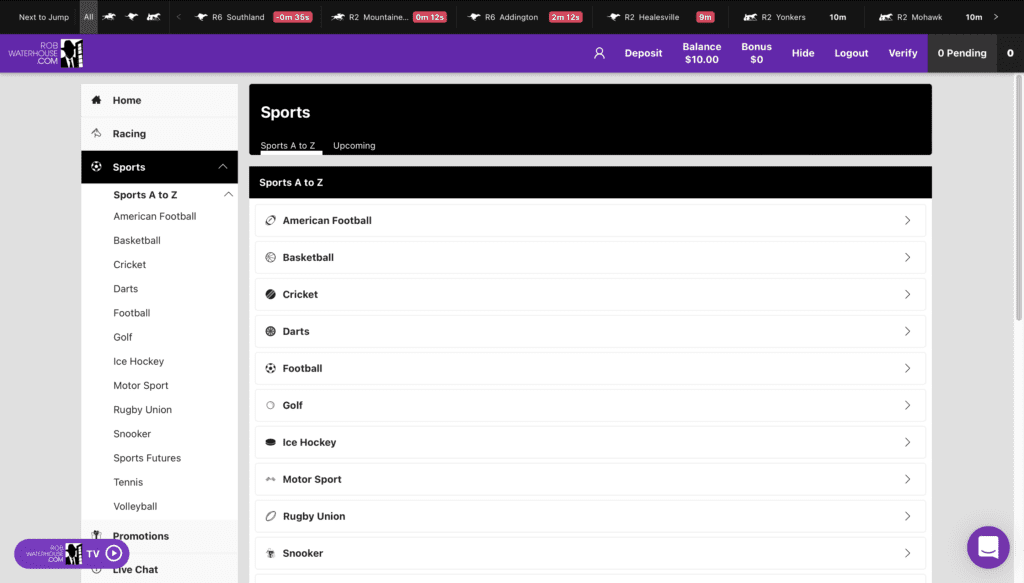 But they do have all the ones you want to bet on.
What's next on the list?
What are their promotions like?
The promotions page is pretty decent!
They offer quite a few different promotions on their page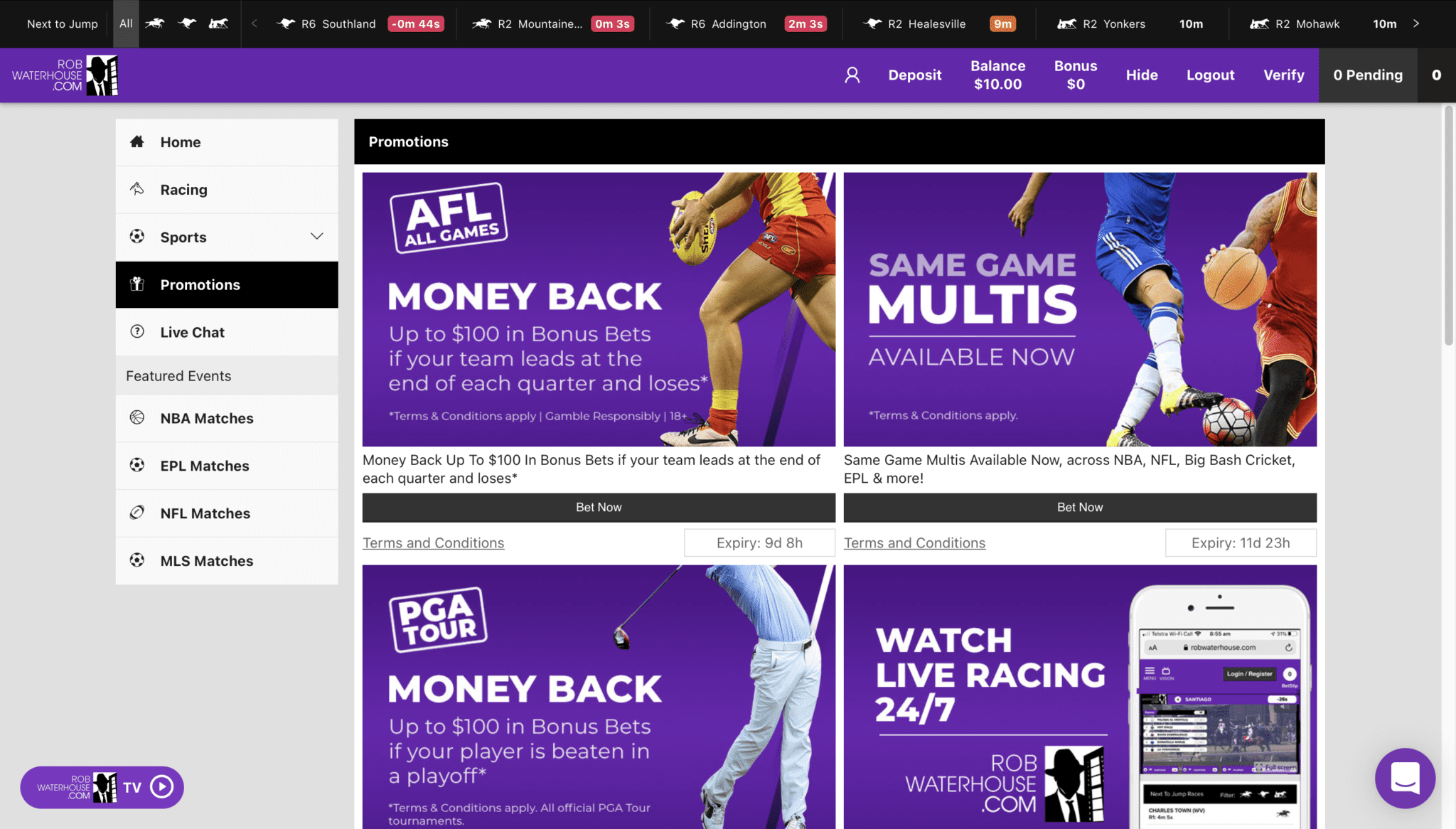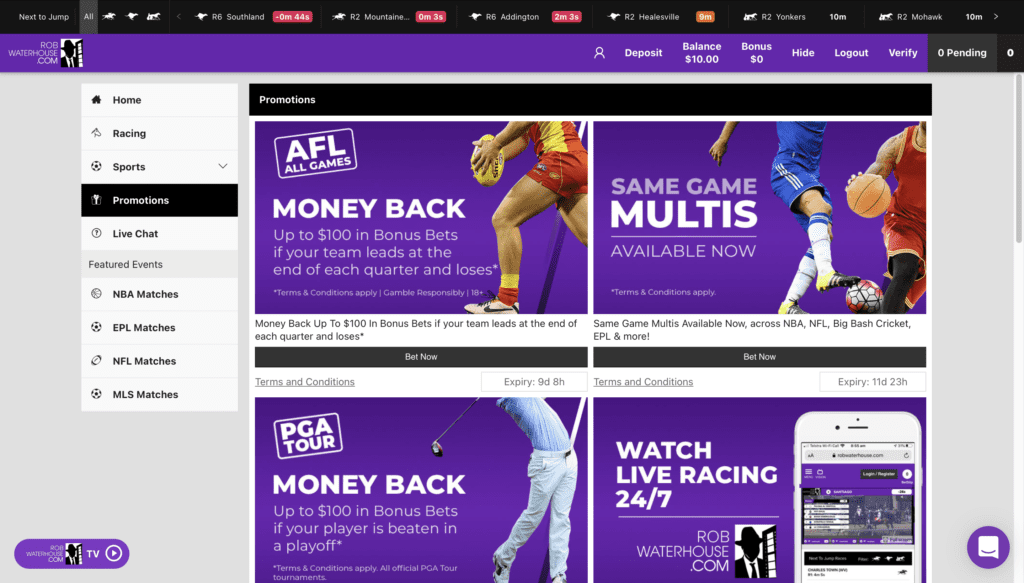 what I like is that some of their promotions are vastly different to other betting sites.
Take their Bump Ups for example
Their take on price boosts offers five of them each day to give you that extra little bit of cash if your horse, grey or harness comes in first.
What about their live chat?
They have a live chat function in the menu on the left and to the bottom right of the screen.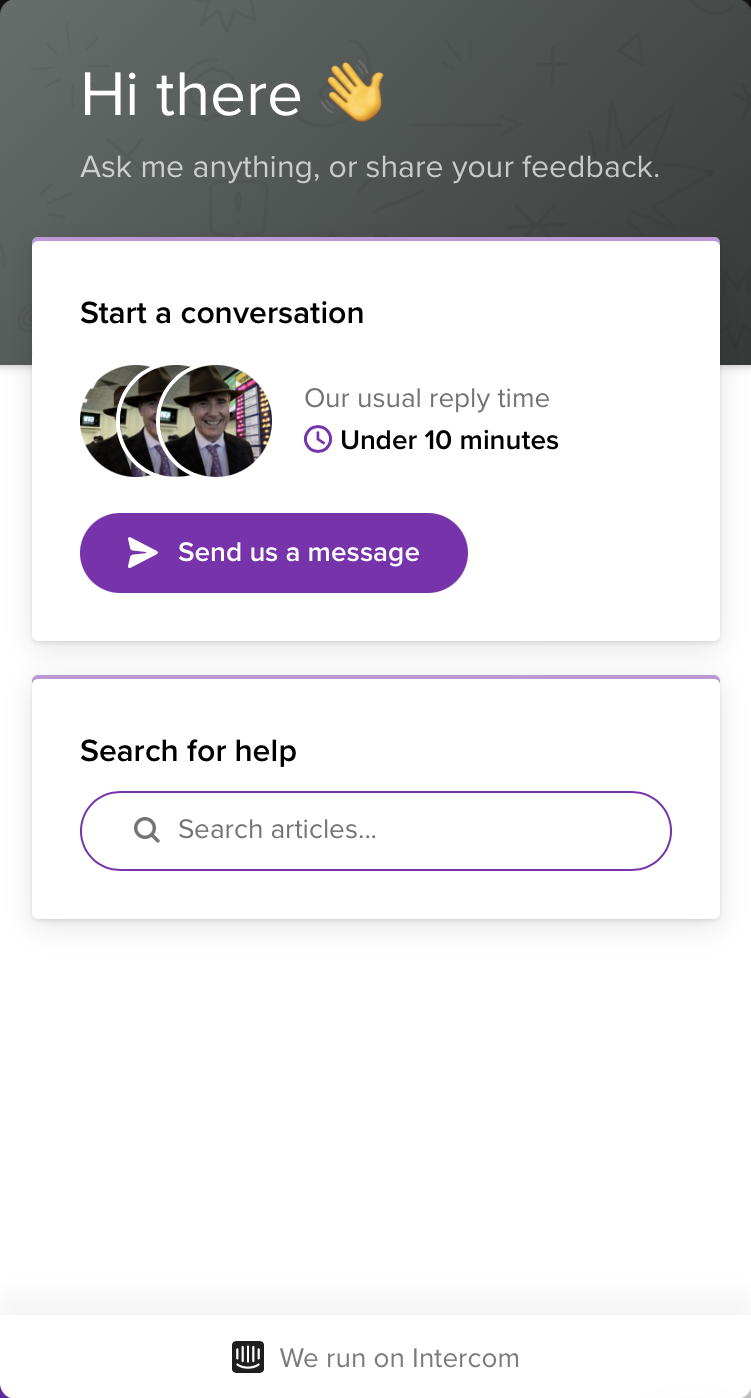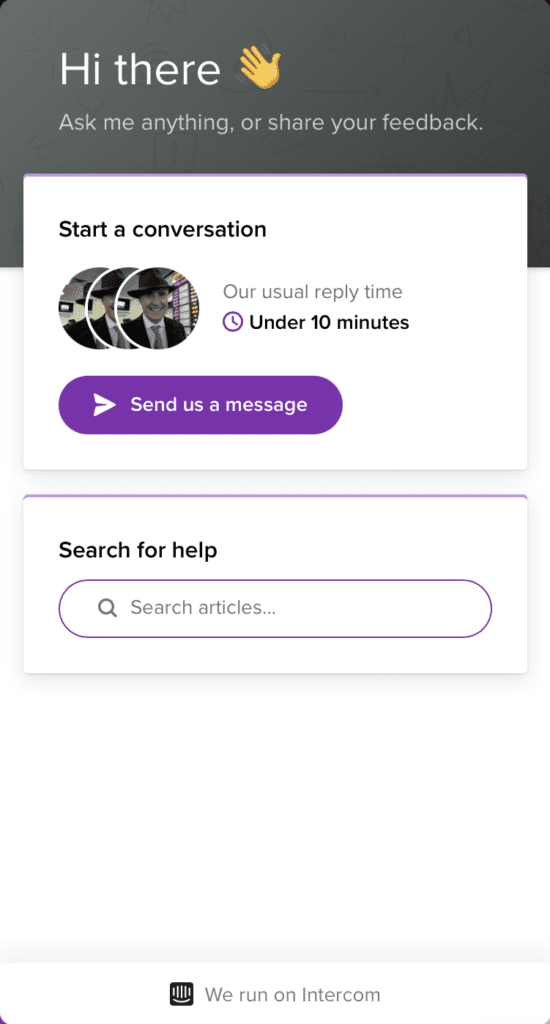 I asked them to write me something completely non-sporting related so that I knew it wasn't a computer replying, and sure enough…
After a little bit of talking, I was sure I was speaking to a live person.
What else is there?
Last on the list is Featured Events
This shows major sporting events upcoming.
Kind of like quick access to AFL, NBA, NRL, or whatever else is in season.
So where's that Promo code?
You remember us promising you a working promo code with no gimmicks, right?
Well, here it is and with proof!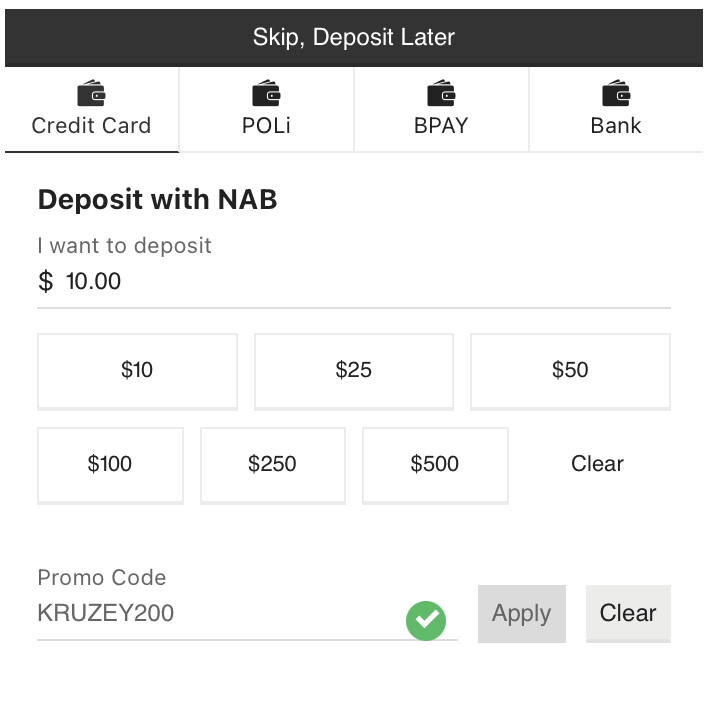 Simply use this link as it should have it already attached, fill in your details in the sign-up and it will process the bonus code into your account.
What do we like about Rob Waterhouse?

Rob Waterhouse is one of our favourite companies for several reasons. First, we adore the fact that Rob Waterhouse is 100 per cent Australian-owned, to begin with!
Live streaming of horse racing is undoubtedly a highlight for bookie sites, so it's great to see that they are hosting live streaming on their site.
What's missing at Rob Waterhouse?
It would be nice if they had something like a bookie bag or toolkit that hosted a bunch of different bonus options.
Rob Waterhouse Highlights

To make the most of their encounter, users may use features provided by Rob Waterhouse. These include:
Rob Waterhouse's TV – Live Racing is offered 24/7 from around the world.
Bump Up – Rob Waterhouse offers five price bumps every day; these can be applied to selected Thoroughbreds, Greyhounds, and Harness meetings.
Promotional offers – For betting, such as free bets or cashback discounts.
Bookies Card – Similar to other betting sites, they have followed suit and released their own bookies card, which allows you to treat it just like a credit card.
Rob Waterhouse Promotions

Rob Waterhouse offers many attractive promos on its site and special offers for existing customers.
They post new promotions very often; unfortunately, you won't be able to see them unless you're a customer; however, this is readily remedied once you've created an account.
It's important to note that Rob Waterhouse updates its special offers regularly, so it's worth checking in now and again to see what specials they have going.
Rob Waterhouse Android App
Downloading the Rob Waterhouse android app was pretty simple, though a bit of a pain because the name is so long!
I like this app because it allows you to enable fingerprint authorization; this is essentially an extra step in ensuring your account is protected!
Designed for the race bettors, it has upcoming racing events directly on the home page.
It's similar to other popular racing or sports apps.
Initially, I couldn't find any of the promotions available on their website, and It turns out you have to click on account down the bottom, then you will find promotions tucked away neatly in there.
It's a pity they weren't easily accessible; most apps these days have them front and centre.
It's simple to locate whatever you're searching for on the app. We were a bit disappointed that there was no speed map in the app. It is, however, ideal if you just want something quick and basic without all of the stuffing found in other apps!
Today we thought we would throw some money at the cricket; we put some cash on the twenty20, the ashes and the WBBL.
We simply picked who we wanted to bet on, how much we wanted to wager, and where we placed our bets. Unfortunately, the results of most of the bets will not be known until later on.
In total, we wagered $30 on ten-dollar bets, but the results have yet to come.
You may discover the link to their app right HERE.
Rob Waterhouse Apple IOS App
The download for the Rob Waterhouse iPhone app was straightforward, although it was a little inconvenient since the name is so long.
Here's the link to get you started.👍
I like this app because it allows you to set up fingerprint authorization, which is essentially an extra precaution for your account!
It's for race bettors, as evidenced by the prominent upcoming racing events displayed right on the homepage.
It's comparable to other popular racing or sports applications.
I couldn't discover any of the discounts on their website at first; however, if you click on account near the bottom, they'll be neatly hidden in there.
It's a shame that they weren't more accessible; most applications these days have them on the homepage.
The app is simple to use. We were a bit disappointed that the app didn't include a speed map. But it's okay if you just want something basic and quick without all of the fluff found in other applications!
We thought we would use the Bump Ups today for the racing.
In total, we wagered $10 on one dollar bets; we won a few and lost a few but ended up slightly up.
Check out the link to their app right HERE.
Rob Waterhouse Mobile Site 
The mobile site is essentially a very simplified version of the desktop website, it gets the job done, but you are far better off using the desktop version or one of the apps; it runs slower (not by much, but I was comparing them side by side).
One thing to note is that the promotions are seated neatly at the bottom of the mobile site, whereas in the apps, you have to go into my account to locate them.
Suggestion: Use the Desktop HERE.
Rob Waterhouse Website

It's a beautiful website, and it has a lot of appealing features. Immediately I noticed the purple scrolling banner at the top, which is very attractively designed!
The colour scheme is white with purple accents. The left-hand side menu is easy to discover, and you do not have to scroll through many pages to locate what you're looking for.
It appears familiar to me because of other bookmaker websites. It's relatively simple and straightforward to understand, much like most of them.
I love that they have a speed map available for the racing on their website, it doesn't appear to be on any other devices, so it was great to see that it appears here.
We decided to throw a chunk on some NFL games today.
We wagered $70 on $10 bets, but the games have not yet started; therefore, we cannot disclose our earnings at this time.
Rob Waterhouse Sign Up New Account

Customers can sign up for a fRob Waterhouse by visiting the website or downloading the mobile app.
Signing up was incredibly simple and took around one minute to complete, easily one of the best sign-ups out there.
I enjoy how Rob Waterhouses allows you to set a restriction on how much money you may deposit at any one time (it will help me save money on a big day out at the races).
Rob Waterhouse Verification Process
Rob Waterhouse will want to verify your identification in light of new anti-laundering rules.
With Green ID verification, you can go about this in the simplest way possible and only need a few minutes to complete.
In a matter of moments, the system recognized my credentials and authenticated me. Finally, I was ready to wager!
The sign-up process required less than a minute for us.
Banking with Rob Waterhouse

Funding Types/Deposit Methods
These include so far: Visa, Mastercard, Bank Transfer, POLi, B-Pay, Cash (via RobWaterhouse's ANZ account.
Withdrawal Options
The minimum withdrawal amount is AU$20. Credit Cards (if CC funds are used for deposit purposes, withdrawals will be returned to the CC of origin), EFT, Internet Bank Transfer.
Betting Markets
It was a bit difficult to tell what sort of betting markets were available on Rob Waterhouse; on average, it appeared that they have around seven markets available for most sports.
Rob Waterhouse Promo Code
Simply sign up using the above referral code KRUZEY200 for RobWaterhouse.com through KRUZEY.
Place promo code KRUZEY200 into the promo code section when placing your first deposit to be eligible for upcoming communications and specials.
RobWaterhouse.com are the latest bookmaker to join the online ranks, with a new betting product worthy of investigation. KRUZEY has provided a one-stop-shop of information on RobWaterhouse.com for the discerning punter.
Before signing up, read through our assessment of the overall RobWaterhouse.com operation, which is outlined below.
Rob Waterhouse Racing Bonus Bets
Originally, Rob Waterhouse offered bonus bets to customers who sign up using the KRUZEY200 bonus code; this is a fantastic bonus code offering up to $200 in bonus bets to new customers.
Not sure if it still applies to new or existing customers, but it's definitely worth giving a shot!
Rob Waterhouse Horse Racing Markets
Rob Waterhouse offers numerous horse racing markets where you may wager. So whether you're looking for a multi-horse accumulator or a single-horse bet, they offer the finest in Australian horse racing to get stuck into.
Rob Waterhouse Odds
The Buy Bet feature, as with all bookies, is available through Rob Waterhouse. You may wager on any runner in the race using this option.
This is completely free, and Rob Waterhouse will wait until the corresponding horse has begun running before your bet is locked into the market. There are also some extra perks available following specific races… so be sure to visit their site for all of these special deals!
Bonus Bet With Rob Waterhouse
Originally, customers who joined up with the KRUZEY200 BONUS CODE receive up to $200 as a boost in their first deposit, which is a fantastic incentive. Not sure if it's still available for new for existing clients, but it's worth giving a go!
Rob Waterhouse Contact & Customer Service
Rob Waterhouse has a very simplified and new-age style of contact; they simply have an email address and live chat, nothing fancy, just enough to get the job done.
EMAIL: info@robwaterhouse.com
Live Chat: Found on both the desktop and app
Rob Waterhouse Rules
Rob Waterhouse, like all Bookmakers, has a legal responsibility to adhere to retain its license. You also must follow the Terms and Conditions as a punter. You can locate the link to the terms and conditions on their homepage HERE. 
 Gamble Responsibly
Stay in control, gamble responsibly, and think about your decisions. Consider how you may make different decisions. Call gambling help on 1800 858 858 24/7 or go to their website gamblinghelponline.org.au if you believe you have a gambling addiction or are beginning to make poor decisions.
Rob Waterhouse Review Conclusion
Overall, they are a fantastic bookmaker; I had no issues with using them and enjoyed the experience more than many other bookmakers.  The Rob Waterhouse design is simple to use and lacks clutter. It looks the same on a computer screen or a phone. It's not as full-on as some other apps, but it has a lot of functionality.
To many people, the fact that it is an Australian firm might be appealing. There are a lot of sports to choose from, with better chances and bonuses, which make for a lucrative offer.
There are not a lot of features missing on the Rob Waterhouse betting site.
For those wishing to gamble with one of the best Australian bookie sites, Rob Waterhouse is a name to remember.
FAQs 
What is Rob Waterhouse? 
Rob Waterhouse is a wholly Australian-owned online bookmaker and sports betting firm. They have several unique betting markets on most sports and sporting events. They also live stream races, as well as Futures bets.
Who owns Rob Waterhouse? 
Rob Waterhouse is an Australian-owned and managed sportsbook, and Rob Waterhouse himself has worked as an on-course bookmaker since he was 18 years old. Racing NSW and the NSW Office of Liquor, Gaming, and Racing have granted Robwaterhouse.com a license.
Is there a Rob Waterhouse app?
The Rob Waterhouse mobile app may be used on Android, iOS, and iPad. The application is simple to use and has numerous features that allow you to have fun with horse racing online, from examining the odds of horses in a race to placing a wager all from your phone.
If you have an iPhone or Android device, download the app on either of those platforms by going to their website. 
Does Rob Waterhouse have Live Racing?
Yes, RobWaterhouse.com has its own dedicated TV channel – click on the 'Vision' icon. However, there are no clear instructions on how it works (the actual pop-up screen that is), nor what coverage is included. Perhaps an additional FAQ page on this would be a good idea.
Is Rob Waterhouse legit?
Yes, Australian gambling laws are stringent, and Rob Waterhouse is licensed and regulated by Racing NSW.
So this means that I can gamble legally with Rob Waterhouse?
Yes. You may gamble on Rob Waterhouse from Australia or New Zealand and remain legal and safe. However, if you reside in any other country, it is illegal to create an account and wager with Rob Waterhouse.
Mr Waterhouse's transparency in Australian racing is unquestioned, and he and his team are fully authorized by Racing NSW, ensuring that all financial information supplied is correct. Otherwise, they may lose their licence.
Are there any downsides?
Not really, it would be better if they had more depositing options, but realistically, they have all the options you need anyway.
Is Rob Waterhouse legal in Australia?
Yes, Rob Waterhouse is registered with the Australian Securities and Investments Commission (ASIC) and is legal in Australia.
They comply with Australian financial regulations and do not participate in any illegal activities. Rob Waterhouse is a licensed bookmaker in Australia, proudly displaying its registration under Australian legislation on his website. This demonstrates that Rob Waterhouse fully abides by all local standards.
Does Rob Waterhouse offer same game multis?
Yes, Rob Waterhouse do offer same game multis. They also provide a variety of promotions that are updated regularly. As a result, it's a good idea to periodically check their website to ensure you're getting the most significant betting opportunities when you bet money on the line.
Who are RobWaterhouse.com?
The Waterhouse name does not need any introduction when the Australian racing and betting industries are discussed. The catalyst for this business is Rob (Robbie) Waterhouse, son of the legendary bookmaker the late Bill Waterhouse, husband of Gai Waterhouse (née Smith, daughter of another Aussie racing legend in Tommy (T. J) Smith), and father of fellow racing pundit and former bookie Tom Waterhouse.
The Waterhouse name has been through the highs and lows of both industries; needless to say; they don't need repeating here. Interestingly, the reasoning for jumping into the online betting game when it is in such turmoil, combined with the downturn in the betting market and the cancellation of many of the top sporting codes, including lucrative horse race meetings the world over.
Regardless, we welcome another entrant into the Australian online betting arena, but as you'll read further down this page, there's still lots of work to do on the platform.
Quick Links
All Aussie Betting Sites Best Sports Betting Sites eSports Betting Sites Australia