Hey Punters!
Word on the street is you're looking for a Neds Code?
Don't stress; I've been down that road plenty of times, and I do mean PLENTY!
Here's the thing…
Referral codes don't usually work anymore since they changed the laws.
Good News is,
Ours does!
Before we jump into that though, let's see what they're all about!
Keep scrolling to read our review,
The Sign-Up Process: 
I typed Neds betting into Google and found a bunch of ads at the top before any actual pages, thankfully the Neds betting site was first on the list after the ads.
to save you the drama of finding the site I've added the homepage here for you 😉
The signup process was pretty simple,
They hardly asked for any details and it took roughly 2 minutes to get myself up and running.
It looks like they use GreenID because I didn't have to verify anything manually and it did everything for me.
BIG TICK!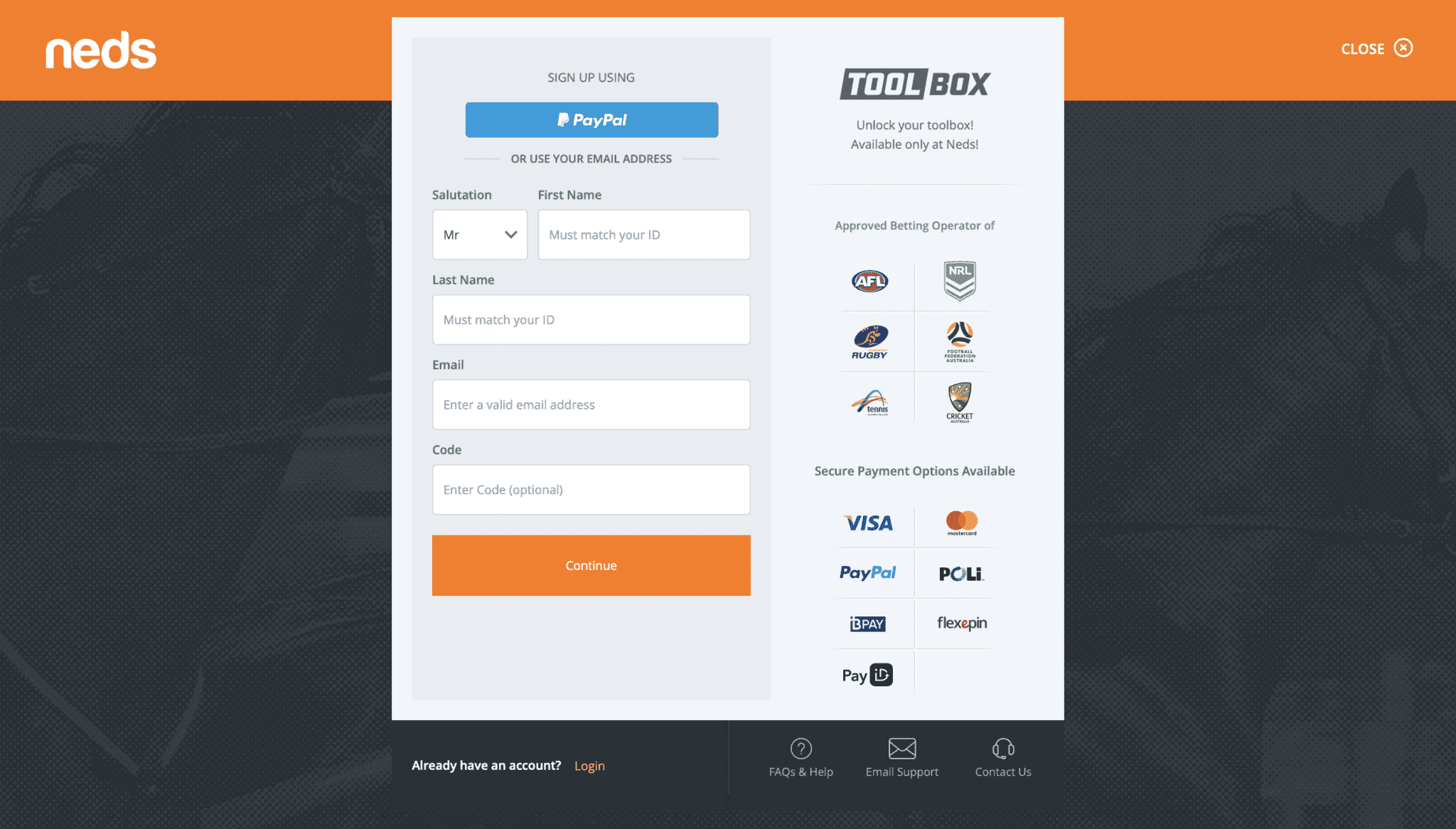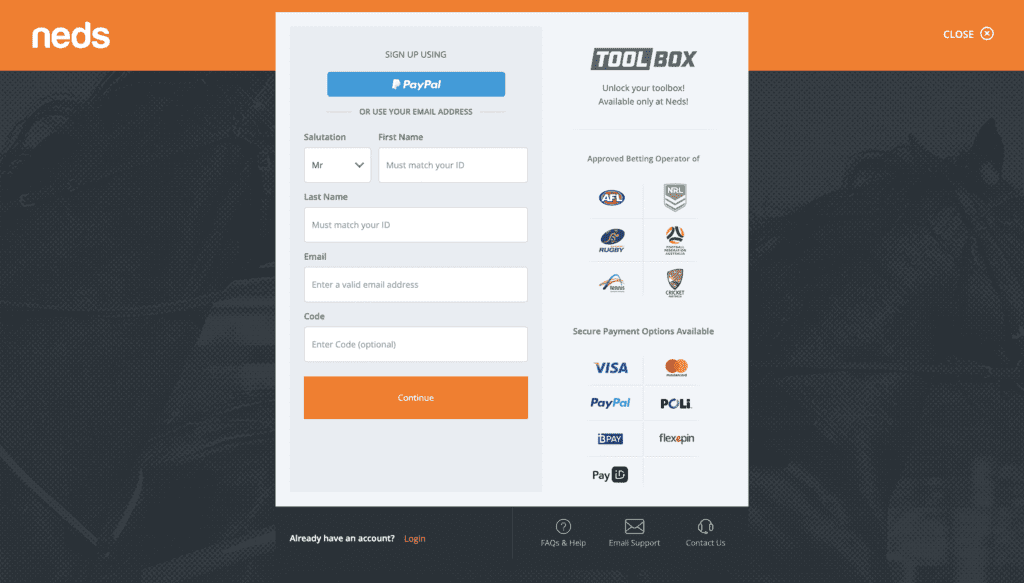 When I got to the third page (final page) it also wanted me to set a deposit limit.
I thought this was pretty cool considering I had to actually stop and think rather than do the whole "She'll be right attitude" I usually have.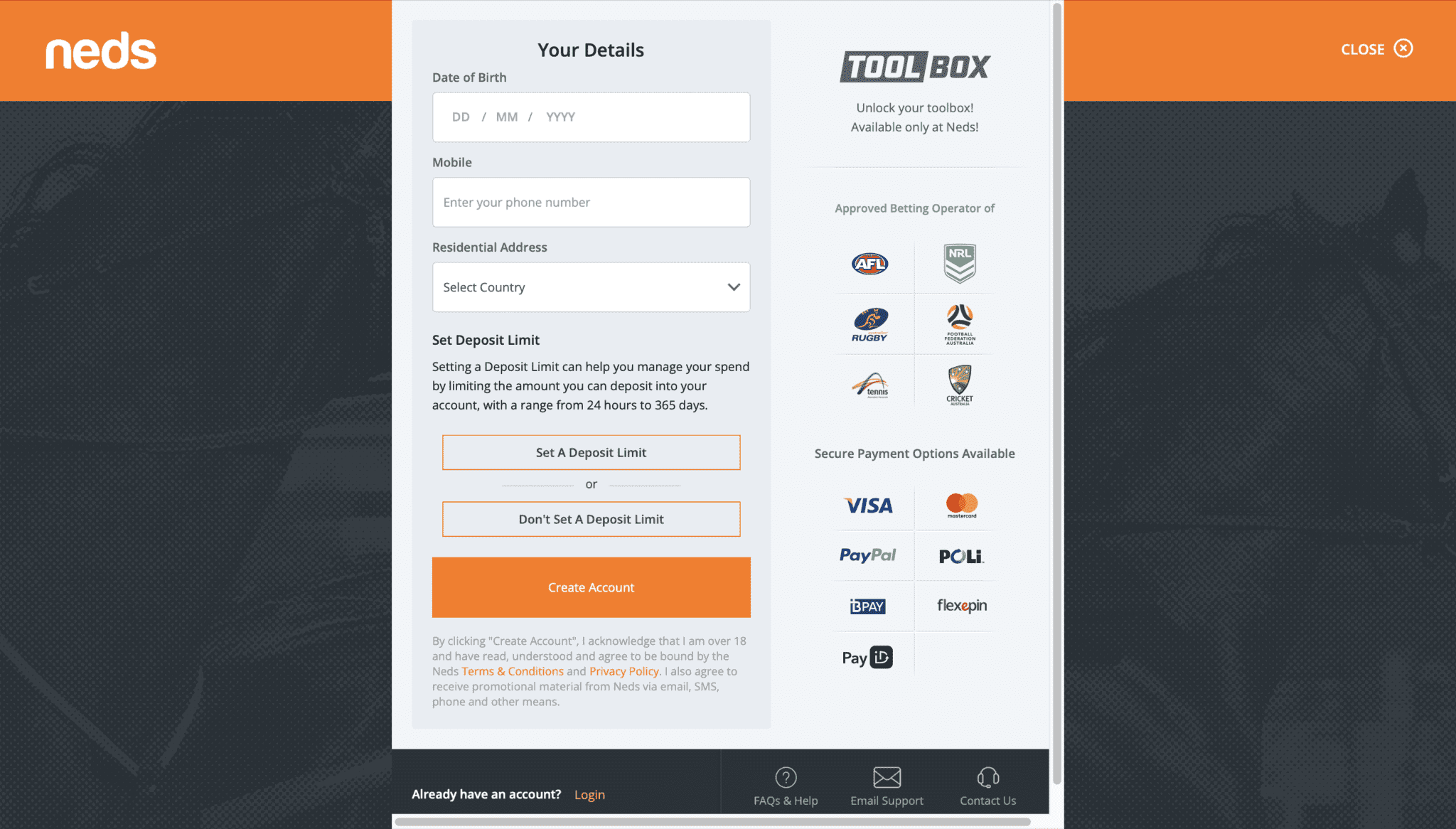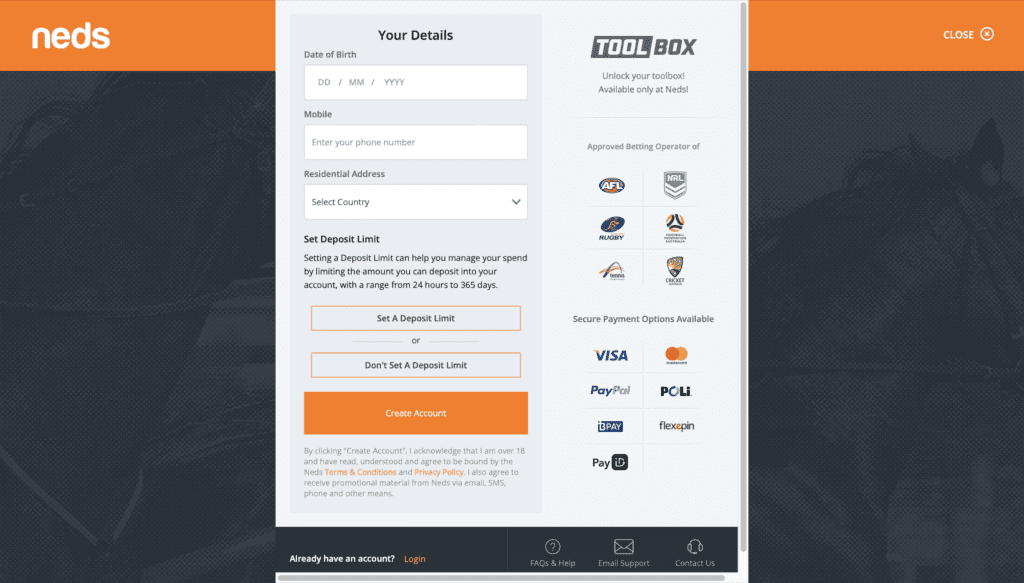 Now that's all sorted it's time to toss some money into the pot!
Making A Deposit
There's a handy little deposit button right in the top menu, so I just clicked on that and it brought me right into the deposit screen.
It's great to see such a range of deposit options available
some other sites only have a couple
from what I can tell there are nine different payment options.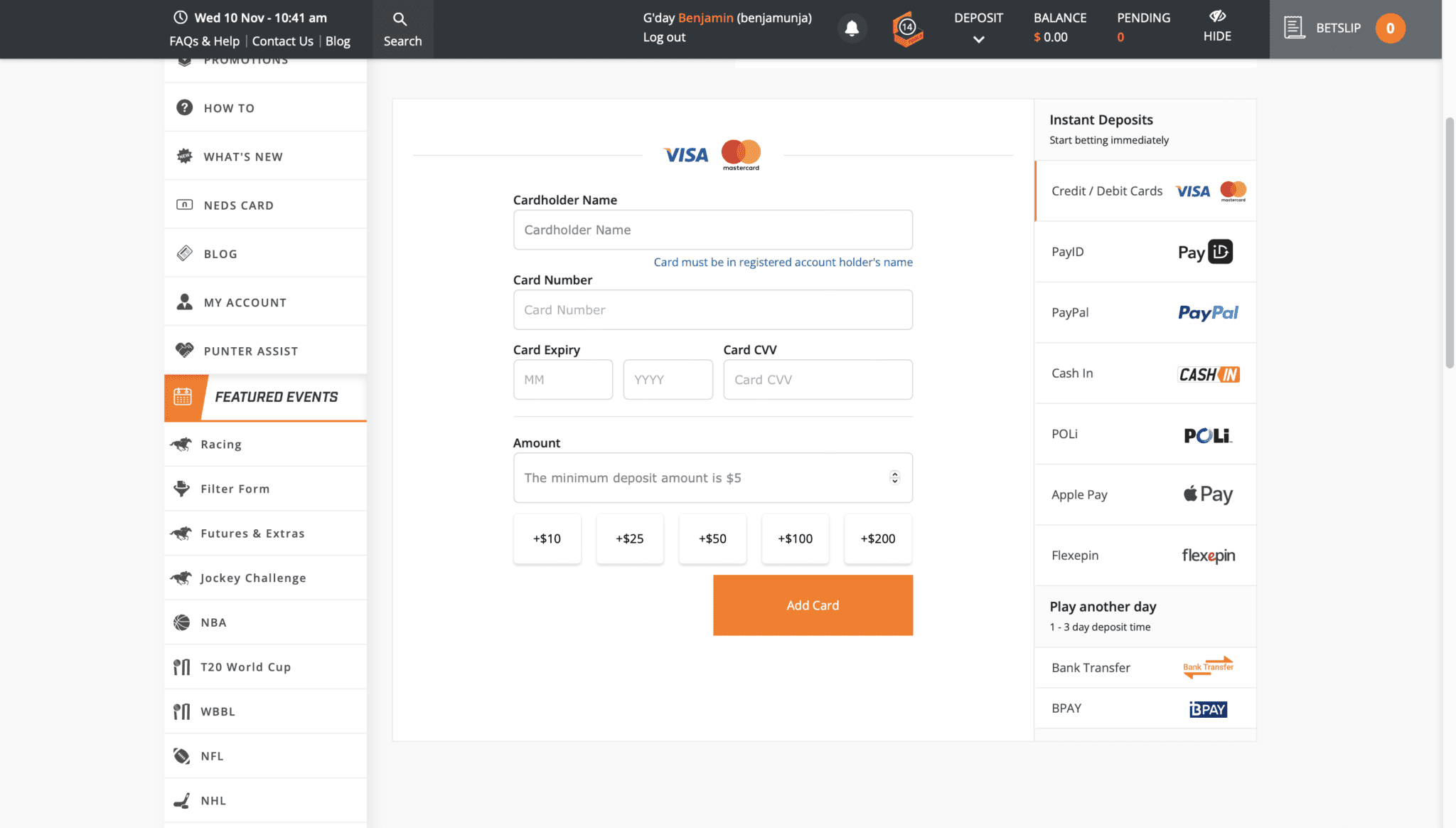 I'm using my credit card because that's what I always use.
Not spending massive today, just a simple $10 for the review 😂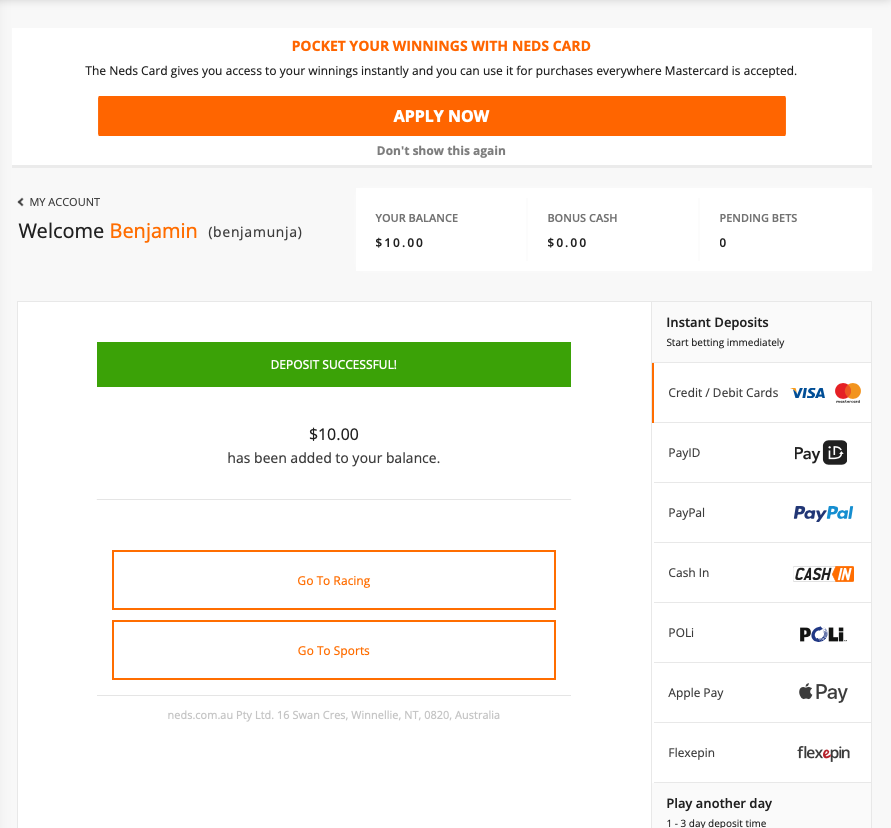 Once I sorted out the details it took less than a minute and the money was in my account.
Gotta love a fast transaction!
What's This Neds Toolbox?
The little orange box at the top of the screen had been screaming at me since I joined.
Turns out this is the Neds Toolbox!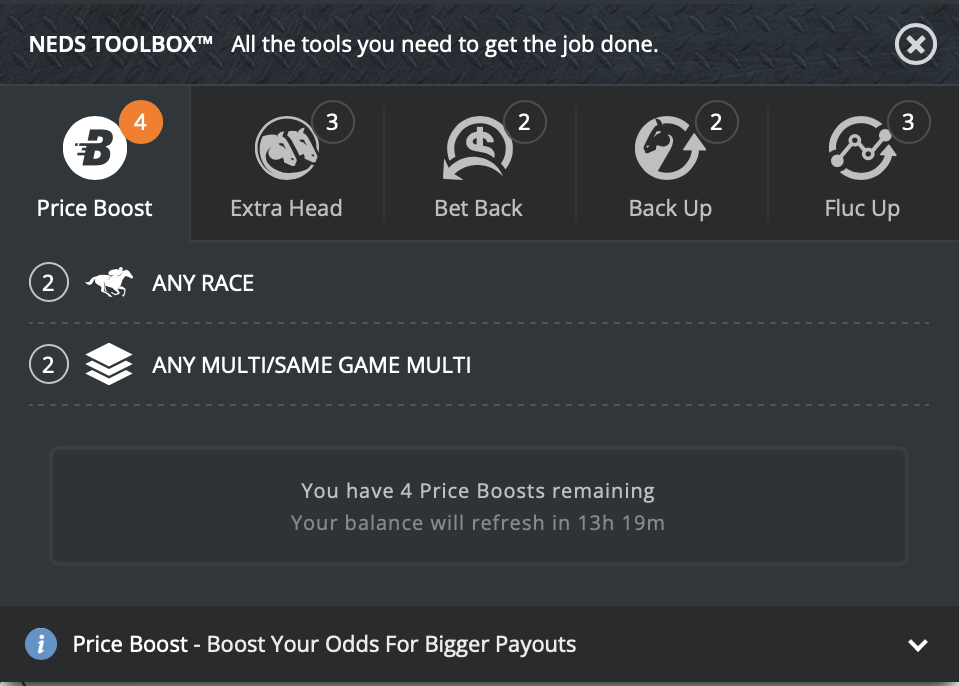 What's the Neds toolbox you ask?
It's basically somewhere that houses all your bonuses,
These refresh daily so you always have a bunch of bonuses each day to use to your advantage.
Not, gonna lie… I really like what I see so far!
Enough of the extras, let's have a look at the layout, shall we?
How Is The Layout?
The layout is pretty simple really, white on grey with orange highlights.
All upcoming races are featured on the homepage but everything you need is found in the sidebar.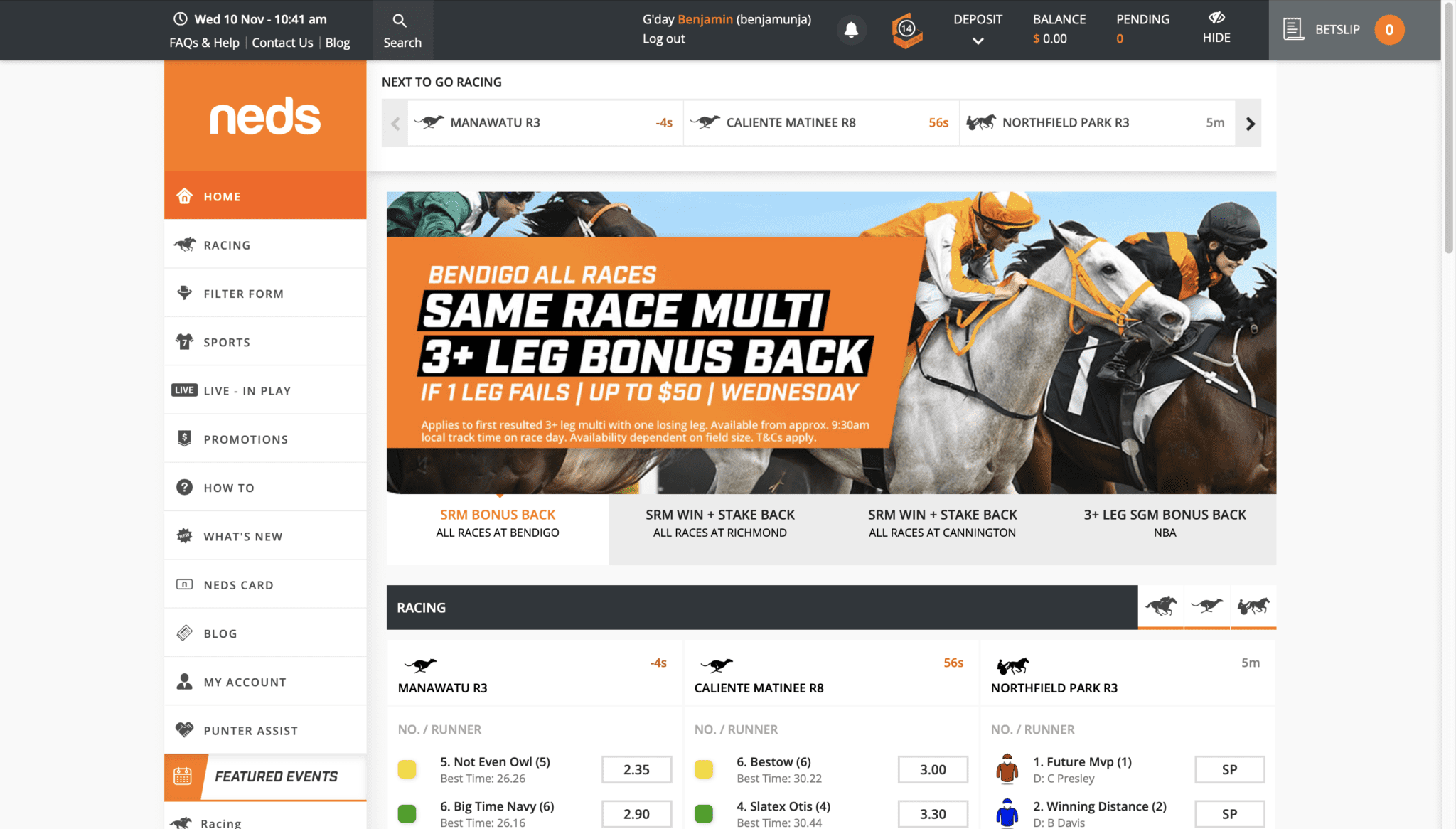 I actually love their sidebar, other Australian betting sites can get confusing looking for areas you need
Neds approach is so much better, my favourite home screen for a bookie so far.
Let's get onto a race.
The Racing Menu
Straight off the bat, the Neds racing page is clean and simple.
I really like that they have the option to select between horses, dish lickers, and harness
All the races for Australia, New Zealand, and Hong Kong are displayed front and centre with the rest of the world in its own box below.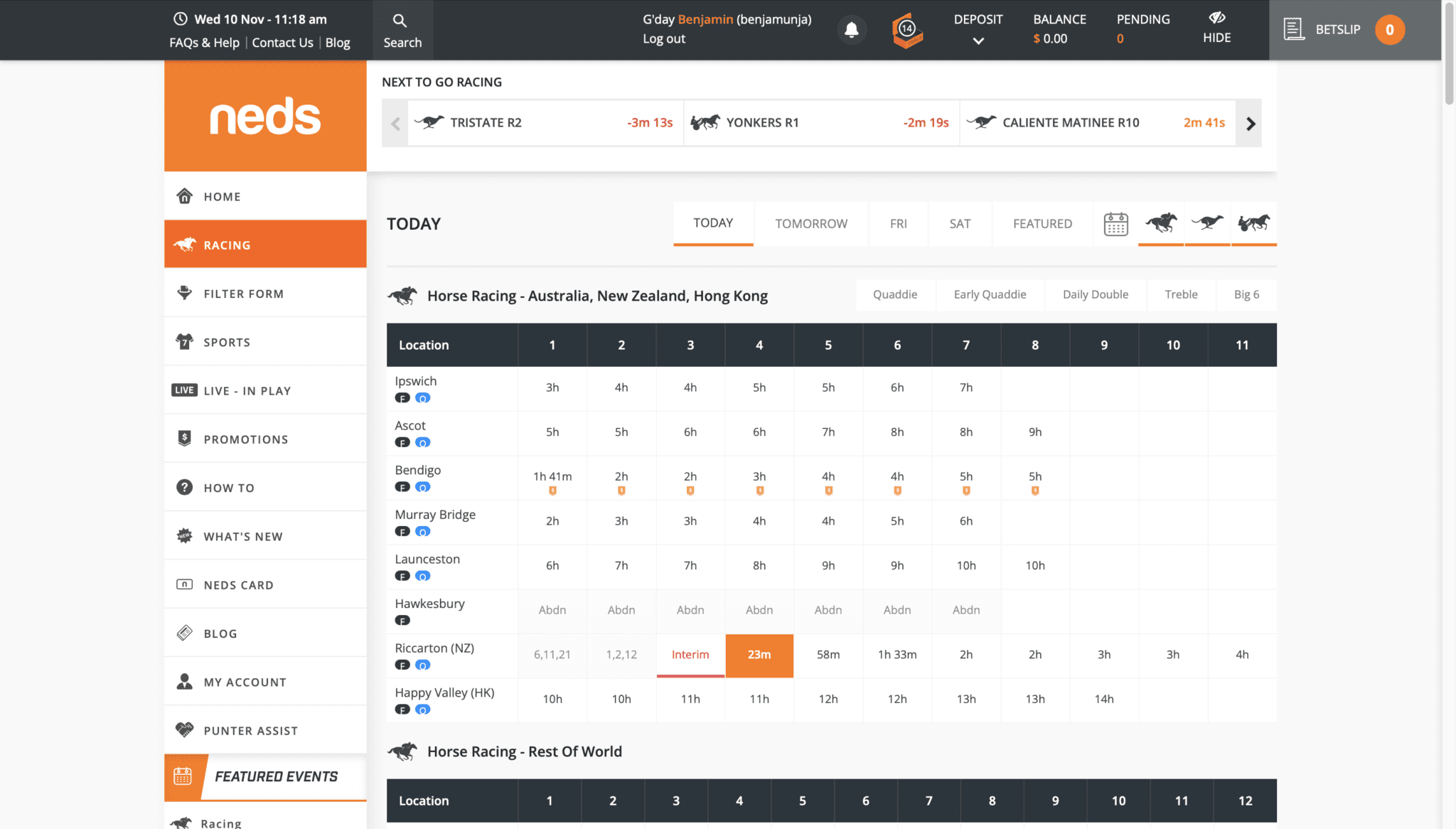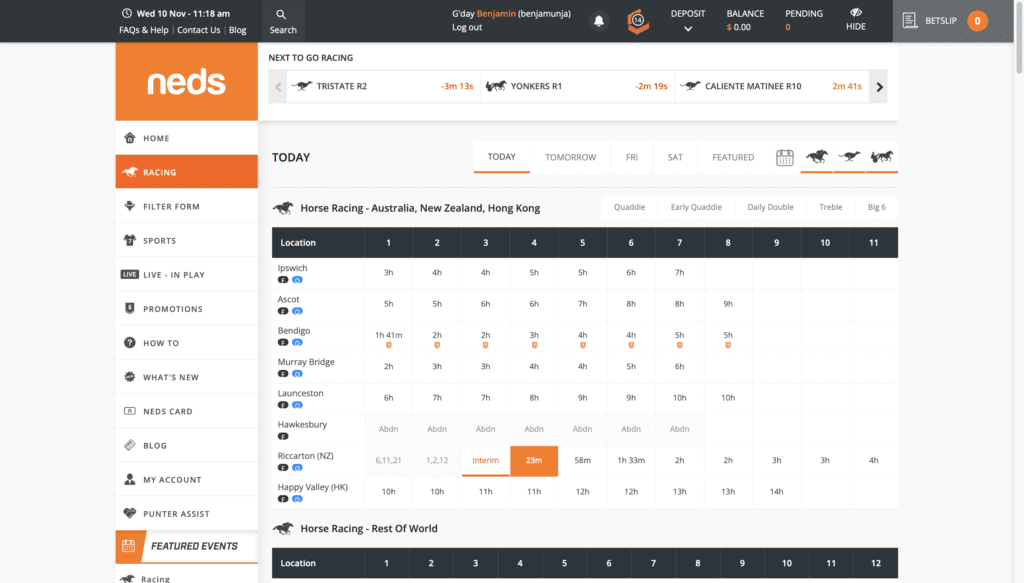 Something that really caught my attention is the little gold medals under some races,
these are for bonus backs.
pretty handy to see them on the main page.
Under the race track, there are some other small icons that show if a meeting has fixed odds and also if there is a quaddie available.
Let's place a bet!
Placing a bet
Jumping into the races I've found my first race!
Checking out the full form guide it appears they share the same full form guide as Ladbrokes.
I've found my horse!
As a slight roughie, All Paid Up looks to be a decent shot with some nice stats,
As a safety net, I'm going to pop a bonus back on the favourite just in case.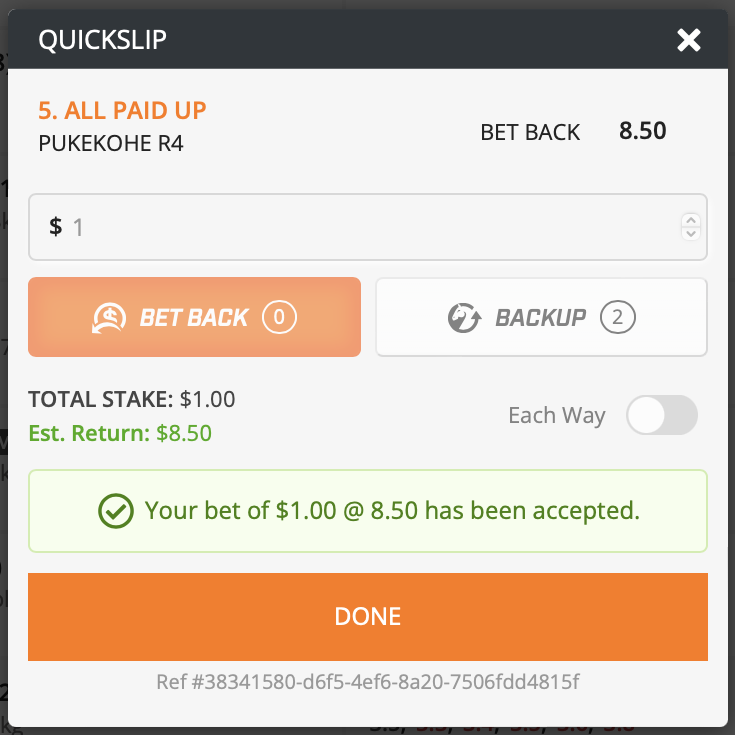 Just a dollar on the nose as there are a few more races I like the look of.
So how did I go?
Well, let's just say it pays to have a safety net sometimes!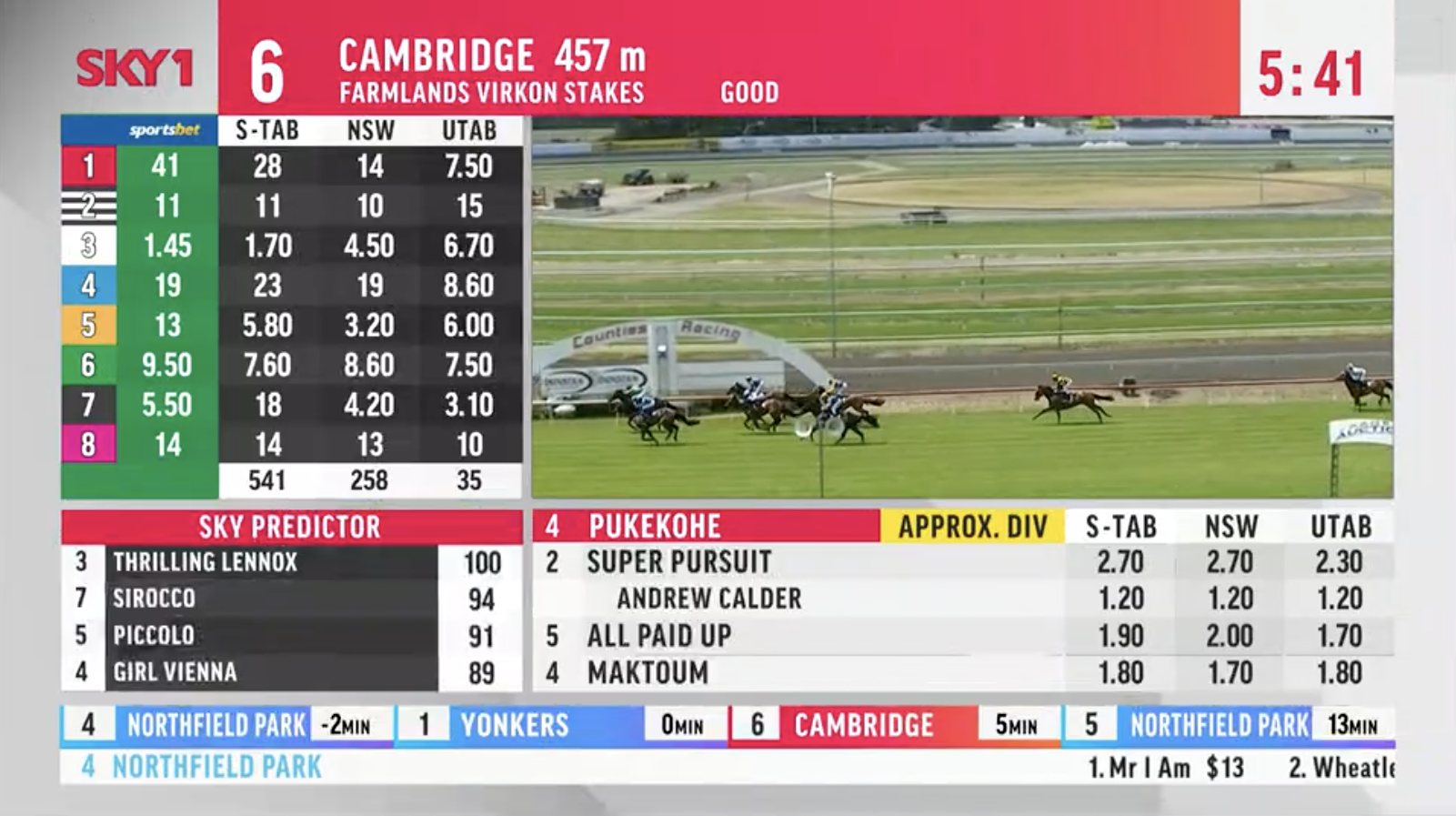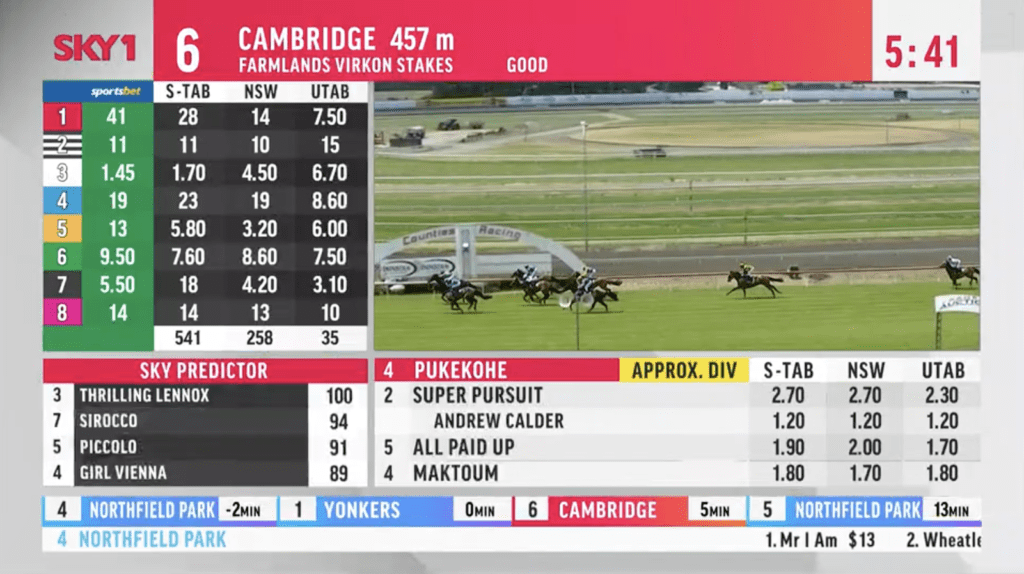 All Paid Up came second to Super Pursuit, however thanks to my bonus I ended up winning twice with a return of $4.20!

Before I forget, placing a bet was one of the simplest ways I have come across so far, seamless and incredibly quick!
Now that I've sorted out my races for the day, let's check out the rest of the sidebar.
Let's start with the filter form as that is straight under the racing tab.
What Neds Filter Form? 
This has got to be one of the best things in racing!
To put it simply, the filter form is a filter system for the races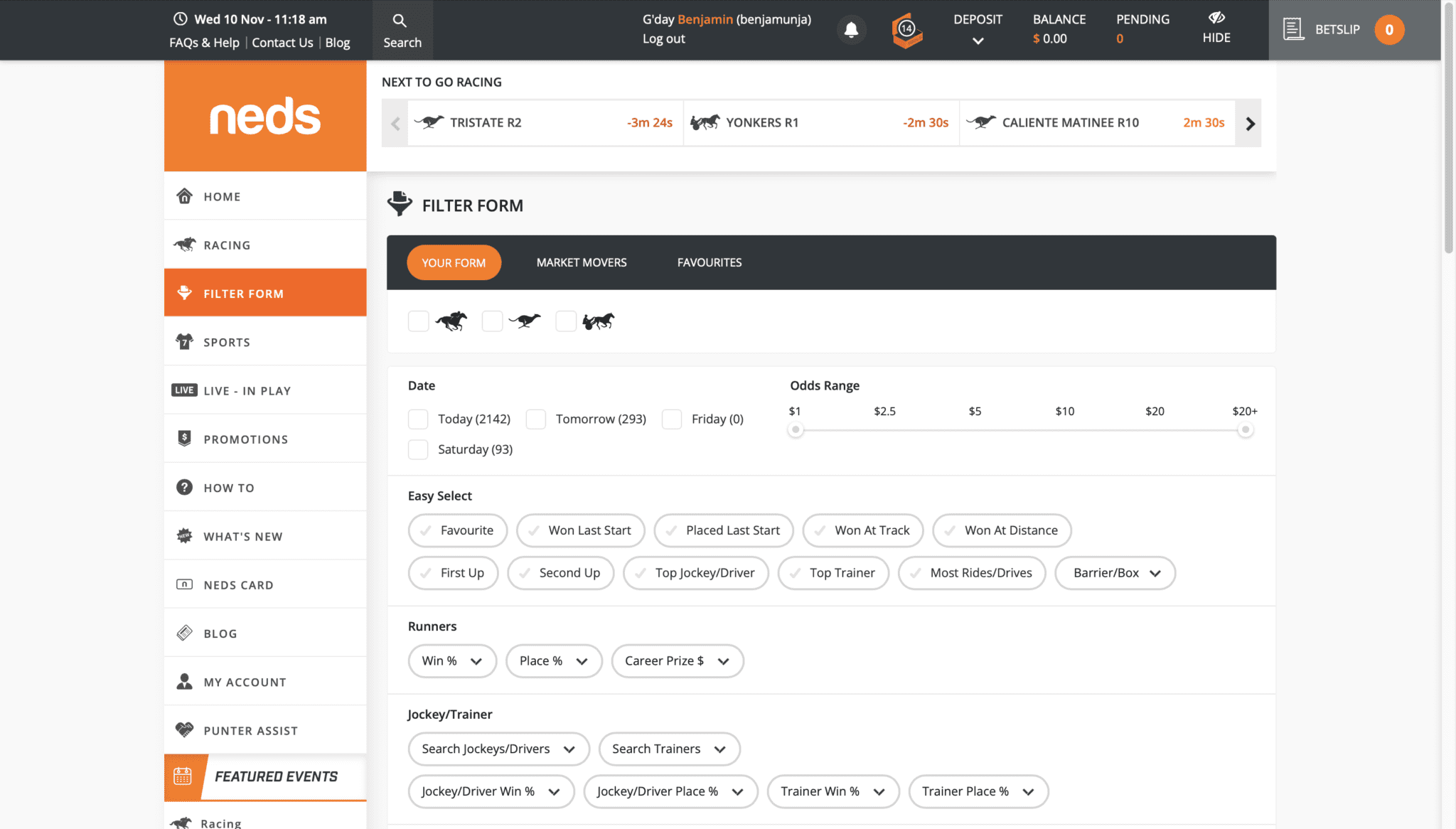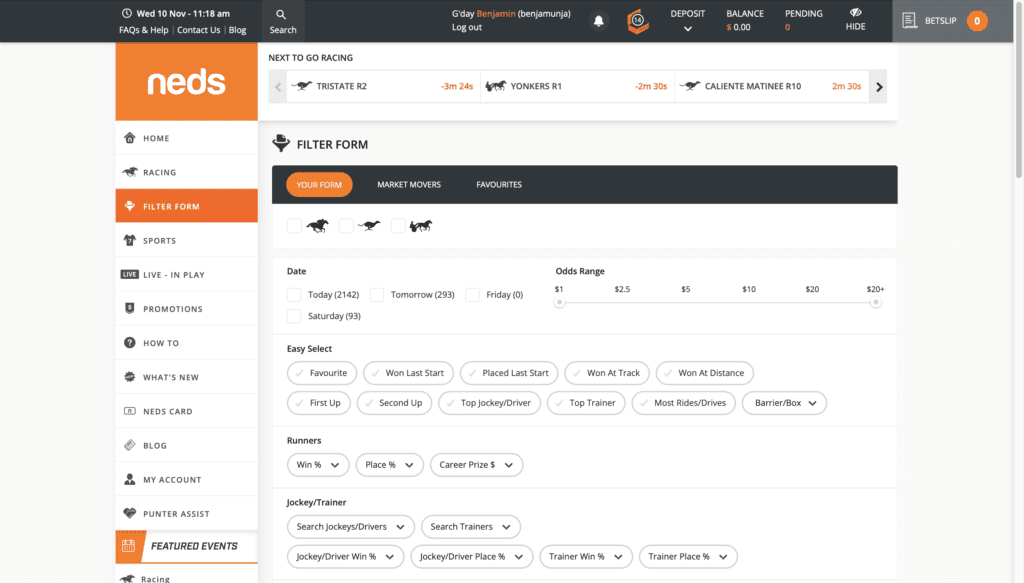 Once I had clicked a few different options, it then showed a list of all the horses that included those options,
you could basically use this all day and by clicking the right tabs you would increase your odds dramatically!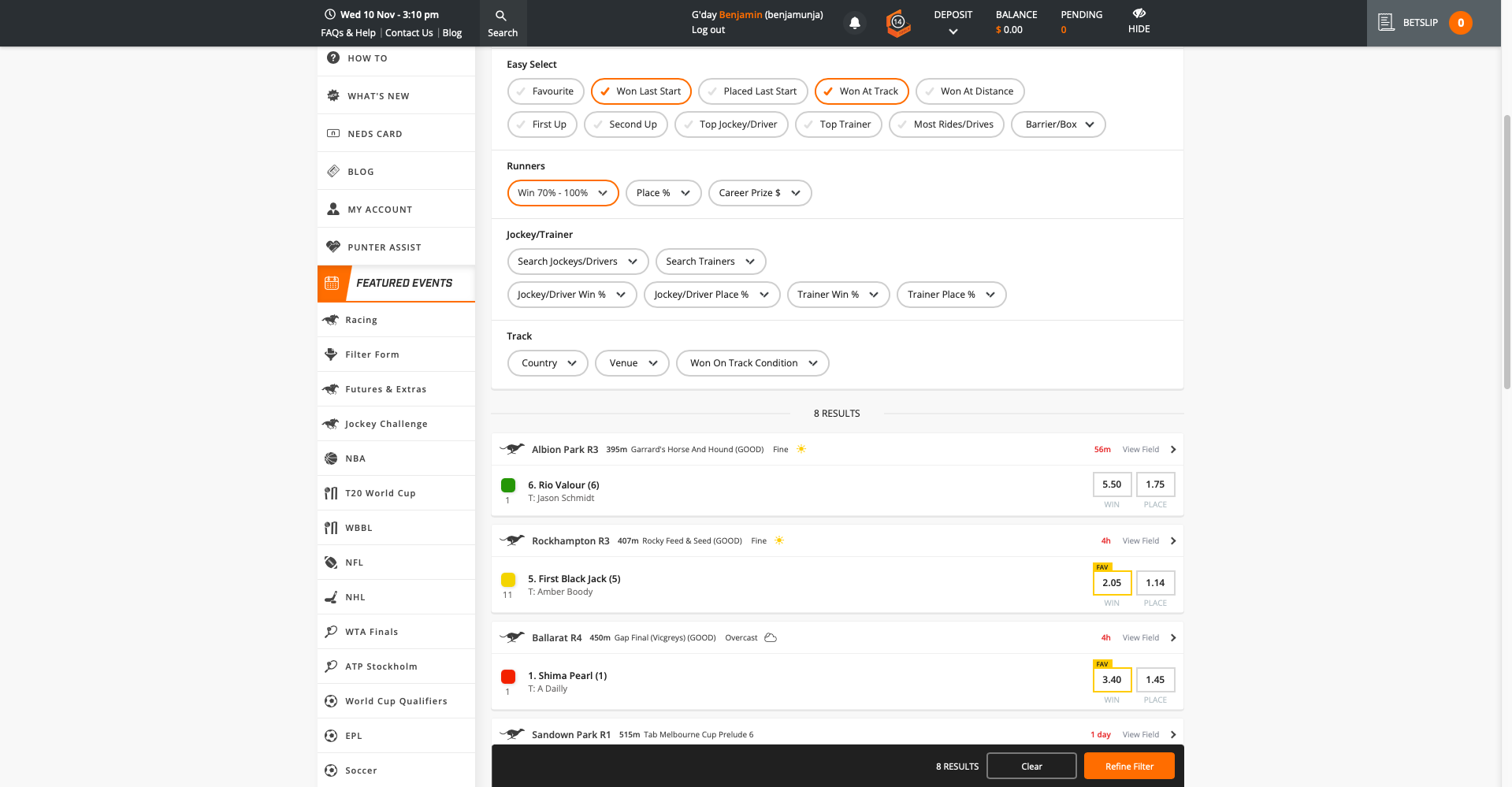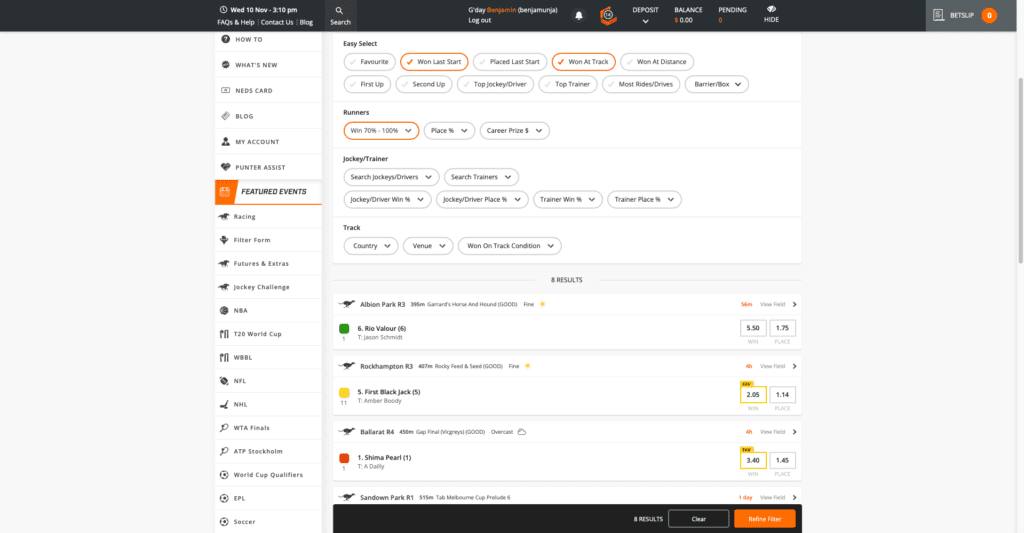 This has to be the best betting site feature Neds has to offer.
simply because of this I will be using them weekly!
Unfortunately, this option isn't available for sports, let's see what they do have.
What Sports Are On Offer? 
The sports section is pretty cool,
they have all the sports available in the section at the top.
this is followed by a NEXT SPORTS section
which is then followed by FEATURED SPORTS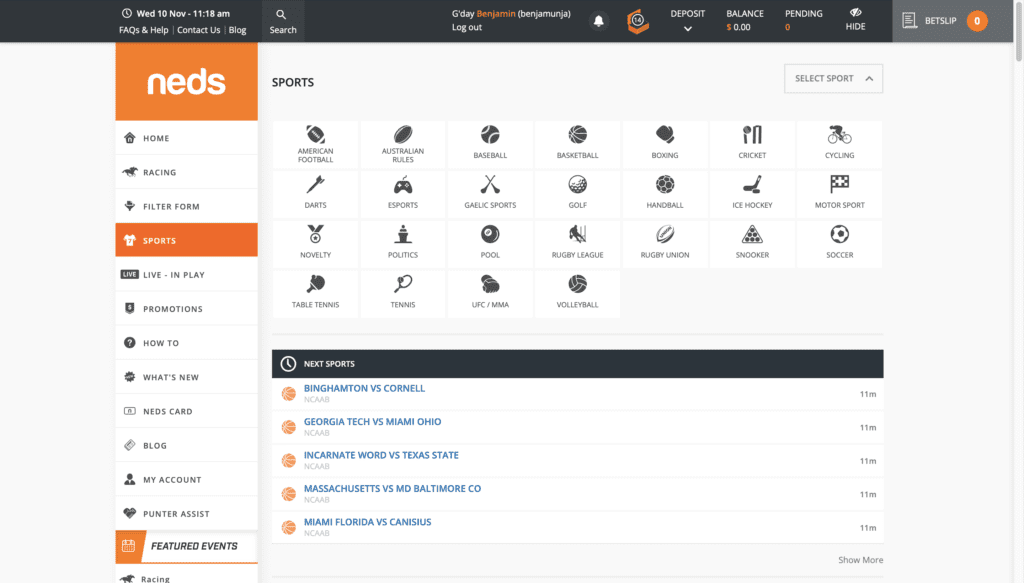 All of the big sports are in the mix.
It's good to see some of the minor sports making a show as well, you don't see Handball and Gaelic Sports too often at bookmakers.
They have a pretty decent range of markets for the sports as well,
not as many markets as some of the others but still pretty decent all the same.
on to the Live In-Play section.
Neds Live – In-Play
Live In-Play is a feature of Neds that allows you to place a wager on available sporting events while the event is being played.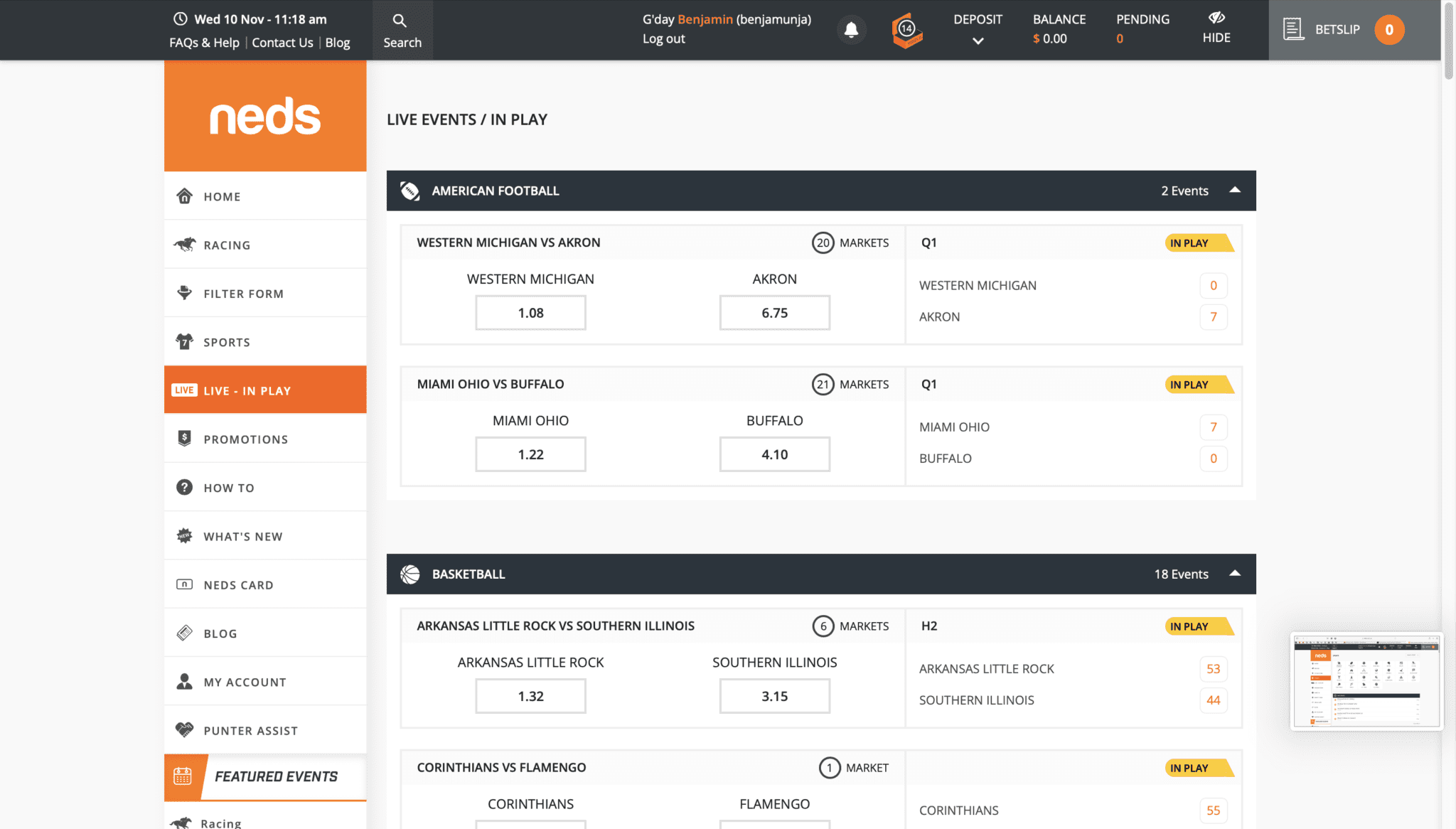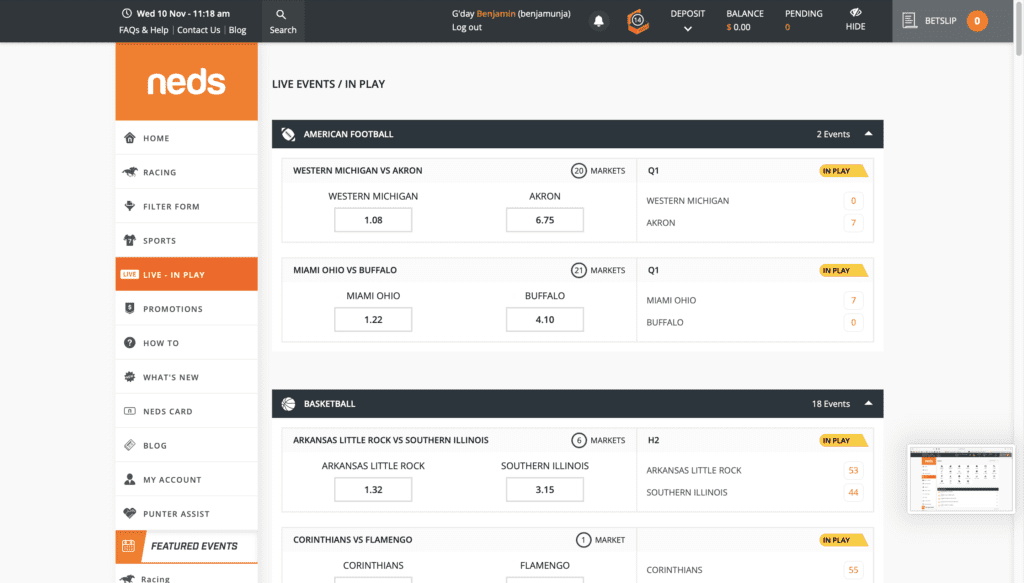 Most of the time in-play betting gives you a better chance at winning,
however, there is always the chance that a team can come from behind and win.
I like the way that it's laid out but what really caught my eye was the number of markets they have available in their live-in-play events.
Right, on to the promotions!
Neds Promotions 
The same company that owns Ladbrokes also owns Neds, so it comes as no surprise that they have an awesome range of promotions.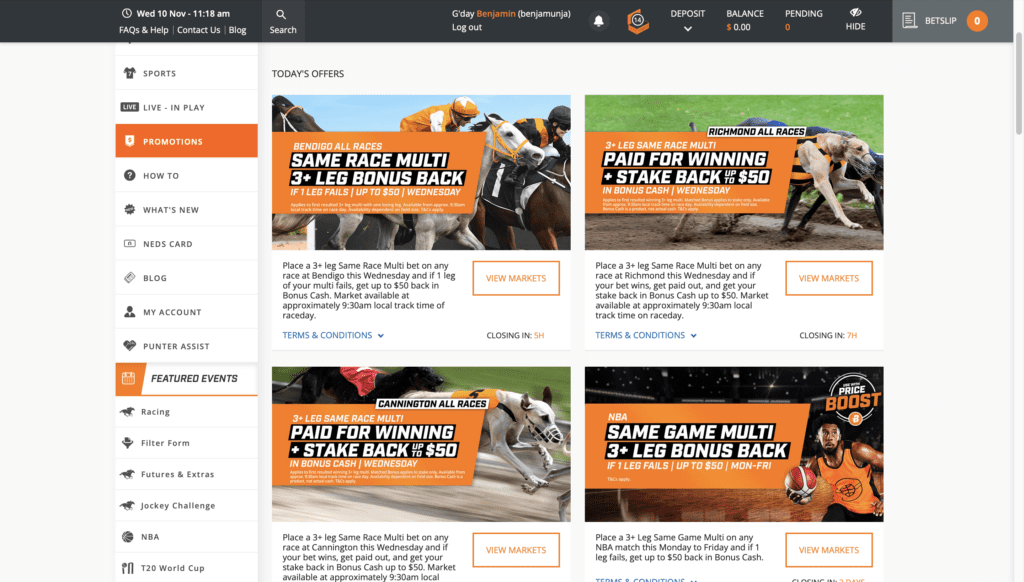 I love the way their images are displayed, it makes it so easy to quickly check what the promotions are.
Shattered I didn't check this before placing my bets,
I may have chosen some other races!
Do they offer live streaming of other sports? 
Unfortunately, it doesn't look like they offer live streaming sports,
As shown above they do have live in-play betting but by the looks of things, that's as far as their live sports capabilities stretch right now.
Hopefully, they get this up and running soon.
Neds Review

Neds is, without a doubt, one of the best betting sites in the gambling industry.
Not only do they have great odds and a vast range of deposit options, quite simply,
There are just so many things that Neds has going for them that it is hard not to like what they have to offer.
What's new at Neds?
Neds Blended – You won't have to choose which runners to exclude any longer.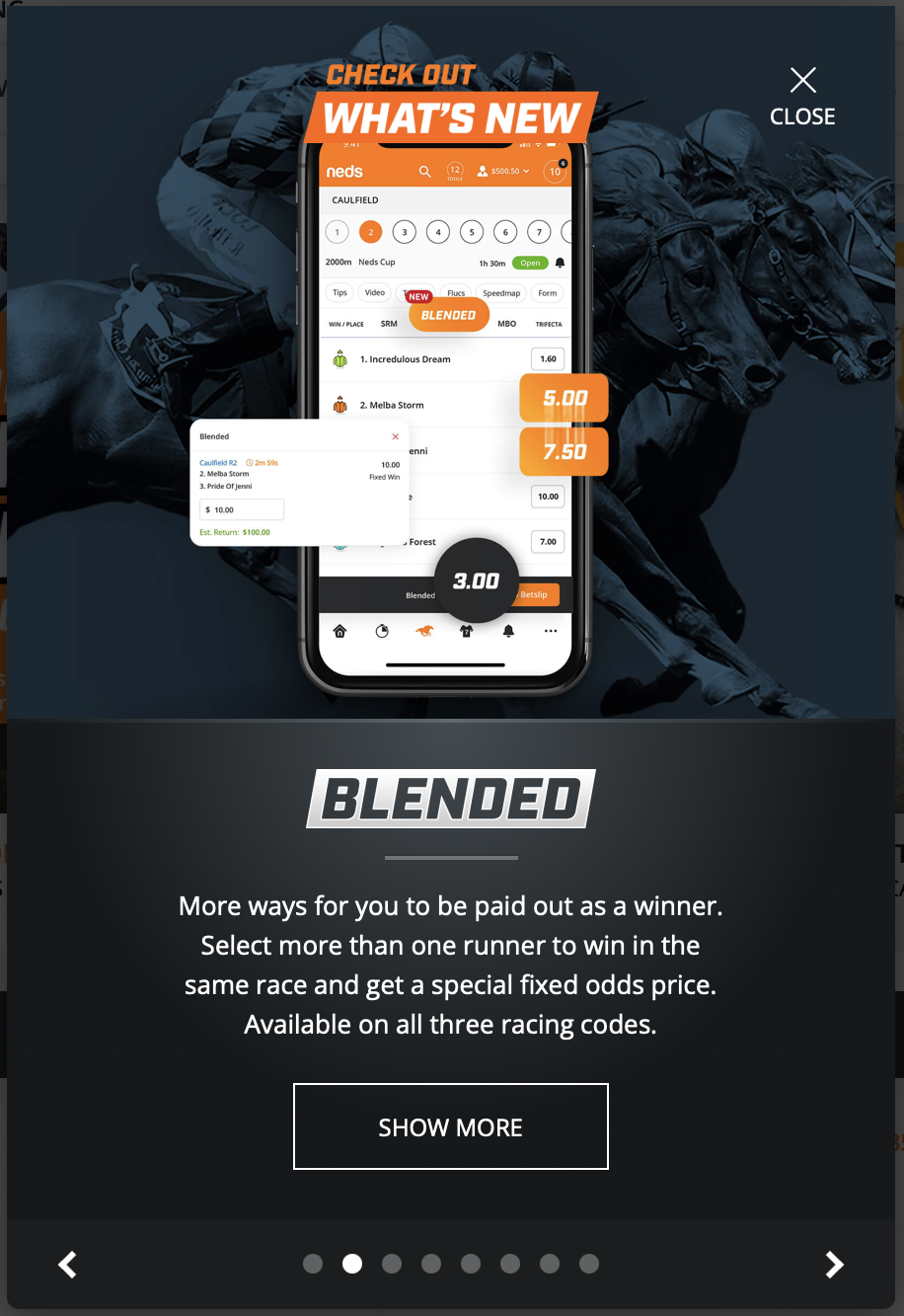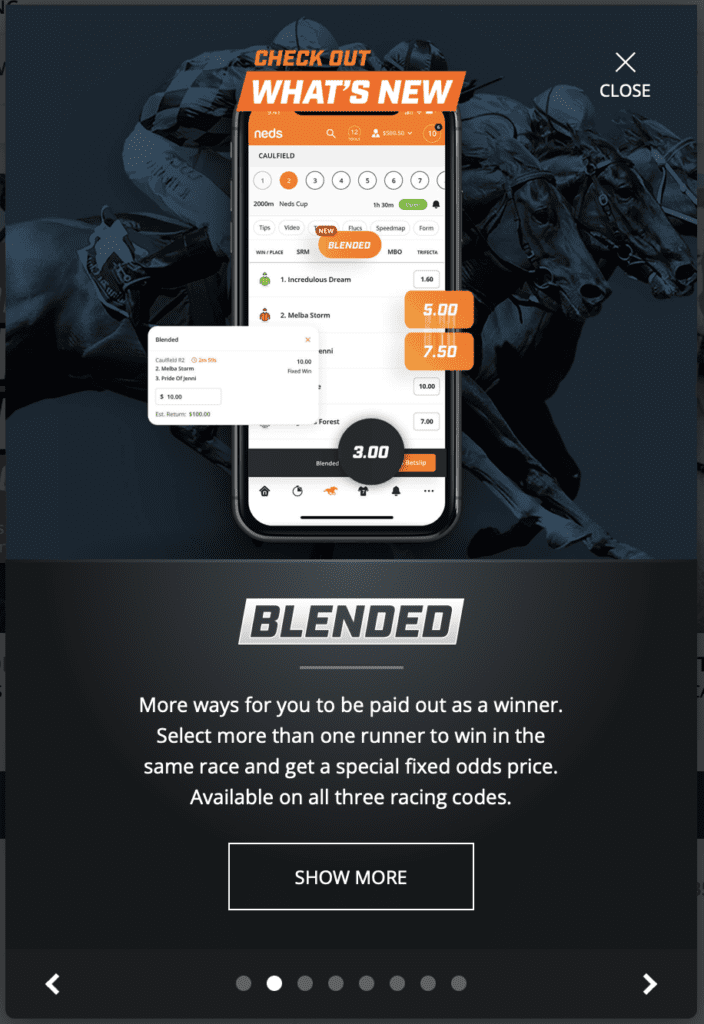 Blended Bets lets you combine multiple runners, all from the same race!
When you Blend your runners with the new Blend option, you will now get a fixed-odds price for any of your choices to win.
What do we like about Neds?
NEDS TOOLBOX – The Neds Punters Toolbox is the one place punters can go to get all of their punting needs met.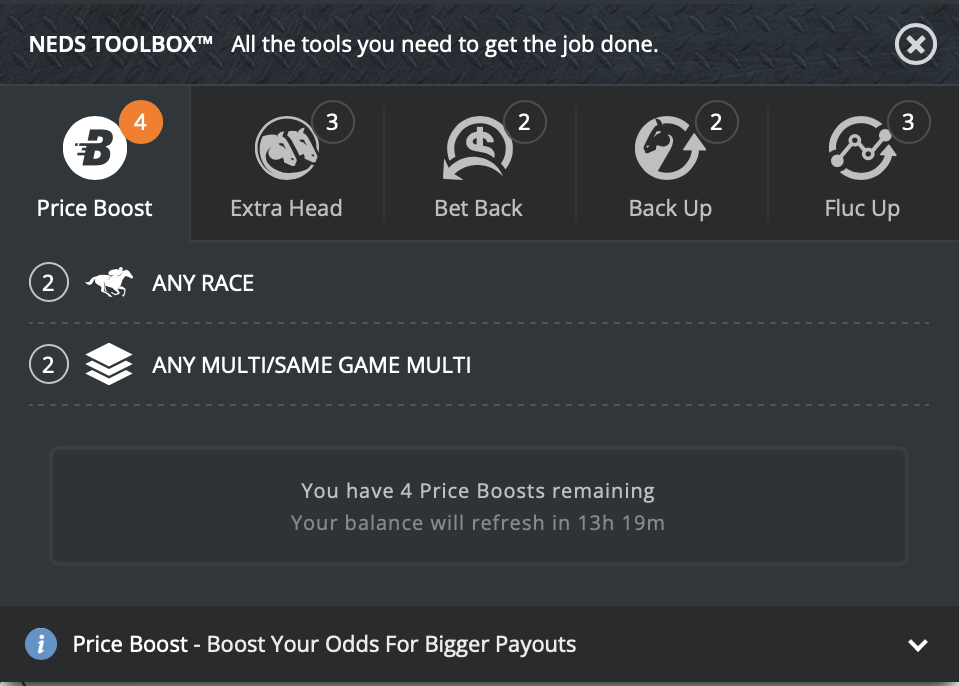 It's exclusive to Neds and only available through the App.
Punters Toolbox An exciting feature that gives bettors all of the tools they need to succeed.
When you first sign up to Neds, their offers can be found in the toolbox, these Include: 
Price Boost – 4 price boosts that refresh in 12.5 hours, 2 Any race, 2 Any Multi/Same Game Multi
Extra Head – 3 Extra heads that refresh in 12.5 hours
Bet Back – 2 Bet Back options that refresh in 12.5 hours, 1 Any Thoroughbred Race, 1 Any Greyhound Race
Back Up – 2 Back Ups that refresh in 12.5 hours
Fluc Up – 3 Fluc Up that refresh in 12.5 hours
NEDS CARD – The Neds Card allows you to access your winnings immediately; it can be used at any merchant that accepts Mastercard. (even online).
Customers who have a Neds card can deposit using Cash In by going to the Neds mobile website/app or directly through the Neds app.
All you have to do is set up your card before making your first transaction and move some winnings from your Neds betting account to your Neds card.
It's worth noting that the Neds Card isn't a credit card, so you won't have to worry about interest.
How do I get a Neds Card?

You need to have a valid Neds account by signing up to Neds.
Verify your ID with Neds – to do this, you can look in the Verification Centre found in your My Account section to see your verification status.
You will have to be an Australian Resident.
You must make sure your address details are correct and up to date.
Neds will need to verify your payment methods.
What's missing at Neds?
 Can restrict winning punters.
Lack of streaming options compared to some of the other major players.
Lack of some sporting markets.
Neds Highlights

The Neds Punters Toolbox is hands down the one place punters can go to get all of their punting needs met.
It's exclusive to Neds and only available through the App.
Punters Toolbox is an exciting feature that gives bettors all of the tools they need to succeed. This Includes: 
BackUp
Extra Head
BetBack
PriceBoost
Jump Off
FlucUp.
Neds allows you to use your Amazon Alexa; with just your voice, you may get racing information from Neds!
You can ask Neds a whole list of things about upcoming races, like asking for the next race to jump, which horse is the favourite runner in that race, and what the track condition is like with the Racing Events by Neds Alexa skill.
Neds Alexa Skill

You Can Enable The Racing Events by Neds Skill by:
(Simply say "Alexa, enable Neds", Alexa will reply by saying, "OK, here's racing events for Neds", after this the Neds skill will continue to give you a simple introduction showing you how to utilise the Neds Alexa skill)
Once inside the Alexa app, open the menu in the top left corner.
Once inside, select 'Skills and Games', which will then bring up a search box.
Type in Neds, then click on 'Racing Events by Neds'.
Once you have done that, you can simply tap the 'ENABLE' button to connect the 'Racing Events by Neds' to your Alexa devices.
Once this is done, all you simply need to do is say, "Alexa, ask Neds what the next race is",
then you can ask her a range of questions such as "Where's the next race?", "Who is the favourite?" or even "What's the track condition?"
Neds Promotions
Neds has a range of promotions that are updated regularly. At the time of writing, their promotions are as follows:
Cox Plate Qualifier Day - 2ND or 3RD BONUS BACK Race 1-6 | up to $50 | Mooney Valley
Wyong Races 1 & 2 - 2ND or 3RD BONUS BACK up to $50 | Friday
Bendigo All Races - SAME RACE MULTI 3+ LEG BONUS BACK if one leg fails | up to $50 | Friday
3+ Leg Same Race Multi (Richmond All Races)- PAID FOR WINNING + STAKE BACK UP TO $50 in bonus cash | Friday
Gloucester Park Races 1 & 2 – 2ND or 3RD BONUS BACK up to $50 | Friday
3+ Leg Same Race Multi (Newcastle All Races)- PAID FOR WINNING + STAKE BACK UP TO $50 in bonus cash | Friday
AFL Finals - SAME GAME MULTI 3+ LEG BONUS BACK if one leg fails | up to $50
Neds Level Odds - $2 LINES ON ANY TEAM AFL finals | this week
Thursday and Friday NRL - SAME GAME MULTI 3+ LEG BONUS BACK if one leg fails | up to $50
Neds Level Odds - $2 LINES ON ANY TEAM THURSDAY AND FRIDAY NRL AFL finals | this week
UFC Fight Night Main Card - PLACE H2H BET If your fighter loses by a split decision, you win
UFC Fight Night – 3+ LEG MULTI BONUS BACK If one leg fails, up to $50, Sunday
US Open - 4+ LEG MULTI BONUS BACK If one leg fails, up to $50
All Soccer Matches - 4+ LEG MULTI BONUS BACK If one leg fails, up to $50, This Week
Every Tennis Match This Week | Opponent Retires After 1st Set - YOU WIN Retirement Rules
Ipswich Race 1 - SCORE UP TO $100 IN BONUS CASH Run 2nd or 3rd
Neds Android App

Neds is one of the most prominent names in the Australian bookmaking industry,
so we knew straight off the bat that we were going to be pleased with the Neds betting app.
We decided that the best option would be to download it straight off the link on their website just to make sure the link was working;
their android app is one of the best that we have come across.
The Neds design is simple yet sleek and just feels right.
What we do like, which we have not found on all bookmaker apps, is that they have the option to allow biometrics when logging in;
having the functionality there to choose whether you want this or not is a valuable asset.
Interestingly with the mobile App, there is no menu button to bring up a list of options.
Alternatively, there are two tabs conveniently located tabs at the top, which allow you to switch between Racing and Sports.
Additionally, you can find all the upcoming races in the scroll options at the bottom of the homepage.
We decided to check out the Paralympics, putting some money into Athletics, Wheelchair Basketball, Wheelchair Tennis, and Goalball!
Placing money in was simple, to say the least;
placing a bet was as simple as three screen taps.
In total, we placed $40 worth of bets at $10 per bet; To be fair, we had no knowledge of the events we placed bets on the Paralympics, in saying that we did end up winning the Goalball and we had never even heard of it!
We ended up with a withdrawable balance of $17.
Neds Apple IOS App

Considering that Neds is one of the best bookmakers in the industry, we knew the Neds iPhone app was going to be good!
As one of the most proficient bookmakers in the industry, as expected, their App is also top-rated.
It's effortlessly easy to use, and the interface feels just the way an App should.
The simplicity of the Neds App allows you to find what you are looking for, and putting a bet on was INCREDIBLY EASY.
Today we were betting on the UFC FIGHT NIGHT.
We went Head to Head on a range of fight cards, including Brunston vs Till, Smith vs Spann, Volkanovski vs Ortega, and the unconfirmed Ngannou vs Jones fights; as always, we deposited funds directly through the App to test it was working well, which of course it did.
Placing bets was a straightforward three-click process, and it is worth noting that it was INCREDIBLY QUICK!
At the time of writing, only the Brunston vs Till card had finished, and we walked away with 3 out of four tips coming out on top.
In total, we placed $100 worth of bets at $5 per bet; currently, we have a withdrawable balance of $25.16.
Neds Mobile Site

Neds is hands down one of the greatest bookmakers on the Australian market (at least in my opinion anyway),
So when it came to check out the mobile version of the website, it did not surprise me in the least to find that it worked exceptionally well.
What I did notice straight off the bat was that it is essentially a replica of the Neds mobile apps; it looks the same, feels the and essentially is exactly the same.
The only differences that I could find were that it was slightly slower than the apps and looked somewhat more "Blocky" on the edges of the buttons.
I can basically guarantee that no one would ever even notice either of these; it was purely because I had them all open at the same time to compare them that I saw the slight differences.
With the NFL starting, we couldn't do a review without placing some money on the upcoming games.
We threw $100 into the mobile site at $10 each on Ten different games, and all bets were placed on Head to Head.
When writing this review, the games had not yet been played as they were all upcoming NFL games this weekend; therefore, I cannot comment on how many games were won.
Neds Website
Last but not least, it was time to review the Neds Website! I had already checked out all the other versions, so it was pretty clear to me how the website was going to perform; what I didn't expect was how well it was going to!
Before reviewing any bookmaker, I always clear my cache so there is nothing in the browser memory so that I can see first-hand what the initial loading times are.
The Neds website opened seamlessly, and considering how much data, forms and images there are on the website, it loaded exceptionally quickly!
We jumped into horse racing for our website review, taking advantage of the promotions at Mooney Valley, Wyong, and Bendigo.
We pulled up our socks and deposited $100 into our account, which worked without any issues at all.
We placed $10 bets on a range of races and multis throughout the day.
Thanks to one of the promotions on offer, a Multi Neds was promoting got up, and we walked away with a monster of a win!
At the end of the day, we cashed out a hefty $638.
Neds Sign Up New Account

It's quick and easy to sign up for a Neds betting account via a three-step process.
Start by going to the signup page, enter some personal info, choose a username and password, and that's it.
Neds requires ID verification before withdrawals can be made, and this is done in the My Account area.
Neds Verification Process
The Neds team will attempt to authenticate your identity electronically through Green ID when you establish an account with them.
Green ID is known as Australia's leading electronic compliance solution and aims to ensure complete information security and absolute privacy at all times.
Please be aware that electronic verification is only available to Australian citizens and residents.
Banking With Neds

Neds has a significant amount of both depositing options, where some bookmakers give you limited options when it comes to banking;
Neds is definitely not one of them.
Despite the fact that they can process almost all types of deposits and withdrawals, each method has its own deposit limitations.
However, I'm not entirely sure this is a big problem since I don't intend to put in more than $1,000 at any one moment.
There are a few options such as flexepin, Paysafe card, and cash top-up that only allow a few hundred max deposit at a time;
most notably, cash top-up only allows a max of $50.
Neds Deposit options
Neds Australia offers a number of different payment options giving you almost every opportunity on the planet to place a deposit.
Deposit methods include:
Visa
MasterCard
Cash-In
Flexepin
Apple Pay
BPAY
POLi
Bank Transfer
PayPal
PayID
Not Included:
Please note that some banks might choose to decline gambling transactions; these include:
Bank of QLD
Citibank
Suncorp
Virgin Money
Neds does not charge fees for credit card transactions; however, there may be a "cash advance fee" charged by your banking provider.
Minimum deposit
When you make a deposit into your Neds account, the balance will be updated as soon as the deposit transaction is completed.
Does Neds have a minimum deposit amount? Of course, they do. The minimum deposit amount for Neds is only $10.00.
Neds withdrawal options

Your Neds account must be verified and any turnover conditions satisfied before you withdraw from the system.
Make a bank account withdrawal request through the website or App's My Account section.
The minimum withdrawal amount is $10, and Neds banking will make payments to your selected bank account.
You also have the added bonus option to include more than one bank account from which you may choose to withdraw funds.
If you send a withdrawal request before 12 p.m. on Monday through Friday (AEST), your bank will have the funds available the next day. (some banks/credit unions might take longer).
Additionally, you can also withdraw straight from your Neds card.
Minimum withdrawal
Payments to your selected bank account will be made by Neds banking, with a minimum withdrawal amount of $10.
Neds Betting Markets

Neds offers a wide range of markets for sports and racing, and you can bet on anything from Horse Racing to American Football even to some more obscure Neds betting options such as yachting.
Neds Horse Racing

As far as racing is concerned, users can bet on harness racing, greyhounds, and thoroughbreds, both internationally and within Australia.
Neds also offers a range of odds on racing feature events, including the upcoming Spring Racing Carnival and, of course, the infamous Melbourne Cup.
Neds Sports

In other Neds betting markets, Neds covers all the most popular sports, such as cricket, soccer, NRL, AFL, tennis, and much more.
There are also markets for less-popular sports such as handball, volleyball, snooker, and darts.
Sports bet types include points spreads, first-half markets, total points, and other exotic betting types.
Neds Bonus Bet
Bonus bets are pre-set odds with a set of fixed bonus bet amounts.
If your bonus bet does happen to lose, then your overall balance will not get affected. If you win, Neds Australia will still pay you the winnings.
However, this will exclude your original bonus bet stake.
Bonus Bets are similar to Bonus Cash, but they come in pre-assigned amounts.
Bonus Bet Offers may be limited to specific bets or event types.
You can claim Bonus bets from the 'My Account' section of your profile.
To redeem a Neds Bonus Code, you will need to enter the code at the top of the Bonus offers page.
Neds Bonus Cash
Neds Bonus Cash allows you to make the most of your bonus cash by using a cash wallet for betting with Neds.
With all of the extra perks that bonus bets provide, Neds Bonus Cash gives you more flexibility.
Bonus Cash is a type of bonus bet that does not need to be set up or used in particular amounts.
You may choose how to spend your $100 of Bonus Cash once you have it.
Neds will pay the winnings from your wager, excluding your original stake amount.
Neds Racing Bonus Bet
Neds offers a range of bonus bets in their promotions. Currently, there are offers for:
2ND or 3RD BONUS BACK
SAME RACE MULTI 3+ LEG BONUS BACK
3+ LEG SAME RACE MULTI 
SCORE UP TO $100 IN BONUS CASH
Neds Betting Types
There is a range of Neds betting types available for both Horse Racing and Sports, Neds betting types can all be found in the lists below.
Neds Racing betting types include:
Win betting
Place betting
Each way betting
Exacta betting
First 4 betting
Quinella
Trifecta betting
Same Race Multi
Flexi betting
Quadrella betting
Same Race Multi
Pick your owns odds (PYOO)
Neds Sports betting types include:
Head to Head
Match
Margin
Line (Handicap or Spread)
Totals
Futures / Outright
Exotic Singles (first goal, final score, the first team to score etc.)
Live 'In Play'
Single Multiple
Multiple betting
Neds Odds
Neds wins out over other bookmakers because of their wide variety of gambling options.
Not only are they able to accept bets on sports and racing, but the odds are also good!
Fixed Price
Neds assigns proprietary odds to every event.
Bets placed at a Fixed Price are paid at the odds advertised when the bet is made.
Tote Prices
Ned's Totes offers totalisator odds relative to the three major Australian Totes (VIC, NSW, QLD), including international totalisators.
Tote betting promises:
Best Tote is the final dividends that pay equal to the highest Australian Tote bet operator.
Best Tote +5% final dividends that guarantee to pay equal to the highest Australian Tote operator, plus a 5% bonus added to the win portion of your bet.
Middle Tote Final dividends that guarantee an amount that is equal to the second-highest of Australian Tote operators.
VIC Tote You can get a final dividend that pays as much as the VIC Tote.
NSW Tote You can get a final dividend that pays as much as the NSW Tote.
QLD Tote You can get a final dividend that pays as much as the QLD Tote.
Home Tote The final dividend is a number that will always be equal to the totalisator operator in the host country.
Tote +5% It guarantees to pay equal to the nominated Tote, plus a 5% bonus on the winnings.
Tote +'x'% The final dividends will pay the same amount as the nominated Tote; additionally, you will also get an 'x'% bonus added to the winning portion of your bet.
Starting Price (SP) 
SP is the final betting odds for a bet at the end. It stands for Starting Price.
Top Fluctuation
The biggest betting fluctuation that they provide in the final 30 minutes of betting before a race begins.
Top Fluc betting will be available for up to 30 minutes before a race.
Best of Best 
The Best of the Best guarantee to pay whichever is higher, which is either Best Tote or Top Fluc.
Best Tote or SP
The Best Tote or SP promises to pay whichever is the greater of Best Tote or SP.
Mid Tote or SP
Mid Tote or SP promises to pay either Mid Tote or SP; this is determined by whichever is the highest.
Neds Promo Code
We here at Kruzey have an exclusive with Neds giving one of the best experiences possible; the Neds Promo code is KRUZEY; you can claim this by going into the Account section of the Neds site and clicking on 'Bonus Bets', here you will find the box to enter the KRUZEY Code.
Neds Contact & Customer Service
Without a shadow of a doubt, Neds has some of the best customer service in the biz to assist their punters in any which way they can. Neds offers a respectable list of easy-to-find contact options from Email, Telephone and Online Chat. You may also discover them on Facebook, Twitter, and Instagram, among other prominent social media sites.
Neds Rules
A range of responsible Neds betting options are available in the My Account area.
Here, bettors can set deposit limits, bet limit amounts, and read Neds' responsible betting policy.
These features make Neds an excellent choice for those who want to gamble while staying within a budget.
As with bookmakers worldwide, Neds has a legal requirement to follow set rules to keep their license.
It comes as no surprise that the amount of information Neds gives their customers is thorough, to say the least, and it is so easy for their customers to access.
You can find their terms and conditions In the Terms and conditions section of the website.
Neds absolutely respects their clients' privacy. They also use cutting-edge encryption technologies to safeguard every user information because they are concerned about their privacy.
While they do gather information such as name and contact information, banking data, Neds betting history, and financial details, there's never any cause for you to be concerned about the misuse of data;
This site does not share user information with third parties unless those third parties are reputable and provide services that the user requires.
All of your user information will be kept private in accordance with Australian data protection laws.
Neds is a licensed and regulated company, and its operations are governed by the Northern Territory Racing Commission, which was established to regulate internet gambling.
Commitment to Responsible Gambling
A significant amount of online gamblers are attracted to Neds.
The appeal of gambling, as you might gather from the title, is based on the thrill of putting their skills and judgment to the test against others and the potential for earning money through their bets.
They attempt to make online gambling a pleasant experience for every one of their customers and are known as one of the top-rated online sports betting sites.
This includes providing information to assist individuals who may have gambling addictions recognise that they have a problem and preventing minors from participating in unlawful betting activities.
Neds allows users to set pre-determined deposit limits, which enables them to limit the amount of money they can spend, helping to ensure responsible use of their gaming platform.
Stay in control, gamble responsibly, always think before you bet with the money you need for something else.
Think wisely about your choices. If you start to think you have a gambling problem or are beginning to make bad decisions, you can call gambling help on 1800 858 858 any time of day 24/7; optionally, you can visit their website at gamblinghelponline.org.au
About Neds
Neds was founded in 2013 by a group of like-minded entrepreneurs with a plan to shake things up in the $80 billion Australian online sports betting market. Since then, they have become one of Australia's leading Sports Betting providers.
Neds Review Conclusion
For bettors in Australia, Neds offers a wide variety of unique features. With the ex-CEO of Ladbrokes at the helm, users can expect the launch of many new Neds betting products in the near future.
With their exciting promotions, selection of Neds betting markets and features, responsible gambling options, payment choices, and much more, it's easy to see why Neds is a preferred destination for bettors in Australia.
Hopefully, the information in this Neds review will help sports gamblers make an informed decision on where to place their bets.
To be honest, Neds is one of the best sites I have reviewed.
They have so many options and little extras that I felt like a kid in a candy shop.
Highly Recommended.
NEDS AUSTRALIA FAQs
Is Neds safe?
Neds betting site is 100% safe and secure; all online bookmakers have a strict set of rules and guidelines they must follow in order to retain their gaming license; Australian residents can rest assured knowing that in Australia, these rules are some of the strictest in the world, so yes, the simple answer is that Neds betting is a safe option.
Who owns Neds?
Neds has changed hands a number of times throughout its history; however, at this current point in time, Neds is owned by Entain group, which hosts a range of online bookmakers in its portfolio.
Entain Group CEO Dean Shannon originally created Neds; however, after selling Neds to Ladbrokes Australia, he rejoined the Entain group as the CEO of the Australian branch.
Quick Links
All Aussie Betting Sites Best Sports Betting Sites eSports Betting Sites Australia