You're looking for Unibet bonus codes, aren't you?
Don't worry, we've walked the same path plenty of times.
Well, I have some good news and some bad news.
The bad news is there aren't really any bonus codes for Australian betting sites anymore.
Ok, let's get stuck in!
Signing up to Unibet
I love when a sign-up is easy and Unibet Australia made things incredibly simple for me.
I've popped the link here to make things easier for you too 👍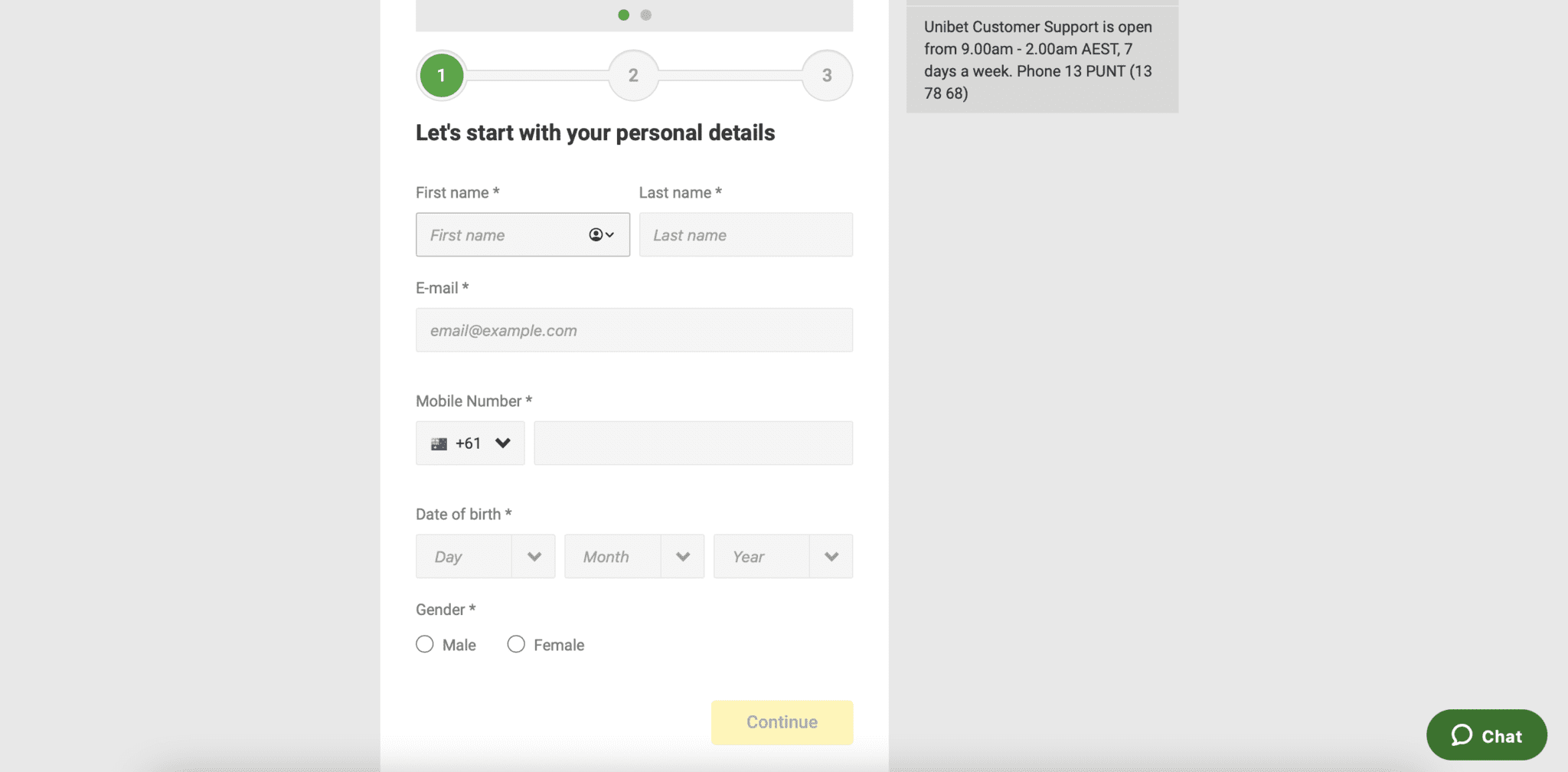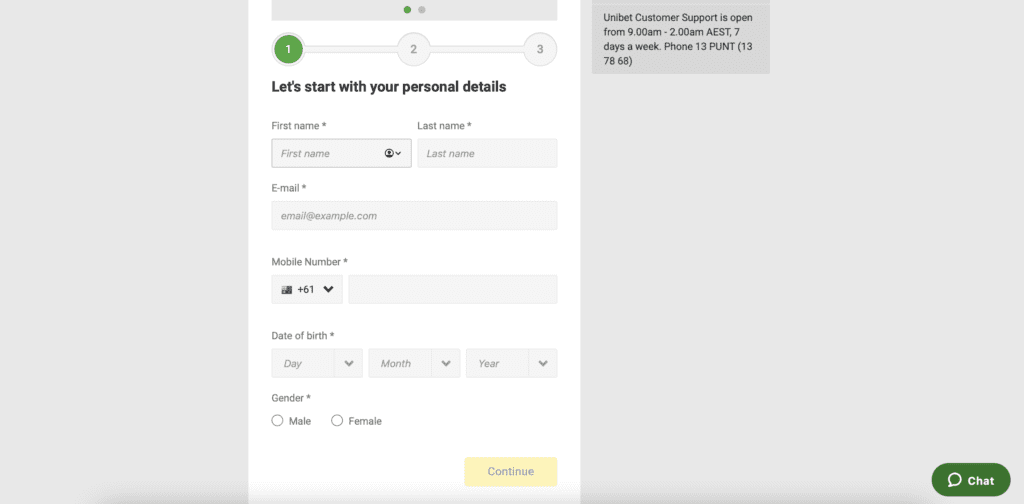 It was pretty simple to put all of my details into their system.
once that was done I needed to deposit some money.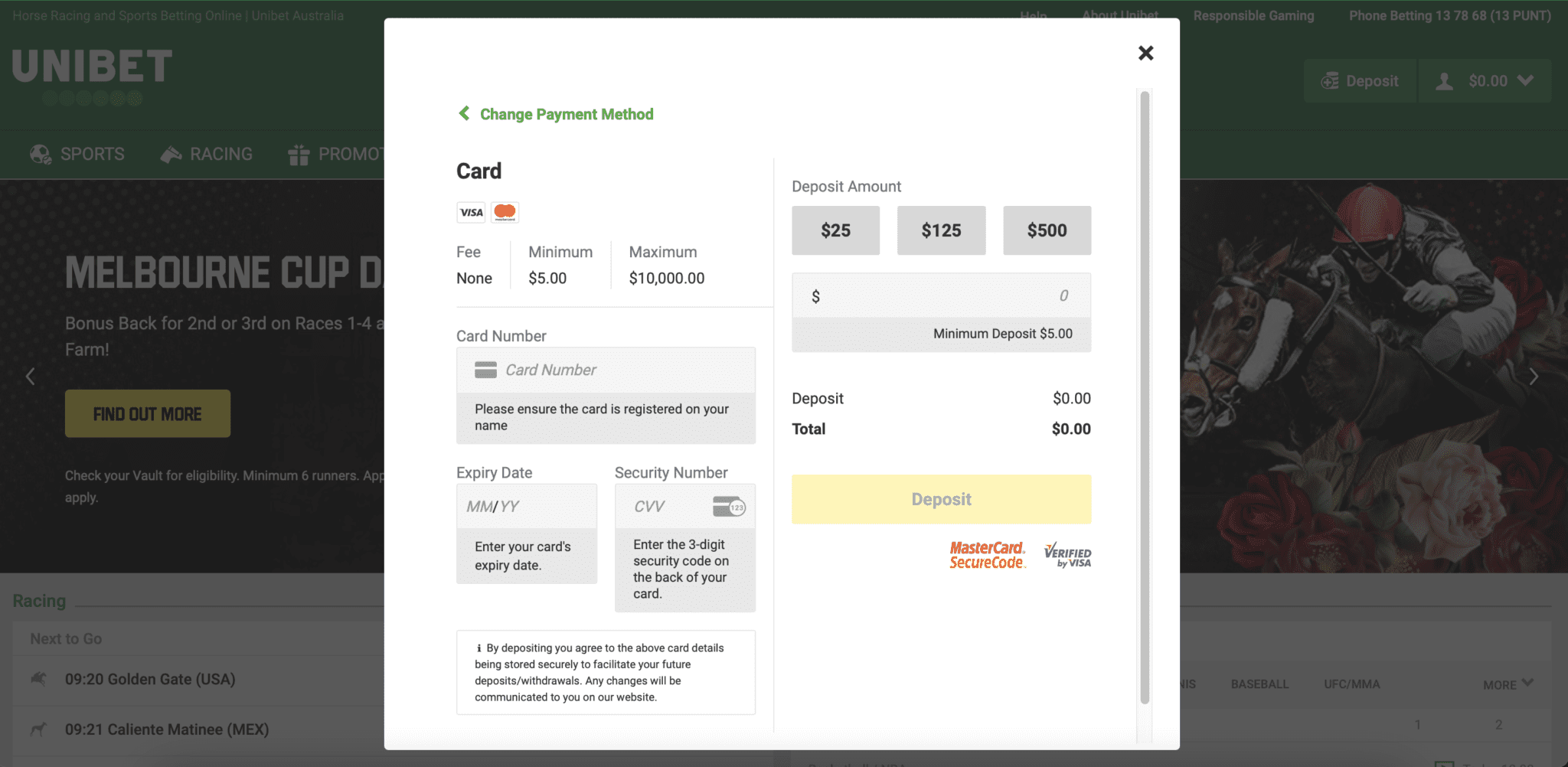 I was offered the choice to set a deposit limit.
This is a great move by Unibet as it stops problem gamblers from giving them a bad rap if they lose a bunch of cash.
It actually made me stop and think how much I define as a decent amount.
Not spending big today, just $10 for the review.
So what were the depositing options?
They had a decent amount of disputing options to choose from.
Not over the top, just a few really decent options.
Which are:
Credit card
Apple Pay
PayPal
POLi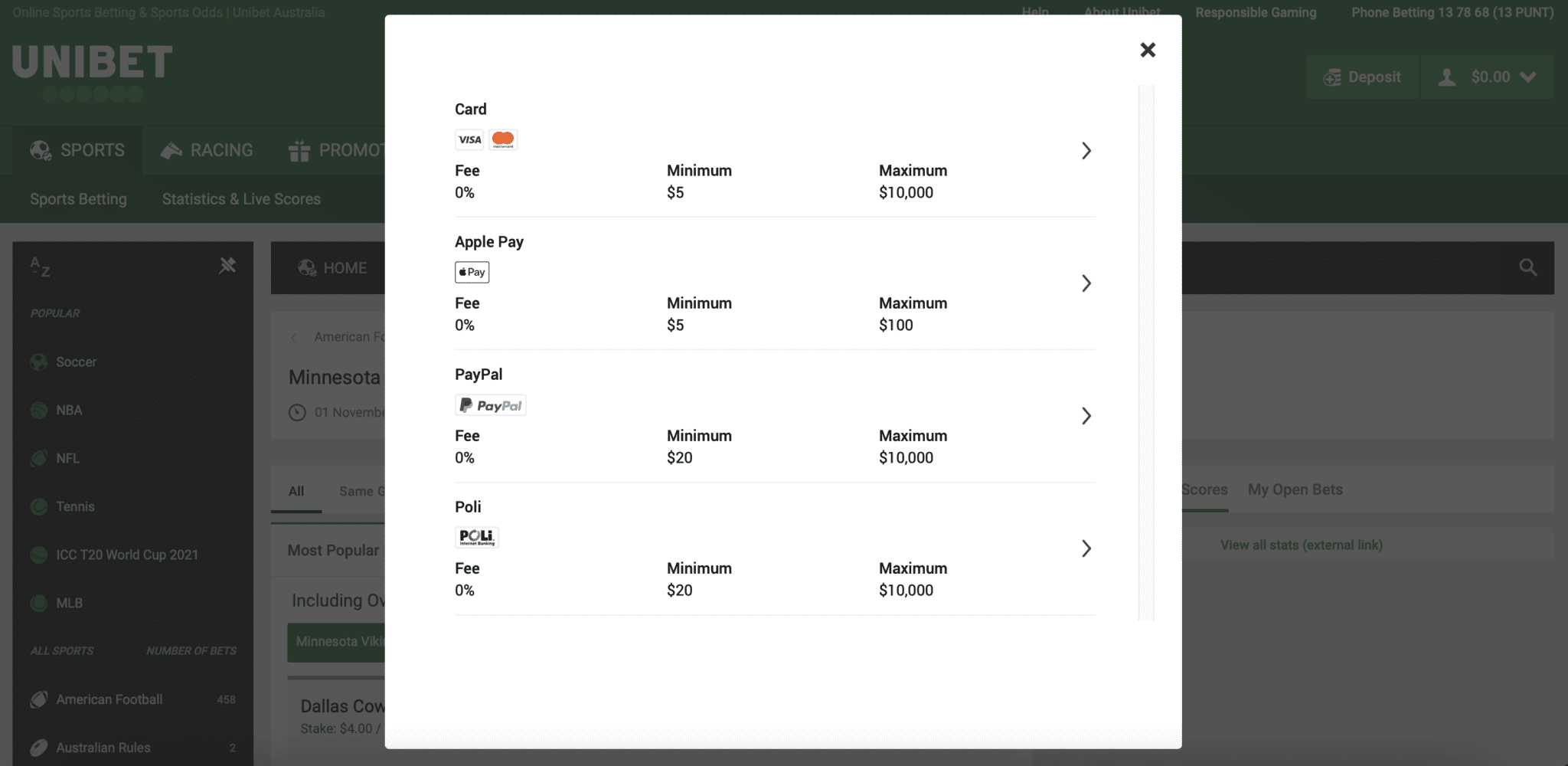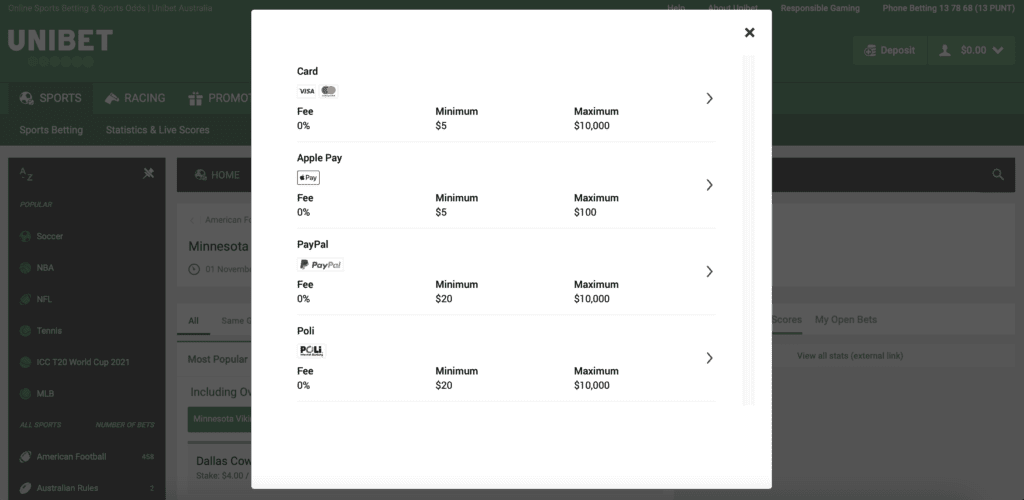 What's the layout like?
The layout is pretty cool
Online betting sites can get way over the top which makes it easy to get lost.
However, I found the Unibet layout to be very easy to get to where you need to go.
Upcoming races to the left, Upcoming sports to the right,
And all the main menu is in an easy to navigate the menu at the top.
Just the way it should be.
I'm going to take a peek at the races today.
Unibet Racing
What I like about the next to go section is that it shows you which races have a form guide and have live streaming.
I like to watch the races even when I'm not there so I chose the live streaming options.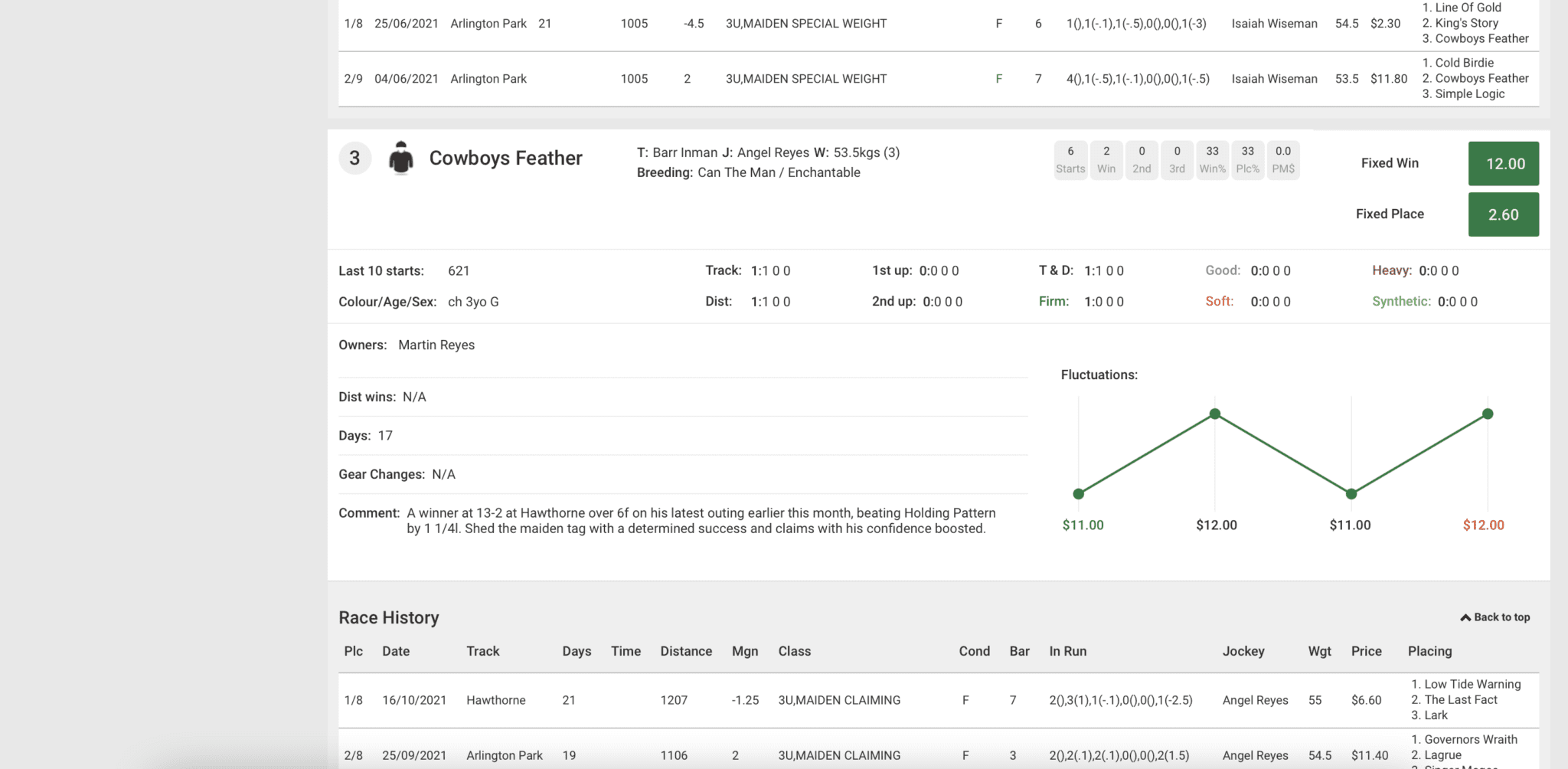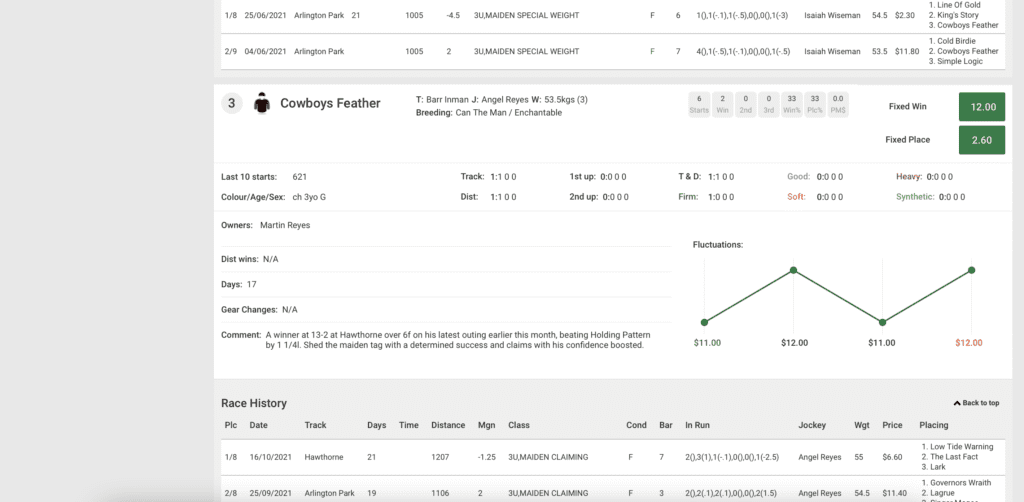 I really like the way their form is laid out, they have put a lot of thought into making it easy to read for everyone.
Cowboys Feather looks like a decent horse so I'm going to pop some money on it.
I tossed a few bucks on just to see what would come of it.
Unfortunately this time round I only managed to get 4th!!!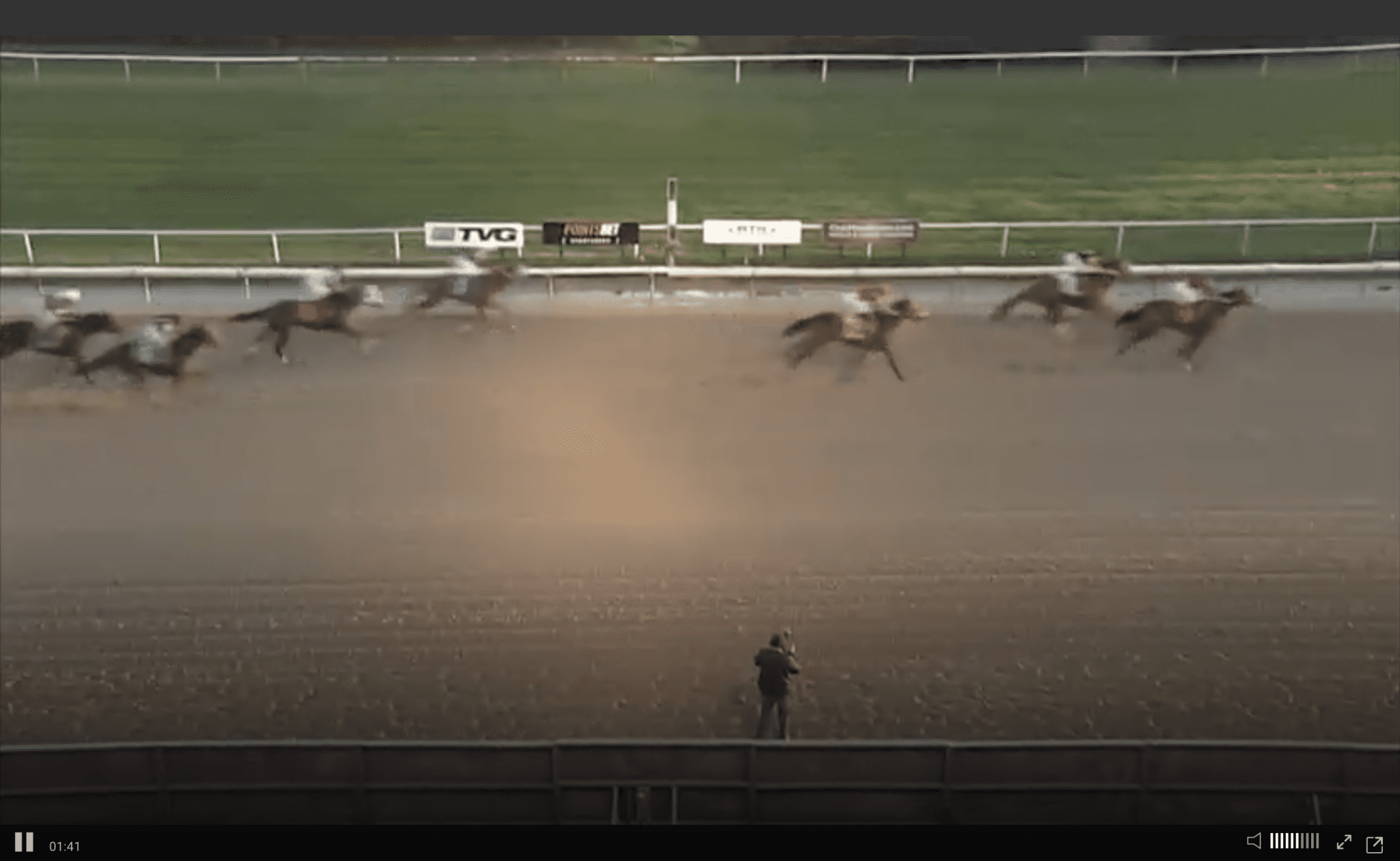 Do they do live streaming for other sports?
They do!
I was actually quite surprised as I thought they only did live streaming for the racing.
On the sports page, there is an icon that opens to all available live streaming sports.
It's pretty obvious so you won't be able to miss it!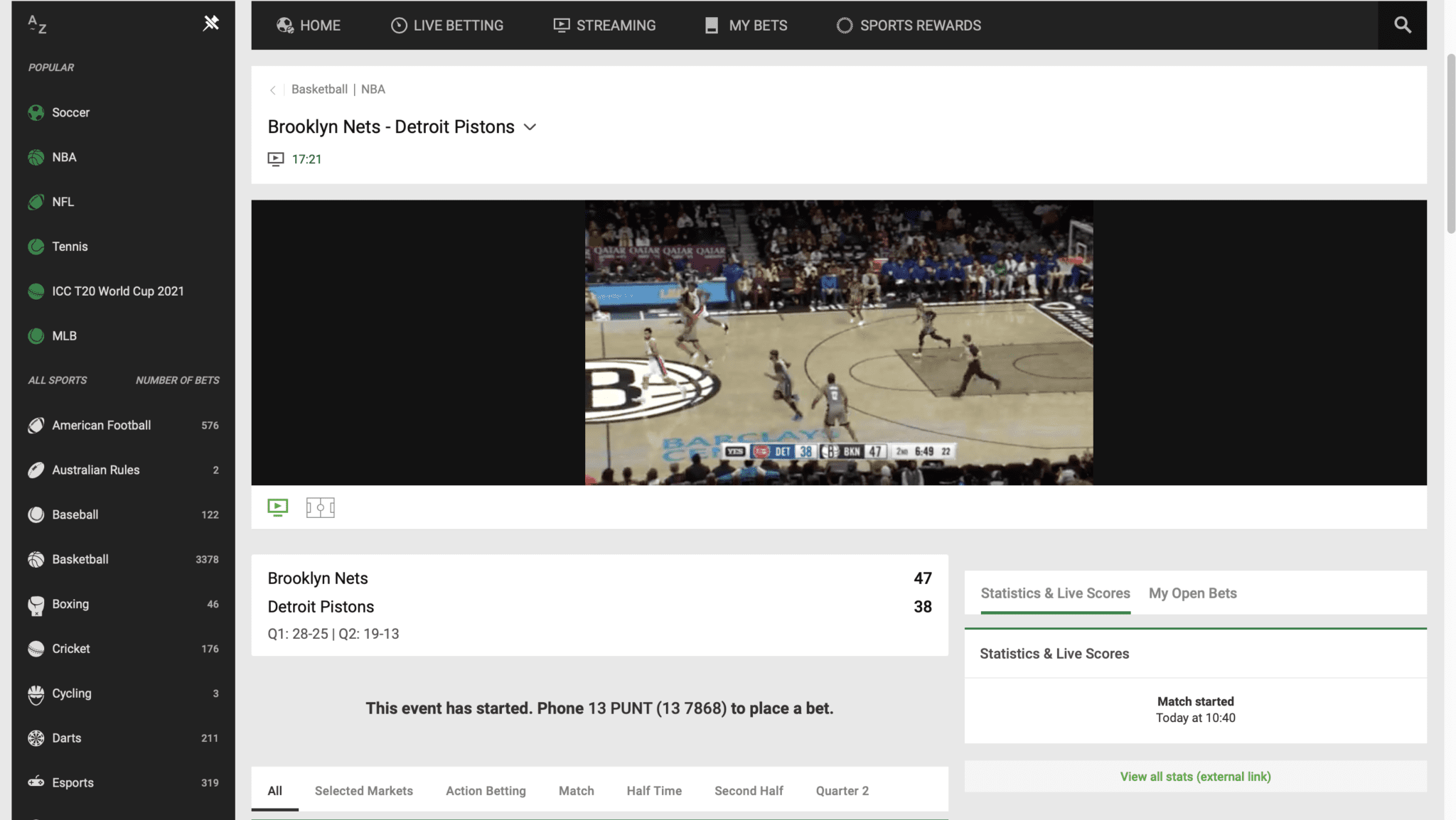 Even at full screen, it's not actually "Full Screen"
But still, it's pretty good when you want to watch your favourite sports!
Unfortunately, they aren't streaming the NFL, but they do have a bunch of other major sports available.
Unibet Australia Review
What sports do they offer?
They offer pretty much every sport available.
You can even bet on sports such as surfing if that's what tickles your fancy.
Verdict: Pretty darn good! I've gotta be honest, I really really like them, they are easy to use and kinda feel like you're putting a punt on at the TAB.

It's been well over a year since the last time I jumped into Unibet for an official review; I figured with Oaks Day on the horizon, now would be the perfect time to head back in, update the Unibet Australia review and see what has been improved! 
So what did I find? 
It's still straightforward to operate. 
Bet placement was quick and straightforward; even a newbie could use it. 
Signing up was a headache; however, I was using a new email address, so GreenID had trouble confirming my identity, I had several friends sign up to confirm this, and they all signed up with no issues. 
Their layout is pretty much the same; nothing has noticeably changed, which I think is great because I didn't have to spend time trying to re-find sections. 
True racing advocates want a form guide, and you can find a full form guide front and centre on their racing page. Additionally, you can also find a speed map right next to it, so it is very easy to get all the information you need right at your fingertips. 
As an online sportsbook operator, it has almost become a prerequisite these days to have Live Streaming; Unibet has, of course, delivered on this occasion streaming over 165,000 events each year!  
This does not only include live streaming horse racing; it also allows you to live stream Soccer, NBA Baseball, Tennis, and even Ice Hockey! 
The short and sweet answer is that they are an excellent bookmaker, with tonnes of betting options, promotions, and features to give you fantastic value for money. 
What do we like about Unibet?  
First of all, we love that live streaming Unibet events are an option for registered customers. All the more prominent betting sites in Australia have live streaming these days, so it comes as no surprise that Unibet live streaming can be found directly on their homepage. 
We also like the Unibet smart punter toolkit; the smart punter toolkit is basically a series of instructionals that give you the best opportunity to make the most of your betting experience; it doesn't matter whether you are new to online betting or an old hand, this toolkit is worthy of taking a look at. 
What's missing at Unibet?  
I was hoping to find a Unibet cash card like some of the other major betting sites have; however, they seem to have not quite caught up with the rest of the pack in having their own cash card. 
Unibet Highlights
Live streaming – any betting site that has live streaming gets a big tick from us simply because we want to watch the event we put money on. 
BearShare - Unibet's BetShare feature allows you to share your best tips with your friends and family. 
The Vault - The Vault is a place where you can find all of your available racing rewards in one spot. 
Live Streams and Betting
I found it interesting with the Unibet Live Steaming that there was no racing live stream; as an avid punter, this would have been something I would love to have seen on their site. 
Unibet Live Betting Markets available
Tennis 
Baseball 
Ice Hockey 
Basketball 
Soccer 
Unibet Live Streaming Options available
Soccer 
Basketball 
Tennis 
Baseball 
Darts 
Ice Hockey 
Table Tennis 
Volleyball 
Though there were somewhat limited live betting and streaming options available at the time of the review, I do not doubt in my mind that they have more options, and these were the only sports available at that point in time. 
Through the live streaming and betting tabs, you will find live streams available with a green tv icon next to the game; you will also find a statistics icon that can open up to an entirely new page with a host of extra information about the teams in play. 
As usual, you will always have the option of phoning them at 13 78 68 when placing a Live Bet. Otherwise, just head to the LIVE section. Then, click on the dedicated button "Call to Place Bet" and confirm your live bet. 
You can even change your odds acceptance settings if you wish. Although currently only available for desktop users, Unibet is preparing something for the Unibet App also. 
Moreover, there is Live Streaming for select events that include football (English Championship, La Liga, International Friendlies, and other Top Tier European events), tennis (Grand Slam, Challenger Tours, and ITF), and US sports (NBA and NHL). In total, around 30,000 sporting events are streamed live annually, and you can take your pick from other sports such as basketball, soccer, ice hockey, and cricket. 
Website, Betting Types, and the Markets
At Unibet, you'll get a personal feel with a sleek betting interface that primarily utilizes flash but provides practical features for punters. 
To your left is the sports navigation panel, locate your betting slip on the column to your right, and you can find your markets, options, and odds dead centre of the screen. 
The intuitiveness of the layout will spark familiarity, and it eases the punter into the betting products. 
You can also move between tabs located on the top menu that allow you to access the Features and Promotions quickly and a dedicated Unibet's App page aside from the Sports, Live Betting and Racing options. 
Within the left menu, you can find a "Shortcuts" section that is helpful when you need to swiftly place a wager on popular sports such as the Premier League, Super Rugby, or the NRL. 
Plus, you can find links to events that are to be held within an hour and 4 hours. Navigate to leagues and sub-markets by clicking on your preferred sport. 
The handy search feature will help you quickly find the market for your particular team. The options for Unibet racing events are just as competitive as other betting sites in Australia. 
Browse through form guides, results, and matchups. Then, start including selections to your bet slip, scroll through your betting history by heading to the link at the slip's bottom and access pending wagers through the pending tab located at the top. 
Overall, the site is meticulously designed and rich in features to maintain ease of use for punters. 
Unibet Horse Racing Markets 
Unibet is a leading online betting site which offers several betting markets on horse racing. So whether you want to bet on a multi-horse accumulator or a single-horse, they have the best options for Australian horse racing available. 
At Unibet, they like to keep you informed of all the latest changes, bonuses and promotions. They always give you top Tote or SP odds and other notables like Top Fluc, giving you the best chances to win and get the best possible payout. 
Best Tote or best SP odds at your fingertips are there to help you win big is just as important as is consistency. 
A Top Fluc bet is offered on most metropolitan meetings, and it's a type of wager that assures the player will be paid out at the top fluctuation for their chosen runner based on the pricing posted by the on-course bookmakers. 
Registered as an Australian bookmaker, Unibet also caters to Harness enthusiasts as well as greyhound races. 
Sports Betting 
The Unibet Sports Betting section is a must-see for any sports enthusiast. You can wager on a variety of markets and types in the following sections: 
American Football / NFL 
AFL 
Baseball 
Basketball 
Boxing 
Cricket 
Cycling 
Darts 
Esports 
Field Hockey 
Floorball 
Futsal 
Golf
Handball 
Ice Hockey 
Motorsports 
Novelties 
Politics 
Rugby League 
Rugby Union 
Snooker 
Soccer 
Squash 
Summer Olympic Games 
Surfing 
Table Tennis 
UFC / MMA 
Volleyball 
WWE / Pro Wrestling 
Winter Olympic Games 
Winter Sports 
You'll discover that their betting platform is well organized and aesthetically pleasing. Some punters were initially scared by the sheer number of options for placing bets, but they quickly became pleased at how simple it was to utilize once they began exploring all of its functions. 
Unibet has received a lot of positive feedback on its highly responsive customer service and fast payouts. Punters claim that their wagers are fulfilled correctly and swiftly, with little downtime since they signed up with Unibet. 
In our own usage, we've had no difficulties with using the Unibet site on all platforms. 
Unibet Promotions
Unibet hosts a range of different promotions for both new and existing customers. 
Currently, they have an extensive list of promotional offers for both Racing and Sports. 
You can access the Unibet promotions directly from the Unibet homepage.
Unibet Android App

When downloading the Unibet mobile app for our Android phone, I was prompted to enable location services. 
There's nothing wrong with this, and it is simply Unibet checking that you are not from a country that does not allow gambling. 
When you initially sign up for Unibet, they ask you what you typically place a bet on; this resonates through their app as their app will either show racing or sports, depending on which you prefer to bet on. 
There is a scrolling banner at the top of the screen holding all the essential things you need in one spot; these include: 
Promotions 
Sports Rewards 
Streaming 
Live 
Racing 
Full List of Sports 
Upcoming
Thankfully I didn't have to hunt around to find their promotions on the app, as they are found in the top left corner and very easy to access. 
I found the app extremely easy to use and was very happy to see both the full form guide and speed map accessible from the racing section. 
While sports and racing were both available on the Unibet app, I decided to jump into the novelty bets for our android app review. 
I put some money into the Nobel peace prize and Celebrity Masterchef; I thought they would have more novelty bets. Still, unfortunately, this was all they had at the time of writing, so I decided I would also bet on the F1 and the MotoGP. 
I was happy with placing a bet with the Unibet Android app; It was as simple as picking the team I wanted to wager on, deciding how much I wanted to bet, and placing bets as desired. 
I placed $40 of bets totalling $10 each on the different events for my Unibet app review, but we're still waiting for the results. 
You'll discover the link to their app on the Unibet homepage right HERE. 
Unibet Apple IOS App

I started by downloading the app directly from the homepage; once I had logged in to my Unibet account, the first thing I noticed was that the Unibet iPhone app is basically identical to the android version. 
Their mobile betting app was incredibly easy to use, and I found finding my way around the Unibet app was one of the easiest I have come across. 
For this review, I decided I would jump into placing a bet on horse racing, and I took advantage of the Unibet Vault to get the most out of the daily racing rewards available. 
Once I had browsed the betting market, checked the form guides and speed maps, I placed bets as I saw fit. 
Placing a bet was straightforward, and it only took a few minutes to pick the horses, set the amount I wanted to wager, and submit the bet. 
In total, I wagered $50 at $4 per wager, resulting in a withdrawable balance of $87.50. 
Please find the link to their iPhone app on the Unibet website right HERE.  
Unibet Mobile Site
The last time we took a look at the Unibet mobile website, it was very smooth and simple to use, with no difficulties, problems, or issues to speak of. 
According to our most recent review, the mobile site is just as seamless and straightforward as it was before, with no significant changes. 
The website is consistent with the desktop version, and it features a mobile responsive page design, which is convenient for users. 
There is easy navigation to both racing and sports directly from the homepage, with both promotions and feature easy to access. 
Unibet Mobile Site Features Included : 
Form Guide 
The Unibet Speed map surprisingly looks better on the mobile site than on the desktop. 
Live streaming of over 165,000 events each year. 
The Vault 
The Unibet Vault has a range of rewards available each day to registered bettors; unique to Unibet is Price Push, Bonus Back, Uplift, and UniBoost, which all give perks or an extra chance to punters. 
For the mobile site review, I jumped into a range of American sports events betting on the NFL, MLB, and NBA. 
I placed $40 of bets at $5 each, leaving us with a withdrawable balance of $52.75 in all. 
Unibet Australia Website
The Unibet Australia website looks and feels just the way an online bookmaker website should. 
You can't help but notice their promotional banner on the homepage; it covers a significant portion of the screen, is extremely eye-catching and offers some of the best betting site promotions around. 
It is primarily white with green accents. The main menu is at the top of the screen, making it very simple to find what you need. 
What I like most is that the homepage isn't flooded with upcoming races and events; they only have two sections, one for sports and one for racing. Underneath those two sections are the Unibet promotions & Live Streaming, Blog & Smart Punter, and that is it! 
It is easy to use, only taking five clicks of the mouse to place a bet on the Unibet desktop site and, safe to say, a quality betting experience.  
Today I decided to check out the NRL after getting some decent NRL tips. I jumped into the game stats, and all the signs led to Penrith winning by less than 36.5, so I put some money in the kitty and got stuck into the betting side of things. 
I put $30 into the kitty, placing a bet on Head to Head, First Try Scorer, and Panthers to win by 12 points or less. 
Unibet Sign Up New Account

Unibet offers its sign-up directly through the website or mobile app. However, unfortunately, due to recent Australian laws, there are no Unibet sign up bonus bets on offer for new customers. 
When signing up, I found it to be a relatively simple process. Admittedly, it was not as simple as some of the others out there but pretty easy overall; however, once I was signed up, depositing funds was an entirely different kettle of fish. 
I could not find an email to verify my account and was unable to deposit money until my account had been confirmed; this should have been a simple process. However, the verification section of the site stated that everything was correct, and I was ready to place a bet! 
After several minutes of trial and error, I found their email in the junk folder of my email account; I proceeded to go through the necessary steps only to be roadblocked again by the verification error on my phone. 
Needless to say, I should not have needed to contact customer service and what would have otherwise been a simple process turned into an extremely tiresome one. 
There seemed to be a technical issue, and unfortunately, I had to wait as they stated it would have to be approved by a third party and would be done by the end of the day. 
Take a peek at the Sign Up Process HERE.
Unibet Verification Process
Unibet will now require verification of your identity in light of new anti-laundering regulations. 
The quickest approach to accomplish this is to use the Green ID identification procedure, which takes only a few minutes. 
In all of the tests that were run, the sign-up process took just a few seconds (minus the hiccup GreenID had with my new email address), the system recognized my credentials and signed me in. 
On average, new customers at Unibet needed less than five minutes to complete the sign-up procedure. 
If you've previously used it with other devices, there's a good chance your data will validate immediately since they had already saved it in their system from when you joined up there as well!. 
Unibet Deposit Methods

Customers who want to gamble online should be able to securely deposit money into their accounts in order to have peace of mind. 
You may feel secure knowing that all of our payment methods are safe and quick. With Unibet's many banking choices, you can rest confident in your ability to make safe and rapid payments.  
You can deposit money directly into your Unibet account using Credit/Debit cards, Apple Pay, BPAY or POLi services. 
Unibet restricts withdrawals to a player's designated bank account in line with the usage of reliable security methods and compliance with laws and regulations. 
Unibet reserves the right to adhere to strict security measures in line with the Australian regulations to ensure responsible gambling procedures are met. 
Players must provide proof of their identity, such as passports or birth certificates if greenID cannot verify their identity. 
Visa | Minimum Deposit $5, Maximum Deposit $10,000 
Mastercard | Minimum Deposit $5, Maximum Deposit $10,000 
PayPal | Minimum Deposit $20, Maximum Deposit $10,000 
Poli | Minimum Deposit $20, Maximum Deposit $10,000 
Unibet Minimum Bet
The minimum amount to be bet varies depending on the type of bet. For example, the minimum stake when betting on a sporting or race event at Unibet is $1. 
You may only wager up to a certain amount for different wagers, which is specified on the betting slip when you input your stake. 
For bets placed over the phone, the minimum bet should be $20. Similarly, in-play wagers or bets placed on Live Streaming events must be at least $20. 
Unibet Betting Markets

Unibet has many racing and sports markets to offer their customers. These include horse racing, Cricket, UFC, F1, AFL, NRL and NBA.  
The Unibet website also has Snooker and even Surfing for people who want to bet on something a little less mainstream. 
Unibet Review Conclusion 
The Unibet site is simple to navigate and use. It is relatively the same on both desktop and mobile devices. 
Unibet has market-leading odds and a live betting interface, making Unibet very appealing to Australian punters. 
Competitive odds for both racing and sports, including boosted odds and promotions, make for a well-off package. 
Considering they have won Sportsbook operator of the year (2014-2015), In-Play Sports Operator of the year (2015), and also Sports Betting Operator of the year (2016), it is safe to say that Unibet is notably considered one of the best online sportsbook operator brands on the market. 
It's possible that withdrawing cash from a bank account using a card would assist first-time buyers. Of course, it is not required, but it has its advantages, which are to be considered when looking into Unibet as your new betting platform. 
For those looking for decent racing odds and promotions, Unibet features a host of favourable perks and competitive odds that make them a worthy contender as one of the great betting sites. 
Unibet Contact & Customer Service
Customers may contact Unibet through several channels, including email, phone, and live chat. The following are some of the ways that clients can reach out to them: 
The online chat is generally answered quickly (if you don't get a response straight away, wait a few minutes). 
Unibet customer support is available from 9 am to 3:30 pm 7 days a week. 
Customer Support: 1300 246 673 
Live Betting: 13 78 68 
EMAIL: customerservice@unibet.com.au
Unibet aims to deliver customer service of the highest standard to everyone: whether you're just a visitor or a loyal customer. 
You can get hold of a professional customer service representative when you need them, through your preferred means. 
If you wish to contact them outside of the prescribed hours, you can email them from the site or at customerservice@unibet.com.au. 
Before you contact a customer service representative, you can also browse through the detailed guides present in the support section of the Unibet website. 
This includes basic topics for your reference, such as Account Setup, Security and Troubleshooting. 
There is also a comprehensive compilation of frequently asked questions (FAQ) about all topics related to gambling at Unibet. 
Unibet Australia 
Unibet Australia is fully licensed in Australia and operates with a Northern Territory gaming license. As a betting site, Unibet allows you to place sports bets on events in Australia and worldwide. As a bookmaker, Unibet offers a vast range of sports and racing markets, including the major racing meets such as the spring racing carnival; sports betting markets include AFL, NFL, Australian Rugby Union, and PGA Australia. 
Unibet Betting Partners 
Unibet is an approved betting partner with all of the biggest sports in Australia; these include: 
Australian Football League 
National Rugby League 
Australian Rugby 
Cricket Australia 
PGA Australia 
Tennis Australia 
Netball Australia 
Football Federation Australia 
Unibet Rules
The Unibet brand has a legal responsibility, like all Bookmakers, to maintain its license. As a customer, you must also adhere to the Terms and conditions that apply to you. 
The link to the company's terms and conditions page is at the bottom of their home page; we have made this easy by adding the link HERE.
 Gamble Responsibly 
Stay in control, gamble sensibly, and think before you bet. 
Consider your options. If you believe you have a gambling problem or are on the verge of making serious mistakes, contact gambling help on 1800 858 858 24/7, or you can visit their website gamblinghelponline.org.au. 
Unibet Australia FAQs  
What is Unibet? 
Unibet, owned by The Kindred group, which has over 11 million clients in more than 100 nations, offers a platform for sports betting, online casinos, bingo, and online poker.  
The Kindred Group is an online gambling operator consisting of 11 brands and Maria Casino, Stan James, 32Red, and iGame. 
Who owns Unibet? 
Unibet is part of the Kindred Group, one of the largest online gambling companies in the world. 
Unibet began in 1997, created by Anders Ström, who started with a single ambition. He wanted to pass on his knowledge to other punters for them to make more educated wagers.  
The Unibet team believes that this forward-thinking is as essential today as when Anders first started Unibet.  
That is why Unibet has remained one of the industry leaders in determining what players genuinely want from their bets to help them love the betting game even more. 
Is Unibet Legit? 
Yes, Australian laws are pretty severe when it comes to bookmaking and all forms of gambling. Unibet is licensed and regulated by Racing NSW. 
Is this the case, then I may gamble legally at Unibet? 
Yes. You may gamble on Unibet from Australia or New Zealand, and you are legal and safe to do so. 
Unibet has a very clear record in Australia's racing industry, and they are fully certified by Racing NSW, which implies all information relating to income/profits must be correct. 
Is Unibet Legal in Australia? 
Yes, Unibet is 100% legal in Australia and approved by the Australian Securities and Investments Commission (ASIC).  
They are lawfully registered and adhere to Australian financial rules, which means they do not participate in unlawful activity. 
Unibet is a bookmaker whose registered office is Fanny Bay Racecourse, Fanny Bay NT, as evidenced by the Australian bookmaking registration displayed proudly on their website. It also demonstrates that Unibet adheres to all relevant regulations. 
Does Unibet offer Same Game Multis?  
Yes, Unibet offers the same game multis for most sporting events on their site and pride themselves on being one of the best sports betting agencies available. 
Unibet, on the other hand, provides plenty of incentives that are continuously updated. As a result, it's a good idea to check their website from time to time to ensure you're getting the best possible Unibet betting odds when laying your money down. 
Unibet Odds  
As with all bookmakers, Unibet offers a Place a Bet option, which allows you to place a bet on any runner in any event. 
Adding to this is several different perks available from Unibet, which allow you to increase your profits and chances of winning.  
Unibet Deposit Bonus   
A good bookmaker has multiple depositing options available, and Unibet has four different options currently available. Unfortunately, there are no Deposit Bonuses for Unibet as this is presently against the law in Australia.