Introduction
Ladbrokes was launched in Australia in September of 2013, expanding the market substantially and allowing enthusiastic gamblers like you to begin taking advantage of its services. The site is one of 13 regionally-tailored betting sites operating under the parent company. While it uses the same markets and odds as Bookmaker.com.au, another site operated by Ladbrokes Plc, its design and promotions are different, and Ladbrokes.com.au offers customers the option to use its Ladbrokes EFTPOS card, making it easier to withdraw winnings.
First Hand Review
We know you're searching for a little Ladbrokes code because we were once in that position too!
Do they still exist?
Not really (we do have a little referral code though)
Gone are the days of securing a little bonus.
What's left?
Well…
They do offer a wide range of enticing promotions.
What's the catch?
You need to be signed up to view them.
Is Ladbrokes any good though?
Well,
Instead of just writing a bunch of mumbo-jumbo.
We decided to dive into the weeds and see what it's all about.
Let's start with the first step,
Ladbrokes Sign Up
Lucky for you,
By using the link above, it automatically places the code in.
Now all that's left is to input all our details.
As you can see,
The form is pretty straight forward we were signed up in no time.
First Impressions
Not bad, not bad at all.
A nice clean, simple layout.
Very much like Neds, Betstar, Bookmaker if you're familiar with those.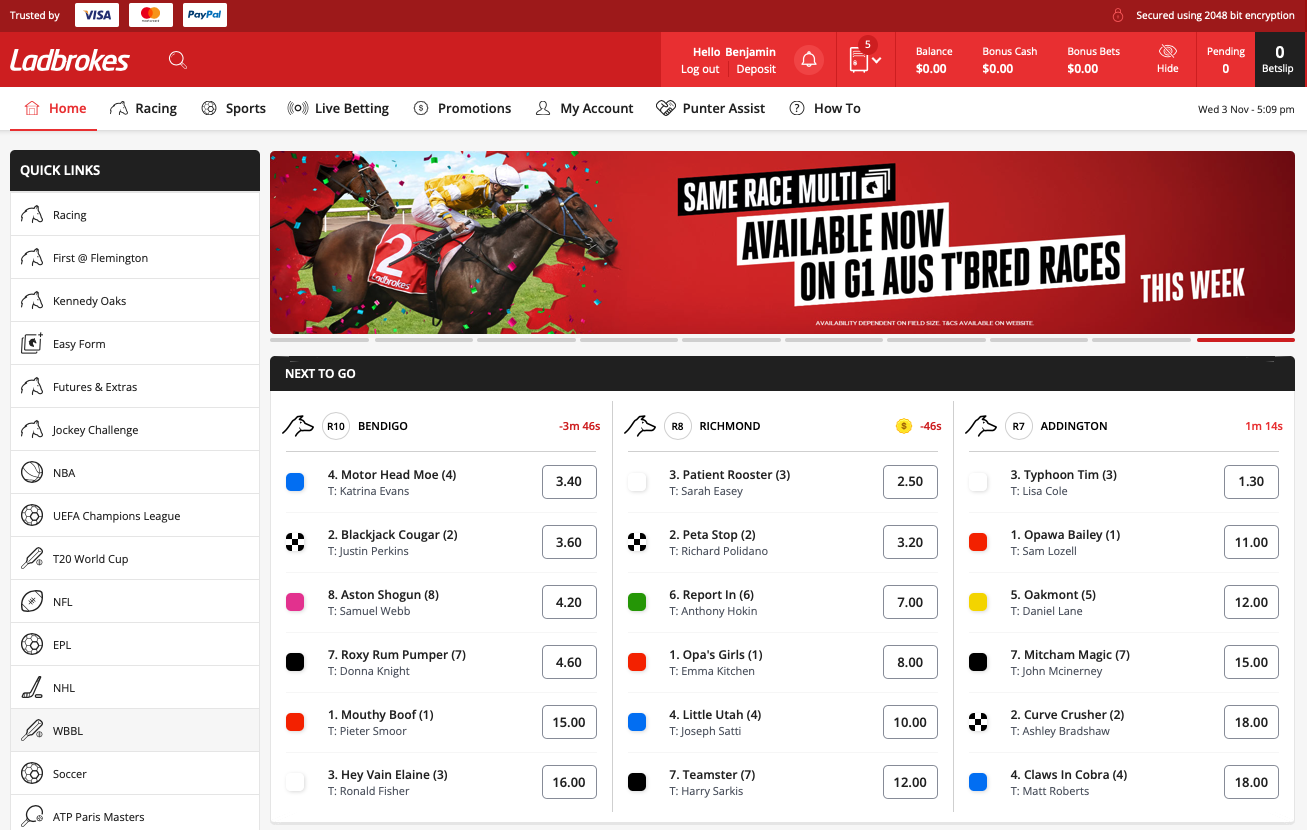 Let's make a deposit.
Depositing with Ladbrokes
Seems to be all the usual depositing methods which is good.
They even do a nifty little cash in feature which we haven't seen before.
You can use cash to deposit into your account by visiting one of the eligible retailers.
Usually, a post office or Tattslotto store will be suffice.
Now that we have deposited it into the account let's get punting.
We will start with the racing section as this is where we do most of our dirty work.
Side note: I thought it may be worth noting but we had absolutely no Ladbrokes deposit problems at any point in time.
Ladbrokes Racing
Clicking the racing tab will bring up the day's racing.
Super easy to navigate.
Getting a bet on was pretty easy.
One thing that I noticed when I made my selection was an odds boost feature which increased my odds on my runner.
After making my bet obviously I wanted to watch my runner which unfortunately I was unable to do.
Hopefully, this is something they can add further down the track.
You are able to have a little live bet though when the race is.
Ladbrokes Live Betting
Pretty cool feature if you're watching the race at the jump.
Gives you the chance to see how they kick and if you want to back something else or have more on your selection.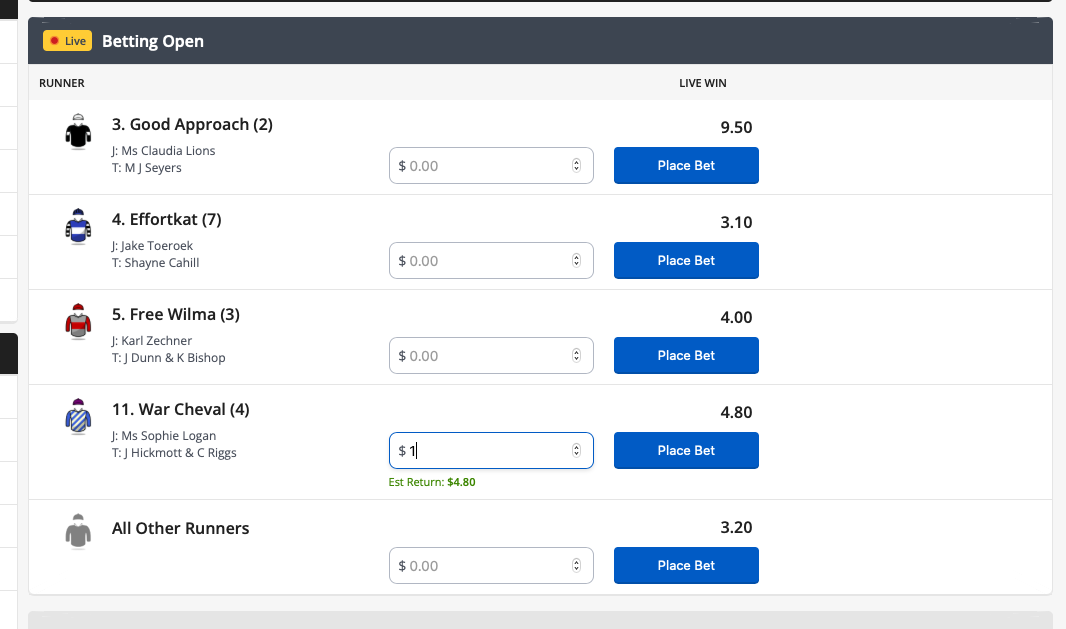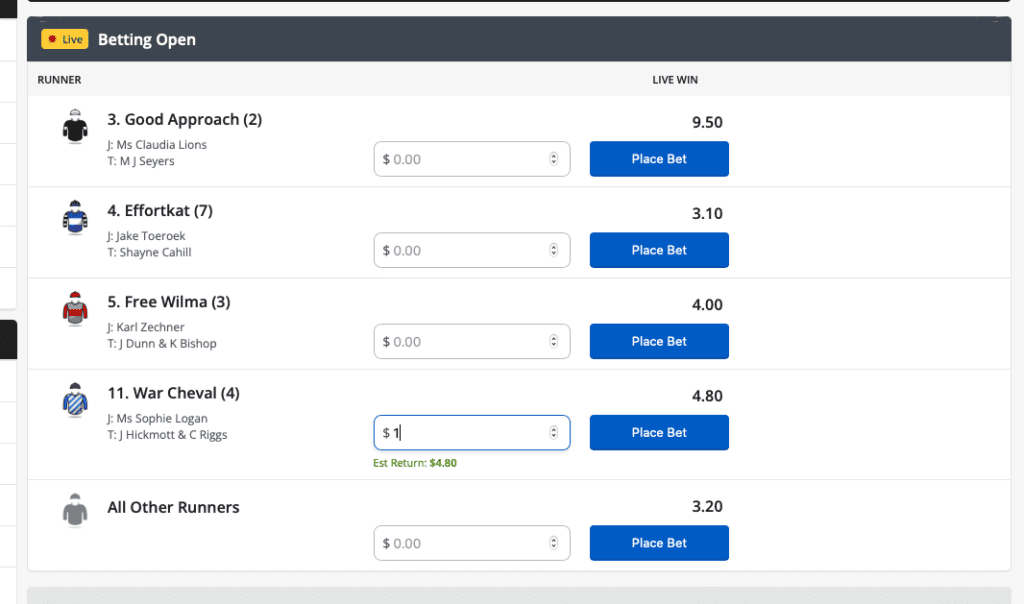 They also have this new feature called blended.
Ladbrokes Blended
Blended gives you the ability to pick multiple runners in the same race to win.
It increases your chances of winning but also reduces the amount you will win depending on how many selections you have.
I think it's good if you're in two minds about a couple of horses.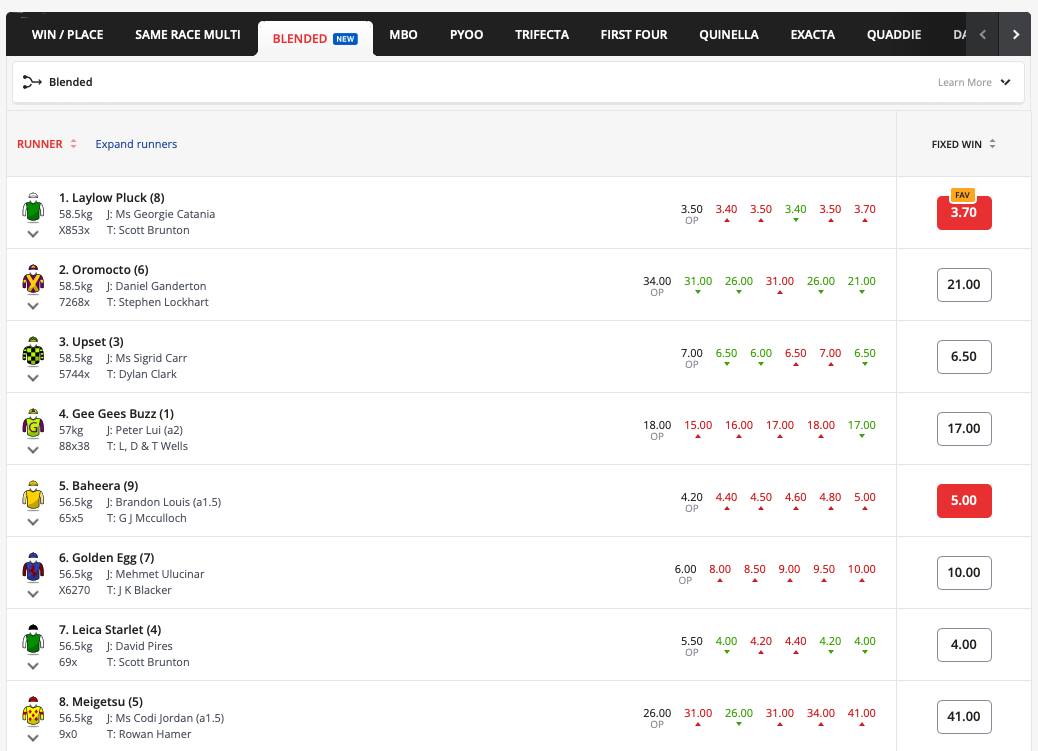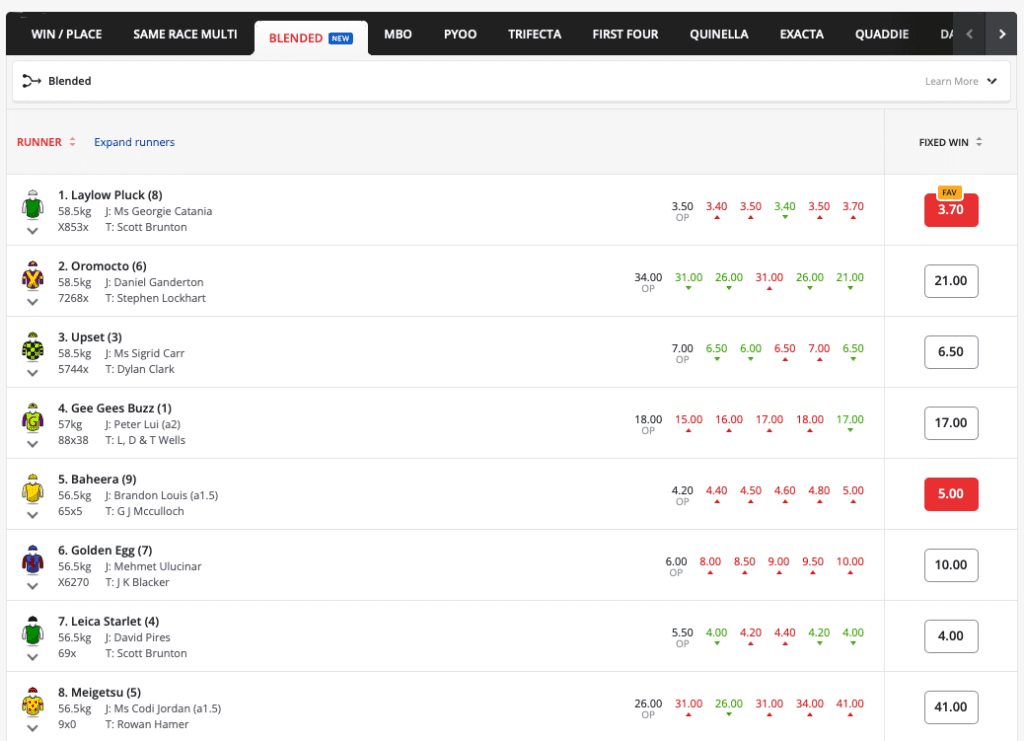 We actually had a little bit of success with the Blended bet type.

They also do same race multis.
Ladbrokes Same Race Multi
This is similar in a sense to blended, you basically pick what horses you want to run in any select order from 1-4 and you get specific odds.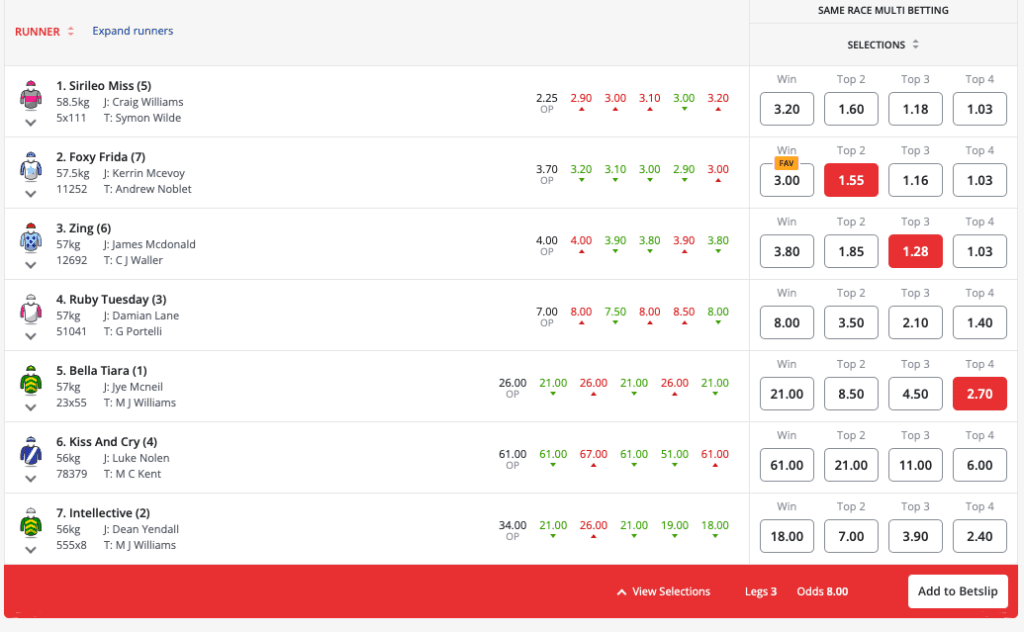 What's their sports betting like?
Ladbrokes Sportsbetting
Checking out the sports betting side of Ladbrokes.
Similar to the racing side of things, the user interface is clean and easy to navigate.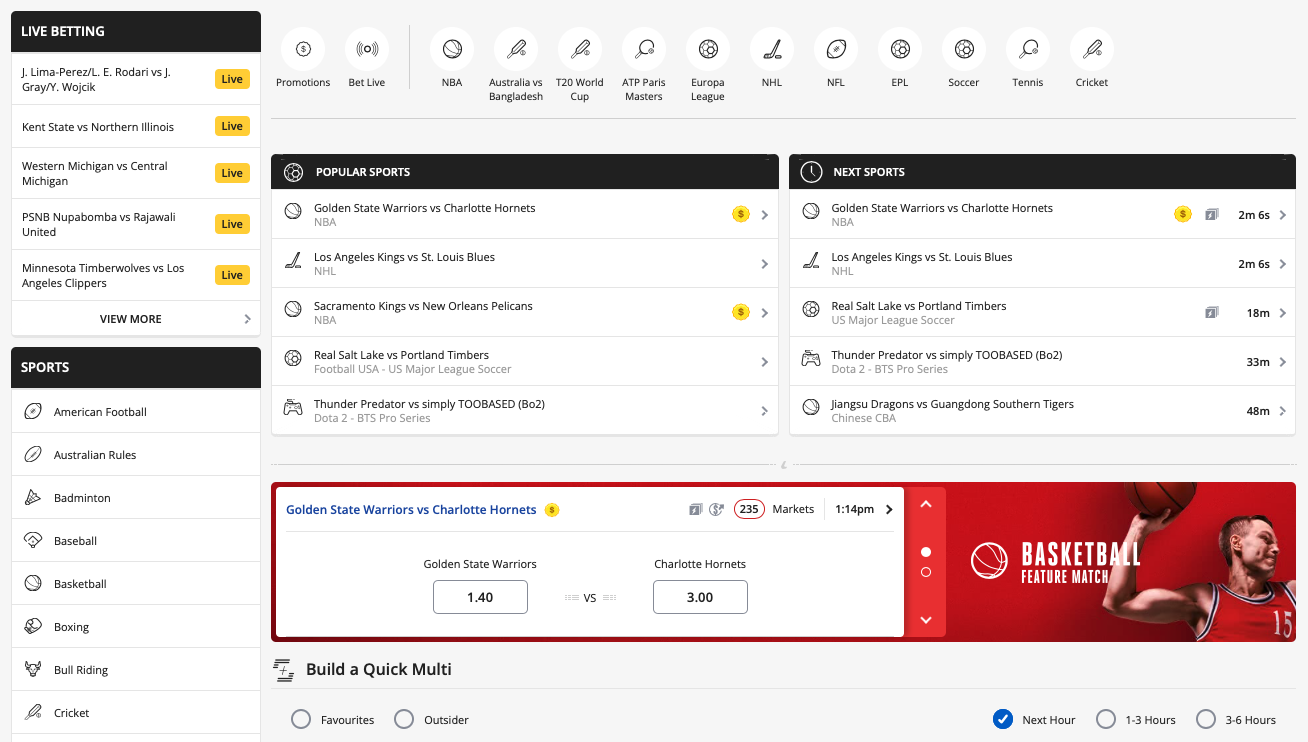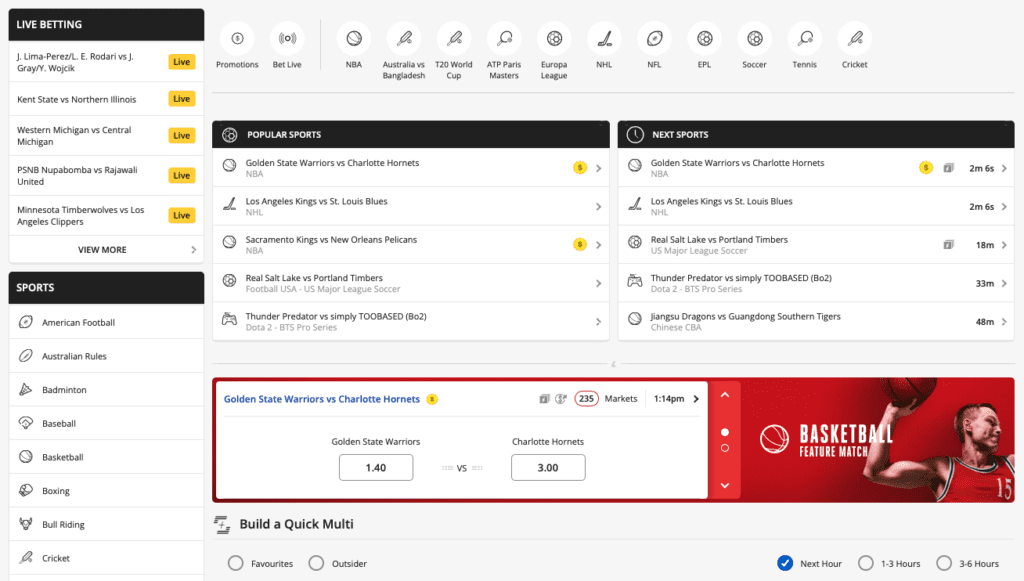 The interesting thing I noticed was the build a quick multi-tool.
For those that enjoy a good sports multi, I was able in a few clicks to pick between favourites or underdogs in upcoming events and add them to a multi.
They had the usual next to go section which was helpful in getting on quickly to upcoming events.
What do we like?
For those that can get a little lost in the landscape.
I liked the fact that Ladbrokes had a little how-to section explaining all their unique features.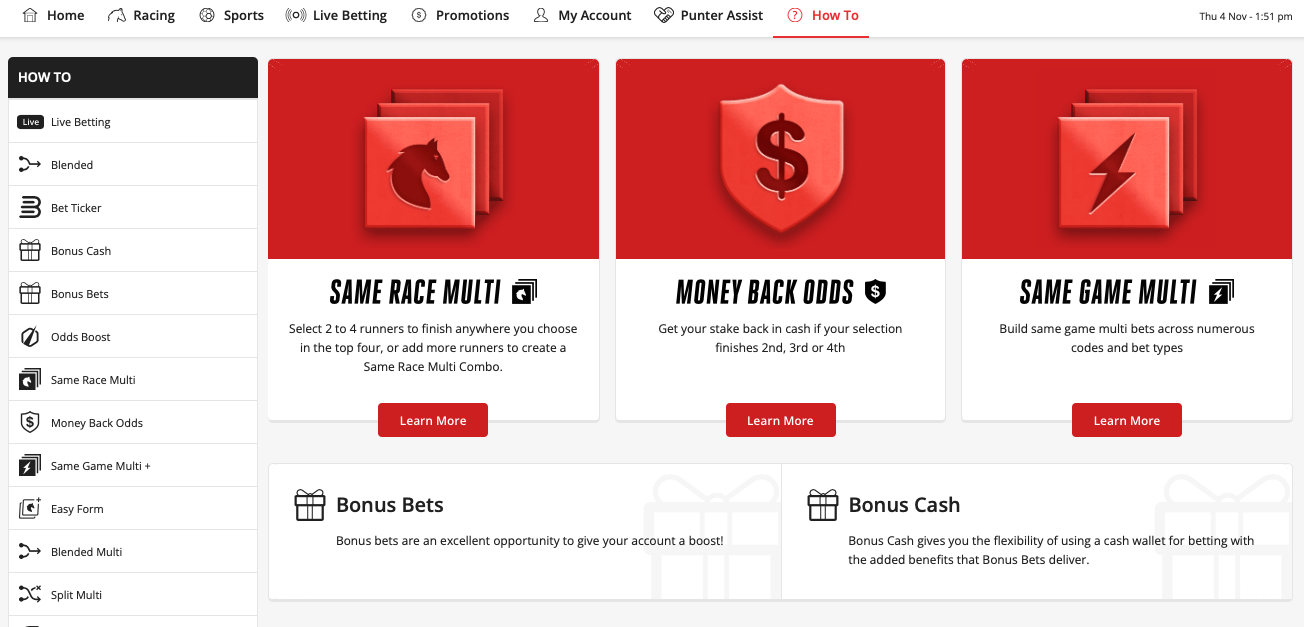 There was also quite a few enjoyable promotions that you can only get access to by being a member and signed in.
The easy to use interface on the Ladbrokes app was a huge tick.
Great odds all round.
Couldn't fault them at all.
One of the better bookmakers that we have used.
Ladbrokes Review
It's been a solid six months since our last review; Ladbrokes has made some changes, so we thought now would be an absolutely excellent time to take another look and see with the Melbourne Spring Racing Carnival nipping at our heels what has happened since we last jumped in.

What do we like about Ladbrokes?
To be honest, we could find many different things we like about this betting site that stand out above the crowd, such as the Ladbrokes card or their racing and sports options. However, these two below are commendable when it comes to making the right decisions.
Ladbrokes offers its users the choice to set limits in advance on their maximum deposits through the site, helping to ensure that users don't set themselves up for failure by placing bets using money they can't afford to spend. This can be done through the Pre-commitment Limit page, easily accessible via your My Account page. This online betting agency's choice to allow its users to set limits for themselves is a testament to its commitment to providing an enjoyable and safe online gambling experience that gives you more opportunities to gamble responsibly.
We wanted to find a guide that will allow us to see information quickly and easily with little fuss. Ladbrokes Easy Form is a comprehensive, streamlined way to find the race guides you need quickly and easily, and we think it is fantastic!
Something else we absolutely loved is the Ladbrokes Cash in option, you can use cash in at participating Australian newsagencies, and also at eligible ATM plus machines.
But there was something missing.
Seriously.
If you're not live streaming sports, whats the point?
We really needed to see it live streaming but it just wasn't there!
On the upside, I managed to fire up their quickbet and could still get a bet on.
What's missing at Ladbrokes?
It seems to be a common trend with people searching for new betting sites that everyone seems to want Live Streaming; unfortunately, this seems to be just about the only thing that Ladbrokes has limited availability of.
Ladbrokes Highlights
Ladbrokes features a service known as "Quickbet." This provision allows punters to bet pre-configured amounts with just three clicks of the mouse, and these bet slip-skipping wagers can be placed without the need for clearing any other existing items in your slip.
Another fantastic addition to Ladbrokes that not all betting sites offer is Ladbrokes Novelty Bets, and this allows you to place a bet on television shows, elections; you can even put a bet on the triple j hottest 100.
Ladbrokes Promotions
Just like all other betting sites in Australia, Ladbrokes weekly promotions are available to their customers; however, if you want to view these promotions, you need to be signed in to view them. These promotions are constantly being updated, so please take a moment to also check for ongoing promotions.
Ladbrokes Android App

Knowing full well that Ladbrokes is one of the major players in the bookmaking industry, we were not at all surprised in the slightest to see that they had an Android App, and it's one of the best we've used.
Ladbrokes has come up with a design that works well on tablets and smartphones alike. We were also surprised to see that they included some social elements from their main site as well. This adds a whole new level of commitment from the lads over at Ladbrokes.
We also liked the fact that they had bolded the significant sections of their App, which makes it very easy to find whatever you're looking for. Ladbrokes is available in around 30 languages.
We decided to check out their novelty bets which ranged from betting on the Batchelor 2022 to betting on triple J hottest 100 2022, and we put money into all of them! Depositing funds was simple, and placing our bets was just as easy.
In total, we placed $60 of bets at $10 per bet; unfortunately, at the time of writing, none of the novelty bets had finished, so we do are not sure of any winnings.
Punters are turning to their mobile devices more than ever before, and Ladbrokes has been able to stay ahead of the trends with their instant access to hundreds of events. The sleek design and simple installation make navigating the Ladbrokes app a breeze. Ladbrokes Australia provides a mobile experience that is just as good as your desktop, with deposit and withdrawal available directly through their App.
Which is why we weren't surprised at all when doing our Ladbrokes app review that the app is one of the best on the market.
Ladbrokes Apple IOS App

Let's be honest, Ladbrokes is great at what they do! Before we even clicked the download button, we knew it was something we knew would work very well. Some of their features include live in-play betting, push notifications and support.
Ladbrokes is one of the most prominent bookmakers in the industry, and as such, their App is also popular. It's effortless to use, thanks to its intuitive interface and advanced features.
The Ladbrokes App's sleek design and simple installation encourages quick navigation and helps you to find what matches you want to wager on with ease. Plus, deposits and withdrawals can be made directly through the App with just a few swipes, providing a betting experience that is just as comprehensive as it would be on a desktop computer.
We decided to throw some money into the Rugby Union; depositing funds into their system was a simple process. Placing bets through their easy interface was just as easy. Unfortunately, our luck wasn't so great this week, but we did manage to get up on a few of our bets.
We weren't surprised at all at how well the app performed under our Ladbrokes app review. In total, we placed $70 worth of bets at $10 per bet, and we ended up walking away with a withdrawable balance of $38.20.
Ladbrokes Mobile Site
Ladbrokes is one of the best betting sites on the market (in my opinion), so it comes as no surprise that the mobile version of their desktop site is seamlessly integrated with the desktop site.
The mobile version of their site is clean and easy to navigate, making it simple to find all our favourite features such as live betting, promotions, markets etc.
Since it's the start of American Football for the year, we just had to bet on NFL. We placed ten bets at $10 each on five matches, placing a $10 bet on head to head and also a $10 bet on the winning margin of each game.
Unfortunately, at the time of writing, the games have not been played, so currently, I cannot comment on profits and losses.
Ladbrokes Website
After reviewing all the other versions, it was pretty clear how well the desktop version of the Ladbrokes website was going to perform.
Before opening up the Ladbrokes online website, I cleared my cache to see how long it would take to load the first time. The website opened without a hitch and surprisingly fast considering how much data it has to load (in non-technical terms… IT WAS FAST). After checking the betting markets, we decided to throw some money into the horse races. We started by popping $100 into an assortment of races and multis throughout the day. Thanks to a roughie in race 5, we landed a handy $128 but quickly popped the winnings back into the races.
We ended up walking away with a tidy $326.50 win (thanks to a multi) for the day, which we chose to take out after the last race.
Ladbrokes Sign Up New Account

We thought we might mention that there is no sign up bonus; this is because bookmakers can no longer promote a sign up bonus as a way to entice customers.
When signing up to our new Ladbrokes account, we simply clicked the "Join" button from the homepage, which then led us to create a new account where we had to enter a valid email address, a unique username (usually helps to use numbers at the end) and password, our First and Last name (this must match your I.D., Date of Birth, Phone Number and Address.
We were pretty pleased to see that we were able to set a deposit limit; I set mine to $200 to avoid any drunken mistakes.
Once signed up, we found that they have a new tool named "switch promotions," which allows you to switch the promotion on certain events.
Deposit Methods:

Ladbrokes Australia has a variety of instant deposit options, these can be found in the list below.
visa
PayiD
PayPal
Cash In
POLi
Flexepin
1-3 Day Deposit Time
Bank Transfer
BPAY
After choosing a deposit method (VISA this time), it gave us the standard options of:
Cardholder Name
Card Number
Expiry Date
Card CVV
We then chose to add our initial amount, which was $50, then we clicked "Add Card" to deposit our funds. No issues were found, and the money was transferred into the account almost instantly.
You can check out the website HERE.
Ladbrokes Verification Process
To verify your account, select the "Verification Centre" option from the "My Account" section. Select Verify. This section requests your I.D. in order to verify your account.
These documents are:
Australian Driver's Licence
Australian Passport
International Passport (Australian Visa)
Medicare Card
NZ Driver's Licence
N.Z. Passport
Enter the required information in each section, then select the Verify These Details button. When your account is verified, you will see a notification on the screen that confirms it has been completed.
If the online verification process is unable to verify your identity, please call customer support on 1300 523 276, and one of the Customer Support reps will help you identify yourself over the phone.
If you have I.D. documents issued in a country outside of Australia and you don't have a valid Australian visa, we require manual verification before your account can be approved.
Ladbrokes Betting Markets

Horse Racing
The interface for horse racing wagers is intuitive and easy to use, offering markets including fixed price, best tote, and top fluc. Once you've selected a race venue, all upcoming races will be displayed in the left column without the need for reloading the page. The horse racing interface also offers you a feature called "Pick Your Own Odds," which allows users to choose winning margins for runners, opting for more risk if they so choose in ¼ length increments.
Sports Markets
Given that Ladbrokes.com.au is tailored to an Australian market, it should come as no surprise that it focuses primarily on popular Australian sports such as Rugby, NRL, and AFL games. The site also caters to popular American codes. Some of the most highly-covered sports include football, tennis, cycling, golf, and motor racing, although you can place sports wagers on a variety of other leagues around the globe as well.
Live Sports Betting
Australia's Interactive Gambling Act makes it impossible to live bet online; however, Ladbrokes has instituted a QuickCall feature, which allows you to place live sports wagers using a computer's microphone rather than a landline or a cell phone. In order to protect their customers' privacy and ensure compliance with local gambling laws, Ladbrokes digitally synthesises their bettor's voices in order to place live bets on their behalf instead of recording audio.
Ladbrokes Bonus Bets
Ladbrokes offers a variety of Bonus cashback offers to their customers in the form of promotions, these are seen as racing bonus bets if your horse comes 2nd or 3rd for example or if one leg of your same game multi fails in sports.
Since new legislation was passed in Australia, all betting sites are no longer allowed to promote bonus bets to entice customers to join their website. In saying that, Ladbrokes has chosen to offer promotions to users that are signed up. Unfortunately, you cannot see them until you are logged in as an existing customer. However, their promotions are updated regularly, giving you the best opportunities when wagering on racing and sports markets.
I can't even begin to emphasise how important it is to regularly check on the promotions prior to placing a bet, as some promotions can last for as little as 24 hours.
Ladbrokes Deposit Bonus
There is currently an excellent promotion running on their promotions page where you can Sign in and get up to $100 in Bonus Bets; you can double your winnings, this is available for Race 5, but you have to head to the promotion page to find out how to claim the offer.
Find out HERE.
Ladbrokes Racing Bonus Bet
As shown above, you can claim up to $100 in Bonus Bets on race 5 when you sign in to your account, find out more about the offer HERE.
Ladbrokes Odds Boost
Fancy doubling your winnings on Race 5? whilst they can no longer do sign up bonuses, one of their promotions at the moment allows you to claim one of the best odds boost at the moment with up to $100 in bonus bets.
Ladbrokes Code

Ladbrokes are no longer able to offer any sign-up bonuses. New legislation prevents bookmakers from giving new customers incentives, so when you see a Ladbrokes bonus code such as "Ladbrokes $250 bonus bet" I'm here to tell you that it's not a legitimate claim. Don't worry though, this is an Australian-wide restriction on all betting sites, Ladbrokes does still provide punters with a fantastic betting experience and daily racing promotions and is recognized as one of the good betting site options for Australia.
It's always good to check their promotions regularly to make sure you are getting the best value for your money.
You can find a link to their site HERE.
Ladbrokes Contact & Customer Service
When it comes to contact and customer service, Ladbrokes is up there with the best ways to help and assist their punters, whether it is through their customer service team or via social media. Ladbrokes offer a wide range of contact options from email and telephone to fax and online chat. You can also find them on the main social media platforms such as Facebook, Twitter, and Instagram.
Live Chat: https://www.ladbrokes.com.au
24/7 Customer Support: 1300 523 267 (+61 7 3184 9343)
24/7 Betting Line: 1800 523 276 (+61 7 3350 0781)
Address: 591-659 Princes Hwy, Springvale VIC 3171
Ladbrokes Review Conclusion
The average Australian punter can't go wrong with Ladbrokes. As one of the world's premium betting sites, the company holds itself to high standards and offers customers the ability to bet on everything from greyhound racing to the Melbourne Cup and beyond. When combined with the site's exciting promotions and its fantastic odds, this helps to explain why Ladbrokes.com.au has grown to be an industry leader in Australia in just five years.
Ladbrokes Rules
As with all bookmakers, Ladbrokes must follow specific rules to keep their license. Thankfully the amount of information Ladbrokes offers to their customers is astounding and is laid out in such an easy way for their customers to access. You can find their terms and conditions HERE. https://www.ladbrokes.com.au/rules-terms-and-conditions
Ladbrokes fully respects their clients' rights to privacy, which is why they use technologically advanced encryption processes to protect all user information. While they do collect information like name and contact details, banking information, betting history, and financial information, there's never any reason for you to be concerned about the misuse of this data, as this site shares user data only with reputable third parties who provide necessary services. All of your user information will be securely stored according to Australian privacy requirements.
Ladbrokes Australia site is licensed and regulated by the Northern Territory Racing Commission, which issues licenses to online gambling operators based on strict auditing and surveillance. Ladbrokes can operate in most countries, including Australia, the United Kingdom, Canada, Ireland, and the Republic of South Africa.
Commitment to Responsible Gambling
The vast majority of online gambling sites are attracted to Ladbrokes due to the undeniable pleasure of testing their luck and judgment against others and the potential for winning money via their wagers. As one of the highly reputable online sports betting sites, they do everything possible to make online gambling an enjoyable experience for all of their clients. This includes offering information to help those with potential gambling addictions to recognise that they have a problem and preventing minors from engaging in illegal betting activities.
Ladbrokes.com.au allows users to set pre-commitment or deposit limits and self-exclude themselves from betting through the site, helping to ensure responsible use. Their staff is also trained regarding responsible gambling, receiving updated training sessions at least every two years and having access to extensive gambling-related support services that can be recommended to users as needed.
Stay in control, gamble responsibly, think before you bet.
Think about your choices. If you do think you have a gambling problem or are beginning to make bad decisions, you can call gambling help on 1800 858 858 any time of day 24/7, or you can visit their website gamblinghelponline.org.au
About Ladbrokes
The name of this historically popular company was derived from its point of origin in the village of Ladbroke, located in Warwickshire, England. Its founder, W.H. Schwind, trained horses from Ladbroke Hall more than a century ago, though the company's name was actually suggested by an original business partner named Arthur Bendir upon seeing the term "Ladbroke Hall" on a nearby signpost. This parent company of Ladbrokes.com.au found initial success in establishing a service for an elite clientele drawn from clubs like the Whites and the Carlton. However, today it is accessible to a far wider range of gambling enthusiasts across the globe.
The modern company Ladbrokes Plc initially drew most of its clientele from upper-class gentlemen clubs in London interested in horse racing, finding a good deal of success despite current restrictive U.K. cash betting laws. These restrictive laws had the paradoxical effect of increasing the company's exposure. It encouraged company leaders to begin branching out into greyhound tracks in the 1950s and a wide variety of team sports in later years. The company went public in 1967, with 100 betting shops and five credit offices under its belt and a broad and diverse clientele and fan base, encouraging its rapid growth into the widely-respected and globally recognised corporate conglomerate known today.