About RealBookie
RealBookie.com.au is 100% Australian owned and operated from Victoria, Australia, by Mark Sampieri and Chris Lester.
Both Chris and Mark have extensive experience within the bookmaking industry and decided to put their knowledge and expertise into the online betting world by creating RealBookie.
Key Takeaways:
User-Friendly Design and Quick Signup: RealBookie boasts a professional, non-flashy layout that's easy on the eyes, complemented by a straightforward and efficient signup process, which can be completed in just over a minute​​.
Comprehensive Racing Information: RealBookie provides detailed information for horse racing, including a short-form guide, full-form guide, and an easily accessible speed map, enhancing the betting experience for racing enthusiasts​​.
Diverse Sports Markets: RealBookie offers a wide range of sports for betting, including major Australian, European, and American sports, as well as less common options like handball, catering to a broad spectrum of betting preferences​​.
Exclusive Promotions and Live Streaming: RealBookie stands out with unique promotions and RealBookie TV, a live-streamed racing feature available on both desktop and app versions, a notable offering among smaller betting sites​​.
Mobile Accessibility and Live Streaming Options: The platform provides dedicated apps for both Android and iOS, ensuring a seamless mobile betting experience. RealBookie also offers live streaming for horse racing, Greys, and Harness, although live streaming for sports is not currently available​.
You've come to our site looking for a RealBookie Bonus Code.
I've been there before, and I've spent hours Googling for them!
One minor issue.
Bookmaker bonuses used to be extremely easy to locate, but they're a little more challenging today.
The majority of bonus codes are no longer valid… however, not all.
It's a restriction imposed by law because they've restricted the use of incentives.
Before we get to the nitty-gritty of the RealBookie Promo Code and welcome bonus situation, let's quickly run down what they're like!
I conducted a Google search and was pleasantly surprised to see that they were at the top of the list, given how typical the term bookie is on the internet.
This might alter over time and become difficult to discover due to the Google search engine algorithm's shifting position.
I've included the link as a favour to you, so you don't have to search for it. RealBookie Homepage.
Let's have a squizz at the RealBookie layout.
First impressions are that it is not as flashy as other sites; I don't find this a put-off, in fact, I think it looks incredibly professional.
The Next to Jump races are listed at the top of the page with a series of buttons removing race types you don't want to see.
I removed the harness and dish lickers straight up because I had zero interest in them. 
I like Grey and white with Cyan accents; not only is it easy on the eye, but it also allows you to distinguish between the sections easily, the hint of yellow is a nice touch too as it helps to break up the colours and really adds to the cyan.
Following down from the Next to Jump section is a series of quick link boxes for upcoming sports.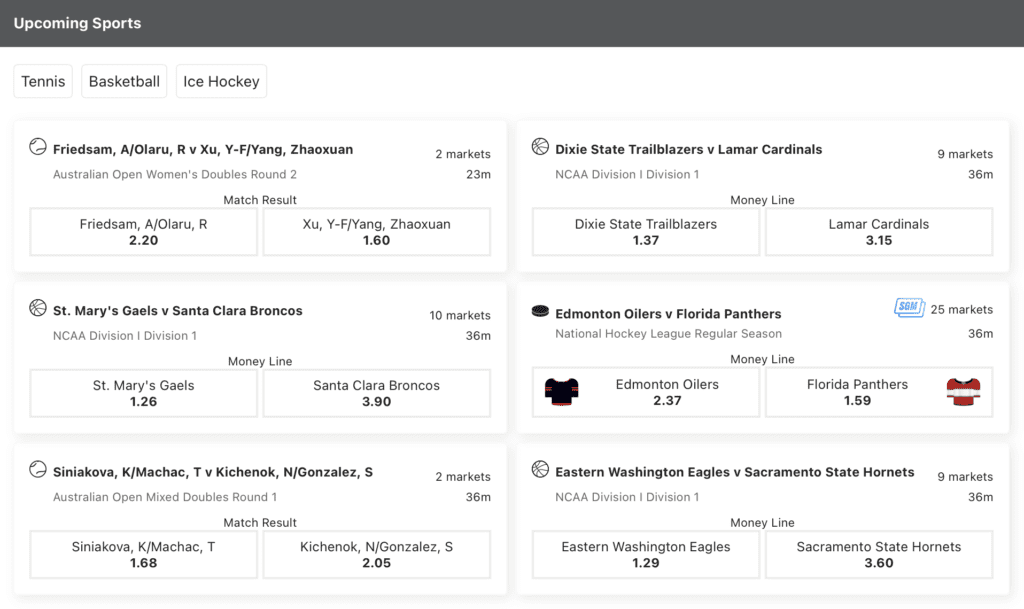 And also, trending bets.

On the left-hand side of the home page, you'll see a series of simple-access boxes dedicated to racing, sports, promotions, my account, and Live Chat.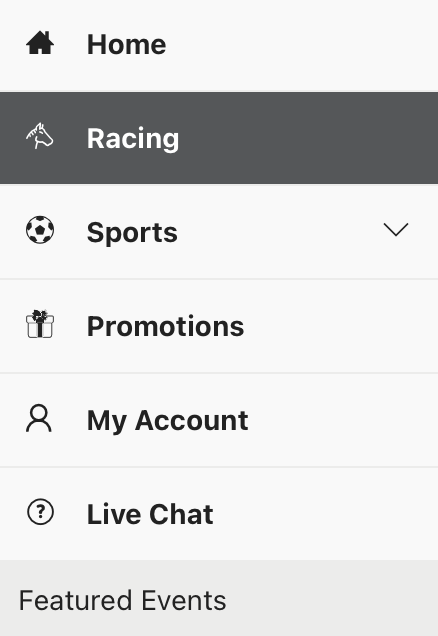 Following this is a Featured Events section which is essentially all major sports currently in season.
Ready to get stuck in?
The RealBookie sign-up process:
Signing up with most bookie sites is a standard process; the RealBookie sign up was no exception.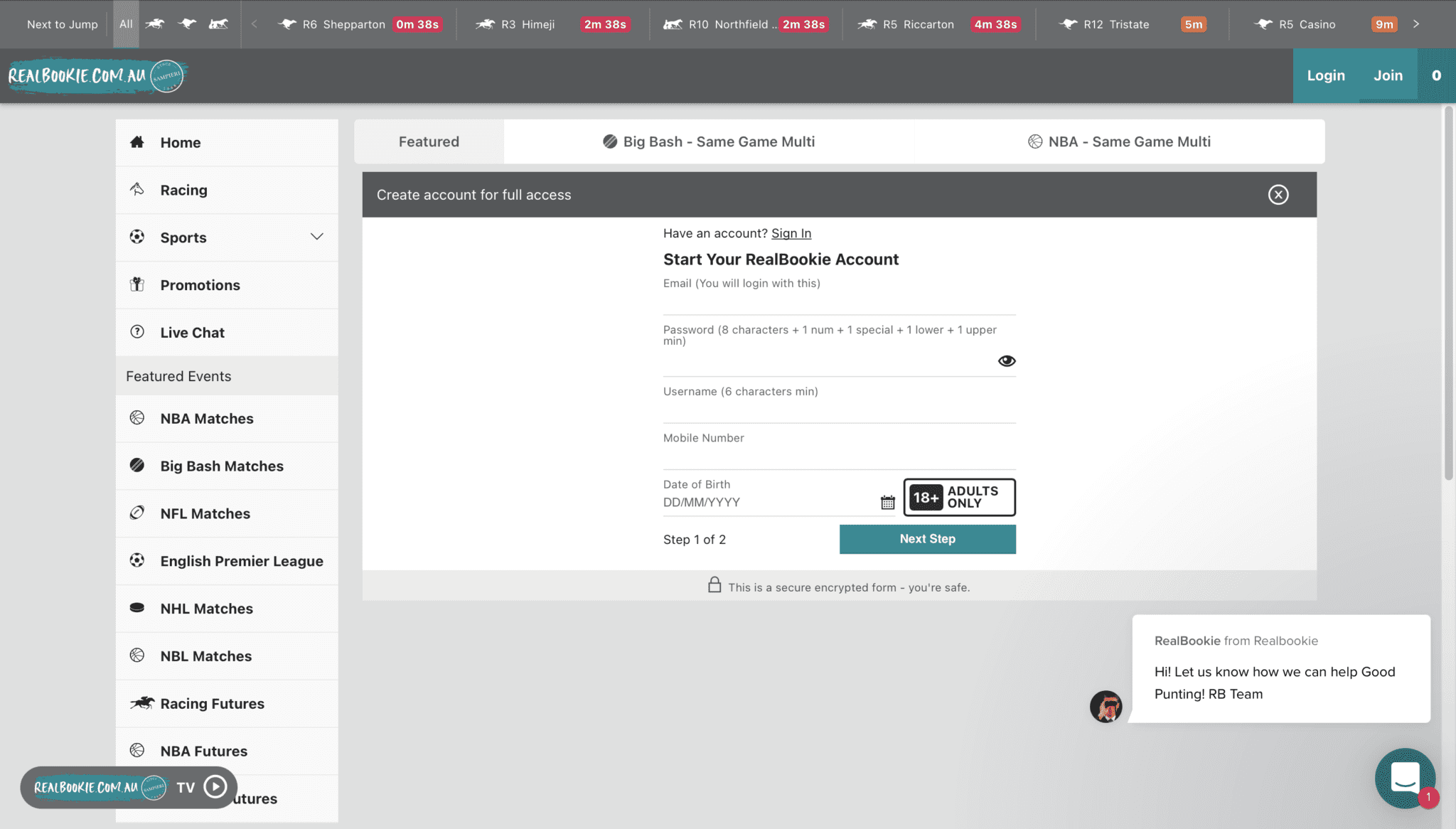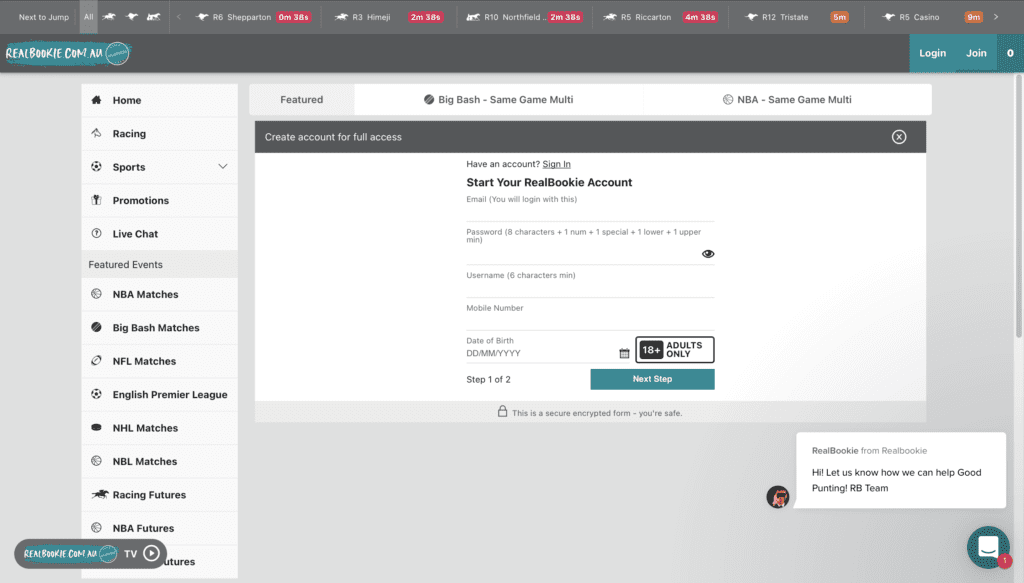 I found the sign-up method with RealBookie to be one of the best I have come across recently,
It is evident that the staff knows exactly what they are doing, and their registration was one I'd consider almost flawless.
Sign up took a little over a minute, and I made sure to take my time with it.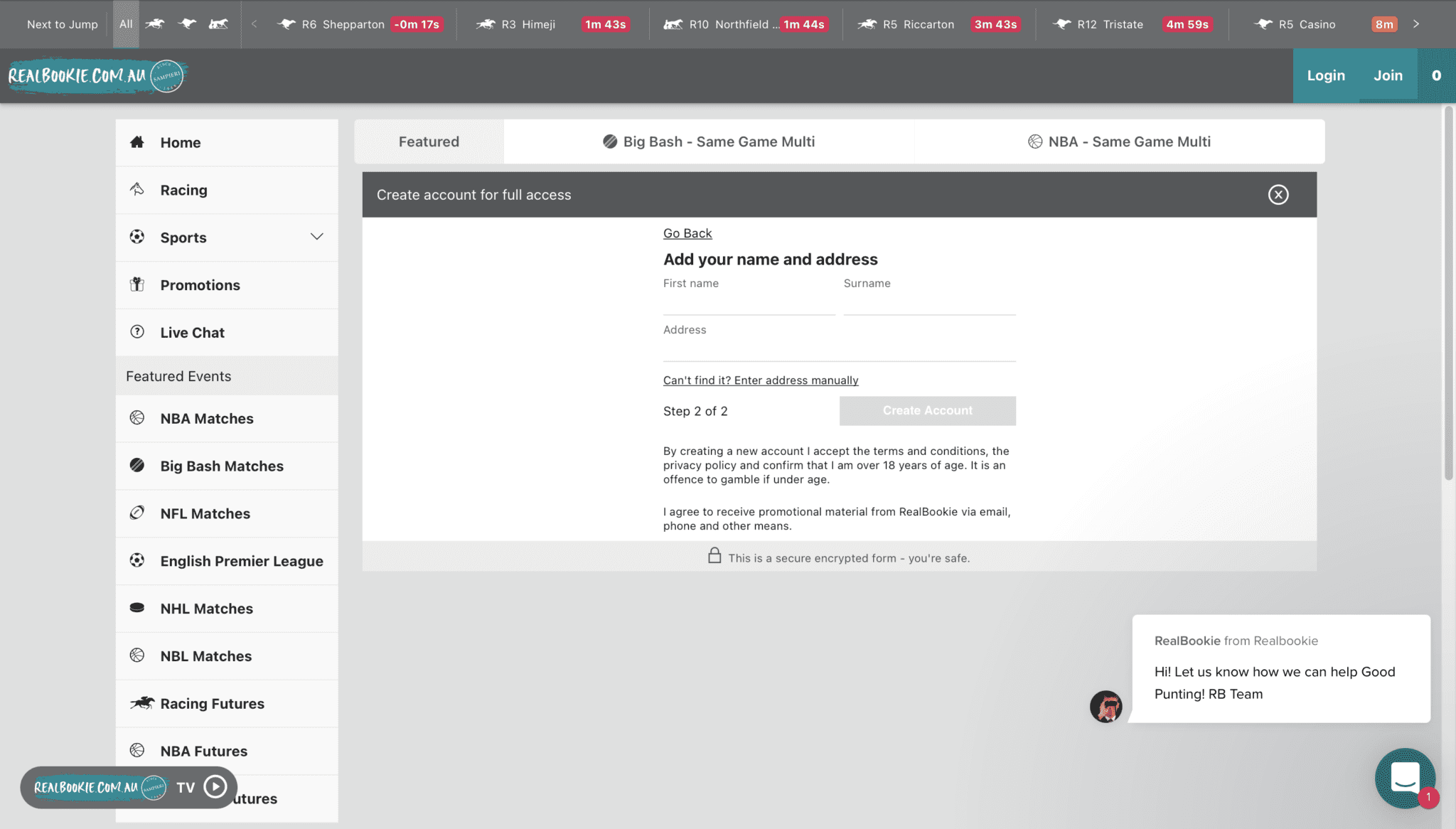 It was a very easy two-page sign up; the first page needed an email, password, username, mobile number and date of birth.
The second needed first name, surname, and address.
And that was it; I was signed up to RealBookie!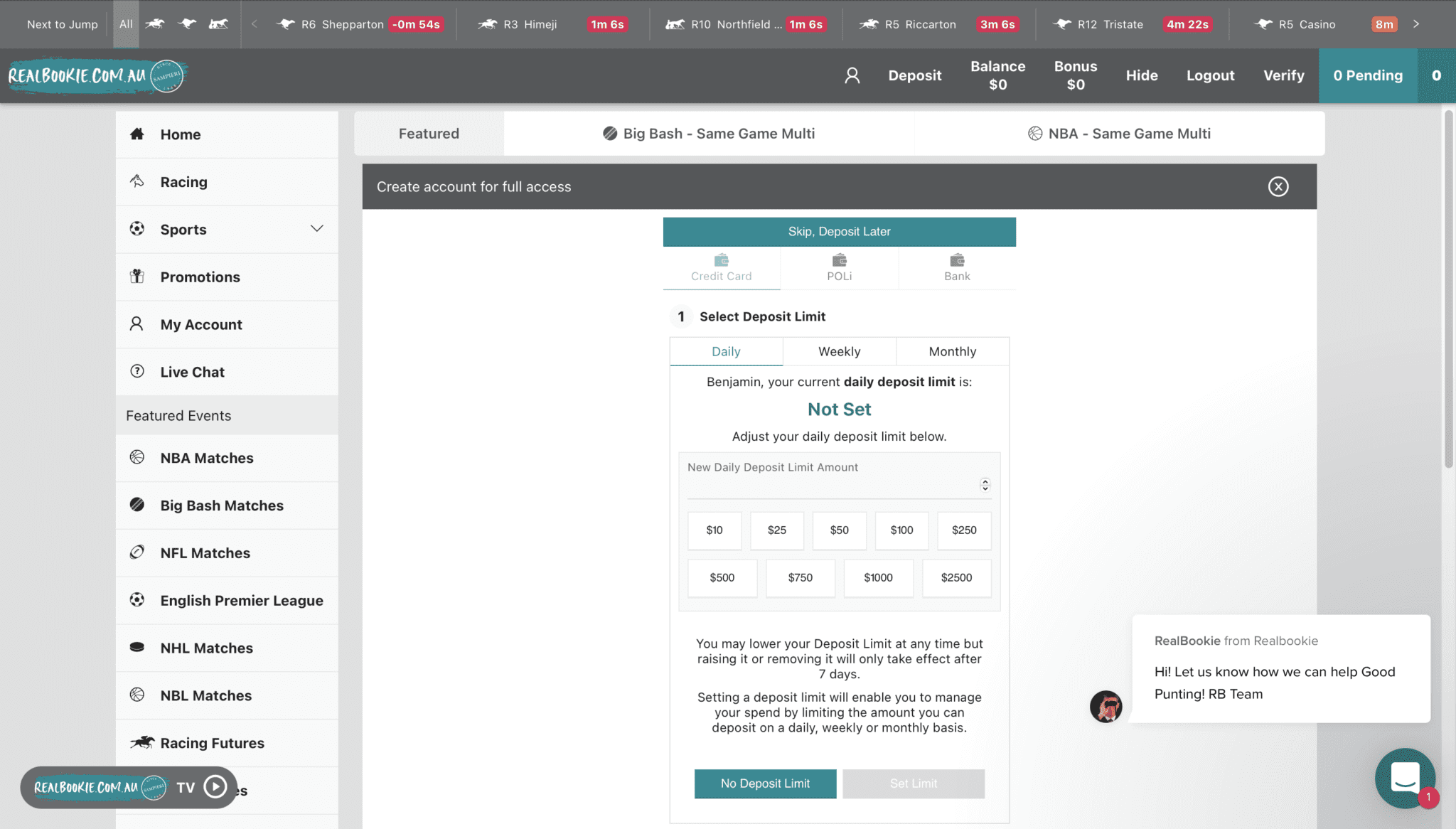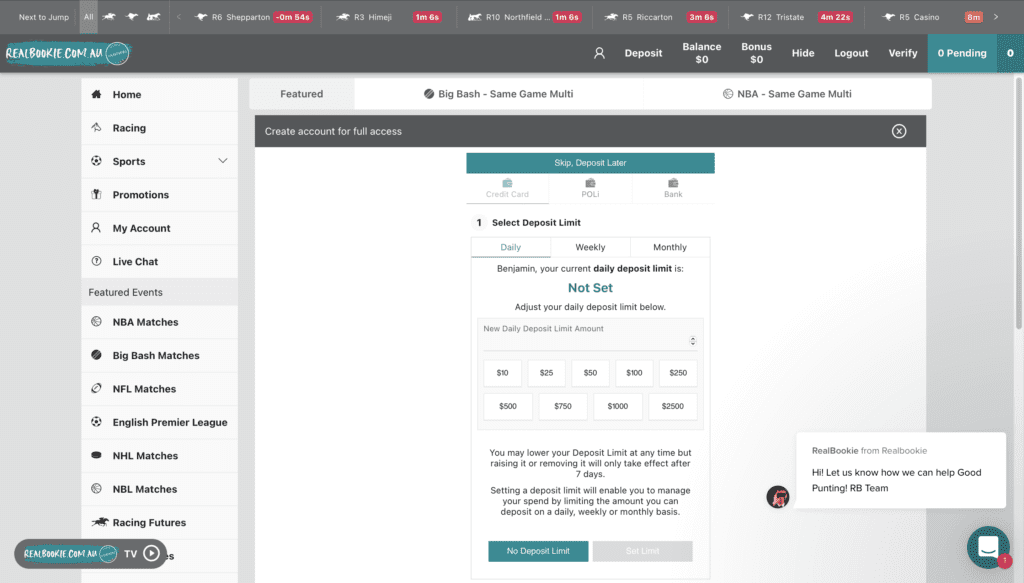 I was then given a choice to set myself a deposit limit. I think they're an excellent idea for times when you get on the sauce and wake up hungover with a little less money in the bank.
Now that we've joined up let's put some money in the account.
Depositing Funds
It was a piece of cake to deposit money into my RealBookie account.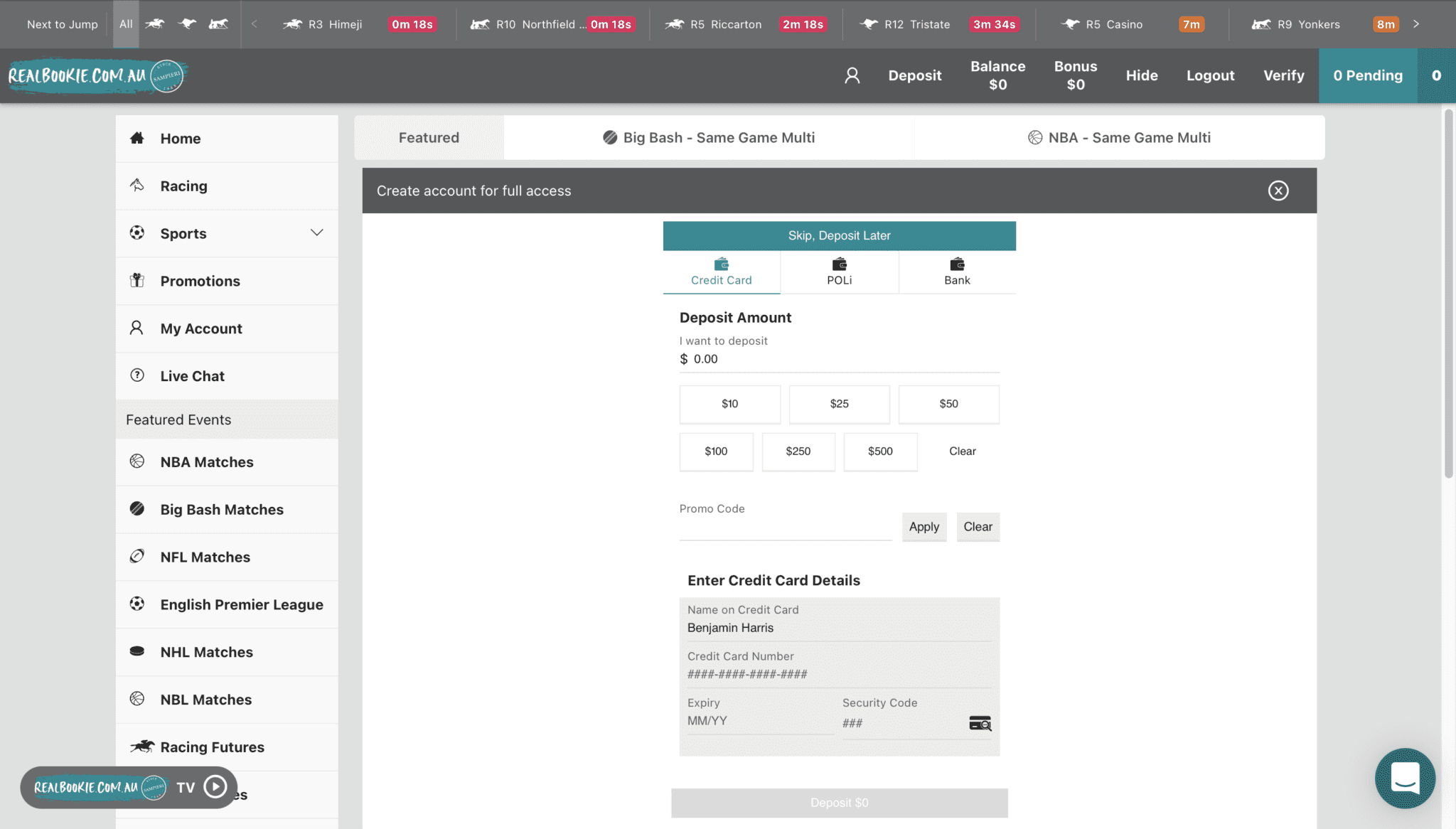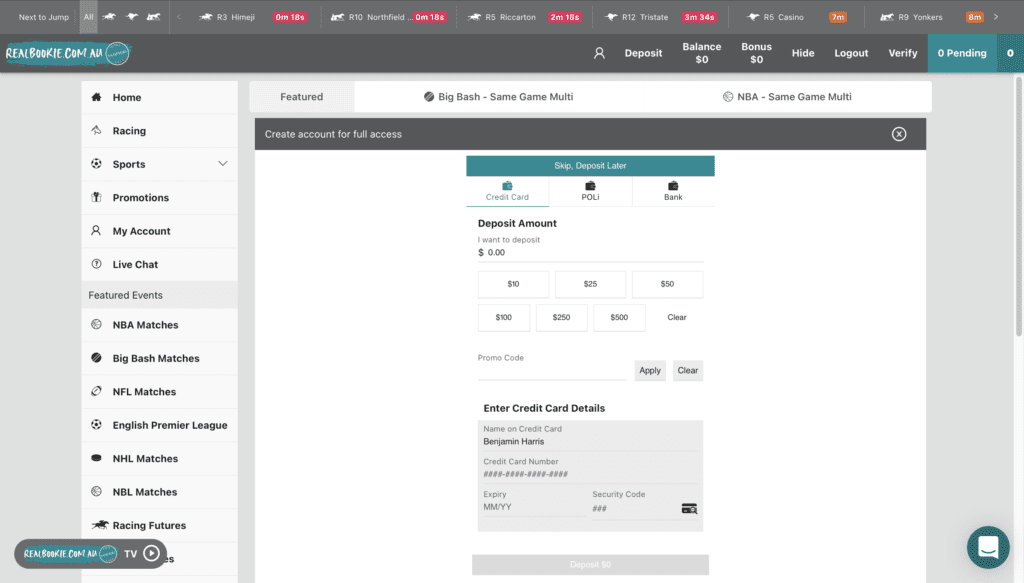 I chose to use a credit card as that's what most people will be using, entered my card details, and chose how much money to add.
The Sign up then redirected me to a page that needed a NetBank verification code (this is common with using credit cards). After that, I was good to go; the money was in my account before the home page had reloaded.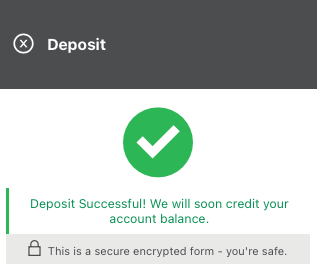 I only chose to add $10 to my RealBookie account for this review. 😄
Next up, I verified my account; this was easily remedied by jumping into the account section and clicking verify; after that, I filled out my license details, and I was good to go.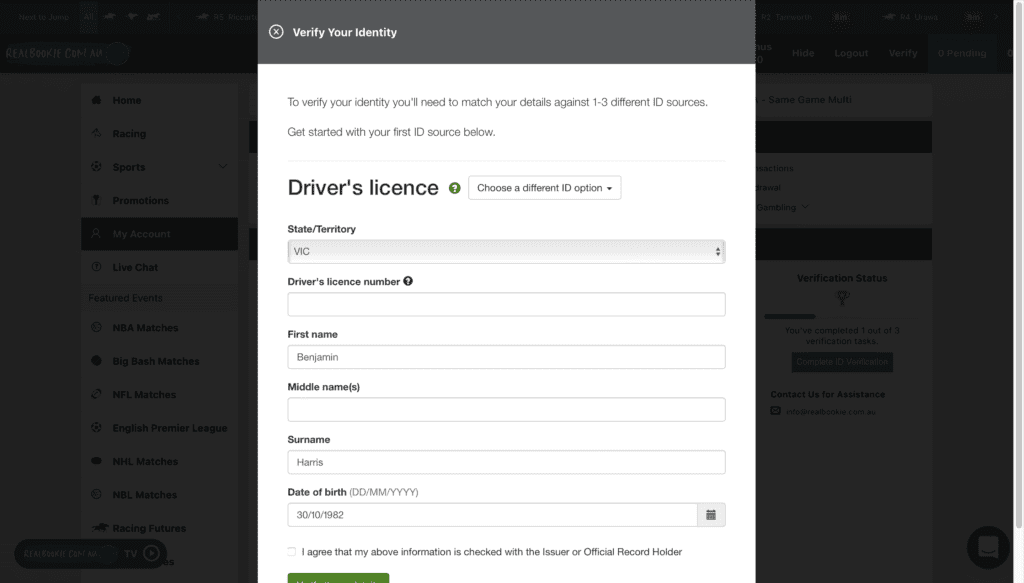 I could have placed bets I verified my account; however, I like to get everything out of the way and organized before I begin (i.e., tick all the boxes).

Let's find some races!
I could have just gone to the Next To Jump section, but I figured it would be best to go to the racing page for a more in-depth study.
The races layout is clean, and the upcoming races have a little countdown timer to see which races are up next.
The races with bonuses available have a little dollar sign in the top right corner, making it easy to see which races you want to check out first.
Once I clicked on a race, it was great to see so much information laid out in an easy-to-read manner.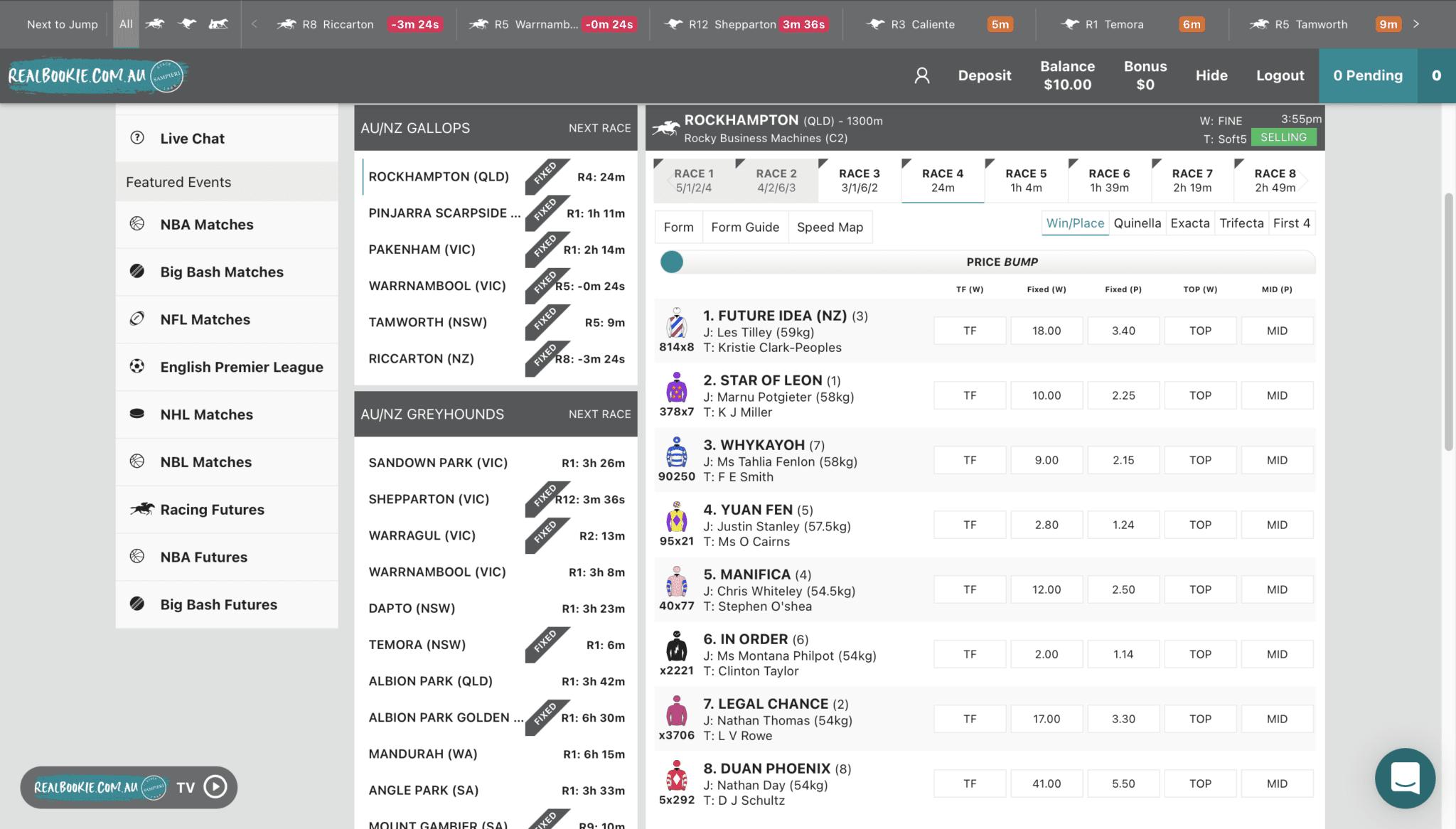 Under the jockey colours was a set of numbers showing the last five races; short-form, full form, and speed map were all easily accessible.
The first race is in my sights! 
The short-form guide is decent enough on its own that I didn't feel like I needed the full-form guide;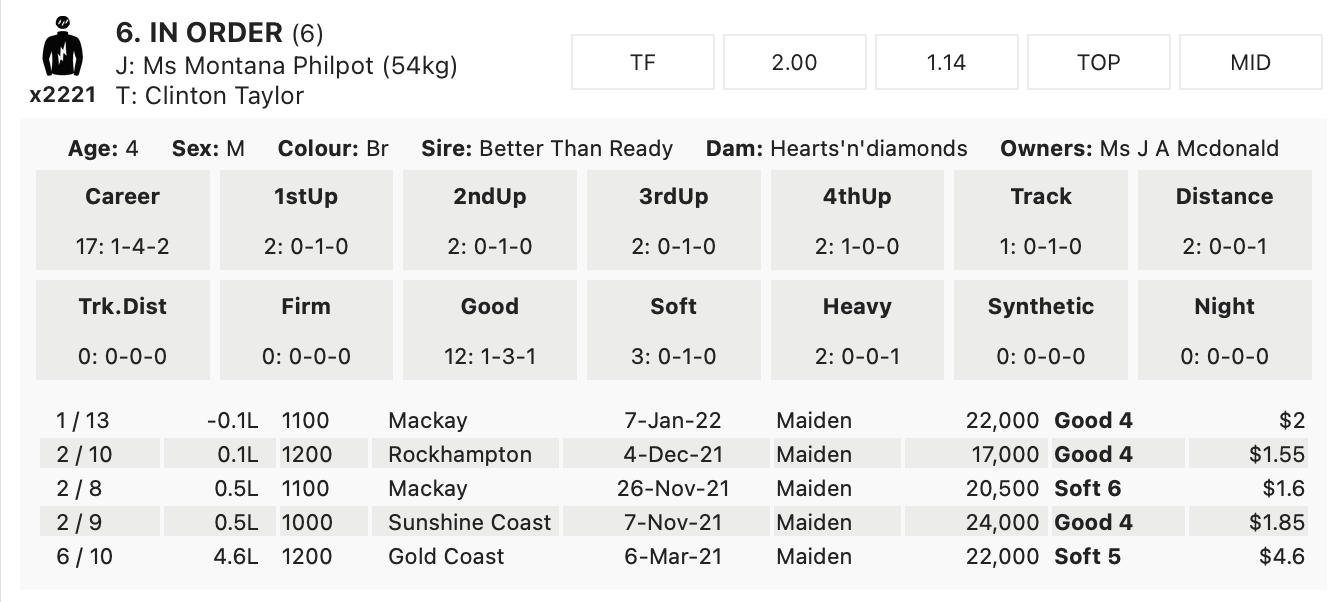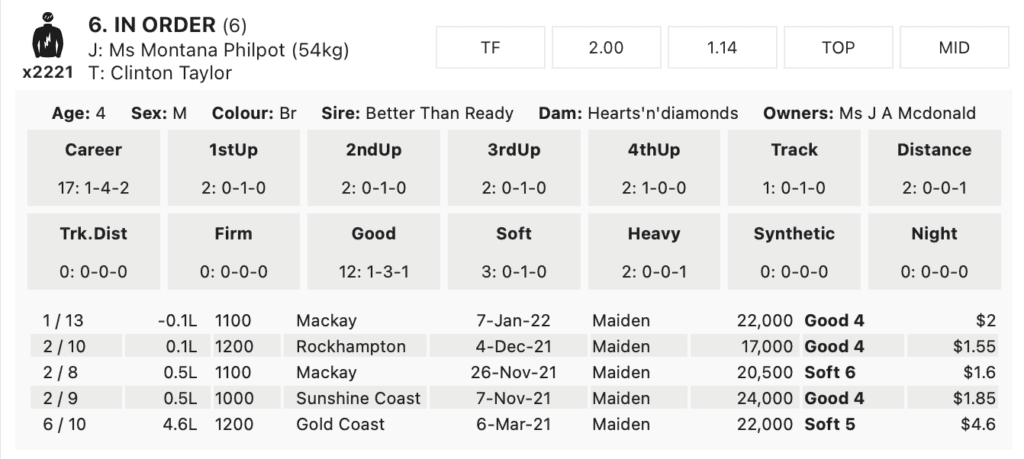 Jumping over to the full form guide, I really feel like everything was where it was supposed to be; all the standard full form guide information was there, including flucs, and it was so easy to read.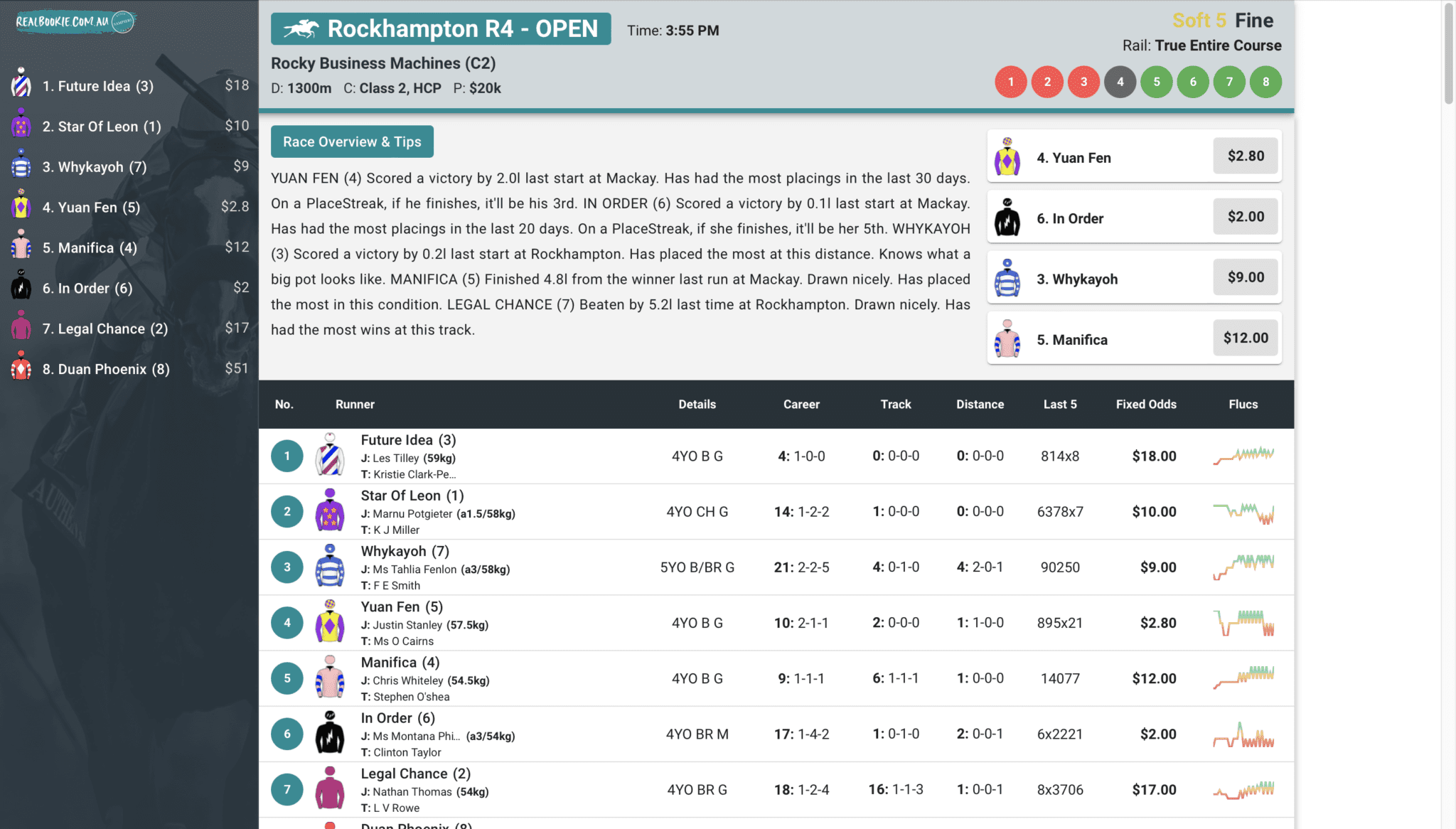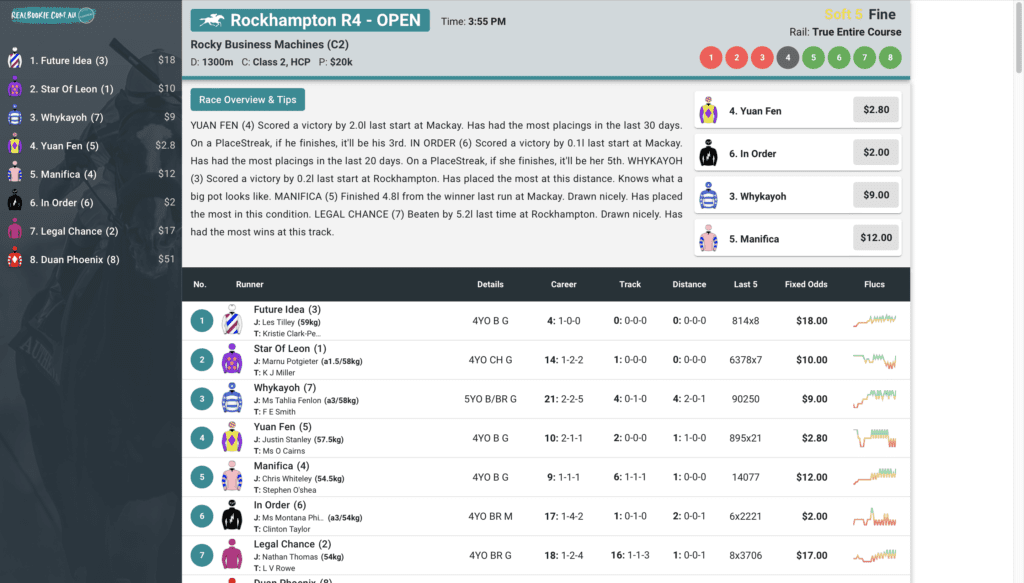 Again, the speed map was very easy to understand, and it was good to see it so easy to access.
Going by first impressions, it is so easy to use RealBookie; I'm confident my grandad could use it.
Spotted a horse, let's place a bet.
"In Order" looks to be the clear favourite in this race, and for good reason.
Four of his five last races have placed both 2nd and 1st.
So I'm just going to put $1 on the bet slip to see what happens.
The bet went through with no hiccups (excellent).
So how did the horse go?
Awesome! Though to be honest, I wasn't expecting anything less; "In Order" came through with the goods today, taking home top prize in the race.
It wasn't a huge win, but sometimes it's best to place a safer bet than winging it and hoping for a bunch of cash.
I noticed in the bottom corner of the screen that they have RealBookie TV; unfortunately, my race wasn't screening at the time, but it was wonderful to see the feature is there!
I placed several additional bets after my first one. It would be a waste of both our time going through every single bet, so we'll stick with the first one.
 What is RealBookie TV?
RealBookie TV is a live-streamed racing feature that RealBookie offers to its customers. I checked both the desktop and the app, and RealBookie TV is available on both versions; I thought this was a pretty cool little feature as not many smaller bookies have this yet!
What sports does RealBookie have?
I was astonished at the number of sports available; all leading sports are available for betting, including a few that you wouldn't think to bet on, such as handball.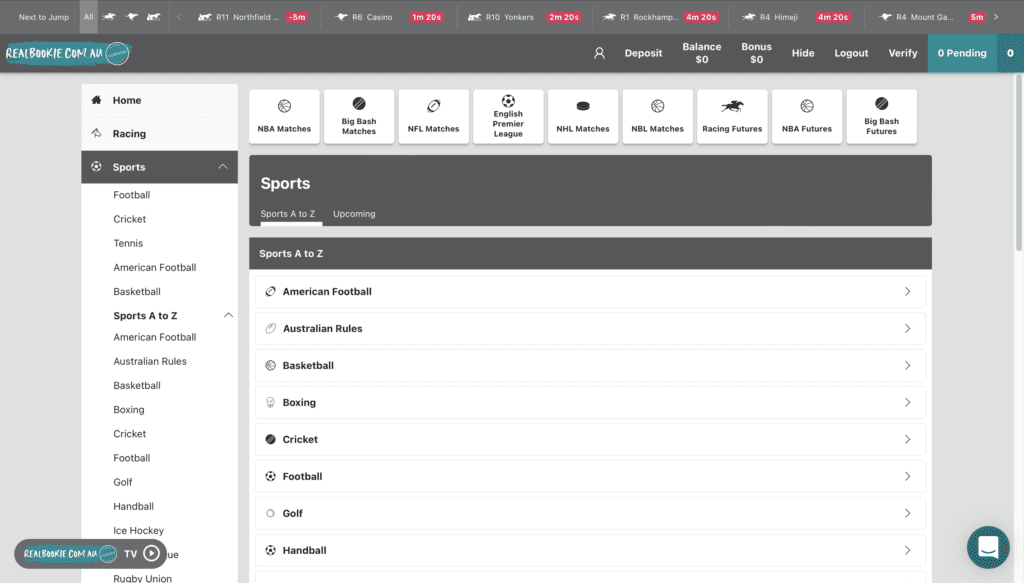 The number of markets available varies from sport to sport. However, they were decent, and I was surprised to see so many markets available for sports where you would expect limited markets.
Same game multis are available, which I found by going into the sport event then clicking on the same game multi-tab next to all markets.
What sort of promotions does RealBookie have?
Because they are one of the new betting sites floating around the internet, Unfortunately, you cannot view the promotions unless you are already a member.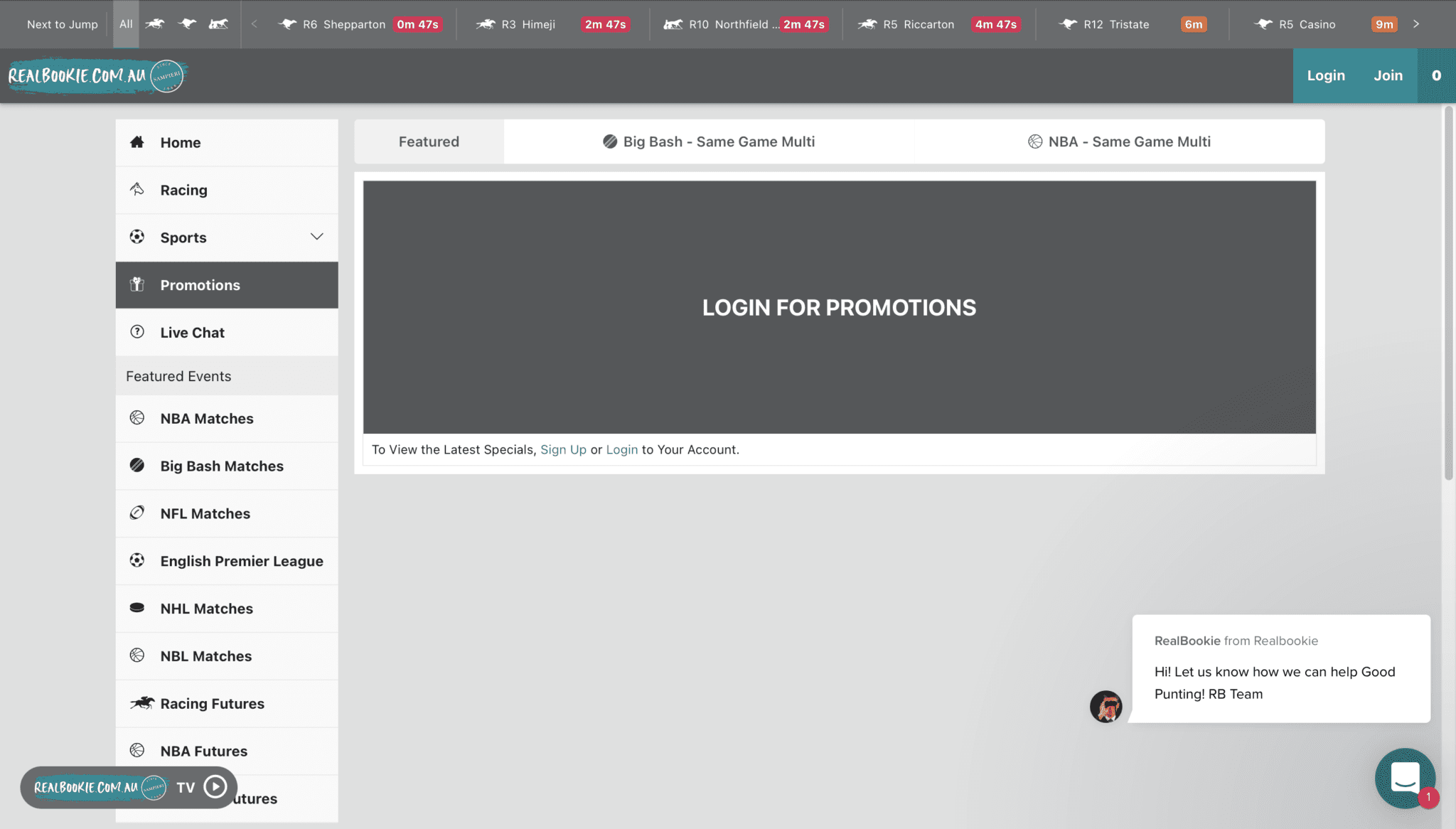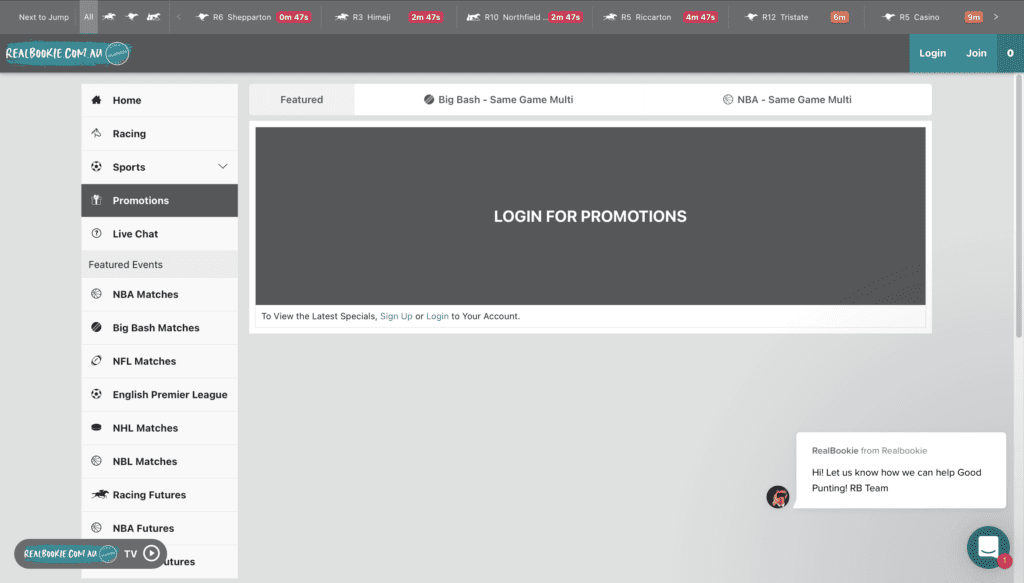 I was a little bit worried that they wouldn't have any promotions.
I was wrong!
There are plenty of Bonus Backs on horse racing if your horse comes 2nd, 4 leg multi Bonus Bets, and an excellent five price bumps every day!
Verdict: Excellent! Overall they are an immaculate and well-maintained website that can give its customers a fantastic and enjoyable experience. Though there were some minor things I would like to see in their list of features, they are so insignificant they are nothing to worry about.
Overall, I'm pretty happy with them and look forward to what else may come in the future.
RealBookie Review 2023
What do we like about RealBookie?
RealBookie is owned and operated 100% by an Australian company.
The format in which they have laid out their website is similar to some major sports betting sites, so it is very easy to jump straight in when trying another bookie.
The home page of Real Bookie is extremely simplified, consisting of Next to Jump races, Upcoming Sports, then trending Bets finishing off the page… short, simple and to the point without a bunch of extras you don't need.
The Main Menu is also wonderfully easy to understand with racing sports, promotions, my account, and the Live Chat feature, followed by a list of featured events, which are essentially upcoming major sporting events currently playing their season.
What's missing at RealBookie?
There isn't a considerable amount of features missing from RealBookie.
I did notice that MultiBuilders were not present (where you can place multiple bets of multiple sports); however, other than that, they seem to have everything you could ask for when it comes to a good betting site.
RealBookie Highlights 
I only need to say it once, RealBookie TV!
Not many of your smaller betting sites live stream racing; RealBookie, however, has jumped out of the gates featuring real bookie TV easily accessible from both the desktop and from the android and iOS app.
Another thing I really like about RealBookie, they offer you five price bumps every day, giving you the ability to maximize your potential winnings five times.
RealBookie Android App
RealBookie does have an app available for Android devices; as an app focused betting site, RealBookie has all its features well presented and is incredibly user friendly in all aspects of "what makes a good betting app".
you can find the app on both the google play store and also at the bottom of the mobile version of the website (I always download directly from the mobile website as I know it is coming straight from the source)
RealBookie Apple IOS App
RealBookie does have its own iPhone app. They are primarily focused on giving their customers an excellent mobile experience, so you can rest assured that they have all the features available on their app that they also have on their website. You may download the app from the Apple Store or directly from their mobile website to guarantee a fast and secure download.
RealBookie Mobile Site
RealBookie does have a mobile version, which is simply a dulled-down replica of the phone apps. There's nothing inherently harmful about the mobile version, though it appears to be less user-friendly than the mobile applications; nonetheless, you will be able to use it without difficulty if you don't have enough room on your phone for the app.
The RealBookie mobile site's address is the same as their official website. https://RealBookie.com.au/
RealBookie Website
The RealBookie website is undoubtedly one of the finest betting sites I've ever encountered.
Not going to lie; I love it!
Between the colour scheme, features, navigation and available sports, RealBookie got it right when they designed the layout of their website.
I could harp on about the features and promotions they have available, but instead, I will let you decide for yourself!
RealBookie's official website is located at https://realbookie.com.au.
RealBookie Sign Up to a New Account
The RealBookie sign up process is quite simple and takes less than two minutes to get yourself up and running; RealBookie does not require much information to become a member; all you need is:
Email
Password
Username
Mobile Number
Date of Birth
First Name
Surname
Address
Once you have entered these details correctly, click the "Create Account" button, which will then prompt you to set a deposit limit.
RealBookie's sign-up procedure is, in my opinion, one of the simplest I've ever encountered. However, you'll need to be verified before any withdrawals can be processed, just like with all Australian betting sites.
The Verification Process

RealBookie uses GreenID as a verification system. If you'd want to make sure your account has already been validated, go to the top right corner and select the "person icon". 
This will then bring up your personal information, displaying your verification status.
If you cannot verify your account using GreenID, you will have to verify your account manually; this is simply done by clicking on the "Verify Now" button found underneath your verification status and following the prompts.
I had to verify an account manually, and the entire RealBookie manual verification took me a little over 1 minute to complete.
RealBookie Payment Methods

RealBookie offers three different payment method options on their betting site; each payment option has its own set of pros and cons; however, essentially, they all do the same thing (it just depends on how quickly you want your funds into your account)
Credit Card 
POLI 
Bank Transfer
Withdrawals
RealBookie currently only has one withdrawal option in their arsenal, the standard bank transfer; the minimum amount you can withdraw from RealBookie is $20.
it is relatively easy to withdraw from RealBookie, however as they only need some quick details regarding your bank account, such as:
Bank Name
Bank BSB
Account Number
Account Name
RealBookie Racing and Sports

RealBookie has racing and Sports markets available to bet on, regarding racing markets they have Gallops, Greys, and Harness available.
Sports they have a large number of sports available to place a wager on, these include all your major Australian, European, and American sports such as AFL, Soccer, and NFL but also more obscure sporting events such as handball.
RealBookie Horse Racing
RealBookie has horse racing at the forefront of its betting site as an Australian betting site.
If you want to wager on horse racing, RealBookie should be pretty simple to use since its layout should be recognizable if you have used other betting sites previously.
RealBookie distinguishes itself from the competition in terms of its racing page.
The racing page is nicely structured, with races, trots, and greyhounds separated into sections with tracks and races neatly aligned.
It's also effortless to select between today, tomorrow, and future races, all by a handy little menu at the top.
Another feature that I found incredibly useful with the RealBookie Racing section is selecting Daily Double and Quaddie from the top menu. 
This shows the races available for these options with a Dark Grey box on the specific races where they are available.
You may also select between AUS/NZ race meets and International.
Live Racing – Yes! You can find this by clicking on the ReaBookie TV button on the bottom left of the website or accessing the "RealBookie TV" button located at the bottom of the app.
Form Guide – Yes, they have both a short form and full form guide available on the website and the app.
Speed Map – Yes, there is a speed map available for any race you wish to place a bet on; this can be found at the top of the race meet on the app, along with the quick form guide and the form guide. Additionally, this is also where you will find the price bump if you have them available.
RealBookie Sports Markets
RealBookie is a fully licensed Australian bookmaker that accepts bets on all major Australian and international sports.
We suggest that you try out RealBookie if you are looking for a new betting site and want to wager on sports events; since their design should be easy to understand if you've used other betting sites before, you will find no issues with using their app.
RealBookie features a wide range of sporting events, including most of the world's majors. Simply choose Sports from the drop-down menu.
The Australian Football League (AFL), National Rugby League (NRL), Tennis, and Big Bash Cricket are covered in Australia and international sports such as the NFL, NBA, and NHL.
It'd be ideal to look for each game to determine what's available since they differ in-game market types. However, most of the main betting types are available such as match/game multi, money line, points spread, total points/goals, odds/evens, which are all generally accessible, making for a fundamental rather than a wide range of options.
In saying that, they do offer other betting options, such as rushing yards in the NFL, so it is worthwhile jumping in and seeing what is available for your sport of choice.
RealBookie Live Streaming

RealBookie Live Streaming is available for Horse Racing, Greys, and Harness.
Unfortunately, at the moment there is no live streaming for sports however given how forward-thinking they are in giving the best experience to their members it may be something they will be looking at providing in the future.
RealBookie Promotions
When you've created and logged on to your RealBookie account, you will be able to see the RealBookie Promotions page.
RealBookie has some decent promotions that you typically wouldn't expect from new betting sites, plus they also have more generalized promotions such as bonus bets if your horse runs second or third on specific races.
RealBookie Promo Code
The best RealBookie Promo Code on the internet is by far the KRUZEY Promo Code. Real Bookie has given KRUZEY followers an exclusive promo code that will allow you access to the website and beyond. Once joined, hit up the live chat to see what surprises are instore for KRUZEY followers as these can change often.
RealBookie Bonus Bet

RealBookie has a bunch of bonus bets available for you to use as an existing member of their betting site.
These are usually in the form of bonus bets if your horse places 2nd or 3rd in certain races or if one leg fails in a 4 leg multi.
They also offer bonus bets for sports, such as if you lose a 5 set match in tennis, you will get a bonus bet.
RealBookie Racing Bonus Bet


RealBookie gives new and existing customers a chance to win additional money with racing bonus bets, which are most often regarded as bonus bets if your horse finishes second or third or if you place a 4 leg multi and one leg fails.
RealBookie Odds
RealBookie has comparable odds to other Australian betting sites, making them a force to be reckoned with for the future of online betting within the Australian community.
Additional Information
RealBookie Contact & Customer Service
RealBookie does have customer service (as all good betting sites should); however, the customer service options are somewhat limited.
This is not surprising as the customer service options of new betting sites seem to all be following the same path of a live chat function and an email for more serious matters.
Live Chat
homepage (though it shows up with a bot at the beginning to help sort where your query should be directed, it is quickly sent through to a live customer service consultant)
Email
betting@realbookie.com.au
RealBookie Rules
As with all Australian betting sites, there are rules and regulations that both the betting site and its members must adhere to to ensure a safe and legal environment. 
To see the complete list of the RealBookie terms and conditions, head over to their website's Terms and Conditions section.
RealBookie FAQs
Is RealBookie Safe? 
RealBookie is a highly safe and reliable Australian betting site; RealBookie.com.au is licensed by Racing Victoria and regulated by the Victorian Commission for Gambling and Liquor Regulation.
Additionally, RealBookie.com.au is a member of the Victorian Bookmakers association, giving you extra peace of mind if you were ever unsure how legitimate RealBookie is as a betting site.
Who Owns RealBookie?
Mark Sampieri and Chris Lester own RealBookie.com.au.
The Sampieri family has been in the bookmaking business since 1966 and has been regularly found on Victorian racetracks; Mark joined his father on the Victorian racetracks in 2003 and joined forces with Chris to bring RealBookie to life.
Chris Lester is also the Joint Chairman of the Victorian Bookmakers Association and a well-known figure in the Victorian racing industry; Chris Lester has had his bookmakers license since 2013.
Quick Links
All Aussie Betting Sites Best Sports Betting Sites eSports Betting Sites Australia