Marantelli Bet has been in operation for over 50 years and can still be found throughout racetracks across Victoria. 
Offering a wide range of National and International racing betting markets and a large assortment of sporting events, Marantelli Bet is an excellent choice when looking for a good betting site (especially if you like placing a bet on the horses).


How's the Layout?
Overall the layout of the Marantelli Bet website is pleasing, easy to navigate and get to where you need to go quite easily; up the top of the page is a scrolling banner of all upcoming races for racing, dogs, and harness, with a quick access banner found to the left of the page, in the centre of the page is a promotional banner of current promotions, a next to jump section, and upcoming sports, while the betslip and login section found to the right of the page.
Let's take a look at the sign-up page.
Time to Sign Up!
Signing up to Marantelli Bet was easy peasy lemon squeezy; filling out the forms was actually a lot simpler than some of the bigger mobs, and I found no stalling or lagging in the process. All in all, it took me roughly 3 minutes to get up and running.
Check Out Marantelli Bet For Yourself Here.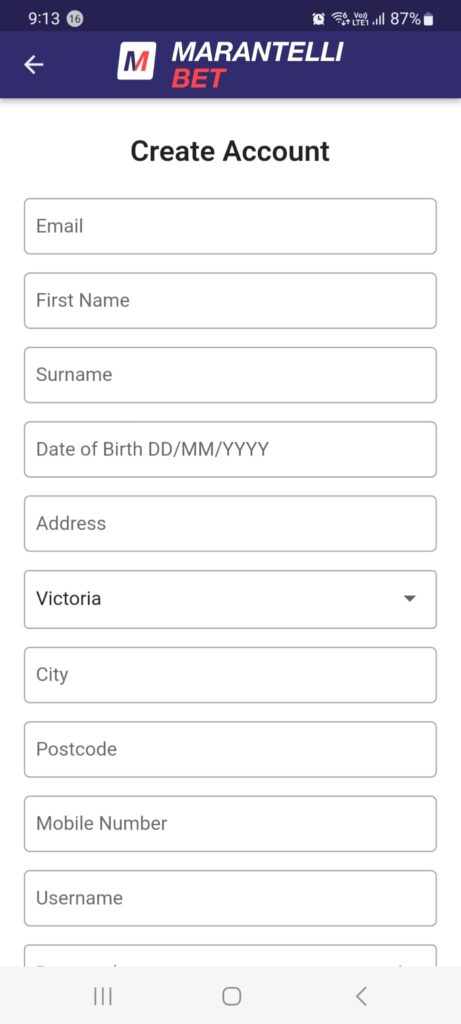 Now, let's add some money into the account.
Adding some funds
Putting money into the account was simple; usually, with other sites, there are a bunch of different options available, which can make things quite daunting at times. However, there were only two options with Marantelli Bet: Bank card and POLi, which made things simple and sweet without all the fluff.
Now that the money is in the bank let's look at what's available when placing a bet.
Placing a bet
Now we get to the good bit, let's see what is available when placing a bet on Marantelli Bet, as they are first and foremost a racing betting site let's jump into the races first, then swing over to the sports.
The Form Guide
The short-form guide at Marantelli Bet is pretty decent, and considering they are primarily a horse racing bookie, this doesn't surprise me one bit. It's got all the info you need at a quick glance, including races, on-track types, pole standings, etc.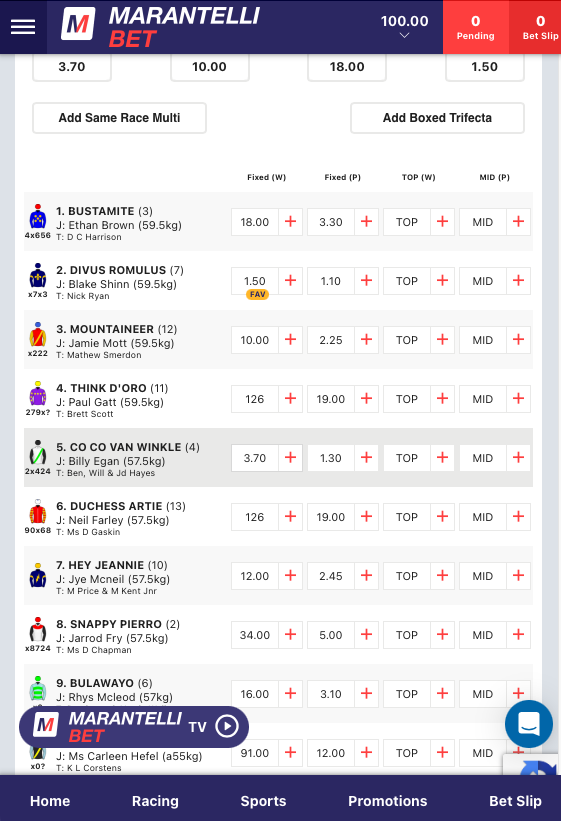 Full-Form Guide
The full-form guide from Marantelli Bet was the one part of their site that I was most interested in; considering they have been in the betting industry for the past 50+ years, I really wanted to see what they had available.
Within the Full Form guide is a race overview & tips section, a rundown of each runner including details, career wins, Track showings, distance showings, Last five races, Odds, and price fluctuations.
Speed Map
Below the runner detail on the Full Form Guide, you can find a speed map indicating each horse's speed on track (I love a good speed map, and this one in particular is one of my favourites).
Popping on a bet
After looking at a few races, I stumbled across "Co Co Van Winkle" in race 4 at Bendigo with second-to-favourite odds and showings in all five of his last meetings, so I popped five dollars on to see how he would go.
Setting your Bet Amount
The option to set a betting amount can be changed in the account section by heading over to the "little person icon" in the top header; from there, I found it in default bet amounts and changed it to my preferred bet amount of $5.00.
Betting on Sports
I like to bet on sports, so I was keen to see what it was like playing a bet on the footy on Marantelli Bet.
The process was simple enough with head-to-head bets front and centre, with a Same game multi-option available (very happy about this), and 31 markets available; jumping into the markets, I found options such as first goal scorer, odds and evens, total points plus a bunch of others. 
Verifying your account
Verifying your account is much simpler than I expected; I only had to supply proof of identity documents equalling 100 points to be approved. You can do this by any number of means, including utility bills, medicare cards, pensioner cards, etc. However, I simply opted for the easy method and supplied a copy of my birth certificate and driver's license, and I was done.
Verdict
Overall, Marantelli Bet is a good bookie and well worth checking out; if you are more focused on racing, this bookie is worth checking out. However, if you prefer to dabble in obscure sports markets, the amount of sports betting markets is somewhat limited. Either way, I found the experience quite fulfilling and could not personally find any big issues with the bookie. In my humble opinion, I think they are a great bookie and well worth giving a go. 
Marantelli Bet Review 2023

Marantelli Bet Highlights
Marantelli Bet TV
Quick App
Protest Payouts
Price Bumps
Competitive Odds
What We Don't Like
No racing or sports futures
No phone support
Fewer Markets than the leading bookies
Marantelli Bet Deposits and Withdrawals
Personally, I find depositing and withdrawing from Marantelli Bet a very easy and smooth process. 
Marantelli Bet Deposits
Depositing is quick and easy with Marantelli Bet, with only two very simple options: card or POLi.
Deposit type:
Minimum Deposit
The minimum deposit available for Marantelli Bet is $10.00.
Marantelli Bet Withdrawals
When checking out how easy it was to withdraw from Marantelli Bet, I was pleased to find that the process was simple; the minimum withdrawal was steep at $20.00. However, the process is as simple as filling out your banking details, and it gets forwarded directly into your account.
Withdrawal Type
There are a number of regular banks available to withdraw to with an "other" option if you happen to deal with another banking system.
National Australia Bank (NAB)
Commonwealth Bank (CBA)
Australia New Zealand Bank (ANZ)
Westpac (WBC)
Other
Minimum Withdrawal
The minimum withdrawal for Marantelli Bet is $20.00.
Maximum Withdrawal
The maximum withdrawal amount for any Marantelli Bet telephone wager is $10,000, while the maximum withdrawal for an internet wager is $15,000.
Marantelli Bet Minimum Bet
The minimum bet for Racing and Sports at Marantelli Bet is $1.00 online or $50.00 if making a wager over the phone.
Marantelli Bet Betting Markets

Marantelli Bet betting markets were quite surprising; in racing, there was everything from a win/place all the way through to trifecta and first 4, so it was good to see plenty of racing markets available. In terms of sports betting markets, being a smaller betting site, it is understandable that they would not have as many markets as the leading bookies. However, seeing most of the more common markets was a nice surprise. For example, they had 29 markets available in the first AFL game I saw.
Marantelli Bet Sports
Marantelli Bet has a bunch of different sports available to place a bet on, and although this list is not as exhaustive as the bigger betting sites, they still have all the common sports you are most likely to throw a few bucks on.
Sports available
Currently, the list of sports available at Marantell Bet are:
NFL
AFL
Baseball
Basketball
Cricket
Darts
Football (soccer)
Golf
Motor Sport
Rugby League
Rugby Union
Snooker
Tennis
Sports Futures
Unfortunately, I could not find any futures available at Marantelli Bet. It would have been nice if these were available; however, they are not yet an option from what I could see.
Marantelli Bet Racing
As I have previously mentioned, Marantelli Bet is primarily a racing betting site, so you can be sure to find a great deal of racing options available on their site.
Racing futures
Unfortunately, there are no futures bets currently available; I was quite surprised to find no futures bets, to be honest. However, this might just be a timing thing, and I happened to review when there were none currently available.
Marantelli Bet Promotions

Marantelli Bet has promotions available to their customers, though the list is not exhaustive, and I am not specifically allowed to state the promotions. 
I can say that I was surprised not to find sporting promotions available for two sports currently in finals; this may be because they focus strongly on racing rather than sporting events.
Marantelli Bet Contact and Customer Service
Marantelli Bet has a number of options available for you to contact them, which you can find below.
Email: support@marantellibet.com
Phone: There is no phone support available
Live Chat: You can speak live to Marantelli Bet directly from their website by clicking the blue icon in the bottom right corner of the screen.
Customer Service Hours:
Everyday 9 am – 10 pm AEST