"bet365 does not offer bonus codes in Australia, and this referral code does not grant access to offers".
Last Updated August 2022
So I see you're looking for a Bet365 bonus code, I know because I've been in the exact same position as you too!
here's the truth
Codes aren't what they used to be.
you can spend hours on end trying to find a decent bet 365 review only to come up empty-handed
So we put on our big boy pants
jumped in the deep end and decided to give an actual review
so to the question you want to know…
is Bet 365 any good?
Let's find out together!
So let's start by signing up.
Click here for instant access.
"bet365 does not offer bonus codes in Australia, and this referral code does not grant access to offers".
Signing-Up:
Alright, into the deep end we go!
we searched up Bet 365 on google (But have made it easier for you HERE.)
I was pretty happy to see that it took no more than 2 minutes to create an account.
some betting sites can be pretty tedious, but this wasn't.
I was also pretty happy to see them ask me to set a deposit limit.
I tried skipping this part but it wouldn't let me create my account without filling in all the fields,
which I think is great for holding accountability.
Next up I was ready to make a deposit.
Making a Deposit:
Time to pop some money into the account and get this show on the road.
They have a bunch of different deposit choices to choose from which if I'm honest is actually pretty awesome.
all the standard options are there and then they have others like Paysafecard and Apple Pay, there were 10 options in total.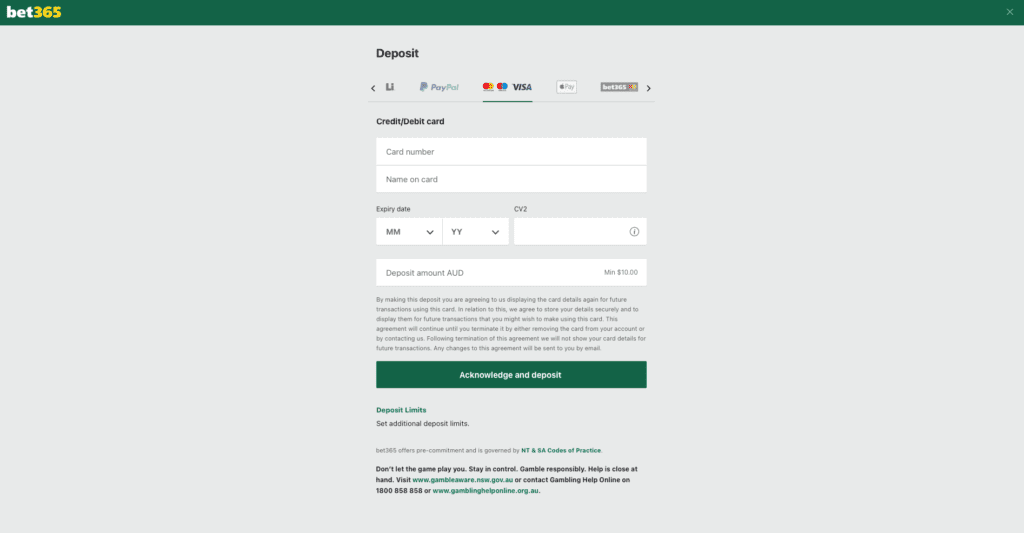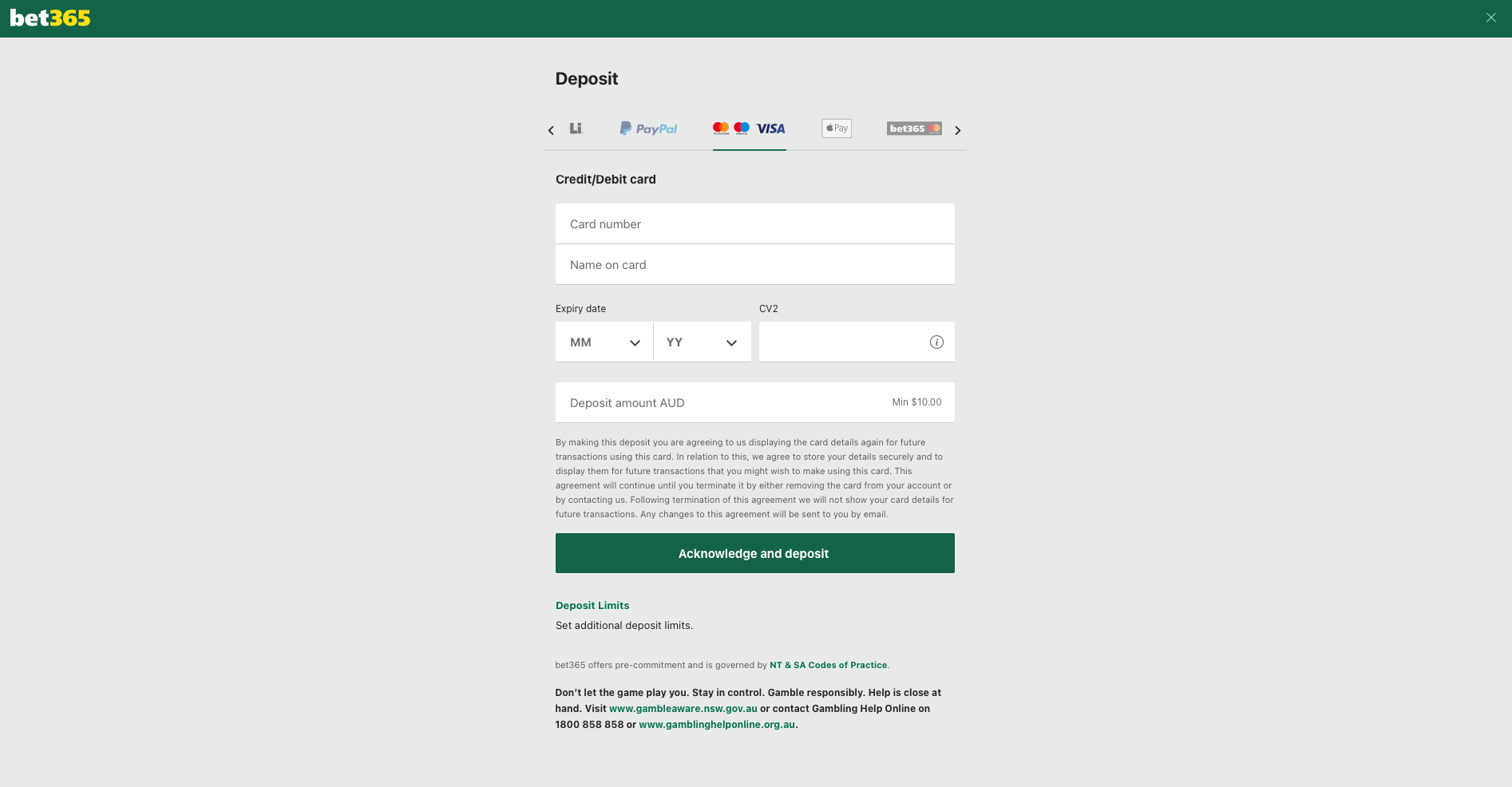 I used my credit card because that's what I'm familiar with.
Then whacked in a massive $10 for the review (HEY BIG SPENDER!!)
Now we've got some money in the bank let's take a look at the site.
What's the layout look like?
The layout is pretty neat, it feels like it's been around forever (it pretty much has).
However, it feels like it's a bit of the old mixed with the new if you know what I mean?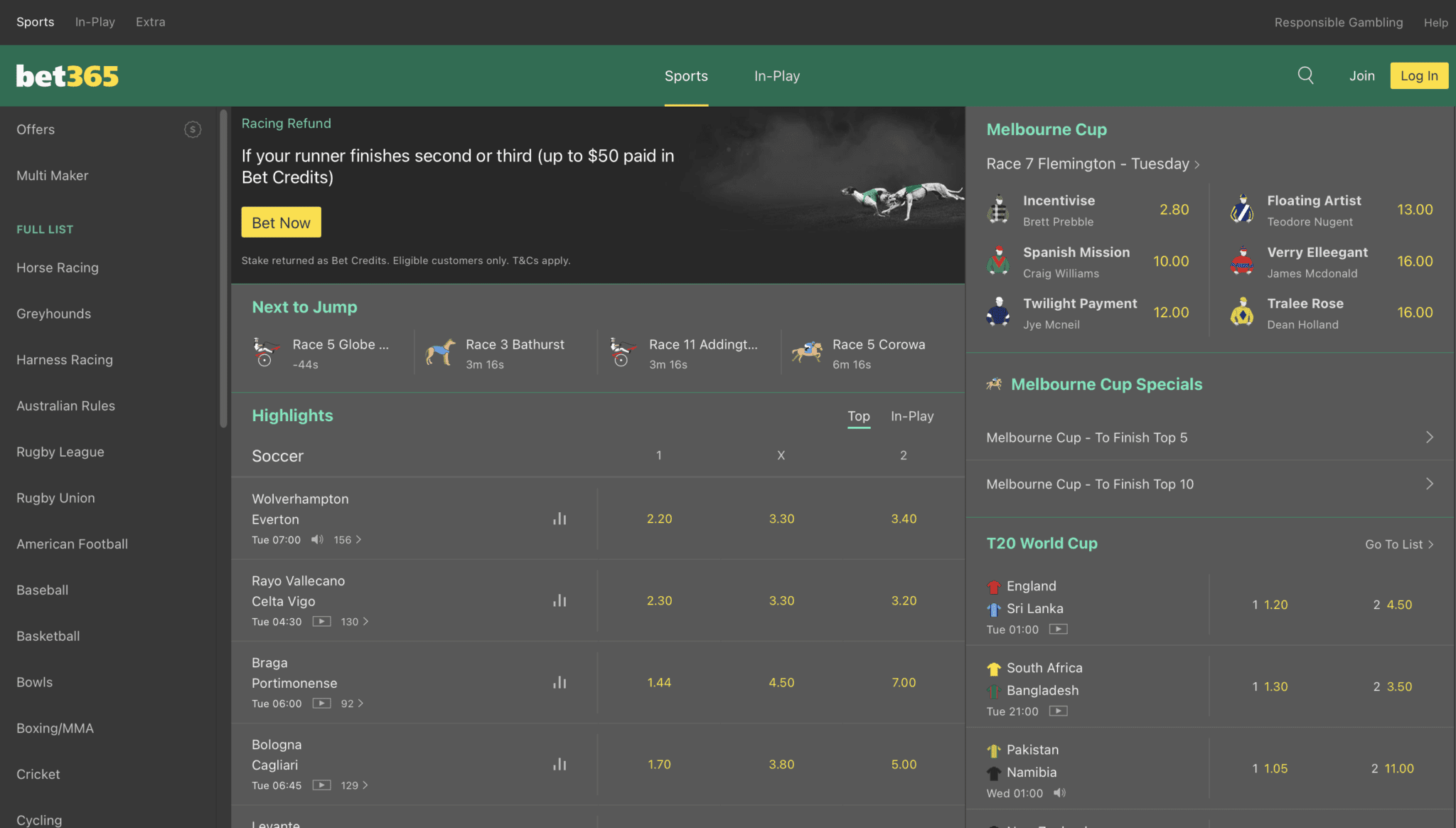 they are obviously using flash to run it because the site is fast… and I mean super fast!
What sports do they have?
Bet 365 is one of the biggest betting sites in the world so it's safe to say most sports are available.
You will be hard-pressed to not find what you want to bet on!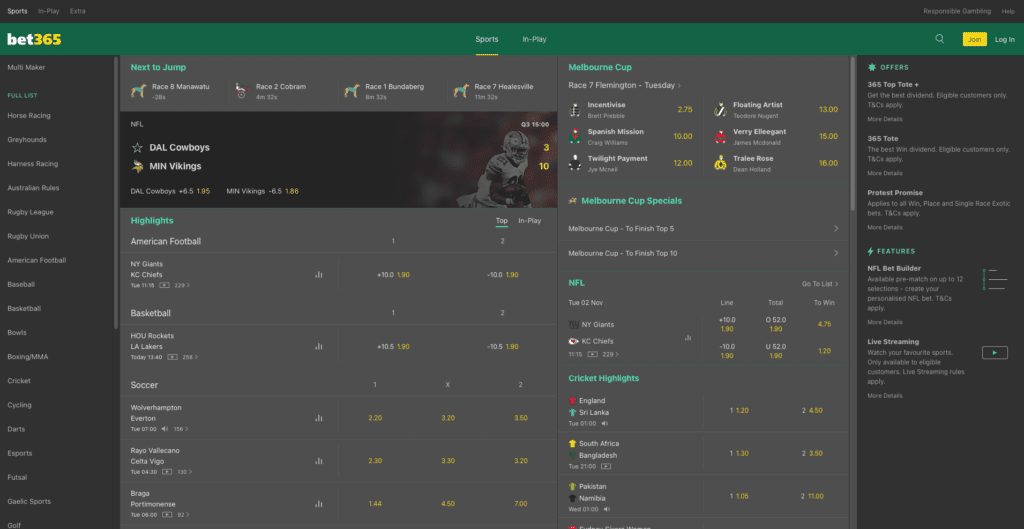 I even had to google Futsal to find out what it is (apparently it's sort of like mini soccer?)
Either way, they have PLENTY of sports to throw a bet on!
Enough sidetracking…. let's put on a bet hey?
Placing a bet:
Right!
Let's get into the fun part.
finding the horse racing was simple enough by clicking "horse racing" on the left-hand side.
I randomly chose a race for the review and got stuck in!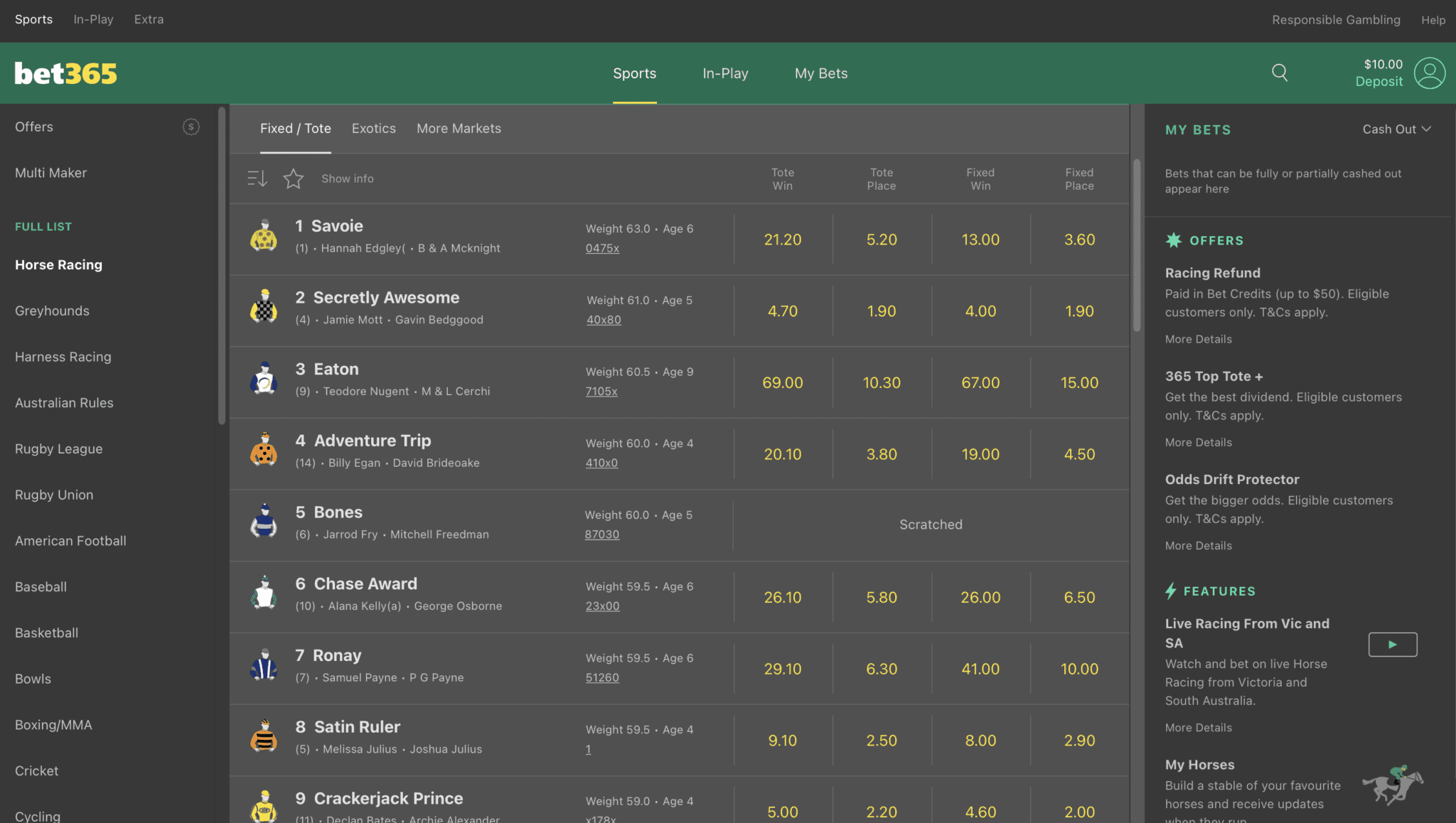 It was good to see the jockey colours to the left hand side, not all betting sites do this and it is something I prefer.
And it was great to see that there was a form guide that drops down under each horse.
I found a horse!
after a little bit of study, I thought Ronay might be a bit of a long shot that needed a good break.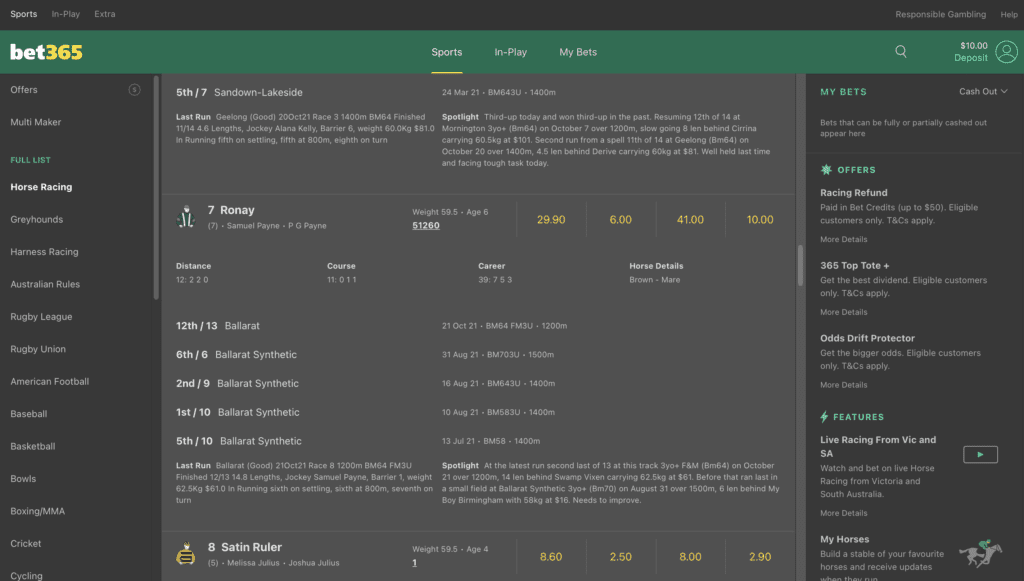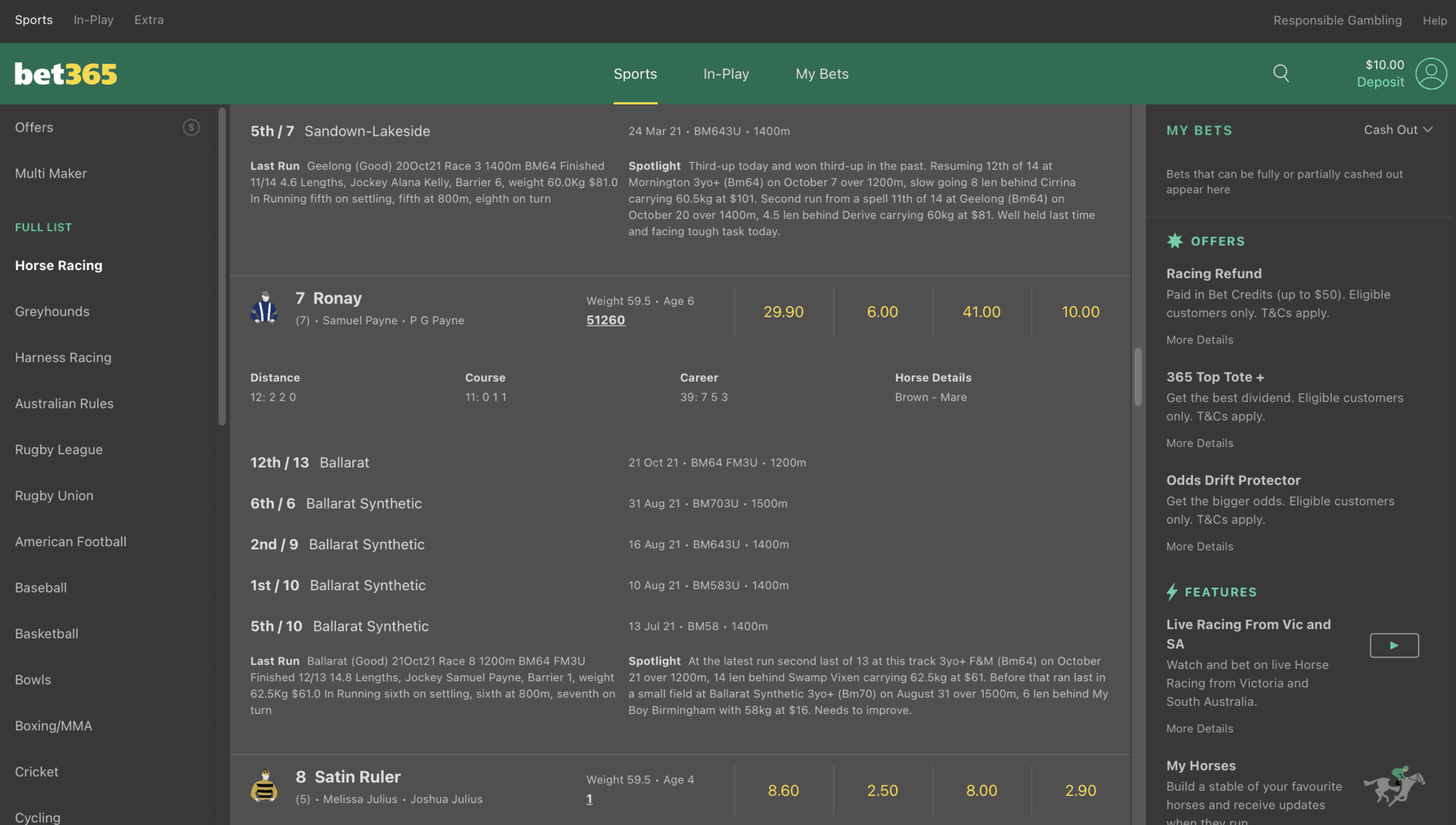 What I didn't really like was the grey writing on the form guide
I found it a struggle to read and couldn't help but lose focus.
too much grey, on grey… on grey.
so let's put this bet on shall we?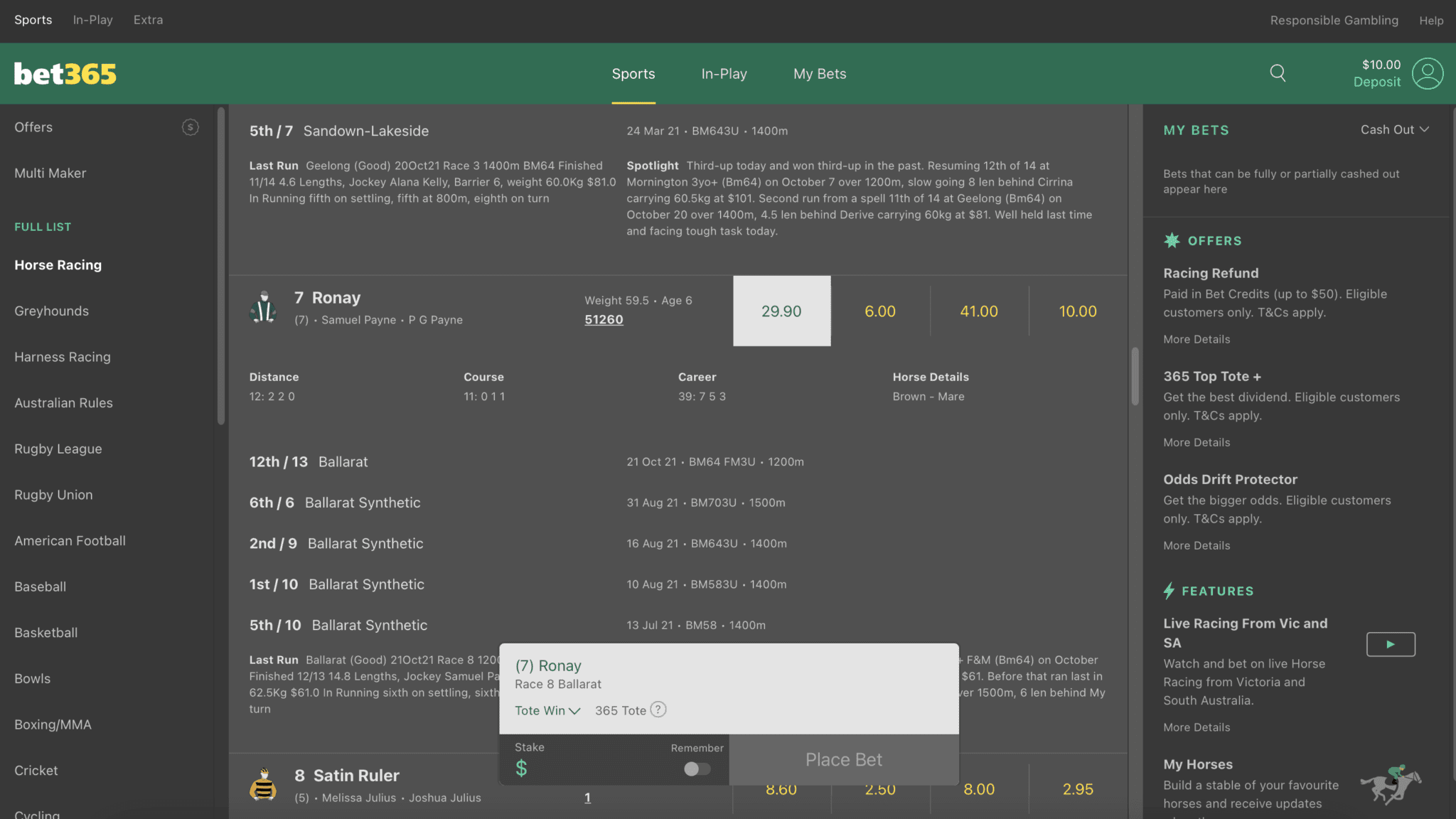 I clicked the fixed win price of Ronay which brought up the stake option
as this was the first time I was using Bet365 this was actually a little confusing
Not as straightforward as some of the others with no clear direction.
turns out I had to click near the dollar sign then choose my wager amount.
Big spender on the Ronay today!!
(I actually placed a number of bets but forgot to screenshot the others)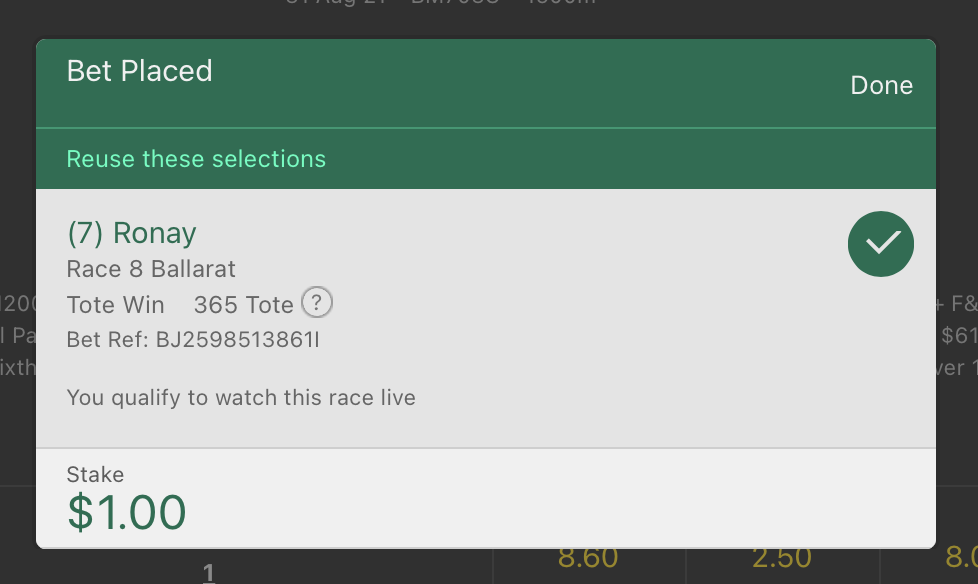 I ended up throwing a dollar on a couple of different horses in this race, unfortunately, none of them won.
The $7 I had left I split between some of our rough tips and one of them managed to get in front which shot me straight back to a little over $10, I won't be putting it back in today though
I'm going to save it for the Melbourne Cup 😉
VERDICT: Let's be honest here, they have been around for a long time, and for good reason, they are one of the best betting sites available in Australia, not my favourite but they are up there with the best!

Bet365 Review 2022
It's been a while since we updated our review on Bet365 Australia, so we thought we would jump in today and see what's new, what's changed and what they have done to improve Bet 365 since our last review!
So why is bet365 one of the best?
We can't sit by and ignore their live streaming.
We love live streaming and think it should be a top priority of every bookmaker.
I mean, what kind of a bookmaker doesn't have live streaming these days?
One of my personal favourites direct from Bet 365 is the Bet 365 Visa Card; when roughies come in, I use it to buy all the useless stuff that we tend to buy on a whim.
Last week I bought my kids birthday presents without breaking the bank account.
And that in itself is a massive win for me!
Bet365 has a massive range of markets, deposit methods, and broadcasting services in their live streaming options, making life so much easier.
There is nothing worse than signing up to a bookmaker only to find you can bet on something you wanted to.
So let's take a looksie, shall we?
What do we like about Bet365?
Bet365 Visa Card
Live Betting
Eachway Card
Higher Odds than most bookmakers
Live sports streaming
There is a large selection of sporting events, spectacular odds and a wide range of enticing bet types.
If one sentence comes to mind when I think of Bet 365, it has to be "Live streaming on Bet 365".
Bet 365 streams an astounding 190,000 events live every year; all you need is a funded account to watch them. The range of sports on Bet 365 is incredible, to say the least! It's almost as though you have the world's sport directly at your fingertips!
Bet 365 also has higher odds than almost all the other bookmakers in the market; adding to that, their range of betting markets (Most notably their sports markets) is fantastic, which is excellent for every punter, whether you are a newbie or a professional gambler.
What's missing at Bet 365?
No sign-up bonuses
Quick to restrict accounts
There isn't much missing from Bet 365 Australia. They have been around since the "Online Bookmaking Boom" and, as such, have essentially mastered the area.
However, what did stick out to us is that there is a severe lack of bonus bets or sign up bonuses offered to existing customers, and by lack of, we mean there aren't any.
They have responded quickly to restricting accounts; thankfully, this has not happened to us; however, we have heard numerous others tell us about this issue.
Bet 365 Highlights
Without a doubt, the main highlight with Bet 365 would have to be the insane amount of events that they stream; we love it and use it more often than we would like to admit.
What does stand out from the crowd is the ability to edit live bets, including Multi's.
We also like the ability to star events for future use, so if the bets change, we can go back in and add an additional bet quite easily without having to scroll through three pages to find what we're looking for.
Bet365 also has higher odds than almost all the other bookmakers in the market, which is excellent for every punter, whether you're a newbie or a professional gambler.
And last but most definitely not least, Bet365 customer service is without a doubt one of the best out there for an online content service provider.
Bet 365 Promotions
Bet365 offers a fantastic assortment of great promotions for a range of markets, which they update regularly.
Live Racing from Vic and SA
Bet365 allows you to watch and bet as the action unfolds with Live Streamed Horse Racing from Victoria and South Australia.
365 Top Tote +
Giving you great value on all your Trifectas, Quinellas & Quaddies when you join. You only need to make sure that you are eligible by checking the T&Cs before joining to enjoy this bonus offer with their best dividend in its category for exotics bets with three national totes
365 Tote offers the best winning dividends from the three TABs on non-Metro Horse Racing events.
365 Tote
365 Tote offers the best winning dividends from the three TABs on non-Metro Horse Racing events.
T&Cs apply.
Each-Way First Goalscorers
Bet 365 will payout odds at 1/3 for unlimited places in 90 minutes of playtime.
Each Way Extra
Besides the Most Popular Bets, there is a range of Place Terms for Each Way Horse Racing bets you can try at bet 365.
Terms and Conditions apply.
Live Streaming
bet365.com.au offers betting on and streaming of your favourite sports to tablets, handheld devices and desktop PCs.
Full-Time Result – Enhanced Prices
Take a higher price on matches from competitions including the Champions League, Europa League and English Premier League.
Bet 365 Android App

We were pleased to see that the Bet 365 Australia app can be found on the google play store.
Sign up was the same as on the website, with only a few simple steps to get you going; once signed up, we found it was a smooth and sleek app with everything relatively easy to find.
We decided to check out the sports markets; we began by placing some money onto several different sports, including the AFL and NRL.
We were happy to find no problems with placing our bets or withdrawing once we had completed our assessment. Our wins were a little bit up and down this week; however, we did end up walking away slightly, it may have only been $12, but a win is a win in any case.
We placed $100 of bets at $5 per bet and ended up with a withdrawable balance of $112.
Conclusion:
The Bet 365 Android app is easy to use and has excellent functionality; at no point have I ever noticed it stall or freeze quite simply; it is, from my experience, a great app. You can find it in the link below.
Bet 365 Apple IOS App

The Bet 365 app for Apple can be found on the App Store and is as simple as clicking the "Get" button. Once inside the app, you click the join button, and you are on your way to filling out the sign-up details.
As with most sign-up processes, it was as simple as filling out some quick personal and banking details to get started, and there was nothing hard about the process if you are used to signing up to betting sites.
We decided to check out the racing markets, throwing some money onto horse races and greyhound racing.
We found no issues in placing our bets or withdrawing once we had finished our test; we were pretty happy winning a sneaky 42-1 joke bet on the greyhound racing giving us a total win of $210.
In total, we had placed $100 of bets at $5 per bet, walking away with a withdrawable balance of $237.
Conclusion:
As expected, the iPhone app is a fantastic tool to have in your toolbelt; not once have I had a single issue with using it; it is clean, simple, and most importantly, easy to navigate. You can find the link below.
Bet 365 Mobile Site

I'm always a little hesitant on the mobile version of a website, especially when it comes to sites with tables on them; the Bet365 website, however, translates seamlessly to the mobile version while still maintaining its usability and simplicity.
For the Bet 365 website review, we decided to check out the international betting markets and popped some money into the Wimbledon finals, NBA finals, and Soccer.
We found no issues in depositing funds or betting. Unfortunately, we lost everything we put in over several misjudged guesses but to put it simply, these sports are not what I study professionally.
In total, we placed $30 of bets at $10 per bet lost every cent.
Conclusion:
As expected, the mobile site is excellent; not once have I had a single issue with it; it is clean, simple, and most importantly, easy to navigate. You can find the link below.
You can find the link HERE.
Bet 365 Website

Ok, so our first impression of the Bet 365 website is that the overall colour scheme is dark; to the left-hand side, there are links to all the markets you can place a wager on, including racing and sports.
I should also note that at the top of the left banner is the "Bet 365 Multi Maker" and also a tab showing the sports you frequently visit; additionally, there are three tabs at the top in the header that allow you to shift between Sports, In-Play and Extra, giving you even more options to improve you betting experience.
The pages are set out extremely simple, almost as though they were designed for both novice and professional gamblers at the same time. I kind of feel like Merlin browsing their website; it is so speedy that by the time you have unclicked the mouse, the next page is appearing.
You can find the link HERE.
Banking With Bet 365

With Bet 365, the amount of depositing and withdrawing methods is astounding, to say the least, basically; if you have a way to pay, they pretty much have a way to allow you to do so.
Even though they do have a way to process all forms of deposits and withdrawals, there are certain deposit limits for each method.
I don't think this is much of an issue as I don't plan on putting more than $1,000 in at any given time.
However, a few options such as flexepin, Paysafe Card, and cash top-up allow a few hundred max deposit at a time; most notably, cash top-up only allows a max of $50.
Bet 365 Deposit Options
Bet 365 Australia offers several different payment options giving you almost every opportunity on the planet to place a deposit. You can use Visa, MasterCard, PayPal, Apple Pay, Bet 365 Mastercard, Cash, Click to pay, Bank Transfer, BPAY, POLi, Paysafe card, Flexepin and Cheque.
Minimum deposit
Minimum deposit varies with the depositing option you prefer, and the minimum range is anywhere from $1 with Flexepin up to a whopping $2,000 for a cheque.
Bet 365 withdrawal options
Bet 365 Withdrawal options are something that makes my heart flutter, and you have the option to use a debit card, credit card, the Bet 365 visa card, bank transfer, PayPal, Apple Pay and of course Bank Transfer.
Minimum withdrawal
Their minimum withdrawal is a pleasing $10-$20 for most withdrawal options; however, if you want to withdraw by cheque, you will need to withdraw a minimum of $2,000.
Betting Markets
Bet 365 has an enormous variety of racing and sports markets available. Their massive list includes horse racing, Cricket, NFL, Rugby, AFL, NRL, Soccer and even Major league Baseball.
They even have obscure sports such as Gaelic football and snooker to cater to all the bettors who would like to place a wager on something slightly different.
To check out all the sports available for betting, simply look to the left-hand side on their desktop website or the top scrolling panel on the phone.
Bet 365 Contact & Customer Service
Without a doubt, the customer service provided at bet365 is noteworthy.
Advisors can be contacted over the phone at any hour of the day, any given day of the week.
You can also reach them through email and expect practical solutions to problems you may face.
Bet 365 also provides if you prefer reaching an advisor from your browser.
Bet 365 is a site that prides itself on taking customer service seriously, with 24/7 customer support available for those who want it.
There are three methods of contacting representatives for help. For example, you can get information regarding the BET 365 registration code by emailing customer service or calling them.
This includes an email, phone, and live chat for any inquiries.
If you need urgent help, I highly recommend using the phone or live chat instead of email.
Plenty of information for convenience can be found through the site's FAQ page to resolve simple issues.
Bet 365 Verification Process
As part of the simple process of creating an account with Bet365 Australia, they will send a text message to your phone, including a four-digit verification number, to confirm that your details are correct.
This must be typed into the box where prompted; otherwise, you cannot proceed.
The message was sent us almost instantaneously on all the accounts we created for all site versions (mobile, desktop etc.)
Bet 365 Horse Racing
Bet 365 is not just an online sportsbook; and they also have a huge section dedicated to horse racing.
You can find all the information you need about each market for upcoming races on their website.
 Bet 365 Best Tote
Bet 365 ensures you get the very best win dividend from all three TABs on non-Metro Horse Racing.
Bet 365 Odds
Bet 365 undoubtedly has some of the best odds in the industry, typically being higher than most other bookmakers.
I have compared Bet 365's prices to those offered by other Australian betting websites, and they are incredibly reasonable.
I had heard from other Bet 365 users in Australia that the odds were not significant. However, after using Bet 365 for a while, I found that they had a higher price than the other major competitors there, meaning you'll make more if the bet pays out.
You can bet on as much or little as you like with Bet365, so it is easy to find a betting limit that works for you.
While you must bet at least $1 to have your action go through, it's worth noting that Bet 365 does allow you to place bets where the maximum potential return is up to $1 million.
The large bankroll of bet 365 means gamblers will be good to go no matter what their bets are.
Bet 365 Sign Up New Account

Signing up for a new account with Bet365 is straightforward and to the point; all you need to do is fill out some simple details.
Name
Date of birth
Address
Phone number
They will then send you a four-digit verification number to confirm this is your details are correct.
You will be able to create a username and password and also set a deposit limit.
The Bet 365 sign-up process is as simple as it gets; like most websites, the join button is nestled in the top right corner. After creating your new Bet 365 account, you need to deposit money using one of their many options and then access all the available features like the bet builder, live streaming services, and cash out. I found signing up on the Bet 365 app to be just as easy as signing up on the website.
Bet 365 Deposit Options
Bet 365's deposit methods are among the best in the industry and include many options for customers. $5 is the minimum to open an account and deposit funds successfully. Credit card deposits take just seconds.
The following options are available to make a deposit:
Bank transfers
Visa / MasterCard / Maestro (credit and debit card)
PayPal
Poli
Paysafe Card
Flexepin
Cash top-up
InstaDebit
Apple pay
Cheque
Withdrawals
It's easy to make a withdrawal from your Bet 365 account, as you can select any of the methods previously mentioned for deposits.
Bet 365 Australia doesn't charge any fees for withdrawals, but naturally, different methods have different processing times.
I have been withdrawing directly to my bank account, so I cannot comment on the processing times of the other payment options; however, I have had no issues receiving my funds.
Bank transfers
Visa / MasterCard / Maestro (credit and debit card)
Bet365 Card
PayPal
Paysafe Card
InstaDebit
Apple pay
Bet 365 Racing Promotions
Bet 365 promotions are typically related to racing and not so much with sports events.
However, with Bet365, the money-back racing special offer is automatically applied, which is excellent because this means punters don't even need a Bet365 promo code to take advantage of this fantastic promotion!
Bet 365 Bonus Bets
Bet 365 doesn't really offer bonus bets however they do offer returns in the form of bet credits to their customers in some promotional offers such as if your horse places 2nd or 3rd.
Bet 365 Bet Builder
 If you are unsure of or are yet to hear of a Bet Builder, I am about to indulge you in how it works!
You can bet on multiple things at once by combining the different sides of a bet, and this can sometimes lead to higher payouts – that is, of course, all dependant on what bets you placed.
Take AFL, for example; if you want to pick a particular player to score or predict the game's exact final score, perhaps even pick out a player for your team who you think is most likely to score the first goal.
It may not seem like a sound investment, but betters can use the bet builder tool to create some wagers that seem reasonably optimistic, with excessively high payouts!
Bet 365 Rules
As with all gambling and betting sites, everyone must follow some rules; check out their T and Cs for further information on the Bet 365 Terms and Conditions HERE.
One thing to note is the bet credits rules. Bet 365 bet credits require a minimum odds of 1.20, but winnings from bet credits do not have to be re-wagered.
What this essentially means is, that if you place a bet on the horses using your bet credits, you can have any winnings paid out in cash (as long as it is more than your original deposit).
However, this does not apply to betting live in-play, where all bets must be wagered at the required odds.
Who Owns Bet 365?
Bet 365 is a privately owned UK gambling firm with headquarters in Stoke-on-Trent, Staffordshire.
Denise Coates founded it in 2000 and swiftly rose to become one of the biggest online gambling operators in the world.
With over 50 million customers in more than two hundred countries worldwide, it comes as no surprise that Forbes magazine estimated Denise Coates' net worth at $12.2 billion in 2019.
Though Coates founded it, it is nice to know she hand kept her hand in the pie, maintaining the top spot as the majority shareholder and the joint chief executive of the brand.
Gamble Responsibly
Please remember to always stay in control and gamble responsibly, and always think before you bet.
Think about your choices. If you think that you have a gambling problem call gambling help on 1800 858 858 24/7, or you can visit their website gamblinghelponline.org.au
FAQs
Is Bet365 legal in Australia?
The simple answer is Yes! Bet 365 is a good and reputable bookmaker servicing countries worldwide and, as such, has to meet legal obligations to continue its operations.
How do I watch horse racing on Bet 365?
You can watch horse racing on Bet365 via their Live Streaming option; this is available for every single TAB race in Victoria and South Australia.
What is the most Bet 365 will payout?
The most you can withdraw from Bet 365 via Visa or bank card is $40,000.
Does Bet 365 have a sign-up bonus?
Due to Australian regulations, Gambling Companies can no longer offer sign-up bonuses to entice people onto their websites.
Is Bet 365 Australian?
Bet 365 is a British company founded in January 2000 and, as of 2016, has been recognized as one of the worlds largest online gambling companies.
Is Bet 365 legit?
Yes! Bet 365 is one of the world's largest online gaming organizations with over 14 million customers worldwide!
Is it safe to withdraw money from Bet 365?
It is entirely safe to withdraw money from Bet 365; as one of the largest online gaming companies in the world, they have strict legislation they must abide by.
How to bet with Bet 365
Joining Bet 365 is very simple. First, you only need to sign up for an account at Bet 365; this is a simple process that just takes seconds. You simply need to provide a few standard pieces of personal information, choose your username and choose a password; you will also need an additional 4-digit code for an extra level of security on your Bet 365 account.
Bet 365 Promotions
Bet 365 offers a range of promotions all year round, including live streaming, 365 Tote and Each Way First Goal Scorer.
KRUZEY has exclusive access to all the very best betting sites, reviews and information.
"bet365 does not offer bonus codes in Australia, and this referral code does not grant access to offers".
Quick Links
All Aussie Betting Sites Best Sports Betting Sites eSports Betting Sites Australia
Read more Betting News Here Take the Quiz