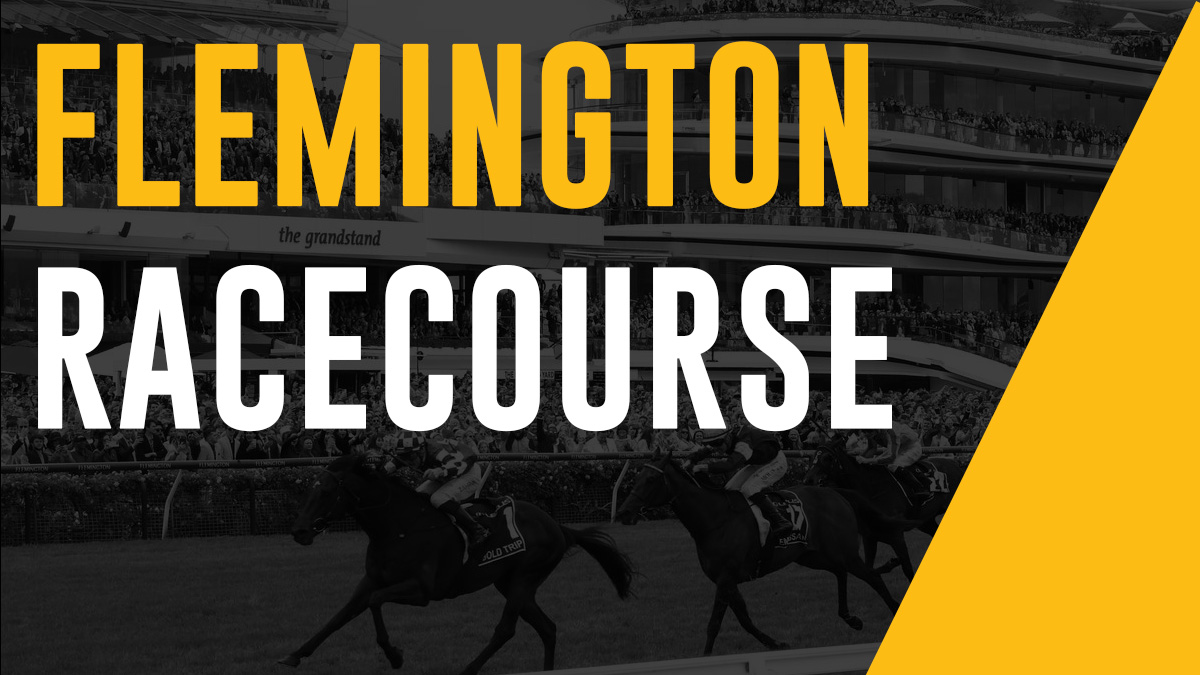 Flemington Racetrack
The Victoria Racing Club's Flemington Racetrack is Australia's most famous racecourse, hosting race meetings every year since 1840.
The Track
The track is located near Melbourne's city centre and has a circumference of 2,312 metres with a straight of 450 metres.
Racing takes place over distances ranging from 1,000 to 3,200 metres. Races of 1,000 and 1,200 metres are run down the legendary Flemington straight from a chute.
Over various distances between 1,400 and 2,500 metres, horses drawn in an inside barrier may have an advantage.
The Tracks History
The inaugural race meeting at Flemington Racetrack was conducted on March 3, 1840, and the first Melbourne Cup, Flemington's most famous event, was run on November 7, 1861.
In March 1864, 32 gentlemen with an interest in racing gathered at a hotel on Collins Street in Melbourne. These men formed the Victoria Racing Club by combining the Victoria Turf Club with the Victoria Jockey Club. The VRC's foundation members were elected by an interim committee of 12 people.
Consequently, starting in 1864, the new VRC took over racing at Flemington. It assumed control of all racing in Victoria in 1871.
The Victoria Racing Club Act of 1871 gave the VRC management of Flemington Racecourse and power over race meets throughout the state. The VRC was in charge of horse registration, owner colours, and licencing jockeys, trainers, and bookmakers. Until 1914, when paid stewards were hired, VRC committee members officiated race days.
The early VRC committees had a vision for Flemington: they wanted it to become one of the world's best racecourses.
Robert Cooper Bagot, the founding Secretary, encouraged people to attend the races. Under his leadership, the club constructed gardens, repaired the track, built grandstands, and provided free tickets to female guests. Bagot urged the State Government to sponsor the Melbourne Cup, and his efforts were rewarded. Melbourne Cup Day quickly became an official public holiday.
The legacy of the Club's founding members is still recognised today. The Bagotville Race, for example, was conceived as a reference to the famous racetrack and the historic history founded by visionary founders Robert Cooper Bagot and Henry Byron Moore. Moore, a passionate gardener, directed landscaping works and rose plantings that are still visible in Flemington. Near the conclusion of his life, he oversaw a massive development of the racetrack's infrastructure.
Flemington Races
Most Famous Race Held At Flemington
The World famous Melbourne Cup also known as 'the race that stops the nation' also captivates audiences worldwide is held at Flemington Racecourse each year and even continued throughout every single war since it began.
The Last Five Winning Horses
2022 – Gold Trip

2021 –  Verry Elleegant

2020 –  Twilight Payment

2019 – 

Vow and Declare

2018 – Cross Counter
Racecourse Events
As one of the biggest racecourses in Australia, Flemington racecourse is not only known for its races but also events outside of the racing industry, these events range from hosted events to casual gatherings to watch the football on the big screen.
Penfolds Victoria Derby Day
Penfolds Victoria Derby Day is your chance to immerse yourself in a world of luxury, with magnificent cuisine, beverages, and high fashion from beginning to end.
The Penfolds Victoria Derby is the highlight of a day that is often considered as a racing purist's dream. Every race on the undercard is at the group level.
The customary black and white theme takes centre stage once more, highlighting the relentless beauty of Australia's fashion capital. When it comes to the races, prepare to be blown away by the gorgeous thoroughbreds' tremendous force and grace as they battle for glory. Don't pass up this fantastic opportunity to immerse yourself in the thrill and glitter of a true Melbourne classic.
Lexus Melbourne Cup Day
No other event compares to the unbounded enthusiasm you can only experience in person on Cup Day, the iconic racing day that will redefine the Australian entertainment, fashion, and athletic landscape once again.
Take your seat on the track for one of the world's most prestigious tests of thoroughbred supremacy. The 'race that stops a nation,' held over 3200m, introduces an honour roll of local, national, and worldwide horse luminaries.
This is the one everyone has been waiting for, with something for everyone — fashionistas, foodies, die-hard punters, and everyone in between.
Kennedy Oaks Day
Kennedy Oaks Day is be the ultimate celebration of style, luxury, and top-tier racing.
Join the celebration and enjoy an opulent day filled with fashion, cuisine, and magnificent equine races that will leave you speechless.
Book your spot in the middle of the action as the horses thunder down the track, leaving you on the edge of your seat with anticipation. The three-year-old fillies take centre stage in the time-honored Group 1 Kennedy Oaks over 2500m on Ladies' Day.
Immerse yourself in the world of fine dining and hospitality as we serve you wonderful delicacies cooked by some of the city's greatest chefs.
It is the perfect blend of fashion and athletics, with elegance and thrill coexisting.
TAB Championship Stakes Day
TAB Champions Stakes Day, the much-loved last day of Carnival, concludes the Melbourne Cup Carnival with three Group 1 features that showcase the best of Australian turf over 1200m, 1600m, and 2000m.
Join the family and friends for a day of amazing world-class racing in a relaxing atmosphere. With various activities for both children and adults, you may enjoy the thrill of the racing while also relaxing and having fun. We have terrific food and drinks for a casual day out, as well as higher-end meals at our stellar restaurants and bars. Throughout the day, there will be plenty of terrific entertainment options to keep everyone engaged, laughing, and dancing.
Stakes Day is guaranteed to be a wonderful time for all, whether you're a seasoned horse racing lover or just seeking for a pleasant, low-key day out!
Racecourse Parking
There is public parking available, which can be accessed via Flemington Drive. Staff will be on hand to direct vehicles to the appropriate parking areas.
Directions To The Track
Contact Details
Victoria Racing Club Limited
448 Epsom Road, Flemington VIC 3031
Phone:  1300 727 575
Reception:  (03) 8378 0888
Membership Email – membership@vrc.net.au
General enquiries – generalenquiries@vrc.net.au
International callers:  +61 (3) 8378 0747
© Copyright KRUZEY PTY LTD