BetDeluxe has been tried and tested by our experts here at Kruzey (and we know a good betting sitte from a bad one), and while BetDeluxe certainly is up there as a good bookie, we highly recommend taking a look at Betr first! Betr has the best promotions available to sports betting enthusiasts thanks to their huge reach in the sporting market, and their betting site is quite simply the best (in our opinion, of course).
BetDeluxe
So, you've come looking for a BetDeluxe Bonus Code.
I've been there before and spent hours upon hours looking for them!
Here's the thing…
Once upon a time bonus codes we everywhere in the betting industry,
these days it's a little more tricky.
Most bonus codes don't actually work anymore… most.
it's a legal thing since they cracked down on trying to reel customers in with bonuses.
however, there is a good chance our BetDeluxe bonus code still does!
But before we get to that let's go through a real quick review of what they are actually like!
I started by throwing their name into google and was pleasantly surprised to find that they were first in the ads and first place after them.
Somehow other betting sites can rank higher which can make it a pain to find them sometimes.
Either way, to save you the trouble I've thrown the link for you in here to save you the hassle BetDeluxe Homepage.
Time to have a look at the layout
The homepage is pretty clean and simple,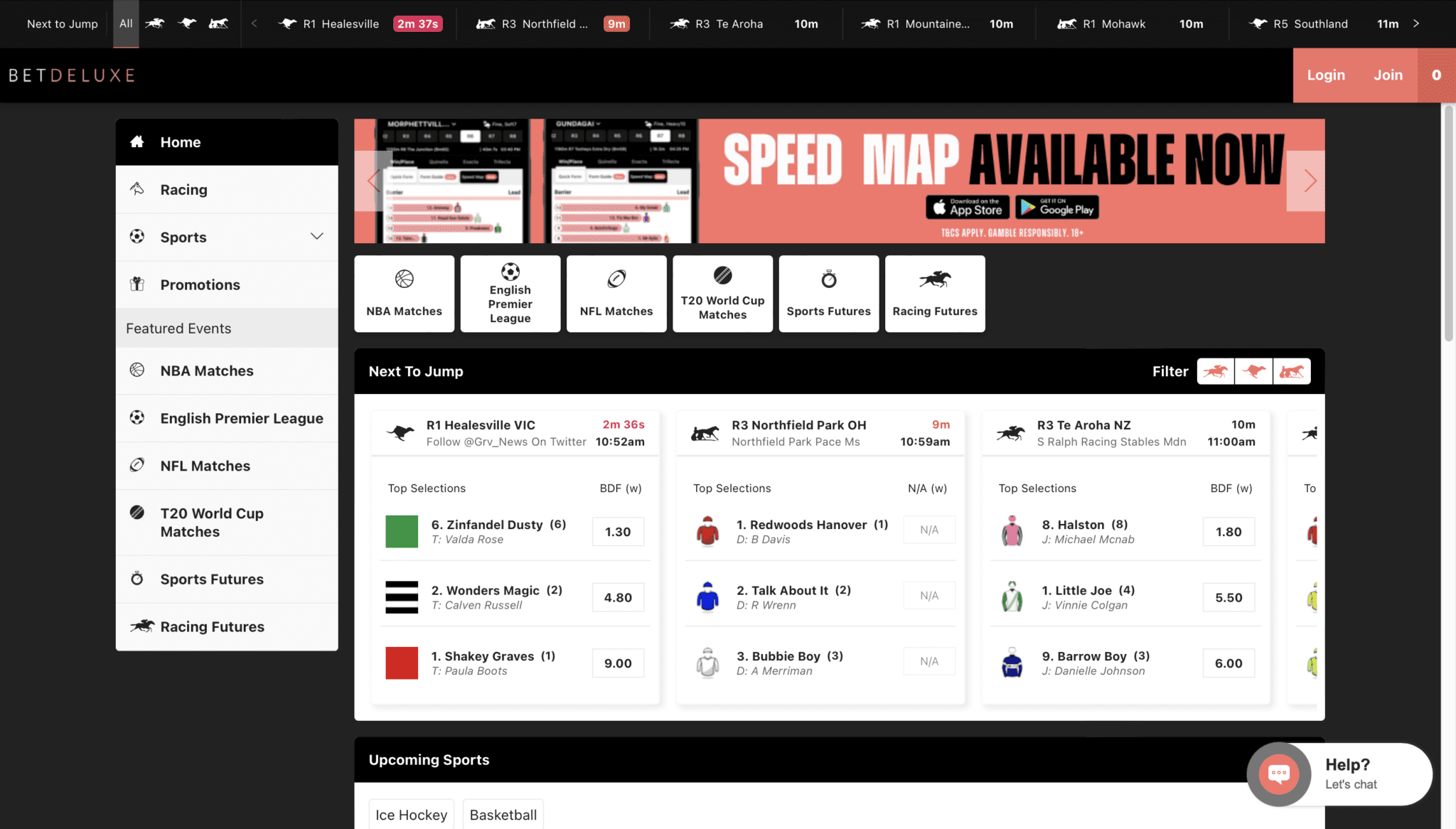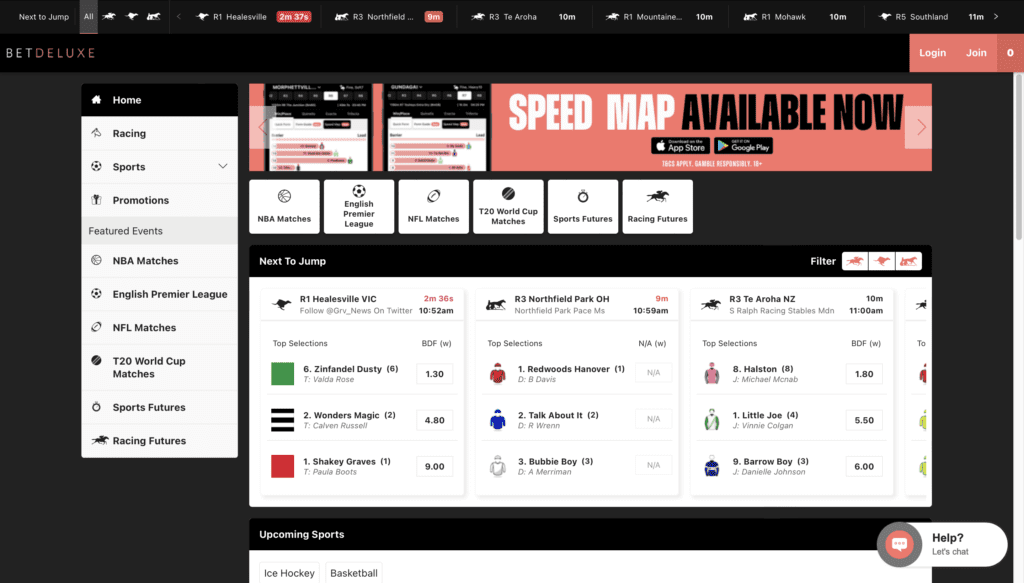 All the next to jump races are front and centre with a filter to get rid of any race types you're not interested in
I removed harnesses and doggies straight away as I was only interested in horse racing.


It was pretty clear straight off the bat to see what horses were the top selections of each upcoming race
This was going to save me a lot of time later as I could focus on them when placing bets
(we'll get to that a little later)
Enough of the chit-chat, let's do some signing up.
The sign-up process:
The sign-up process comes pretty standard at most bookmakers these days
Though the sign-up form wasn't as clean as some others on the market,
It was evident that these lads know what matters most.
Still, it was a very simple process and really took no time at all,
I wasn't in a rush and it only took around 2 minutes from start to finish,
a two-page sign-up with only a couple of quick details to fill in.
Once I had filled in all the basic details another screen popped up asking me to set a deposit limit,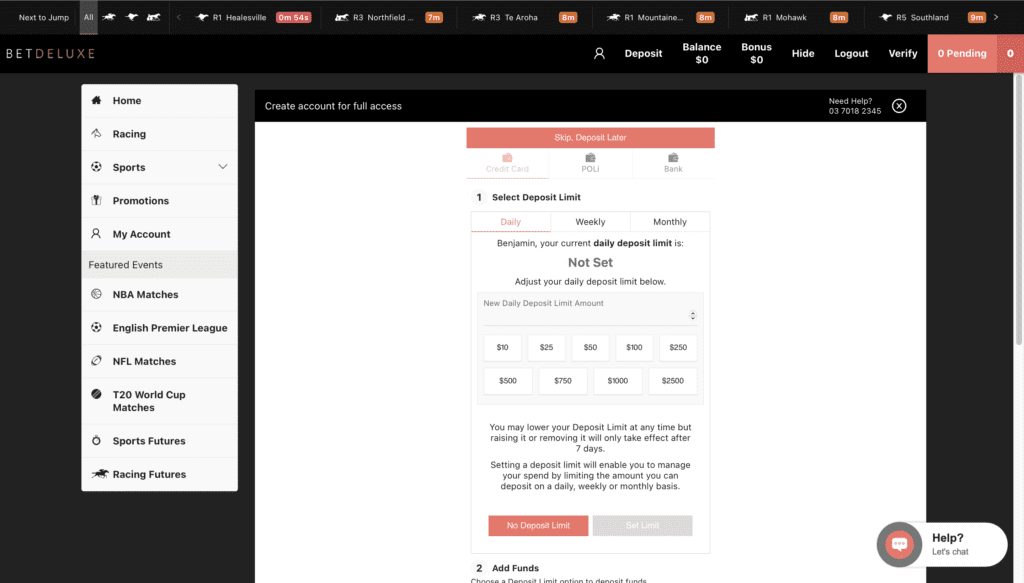 As much as I felt like this was blocking me from getting my bets on I also found it to be a good thing,
at the end of the day no one wants to spend more than they should be so it's good to be able to limit yourself before you begin.
once I had sorted this out I got a welcome notification on my phone.
This came with a welcome deposit
'Deposit up to 400 and get 50% match in bonus bets… offer ends tomorrow midnight.
I've got to be honest, I was a little chuffed to be getting 50% extra in bonus bets,
and it's about time we put some money in the account so let's get cracking shall we?
Depositing Funds
Depositing funds was fairly straightforward,
I do say fairly straightforward because it did request a netcode as an extra level of protection
Though it wasn't really a hassle it did take a minute longer than some other betting sites.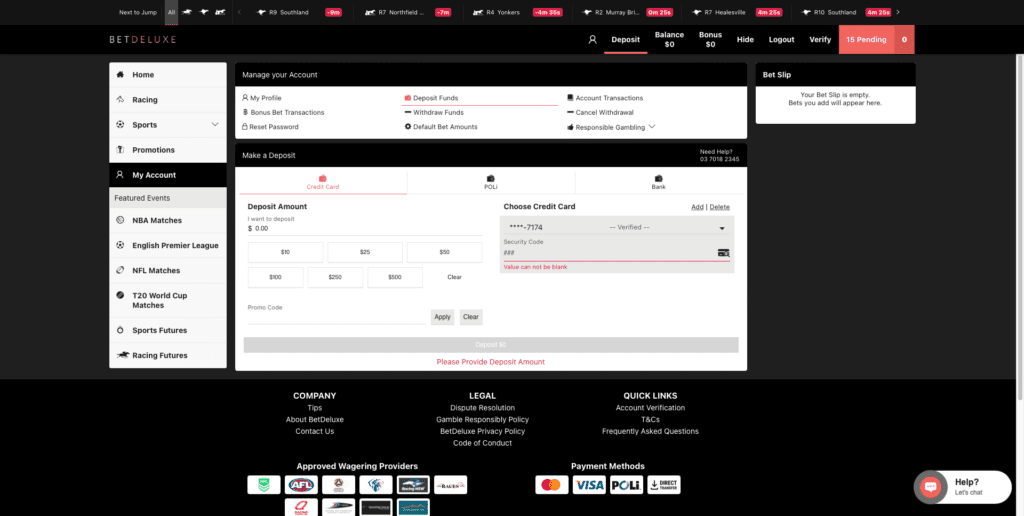 I whacked $10 into the account for the review (Huge, I know 😄)
However, thanks to the sign-up bonus bets I have an extra $5 to pop on some roughies.
Once I had finished the deposit it then popped me into my user profile
which showed my account had not been verified by greenID,
to fix this I had to follow the instructions laid out in the image below and wait for verification.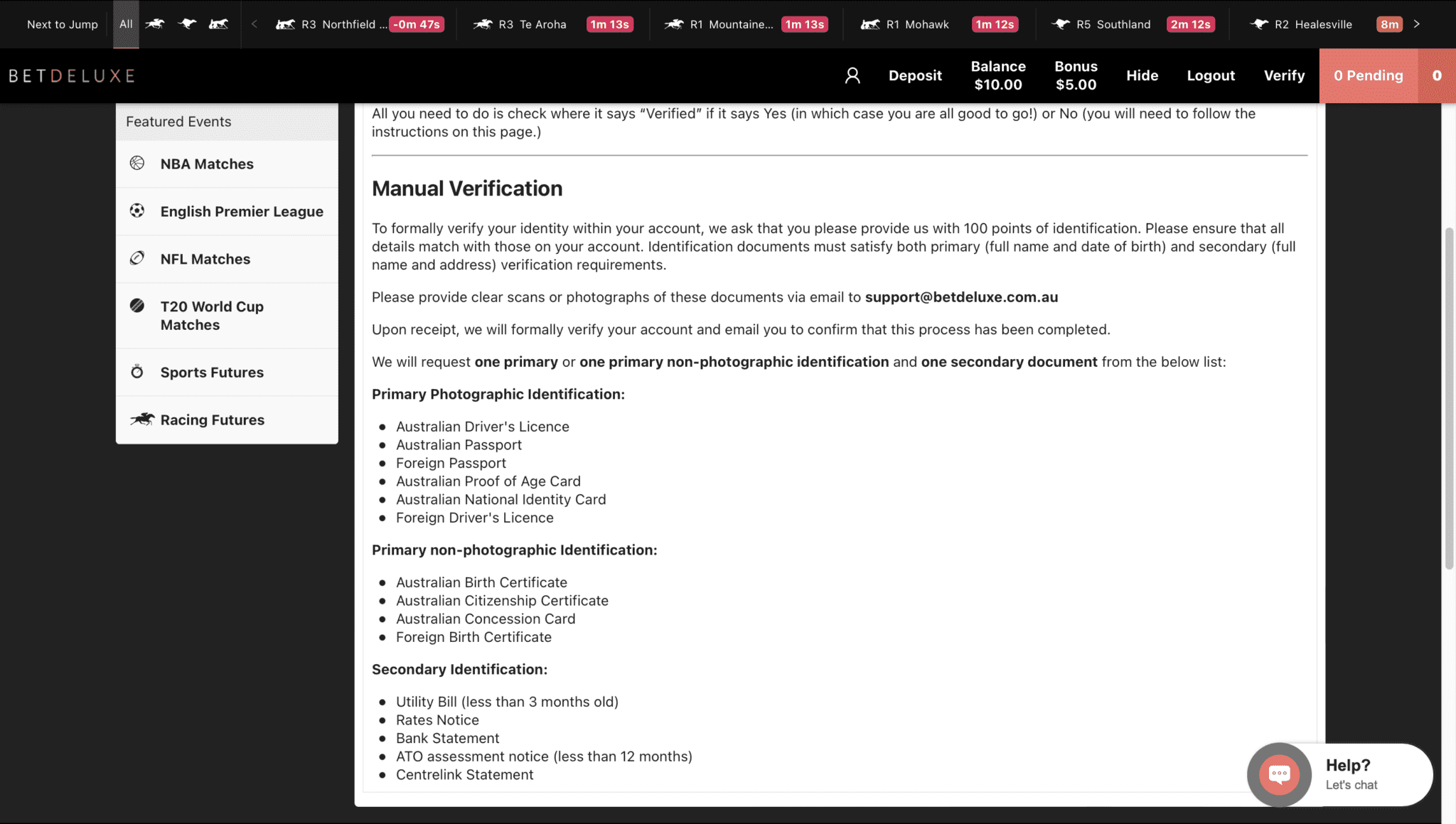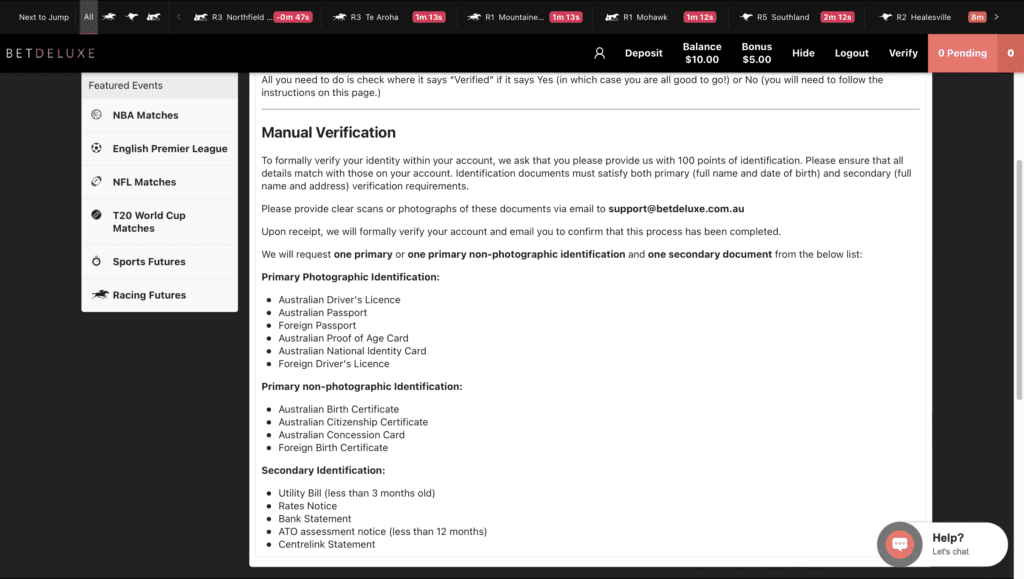 Once I had done this though, I didn't have to wait to put on the bets.
Let's place some bets!
Instead of popping into the Next To Jump section of the homepage,
I decided it would be best for a thorough review to go to the racing page.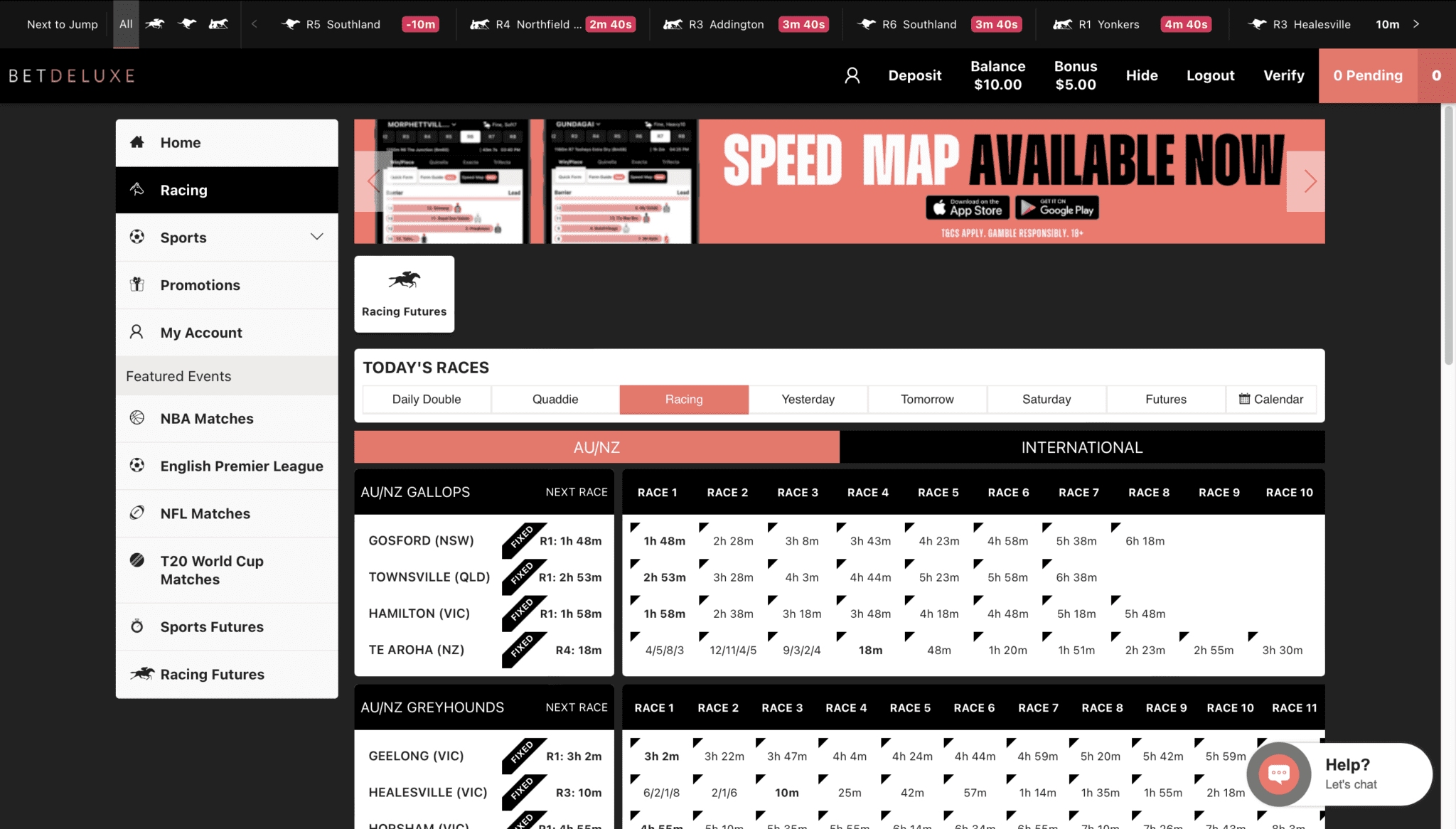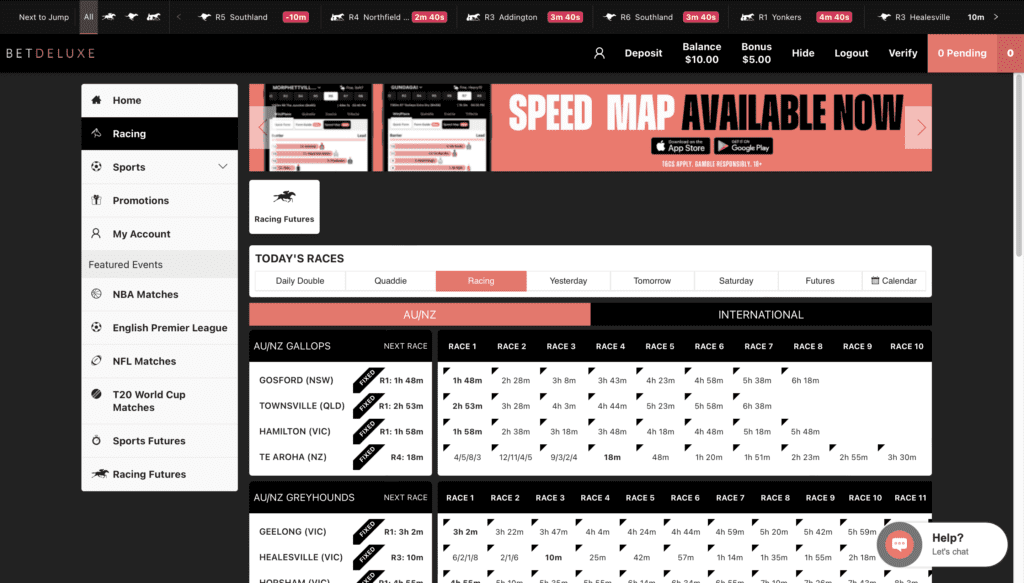 I noticed that there were no lines in their grid, which made it incredibly difficult to trace races from specific meets;
this is something they need to fix.
HOWEVER, once I clicked on an upcoming race, it was pretty easy to distinguish between the horses.
A set of boxes above the horse lineup shows the form for each horse, a new form guide that opens in a separate window, and an all-new speed map.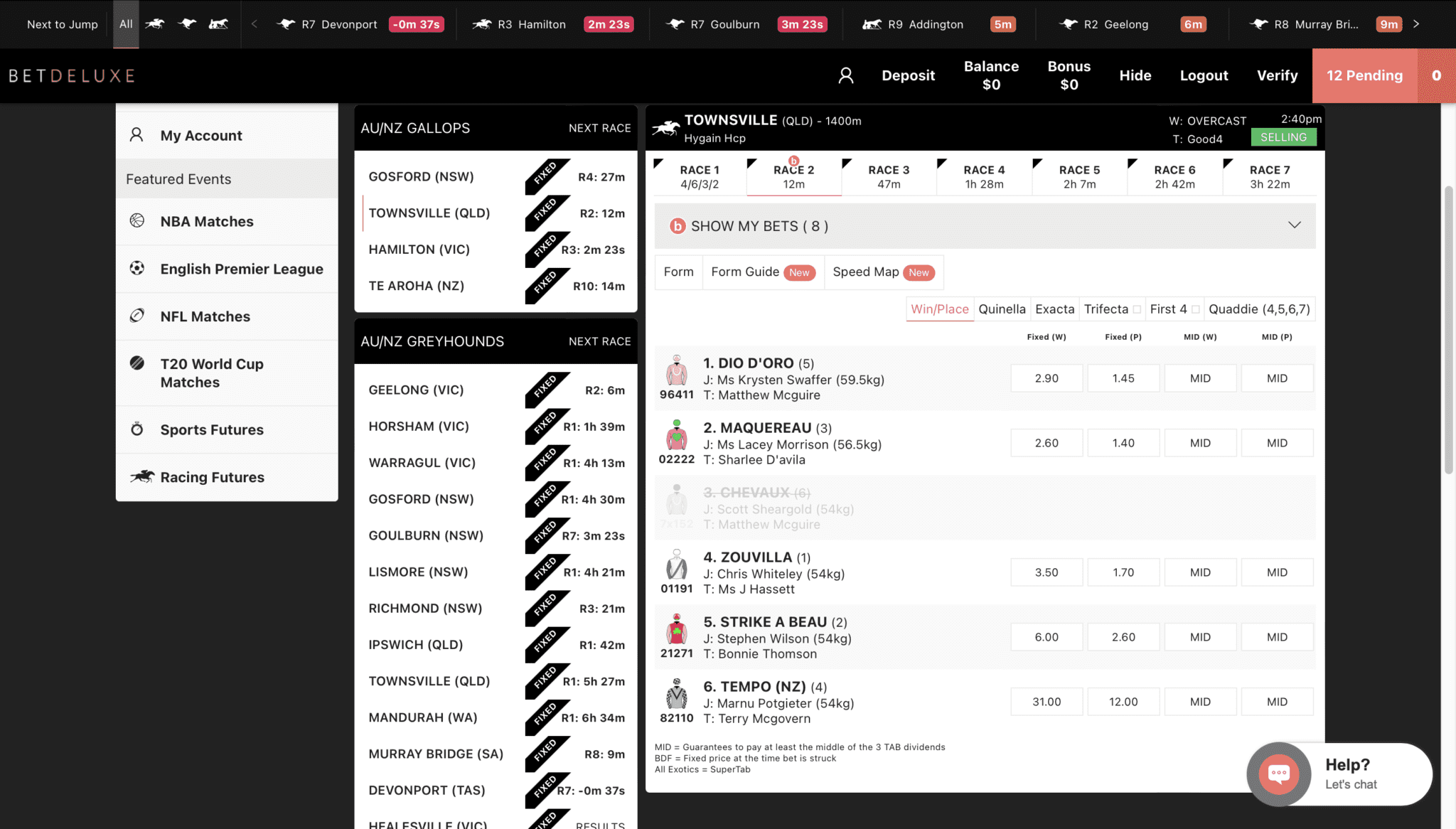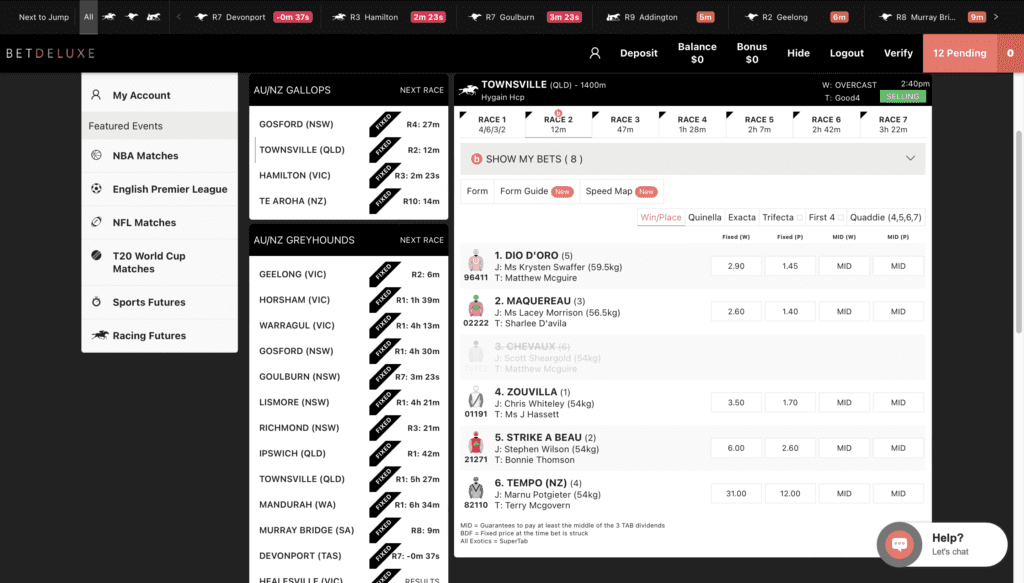 Found my first race,
Hopping into the full form guide I was pleasantly surprised to see it had everything…
Including the speed map… all in one spot!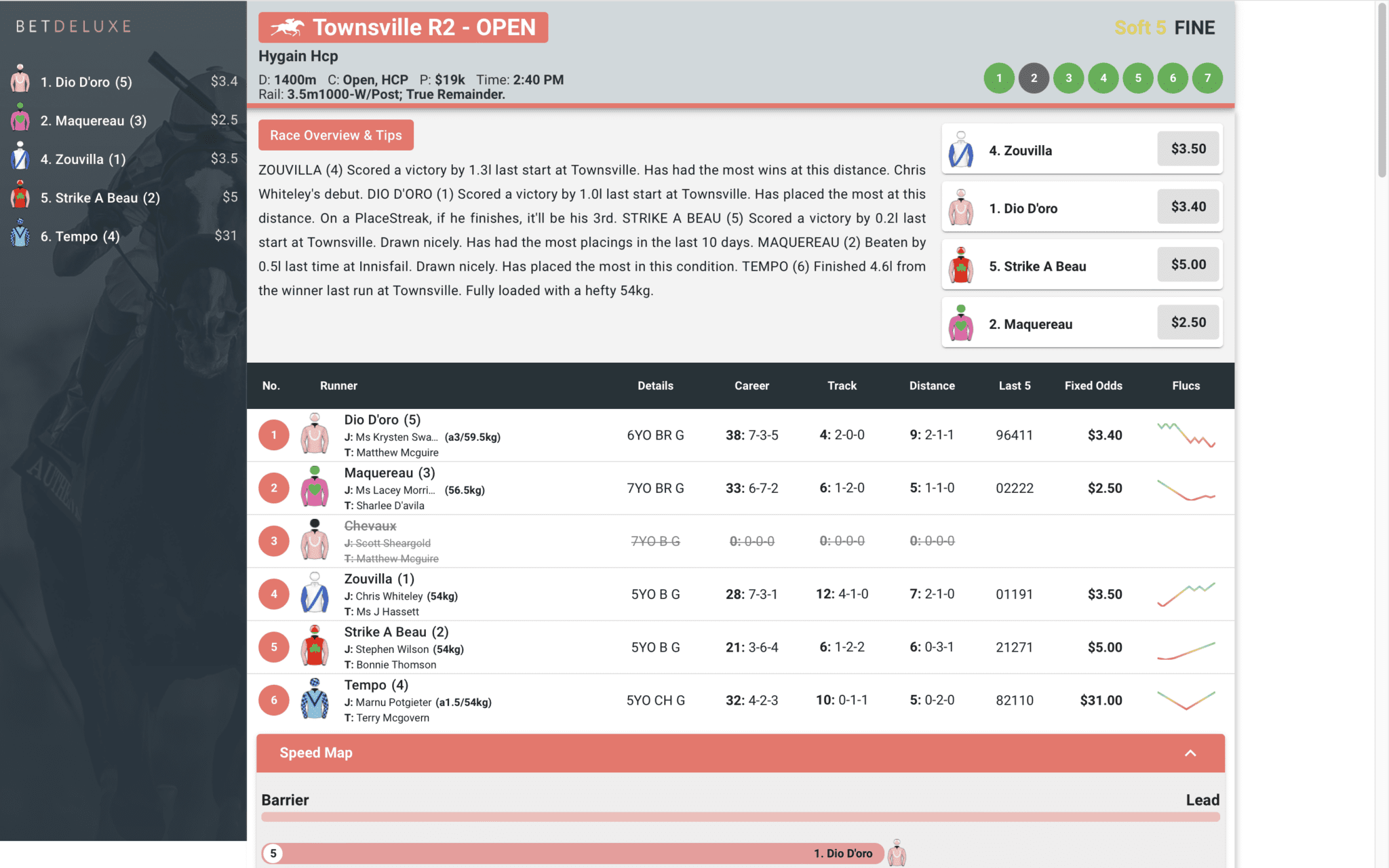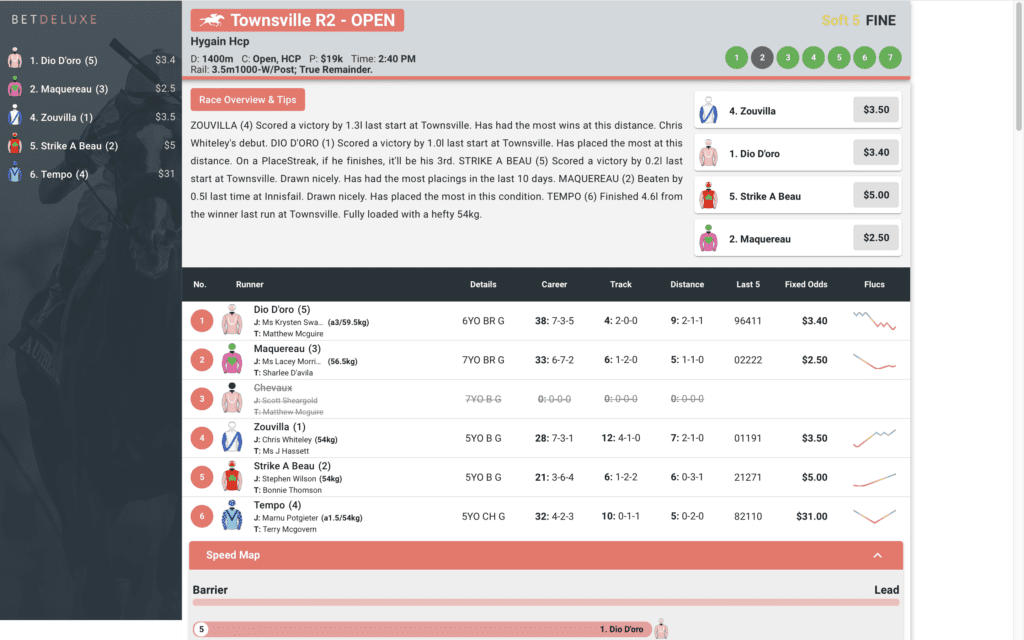 This has to be the best full form guide I have come across,
It looks great and is incredibly easy to understand,
I think my grandad could figure it out no worries.
I've also found my first horse for the day!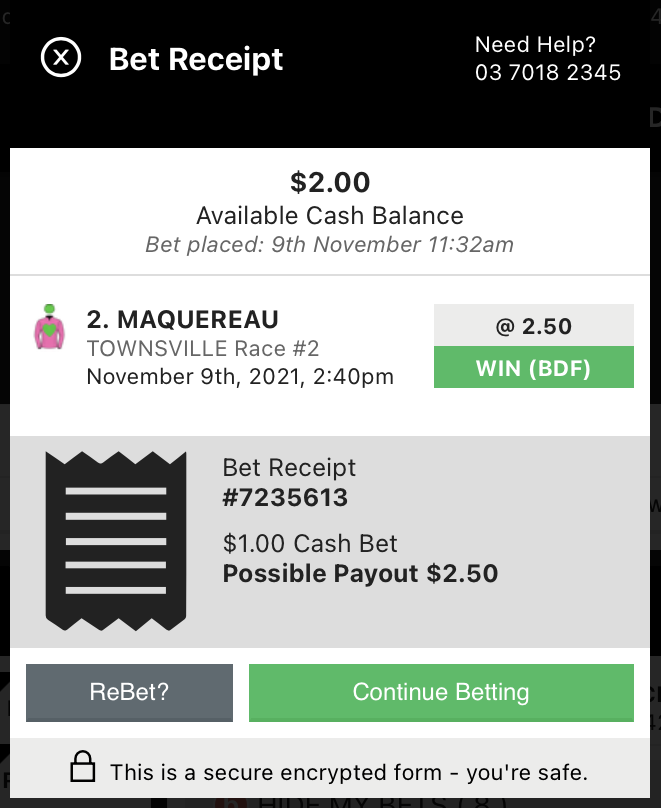 So how did I do?
You little ripper! Maquereau got up and won for me! Only a 2.45:1 but still a win is a win hey!

I threw a number of other bets on after this but I don't want to waste your time with all of that,
the longer story is I won four out of $15 bets and ended up $24 in front thanks to the roughie bonus bets.
So what sports do they have?
Not as many sports are available as I would like to see but they still have all the majors and a couple of other less common sports such as darts.
The range of sports markets available is somewhat lacking as well,
comparing them against another betting site on the rise, Baltimore ravens VS Miami Dolphins had 13 markets available on Betdeluxe in comparison to roughly 100 markets on another.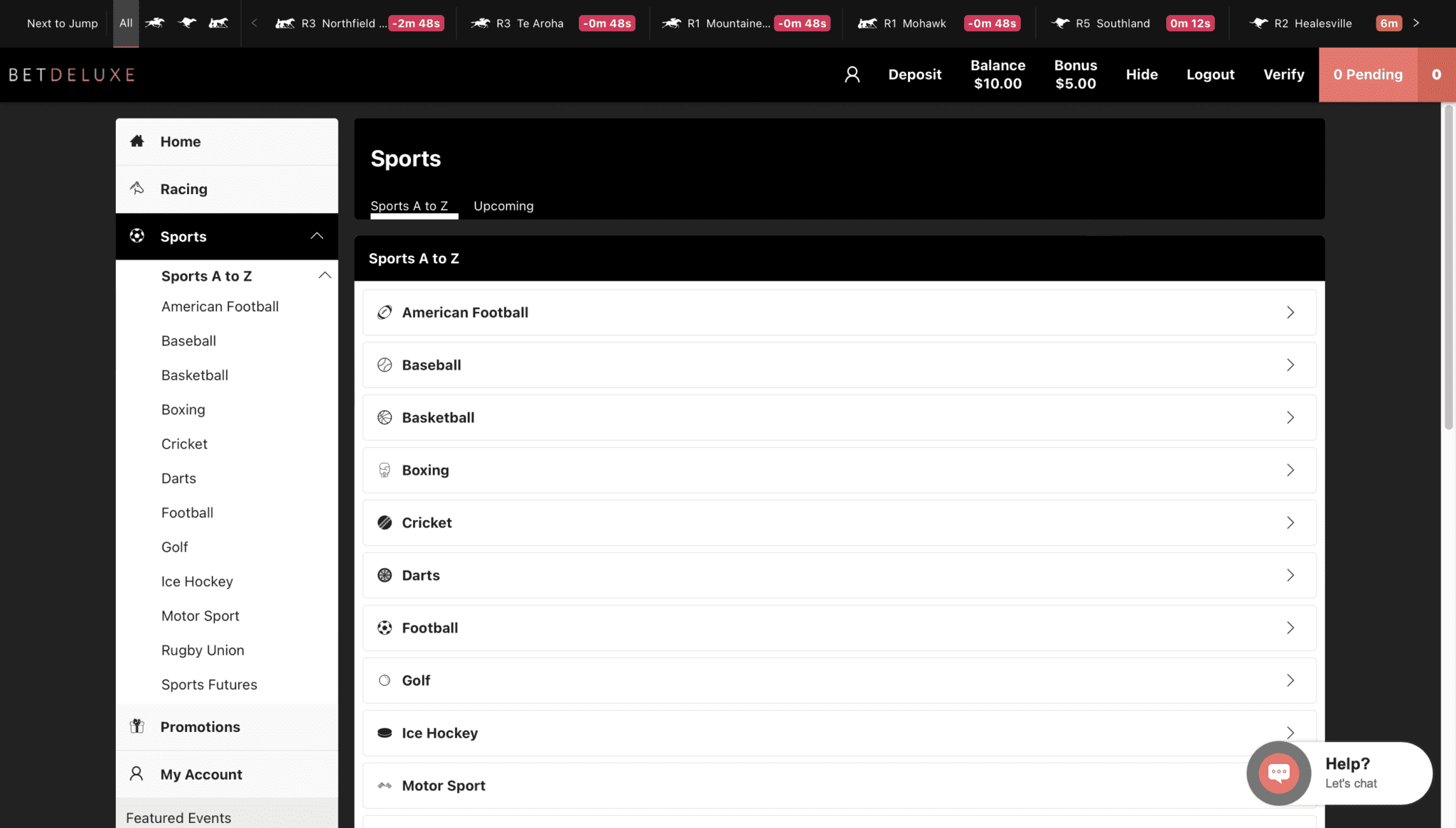 In saying that,
I really like the way their same game multis are laid out!
it is done in such a simplified way that anyone would be able to understand what they are doing.
Even someone that has never placed a bet before!
What sort of promotions do they have?
After looking at the sports I was a little worried that their promotions were lacking.
Man, was I wrong!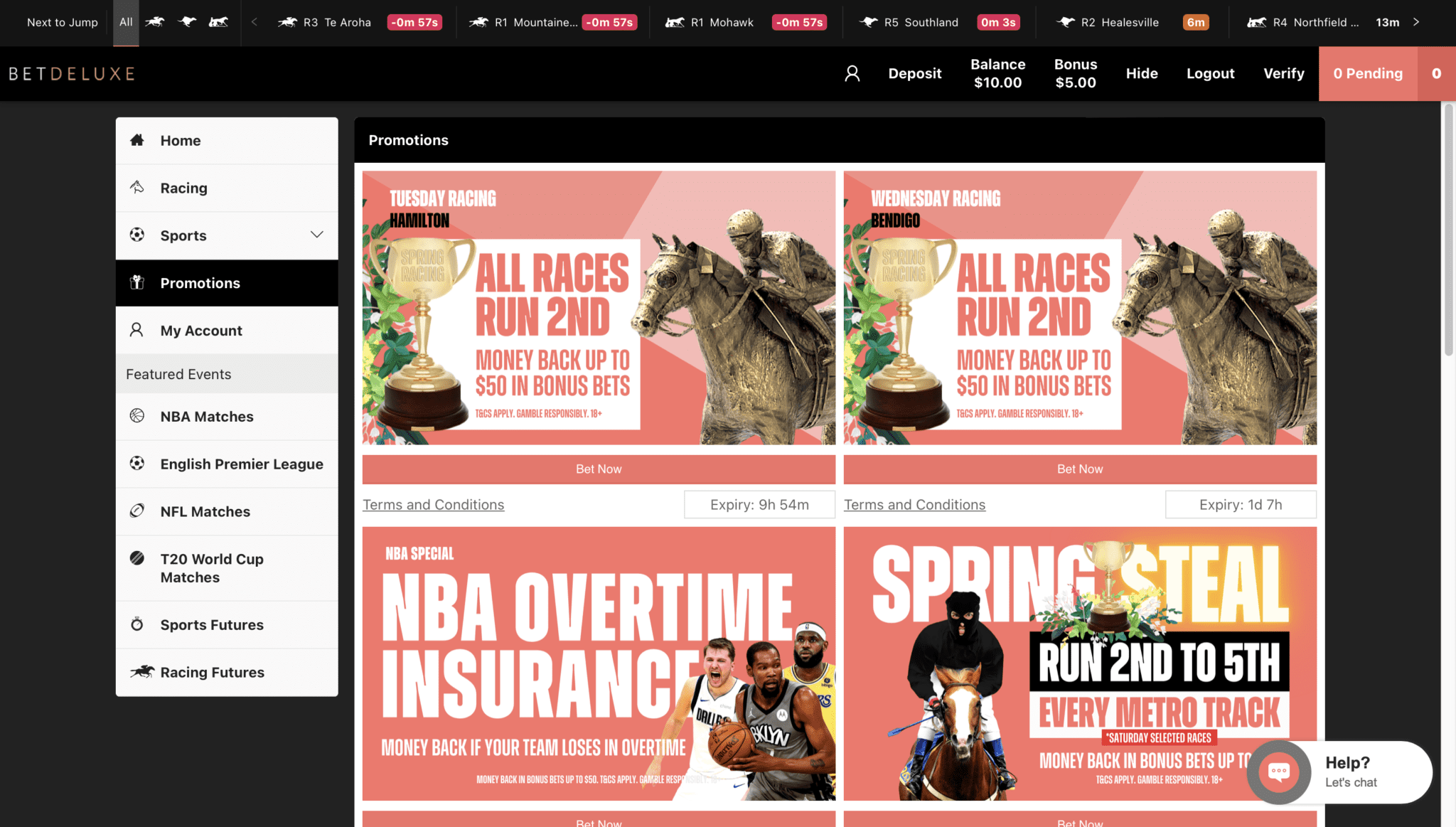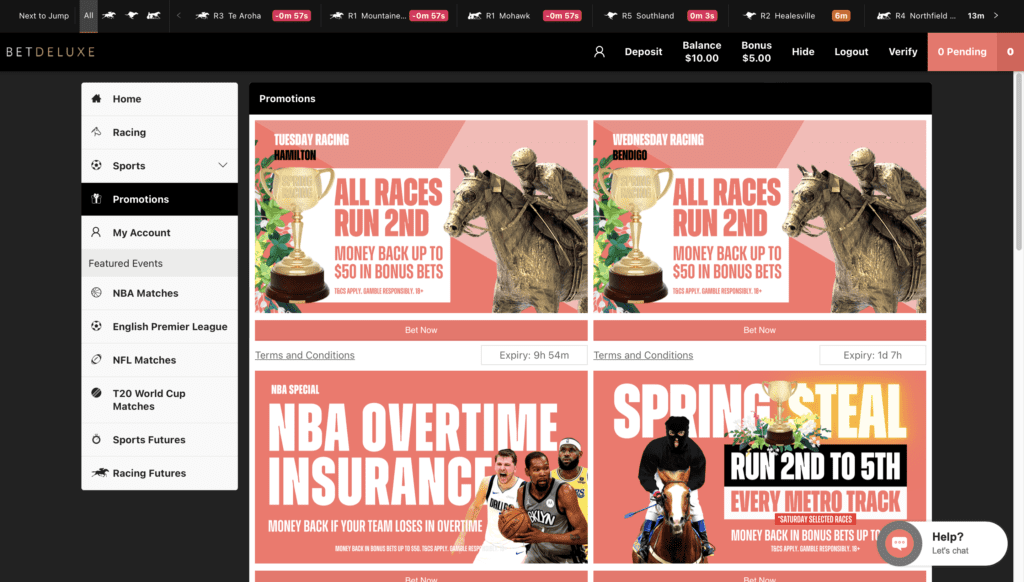 They had eight different promotions available,
mostly racing promos but they did have a few sports in there as well.
BetDeluxe Review

What do we like about BetDeluxe?
First and foremost, by far, the best thing we like about BetDeluxe is how incredibly easy it was to sign up! And by easy, we mean it is possibly the most effortless sign-up process we have come across.
The second thing that stuck out to us was how compact and straightforward the home page is. The overall layout is compact and easy to get your head around, and you can get from the top of the site to the bottom very quickly. It's almost as though they have removed all the "White Noise" so that you can get to where you want to go VERY FAST.
There are only four main menu options which include home, racing, sports, and promotions. However, what we liked the most was the "Featured Events" section, which gives quick access to top sporting and racing events worldwide, such as the Melbourne Cup or NFL Superbowl.
What's missing at BetDeluxe?
Unfortunately, we noticed a few missing things, including Featured Bets, Fluctuations, Bet Tracker, and Tips, which are all currently unavailable.
BetDeluxe Highlights 

One of the best things we like about BetDeluxe is the option of joining meetings and races via BetTV. This is a one-click process from the main page, but you can also open a new tab if desired. 
BetDeluxe Promotions
Promotions have their own page and are visible once your account is created and you are logged on. Please note that BetDeluxe reserves the right to apply and/or deny members access to online promotions based on their address and geographic location. Certain states such as South Australia and Western Australia have banned promotional activity derived from gambling and betting sites. If you were thinking about it, a VPN wouldn't work.
BetDeluxe Android App

It's always good to find an app, and you're in luck; BetDeluxe does have an Android app! the link for the app on Google Play can be found right here.
BetDeluxe IOS App
As expected, BetDeluxe does have an iPhone app. The link for the app on the Apple Store can be found right here.
BetDeluxe Mobile Site
The BetDeluxe mobile site is essentially a micro version of the desktop site. Everything from the middle is shown on the phone's main screen, the menu dropdown hosts the left side drop down options, and the bet slip can be found in the top right corner.
We jumped into the BetDeluxe Sports Futures, whacking five bets onto the NBA, NRL, AFL, NFL and The Ashes.
We spent $25 on five different outright winners; however, at the time of writing have not had any results as these are all for the Sports Futures.
The BetDeluxe mobile site is the same as their website https://betdeluxe.com/
BetDeluxe Website

The BetDeluxe website is straightforward; to me, it almost feels as though it is not quite finished; there is room for more options on the sides to give the punter more value for their buck!
Either way, once we had logged in, we got straight to work throwing some cash into the Major League Baseball. Not going to lie; we don't have a clue when it comes to Major League Baseball, but the point of the exercise was to bet on something random and see how it fairs against the common bets such as horse racing and AFL.
We randomly chose five games, placing a winning bet on each one; sadly, only one came out on top.
We spent $25 on five games at $5 per bet, walking away with a withdrawable balance of $10.50.
The website for BetDeluxe is HERE.
BetDeluxe Contact & Customer Service
Here are the contact points you need to know about.
Postal Address: PO Box 341, Prahan, VIC 3181, Australia
Office Hours: 9 am – 9 pm, Mon to Sat.
Phone: (03) 7018-2345
Email: support@betdeluxe.com.au
Chat: click chat widget, bottom right corner. 
BetDeluxe Verification Process
BetDeluxe uses GreenID for account verification to verify most of their clients; if you wish to check that your account is already verified, you need to click on name found in the top right corner. Once there, it should show your account summary.
BetDeluxe Bonus Bets
Yes, BetDeluxe does have bonus bets available to their members. BetDeluxe bonus bets expire five days from the time that they are put into your account.
BetDeluxe Payment Methods
There are three options:
POLI – this is made available instantly into your account.
Direct Transfer – this is made available after 1-2 days. There is a minimum $20 deposit.
Visa and MasterCard – this is made available instantly into your account. 
BetDeluxe Racing Bonus Bet
At the time of writing, one of their promotions is that you can get up to $100 back if you bet on sports or racing this week.
BetDeluxe Horse Racing
BetDeluxe is climbing the ranks of Australian betting sites with unparalleled VIP service and an incredible range of racing markets.
The racing page is nicely displayed, separating gallops, trots, and greyhounds with race meetings on the day nested within. There are two tabs to separate between AUS/NZ meets versus International. Other betting sites tend to lump them all together, making it awkward to find a race meeting quickly. The way BetDeluxe handles the racing markets is a nice touch.
Live Racing – Yes, live racing is available, and it's free. Refer to the bottom of the main page. It uses BetVision technology and features meetings not generally covered by the PAYTV channels. At the time of writing, the coverage was aimed at low-level overseas race meetings, which may not necessarily interest Australian punters.
Form Guide – Yes, you click on the Form link on any race card. It's comprehensive enough to provide you with all the information you require on a particular horse. 
BetDeluxe Sports Markets

BetDeluxe covers all the Australian and New Zealand horse racing, trots, and greyhound markets. All good on that front. Everything should be familiar to you if you've participated on other Australian betting sites as the layout is similar.
Other domestic and major overseas sports leagues are included. Click the Sports option on the menu. Locally, the AFL, NRL, A-League, and Big Bash Cricket are covered. For fans of any particular team, you can check their odds and compare them to other betting agencies to see which has the better value.
Initially, Tennis and Rugby Union were not included. However, this was simply due to COVID-19 shutting down those sports when the bookmaker began its journey. In addition, those two sports having a high overseas travel involvement were temporarily shut but have since reopened.
In terms of in-game market types, you have to check on each sport to see what is available because they will be different. However, usual suspects like match/game result, money line, points spread, total points/goals, odds/evens are mostly there, making for a primary rather than extensive set of options.
BetDeluxe Odds
The usual win, place, and exotic options (quinella, exacta, trifecta, first four) are there on any race card.
You can select the fixed option or the best of three TAB options (BT) for win bets.
For place bets, you can select the fixed option or the MID option (guaranteed to pay the middle of the three TAB dividends).
For exotics, all bets are priced through SuperTab.
BetDeluxe Sign Up New Account

So you want to join up? Easy as. Click the Join button (top right of the screen). The signing up process takes only a few simple steps:
Enter email
Password
Username
Mobile
DOB.
Enter address details.
It's probably one of the easiest sign-ups I've seen. However, as with all sign-ups to Australian betting agencies, you'll need to provide copies of authenticated documents and identification before any withdrawals can be made. Refer to the Account Verification page to see what the requirements are.
BetDeluxe Promo Code
As to our knowledge there are no promo codes available for BetDeluxe.
BetDeluxe Rules
As with all Australian bookmakers, there are terms and conditions that must be strictly adhered to. To view their t&cs, visit the terms and conditions section of their site HERE.
BetDeluxe Review Conclusion
Decent! As a newbie on the block there were a few minor things I noticed that could be improved upon including more sports markets and grid lines in the racing section, however, as a betting site, BetDeluxe it has most of the main features that you expect from a good bookmaker and a few extras as well.
All in all, I really like them and can't wait to see more improvements roll out in the future.
FAQs
Is BetDeluxe Safe? 
BetDeluxe is absolutely a safe and reliable betting site, founded by Noah Rose, an accredited Victorian Registered Bookmaker armed with decades of experience in the betting industry.
About BetDeluxe
BetDeluxe is the trading name of well-known Melbourne based on course bookmaker Noah Rose. In early 2020, he decided to enter the world of Australian online betting, creating his own agency using the 'Betmakers' framework and platform. BetDeluxe is the result. Pretty good for a first crack, I reckon!
Who Owns BetDeluxe?
BetDeluxe is a boutique betting agency that is 100% owned and operated out of Melbourne. The company was only established in 2020, adding to a flourishing Australian online betting landscape.
Quick Links
All Aussie Betting Sites Best Sports Betting Sites eSports Betting Sites Australia