Most Importantly…
Some betting sites are better than others and we do our best to offer the best advice at all times to our readers, which is why we strongly suggest you take a look at some of our other reviews before venturing down the Sportschamps path. We suggest taking a look at Betr betting site review first and foremost, Betr are extremely professional, have the best bonuses and odds boosts in the market, and are one of the best bookies suited to Australians.
SportChamps Referral Code 2023
Are you searching for a SportChamps promo code? Well you have found the right place.
Firstly, pay a visit to our mates over at SportChamps, and find out what all the buzz and excitement is about.
Secondly, we do have a very special referral code if you are searching for the newest and unique tournament betting site to hit the Australian Market. Sign up through here..
Sportchamps referrer code:
Click here.
At KRUZEY we have exclusive access to the best betting sites on the Australian market.
We have now added SportChamps to our roster of online betting agencies.
SportChamps are one the newest Australian sports betting agencies to hit the market specialising in the tournament betting space.
The mobile app for smart phone and tablet is probably where you'll be doing most of the heavy lifting.
Mostly, it's an intuitive layout, and everything you require as an online punter will be within easy reach.
Check out their latest video below,
Who are SportChamps
SportChamps are a fully Australian run enterprise built upon the spirit of an online bookmaker but with a different set of conventions and conditions where the punter is the 'champ' and not the bookie.
SportChamps can be compared to the likes of Draftstars and TopBetta (both recently acquired by PlayUp) but then again it does things that are unique to itself and no others.
The company was founded in 2016 by CEO Alan Eskander, who is no stranger to the Australian wagering scene, having run the Betstar operation with his father Michael, though SportChamps is his first foray into the world of tournament betting.
About SportChamps
SportChamps are run out of an office based in Melbourne, Victoria.
Business details below.
SportChamps is licensed and regulated by Australia's Northern Territory Government.
For South Australian residents, SportChamps gambling operations are governed by the South Australian Gambling Codes of Practice.
Business Details:
Email:
members@sportchamps.com.au
Address:
Level 4 – 7, 612 – 616, St Kilda Road
VIC 3008
Melbourne
Australia
SportChamps Sign-up Process
On the SportChamps home page, you can sign up via the desktop.
If you are a predominant Mobile user, you can download the APK file from either the Apple or Android store, which also have links provided on the homepage, and from there you can manage the sign-up process through that avenue if you wish.

If you are signing up with Kruzey, use the referrer code link at the top of this page.
The sign-up process is relatively straightforward except for the section on providing an address.
A Google search map is displayed but unfortunately the results are displayed as white text on a white background.
You can barely read it.
Be mindful of this as you are entering your details.
If a friend has encouraged you to sign up, they may have provided you with their redeem code.
You will see this option during the sign-up process.
Enter it.
Once you have successfully created your account, you'll be asked to confirm it via email.
All standard stuff really.
You'll also be asked to verify your credentials via Green ID, using (among numerous references) a drivers license, passport or Medicare card.
This is a Federal Government and Anti Laundering requirement, and you will have 45 days approx to confirm the verification.
Rookie Tournament Invite
As an enticement to fund your account, SportChamps will send you details of a rookie tournament invite via SMS, for you to participate in for free.
You get five opportunities to do this.
It will give you the opportunity to familiarise yourself with the SportChamps environment and to learn the ropes.
We would suggest jumping right in and getting your feet wet.
None of the other betting agencies do this! Remember it's free to try, the rookie invite tournament normally has a minimal cash prize of $10 or something similar.
Sportchamps Highlights
Website
The website is mostly a landing page with sign-up functionality and business info.
You can register, but there is no place to login, which is where the mobile app kicks in.
Mobile App
The mobile app (for smart phone and tablet) uses a dark theme and is friendly on the eyes.
The layout is based on a number of tabs including: Lobby, My Entries, Notifications and Account.
These are accessible across the bottom of the screen.
Within each tab are sub-sections, which are accessible toward the top of the screen.
For instance, when you click on a tournament from the Lobby tab, you will see sub-sections such as my bets, markets, trash talk, leaderboard etc.
If you wish to make changes to your user profile and financial info, go to the Account tab.
Also, the hamburger menu in the top left corner displays a long list of functions that you as the punter need to get access to while you are online.
It's all there.
Personally, I found the interface to be pretty good though there are a couple of areas which could do with some improvement.
That's a discussion we might have with the SportChamps people at a later date.
Features
1. The SportChamps business model is based around the concept of 'tournament betting' (see further details below).
2. Unlike traditional online bookmakers, you (the punter) are not competing against the bookie, instead you are betting against your fellow punters, those that have entered the same tournament as you. In fact, the SportChamps company slogan is: 'bet against punters not bloody bookies'.
3. Your goal, is to earn enough credits (what SportChamps call ChampCash, their virtual currency) to get you to the top of the tournament leaderboard. Those at the top once the tournament timeframe window has concluded win the cash pool, or a percentage thereof. Sometimes it's a percentage of the total pool, in other tournaments it could be winner take all.
4. You can also chat to any of the other punters who are entered into the same tournament as you, through a section called Trash Talk. The chat facility can be used to generate a bit of banter online, all in good fun!
5. A successful punter can be analysed online through his or her bets via the Leaderboard section. You can even rework your betting strategy based on those punters who are more successful than you, just by clicking on their handle /profile and sifting through what it is they have bet on, win or loss.
6. SportChamps have also introduced a new concept called Target Tournaments. Rather than being top of the leaderboard, in this case punters strive to reach a particular ChampCash target, whether it is 50000 credits or whatever, you get paid for reaching the target.
7. The cost of entering a tournament is minimal. You can effectively enter into one tournament for a weekend for $50 and that is your complete outlay.
8. SportsChamps goes to great lengths to promote it's gamble friendly environment through its policy of Responsible Gambling. The tournament entry is priced in such a way to minimise costs and maximize opportunity, with extensive markets available within a tournament.
What is Tournament Betting?
Because Kruzey specialises on the horse racing side of the fence, we will describe SportChamps functionality with that in mind.
A tournament is a set selection of events and/or horse races on a given day of the week, across race meetings which are typically in Australia including one, two or three of the racing codes (thoroughbred/gallops, harness and greyhounds).
SportChamps will set the tournament timeframe (i.e. lunchtime through to 10 p.m) and will set the conditions of the tournament which include: cash pool you are playing for, ChampCash credits you are given (this is usually 10000 credits), and the tournament entry fee.
The entry fee could be: free, $2, $5, $10, $20, $50 or $100. So long as you have sufficient funds in your SportChamps account, you are good to go. Sometimes SportChamps put on a high-roller tournament with an entry fee of $200 while the cash prize pool is significantly higher.
As mentioned, a tournament in relation to horse racing are a selection of race meetings.
In terms of other sports, it could be a specific game like an NBA basketball game, where punters can bid on a variety of bet types like half-time scores and margins, full-time scores and margins, most goals etc. Check on your favourite sport and the bet types that are available to you for those sports.
Your aim is to earn as many ChampCash credits as possible by the end of the tournament timeframe. The top punters on the leaderboard with the highest level of ChampCash win a percentage of the cash pool, whatever that maybe.
Here is an explainer video touching on the subject of tournament betting.
What are rebuys?
If you enter a tournament let's say for a $2 entry fee, the tournament rules will specify where there are rebuys allowed or not.
If during a tournament you have used up all your ChampCash, you can pay an extra $2 for an extra 10000 ChampCash credits.
This is known as a rebuy. Refer to the conditions of the tournament in the Info section, some may have no rebuys, and in other instances there may be two or three rebuys for you to re-enter the tournament.
Advantages and Disadvantages
Typically, a tournament could take all day, especially on a weekend with so many race meetings on.
So if you enter a tournament covering an extended time window, what are the things to look out for?
Bet and Forget – this scenario is where you put all your bets on in advance knowing that you might not be around to manage your bets, let's say on a Saturday afternoon. The only downfall with this approach is that if you are successful during the day and your ChampCash level skyrockets, but you aren't around to actually manage the increase and therefore maximize your ChampCash capacity, you will end up with whatever you bet on at the outset and the results thereof when you check in upon your return home, without taking advantage of additional funds won during the day. Not everyone carries a phone around with them 24 hours a day.
I'm Around, I'm Live – this scenario implies that you will be available for all the hours of the tournament window, and can manage your ChampCash down to a very granular level during the day and take advantage of any wins that you achieve and feed the winnings back into your betting strategy. It's great for your account balance but not good for your time management. Particularly if you're married and you've got kids, and there are family things to do on the Saturday. Playing SportChamps according to the wife is not a family activity, sorry to say.. lol
What are the betting options?
For horse racing it is the standard bet types including fixed odds win and place, each-way, quinella, exacta, trifecta, first four, duet, running double, daily double, treble, quaddie, plus you can do multi's of the races that are also in the tournament market. It's straight forward to put a bet on, refer the screenshot below.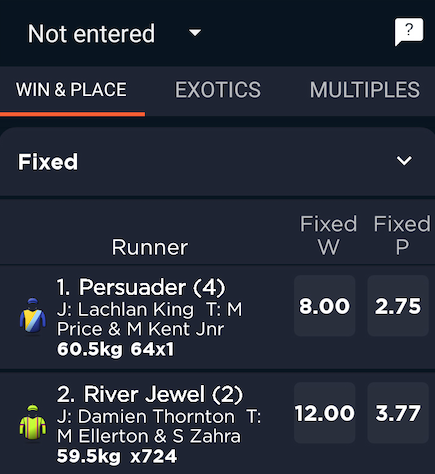 In this screenshot, there are tabs for win/place, exotics and multiples. Toggle between them to find the bet type you are after. The default screen is the win/place screen.
To put a bet on, click on a bet type (say win bet) against the starter/runner listed in the race. When you do, a bet slip will display in the top right corner. Click on it to open.
Decide how much ChampCash to invest, enter it into the field where it says Total Stake. Initially, this was a win bet. If you want to make it an each way bet, click on the check box to the left.
So in the example above, we went in with a 5000 ChampCash amount, the odds are $3.80, if it wins you return 19000 ChampCash credits. Click Place Bets, it will be followed by a Confirmation dialog to lock your bet in.
Rookie/Free Tournament Invite
We would highly recommend getting familiar with the SportChamps horse racing functionality by way of their rookie invite tournaments when you first sign up. You will have the opportunity to do this five times before putting any of your own money into your account. Have a look through the bet types within the tournament markets so that you know what you can place your ChampCash credits on.
What can I bet on?
Horse racing tournaments and markets within those are extensive. The weekly markets might be a bit obscure, especially those with race meetings in Europe, South Africa and North America, but all of the Australian meetings particularly those on the weekend will be appealing to most local punters.
The tournament schedule will be determined by what is happening in the sporting world on a daily basis. At the time of writing, NBA basketball and NFL football are ongoing so too the soccer/football.
Plus there is cricket and tennis, especially as we head into the summer months.
Browse the tournament schedule to see what appeals to you. There are icons across the top of the Lobby home page which indicates which sports are covered.
Click on a tournament, the Info section will provide further details, as per the screenshot.
Betting Pools and Payout
Each tournament will have a top of the leaderboard winner at its conclusion.
The cash pool amount will be indicated in the Tournament Info section (refer screenshot above) but you can usually see the amount that you're playing for quite clearly, and how many participants are in the tournament.
Target Tournaments
A target tournament is where there is a ChampCash level to strive for.
An example will be to reach 50000 ChampCash credits or more with a higher percentage of the total pool being distributed among the top 20 on the leaderboard.
Target Tournament Explainer
Read the Tournament Info carefully before entering, because there will be different pools and different payouts across the various tournaments.
They aren't all the same.
Deposit and Withdrawal Options
Deposit Options:
To deposit funds into your account you will need to have access to a debit or credit card with the typical details for Visa or MasterCard.
Go to the Account >> Deposits section to set this up. Once the card details are entered, SportChamps will use these details every time you top up your account. If you get a new card because the other one is expired, you'll need to go into this section and update the details otherwise your funding will be refused due to expired details.
Withdrawal Options
At this stage withdrawals are confined to a local Australian bank account using BSB. Go to the Account >> Withdrawals section to set this up.
The withdrawal options do seem to be limited, hopefully this can be expanded upon in the future.
SportChamps Sports Offered:
These include:
* The three racing codes: thoroughbred, harness and greyhounds. Jurisdictions can be global.
* The Australian football codes: AFL, NRL, Super Rugby
* Soocer/Football – global including the A League
* Basketball – NBA and ANBL
* Ice Hockey
* ATP and WTA tennis
* Cricket
It is expected that more sports will be added to the SportChamps tournament schedule in the coming months.
Customer Support and Help
The SportChamps app has extensive assistance to provide newbies with any questions they might have. There is a Tutorial section on the app, there is a Help section on the Desktop and there's also a Live Chat section. So if people want to talk to a human being, they can do so through the app.
The Gamble Responsibly Message
SportChamps offer many tools to assist those with problem gambling issues. Their Responsible Gambling Policy is online and is within easy reach of each punter by way of the hamburger menu in the top left corner of the app.
They have numerous methods to assist, including:
* User set deposit limits
* Self-exclusion tools
* Links to expert third-party help providers
* Tools and guides on how to prevent underage access to the platform
* Historical access to your betting history
There is extensive and in-depth material related to each section, in fact it is some of the best material on responsible gambling that I've ever seen online. So kudos to SportChamps for that.
In Summary
To be fair, tournament betting and fantasy betting are still relatively undiscovered territories for many Australian punters who are used to the traditional pay per race with the TAB or their online betting agency of choice.
The SportChamps model could seriously be a big-player threat as inroads are made into the ever decreasing levels of turnover, particularly around horse racing, and the point of consumption tax being a cost on both bookies and punters.
If the general punting public knew that they could spend maybe $50 or $100 a weekend and have a heck of a lot of fun doing it rather than splashing it all on a single race then we might see bigger numbers of participants hooking onto tournament betting agencies like SportChamps, in lieu of the traditional bookmaker arrangement.
From a useability viewpoint, we believe there are some changes which could be implemented on the app to improve the overall user experience. We've made a note of those as part of this review, and will feed them back to SportChamps in the near future.
For the cost of a Big Mac, fries and a Coke, you could be investing the same amount of money on a SportChamps tournament with several races, and make some useful side money at the same time.
Go on and give it a try. What have you got to lose?
Quick Links
All Aussie Betting Sites Best Sports Betting Sites eSports Betting Sites Australia
Read more Betting News Here Take the Quiz