Introduction to Esports
When I suggest that followers of eSports make up the majority of the younger demographic, I doubt I'd be too far off the mark.
Certainly eSports won't be understood by many of my parents generation who prefer to play lawn bowls down at the local Bowling Club for instance.
Past and Present
Are eSports a recent phenomenon, or has it been around for ages and a certain proportion of the population has only just cottoned onto it?
As long as there have been computer games in existence (and there has, going way back to the days of DOS, Commodore 64 or the Amiga – anyone remember Leisure Suit Larry or Lemmings?), eSports has existed in very primitive forms going as far back as the 80's.
But the modern gaming platforms that casual gamers get to experience today have often been described as things of beauty.
It's no wonder that some school kids can't be prised away from their upstairs computers to attend school.
It would be easy to describe it as an addiction, but no money is involved, just time.

eSports = Big Bucks
eSports however is not the sole domain of pre-pubescent school kids.
No, it's a serious multi-billion dollar industry which still hasn't hit its peak.
Technology drives many of the best games, loyalty among its fans, along with big money and prize pools among the many global prize events that are competed for in each of the major leagues.
Some of these top competitions, like the International Cup are played in front of live audiences in big stadiums, while they are also televised live to millions on TV.
Last years International Cup (a DOTA2 event) was held in Melbourne, and was won by a local lad who earned $4.62 million for two days worth of work.
He earned more in two days than Novak Djokovic did in two weeks winning the Australian Men's Tennis Open. That's how big the money is!
What is eSports?
eSports is really just a shortened term for electronic sports, or competitive video gaming.
The success of some of the leading games out there in the market has triggered new story arcs hence new versions of games.
Like the hugely successful 'Defense Of The Ancients', which morphed into 'Defense Of The Ancients 2',or more commonly known to everyone as 'DOTA 2'.
Some of the most popular games that you can watch today on big platforms and scenes are:
League of Legends
Counter-Strike: Global-Offensive
Dota 2
Call of Duty
Overwatch
Mortal Combat
World Of Warcraft
We can compare some of the most popular traditional sports with eSports, and there are similarities between strategy games and first-person shooting games.
Strategy games like League of Legends and Dota 2 can be compared with Soccer or Basketball and other team sports which require a total responsibility of all players in that team.
Having success in these kinds of games requires focus and thinking, to ensure the strategy and gameplan is adhered to and maintained before the game starts but especially when the game goes live.
Games like Counter-Strike: Global-Offensive and Call of Duty are similar to individualistic traditional sports like Tennis, Boxing and Athletics.
These kind of single shooter games requires more reflexes, focus, speed and of course accurate aiming.
Probably you may ask why – if this is an individual eSport why should it require thinking and strategy?
The eSports Commission can only approve and accept the match as an official competitive contest by fulfilling the conditions whereby a 5v5 format (five players versus another five players) is the standard. This essentially means you have to be in a professional team to compete.
These are the most important things that you need to know about eSports, let's now look at the impact on the betting scene.
Industry spin-offs
eSports has contributed to many spinoff and sub-industries including dedicated TV and media channels, magazines (both print and online) and everything that goes with that including news and industry reporting.
Not forgetting of course the impact that eSports is having on the sports betting industry, as it navigates around the Coronavirus global epidemic.
eSports in the Betting Eco-System
Many of the major betting agencies around the world and even in Australia have jumped on the bandwagon.
However, my observations say that it's early days for many of them as they don't have a clue how to market upcoming events, and how to set the odds against competing teams etc.
There are a select few agencies that operate specifically within the Australian eSports market, like Picklebet for instance, in which they have the advantage of in-house knowledge, but not necessarily the extensive marketing reach of a company like Bet365 for instance.
So, if you're looking for a job, and you have some gaming knowledge, both at the technical level as well as the business/industry level, then the gaming industry is looking for people like you.
Is eSports a big thing in Australia?
Australia is a huge follower of traditional sports, and has always done well at them.
So matched betting on those sports where an Australian presence is active will always be an easy sell.
Whether it's Jason Day in the golf, Ash Barty on the women's WTA tennis circuit and conversely Nick Kyrgios on the men's ATP tour.
Or, maybe not Kyrgios!
In the eSports arena, there isn't a well known Australian presence or team that would make punters divert their attention away from a top line racehorse – like a Winx, even if she wasn't paying a lot on the TAB.
So that does it make it hard from a marketing point of view if a top eSports event is full of unknown foreigners from Asia, Europe or the USA, because that's the reality of it.
That would be like putting a blind punt on.
Getting to know the top teams, top players and celebrities of the eSports industry will go a long way toward understanding the whole eco-system.
Is eSports aimed at kids and casual gamers mostly?
No, not really.
To be a top-line eSports professional gamer, you would have spent years honing your craft and expertise.
There are certain games/platforms where you can migrate your existing skillset from one to another, so having cross-portable abilities will always look good on your gaming CV.
However, you have to start somewhere, and getting your feet wet (or your body shot up full of arrows, knives and bullets) is one of the unfortunate side effects of learning an online game.
By the time you get really good at it, you may have died 1000 times or more.
Knowing the form. Which teams to back
If you are venturing into the world of eSports betting, one of the things you'll need to come to terms with rather quickly is having an idea on whom to back when there are betting games on.
It will depend on the game platform (League Of Legends, DOTA2, Counter Strike etc), and who the top competing teams are.
Following a team and getting to know them is a bit like reading the form of race horses.
You might need to spend an inordinate amount of time getting yourself up to speed, understanding each teams strengths and weaknesses, so too their strategies and what each team member brings to the team.
Some teams change their personnel around at the end of each season, so all the analysis and statistics built up may go out the window and you may have to start again.
Leagues and Tournaments that are popular in eSports:
League of Legends World Championship (LoL)
The International (Dota 2)
IEM Katowice (CSGO)
Call of Duty World League (CoD)
The Overwatch League (Overwatch)
LEC and LCS (LoL)
Faceit Major (CSGO)
These are some of the recommended leagues and tournaments to follow and put your bet on.
eSports activity in Australia?
Firstly, let's see what's happening in Australia across the eSports industry.
Melbourne Open: MEO#2020
Well for starters, the State of Victoria has sponsored the Melbourne Open, an eSports tournament which first kicked off in September 2018, and will run each year up until 2022.
It attracts many tourists from interstate and around the world.
The next one is coming up on 22-23 August 2020, assuming of course that Coronavirus has disappeared off the map.
The game platforms on show will be Counter Strike (CS:GO), League Of Legends and Warcraft III.
Site Link click here..
Article from the 2019 MEO, featuring 'The International' click here..
Australian Esports League (AEL)
Unbeknown to me, Australia now has an eSports League, which is mostly competed for at University and High School level.
This is the sort of grass roots completion that is required to help gamers to go from casual, to amateur competition level, to semi-pro. More information can be read on their website: click here..
Who's betting on Esports in Australia?
Just about all Australian sports betting agencies are:
PickleBet (Esports specific betting platform
BlueBet, PalmerBet, Bbet, TopSport and PlayUp do not have eSports betting pages at present.
How to bet via an online betting agency?
For those agencies listed above, betting on an esports game or tournament game is no different than betting on an NRL, AFL or NBA game.
There will be different markets associated with each agency, but mostly, it will be a final outcome results bet that will be the norm, say 3 matches to 1.
Picklebet is the major difference, in that they deal exclusively with eSports games and tournaments, and their markets might offer a few more options.
We'll have our review of Picklebet coming online very shortly.
Enjoy your exploration of the eSports world.
Preferred leagues and tournaments to bet on
As we mentioned in the following text above, never bet on something you have never heard off, because most of the times it goes in a blind street with unhappy ending.
Always try to focus on Major tournaments or Leagues that best players in the world are competing in!
Leagues and Tournaments that are popular in eSports:
League of Legends World Championship (LoL)
The International (Dota 2)
IEM Katowice (CSGO)
Call of Duty World League (CoD)
The Overwatch league (Overwatch)
LEC and LCS (LoL)
Faceit Major (CSGO)
These are some of our recommended leagues and tournaments to follow and put your wager on.
We hope that our site will be helpful and useful in your future betting.
Read more and get deeper into games by using our site as there is the advanced explanation for some games that will hopefully help you win money easier.
Strategies to bet on League of Legends
One of the most common ways to pick your team that you will actually place your bet on is to figure out which team has been set as a favorite team to win the competitive match!
Once you have realized that, try to make sure you know both teams well and the players that play for those teams.
• Find out which team has a better lane phase or late game phase.
• Look for potential individual players that can make a complete difference during the match.
• If you have a good knowledge of Macro and Micro plays, then you can try to find out which team has better positioning during team fights or potential .
• If you are looking for advanced betting such as first baron taken, first blood etc… Then make sure you have been following those details of the previous matches of the team you want to place your bet on.
Here is an example of a Macro play for FNC team around Baron Nashor
On the picture right above it is clear that blue side team is a member less, as their jungler has died right before the baron was stolen!
The red team took advantage by killing enemy jungler and making a potential of 80% to take the baron as red side jungler has "Smite".
This is one good example of Macro play made by a professional player, and try to make a revision on every game to make sure you start to understand the meaning of Macro plays.
What is Micro play?
Micro gameplay in League of Legends is basically the ability you have to use your individual champion to make an advantage in a proper situation where it is mostly needed.
Having a good micro would mean that you are normally very knowledgeable about the champions you play and can perform well.
This normally allows you to gain leads in lane and even kill your opponent often when combined with solid macro.
Conversely, bad micro would obviously mean you don't know the champions you play well enough, normally performing subpar on them compared to the average player.
It should be known through that sometimes this can be linked to poor macro decisions also!
• Your CS ( creep score ) per minute
• Your ability to make good skillshots
• Your ability to kite and poke
• Your kill/death ration
• The way you use any summoner spell
What is Macro play?
Macro gameplay in League of Legends is the way in which you use micro in conjunction with the information you receive about the game during the game ( including during Champ Select ) to press your win conditions over others by gaining and utilizing your advantages on a map-wide scale.
While micro is more closely linked to the individual, macro is more about the team, how well you play into it, and how well it executes in order to meet its goals.
An easy way to remember this is that it has everything to do with the strategy side of League of Legends.
This aspect of League lacecs heavy emphasis on your game knowledge and awareness overall, not just mechanically, and can make or break even the best of mechanical players as far as how often you win or lose games.
Just look at any of the professional League scenes if you don't believe is.
• A jungler camping a top laner without Teleport and set him behind early game
• Lane swaping ( Top / Bot )
• Invades
• Ending the game instead of going for Baron and converted
This are all things that are not visible for someone that has no good knowledge in LoL, but as you watch football or basketball and make analyses in your head which team was better and why, it is almost same here!
You have to understand how to use weaknesses of some teams and players in your favor to make money and accomplish your goal of winning a bet.
Just having focus and using your brain, it will be much easier for you to win any bet instead of going on blind and setting your wager on the favorite team as it is not usually the one who goes out of the Summoners Rift with the Victory!
Strategies to bet on CSGO
So the difference between strategy games and first-person shooting games is that the FPS games are more reliable on individual plays then on team tactics.
But as long as the players are preparing for one match and having scrims (playing on a professional level with another teams but it is not an official match) before the competitive game starts, they also have to think about their Macro and Micro plays. So, if you want to bet on this kind of games then make sure to read the articles down below, so you can have a clear vision of the game.
After one match you will see the difference and how you have changed your way of thinking about the game.
As we always say never just go on a blind bet, because it is same like a traditional sports, you will never bet on a team that you have never heard of before, right?
So, make a step forward and try to understand the most of the things from the articles below!
Macro plays in CSGO
Macro plays in FPS games can be considered as plays that help your teammates and you are making advantage but using your skills and knowledge of the game!
The best example to show a macro play in CSGO is using your "Flashes", "Smokes" , "Grenades" and "Molotov".
This situation shows us, how one flash can be effective for our teammate and set our opponent in a pretty bad situation.
The first picture shows us the POV of the player that throws the flashbang over the house, while trying to flash enemy teams and put them in disadvantage so his teammate can react on time and find them fully blind and make some easy kills.
On the second picture you can see how three of the enemy teams are flashed and his teammate is ready to do his job!
This example is one of those that prove there is a Macro and Micro play in FPS games.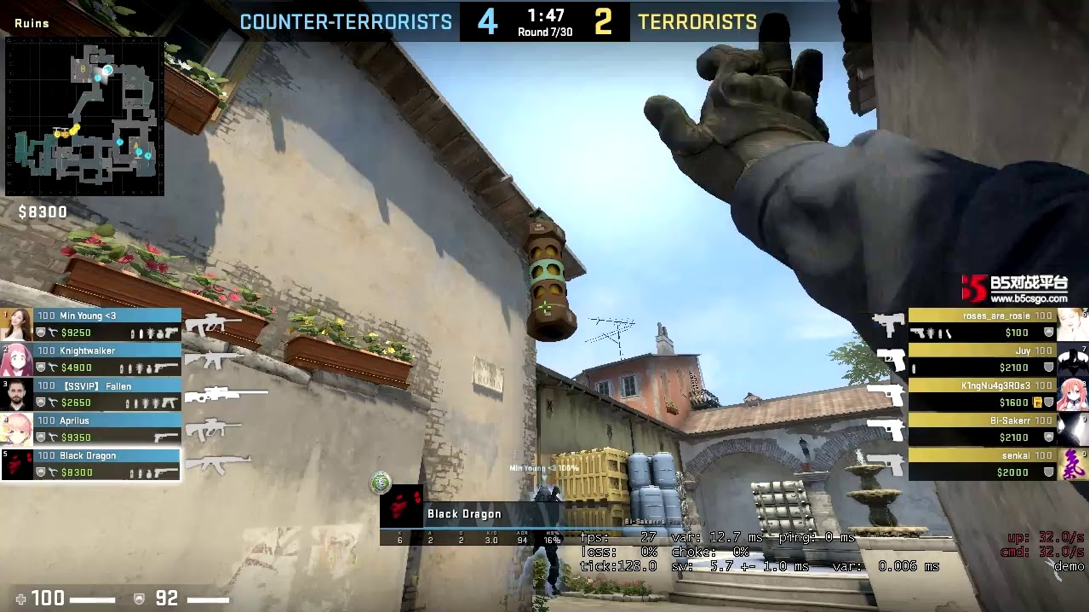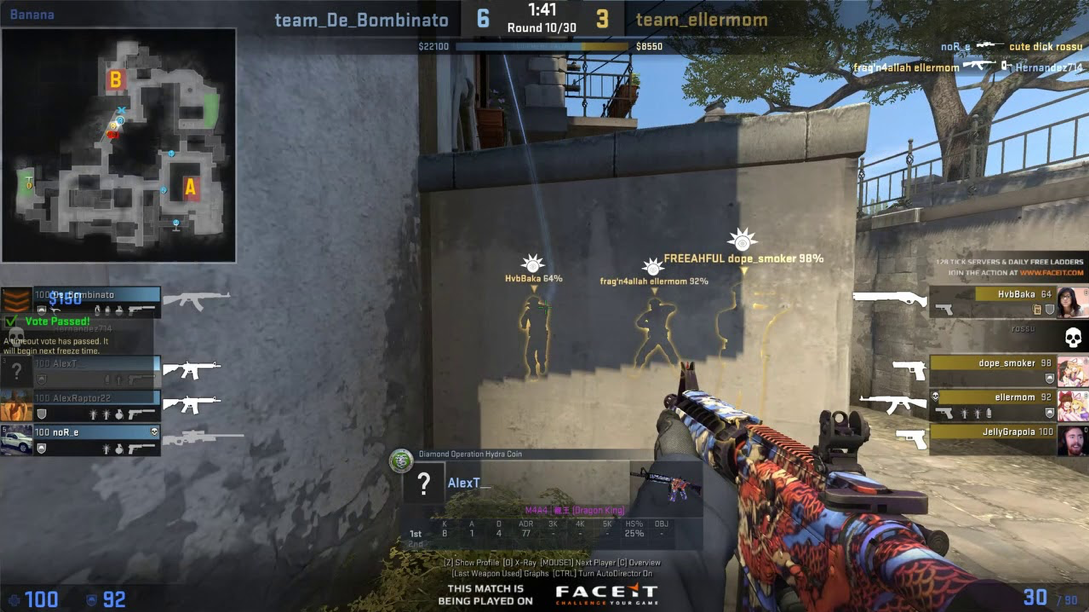 Micro plays in CSGO
While Macro plays are helping our teammates, micro plays are those moments where player is in a situation to make a quick and accurate decision.
Most important factors are reflexes, accuracy and quickness, if one of this three a player is missing then he will not be considered as a professional.
Landing headshots is one of the most important parts while playing FPS games, as we know the deadliest place in human body is the head because there is placed our brain.
So, aiming for the head is always the best option for professional players as they are increasing the chance of killing someone without being killed first!
Also micro plays in CSGO are angles that they hold during the game.
When you watch the game you can see that no one is staying in a open place and waiting for someone to appear.
Everyone is holding an angle that can allow them to take a shot first before enemy spot them, and in case they miss the shot they can find a place to hide and don't die!
Positioning in FPS games is so important too, as we know in CSGO there are two sides (Counter-Terrorists/Terrorists Team), the TT has a goal to place the bomb on A or B side without CTs defusing the bomb.
And on the other side we can find CTs that are holding positions and trying not to give sides, because they will be set in a pretty bad situation as we know!
So in conclusion if you want to place good bets and try to win, then you have to watch few competitive matches and understand the game. Tracking one team can be a good suggestion that we can give to you, because most of the teams have some constant win rate which can help you decide which team will take the victory at the end of the series!
More about League of Legends and CSGO
(Compare)
You can't really compare skill for games in different genres, unless it is like super obvious in which requires more skill.
Different factors like game knowledge, technical ability all comes into play when talking about skills, and moba games (LoL) and fps' (CSGO) have different interpretations of that.
Both games aren't really "skillful", as there is really no advanced techniques pros do compared to your average player, they just have super developed fundamentals.
A game like Super Smash Bros Melee is a game that requires a lot of "skills" just to the fact for the complex inputs and techniques needed to become proficient at the game.
Which game is harder to compete in, is a good question.
Definitely League of Legends if you have never played moba games before, because nothing will be intuitive and a lot of it is based on having a ton of experience/knowledge.
You basically need to know all 4 abilities of all the 130 champions or even more, so make a quick math and try to count how many abilities exist in the game.
You must have to calculate how much damage will every of your abilities deal to your opponent player's champion, what range it can hit you from or you hit him, and have a rough idea of when these abilities are on cooldown or not.
Which game is harder to be consistently good at?
It is a good question to answer, for sure it is CSGO because it has just a lot more volatile and not so much based on knowing more than your opponent.
Also in CSGO you are required to have a constant focus on the game, a good sense of moving around the map and good communication.
That's what makes this game special, the communication between players must be on point to improve and reach the goal that has been set.
Which game is harder to become a top 0.01% player?
The answer probably will again be CSGO, because the people at the level have been playing Counter Strike for like 10 years and it takes an extreme amount of dedication to ever catch up to them.
Which game is harder to be the best player in the world?
Almost certainly League of Legends simply because way more people play it, so you are competing with far more people for that title who are all playing an equally difficult game and because it just so happens that the current best player is an absolute freak of nature who probably won't be dethroned any time soon while in CS doesn't have anyone who's that far ahead of the curve.
If you think about it, people always misunderstand how "difficulty" works in multiplayer games.
Even if a game is conceptually difficult which should theoretically hold your back, the people you're competing with are playing under the exact same circumstances which evens it out.