What is Matched Betting? Explained.
Matched Betting is a betting strategy used by individuals to profit from the bonus bets and incentives offered by bookmakers.
It is generally considered risk-free as all possible outcomes are always covered at a bookmaker and a betting exchange simultaneously.
Experts consider this strategy to be a risk-free form of wagering if done properly, as it is not based on chance and luck, but mostly on mathematics and probability.
In Australia's case, there are numerous bookmakers offering bonus bets and inducements, though there is only one active Betting Exchange; that being Betfair.
The risk-free element where all possible outcomes are covered infers that you can make a standard 'backed' bet on an event (horse race, sporting event/game etc) with a bookmaker in the usual way.
The offset of this is that you will also create a lay bet on the same event, though typically at marginally differential odds than your standard backed bet.
This means if your event is successful, you win with the bookmaker.
If the event is unsuccessful, but you have covered your options with the lay bet, then you win with the Betting Exchange.
The difference between the two (taking out the 5% Betfair commission) is your profit margin.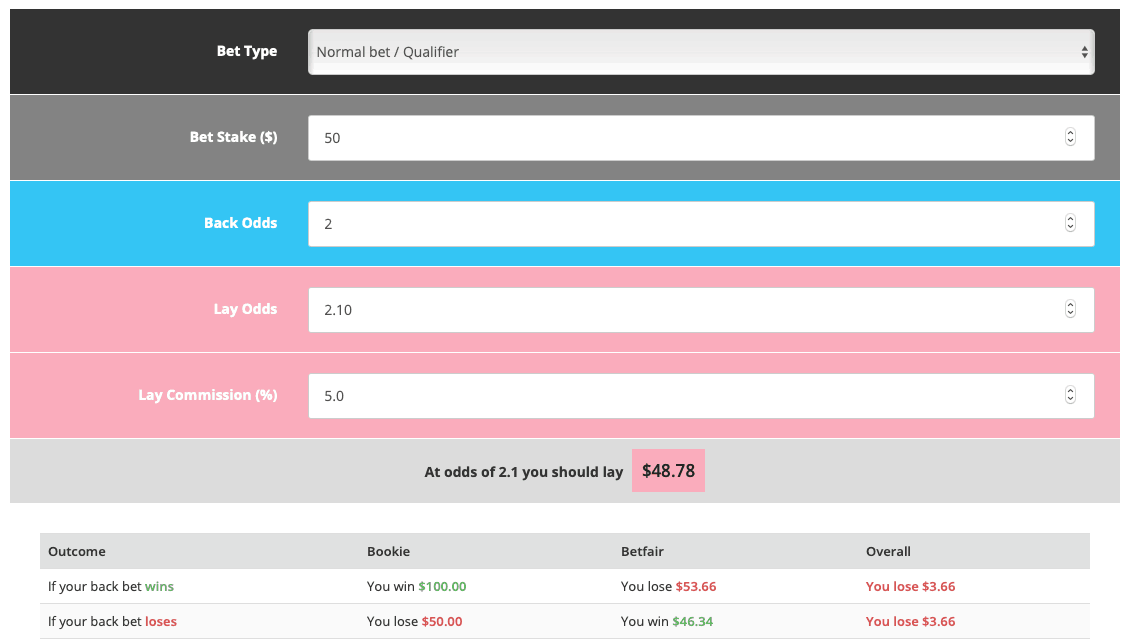 Matched Betting History
Matched Betting has a long and successful history in the United Kingdom, but has only recently built up a small following in Australia, based on people's experiences and dabbling with it while living in the UK.
There are obvious pathways for this to occur in Australia, and because two separate entities are used (bookmaker and betting exchange) there is no collusion to be had.
No-Risk Matched Betting, the basics
For punters to work with this system requires a strategic approach.
Top 6 things you'll need to:
1. Sign on to a Bookmaker (if new)
2. Sign up with Betfair for the Betting Exchange side of the transaction, if you haven't done so already you sign up here. Betfair website
3. Sign up at Bonus Money here and get an exclusive 5-day free trial to their Pro service using code KRUZEY OR Sign up with Bonus Bank both are services that give you calculators and qualifying bets.
3. understand the concept and usage of qualifying bets
4. understand the concept and usage of bonus bets
5. understand the Odds Calculator at Betfair and how to use it when considering the odds of a backed bet and a lay bet.
6. understand the liability aspect, which is having sufficient funds in your Betfair account to cover the exposure of your lay bet.
Sign up with a Bookmaker
For newbies, you'll be signing up without seeing beforehand what (if any) inducements are available to you in a public manner, as these have now been banned right across Australia from May 27th 2019.
You may have to do some research or sign up for an online service that provides this information.
Bonus Money is one such service where you can get a 5-day free trial using code KRUZEY
Bonus Bank is another service
Click here to view top betting sites.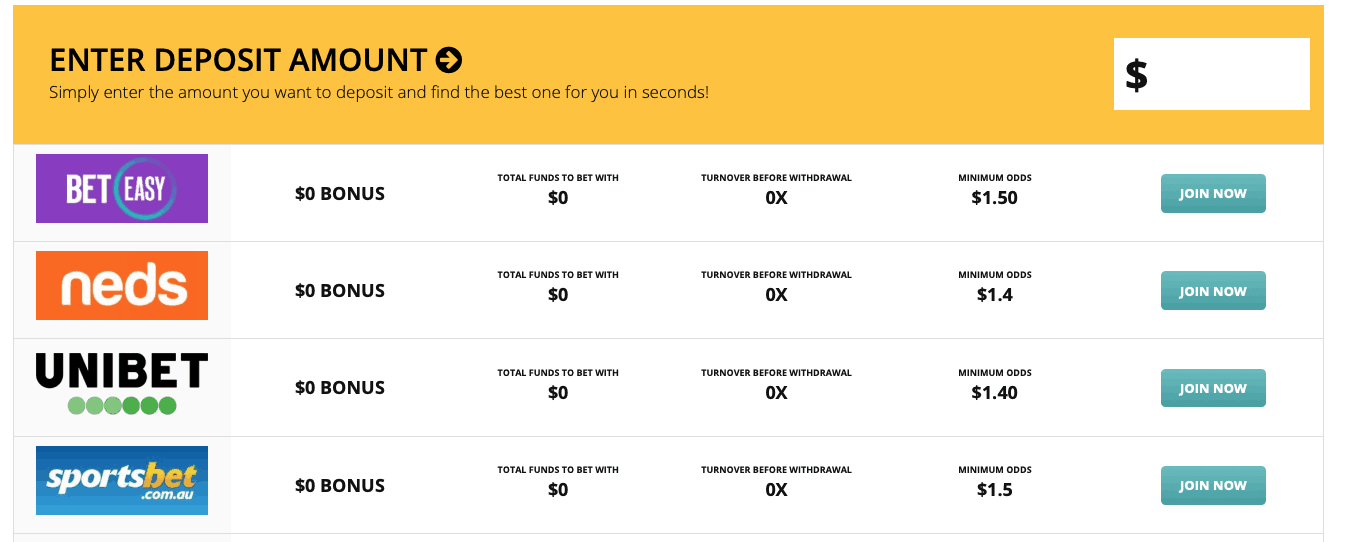 Sign up with Betfair
For every matched betting transaction, Betfair will be a compulsory requirement, as they are the only Betting Exchange in Australia capable of working with lay bets.
You'll need to ensure that your account has a monetary buffer in there to start with, depending on what bets you are undertaking and what your exposure will be.
If there are insufficient funds, the matched betting transaction cannot go ahead. Click here to access Betfair website.
ARE YOU AFTER 1-1 ADVICE ABOUT BETFAIR?

Interested in learning how to use the Betfair Exchange?
We're here to help with some short one-on-one training done over the video to help you elevate your skills.

Qualifying Bets
If you sign up to a bookmaker, and they are offering say $200 in bonus bets once you have deposited say $100, then that $100 becomes your qualifying bet amount, and once used, it triggers the $200 bonus bets into play for later betting.
1. You should use the $100 with your bookmaker in the usual way.
2. Find a low margin/odds event as a first-time exercise.
3. You should create a lay bet with Betfair for the same amount at slightly different odds, and ensure you have enough funds to cover your liability.
4. This is the first betting step when applying qualifying bets.
5. You won't need to do this step once you become a regular punter with your bookmaker.
Bonus Bets
1. Bonus bets (in this example) kick in once a qualifying bet has been placed with the bookmaker.
2. Punters will want to return as high a profit on their bonus bets as possible, as essentially it is 'free money which can be cashed out if successful.
3. Apply the same methodology as with qualifying bets (bonus 'backed' bets with the bookmaker, the lay bet equivalent with Betfair)
4. After the event is completed, you will know what you have profited on both your qualifying bets and bonus bets.
Ongoing Specials for signed up punters
Examples of qualifying bets and bonus bets are typically used as an inducement for new users, and not long term regular users.
However, there are bonus specials that are available on a weekly basis (see below 'sign-up once' section), and credits for bonus bets can be built up over time by using your regular account funds on normal racing or sports activity, where promotions backed by bonus bets are available.
In this way, once you have built up a stack of bonus bet credits, you can then go off and apply it as a matched betting opportunity using your current bookmaker and Betfair, but this time, there is no qualifying bet involved as you are already a member and as such, are already 'qualified'.
However, building up a stockpile of credits might take a while, depending on how often promotions are run, and how successful you are at winning them.

Obstacles and Pitfalls
When to put on your bets/lays
It is important to know what the market price odds are as close to the start time as possible.
This is more prevalent on horse races than sporting events/games, especially Saturday racing.
Putting bets on at the start of the day, like a Saturday morning is certainly something you'd do for traditional betting, but not Matched Betting.
The odds on horses could change markedly on race day, so much so that the difference between what you put on as a standard backed bet and lay bet six hours before a race, versus what the odds are one minute before race time could be vastly different, especially if there is a betting plunge in-between times.
This could significantly impact your profit if those odds are way out, and usually for the worst to I might add.
You'll need to keep your Betfair account topped up
This is simply because of the mechanics of a Betting Exchange.
If you are creating a lay bet, then Betfair will require you to have sufficient funds to cover the liability of that bet.
We have mentioned this a few times (as above).
Being too successful
It's the age-old story with bookmakers.
If you get too good, you're likely to get banned.
The only exception being Betfair, which make their money from successful punters.
Mug Betting
One way to get around this is to use a strategy called Mug Betting.
That is: bet on events that have no promotional offers and try to give the impression of being a 'normal' punter, without appearing to target bonus bet type events all day every day.
The more you can blend in will ensure that you keep your intended activity under the radar.
Referrals
Some Betting Agencies also allow Referrals, but some will also assess the quality of those Referrals, whether they are genuine punters who are inclined to stick around (good for business), or whether they are one-trick ponies, who get referred because of a current betting 'special', only to take the money and run, never to be seen or heard from again (bad for business).
The viability of your account access may depend on the quality of your Referrals, so be cautious who you invite.
Aren't you only able to sign up once?
A good question, given that there are only a finite group of bookmakers in Australia, and that bonus bets and inducements are usually only applicable to new sign-ups.
So how does one get around this issue?
Well, truth be told, it's not really an issue unless you specifically chase bonus bets, in which case you'll soon run out of bookmakers that you haven't signed up with, and as mentioned, there is only a finite number of them in Australia.
Once you have signed up, irrespective of how you got there, you should be able to take advantage of the specials that are available, which are fairly frequent.
These are a combination of first deposit bonuses for newbies or race day bonus specials for the regulars.
Under the new Australian legislation which prevents the advertising of bonus bets and inducements to the general public, betting 'specials' become visible once you are signed onto the bookmaker online.
Usually, there is a special which will change often.
An example: bet on a horse, if it runs second, third or fourth, you get $25 back as a bonus bet. That sort of thing.
Matched Betting Calculators & Websites
There are a couple of places on the web to check out for Australians:
The largest and most active matched betting community is Bonus Money – we've secured an exclusive 5 day free trial for anyone trying their service who signs up using the code Kruzey
Also one of the leaders in the game is Bonus Bank which you can find here: Bonus Bank
Others include: