Introduction
Owned by Entain plc, a UK-based betting company that also owns Ladbrokes, Neds, and Betstar in Australia, Bookamker is a long established betting site that has been taking bets in Australia for well over a decade and is 100% legal and registered with the Northern Territory Racing Commission.
So you need a Bookmaker Bonus/promo code, don't you!
I've been down that road plenty of times!
here's the thing…
Bonus codes and Promo codes aren't really a thing anymore for all betting sites.
They're simply not allowed.
But don't worry there is still light at the end of the tunnel!
…Ours might still work!
Let's take a look at signing up.
The Sign up:
Typing their name into google was easy enough, but between the ads and a dozen other bookmakers, we thought it would be easier to pop the link HERE for easy access 👍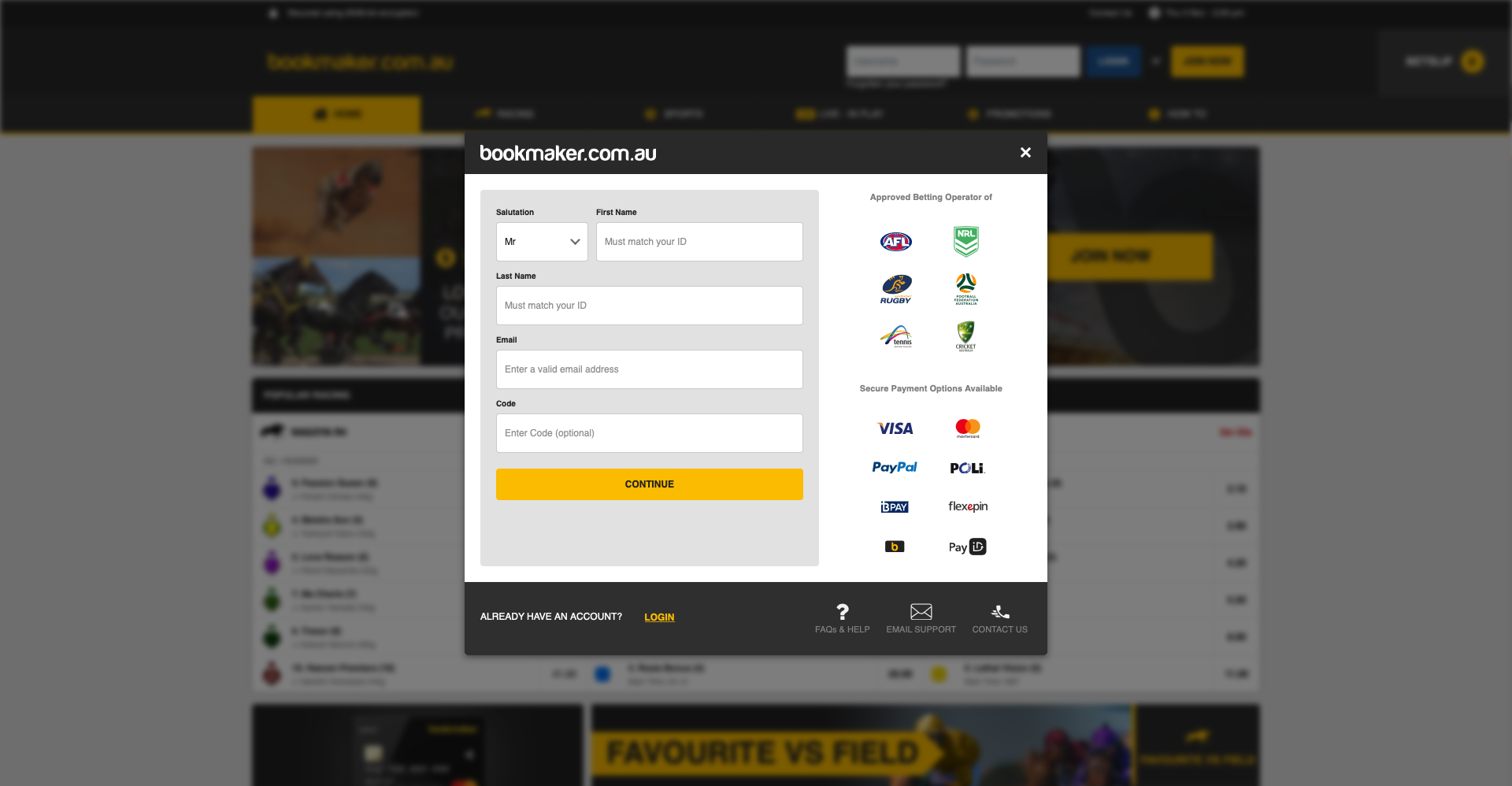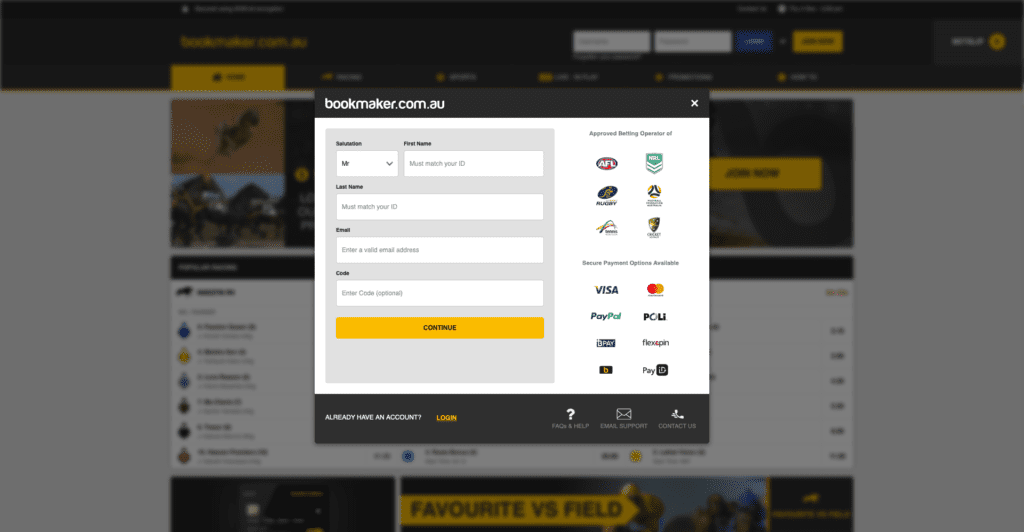 Popping in my details didn't take too long at all which is always a good feeling!
After creating a username and password and filling out the last of my details I was prompted to set a deposit limit,
I like that they made me think about how much I can limit myself.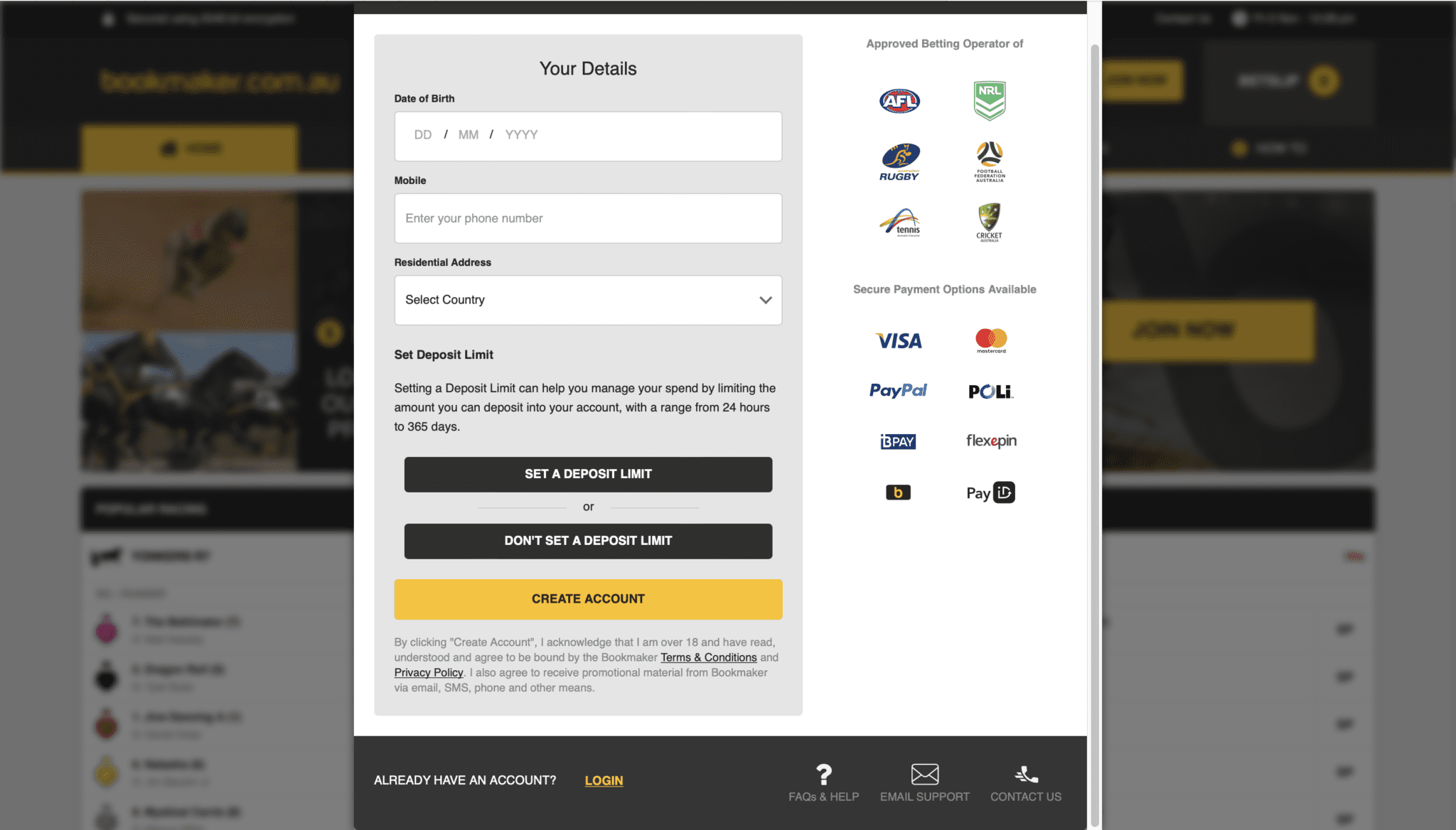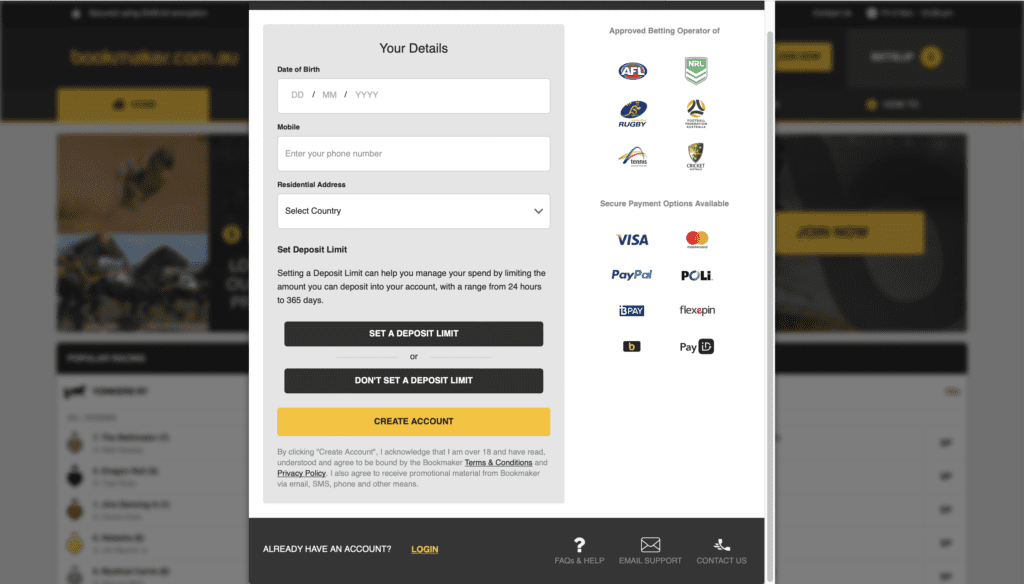 At the end of the day, we do need to be able to gamble responsibly so it is good to see them taking this step.
Deposit Options with Bookmaker
Bookmaker is offering the following deposit methods:
Credit/ Debit Cards
PayID
PayPal
POLi
Apple Pay
Flexepin
Bank Transfer
Bpay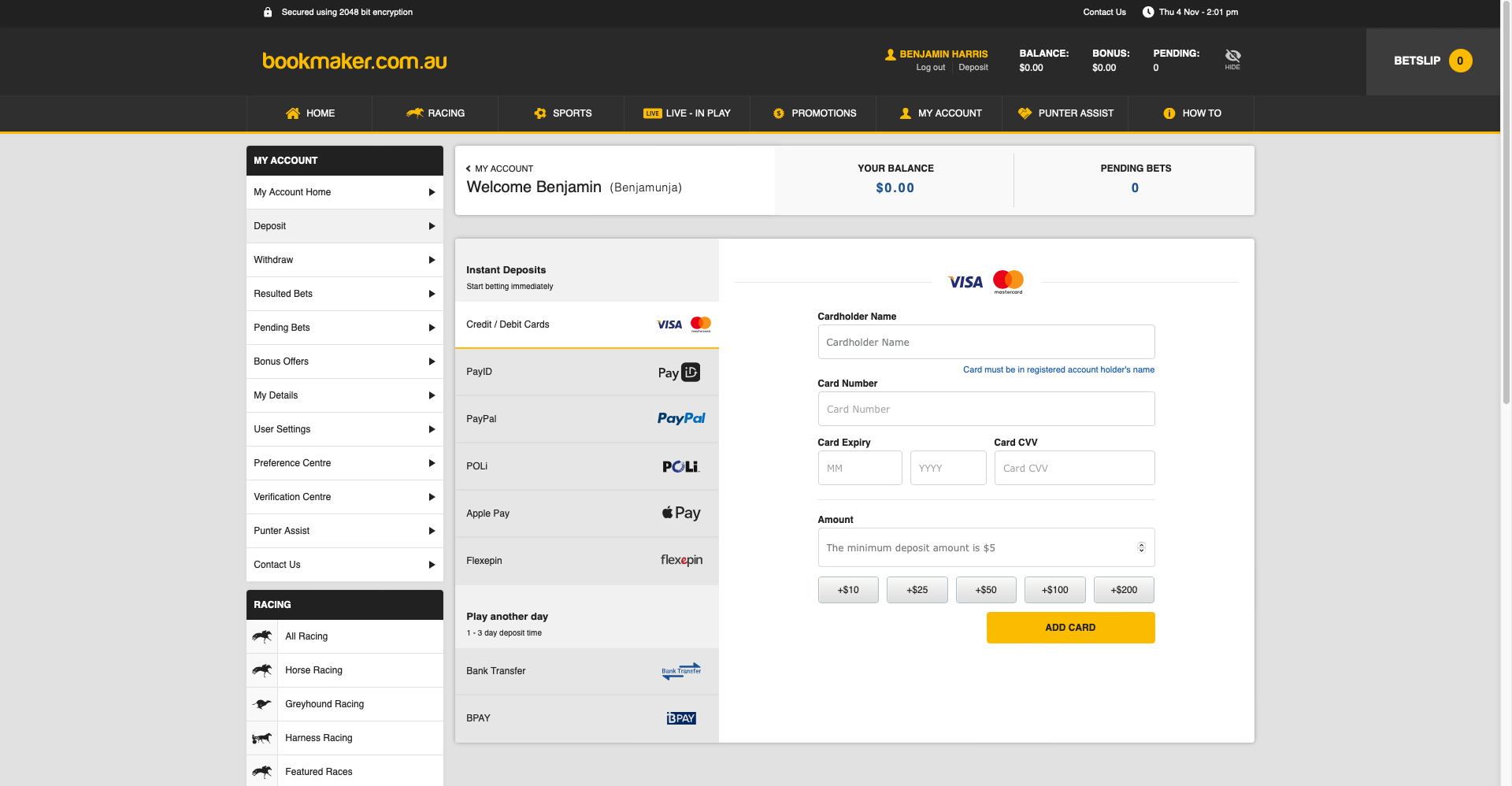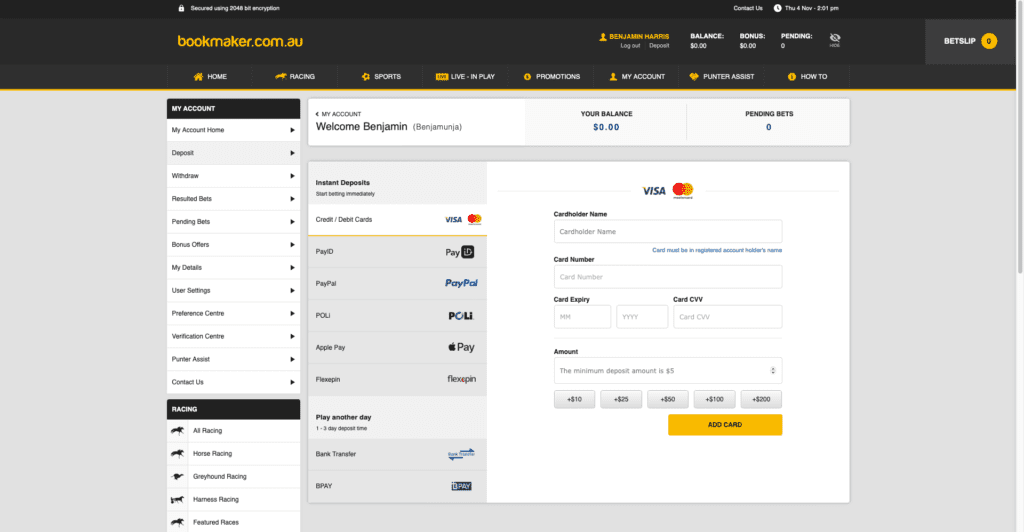 I chose to use a debit card as that is what I have always used with Australian betting sites.
Not spending up huge today, I'm only putting $10 in purely for the review.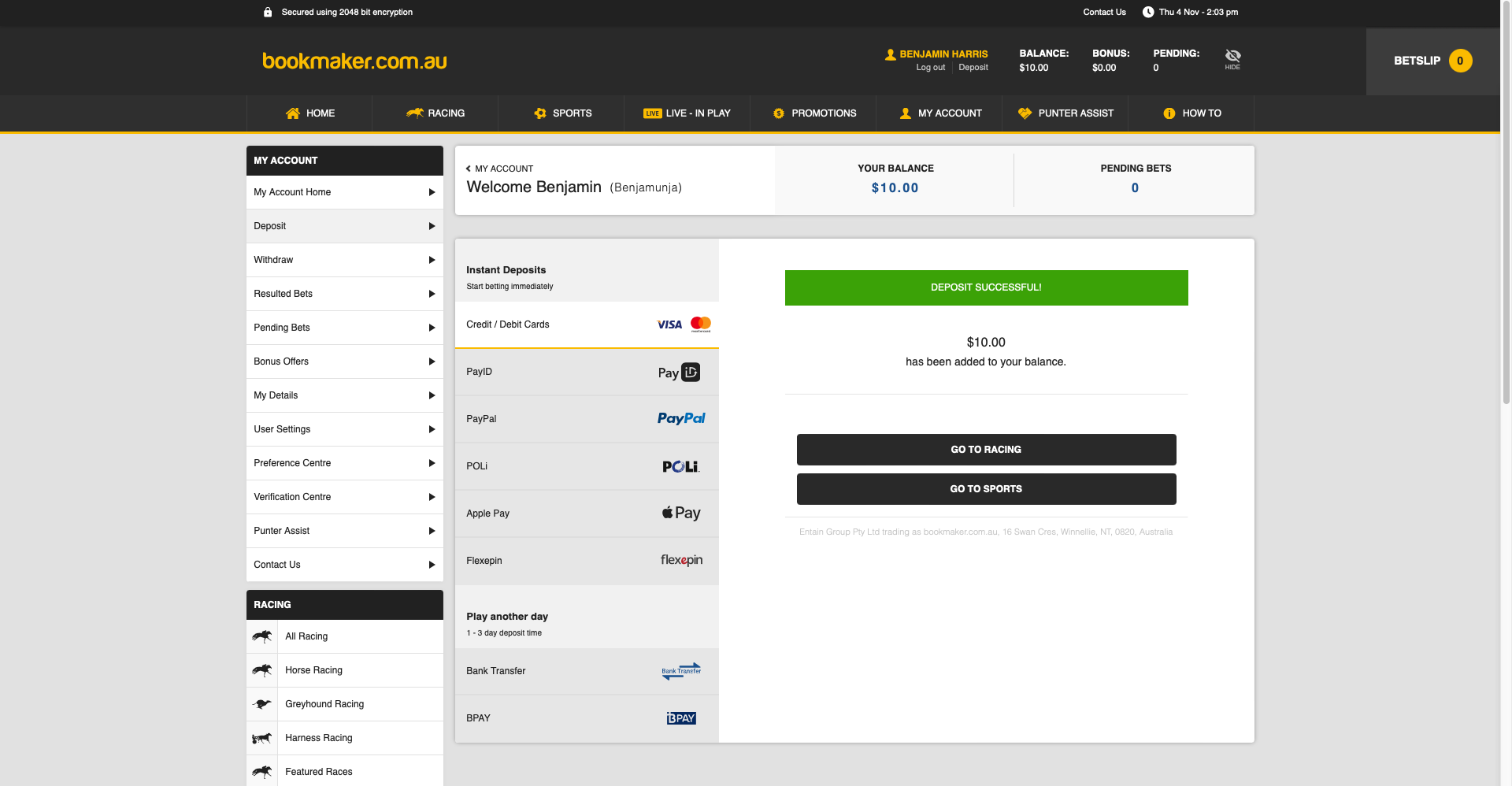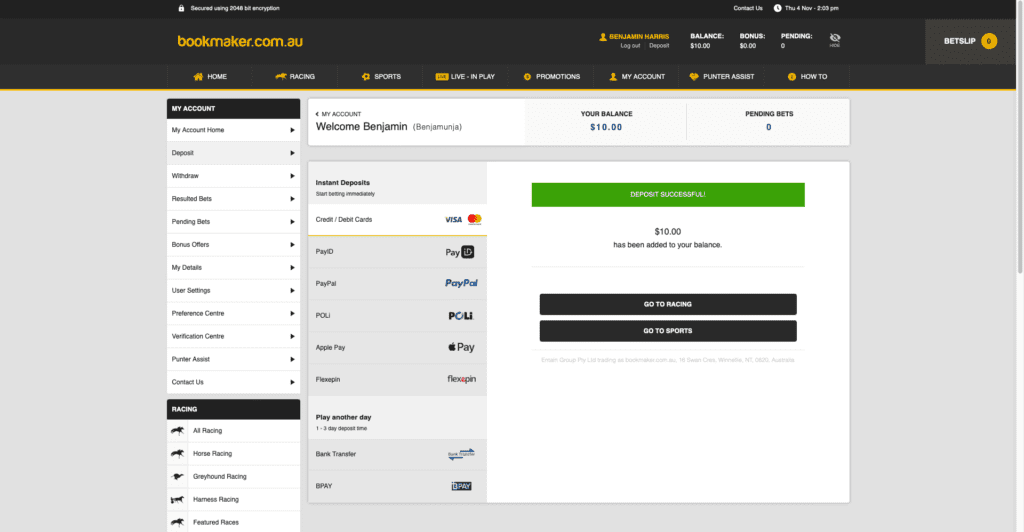 Hey BIG SPENDER!! 😂
Righto, now we have that out of the way we're all set to take a look at the bookmaker layout
What's the layout look like?
Firstly, I couldn't help but notice how awesome the banner at the top looks!
Professional and to the point! However, it isn't clickable which I thought was a little odd.
Surely all those little sports should go to their own specific page, right?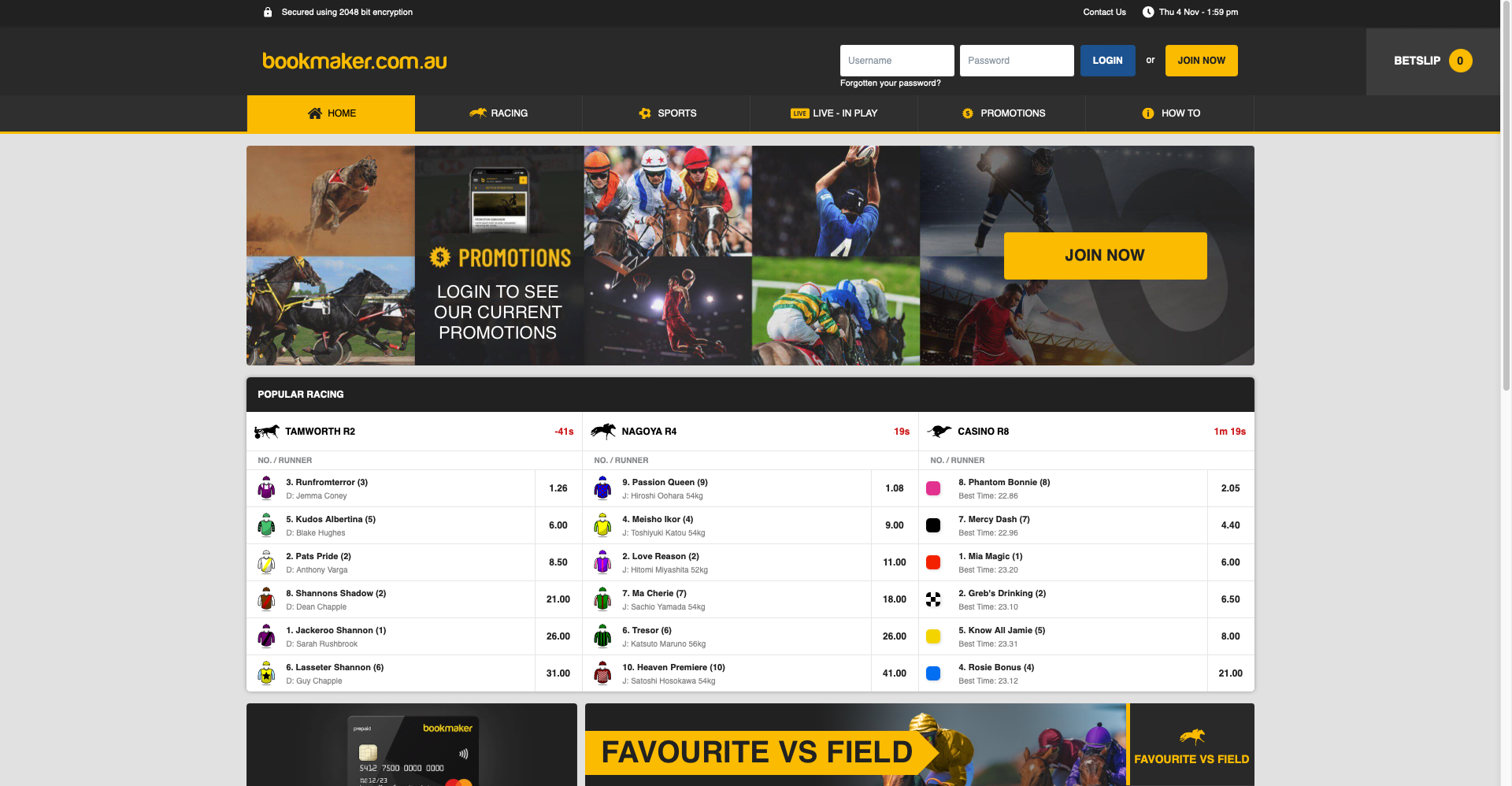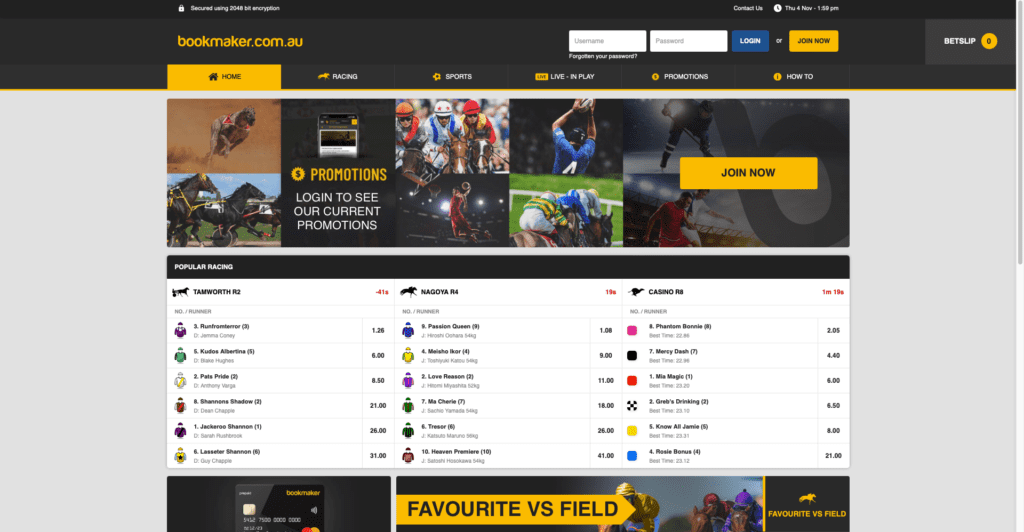 As the name suggests, they are clearly targeting race bettors.
all popular racing is shown under the banner with sports not even shown on the front page.
Though it is quite noticeable in the top menu along with the full racing page, in-play betting, promotions, and a how-to guide (which I thought was pretty cool).
All that aside… It's another day at the races so it's time to take a look!
Bookmaker Racing
Bookmaker popular racing is a handy little feature which is basically the upcoming races Here it only shows the rabbit chasers however it continually updates, once a race has begun it is replaced by the next up.


I clicked on the racing button on the top menu to see what else there was.
Something I really liked was the yellow buttons to the right representing a horse, dog, and harness, I simply unclicked the dogs and harness and was able to focus solely on the horse racing!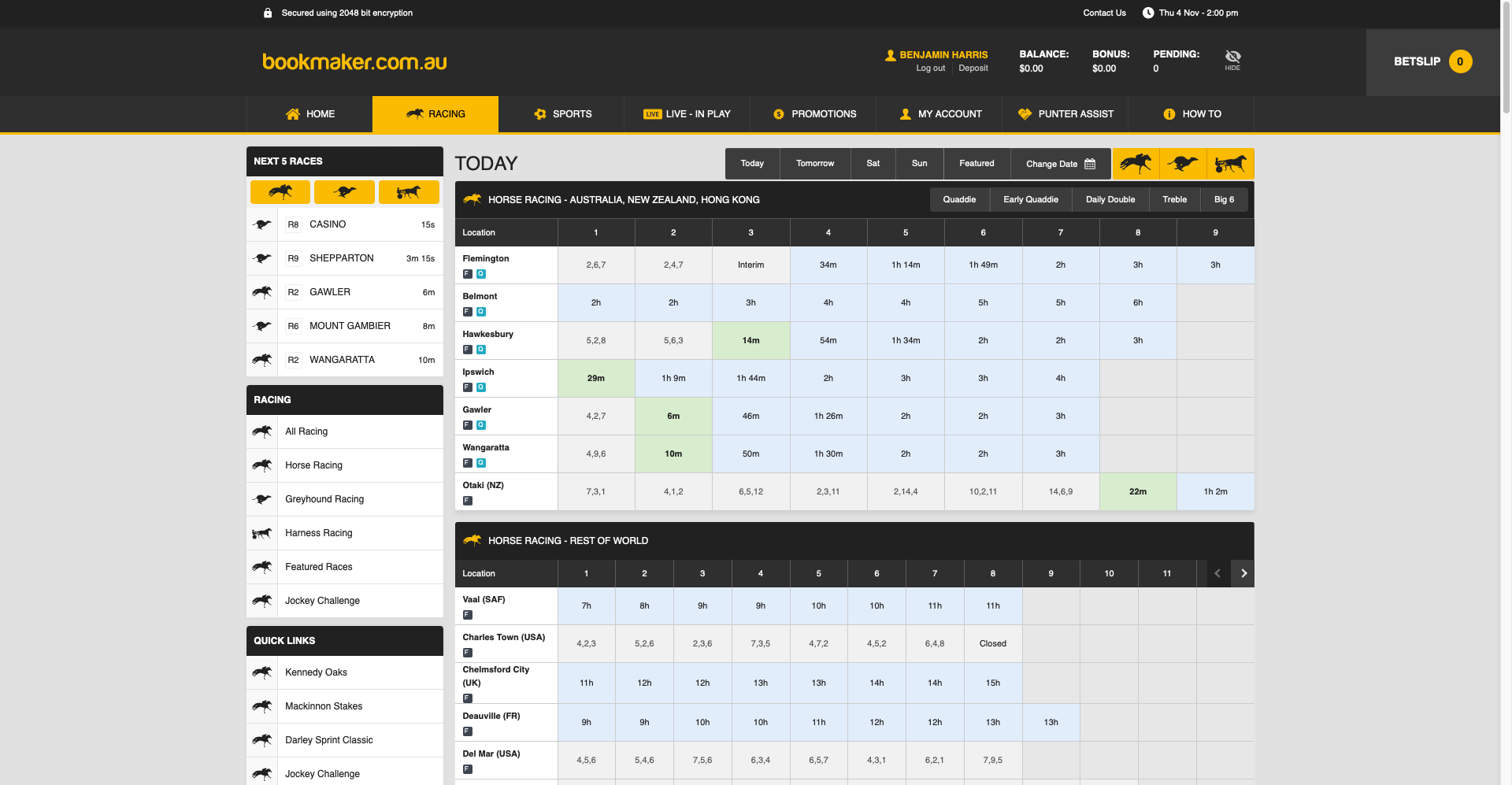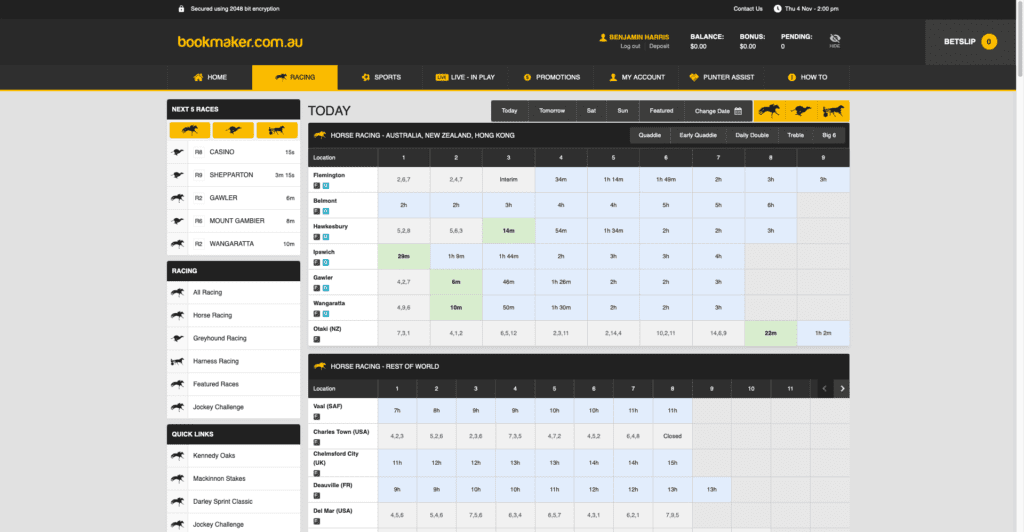 I'm jumping onto Flemington today,
The quick form guide is really good and well thought out!
I really like how you can keep multiple horse quick forms open at the same time to compare them.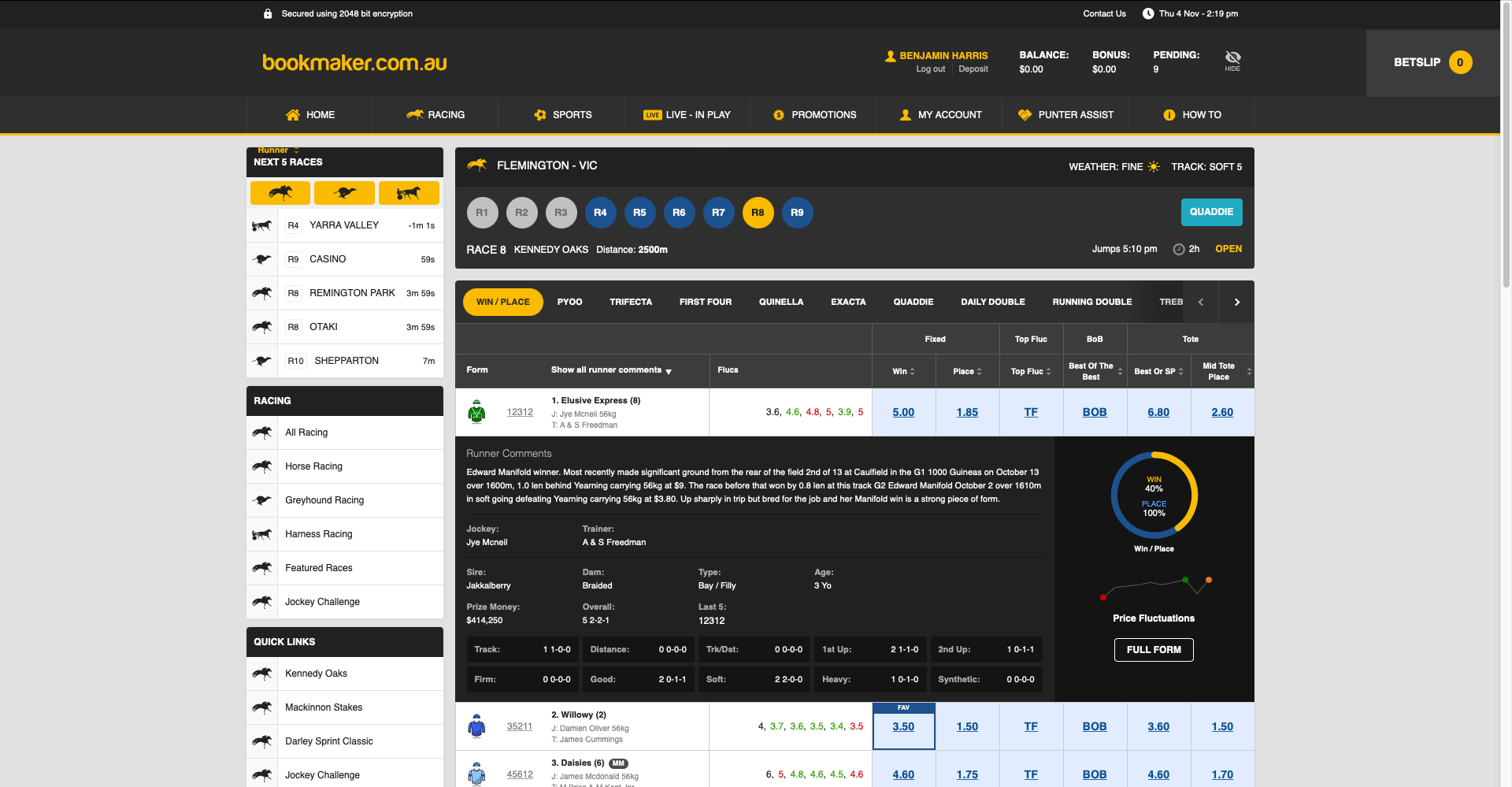 Before placing a bet I thought I would check out the full form guide
It's always a bit touch and go with the full-form guides
sometimes they are really well thought out
others are kinda bland.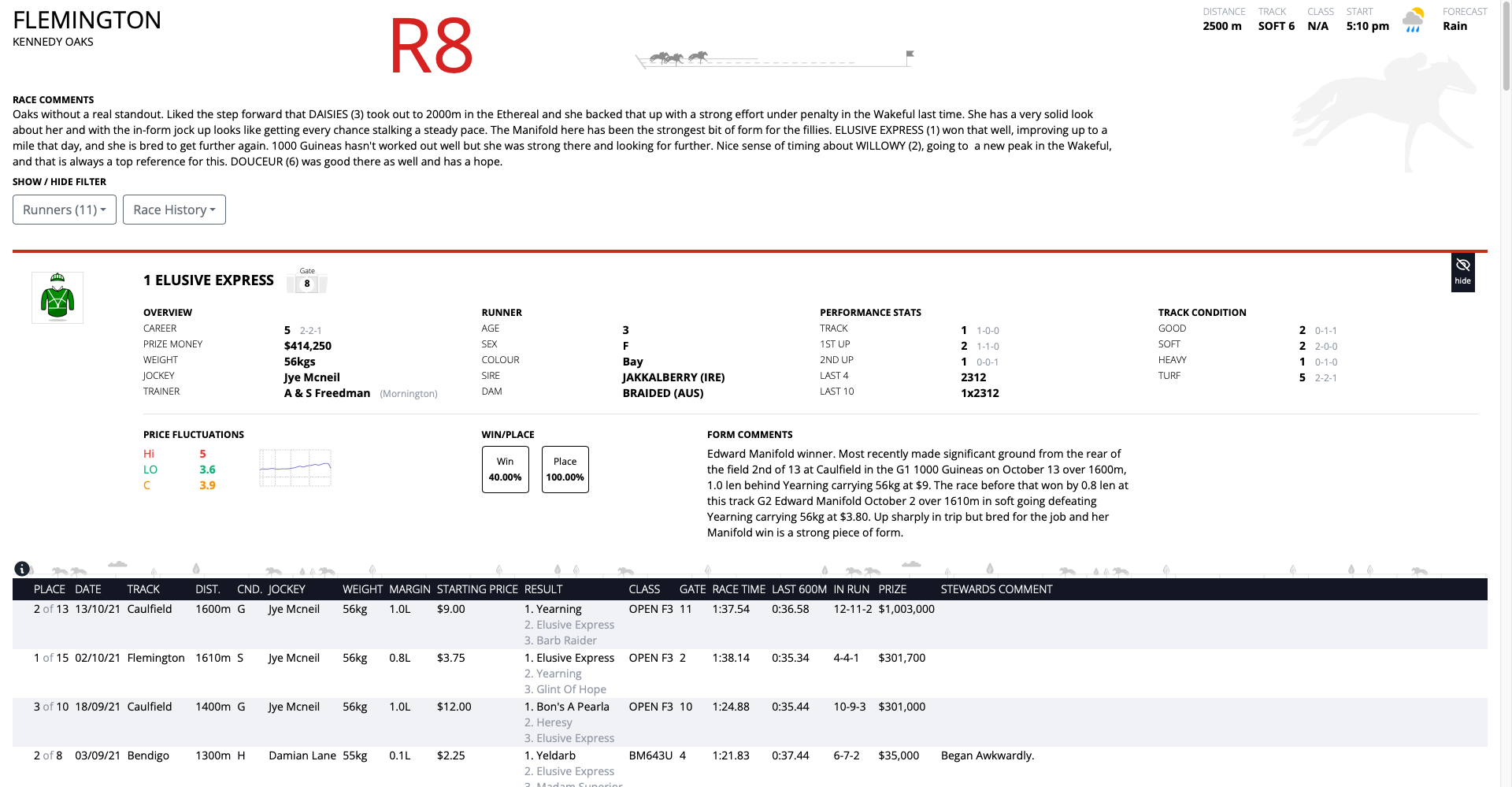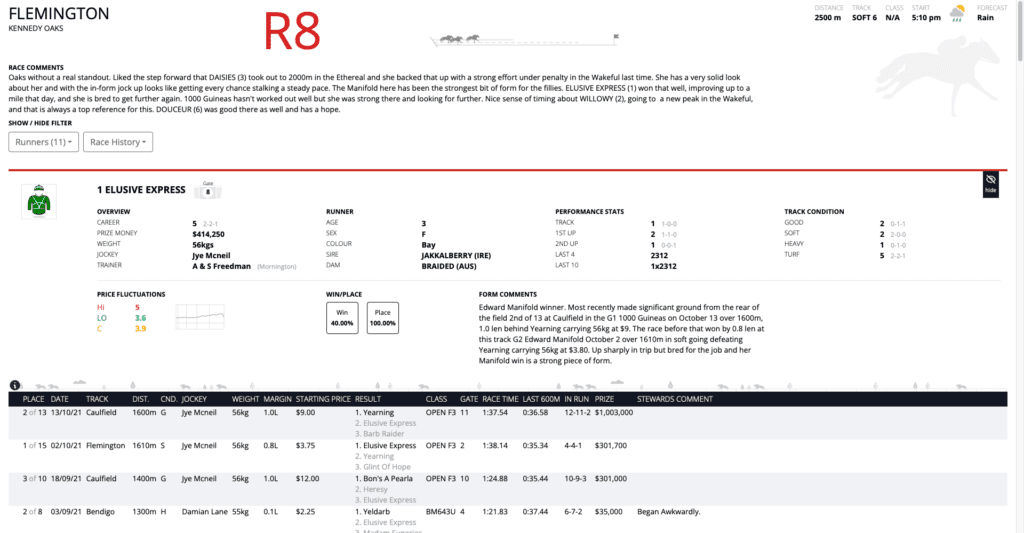 Bookmakers full-form guide on the other hand looks great!
really easy to find the information I needed and no eye strain like some other form guides
HUGE TICK!!
Right, let's place some bets!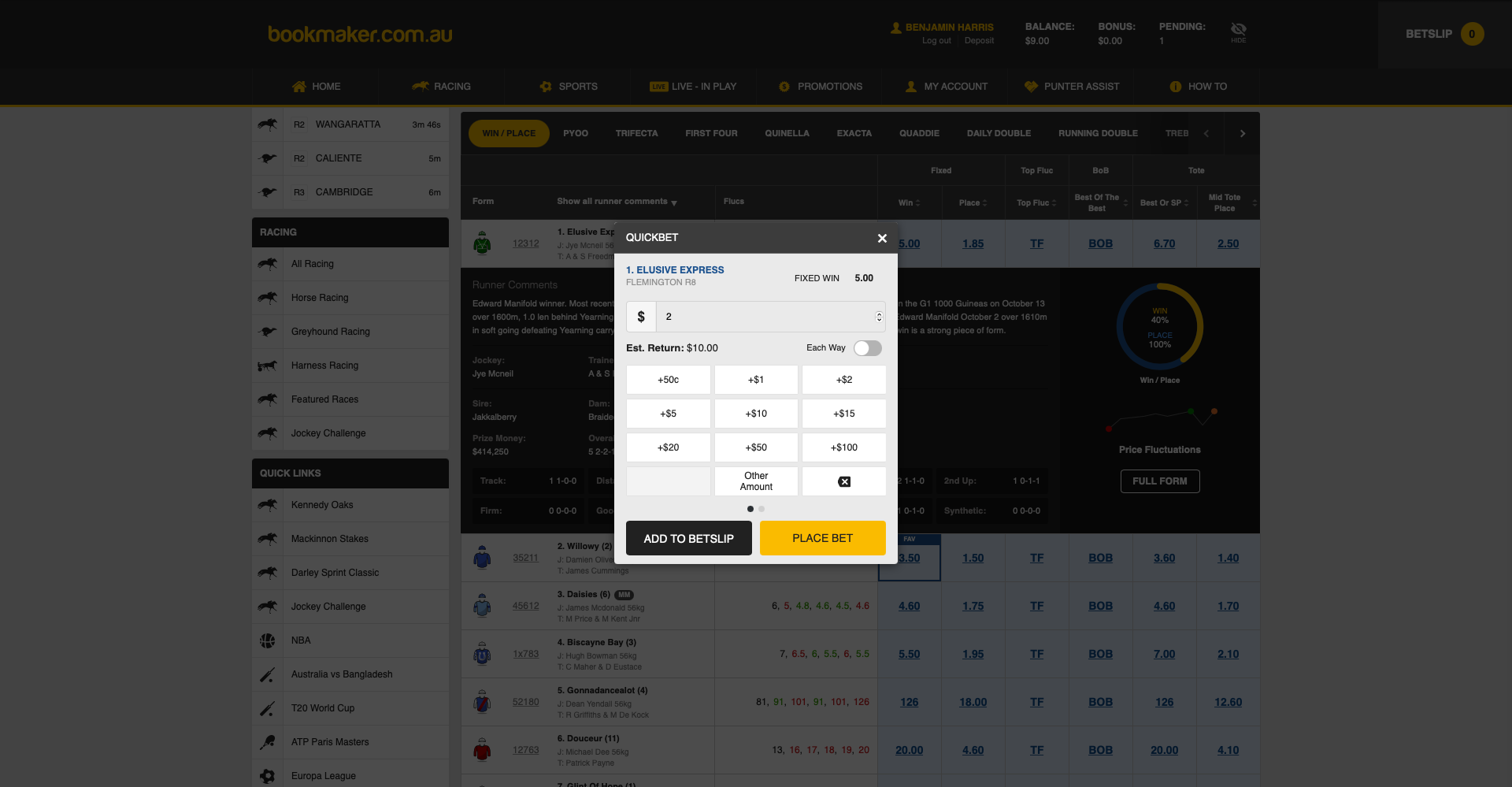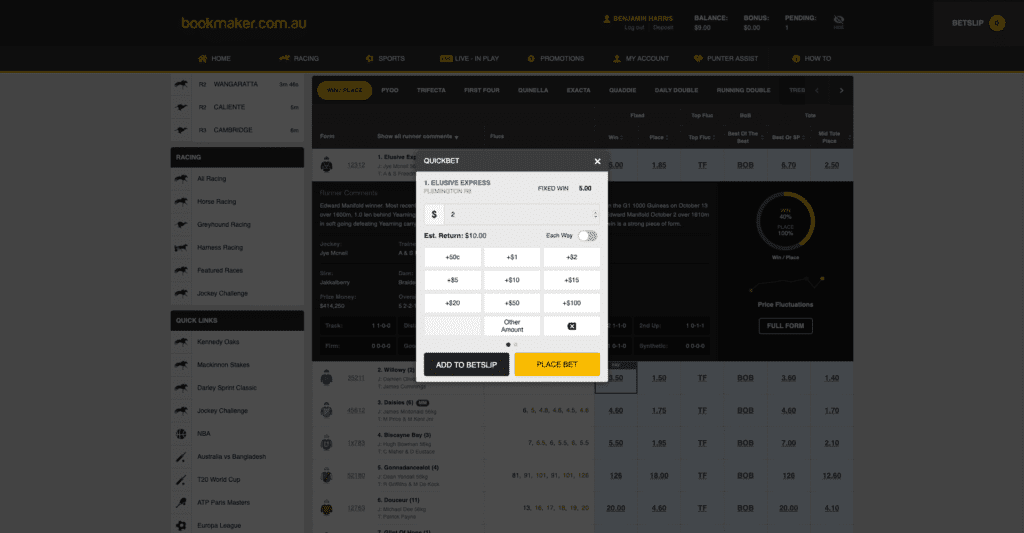 I really liked Elusive Express in this race,
It has won 40% of its races and Placed in 100% so it's fair to say it's in with a decent chance.
I simply clicked the fixed win price, chose my stake, then clicked "PLACE BET'
I also popped in on a place and tossed a dollar on the favourite for good measure.
Turns out the favourite got up this time, which wasn't too bad.
Let's take a look at sports.
What are sports like?
Considering they appear to be focused on racing I was very surprised to see how good the sports page looks.
I actually prefer the look of it to the racing page!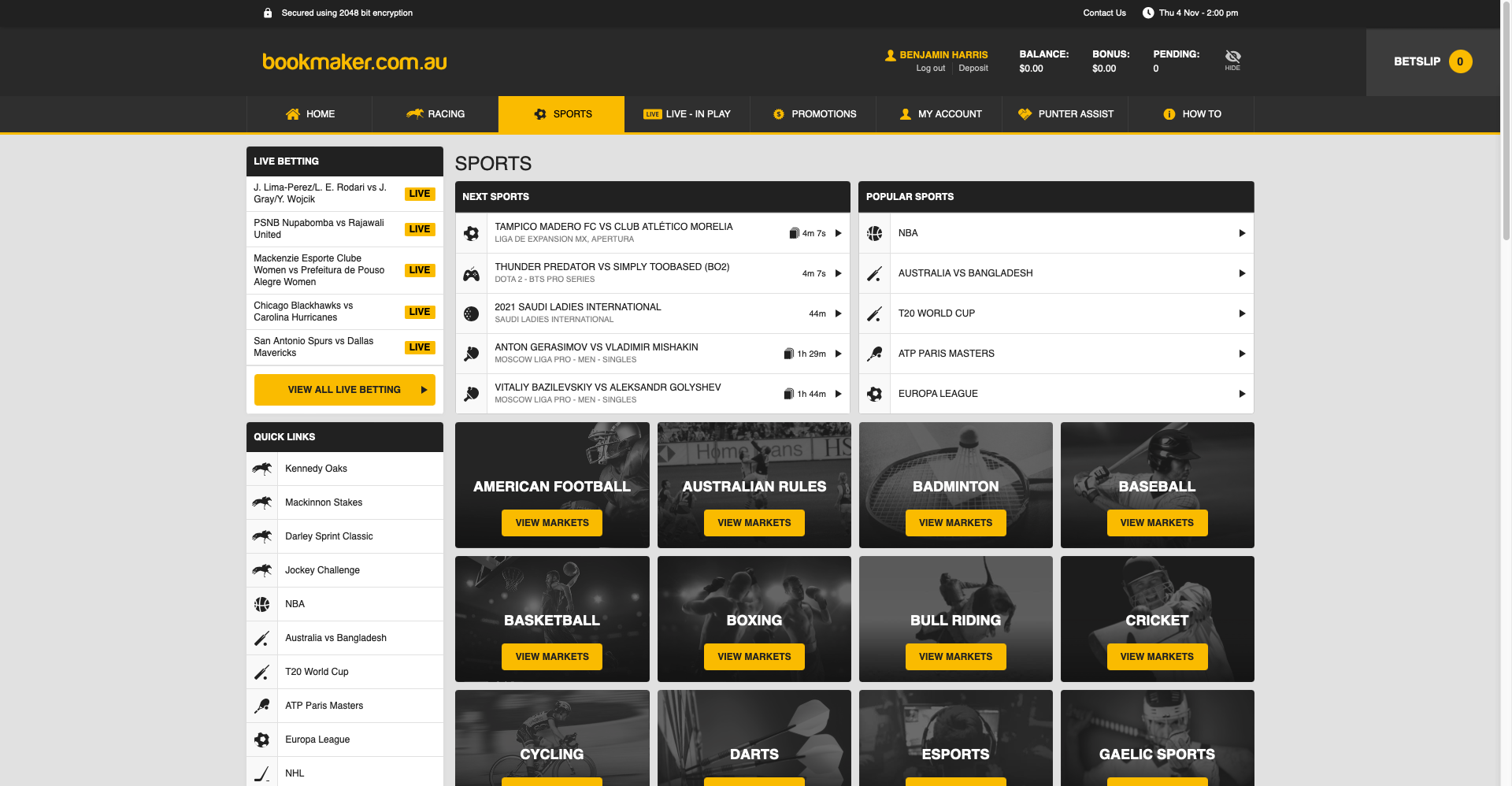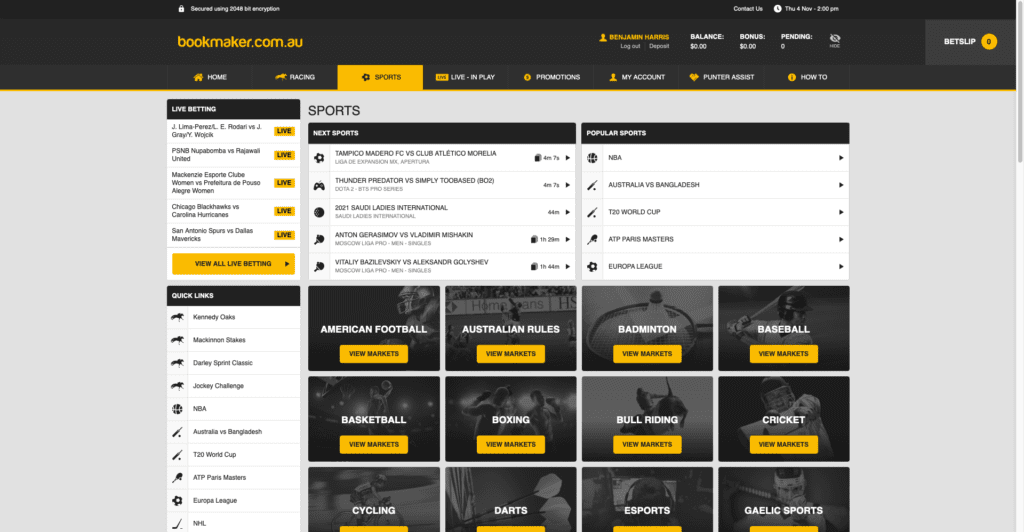 I was baffled by the number of different sports they have.
Bull riding, Gaelic football, darts… and they're the ones I wasn't expecting!
of course, they have all the other sports like AFL, NFL, and basketball as well.
and the markets were pretty decent too!
let's see what else they have.
Live In-Play Betting
The in-play betting page is clean,
The way that they 'grey out' the games that have been suspended is a really good indication of what is available too!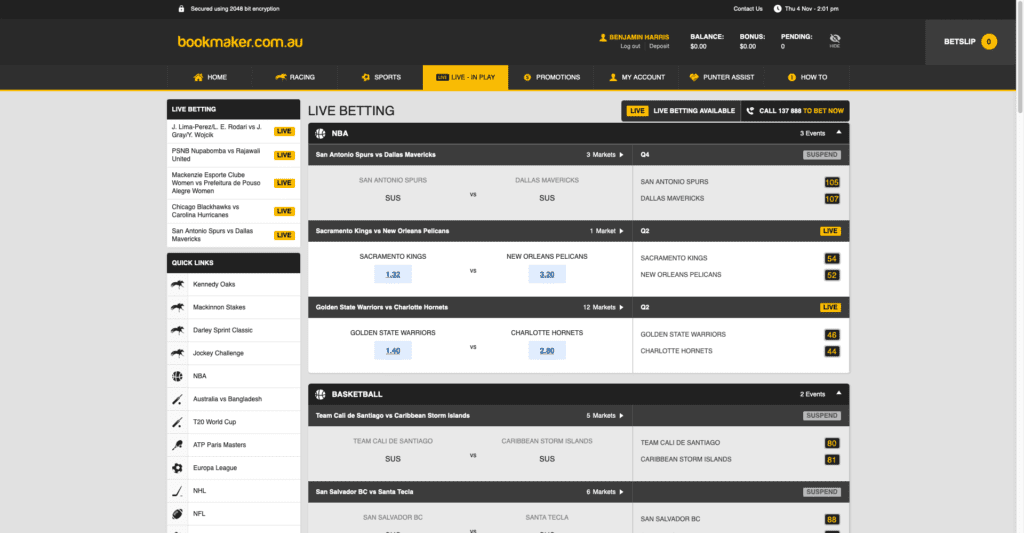 I don't really need to explain what happens here, I don't want to waste your time.
so let's pop over to the promotions and see what's happening there.
What promotions does bookmaker have?
Not going to lie, I actually forgot to screenshot this page however when I wrote this there were a bunch of different promotions available!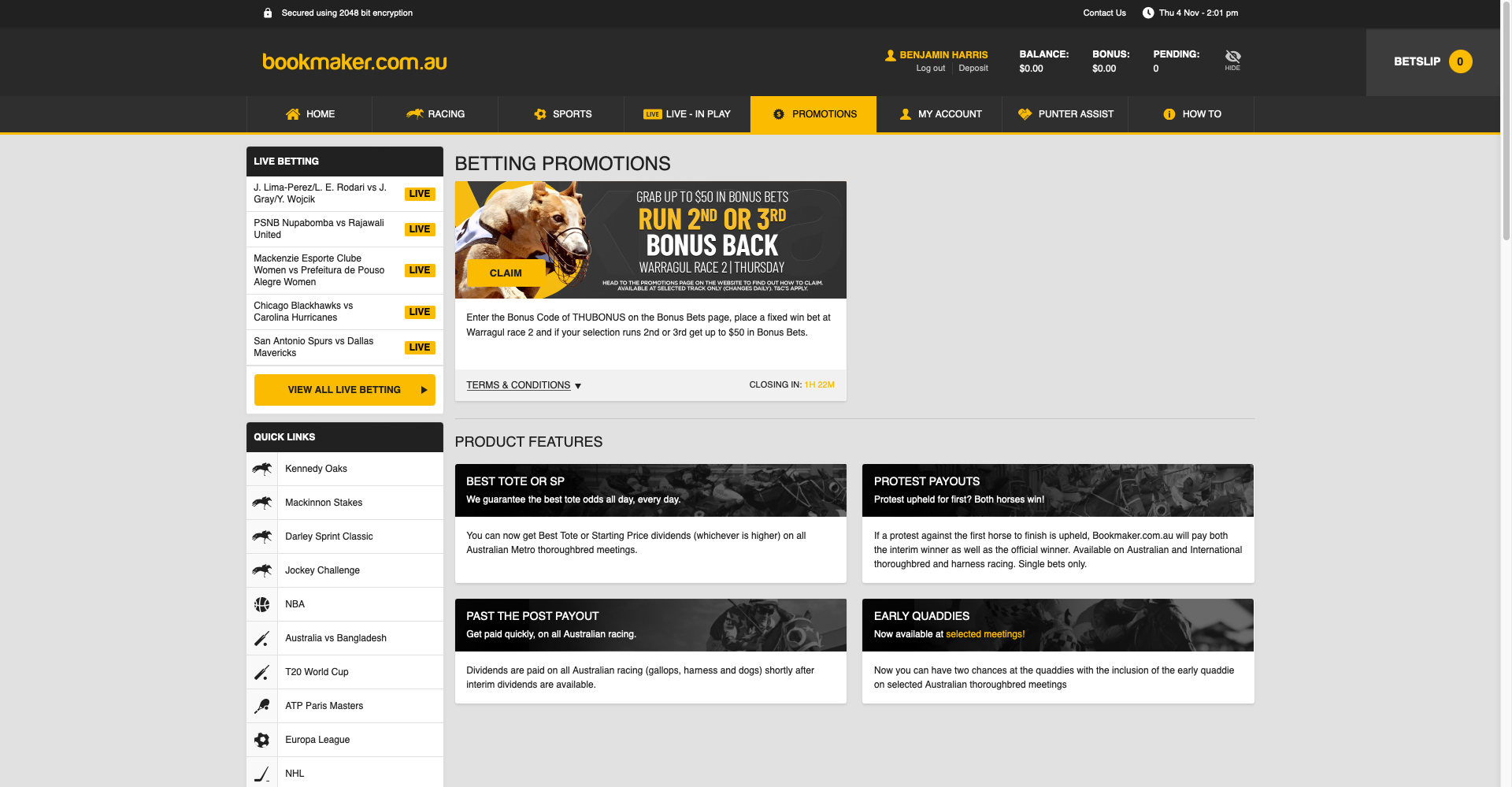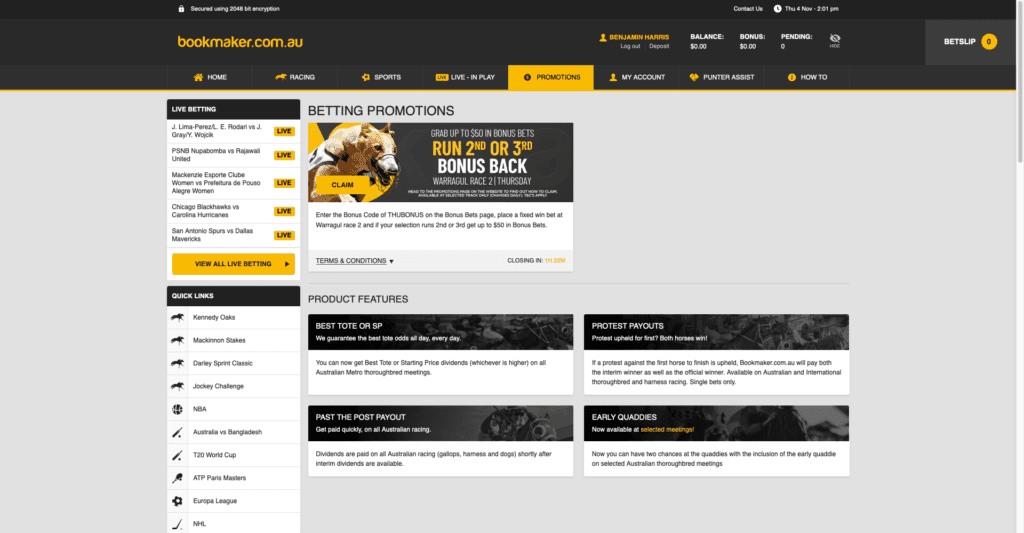 the standard promotions seem to be available at most betting sites.
However, they all seem to offer different promos for different sports and certain races.
Bookmaker is no exception.
Bookmaker Review
It's been a while since we last visited Bookmaker.
Spring Racing Carnival is almost upon us, now seems like a perfect moment to hop back, take a look at what's changed, what's remained the same, and whether anything new has emerged!
So, what did we discover?
It's still relatively simple to use.
It was simple to place wagers, and even a novice could do it without difficulty.
The sign-up procedure was simple, and verification was also painless.
Their layout is clean and functional and incredibly easy to find your way around; at no point did I have any trouble trying to find what I was looking for!
True racing advocates want a form guide, so it is great to see both a short form guide and a full form guide in their arsenal.
If I'm honest, it's a little strange that Bookmaker does not yet have Live Streaming. You would think that being part of the Ladbrokes group, Bookmaker would have Live streaming as part of their toolbox; however, unfortunately, they don't have it as an option.
They're not perfect, but they're pretty damn good; they do exactly what you want them to do. However, we'd like to see a few improvements. For racing, for example, we'd like to see a speed map, but above all, we would especially like to see Live Streaming.
Bookmaker is not a new Australian betting sites; they have been in operation since 2012, making them one of the oldest bookmakers in Australia.
 What do we like about Bookmaker?
We love how well laid out the bookmaker website is; we have not come across a sportsbook to date that has a homepage as clean as bookmakers.
Their live betting section is easily accessible, making it incredibly simple to throw a bet on an event currently running.
We also like their racing price fluctuations, so you can see how others have been placing bets in real-time.
What's missing at Bookmaker?
While they do have weekly promotions, they are unfortunately somewhat limited; Bookmaker does have some bonus bets available once you sign up. However, at the time of writing, they only had two promotions available, 2nd and 3rd cashback and bonus back specifically for two races; in my opinion, this isn't enough to keep up with the big boys.
Not having a speed map was a disappointment as the more hardcore racing advocates want one.
Not having Live Streaming is, without a doubt, their most significant missed opportunity; the major sportsbooks have live streaming, and some of the smaller ones are also starting to jump on board.
Quite simply, if you don't have live streaming these days, your customers will start looking to other bookmakers.
Bookmaker Highlights

Bookmaker has a variety of features to help users get the most out of their visit. These include:
Pick Your Own Odds – you are entitled to handpick the margin and build up the odds
Bookmaker Card - You can use the Bookmaker card just like you would use a Visa card.
Massive Range of Betting types.
Promotions
Since becoming part of the Ladbrokes family, Bookmaker has expanded to provide a comprehensive range of racing-related bonus features.
You may handpick the margin and adjust the odds to your liking if you pick 'Pick Your Own Odds.' For particular Harness and Thoroughbred races, where odds are set in advance, Bookmaker allows you to modify the odds in your favour.
If you're feeling lucky about your favourite horse, get the best price and boost your odds.
You can also bravely challenge the favourite in the field with the 'Favourite vs. Field' selection.
When you sense the favourite is at risk of losing, increase your chances of defeating them by supporting the entire field in one single bet.
This feature is coupled with the option to build upon a multi quickly.
At Bookmaker, you are also guaranteed the best tote odds on Australian thoroughbreds every single day.
In Australian thoroughbreds, if a protest causes the first horse to be held up, Bookmaker pays out for both the official and interim winners.
Plus, you can get fast payments on each Australian race almost as soon as the winner is past the post.
Bookmaker Android App

The Bookmaker app can be found on the site's homepage or by downloading it directly from the google play store; I prefer to download it directly from the homepage simply because you know it will 100% be accurate.
While a lot of other bookmakers request you to enable location, Bookmaker did not do this.
On the home page of the Bookmaker app, you'll find future racing events. It isn't much different from other sites devoted to major sporting or racing activities. The promotions were also found quite easily in a square box on the homepage.
It's simple to discover what you're looking for on this app. It was great to see that the short form guide was straightforward to access and that the full form guide was found simply by clicking on the full form guide button located within the short form guide.
It's terrific if you're looking for a quick and uncomplicated bookmaker that doesn't include all the bells and whistles available elsewhere!
I decided I would place some bets on the available live betting options, which included NFL, NBA, baseball, basketball, Tennis, Soccer, Table Tennis and Snooker.
In total, I placed $40 of bets at $5 per bet on all the events that were most likely to give me the best result; in the end, I ended up winning 7 out of 8 events that I placed a wager on walking away with a pretty significant profit.
Bookmaker Apple IOS App

The Bookmaker app may be discovered on the website or acquired directly from Google Play. However, I recommend downloading it straight from the homepage because you know it will be correct.
While many other bookmakers demand that you enable your location, Bookmaker does not.
On the Bookmaker app's home screen, you'll find future racing events. It isn't much different from other sites dedicated to major sporting or racing events. Promotions were also easy to discover in a square box on the homepage.
It's simple to locate what you're searching for in this app. However, it was nice to see that the short form guide was readily available and that the full form guide could be found simply by clicking on the full form guide button within it.
It's fantastic if you're seeking a straightforward and uncomplicated bookmaker that doesn't have all of the extras available elsewhere!
I decided I would jump into the NFL and place some same game multis on a few different games being played this week.
I placed $30 of bets at $5 each; my multis consisted of head to head and first touchdown scorer, and I based this off of the best odds. In the end, 4 out of 6 bets came through for me; however, I ended up with a hefty profit thanks to two multis paying well.
Bookmaker Mobile Site
The Bookmaker mobile site is the same as both versions of the app, which I found to be quite surprising but also fantastic at the same time; they also have a highly mobile-responsive website design, which is excellent for user convenience.
The homepage is clean and straightforward, with a prominent scroll menu in the middle for fast and easy access to popular categories.
Bookmaker is one of Australia's two bookmakers. It has in-play betting on its mobile website, which is fantastic because clients can make wagers more readily than they could from a typical computer. The in-play betting alternatives are relatively easy to find via the drop-down menu on the top left.
Bookmaker Mobile Site Features Included :
Live In-play Betting
Same Game Multis
For the Bookmaker mobile site, I jumped into the NBA Pre-season at the time of writing, there were only three games available, so I took my time to assess the games thoroughly,
I made $30 worth of bets at $5 per bet into $64; this was done by placing bets on the winning teams and jumping deeper into their markets to make a couple of extra bets.
Bookmaker Website
Straight off the bat, I noticed their banner; it was not only eye-catching but wasn't scrolling through different promotions. Instead, it was meticulously designed to showcase some of the race and sporting events available on the Bookmaker's website and makes you feel like you are on to something great!
It is mainly white with yellow and grey accents with vibrant, colourful images.
It is effortless to use however the different betting options might be a bit confusing for new bettors.
Today for my Bookmaker review, I thought I would take advantage of the promotions available for the horse racing and the greyhounds at Randwick and Ipswich.
I popped $40 into the account, placing eight bets at $5 a pop; I didn't do that great today and only ended up with $19.50 in my account at the end of the day.
Bookmaker Sign Up New Account

The Bookmaker sign-up process was straightforward, only taking a few pieces of personal information to get up and running. However, it is worth noting that personal information is required for account verification using the GreenID verification system, which is essentially just a way for Gambling companies to ensure you are not creating a fake account to launder money.
In total, the entire sign-up process took me around three minutes and had verified me in the process without me even realizing it.
Bookmaker Verification Process
Due to anti-money laundering measures, Bookmaker will need to confirm your identification.
The most straightforward approach to validate your identity is through verification, which can be completed in minutes with Green ID identification.
In a matter of seconds, the system recognized my credentials and logged me in. I was ready to wager!
At Bookmaker, new clients needed an average of just four minutes to complete the sign-up procedure. Assume you've used it previously on other devices. Your data should therefore verify instantly because they already saved it in their system when you signed up there as well!
You will need to be verified before withdrawing any money; you can find the verification center in your account section.
After you have been verified, it is then time to put some money into your account.
Bookmaker Deposit Methods

Bookmaker offers punters a variety of alternatives in depositing funds.
If you have a preference for making deposits through credit card, Bookmaker accepts both Visa and MasterCard. However, to protect themselves and their clients from fraudulent transactions, all credit cards involved in fund deposits should be verified.
If you plan on making withdrawals, you will be required to verify your identity.
Popular methods such as  BPAY, PayPal, and POLi internet banking are also acceptable at Bookmaker to provide secure and accessible alternatives.
You will find that Bookmaker is fully committed to the peace of mind and comfort of its customers. However, it is essential to note that transaction limits and processing duration will vary for each method.
You can view the details for each system through the "Banking and Transactions" section that can be navigated to from "My Account".
When it comes to cashing out your winnings, you shouldn't be concerned about withdrawal methods.
Bookmaker has a first-rate reputation for quick payouts.
Aside from electronic funds transfer to your bank account, Bookmaker also proposes two other options.
You can apply for a Bookmaker VISA card and get instant access to your funds in a Bookmaker account.
Use your Bookmaker card at any ATM nationwide, EFTPOS terminals and even take advantage of VISA payWave.
The Bookmaker card is free for members, and there is no fee charged for loading funds from your Bookmaker account.
Alternately, you may also get instant withdrawals through the exclusive Net+ Prepaid MasterCard.
You're only required to open a Neteller account and apply for the Net+ Card. Then, after you have deposited funds into your Neteller account, you can activate your card.
Afterwards, you can successfully go through the process of betting, winning and withdrawing. Within seconds of withdrawing funds to your Neteller account, funds are available for access at an ATM.
Minimum deposit $10.00
Minimum bet 50c
Minimum withdrawal $10.00
Minimum Bets
As the prevalent standard in the online gambling industry, the minimum bet requirement at Bookmaker is determined according to your bet type.
As a result, if you choose to place an online bet, you will be obligated to bet a minimum of 50 cents.
When betting over the phone, the starting point is a $20 wager.
Whereas for live and in-play bets, also placed over the telephone, a $20 bet is the lowest bet you can place.
Betting Markets

Bookmakers have many racing and sports markets to offer their customers, giving them multiple options and ways to place a bet; this is particularly noteworthy for their racing markets.
Horse Racing Betting
For each horse race, Bookmaker has a range of markets to throw some cash at, all depending on your betting style.
Win/Place has its own set of betting markets within the betting type.
Win/Place
Fixed Win
Fixed place
Starting Price
Best or SP
Mid Tote Place
After the standard Win/Place betting options, Bookmaker also has a range of non-standard betting markets.
Trifecta
First Four
Quinella
Exacta
Quaddie
Early Quaddie
Daily Double
Running Double
Treble
Big 6
Greyhound Racing and harness have precisely the same racing markets as horse racing does.
Sports Betting
Bookmaker has a lot of different betting sports betting markets available to choose from, including same game multis for some events using their bet builder.
As a perfect example of how sporadic their markets are, one NFL game had 105 markets at the time of writing, whereas another game playing less than two hours later only had nine markets available.
Bookmaker Bonus Bets

Bookmaker has some great Bonus Bets available, and they offer three as soon as you have signed up, they can be found in the promotional section in instances where one leg fails on a sporting event or if a horse comes second.
Bookmaker Racing Bonus Bets
Bookmaker provides several incentives and special deals to existing clients that may be available in conjunction with the Bookmaker promo code KRUZEY
While doing the review, there was only one bonus back bet available; however, through the few days of checking back and forth on the site, I have noticed this fluctuation.
Bookmaker Odds
Bookmaker provides the option of buying a bet on any runner in an event, just like other online bookmakers in Australia.
This way money you risk is 0 unless you proceed with the bet. So it's worth noting that this bet may be withdrawn at any time before Bookmaker has decreed when your horse will start its run. This is entirely free, and Bookmaker will wait until that specific horse has started running before your bet is locked in.
Bookmaker Live Betting
Bookmaker offers live in-play betting for sporting events that are currently being played; for the most part, you are only able to place a bet up until a certain threshold has been met.
For example, if a team is double the opposing team's score halfway through the last quarter, then Bookmaker will not allow you to place a bet on the winning team as they will essentially be giving you money for free (it would be nice, though wouldn't it!)
Bookmaker Contact & Customer Service
Bookmaker has a host of contact options to ensure you can communicate with them in any way possible; these include the following:
Address: PO Box 3321, Newstead, QLD, 4006
Customer Support Local: 1300 123 888
Customer Support International: +61 7 3184 9333
Live Betting Local: 137 888
Live Betting International: +61 8 7918 7300
EMAIL Chat Box: The email chat box is available via their website in the contact us section found at the bottom of their homepage.
Bookmaker Rules
Just like all best Australian bookmakers, they have an obligation to adhere to rules to maintain their gambling and liquor regulation license; as a punter, there are rules and responsibilities that you need to abide by also.
you can find them located in their Rules, Terms and Conditions at the bottom of their HOMEPAGE.
Gamble Responsibly
Stay in control of your gambling habits, always remember to gamble responsibly, and think before placing that next bet.
If you believe you might have a gambling problem or are starting to make poor decisions, get help immediately. Call Gambling Help on 1800 858 858. Additionally, you can also visit their website gamblinghelponline.org.au.
Bookmaker Review Conclusion
The Bookmaker interface is simple. It has a similar appearance on a computer screen or a phone. Although it doesn't have as many flashy banners ads and vibrant colours as other sites, it is easy to use and highly functional.
They are owned by Entain plc, the same company that owns Ladbrokes, so you know you are in safe hands while using the site.
As well as their hefty list of race betting markets, there are many sports offered, which make for a well-off package.
Though they lack promotions and bonus bets, it is worth pointing out that some people are not bothered with them to begin with, so taking them out of the equation, they are a pretty decent Bookmaker.
Some critical pieces of functionality are missing, such as live streaming and speed maps. However, in the future, it would seem evident that all bookmakers will be jumping on board and putting these critical pieces of functionality into their toolkits; otherwise, they will fall behind dramatically.
The option of having a Bookmaker Card is an excellent addition allowing you to use your betting card much the same way as you use a credit card. However, they don't have a visa/MasterCard withdrawal option, making this a handy little workaround for them.
Though they do lack some functions we like to see in sportsbooks, they have a range of functions that work well and give a big tick from us; at the end of the day, it is worthwhile signing up and checking in once in a while to see what the promotions are that week to make sure you are getting the best value for your dollar.
BOOKMAKER FAQs
What is Bookmaker?
Bookmaker is an online betting sportsbook primarily focused on the racing and sports markets; they are owned by Entain plc, which happens to be one of the biggest gambling companies in the industry which has a variety of prominent online bookmakers under their umbrella.
Who owns Bookmaker?
The Bookmaker name is now owned by Entain plc, a UK-based betting conglomerate that owns Ladbrokes, Neds, and Betstar in Australia.
Many people believe that Ladbrokes own Bookmaker. However, this is not correct. Bookmaker.com.au was created in 2011 and officially launched in 2012. It was only a mere 18 months later that Ladbrokes bought Bookmaker. Ladbrokes, however, is now owned by Entain plc along with Neds and Betstar, to name a few.
Is Bookmaker legit?
Yes, Bookmaker is 100% a legit betting site; despite being regarded as one of the best betting sites, they also offer competitive fixed odds and are considered one of the best betting apps on the market.
The legal guidelines for bookmaking and gambling in Australia are pretty tight. However, Bookmaker is licenced and regulated through the NT Racing Commission. 
Can I Gamble Legally With Bookmaker?
Yes. It is legal to use Bookmaker.
Bookmaker have a solid reputation in Australian horse racing. They're fully licensed by the Northern Territory Racing Commission, which means all financial information must be correct; otherwise, their License would be in jeopardy.
Residents of other countries outside of Australia and New Zealand are not allowed to create accounts or place bets with Bookmaker unless you are a resident of Australia or New Zealand.
Is Bookmaker legal in Australia?
Yes, Bookmaker is legal in Australia and are fully licensed through the Northern Territory Racing Commission.
Does Bookmaker offer same game multis?
Yes. Bookmaker does offer the same game multis through their bet builder; this can be found by going into the markets option, then switching to the Same game Multi function, and building your bet as you like.
Quick Links
All Aussie Betting Sites Best Sports Betting Sites eSports Betting Sites Australia