A Betting Site Worth Looking into!
Before reading our Sportsbet review, it is worth noting that there are other companies just as big and reputable as Sportsbet (just because your mate recommends them doesn't mean they're the best), before you go any further we highly recommend you take a look at Neds first, they have a huge reach in the sporting industry (which means better promotions and boosted odds), and are incredibly reputable.
Sportsbet Review
It's been a while since we looked at Sportsbet in-depth, so now seemed like a perfect moment to jump into the nitty-gritty.  
We wanted to see what's changed, remained the same, and if anything new has emerged! 
What did we discover? 
It's still effortless to use. 
Placing bets was simple; even for newcomers, one of the interns threw some bets on, and she had no issues. 
The registration process was straightforward, and verification was also quick and painless. 
Their layout is pretty straightforward; you will find the next jump races front and centre of the website. 
They have what is known as the punters Blackbook, which is essentially a notebook for you to make a note of any horses you like, handy if you're a new player. 
Honestly, as a betting site, it's ok these days compared to other betting sites in Australia; they know what they are doing and have been doing a fantastic job of it for many years. 
Sportsbet is among the rare Australian bookmakers referred to as the "oldest". Having been licensed in the Northern Territory around 1993, it was a small-time operation in Darwin. 
Sportsbet initially traded hand to the legendary Matthew Tripp, who was responsible for many changes and the rising popularity at Sportsbet. However, it was then acquired by Paddy Power starting in 2009 and completed by 2011.  
If you're interested in variety and love promotions, Sportsbet is a definite safe bet. It has come a long way from its younger self. Here's an in-depth Sportsbet review for you to find out the details. 

Sportsbet Highlights 
Sportsbet offers various features to help users get the most out of their experience. These include:  
BET WITH MATES – 'Bet With Mates' is undoubtedly one of the best things to happen to the online bookmaking world in the past decade.  
POWER PLAY – Unless otherwise stated, 'Power Play' can be used on Racing Fixed Win, Same Race Exotics, Multi Bets, Same Game Multi Bets & Same Race Multi Bets is accessible. 
BET RETURNS – 'Bet Returns' can be used on specific race types and can include bonuses such as getting up to $50 back in bonus bets if your horse comes in second or third place. 
What do we like about Sportsbet? 
For years people have wanted to answer how they can have a punt with their friends and bet against the bookie, 'Bet With Mates' is the one-stop solution to that problem!  
Bet With Mates gives you the ability to create a group of friends, work for colleagues or family, all with the same buy-in and equal share of the balance.
What's missing at Sportsbet?  
Not going to lie; as far as online betting sites go, Sportsbet is decent, no longer the best but still pretty ok.  
I feel their colour scheme leaves a lot to be desired. However, it is simple and it works, and at the end of the day, that is all that matters. 
Sportsbet Promotions  
Promotions are updated by Sportsbet all the time; however, you must be a client to see them and cannot view them otherwise. You can quickly remedy this by creating a Sportsbet account. 
Sportsbet's frequent updates ensure that their promotions are appealing, which is good news for bettors. It's worth noting that Sportsbet frequently refreshes its offers, so it's worth signing in to Sportsbet now and then to see what new promos they have available. 
Sportsbet Mobile Options
Android App  

When we downloaded the Sportsbet mobile app onto some Android phones, it prompted us to turn on-location services. This is fine because they want to make sure you're not from some country on the other side of the world. 
Because Sportsbet's primary focus is the racing market, they have many racing options right at your fingertips on the homepage for easy access. 
It's not too different from other popular racing or sports events websites, with two buttons at the top of the screen to switch between betting types. 
However, we had to dig around a little before finding their most recent promotions; we found these in the specials tab in the drop-down menu from the top left corner.  
They've got their finger on the buzzer when it comes to making an excellent sportsbook app; I don't think there is a more straightforward app on the market. 
We decided to check out the new 'Bet With Mates' part of their sportsbook as the latest feature in the Sportsbet arsenal; this seemed like the perfect opportunity to see why it is so good. 
We set the buy-in limit to $5, invited a bunch of mates into the group, waited an hour for some of the boys to join up, and we started placing some bets. 
I've got to say, betting with your mates and knowing that if you lose, the money is going into one of their pockets instead is a fantastic feeling! I can't comment on how much I won or lost because our Bet With Mates Group will stay open. It is now something we do regularly and has given us something else to talk about and get excited over. 
On the first day, we each placed $50 in total on ten different races (I think we ended up having $800 floating around in the account at all times) 
No one had to top up again, and we all had a ball. Suffice to say, and this will be something that stays with us for a very long time. 
You can find the link to their app directly on the homepage of their website.
IOS App  

Downloading the Sportsbet app onto one of the iPhones was just as simple as it was for Android. Basically, everything is the same; however, the navigation was slightly different due to the phones operating in different ways. 
You can access both Racing and Sports on the main page; however, it opens on racing due to them being racing orientated.
Thankfully one of our bet returns came through for us also, so we got to have another crack, we threw our second chance on a roughie tip, and it got up! 
In total, we put $50 of bets at $4 per bet, walking away with a withdrawable balance of $97.12. 
Please find the link to their app on the homepage of their website.
Mobile Site  
The last time we checked the Sportsbet mobile website, it was a very smooth and straightforward user experience with no difficulties, snags, or problems to mention; this time around was even better. 
The most significant change to their site would have to be, without a doubt, the Bet With Mates functionality. 
It's similar to the app layout and gives you a pop-up straight away, giving you the option to download the app. 
Sportsbet Mobile Site Features Included : 
Bet Live – Live betting allows you to bet on the sport while being played.
Live streaming of thousands of sporting events. The only requirement is that you have to have money in your account and made a bet recently; it's basically like having free live sport for $1 a week! 
A massive range of sporting events and racing markets, the same markets available on desktop.
A brilliant feature that Sportsbet has implemented is accessing everything on your mobile version simply by scrolling through the pillar menus. Rather than clicking through different categories or sections as on desktops pages do, it is much easier and quicker for mobile bettors who have limited data plans; this was an excellent addition to mobile betting. 
For the mobile site, we jumped straight into the AFL and NRL finals this week, placing bets on the Rabbitohs, Panthers and the Melbourne Demons; we also threw a quick bet on the MMA just for a bit of fun. 
In total, we placed $100 of bets at $10 per bet, including a couple of first scores, etc., luckily we got all three games right and ended up cashing out with a sizeable balance of around $230. 
Sportsbet.com.au  
Their website has hardly changed over the years, so it's always a welcoming experience to come back to; nothing has changed over time other than a few minor tweaks, so you always know roughly where to look when trying to find a specific sport. 
The Blue, Yellow, and White layout is very recognizable in the industry and automatically relatable to Sportsbet. 
It is relatively simple and easy to wrap my head around, and it seems somewhat familiar because of other bookmaker websites.  
I love that their bet slip is always visible on the website; though this might be less than ideal for some people, it is a great addition when you bet as much as we do. 
There is nothing worse than accidentally throwing a wager on a race twice because you had forgotten you had already done it; this little feature minimizes the risk of that happening. 
Today we decided to toss some money into the NFL; we used our Kruzey.com NFL tips. We ended up winning 5 out of 7 games, which is excellent news since it's only the third week of the season, the packers and 49ers game is still playing, and it's close, so we will have to see the outcome for that game! 
In total, we whacked $70 worth of bets at $10 each; we ended up walking away with a withdrawable balance of $135. 
 Banking with Sportsbet 
Sportsbet offers various payment options.
You can use Visa, MasterCard, Bank Transfer, BPAY and POLi. Go to menu -> Account -> Settings to set your preferred payment option up.
Withdrawals are currently only available via bank transfers. 
Minimum deposit $10.00 
Minimum bet $1.00 
Minimum withdrawal $10.00 
Sportsbet Betting Markets 
Sportsbet has many racing and sports markets to offer.
These include horse racing, Cricket, Tennis, Super Rugby, AFL, NRL, NBA, and even golf.
This website also has Basketball, and you can even bet on novelty bets for people who want to bet on something more different. 
To check out all the sports that are available for betting, go to Menu -> Sports. 
Sportsbet Horse Racing Markets 
Sportsbet has a vast range of horse racing markets to bet on. So whether you're looking for a multi-horse accumulator or a single-horse bet, Sportsbet has the best Australian horse racing available. 
Sportsbet offers a wide range of betting options for horse racing, including the best Tote and SP odds, in addition to other well-known horse racing alternatives like Top Fluc. 
The consistency of a customer's spending habits is just as important as the best Tote or the most incredible SP odds at your fingertips to help you win big. Top Fluc is always popular, such as second horse – Place from third horse – Place (in that order). An excellent illustration of how you don't have to bet a single best Tote pick — be more flexible and play multi-horse wagers! 
South Australian Horse Racing 
Sportsbet offers a very competitive line in South Australian horse racing markets. They beat most of their competitors hands down regarding the number of SA races they offer daily, which is excellent for punters looking to make multiple bets within an afternoon or evening at Morphettville or Cheltenham Park Racetracks. 
They are often the first bookie to release new markets shortly after major sporting events have been completed. This can be seen with some of the constantly updated odds on fast turnover sports such as UFC. I should also note that Sportsbet offers many promotions and bonuses to existing and new customers once they have signed up. 
Sportsbet Odds  
Sportsbet, like all bookmakers, provides a Buy Bet option, which allows you to wager on any runner in the race. 
Sportsbet allows you to place a bet on any horse in the race before your stake is secured, at no extra cost. Your wager will be delayed until that particular horse has begun its run. 
There are a few more incentives, such as "Free Trifecta Bets" following specific races… so be sure to visit their website for all of these special offers! 
Sportsbet Sign Up  and Verification
Sportsbet Sign Up
Signing up to Sportsbet is a straightforward process that is on par compared to some other betting sites.
Sportsbet offers its sign-up via the website or mobile app.
Once you have signed up to Sportsbet, you will find all promotions and bonus bets available for you to take full advantage of. 
The sign-up process required less than five minutes on average for new customers at Sportsbet, which is actually pretty long by today's standards. However, suppose you have used it before with other devices, your data should verify instantly as they already saved it in their system from when you signed up.  

Sportsbet Verification Process
Sportsbet will now need you to verify your id due to new anti-laundering regulations. 
With the Green ID identification procedure, verification is the simplest method completed in minutes. 
The system instantly logged me in after it recognized my credentials. I was eager to toss on a bet, and it let me do so without any worries! 
As a new customer, the sign-up process took only a few minutes. 
If you've previously used it on other devices, your data should be verified immediately because it has already been saved in their system after you joined up with them! 
Sportsbet Promo Codes and Bonus Bets 
Racing Bonus Bets are usually in the form of bet returns.
Sportsbet bonus bets give you the chance to select a race and where to use a bet return (they give you a couple each day)
This gives you the chance to get your state returned as a bonus bet should your selection run 2nd or 3rd.
Sportsbet Promo Code 
The best Sportsbet promo code to use is KRUZEY. While other promo codes on the market claim to be the best, the KRUZEY promo code offers the best opportunity for customers to get the most out of their Sportsbet sign-up bonus.
Click here for instant access to Sportsbet.
Bonus Bet With Sportsbet 
Sportsbet has a variety of different bonus bets available to existing customers.
As an Australian or New Zealand resident, you only need to be a registered member of Sportsbet to view the Sportsbet Bonus Bets and promotions.
You can do this by signing up on the Sportsbet website to see what's available.
Sportsbet Contact & Customer Service  
Customers can get in touch with Sportsbet through several channels, including the following: 
The phone number is answered usually within a few seconds (if you don't get a response right away, wait a couple of minutes). There's an email address for general inquiries 24 hours a day, seven days a week. 
Sportsbet Rules  
Like all Bookmakers, Sportsbet is a licensed bookmaker and has legal responsibilities that it must follow to keep its license. As a player, everyone must adhere to the same terms and conditions. 
At the bottom of their home page, you'll find a link to the terms and conditions.
Sportsbet Review Conclusion 
The Sportsbet layout is clean and easy to use. It looks pretty much the same on a computer screen or phone. It is not as flashy as some of the other apps. Their withdrawal times are slower than most other betting sites in Australia which can be an incredible hassle when you find yourself continually checking your balance.
Sportsbet has been around longer than most and has swooped up most of the bettors in the meantime.
That said, there are better betting sites on the market these days than Sportsbet, you just need to know where to look.
 Take a look at some of the other Australian Betting Sites first.
Sportsbet
Alright.
We know you're looking for a cheeky Sportsbet code.
Do they exist?
Not really.
Gone are the days of securing a special deposit bonus.
What are we left with then?
Let's sign up and find out.
Signing Up
Signing up to Sportsbet was a lot easier than I anticipated.
We used this custom sign up link.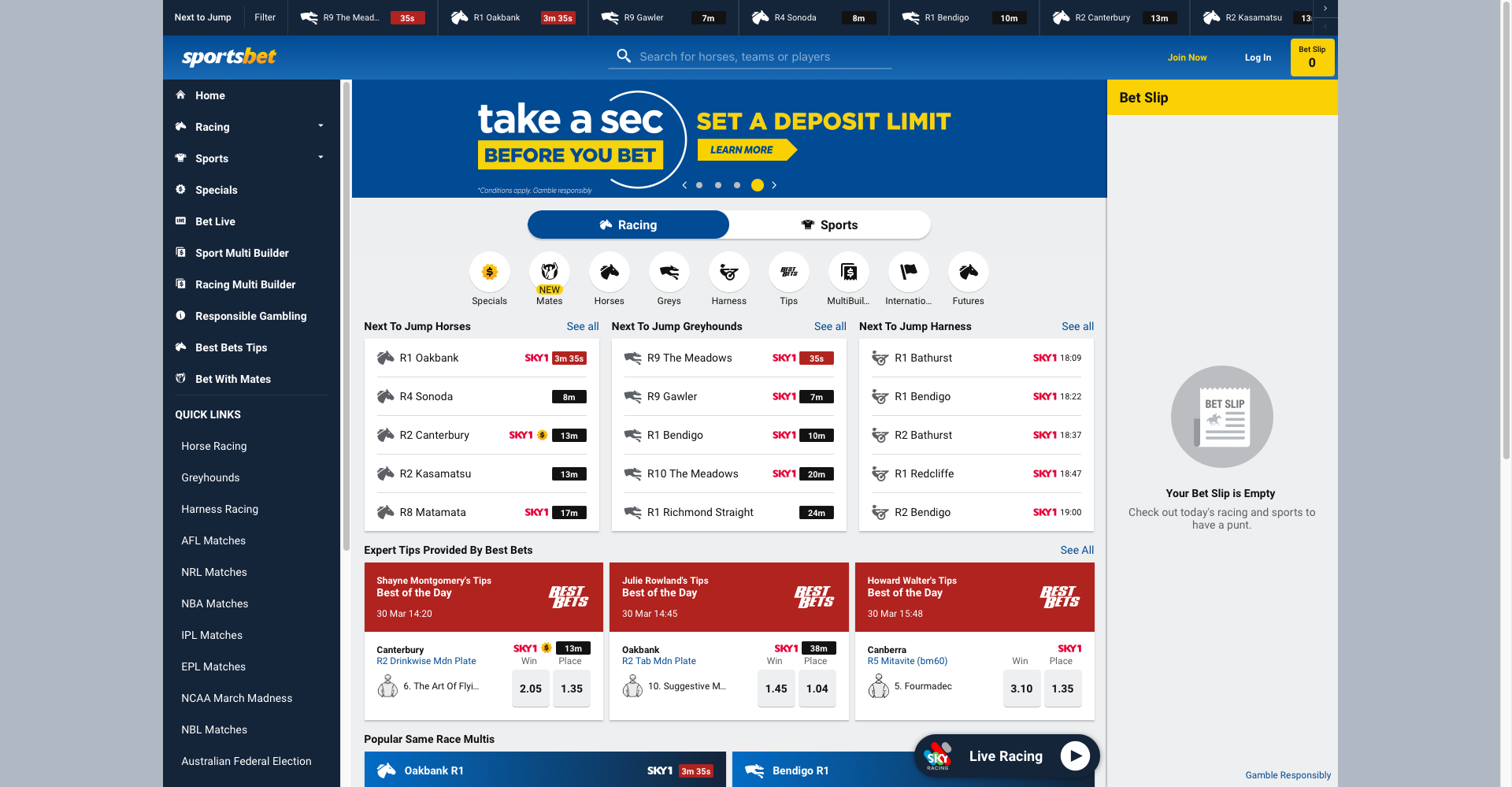 Input all of my details didn't take long.
Next, this screen will pop up to add some funds.
Here you can set a deposit limit if you wish.
I think this is a good initiative from Sportsbet.
It really made me stop to think how much I would be comfortable spending. Let's face it, we all need to be responsible and keep an eye out for our mates when it comes to this stuff.
Deposit Options
Sportsbet seem to offer the following,
– Credit/debit cards
– Paypal
– POLi
– Bank Transfer
– Bpay
Once you have deposited using your favoured method, you're ready to play.
Let's check out what the layout looks like,
The Layout
Once I signed up, I first noticed how clean and modern it looked.
Early thoughts, it looks VERY user-friendly.
So much to unpack and explore here
But,
The races are on so let's look into how they present racing as this is what we mainly enjoy.
Sportsbet Racing 
The 'next to jump' section is handy with all three codes on the one screen to navigate between horses, trots and the dish lickers.

Once you click on your preferred race, it really opens up a user-friendly interface.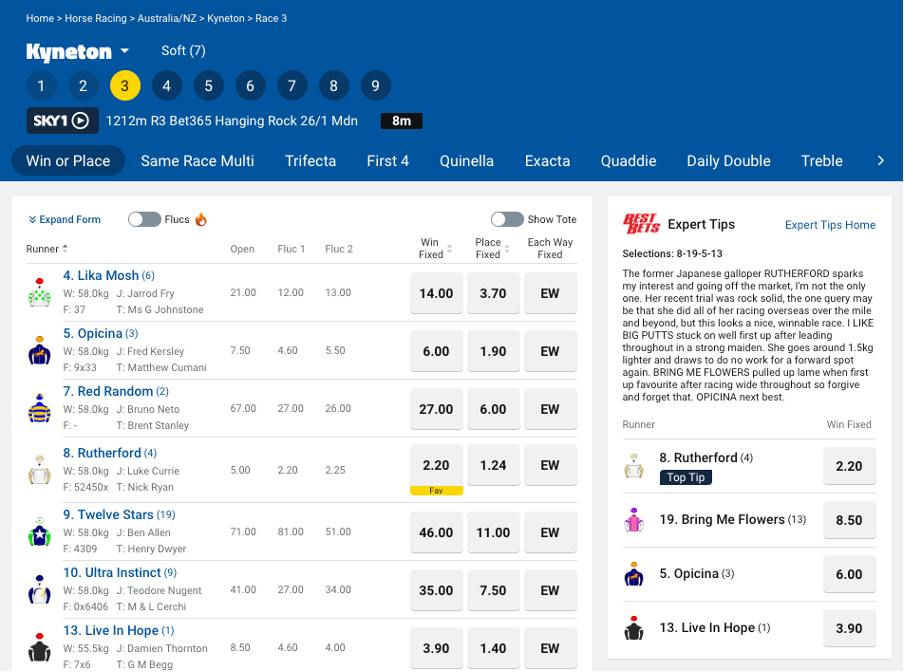 I quite like the fact that they have Best Bets expert tips on the side with a preview to help make my decision a little bit easier.
Also,
It will bring up an excellent expanded form guide when you click on a horse.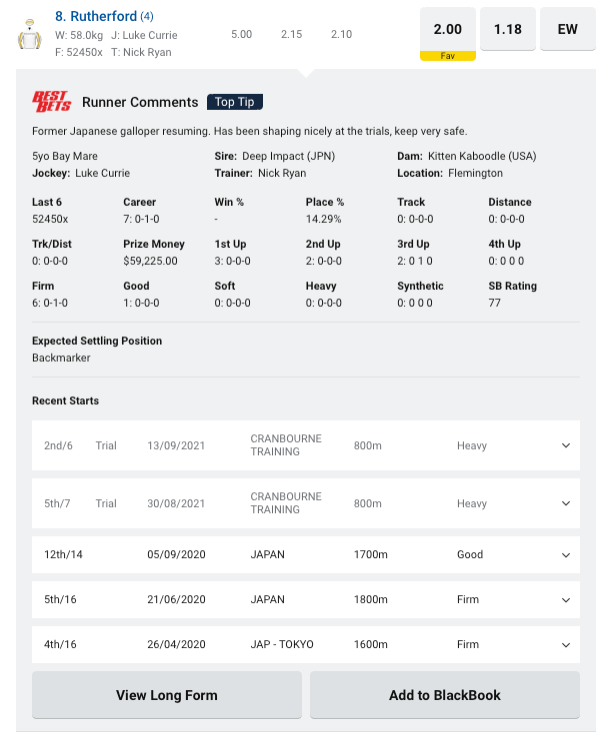 Alright, we fancy the favourite here; let's get a bet on it.
Clicking on a horse's odds will add it to your bet slip.
Here are a couple of things happen that you can choose from.
You can increase the odds with a powerplay, or you can opt for a bet return (or nothing)
This will return your stake as a bonus bet should you run 2nd or 3rd.

We opted for the powerplay on this instance.
Now!
Once upon a time Sportsbet was the only betting site that offered live racing, however that is by far no longer the case.
Nowadays there are plenty of betting sites with live racing which essentially means Sportsbet no longer reign supreme.
Live Sky Racing Vision
That's right,
You can watch your horses run all from one screen.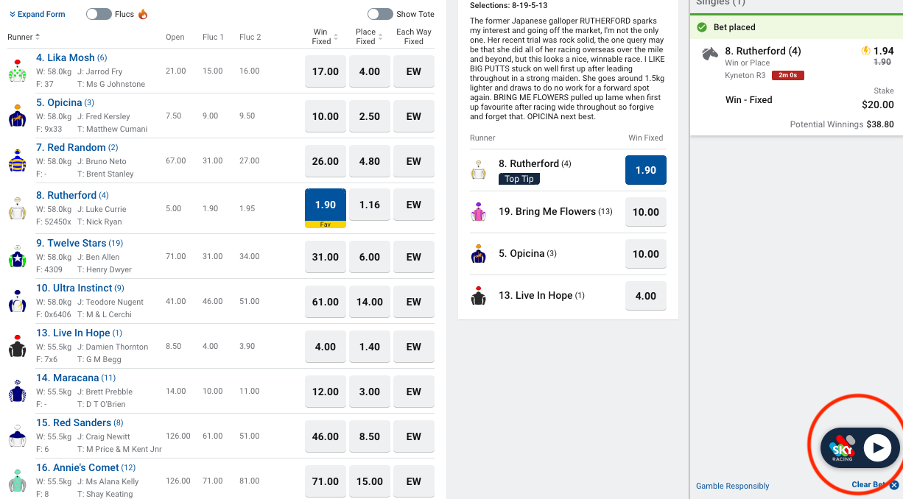 Once you click the play button, it will open a pop-up and start playing the races.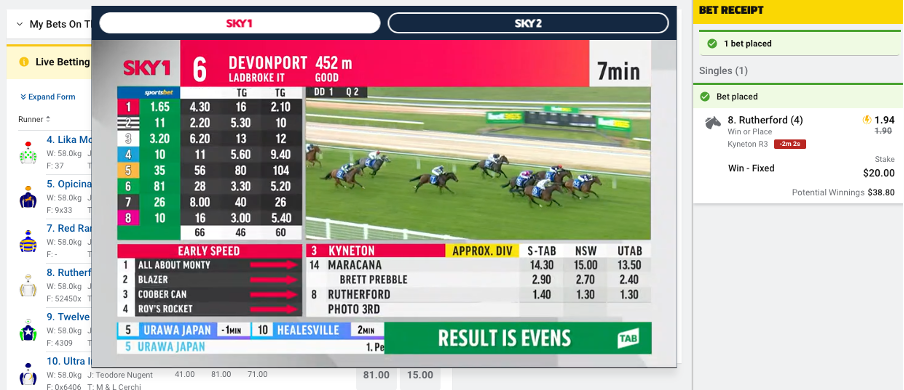 2nd
Bugger.
Now, if I were to have opted for the bet back promotion, I would have my stake returned as a bonus bet which would have been nice.
What about their Sports betting?
Sports Betting
Sportsbet is famous when it comes to sports betting
Most people enjoy placing big multis, including the same game multis, to try and land a big payday while having a little fun with a smaller stake.
Let's place a cheeky same multi on the AFL Grand Final and see what happens.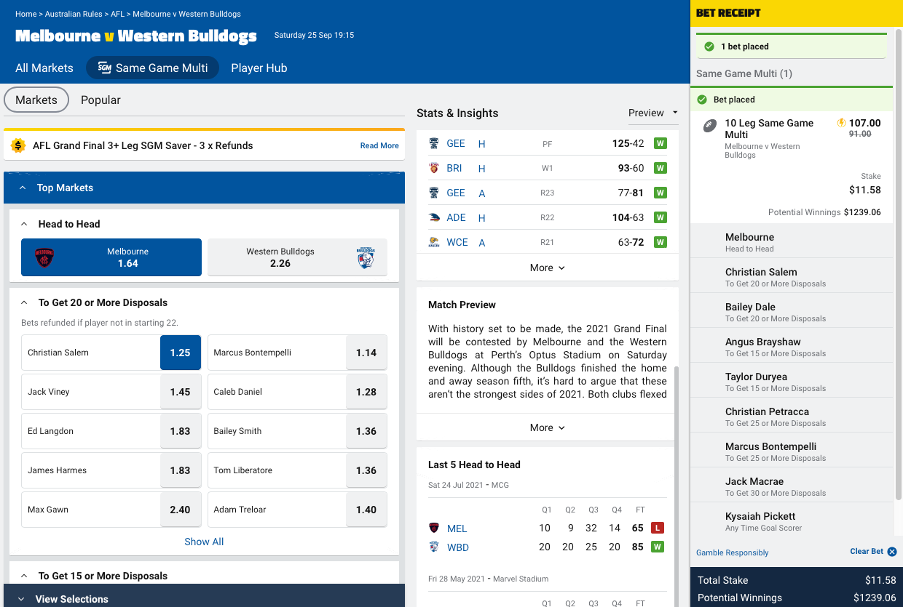 Alright, we are on!
10 leg multi.
So our stake was $11.58 (odd number in account superstitious),
And we have the potential to win $1239.06 👌
Specials
The specials are where Sportsbet really shines.
They offer a wide range of daily specials
Things like same game multi refunds
If your multi has a leg fail, they will return your stake as bonus bets.
T&C applies.
One of the exciting promotions I noticed was the "bet with mates" promotion.
Bet With Mates
'Bet with Mates' is a relatively new concept from Sportsbet.
Basically, Bet with Mates gives you the ability to have a punt with your mates
Think of it like a punt club.
You start a group, invite your friends
Then everybody buys in equally to start betting
The best part is that ANYBODY can bet at any time.
It's your rules
If you need to top up the account everyone, does it equally.
You can leave at any time, taking your share of the group.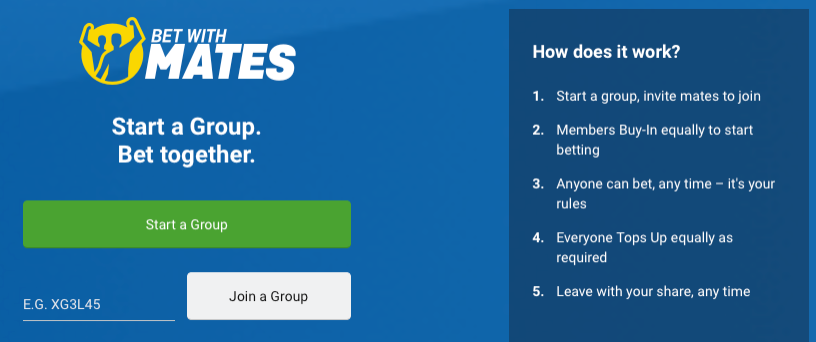 Sportsbet Cash Card
Not entirely sold on this concept
Like,
It sounds like an excellent idea, but for me, I feel it's one of those things that I will never use.
(unless you like hiding funds from your partner 😉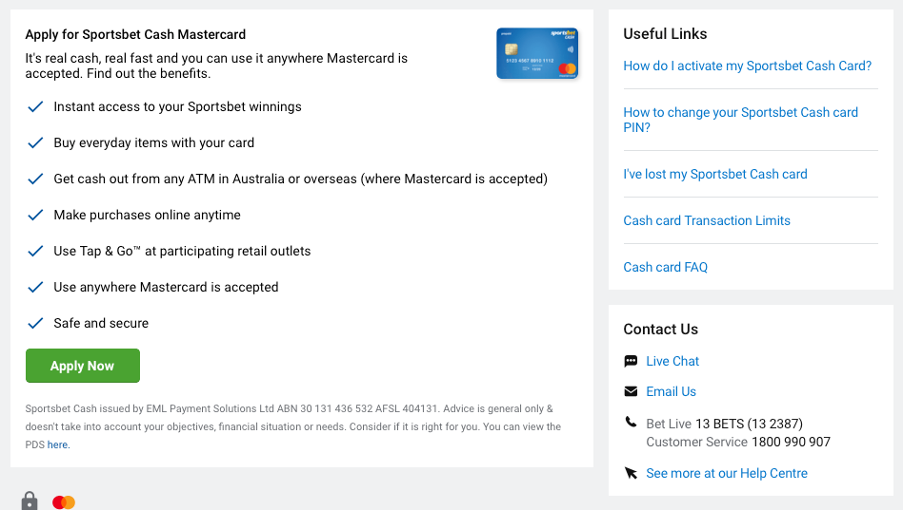 Gamble Responsibly 
Stay in control, gamble responsibly, and think before you bet. 
You must be over 18 to bet in all Australian states and territories. 
 Think about your choices. If you do think you have a gambling problem or are beginning to make bad decisions call gambling help on 1800 858 858 24/7, or you can visit their website gamblinghelponline.org.au 
Sportsbet FAQs  
What is Sportsbet? 
Sportsbet is a 100% Australian-owned online bookmaker and sports betting company. They offer various unique betting markets on most sports and sporting events. They also allow users to bet live-in-play and place Asian Handicaps and Futures wagers. Sportsbet has been going strong for over 20 years, so they must be doing something right! 
Who owns Sportsbet? 
Flutter Entertainment owns Sportsbet.
The main focus of Flutter Entertainment is the Australian market, so it's easier for us Aussies to understand the bookmaker and how it works. 
Simply put, they understand what we want and do what they can to ensure we get the best value out of our betting experience. 
Under the Racing and Betting Act 1993 (NT), Sportsbet is a licensed corporate bookmaker. 
Is Sportsbet legit?  
Sportsbet is 100% a legitimate sports betting site; the rules are very stringent within Australian borders regarding bookmaking and gambling in all areas; Sportsbet is licenced and regulated through Racing NSW.  
So this means that I can gamble legally with Sportsbet? 
Yes. You are safe and legal to gamble on Sportsbet if you do so from Australia or New Zealand.  
If you are located in any other part of the world, it is illegal for you to register an account and bet with Sportsbet. 
Additionally, if you live within Australian or New Zealand borders but are on holiday in another country, you will not be able to use Sportsbet whilst overseas.
Sportsbet has a transparent Australian racing record; and is fully licensed by Racing NSW, which means all information about revenues/profits must be accurate. Otherwise, they could lose their licence. 
Are there any downsides? Withdrawal times are slower than most Australian bookmakers, although if you're happy betting only on sports betting and horse racing markets like fixed-odds bets, this won't matter too much. 
Is Sportsbet legal in Australia? 
Yes, Sportsbet is legal in Australia and has accepted Australian financial regulations; this implies that they are following the law, agreeing to Australian financial policies, and not participating in unlawful activities. 
Sportsbet is a registered Australian bookmaker, proudly showing its registration with the Australian government.
This establishes Sportsbet's full compliance with local regulations. 
Does Sportsbet offer Same Game Multis?  
Yes, Sportsbet does offer the same game multis. You can find this by simply clicking on the sports you wish to place a bet on and then clicking on the same game multi-button at the top of the screen.
Additionally, they also offer a range of promotions that are updated regularly. Hence, it pays to check their website from time to time to ensure you get the best Sportsbet betting opportunities when putting your money on the line.