All Star Mile (Update)
Toward the end of last year, we wrote an article about the new $5 million race coming up at Flemington in a few weeks time. It's The All Star Mile and it's scheduled to run on Saturday 16th March.
Of course we've seen the war of words between Racing Victoria (RV) and Racing New South Wales (RNSW), both sides trying to take the high ground in terms of the Autumn Carnival scheduling, but as events have unfolded, and schedules for top racehorses become a lot clearer, it seems RV will have to take a whack to the chin as things haven't quite panned out the way they would have wanted.
Firstly, the two genuine stars of Australia: Winx and The Autumn Sun will not be coming to Melbourne.
Their focus will be on the Sydney Championship Carnival instead. Winx's pending retirement will be a hometown occasion.
Count on a big crowd turning up for that!
The All Star Mile Field (Currently)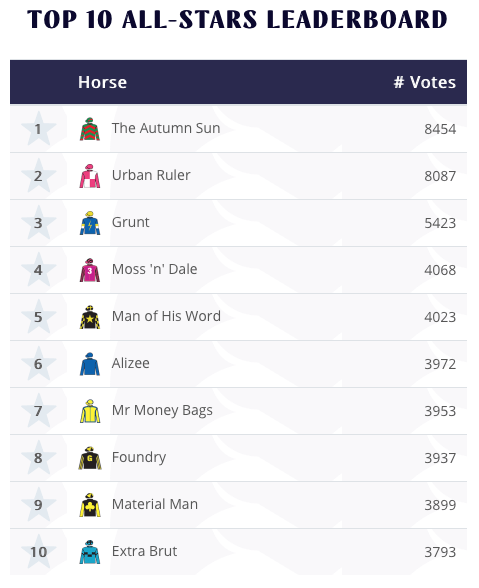 Secondly, the 16 horse field with 10 horses selected by public vote has not been a success.
The idea for public voting, loosely styled on the Japanese race the Arima Kinen (raced at the end of December in Japan), has seen horses with inferior and lower benchmarks gain high polling numbers, which looks suspiciously like owner oriented block voting to me.
The final field has the making of an assembled motley crew. Hardly a lineup worthy of a $5 million race. Time will tell.
Personally I think the eligibility rules should be changed to prevent mid-week hackers at BM85 or lesser grade from being able to enter.
Unfortunately it's probably too late to change that ruling now.
WIERd
Thirdly, there is the fallout from the Darren Weir Saga, which has left a long shadow and a sharp bitter after taste, and has proven to be a public relations disaster for RV.
I'll just mention briefly. The Integrity Unit of RV can shout all they like from the hilltops, but the fact is, it was a premeditated raid and they knew exactly where to look to find those jiggers.
It's clear that Weir was snitched on by someone. Obviously RV won't reveal who, but their identity will be known at some point in the future. Ballarat is a tight community, and mouths will talk.
As it turns out, some of Weir's ex horses will more than likely be contenders in the All Star Mile, possibly Extra Brut, Amphitrite, Land of Plenty, Ringerdingding, Fifty Stars, maybe even Brave Smash?
But there's a lot of racing between now and then with owners and trainers all jockeying their charges for position.
In between public voting for ten slots and six decided by RV who knows what we'll get.
All Star Mile Betting
The early betting with Neds has Alizee at the top of the pops at $4.50 with Land of Plenty sitting just adrift at $7.00.
The early betting with Beteasy also has Alizee and Land of Plenty at similar odds, with Grunt and Mystic Journey close in behind at $9.00.
It's still early days and the final field should make for some interesting commentary when it is revealed.
All Star Mile Winner 2019
The Tasmanian 3yo filly Mystic Journey!