"Texbet has moved to Betr, if you are looking for an excellent betting site take a look at our Betr Review"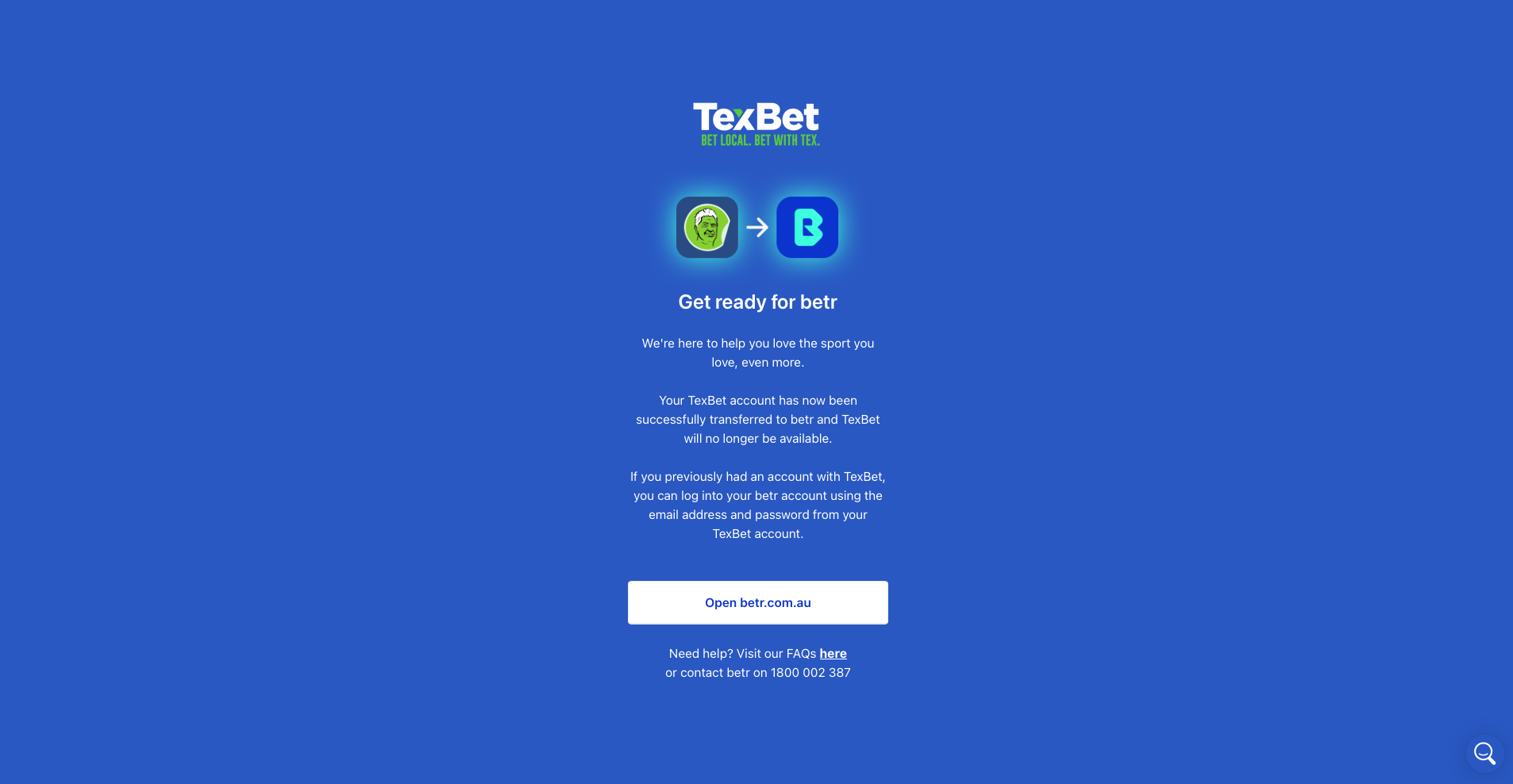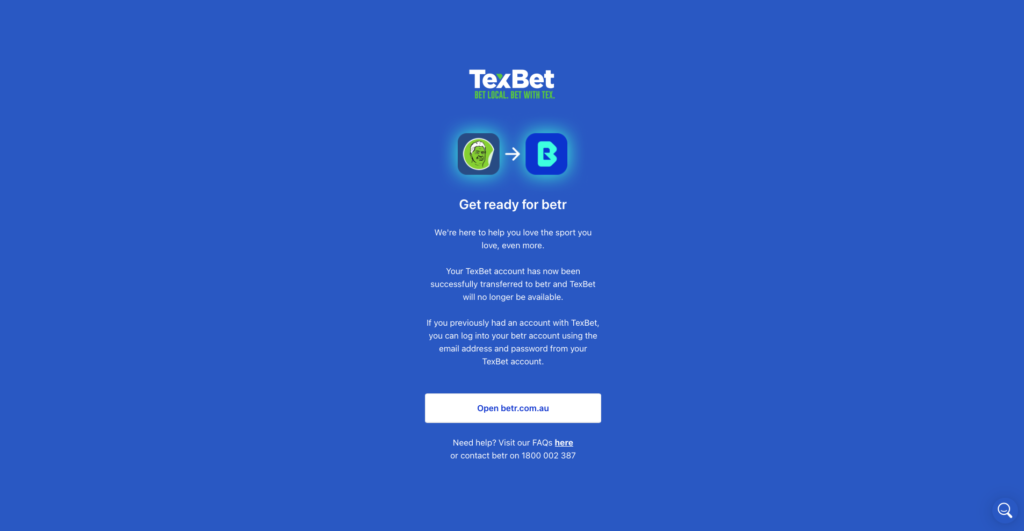 TexBet is one of the newest betting sites to make its way into the online betting fold, gathering attention with its vibrant and eye-catching website and incredible ease of use!
TexBet is a 100% Australian-owned betting site based in New South Wales, Australia.
We have kept our eye on TextBet since they swung open their doors; In this TexBet Review, we are going to take a peek and see what all the commotion is about.
TexBet Review
Do you require a TexBet Promo Code?
According to the rumours, you're looking for one. But, don't worry; I've been there a few times myself!
Because the regulations have been updated, referral codes are no longer functional. However, there is good news: we've got some fantastic rewards hidden away in this article.😉
Let's have a look at TexBet before we start.
Quick Pro's and Cons
What we like about TexBet
Australian Owned
Live Streaming
It's ideal for both novice and experienced users
Excellent customer care is provided
Depositing is easy
Same game multis
Mobile App
What we don't like about TexBet
No Live Betting
Minimal betting markets
The Sign-Up Process: 
I started by googling "TexBet" and was met with many advertisements at the top before finding any actual web pages; After browsing for a while, TexBet was at the top of the links that weren't advertisements, which is always good to see.
Here's the link to save you the trouble 😁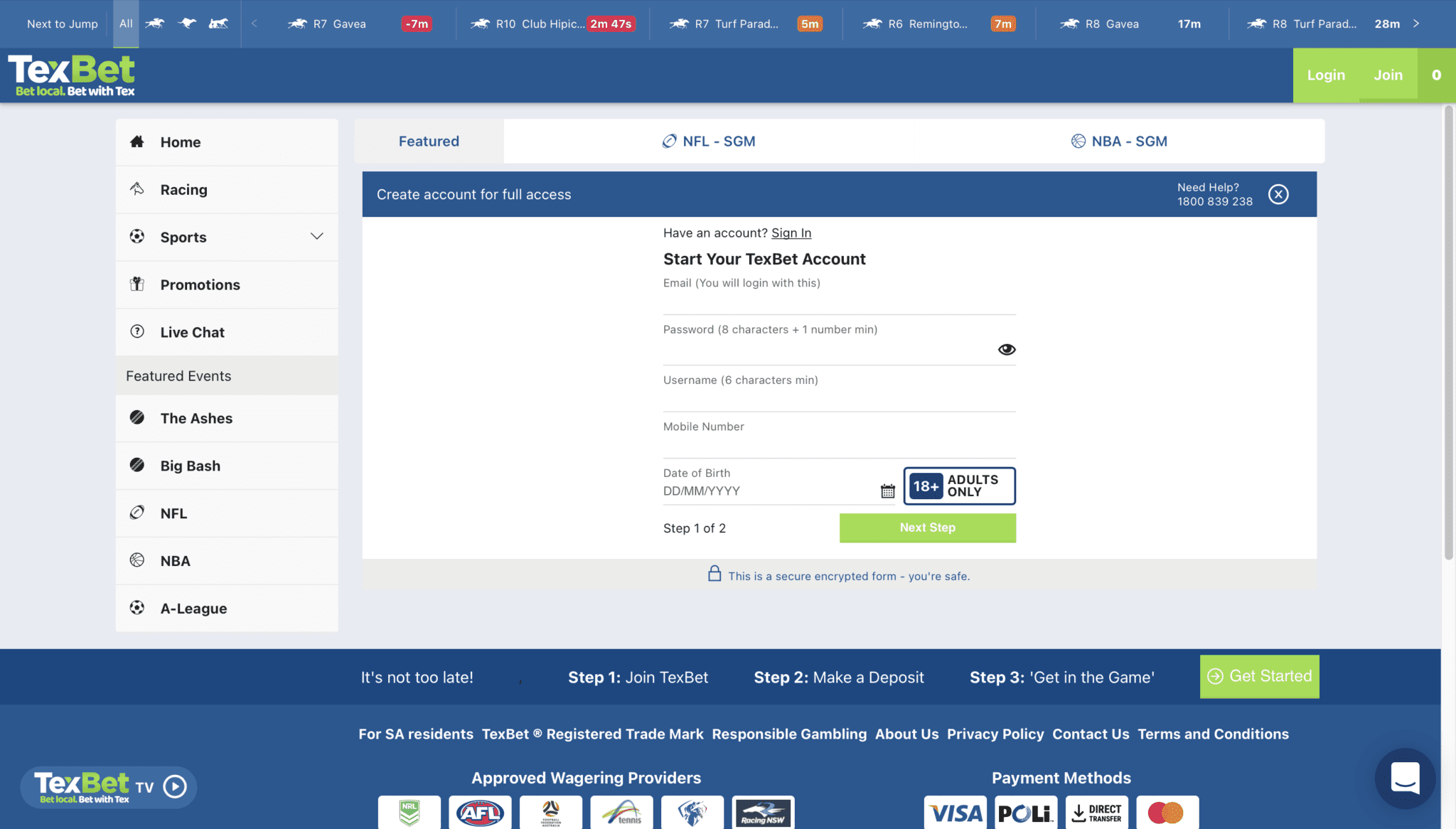 Signing up to TexBet was simple enough, nothing out of the ordinary, just the standard details such as name, address, phone number etc. It took me less than 2 minutes to get up and running.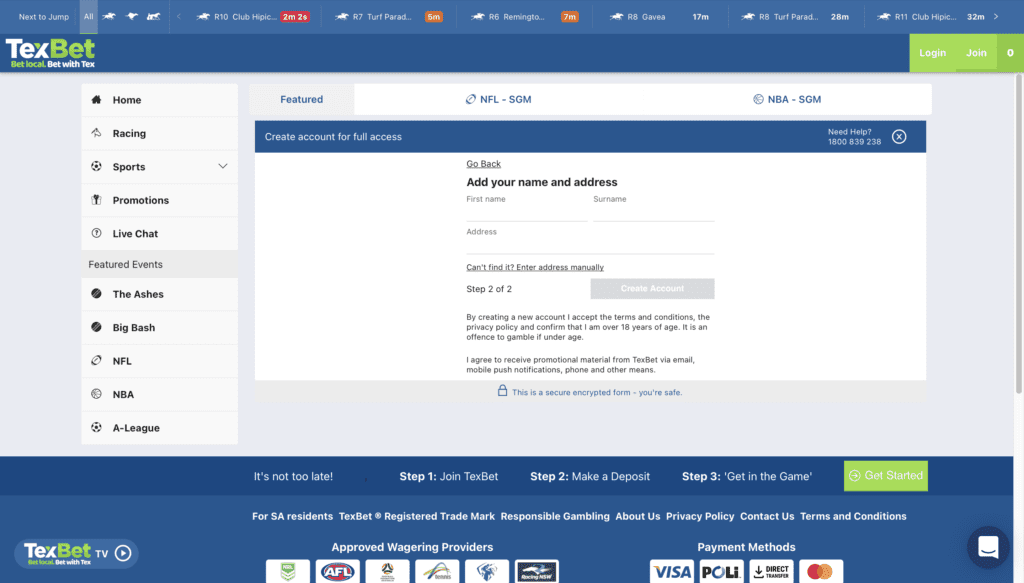 The last thing I needed to do was set up a deposit limit, which I thought was pretty cool, considering it made me think about how much I would be willing to part with.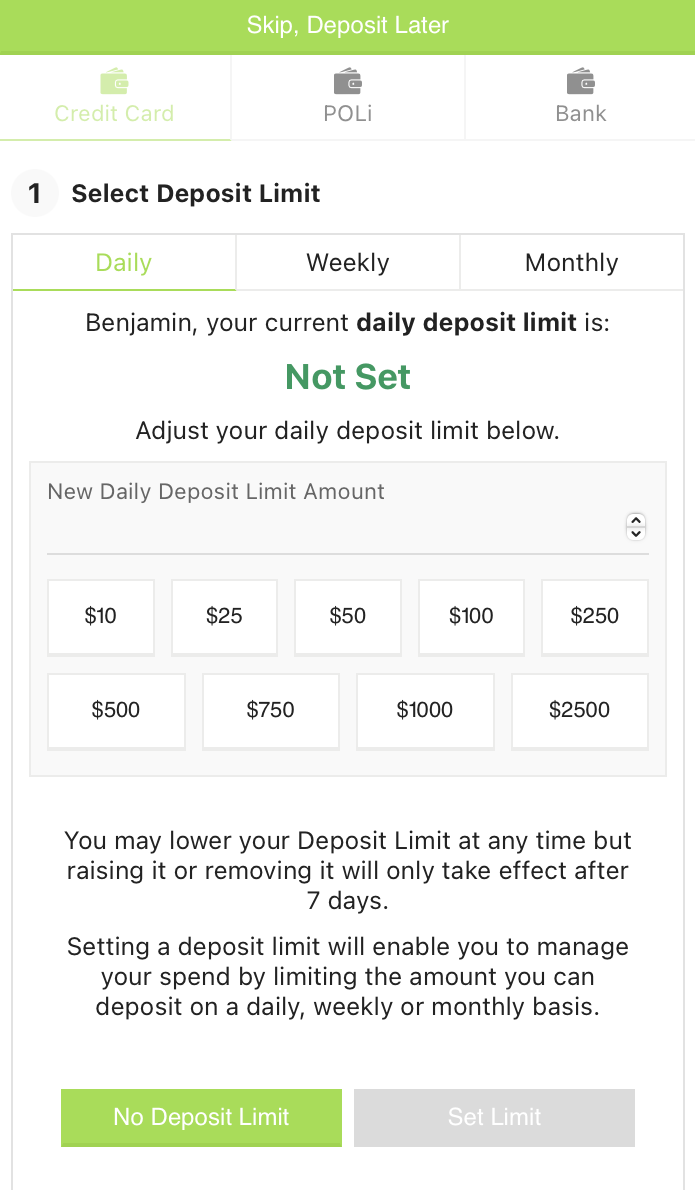 Now before I put some cash in the kitty, there is an option to verify my ID, so I may as well knock that off while I'm in the process!
Verifying my ID looks simple enough; I'm choosing to add my license as that is what's first in my cards.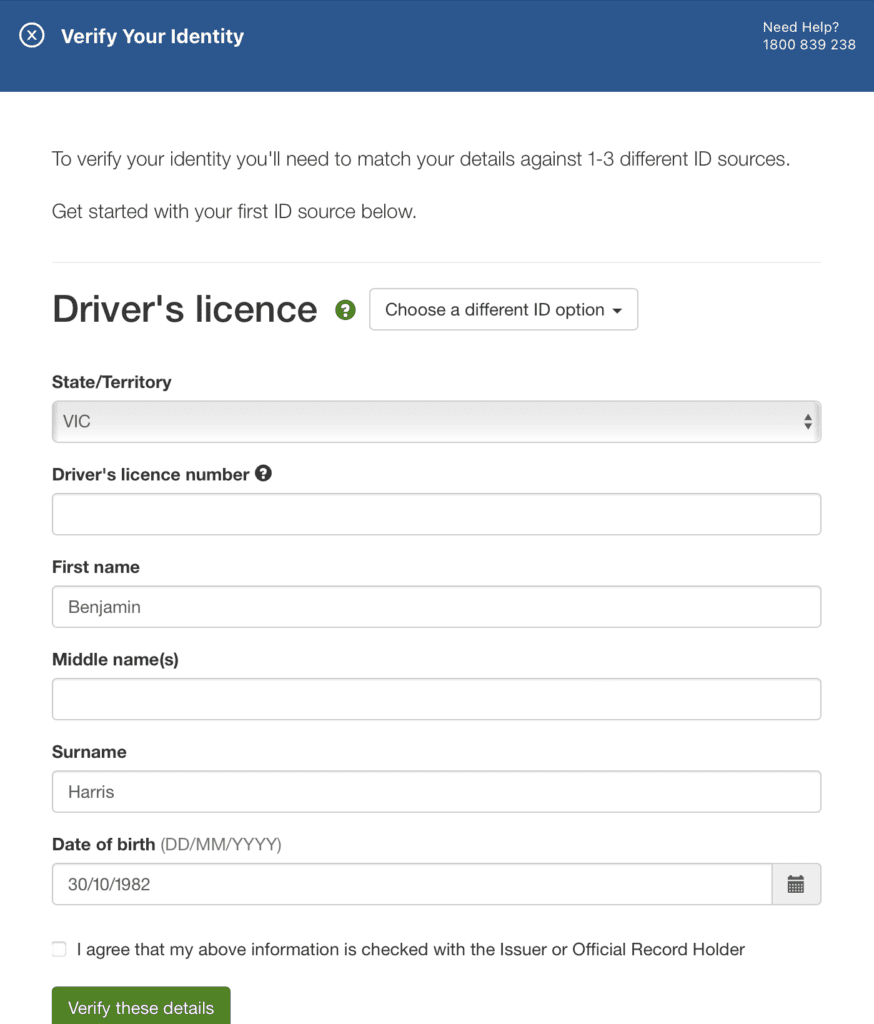 Surprisingly it has verified me incredibly quickly.
It turns out from clicking the sign-up button through to manual verification; it has taken me less than 3 minutes in total.
Incredibly quick!
Now we're sorted, let's put some money in the account and get started.
Making A Deposit
There's a convenient little deposit button in the top menu, so I pressed it and a deposit screen popped up.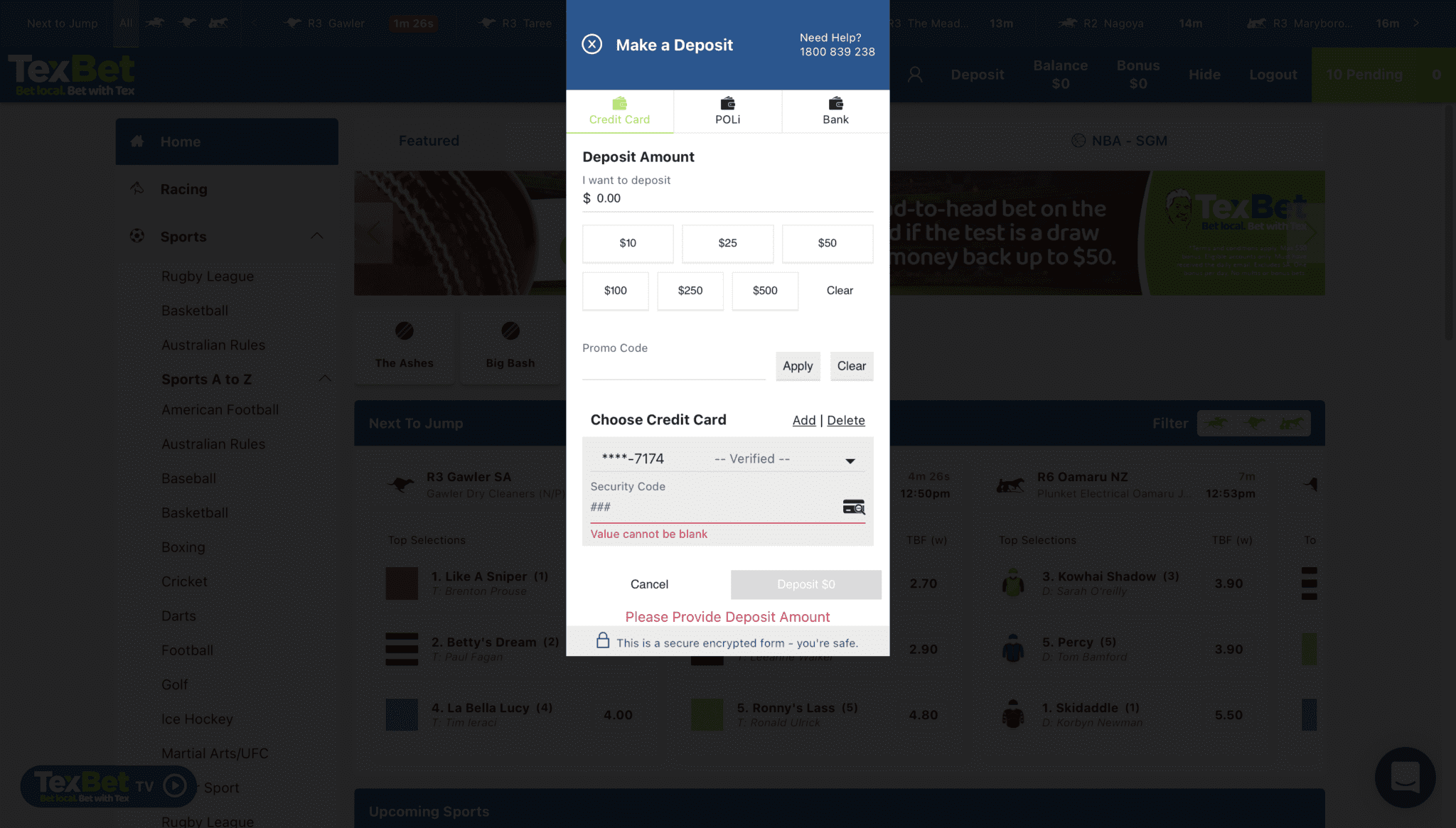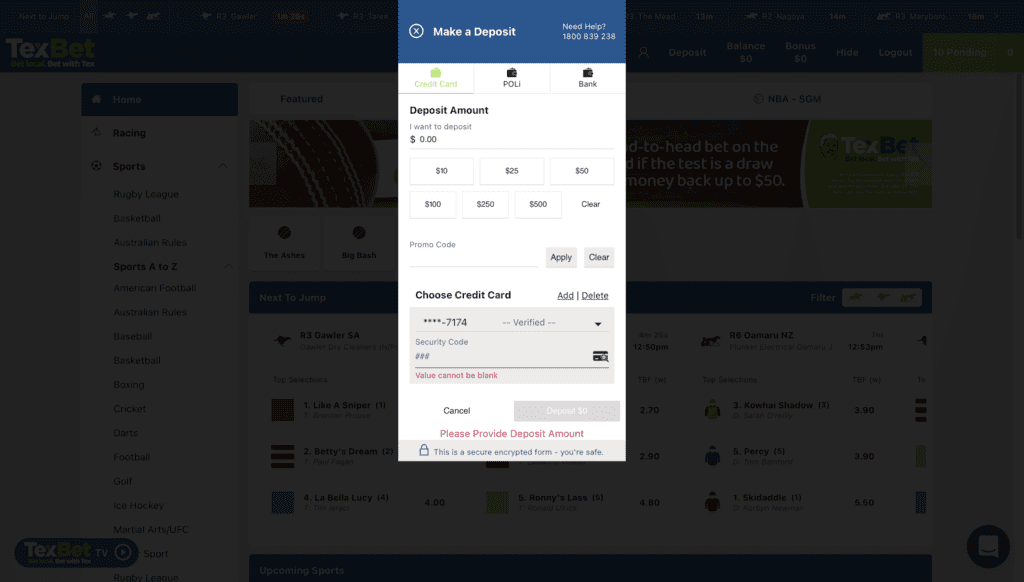 I needed to follow the instructions to add my card to my account to finish, and I was done!
It turns out the minimum deposit is $10, so that's all I'll be popping in for today, not looking for huge wins, just looking to write an honest review.
After that, I was prompted to use a code from my bank to verify it was my account; this was easily done by going to my phone's banking application and following the instructions.
The transaction was blindingly quick, taking less than a second after confirming my card and processing the funds.
I saw my account balance change before I had a chance to close the deposit screen.
Ah, the rush of an instant transaction!
Now that the funds have been sorted let's jump into the site and see what it looks like. 
How Is The Layout?
The layout is straightforward but looks fantastic.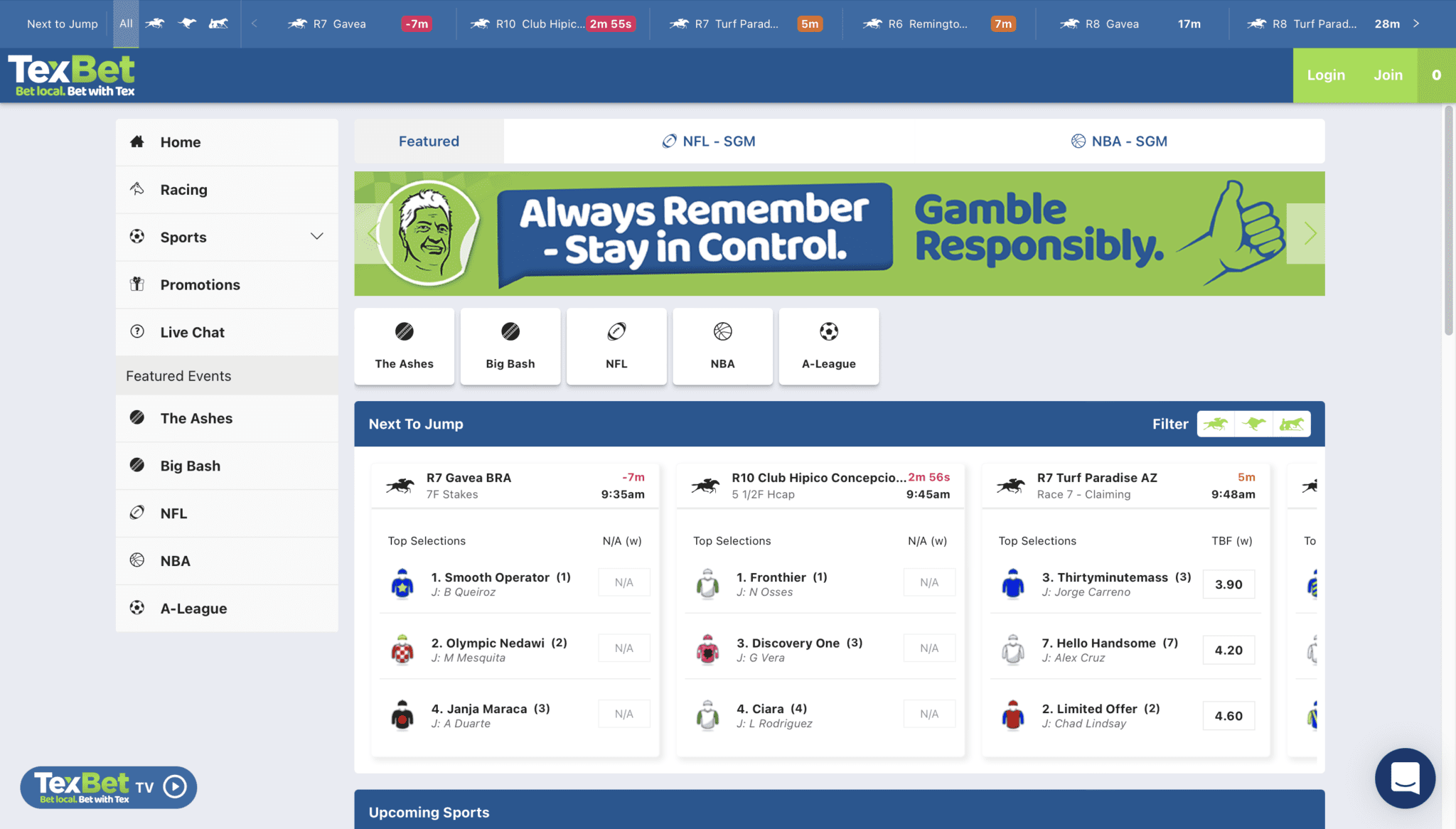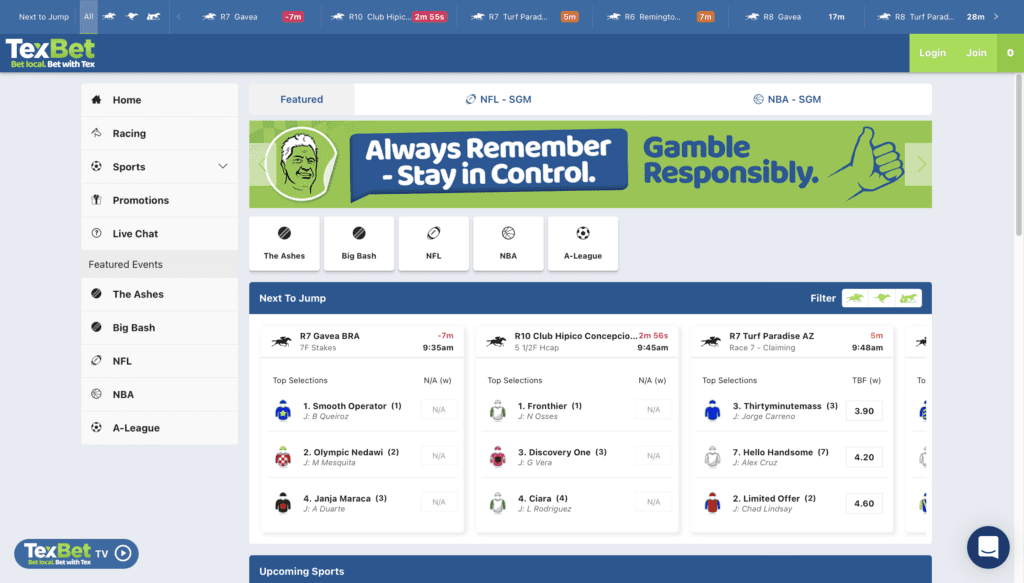 Some others that are simple don't look that great, but the TexBet one almost feels like an app; this isn't a bad thing at all, as when I jumped into the app it was incredibly simple to find what I was looking for.
The layout is mainly a grey background with white boxes, the headers are blue, and certain boxes and buttons are in the 'TexBet Green'.
Working our way down the centre of the screen, we can see 'Next to Jump', which has a neat little filter to the top right-hand side.


Underneath the Next to Jump section is an 'Upcoming Sports' section showing the popular sports playing soon.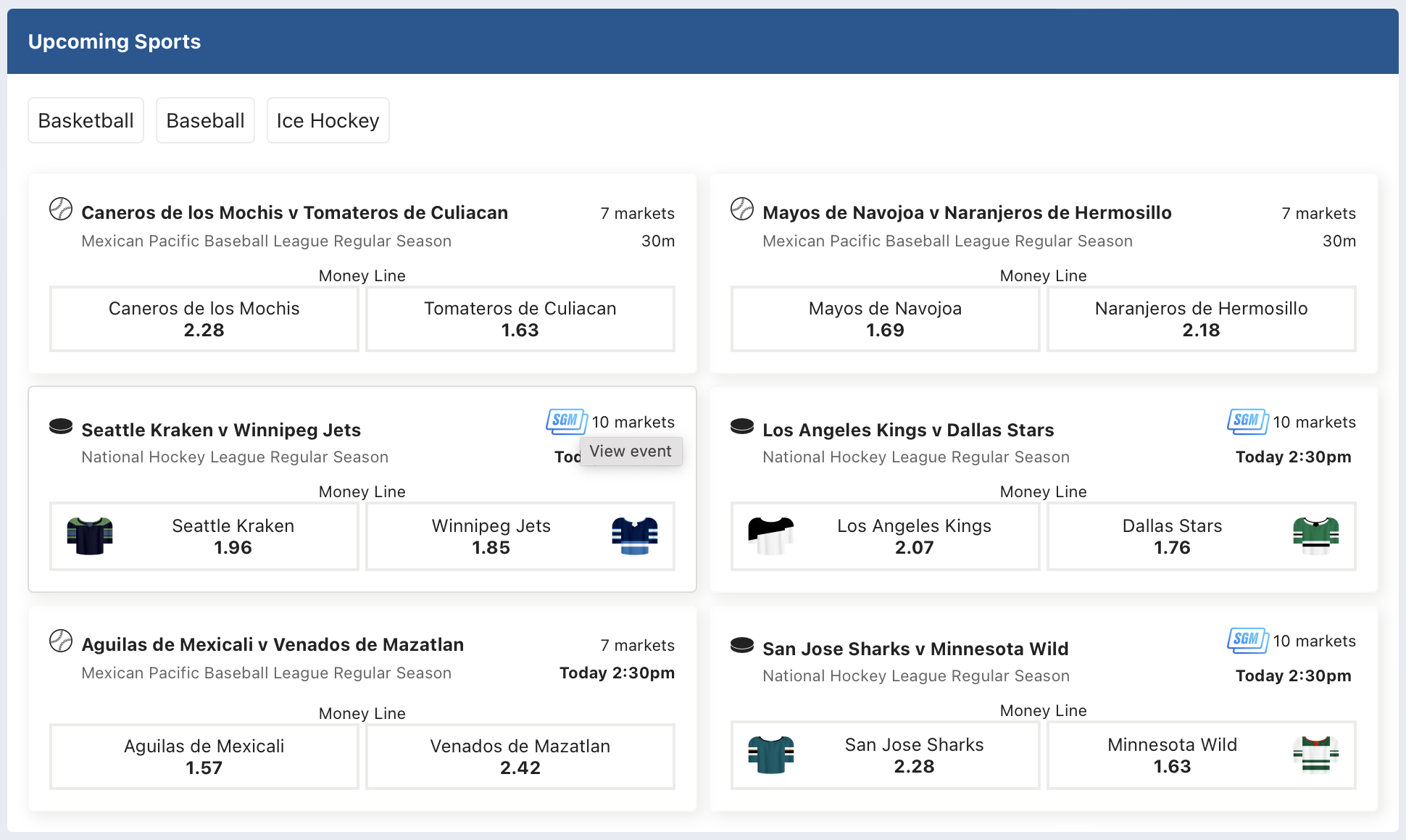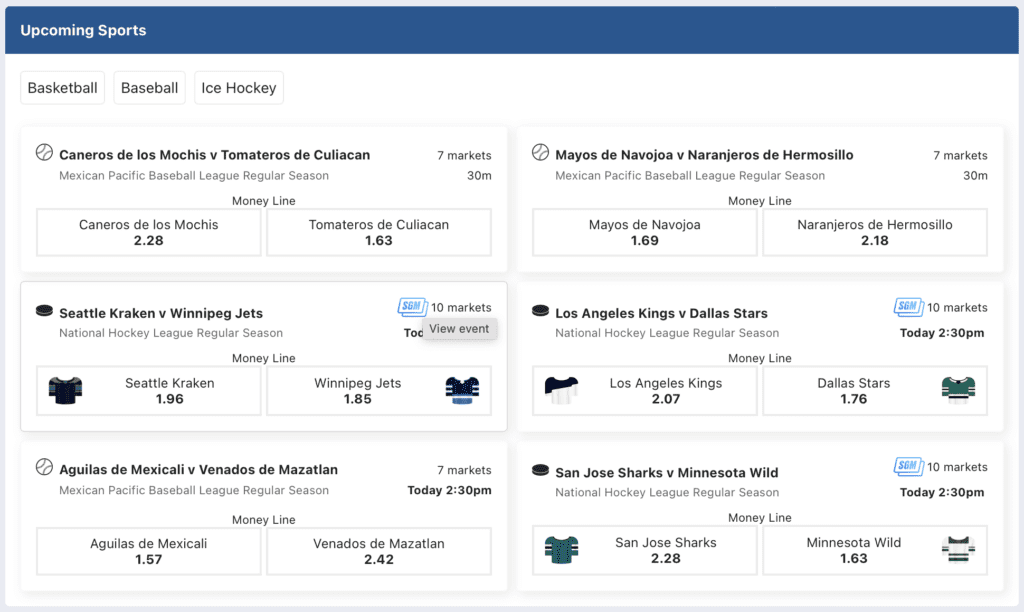 Following on from that and last but not least is a 'Trending Bets' section that shows the most popular racing bets coming up.


To the right-hand side of the screen is a space used for your betslip when placing bets.
To the left-hand side of the screen is a menu showing Racing, Sports, Promotions, My Account, Live Chat, and lastly, Featured Events.

I won't be using the options in the centre of the screen today as that would be too easy. So instead, I will be finding a horse the same way most punters would.
Right, enough dribble, let's go find a pony!
The Racing Menu
First impressions are that the Betfair racing page is incredibly familiar and not confusing.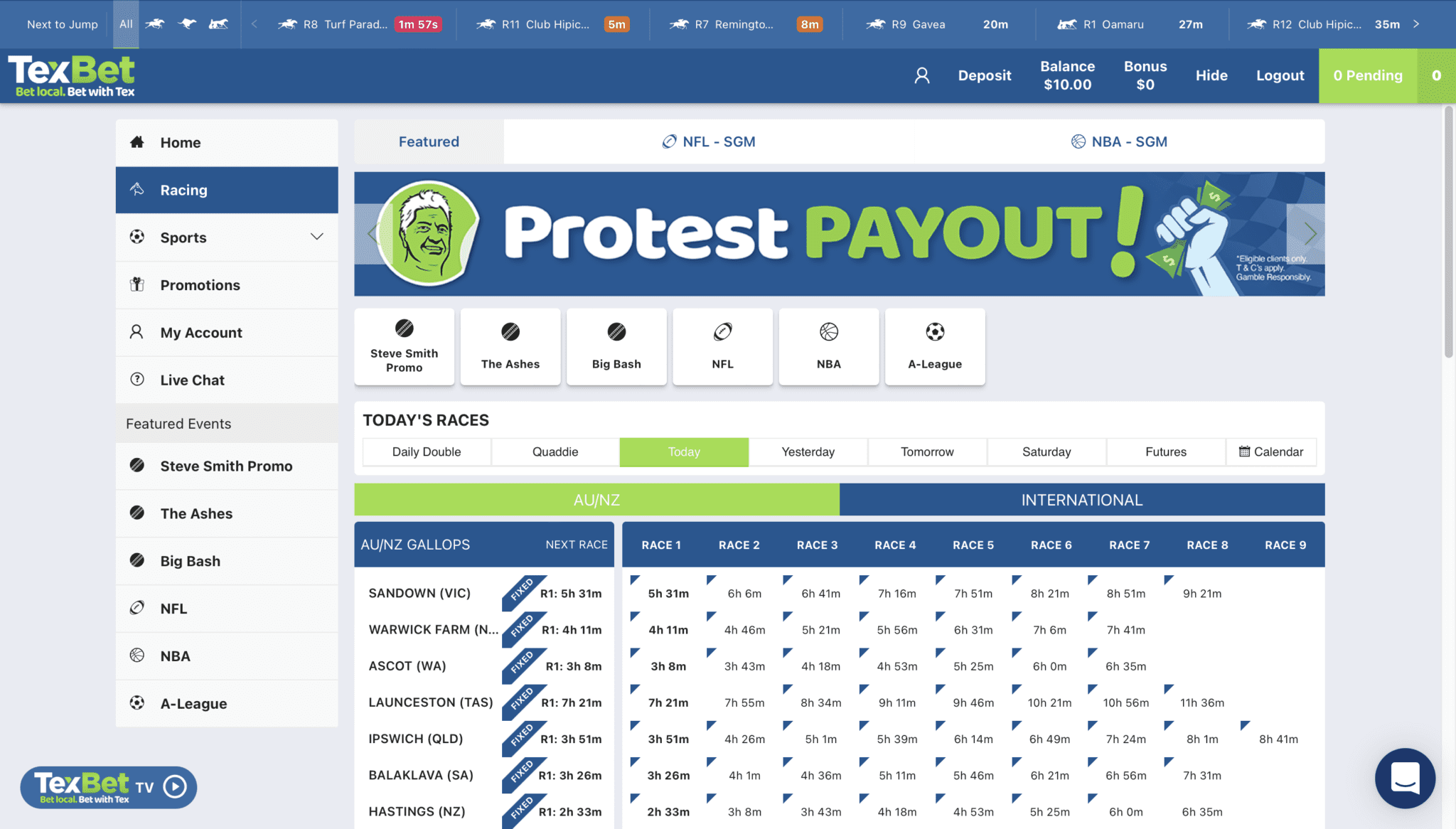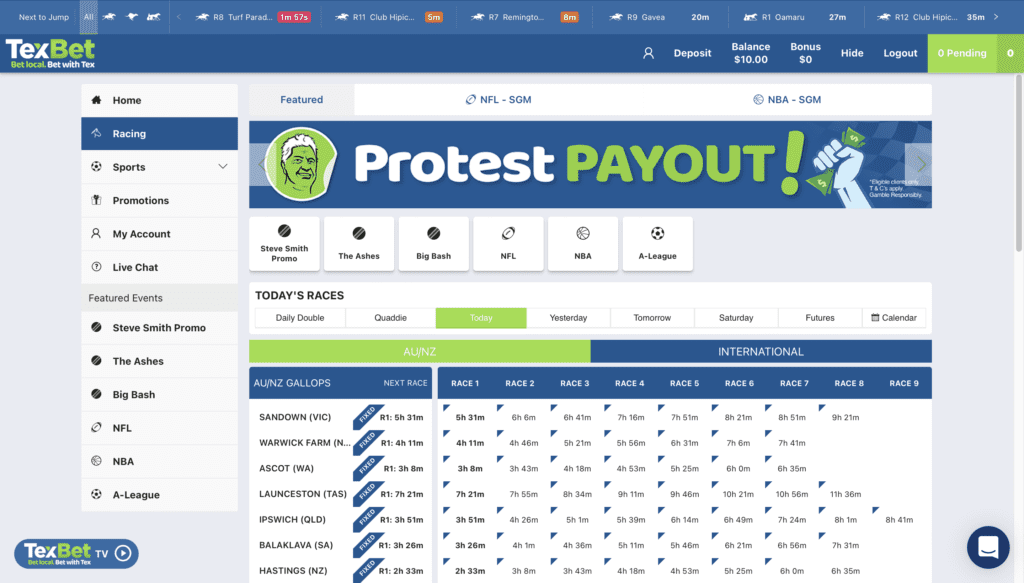 I do like that they have a little dollar sign in the corner of the races that you can use the daily promotions on.
All Gallops are at the top of the page, followed by dish lickers, then last but not least are the harness monkeys.
Just above the horses are two tabs, one for Australia and New Zealand, the other for International races.
Time to throw some money at the race bandits, hey!
Placing a bet
The first race has been found! (truth be told, I just clicked a random race)
Above the horses, you can see three tabs to the left-hand side for 'Form', 'Full Form', and 'Speed Map'.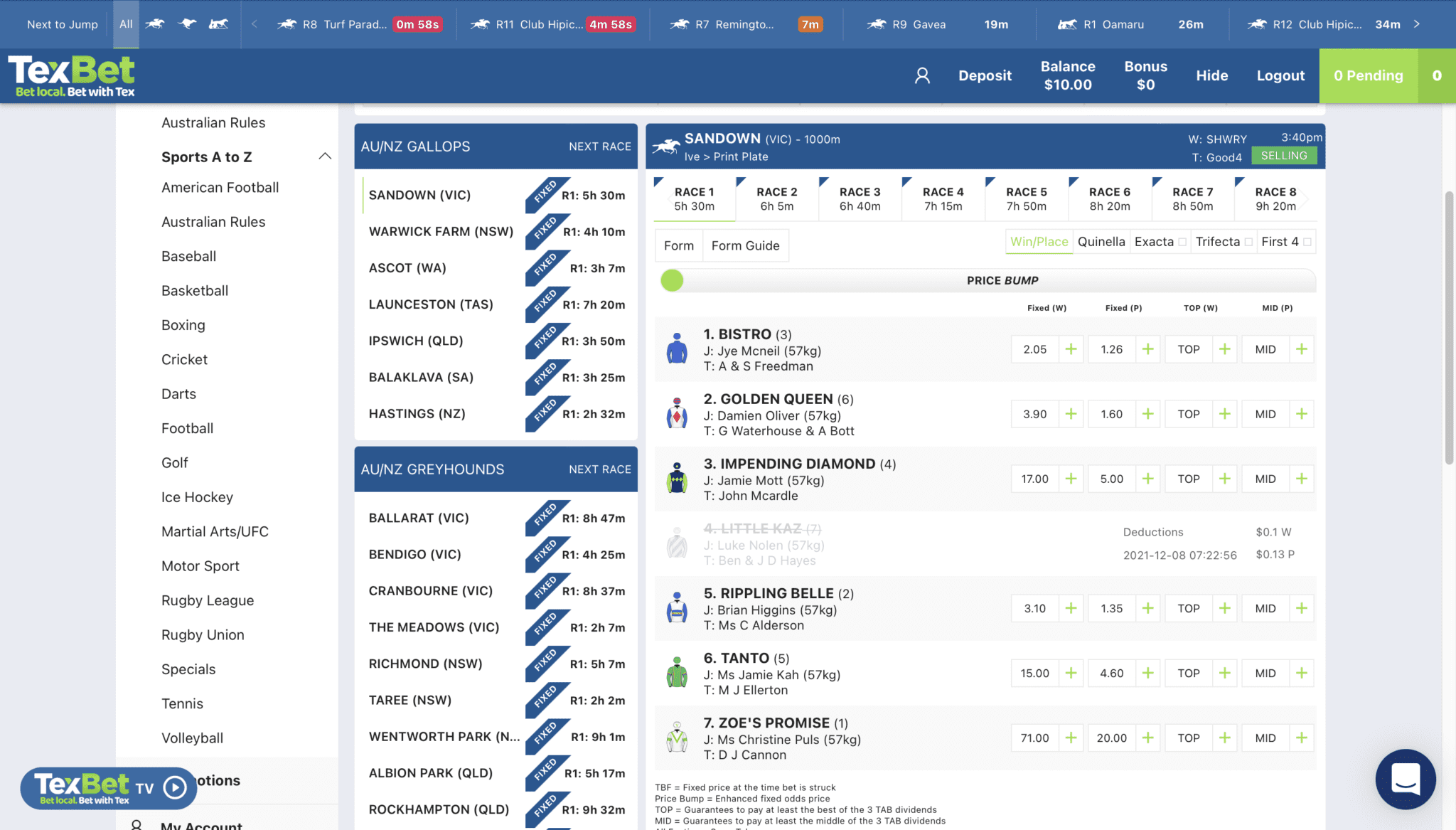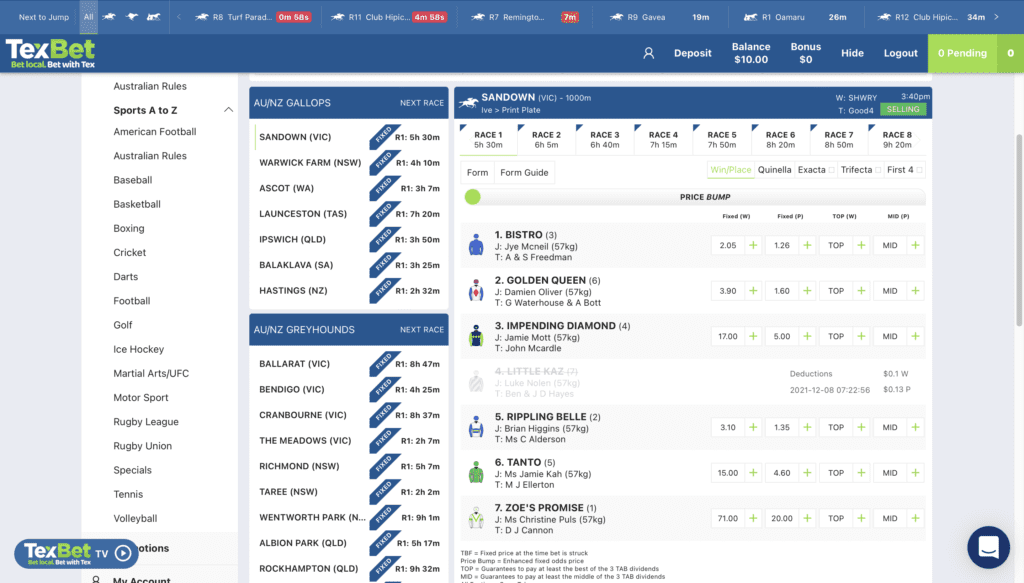 To the right-hand side are all the betting market options available for the race; typically, these are Win/Place, Quinella, Exacta, Trifecta, and First 4.
Working through both form guides and the speed map, it was clear there was enough information to indicate how races would typically pan out.
I've chosen my first horse!
Bistro seems to be a good choice as any of the others.
Although…
usually, a minimum bet for the races is $1; it turns out the minimum bet for Texbet is only 50 cents!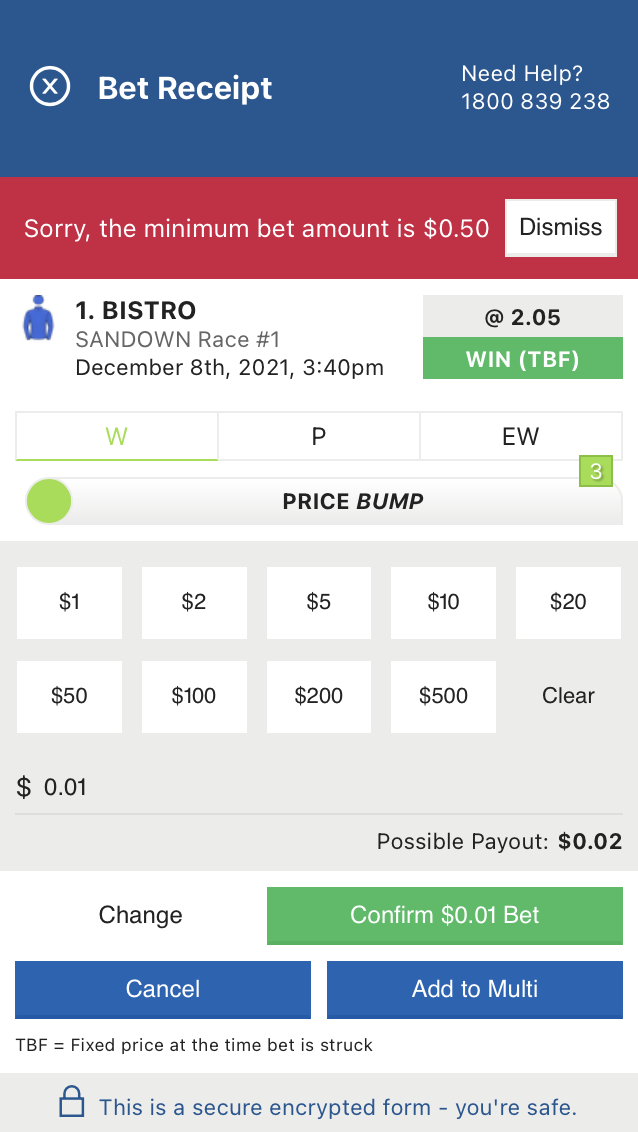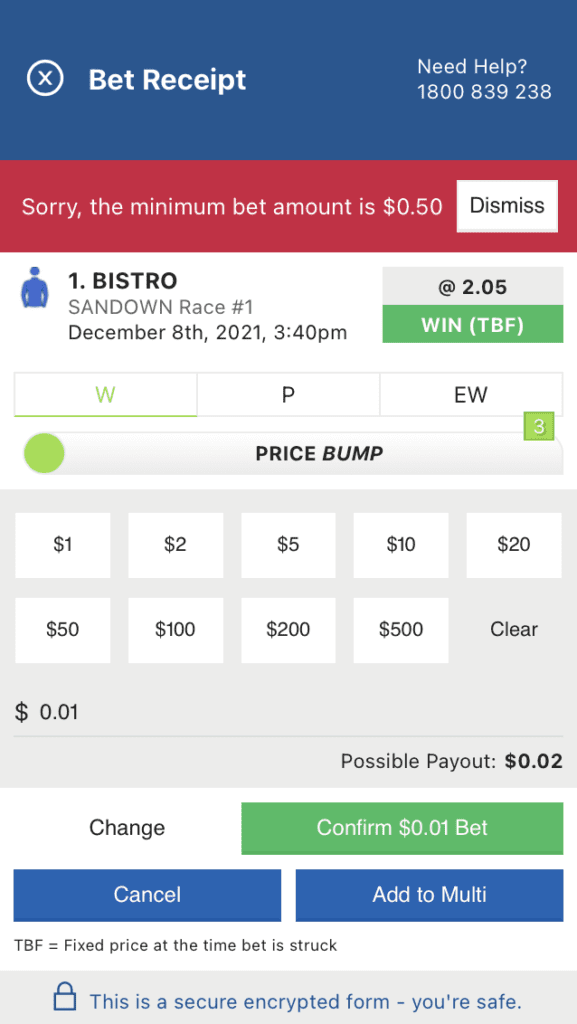 Good for friends that only want to have a random bet to be a "part of the group" so to speak, rather than your daily punter.
I'm going to throw a dollar on a bunch of different races, but right now, it's going to be $1 on the nose for Bistro.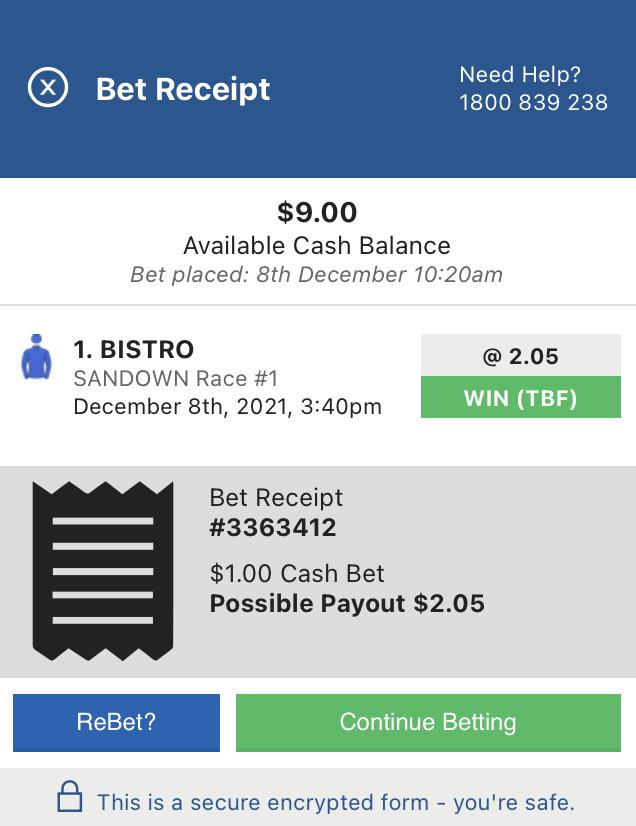 So how did I go?
You wouldn't believe it! With no statistical data on most of the horses, this was anyone's game; that said… I won!!

Now that I've determined my races for the day let's look at the rest of the left-hand menu.
Next up is sports.
What Sports Are On Offer? 
I like the sports selections they have available; all the standard options are there just like any betting site, but they also have some cool stuff to bet on, like politics.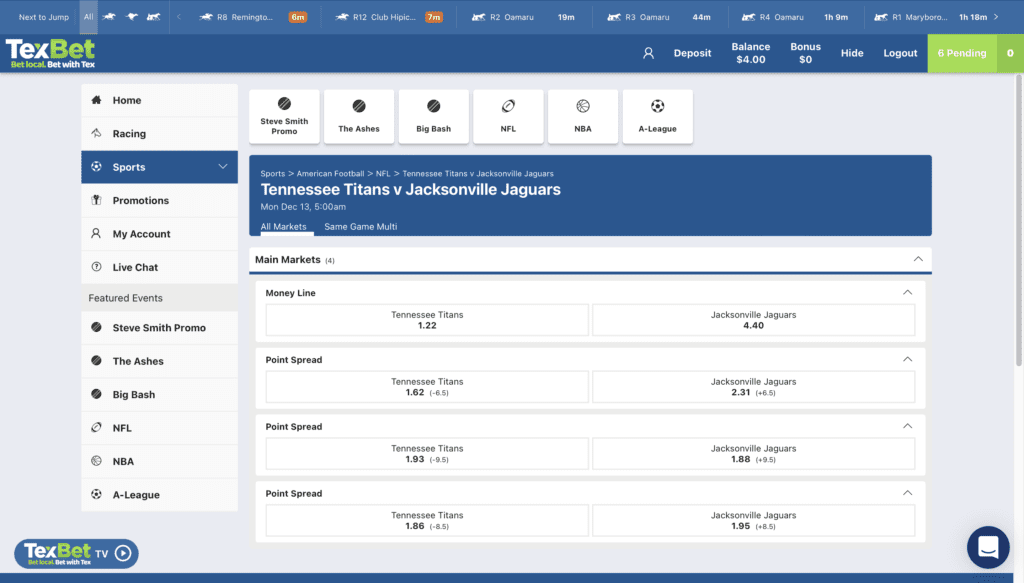 Now I have no intention of ever betting on politics, but it's good to see they have options where other betting sites don't.
TexBet TV
I just noticed TexBet TV in the corner, so I thought I would write about this now before I forget.
I've got to say, I was not expecting to find live streaming on the TexBet website, but it is most definitely available.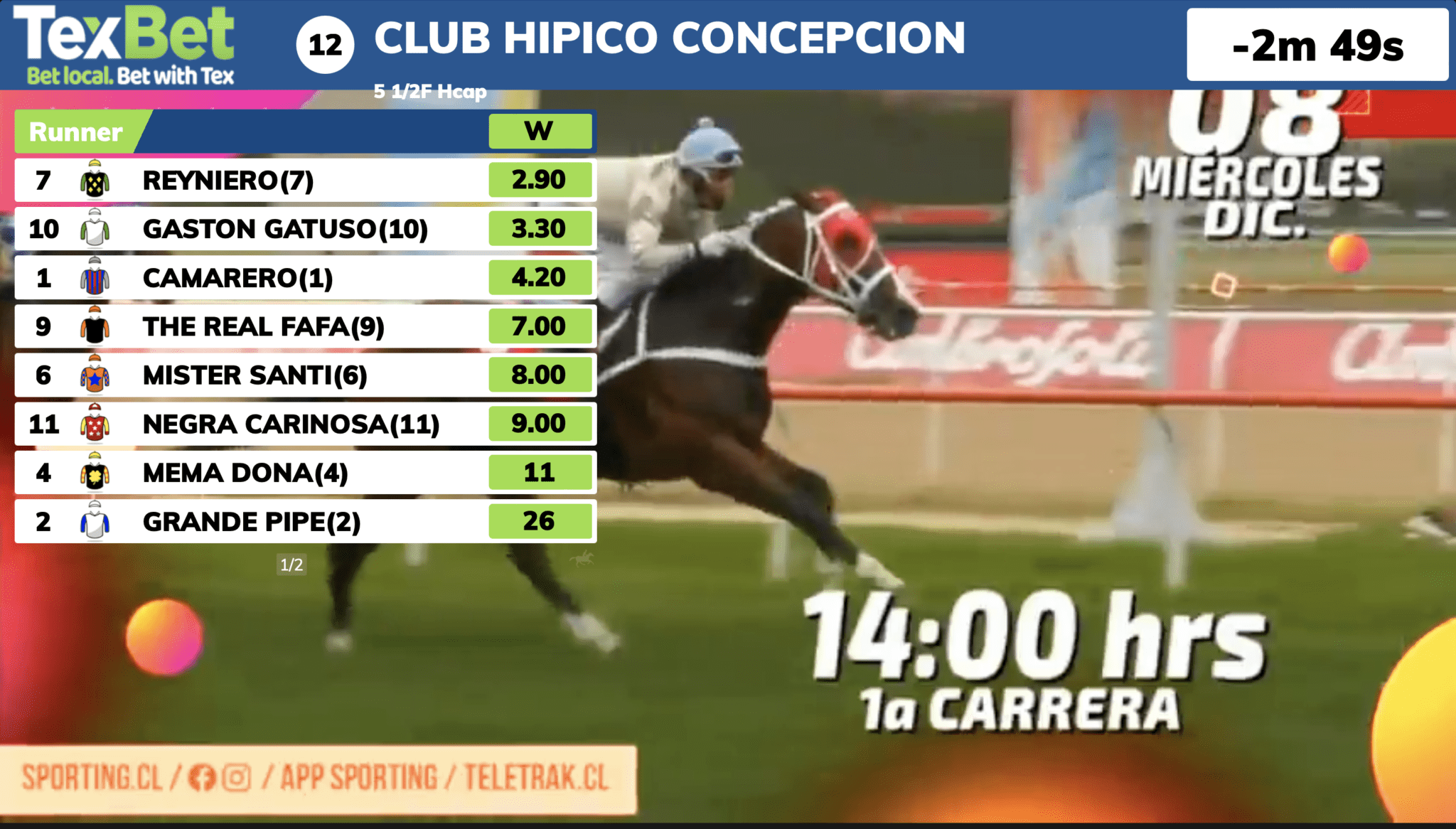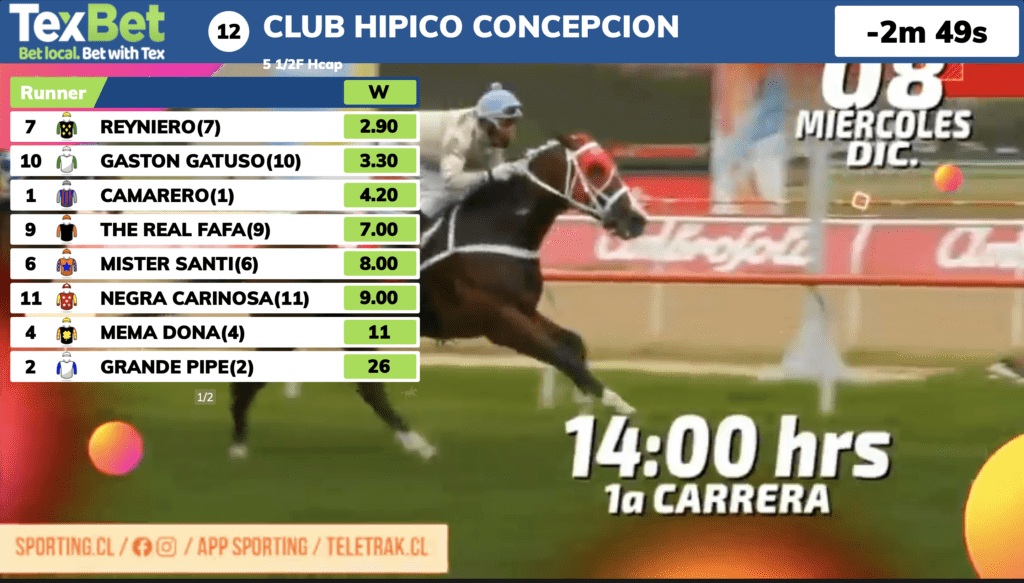 What has surprised me even more is that it is also available on the app!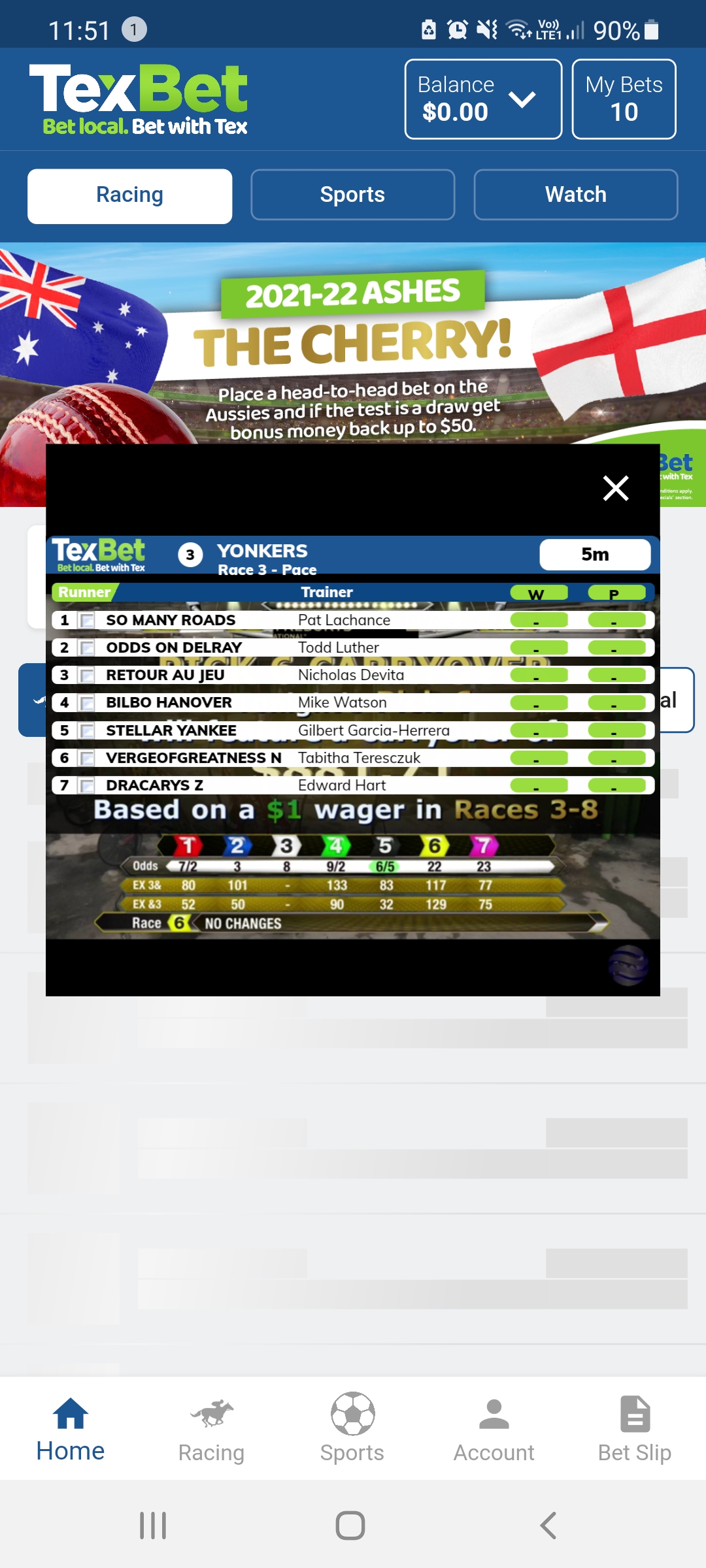 This is without a doubt one of the best things TexBet has going for them!
What I find the best about their live streaming is how clear the stream is, some other betting sites have live streaming, but I have only seen it this clear on the major betting sites.
Right, off to promotions.
TexBet Promotions 
As a smaller betting site and somewhat unknown at the moment,
TexBet doesn't really have the promotions available that some more recognized betting sites have.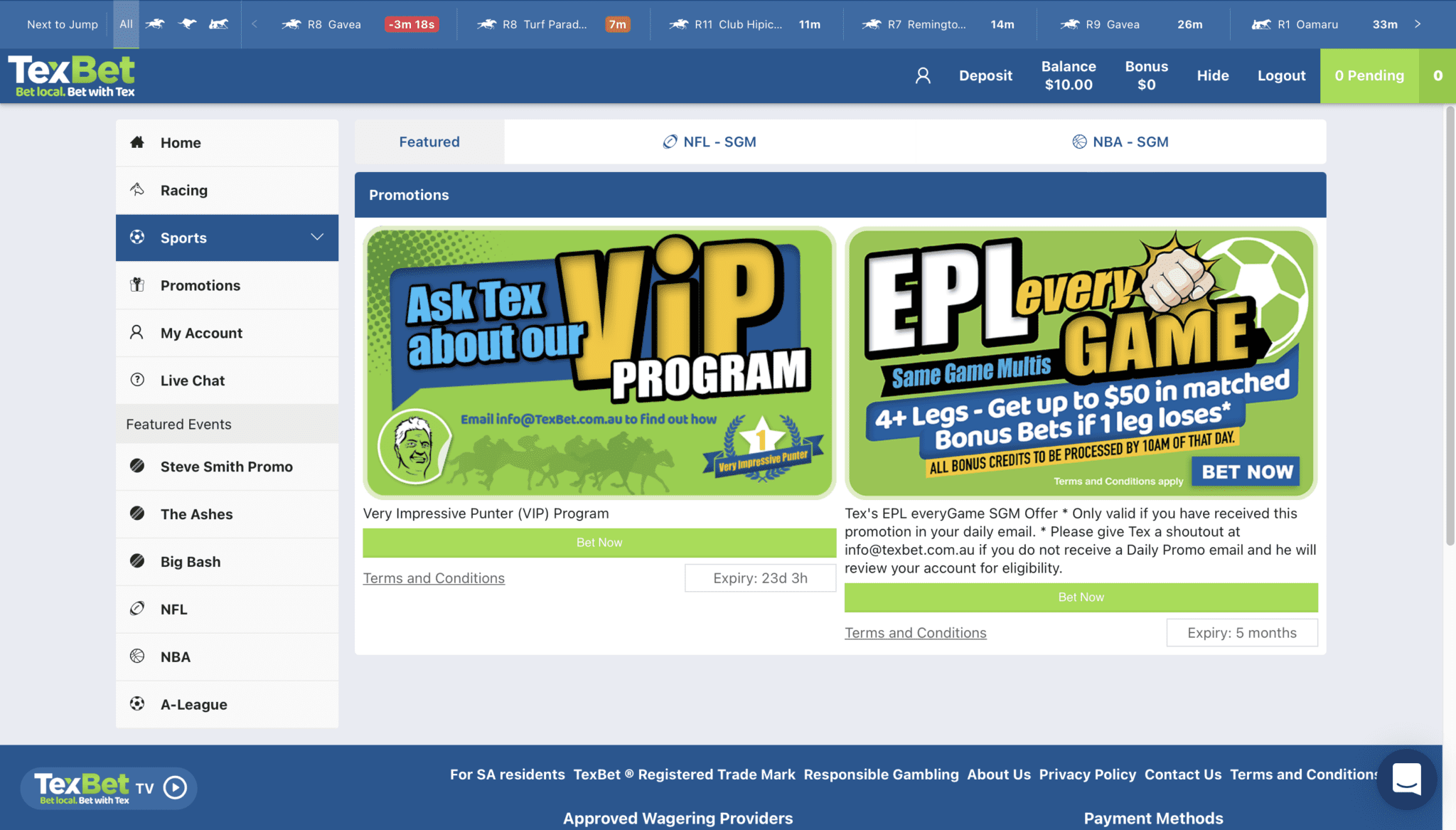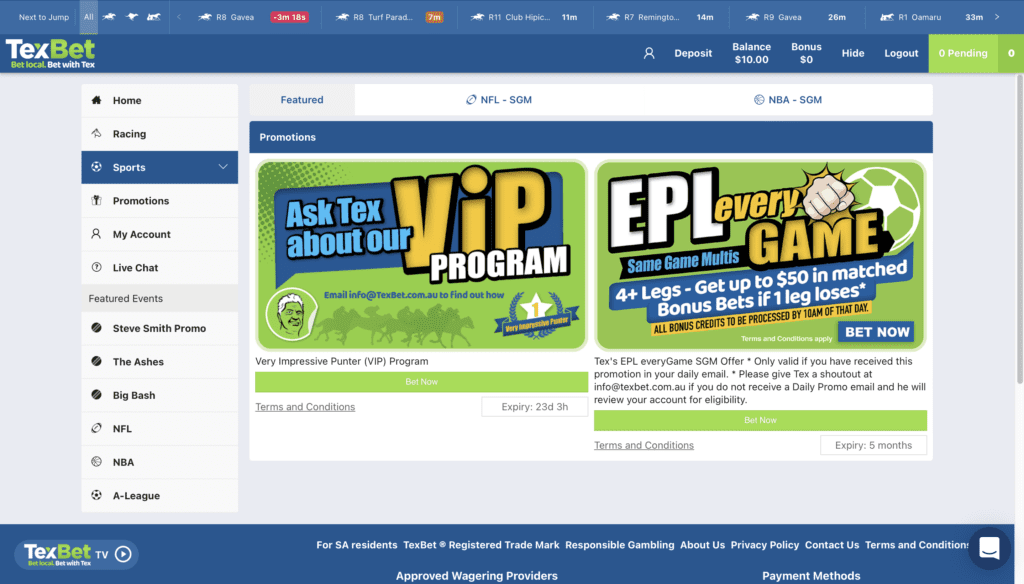 Though I really like the promotions that they do have available.
My Account
The TexBet 'My Account' section is exactly what you think it is.
It contains all your personal information, plus areas to set up deposits and withdrawals.
But, again, nothing really to see here, so we'll move on.
TexBet Live Chat
When I clicked on the live chat button, a live chat box appeared to the right-hand side where the betslip area is.
I sent them a distinct message to prove they are not just a bot.
I got a funny response that proved without a doubt that they are, in fact, 100% authentic on the other end of the live chat function.
So what did we see?
Upon first jumping into the TexBet site, the first thing that took us by surprise was the high level of professionalism. Not only is the layout bright and vibrant, but it is also set out in such an easy to follow format that it is so easy to what you need from any section of the site.
It is simple to use even for a novice, and placing bets was very quick. In addition, the registration procedure was easy, and verification was more straightforward than most betting sites.
True racing advocates are looking for two things, a form guide and live streaming, so it was very pleasing to see that they offer both of these.
What do we like about TexBet? 
We are thrilled to see that TexBet is entirely Australian-owned and operated, which should give you peace of mind as a customer.
Same Game Multi's are also an option at TexBet.
It is effortless to find anything on the TexBet website; you can tell they have thought through where everything should fit into the site as it feels almost perfect.
What's missing at TexBet? 
Given how much is available at TexBet, it's almost difficult to criticize them. The biggest drawback appears to be a lack of a live betting option; however, they seem to provide pretty much everything else.
TexBet Highlights

The Texbet site is simple to navigate, but it includes various elements that may be used by all levels of betting to maximize your enjoyment.
Live Streaming- TexBet TV allows you to live stream racing from any device you are logged into with TexBet.
Same Game Multi's – TexBet's Same Game Multi's are set up differently from the standard betting site in a very user-friendly format.
TexBet Promotions 

TexBet offers a variety of promotions upon signing up; these can typically be found on their promotions page. However, some are unique and exclusive to new customers upon signing up.
TexBet Android App 

The mobile's colour theme is the same as the website, and the layout is similar enough that it is not too difficult to figure out the differences between the two.
The TexBet app was designed with upcoming racing events in mind, with the home screen automatically opening with 'Next to jump' front and centre; this is quickly followed by 'Trending Bets'. The sports section is somewhat similar with 'Upcoming Sports' shown on the page with handy little icons for the current popular sports.
It took me a moment to find the promos section, which was found in the account section at the bottom of the page.
The app looks and feels exactly as a sports betting app should, and I found no issues regarding freezing, lagging, or draining the battery.
And best of all, it didn't make me feel 'dirty' while placing best; it was an extremely pleasing app to bet through.
I highly recommend downloading the app via their website to ensure you get a secure link.
TexBet iPhone App 
I adore how TexBet have designed their iPhone app; it looks fantastic, and you can tell that they've gone all out to make it the greatest it can be right away.
On the iPhone app, upcoming racing events are featured on the homepage with Racing, Sports and TexBet TV in separate sections in the top banner. It is somewhat similar to other sportsbook applications, but it is worth noting that it is also quite distinct.
While they offer several different promotions, they are difficult to find; they can be found by going to your account section and finding the promotions button.
The interface is simple to use. The form guide was easy to find, as was the speed map.
Whatever the case may be, regardless of whether or not you're a fan of Texbet's website, the iOS app is outstanding if all you want is something quick and simple that does everything you need it to do and probably more.
You may find the TexBet iOS app right HERE.
TexBet Mobile Site  
The TexBet mobile site is somewhat similar to the website and the app versions, it kind of feels like a blend of the two.
I find no use in needing to use the mobile site when the app is readily available; the only thing I would suggest (and I do recommend this strongly) is to download the app via their mobile site; this way, you know you are getting a secure download.
You may find the app by following this link.
TexBet Website 
As one of the newest Australian betting sites on the scene, I was incredibly surprised to find the entire TexBet site laid out in such a well-organized manner.
The first thing I wondered as I was signing up through the TexBet website was how they are not bigger yet?
Though they are currently very small compared to the big players in the game, there is so much potential for the future of TextBet it is incredible.
The layout is primarily white and blue, with a green accent helping to give certain areas a nice pop.
It must be one of the simplest to use betting sites I've ever seen, and it seems like my grandparent could join up without difficulty.
A static drop-down menu on the left-hand side of the screen allows you continuous access to all areas of relevance at all times, so there is no chance of losing yourself down a rabbit hole.
For a betting website, TexBet is definitely worth taking a look at.
TexBet Sign Up New Account 

The procedure for creating an account with TexBet's desktop site and mobile app is practically identical, although the layout has been modified to match the different sizes of displays. Signing up was quick and straightforward via the website.
You only need the standard details they need to confirm it is not a fake account (sorry money launderers 😉)
These are:
First Name
Last Name
Address
Date of Birth
Email
On the next page, you will be required to add a username and password for your account.
When logging in through the mobile app, you'll be asked to set a deposit limit and designate your nominated card details and/or bank account.
Once you've completed this step, go to the Account area to see if it is still in progress and verify your TexBet account by clicking on the button and adding some extra details.
Verifying your account doesn't have to be done immediately; however, it will need to be done within a time limit, and you will need to do this to remove winnings.
 TexBet Verification Process 
TexBet's GreenID method is straightforward, requiring just a few minutes to complete. GreenID is a system that verifies your personal information against government systems like Medicare and driver's licenses to ensure that the account information is correct.
If it does not automatically recognize your details on the odd occasion, you will need to enter one form of ID manually, this was the case with me, and the process took less than a minute.
Immediately after entering my credentials, the system verified them and allowed me to log in.
Don't stress giving them your information; this is needed to prevent money laundering by using fraudulent accounts.
Customers at TexBet had an average time of fewer than five minutes to finish the sign-up process. Still, in my case, both the signing up and proving my identity processes took only three minutes total, so it's reasonable to assume that it is a very simple procedure.
Assuming you've previously signed up on another device, your data should check out quickly since it is already in their system from when you registered there initially! 
Banking with TexBet

TexBet has a number of different payment and withdrawal options available for their customers to ensure they have the best opportunities to be able to place a wager on their betting platform.
TexBet Deposit

TexBet currently offers three different payment methods to its customers to ensure that they deposit money in various ways. Visa and Mastercard are accepted, as well as bank transfer and POLi.
Minimum deposit $10.00
Minimum bet $0.50
Minimum withdrawal $20.00
TexBet Withdrawal

Unfortunately, at the time of writing, TexBet is only taking withdrawals via bank transfer. Additionally, you will need to have a minimum of $20 in your account to withdraw the minimal requirement.
Betting Markets

For a boutique betting site, TexBet is one of the new betting sites in Australia and has an incredible range of markets available. They are undoubtedly leaving no stone unturned when it comes to making sure bettors have plenty of options to choose from.
Racing Betting Market

TexBet has all the betting markets you would come to expect from an Australian betting site. 
Not only do they have Horse Racing, Greyhounds, and Harness available to place a bet on, but they have the standard Win/Place betting options, Quinella, Exacta, Trifecta, First 4 and top Tote.
Sports Betting Market

TexBet has a fantastic list of betting markets available on their betting site; however, I cannot list them all for you for two reasons 1) this page would go on forever, and 2) No one wants to read that many.
I can state very simply that they offer the traditional markets available at all betting sites, including head-to-head, odds and evens markets, halftime results, etc.
However, they do also have a vast list of alternate betting markets in their same game multis, these are just too vast to write down and change with each event, but it is worth checking out if you're looking for a betting site with a point of difference.
Betting Types/Features/Odds
For the racing events, all the usual choices are available.
Fixed Odds, Tote, First 4, Quinella, Exacta, and Trifecta.
Same Game Multis – these are available in many sports options; you will easily find them, particularly in sports like the AFL and NFL.
There are a plethora of choices when it comes to betting types.
TexBet Betting Features

TexBet offers a range of Betting Features to its customers.
Live Racing
At TexBet, Live Racing (or Live Streaming) is called TexBet TV and is readily available on both desktop and the app.
In-Play Betting
In-play betting is not available.
Speed Map
The speed map is accessible to a certain degree and looks exceptionally professional and easy to understand.
Form Guide
The TexBet form guide is presented in a simple and easy-to-read format. For example, click on the button FORM in the racing section; the TexBet form guide has to be one of the most well-designed formats I've seen so far.
TexBet Promo Code
The best TexBet promo code available is KRUZEY.
With the KRUZEYTEXBET promo code, you were able to receive up to $200 in racing bonus bets when making your first deposit at TexBet. Not so sure now; you will need to check if this is still applicable once you have signed up or when adding the bonus code.
All new players and existing TexBet customers could use the bonus code.
TexBet Racing Bonus Bets
TexBet offers Racing bonus bets, which change depending on their available races.
TexBet Sports Bonus Bets
TexBet does offer bonus bets for sports; at the time of writing, there was only one bonus bet available, however, this does change depending on the sporting events available.
TexBet Contact & Customer Service 
Customers can contact TexBet customer service through various channels, including phone, email, and live chat.
The online support is usually responded to promptly (if you don't get an answer right away, wait a few minutes). In addition, there's a contact email for all types of questions.
Phone: 1800 839 238
EMAIL: info@texbet.com.au
Live Chat: Function is available at the bottom of their page.
About TexBet
TexBet is licensed by Racing NSW and Liquor, Gaming and Racing NSW.
O'Shea Bookmaking was founded in 1973 by Terry (Tex) O'Shea at the young age of 19 years old; O'Shea Bookmaking now operates online as TexBet and is run by Terry's son Wade O'Shea who has now taken the reins as the licensee. 
TexBet Rules
TexBet is a sportsbook that has strict rules for how you can bet. You must also follow their terms and conditions to succeed as an online punter! Otherwise, quite simply, your account will be disabled.
The link to the terms and conditions page is located at the bottom of their homepage. 
Gamble Responsibly
Gambling can be fun, but it's essential to know the risks involved. Many resources are available for those who have concerns about their gambling habits or want help controlling them, such as Gamblers Anonymous and Australian Gambling Help Online (a website operated by NSW Fair Trading).
Call gambling help at 1800 858 858 24/7 or go to their website gamblinghelponline.org.au.
TexBet Review Conclusion
Great! I have reviewed several smaller betting sites in my time, and TexBet looks and feels as professional as the big guys in the business! If they had stocks, I would 100% buy some as I can see them going very far in the future!
When first jumping into the TexBet website, I was expecting it to be a little rough around the edges; if you were completely new to race or sports betting, then seeing their betting site for the first time would make you think they had been in the industry for over a decade.
It is so incredibly well presented and laid out that it has honestly surprised me that they are not more prominent in the industry.
The TexBet site is simple to navigate and use. It works well on both desktop and mobile devices. It's bright, cheerful, and enjoyable overall.
The only feature that appeared to be not visible was live in-play betting.
I hope that TexBet will integrate this soon to cement their position as a leading betting firm, and I believe this will be their winning ticket.
However, with beginnings as an on-track bookmaker, this may be a little hard for them to wrap their head around, here's hoping they get some people on board that know their sports.
Customers might like being given the opportunity to purchase a TexBet card. It is not essential, but it makes many individuals happy.
I can honestly state that I will continue to utilize TexBet in the future. Although I like what they're doing and how good the TexBet app is, I won't be using them as my regular. Still, I will be checking on their promotions regularly and taking the opportunity to use them when available.
If you're looking to bet with an Australian Sportsbook, TexBet is undoubtedly worth a try!
TEXBET FAQs 
What is TexBet?
TexBet is a 100% Australian-owned online bookmaker and sports betting firm. They provide Australians with an exciting selection of wagering options on racing events and sporting ones, live streaming capabilities for all their customers' needs in one convenient location!
Who owns TexBet?
TexBet was originally owned by O'Shea Bookmaking; Terry O'Shea (Tex) and his son Wade O'Shea began their journey as on-track bookies and have since created a unique betting site available to Australians, TexBet has since been bought by NewsCorp under the betting umbrella that also contains betr.
Is TexBet legit?
Yes, TexBet is legit! Within the boundaries of Australia, bookmaking and gaming are highly regulated., TexBet is licensed by Racing NSW and Liquor, Gaming and Racing NSW. 
So I can gamble legally with TexBet?
Yes. You may gamble on TexBet lawfully and safely with TexBet.
TexBet is a highly reputable site to bet on Australian horse racing, with a solid track record in the market. They're also fully authorized by Racing NSW, which means all revenue/profits data must be accurate, or they risk losing their license.
Are there any downsides to betting with TexBet?
Sadly, TexBet does not currently have Live in-play betting. Their betting markets aren't incredible; however, considering they are more of a boutique betting site at this point, it is no surprise that these are not available just yet.
Is TexBet Sportsbook legal in Australia?
Yes, TexBet is a legal Australian online sports betting business licensed and certified by Racing NSW.
They must be Australian financial law-abiding, have accepted the country's regulations, and do not engage in unlawful behaviour.
The Australian authorities have granted approval for TexBet to operate in the country. This indicates that TexBet is completely compliant with all local rules, which is good.
Does TexBet offer same game multis?
Yes, TexBet offers their customers same game multis.
They are in a different format to most of the major players in the industry; however it is not a bad thing, they have made their same game multis so that anyone can place a same game multi, even an absolute novice.
What are the TexBet Horse Racing Markets?
TexBet offers several different racing markets for the horses, greys and harness races; these include:
Fixed Win
Fixed Place
Top Tote Win
Mid Tote Place
Quinella
Exacta
Trifecta
First 4
What are the TexBet Odds?
Through their betting site, TexBet offers excellent odds for most major markets so that you may wager on a fixed-odds bet as well as special bonus bets from some of their promotions.
This is entirely free, and TexBet is just offering it as a marketing incentive for horse racing or sports events that have the offer, so make sure to check out their site for all of these promos! 
Is there a TexBet Deposit Bonus?
Unfortunately, I did not receive a deposit bonus when signing up to TexBet; however, this may be a case where I signed up when they were not doing deposit bonuses; regardless, it is still worthwhile checking them out for their promotions.
Who are TexBet?
TexBet is a 100% Australian owned and run betting company founded by Terry O'Shea and his son Wade O'Shea; the founding company is O'Shea Bookmaking; however, they are trading online as TexBet.