So you've come looking for a bonus/promo code.
The truth of it is that they are not what they once were,
In fact,
They pretty much no longer exist for betting sites.
Don't worry, there is good news too!
Most betting sites still offer deposit bonuses after you have signed up,
And sometimes they're even better than promo codes.
Click here for instant access.
KRUZEY has exclusive access to all the very best betting sites, reviews and information.
okay, time for the review!
Signing Up to Betstar:
Signing up was actually pretty easy with Betstar,
It didn't take too long and I only had to fill in some standard details which they then use to verify you.
A quick google search popped it straight onto the main page which is always awesome,
but even more awesome is that I've saved you the trouble with this. BETSTAR. 👍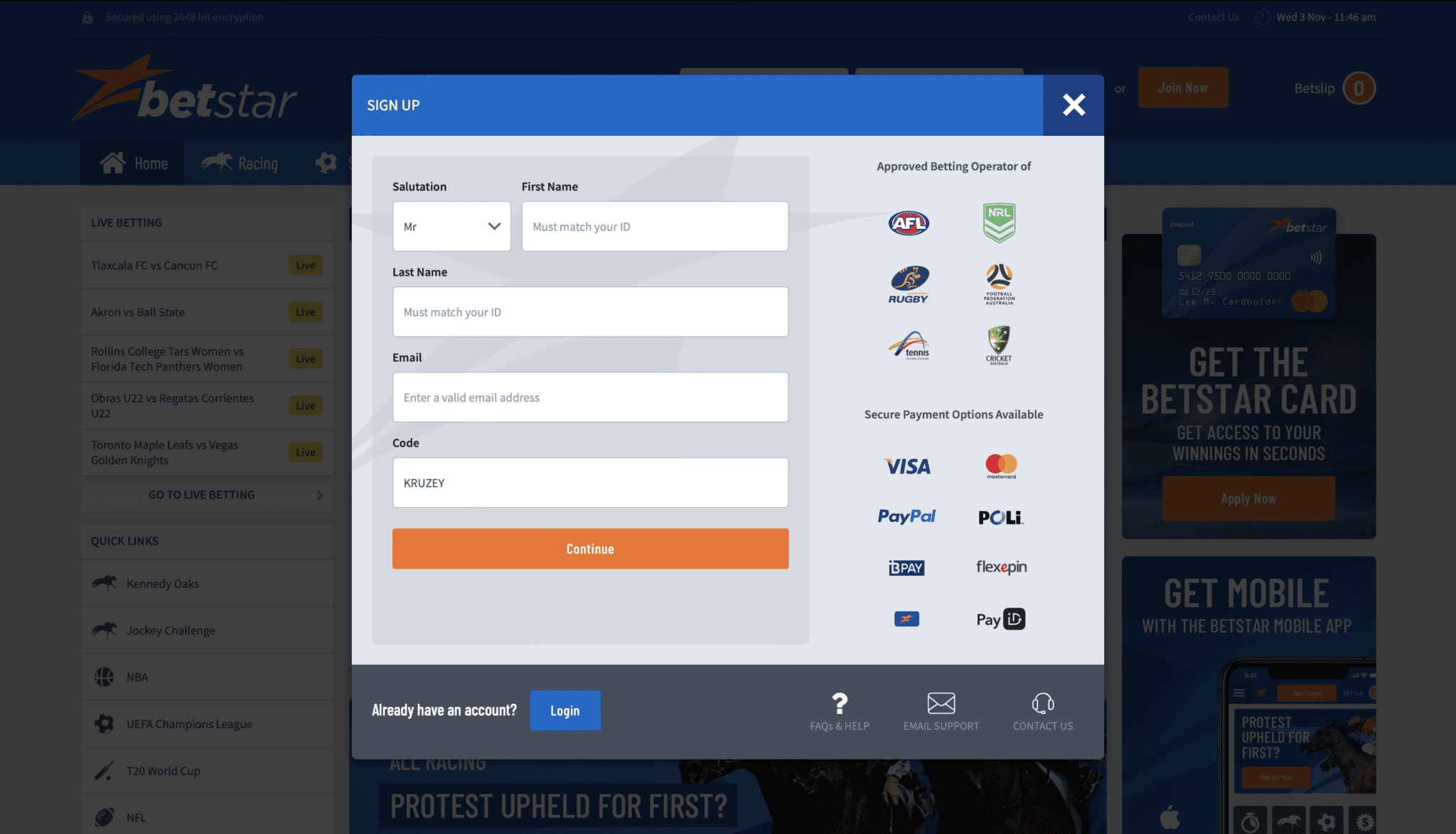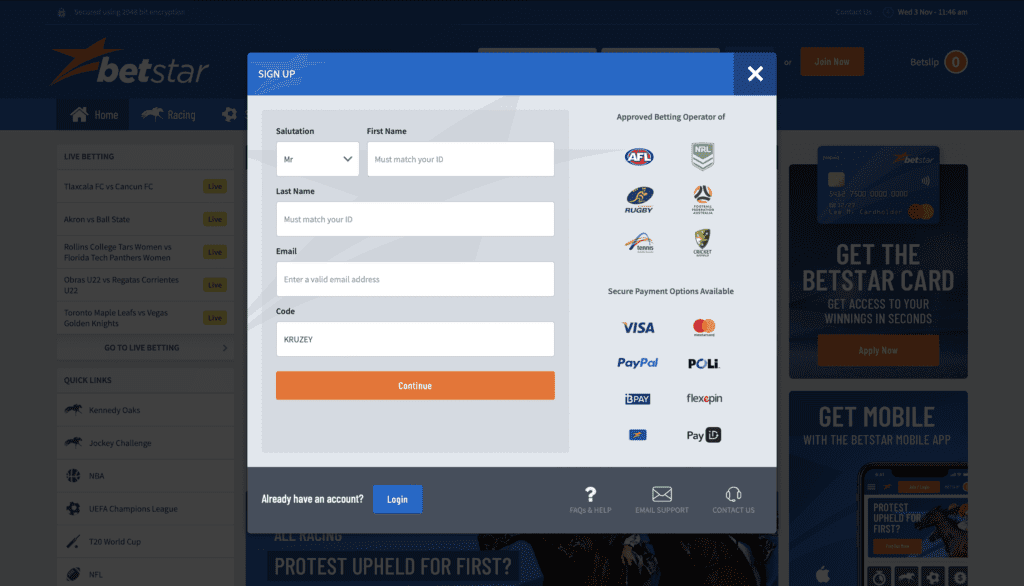 Thanks to GreenID, my details were automatically recognised with no dramas.
Just make sure to type in you're actual details otherwise it won't work,
I accidentally typed in two E's and I had to do it again.
Even with the mistake it only took me a couple of minutes to sign up so it's a big plus in my book.
They also have a little part down the bottom to set a deposit limit which I thought was good too.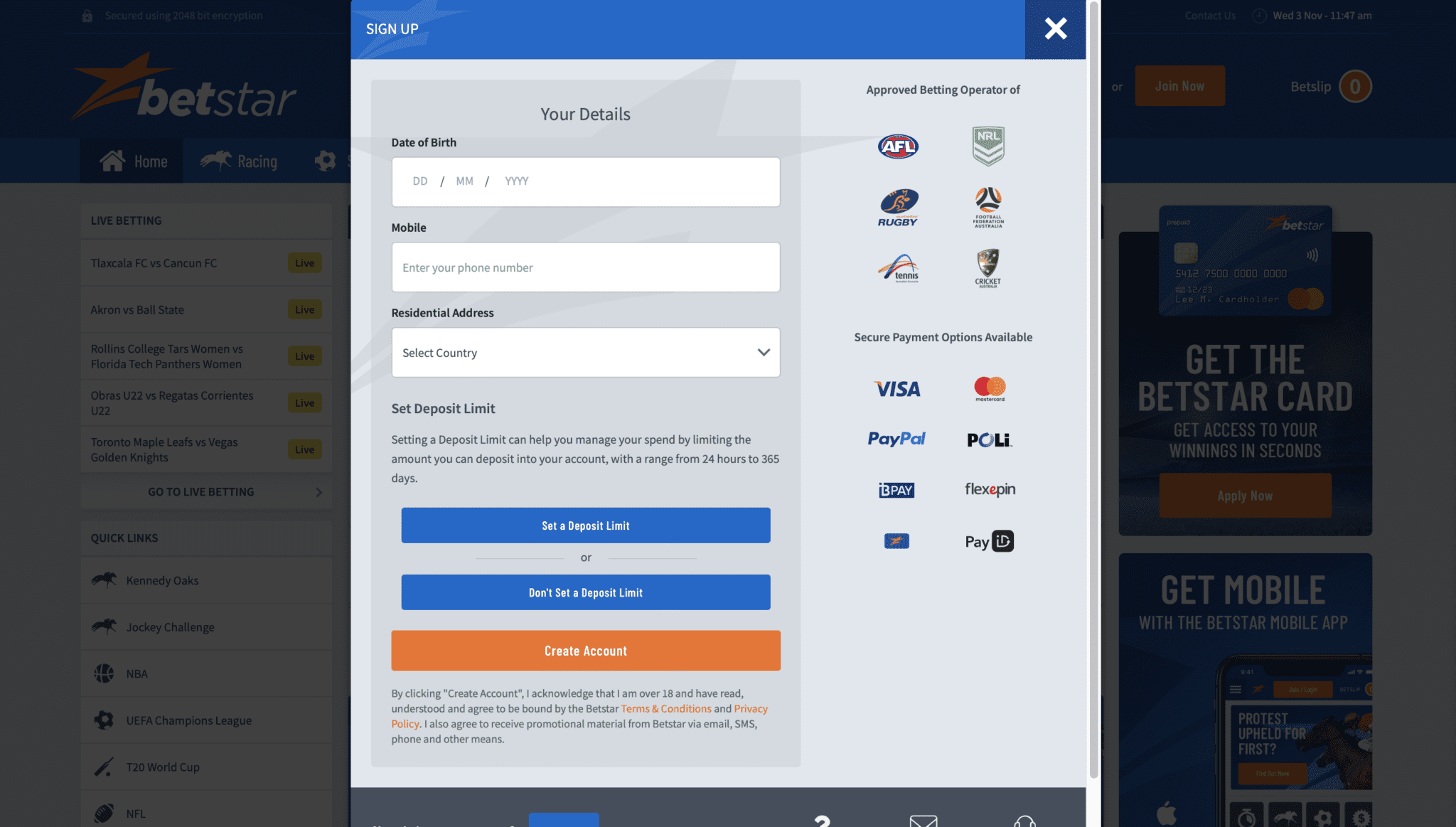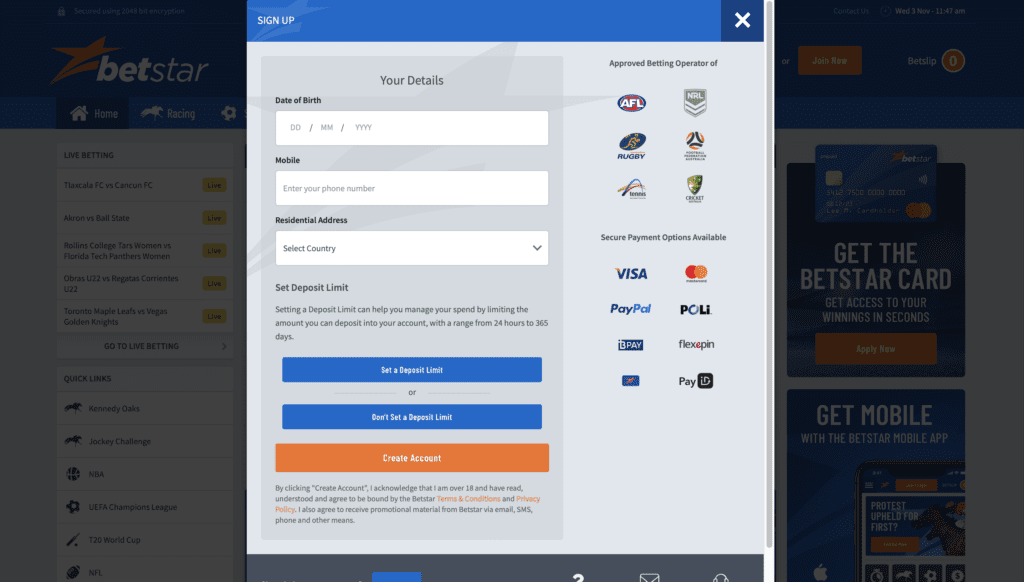 Making a deposit:
Next comes the deposit screen,
there is a bunch of different depositing options,
all the standard ones are there, but some I wasn't expecting such as Apple pay and PayID,
It was good to see so many options,
However, I just used my credit card as that is what I'm used to.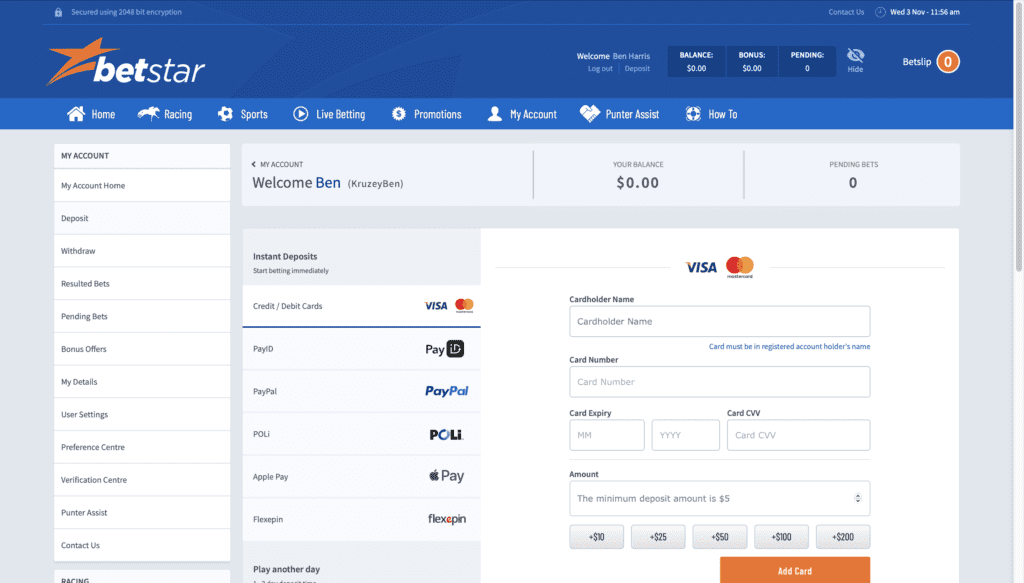 A whopping $10 in for the review and I'm ready to get started!
What about the layout?
The layout is clean, some other bettings sites make it slightly difficult to see exactly what you're doing,
but the contrast in colours makes it really easy to find your way around the site.
I really like how they have all the upcoming races and sports in the centre of the homepage with all the quick links to the left-hand side.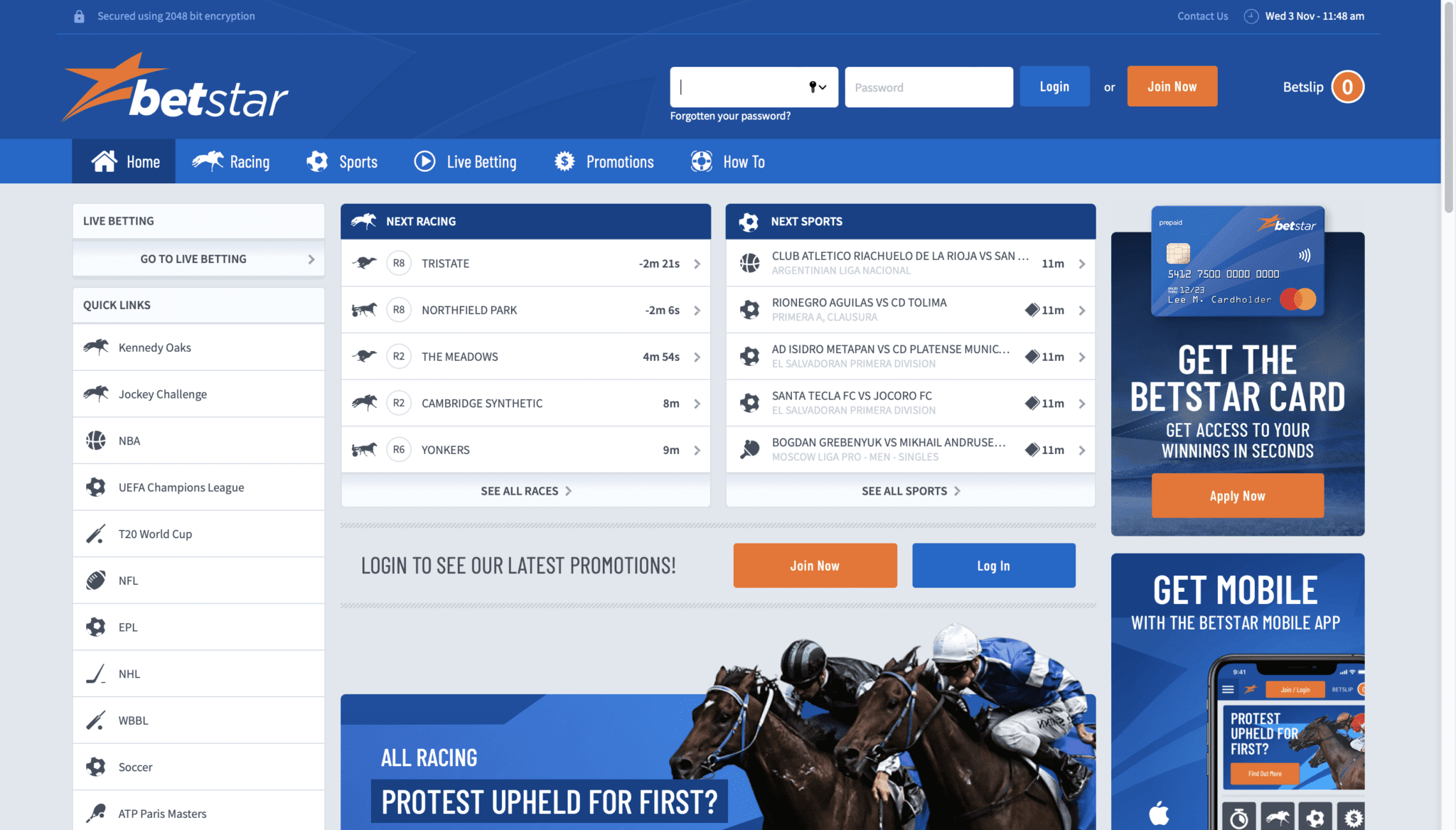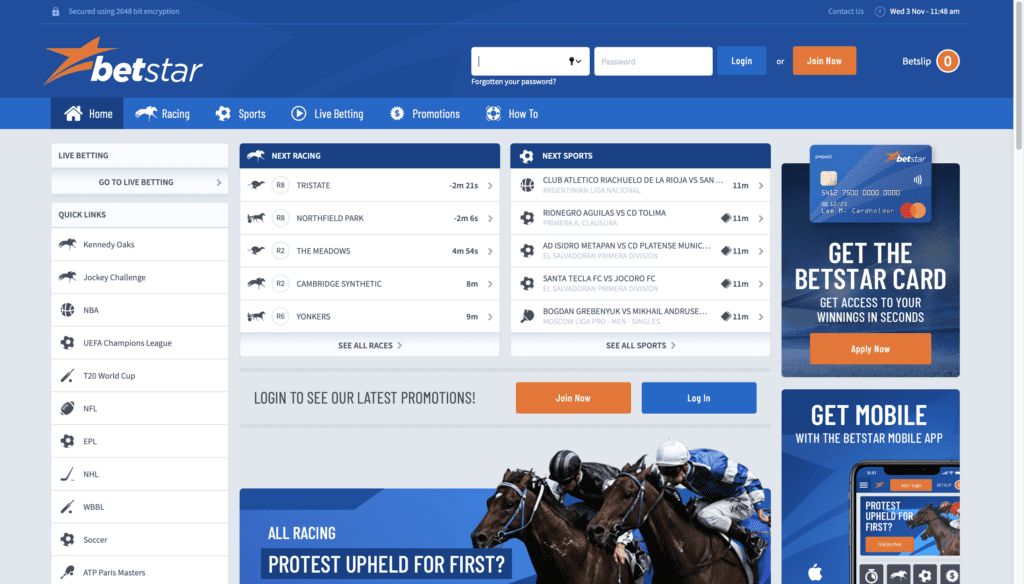 Time to place a bet:
Right! now we have all the fluff out of the way it's about time we put a bet on hey!
Straight off the bat I really like how simple the Horse racing page is.
It's so straightforward it's impossible to get lost.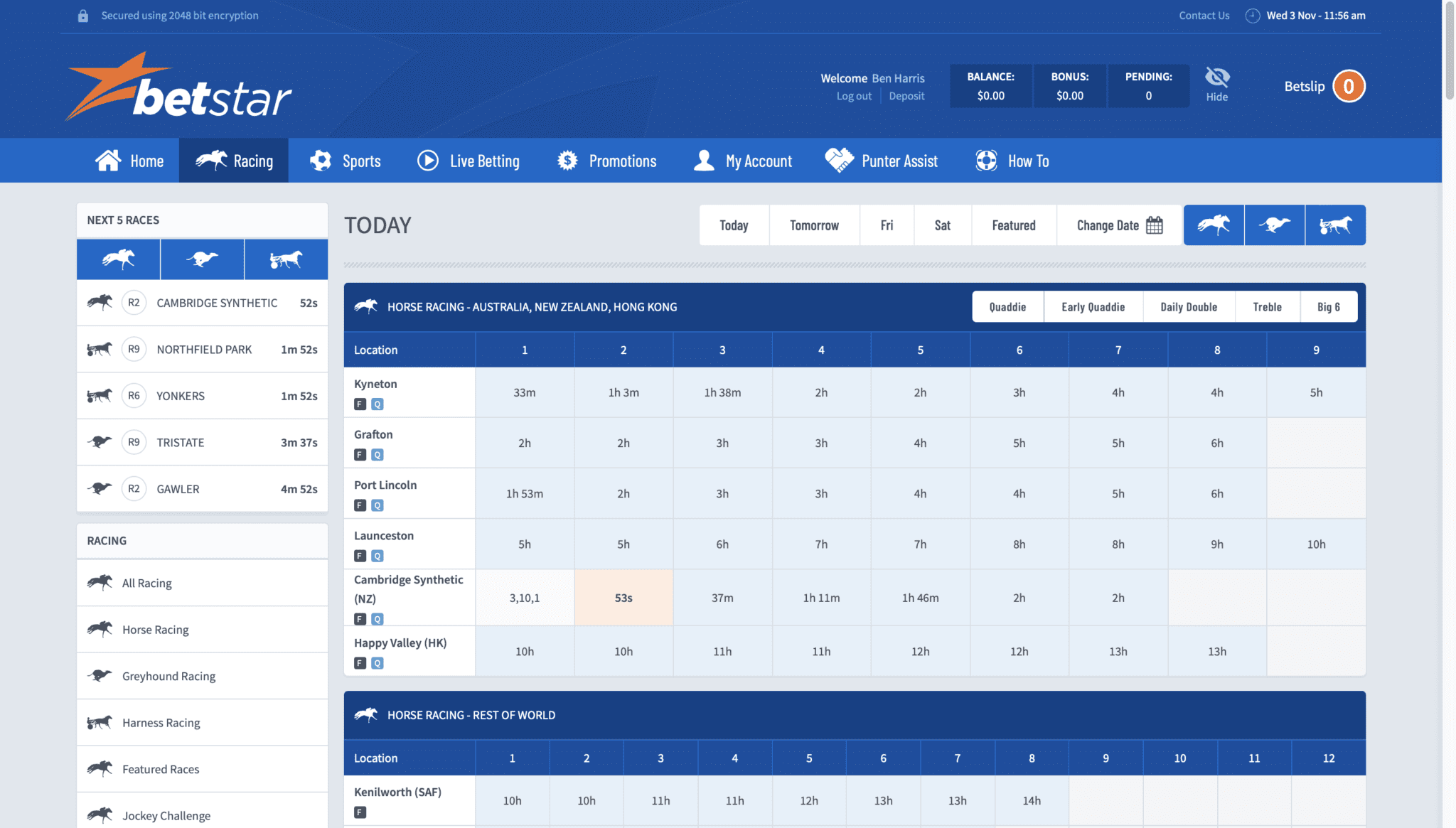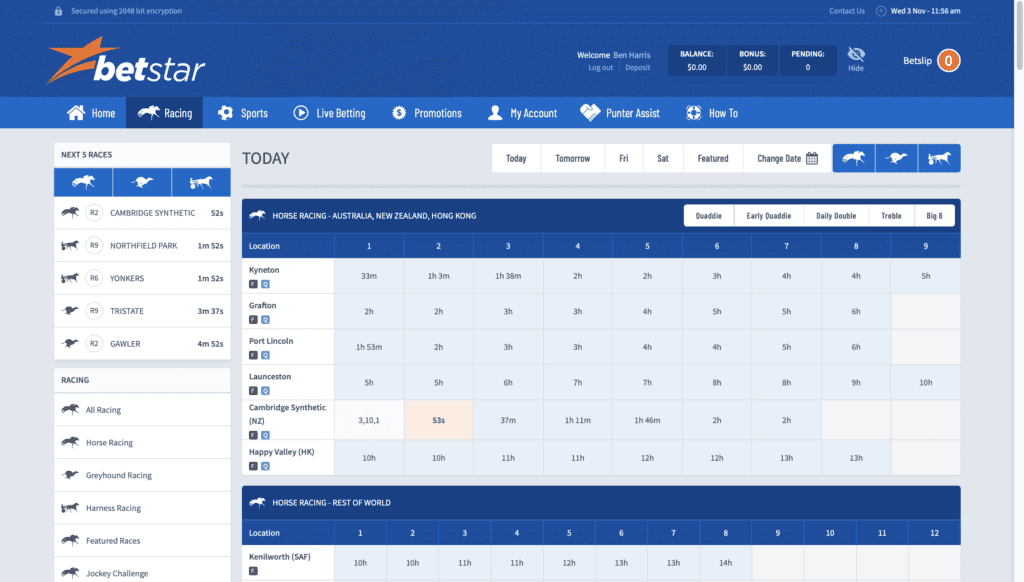 I'm jumping onto Grafton races for the review today!
The way they have the betting markets displayed at the top is great!
So easy to pick your bets.
After a little bit of a look at the form, I've picked my bets.
Rose Bouquet for the win.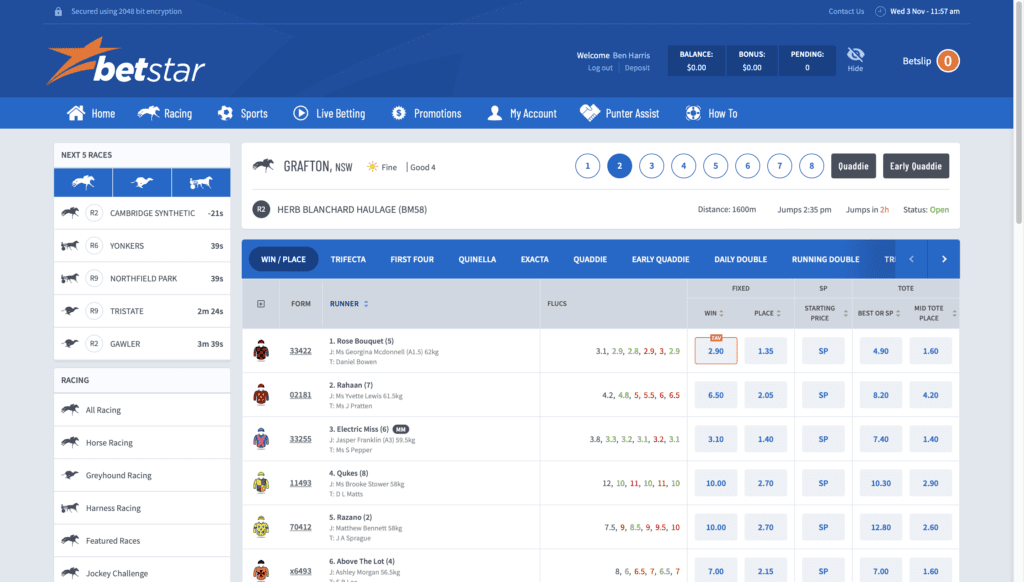 After clicking the bet price under fixed win a bet slip popped up which allowed me to choose my stake.
$10 on the nose and I was off and racing!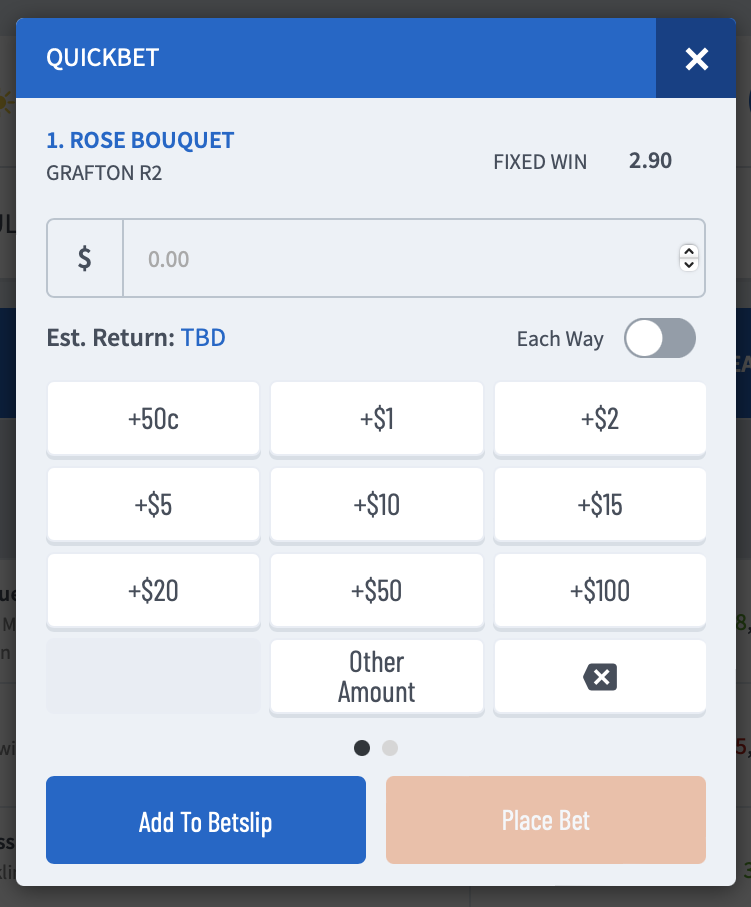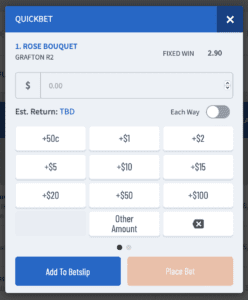 Incredibly easy with no real thought involved.
Considering I personally had never looked at Betstar until now I found this to be seamless.
So how did I do?
Well, I didn't win… but this is about how it works not my profits 😉
What are the sports markets?
Jumping over to the sports and the layouts is pretty much the same as racing.
They have heaps of sports to get your hands dirty on, even some I didn't know you could put a bet on.
For example bull riding… who would have thought bull riding betting was actually a thing?!
Anyway, all the good stuff is available and they have some pretty decent markets available too.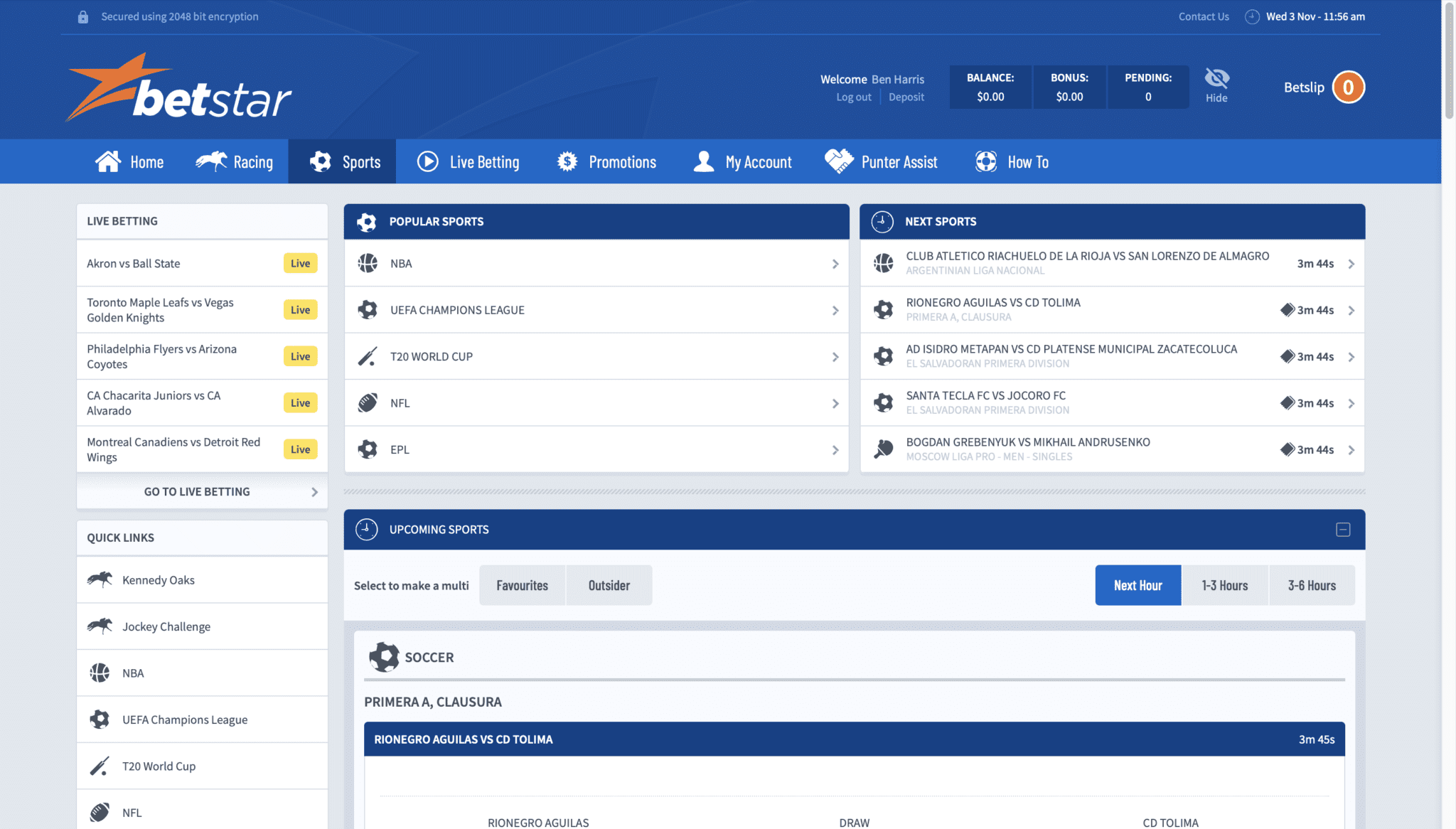 So what else is there?
They do have live betting available which lets you pop a bet on while a sport is currently in play which is pretty cool if something goes astray and you want to try redeem your bad bets.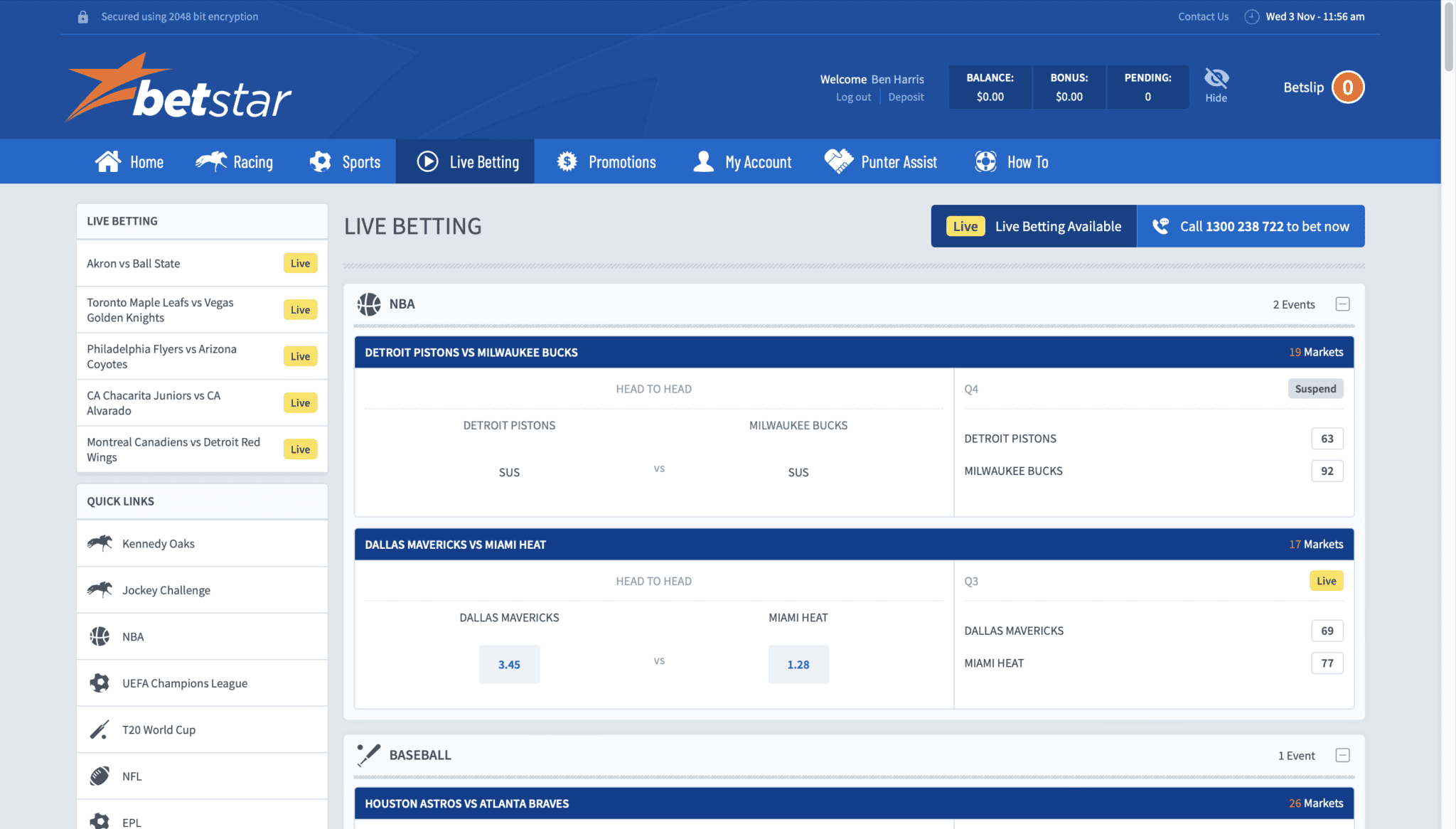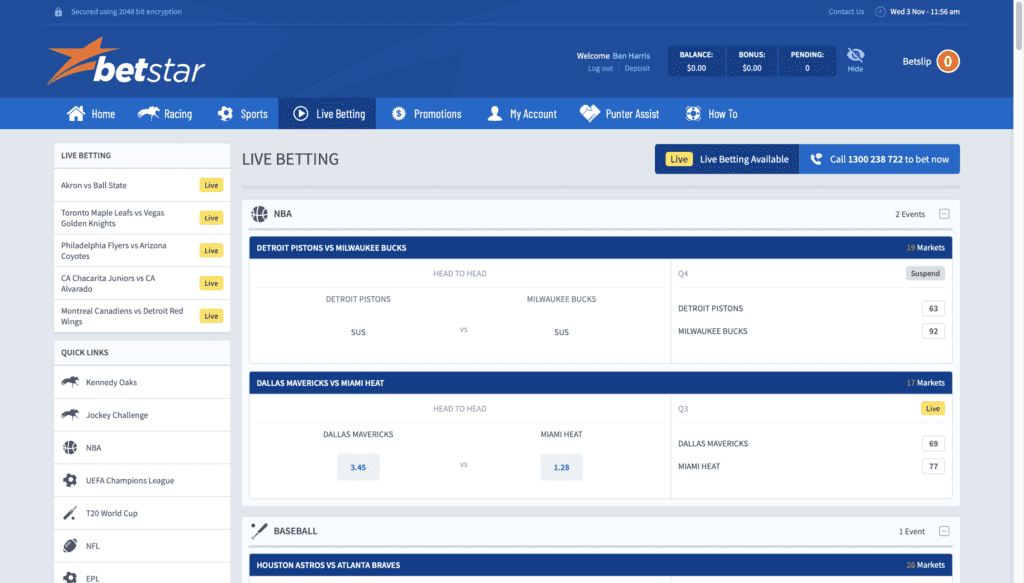 Betstar Review 2023

What do we like about Betstar?
When completing our review, we found that one of the best things about Betstar has to be one of the best features in Australian online betting, "Past The Post Payouts", which is exclusive to Betstar. One of our favourite things about Betstar is their well-known Betstar card which allows you to access and withdraw your betting wins from an ATM only moments after the race is over; you can also purchase almost anything from clothes to holidays so long as you have access to an EFTPOS machine that accepts Mastercard, think of it like Betstar visa.
They almost make it too easy, giving you access to your winnings.

What's missing at Betstar?
No online live streaming
No QuickCall live betting feature
Dormant accounts get charged a fee
One of the most significant drawbacks with Betstar is that there is no online streaming for horse racing and sports. While we love our sports betting, one of the biggest drawcards for us personally is live streaming.
Betstar Highlights 

Betstar has live betting which allows you to place a bet on while a sport is in play!
Betstar's jockey challenge allows you to pick which rider you predict will come out on top at a particular meeting. You can win money just by selecting the winning jockey!
Points are awarded for successful rides in the following way: three points, two points and one point. If there happens to be a tie in any race, these points will be split. – for example, 2.5 points will be given to each of the winning riders. If at the end of the race day, two jockeys have the same points, the odds will be halved in the result of a dead heat.
As a side note, this is only available on selected meets within Australian borders.
Betstar Promotions

To view the current Betstar promotions, you need to be logged in. The Betstar promotions page can be found from the header on the top of their website or mobile App.
You can check them out right HERE.
Betstar Android App

The Betstar mobile app for android is essentially a simple and neat design with everything at your fingertips. You can understand why so many customers want to bet with Betstar. Not only is it effortless to find what you want, but once you want to bet, it is as simple as a few easy clicks.
The link can be found directly from the homepage HERE.
Betstar Apple IOS App

The Betstar mobile app for Apple is designed with simplicity in mind; everything you want is only a few taps away. It is so easy to see why Australians are so keen to bet with Betstar, and it's so easy to find what you want; all you need to do is a few simple clicks.
The App is available directly from their homepage HERE.
Betstar Mobile Site
In my personal opinion, I honestly think the mobile site has to be the best version of Betstar, and there is so much functionality directly at your fingertips on the homepage. The first thing to pop out to you is the four icons "next to go", Racing, Sports, Promos," which is what most people will be using to get to where they need to go; however, what caught my eye was when I scrolled down.
The table for popular races immediately caught my eye, directly under that is "Next Racing", "Popular Sports", "Next Sports" and last but not least "Featured Races", knowing there were no bonus offers, we skipped straight to the betting and spread $100 throughout various horse races and sports playing on the day, overall we came out a winner with an excellent $273 profit.
You can find the link to the mobile site HERE.
Betstar Website
Our first impression of the website design is the bare simplicity, all the sports are in a banner to the left, and there are links to racing, sports, live betting, promotions, and also a how-to guide in the header.
The pages are set out simple and easy on the eyes and don't feel like it's overloading you with information. Essentially this is a bookmaker that is here to let you bet without getting in your way with nasty pop-ups.
If you already use Ladbrokes, you will automatically feel right at home when navigating through Betstar. This is due to the fact that Betstar is, in fact, the sister site of Ladbrokes.
You can find the link to the website HERE.
Betstar Betting Types
Best of the Best (BOB) gives you the best odds paid out of the three main totes or TopFluc in Australia. This style of betting will be available all the way up until 35 minutes prior to the beginning of a race, with $250 being the maximum amount per bet, and can only be used on certain events.
FIXED-PRICE  – These are the Odds at the time you put your bet on.
MIDTOTE  – One of the things you will enjoy while betting with Betstar is the Middle Tote. It is the second-highest paying out of the three main totes in Australia.
MIDTOTE +5%  – Midtote is the second highest paying of the three main totes in Australia, and there is a 5% bonus added to the dividend. MidTote will be provided for winners of select races.
NOMTOTE  – Punters may nominate the tote price for supported events.
SP  – The starting price is the official bookmaker price on a horse.
SPG  – For selected Australian thoroughbred races, Betstar pays the higher of either the fixed price provided at the time of bet placement or an official estimate supplied by the APN.
BEST TOTE – Best Tote offers the highest odds among the three major totes in Australia.
BEST TOTE OR SP – Betstar's Best Tote or Starting Price is the highest odds of any of their three main totes.
TOPFLUC  – The top betting fluctuation offered by Betstar in the last 30 minutes of betting before the start of a race. Top Fluc betting is available up to 35 minutes before a race.
TOP TOTE  – The top Tote is the best dividend derived from the three main Australian totes and is only used on selected events.
VICTOTE – The Victorian Tote's dividends will be paid only at selected horse racing meets.
BetStar Racing or Sports
Betstar has a range of both racing and sporting markets available. This includes all the standard races, from greyhound racing to horse racing. The bookmaker also has an extensive range of sporting markets on both the AFL and NRL, plus much much more.
Betstar Horse Racing
If you are into racing as much as we are, it will be the first thing you are looking for. What we love is the simplicity of their layout. As far as bookmakers go, they are here for a purpose, and that is to put bets on as easy as possible, and that is precisely what they have achieved.
The Betstar racing markets include horse racing, greyhound racing, Harness racing, and jockey challenge.
Betstar Sports Markets

Currently, they have AFL, NRL, MLB, Olympics, Soccer, Cricket, and Tennis are all found in their quick links section. I was surprised not to see the NBA considering they are currently in finals season. However, with a bit of scrolling, it was easy to spot a multitude of other sports available, including Cycling and Esports!
Betstar Sign Up New Account
Registering for a Betstar account is fast and easy. All you need to do is quite simply enter your details and create a username, which will enable you to deposit funds as soon as the registration process has been completed.
Betstar Banking Options
Betstar has a good range of banking options to deposit funds, making it easy for pretty much anyone to put money into their account, you can find all relevant information below.

Deposit Options
Visa
Mastercard
PayPal
POLi
BPAY
flexepin
Bank transfer
Withdrawal options
Minimum deposit
Betstar has a minimum deposit of $10
Minimum Bet
Each bookkeeping platform has its own set of terms and conditions for placing bets, including the minimum amount you can stake on a wager. Generally, the amount depends on the type of bet. Meaning, when placing a bet online, you need to stake a minimum of $1. Whereas, for telephone betting, a minimum stake of $20 is required. If you place a wager on an event that is currently in progress, i.e. betting live, your minimum stake for the wager has to be $20.
Betstar Contact & Customer Service
24/7 Live Betting 1300 238 722
Phone support 1300 238 782
Email support@betstar.com.au
FAQs https://help.betstar.com.au
Betstar Promo Code
Betstar promo codes are no longer available to bettors. That said, Betstar is one of Australia's leading betting services, offering its members attractive wagering opportunities and promotions within their site to active users. Sadly there is also no Betstar bonus code anymore either.
BetStar Bonus Bets
Betstar bonus bets are available to customers and can be seen as bonus backs in the promotions section, an example of this would be if your dog places 2nd or third you can get your money back in bonus bets which you can typically place on another race for a return of less money than the fixed price.
Betstar Rules
You can find all the Betstar rules, terms, and conditions at the bottom of their home page located in the footer HERE.
You can also find gambling help in the footer of their homepage under the clickable link "Gamble Responsibly" and on the link to gamblinghelponline.org.au. So if you believe your betting has become a problem, don't hesitate to contact them to get the gambling help you need.
Betstar Review Conclusion
There are excellent reasons to jump on board the Betstar bandwagon. With their Past The Post Payouts, Best Tote or SP all day every day, Protest payouts for all racing markets and the Betstar cash card, it's hard to find a reason not to like them.
Overall they are a decent betting site with a clean and simple look, my overall experience with them was fantastic and I didn't have any issues placing a bet or adding funds. I really like the look of them and have a feeling they could be right up near the top betting sites soon!
BETSTAR FAQs
What is BetStar?
Betstar is an online bookmaking business that began operating in Australia in 2007.
Is Betstar owned by Ladbrokes?
Yes! Betstar was originally founded by Michael and Alan Eskander, however has since been aqcuired by the Ladbrokes company in 2014.
Who is Betstar owned by?
Betstar is one of the longstanding Australian sports betting sites, having been founded by the Eskander family in 2007. Until 2014, Betstar was entirely owned by the Australian bookmakers Michael and Alan Eskander. In 2014, Ladbrokes purchased the company outright.
Is Betstar legit?
Yes, Betstar is absolutely legal for Australian players to use and offers a great range of betting markets on all major sports including AFL, NRL and cricket.
Can you cash out on Betstar?
Absolutely you can! just like all bookie sites, Betstar has a legal responsibility that allows to cash out so long as the amount in your account is higher than the minimal withdrawal.
Is Betstar legal in Australia?
Yes, Betstar is a legal betting company in Australia. They have a license to operate from the Northern Territory Racing Commission.
Who can sign up at Betstar?
Anyone over 18 years of age who has an Australian bank account with online banking support can sign up. Since you also need payment solutions such as credit cards or e-wallets, this might limit your choice of bettors considerably if you do not live in an area where internet banking is very common.
Is Betstar safe?
Yes! Betstar is 100% safe and legal because it has the proper licensing and regulation to conduct betting services. Betstar is a fully registered company with Northern Territory Racing Commission, which means they are committed to providing their customers with the safest possible online betting environment. Betstar uses strong encryption technology when dealing with financial transactions made by its users, therefore you can wager using Betstar with complete security.
Betstar does not share its customer's information with any other company or third party under any circumstances whatsoever!  Please be aware that it is always up to the individual user to ensure that he or she abides by all local rules and regulations regarding casino game play in their jurisdiction of residence. Furthermore, your personal information will never be shared with third parties without your permission.