Bet Nation has been in the works for quite some time and we have been anticipating the launch of their website.
So as soon as we got word that it had finally launched we couldn't help but rip off our socks and dip our toes in to see what the site is like!
No doubt you are looking for a promo code for Bet Nation and we will get to that in a moment, but first let's take a look and see if it is worth it.
Let's sign up!
So first on the list was throwing the name into google, not surprisingly there were a couple of ads at the top of the listings however directly underneath was a link to the homepage which we honestly thought was quite surprising considering they have the term "Bet" in their name.
How's the Layout?
Clicking through we were pleased to see how quickly the homepage loaded up, and visually it looks excellent!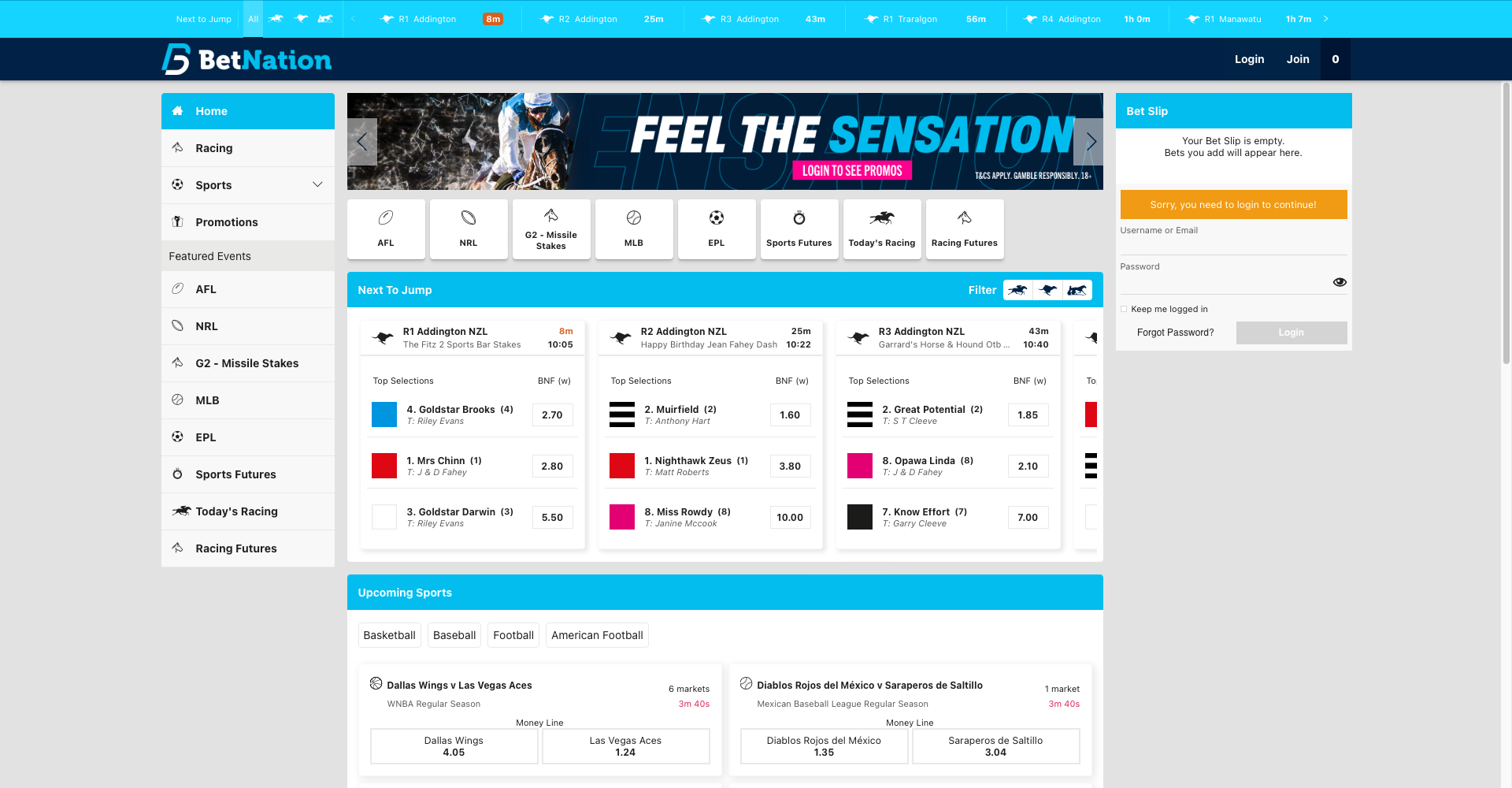 Simplistic and easy their focus is on making sure you get to where you want to be in the easiest way possible, straight up we have a next-to-jump section with buttons to select between gallops, greys, and harness racing, following down the page we have another section for upcoming sports, and last but not least we have a "trending Bets" section which shows us some of the most popular bets at the time (handy if you like to pop a bet on at the last minute as I do!)
to the left-hand side of the screen, there is a side banner with minimal buttons to make it as streamlined as possible simply consisting of Racing, Sports, Promotions, and then a list of featured events. The Sports button does have a drop-down menu as shown below which is a handy little shortcut that I personally found quite appealing.

Now that we've sussed out the front page let's see what the sign-up is like.
Time to Sign Up!
I've always found signing up on a desktop or mobile site easier than on an app, for some reason apps don't always autofill correctly, and because it's so important to make sure your details are correct on betting sites I've found it easier to do it this way.
I started off by clicking on the Join button found in the top right corner which brought me directly to the first page of the sign up process.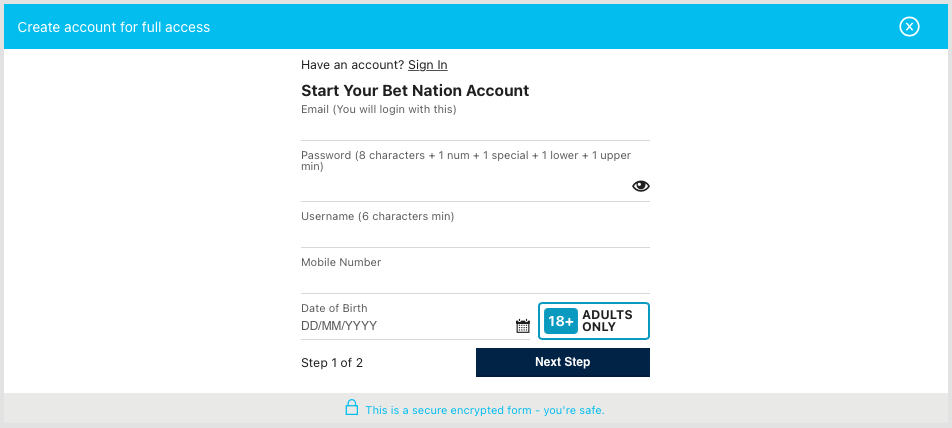 Nothing too out of the ordinary, they simply want your email, password, username, mobile, date of birth.
Onto step two!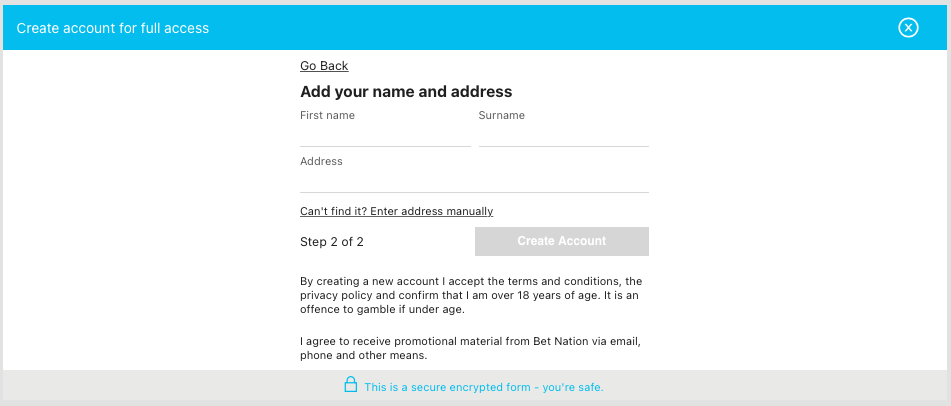 Step two consists of your name (make this the same as your license as you will need it to verify your account later), and your address, I live in a new area so my address did not show up in the system, instead, I had to enter my address manually which caused no issues at all.
Next step (and one I quite like seeing) was to set a deposit limit, personally I think this is a great addition to betting sites as it has stopped me from over betting on a boozy night.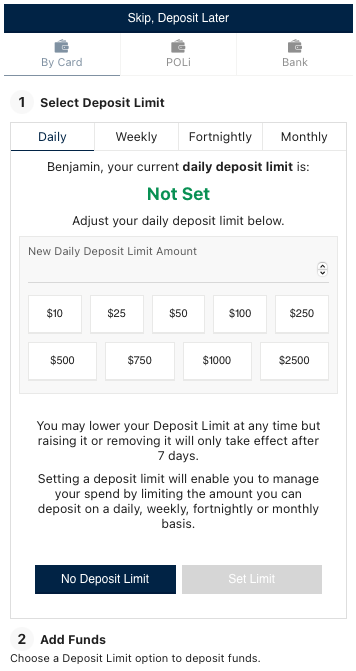 Now all we have to do it pop some money into the account and we will be good to place some bets!
Adding some funds
As always I only popped $10 into the account (this is a real review after all)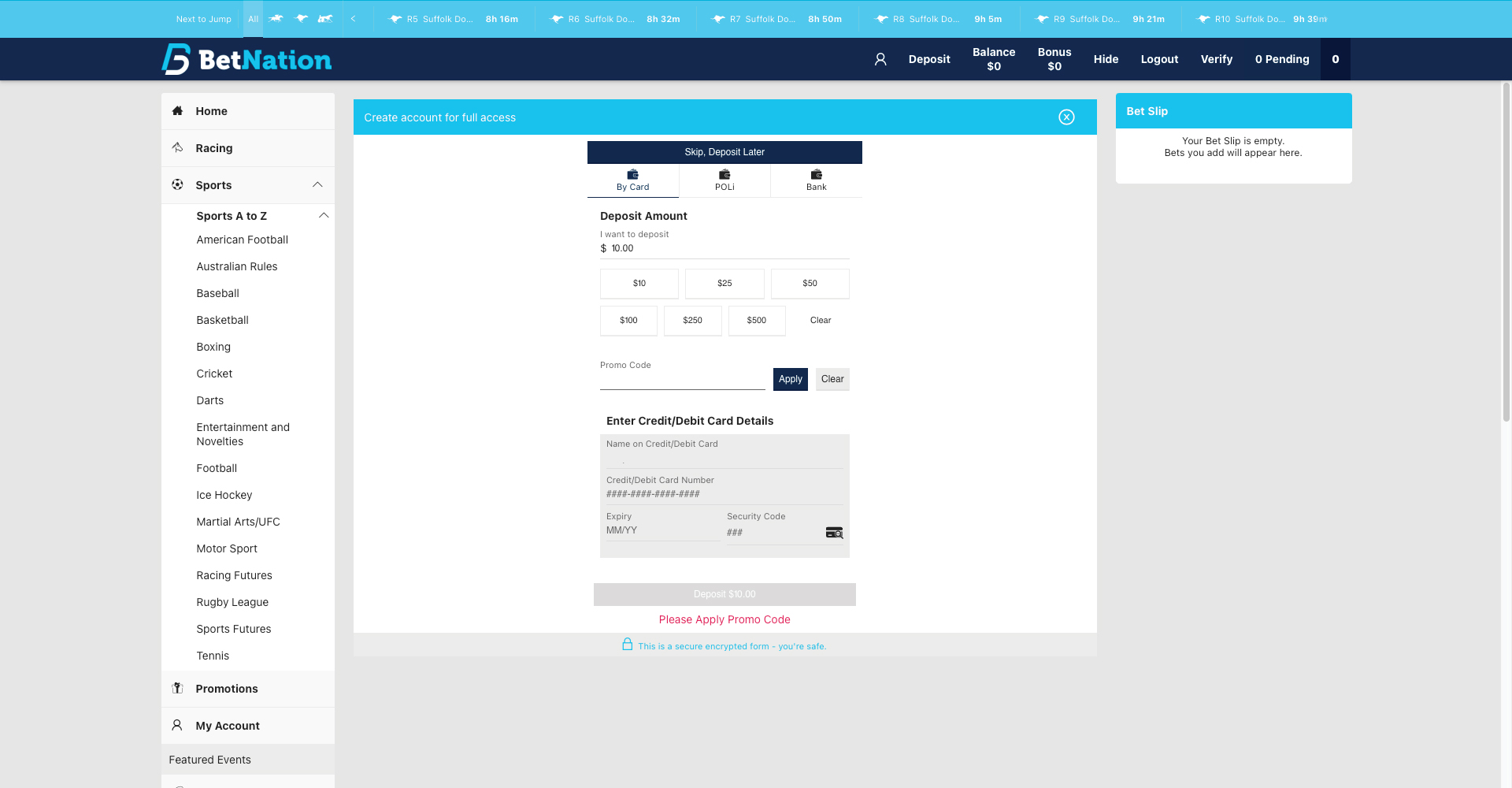 Depositing was easy enough, I just entered my banking details and clicked the deposit button, this then brought me to a new page that requested to send me a netcode to enter, so I continued to process the funds and within 20 seconds the funds were in my account (QUICK)
Once I was in I could finally see the promotional banner displayed at the top of the screen.
What did surprise me was how long it took me to sign up, from start to finish it took me a total of 2 minutes and 47 seconds and I took my time, this included depositing funds into my account and everything!
Let's ge this show on the road and see how what the betting is like!
Placing a bet
To start with I thought I would place a bet on both the horses and the football as that is what most of our readers like to place bets on.
Jumping into the horses first I clicked on the first race available and was quite surprised to see a Form Guide, Full Form Guide, and Speed Map all available.
The Form Guide
Though there was not a great deal of information available for the horses in this race it was great to see how easy it was to understand, sometimes form guides can be difficult to read but that is not the case for Bet Nation!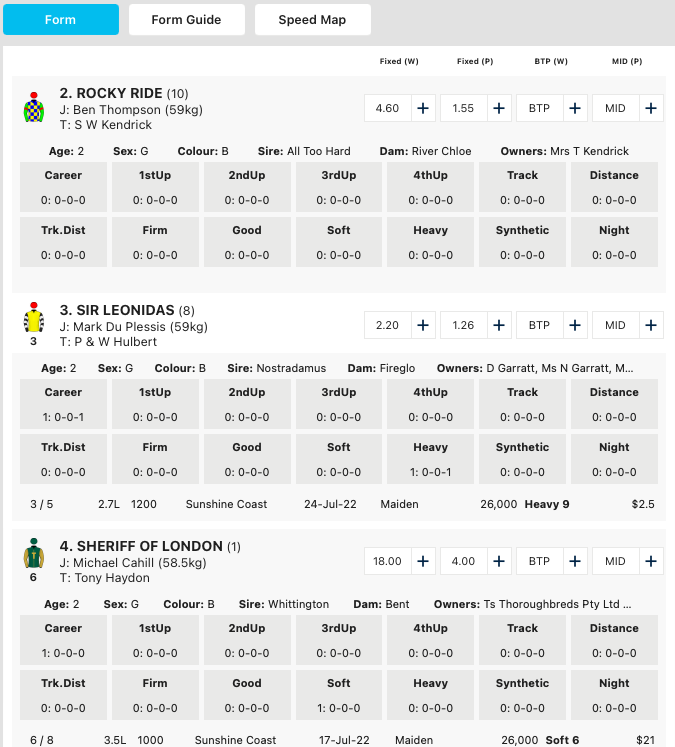 Full Form Guide
Much like the form guide, the full form guide that Bet Nation has developed makes it incredibly simple to get your teeth into the information that matters without having to worry about all the extra "Fluff", and it looks good too which is a bonus!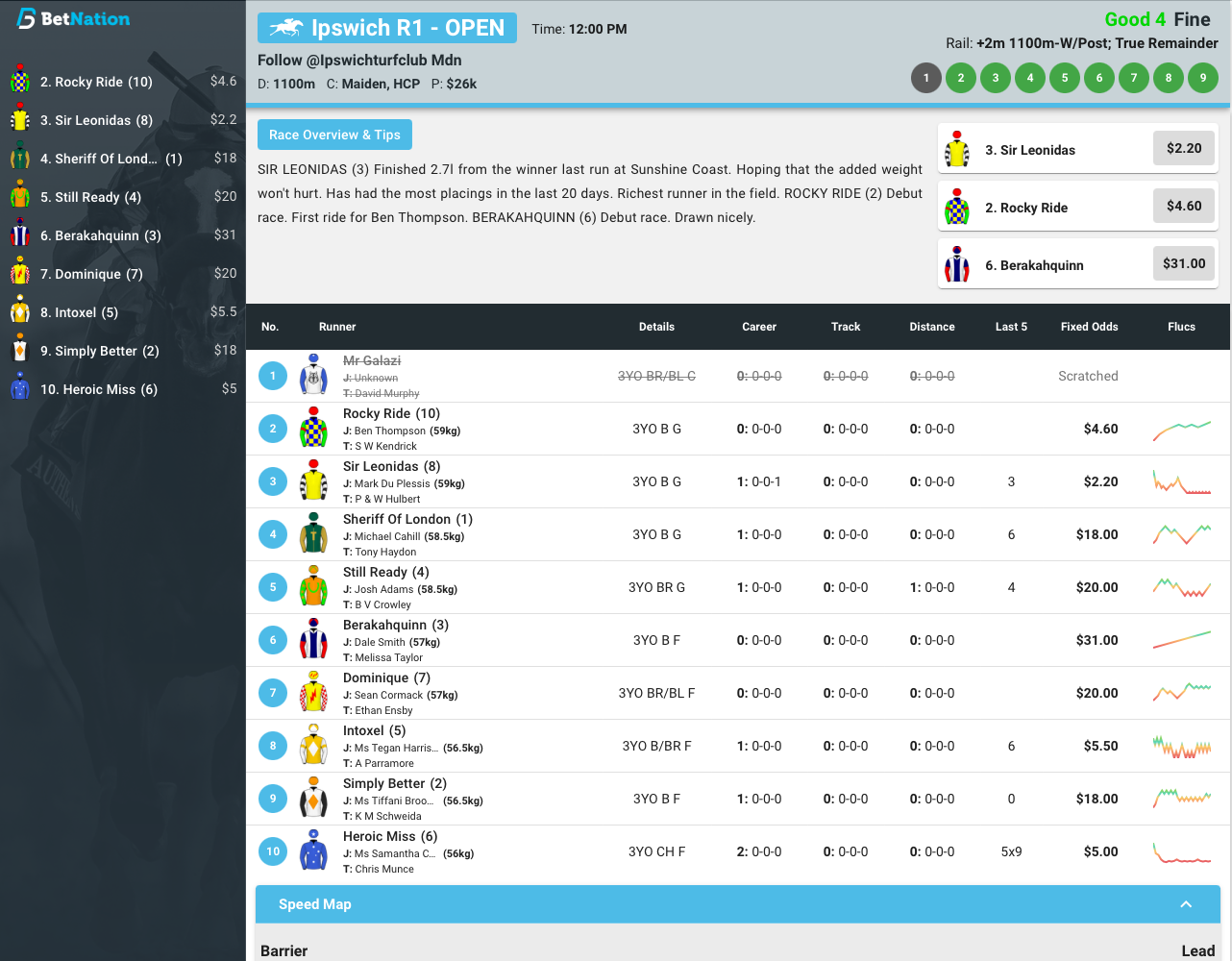 Speed Map
Bet Nations speed map is exactly what a speed map should be, when im assessing speed maps I always look at them and wonder if my grandparents could understand it and I have no doubt in my mind that the speed map design created by Bet Nation has made it as easy as possible for anyone to understand.
Popping on a bet
So far so good! going by the speed map and form guides shown above it is clear to see that the best option to place a bet on here is Sir Leonidis, and considering he is also the favourite it only makes sense to back the favourite in this scenario.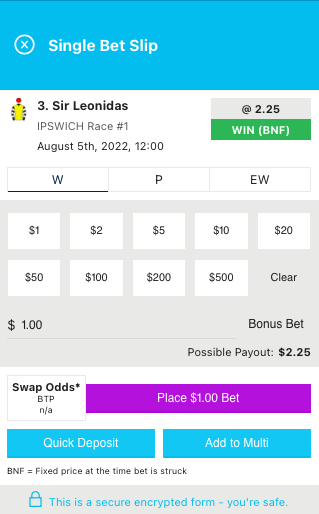 Earlier I was able to choose how much money I wanted to set as my default bet so I popped it in as $1 just to see if it would work, low and behold when I went to place my bet I didn't have to choose an amount, all I needed to do was click the purple button (too easy!)
Setting your Bet Amount
As stated in the previous paragraph I was able to set my default betting amount, so I thought now would be a good time to add that in, it is a very simple process, I clicked on my account section to the top of the screen wich brought me to a variety of account options, from here I clicked on "Default bet amounts" changed my default betting amount to $1 and updated my details.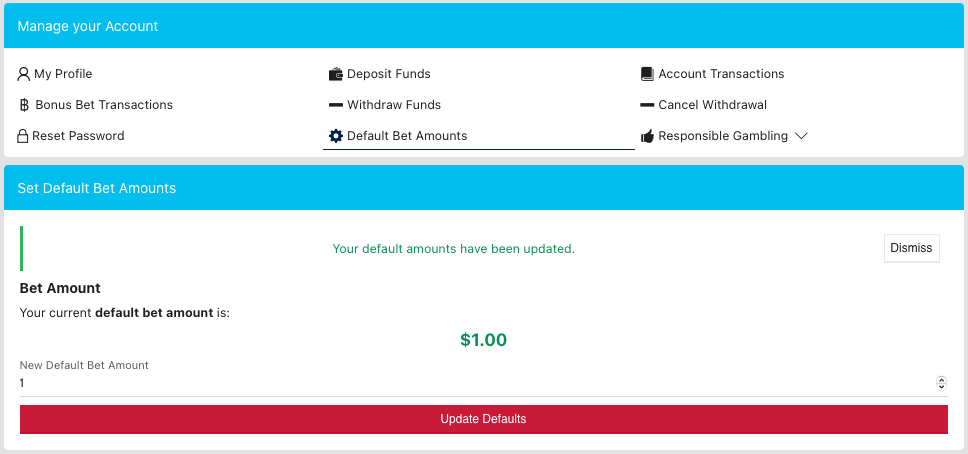 Now that the racing side of things works the way it should, let's jump into the sports and see what placing a bet on the sports is like.
Betting on Sports
When choosing a sport to bet on I was tossing up between the AFL and NRL because thats what most sports fans tend to bet on in Australia, I opted to place a bet on the AFL this time round as I had just finished filling out my tips and figured "when in Rome".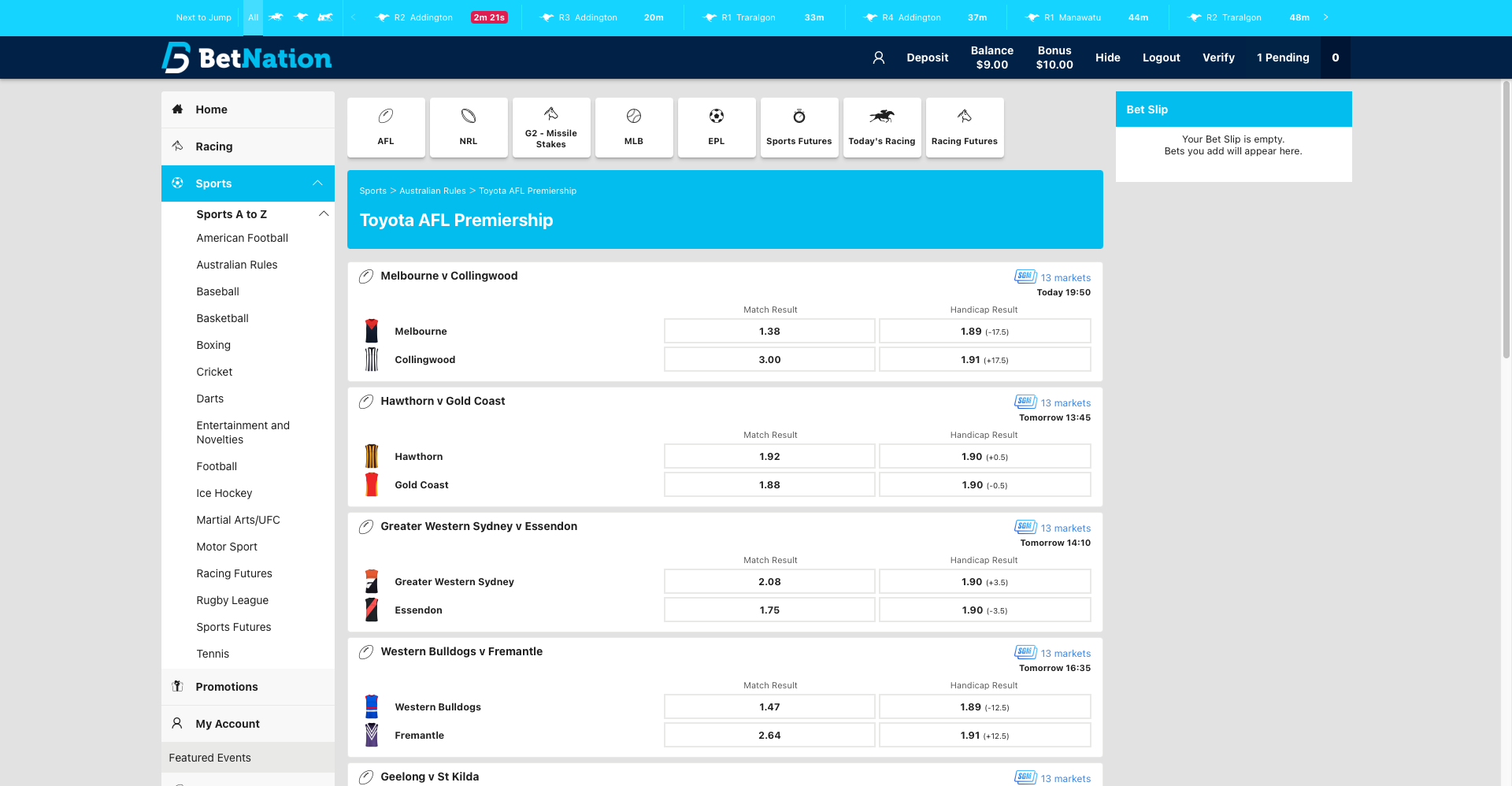 The white on grey layout is very easy on the eye and makes the Same Game Multi buttons stand out clearly for the games the SGM markets are available for, not to beat around the bush I randomly chose a game and jumped into the same game multi option to see what was available.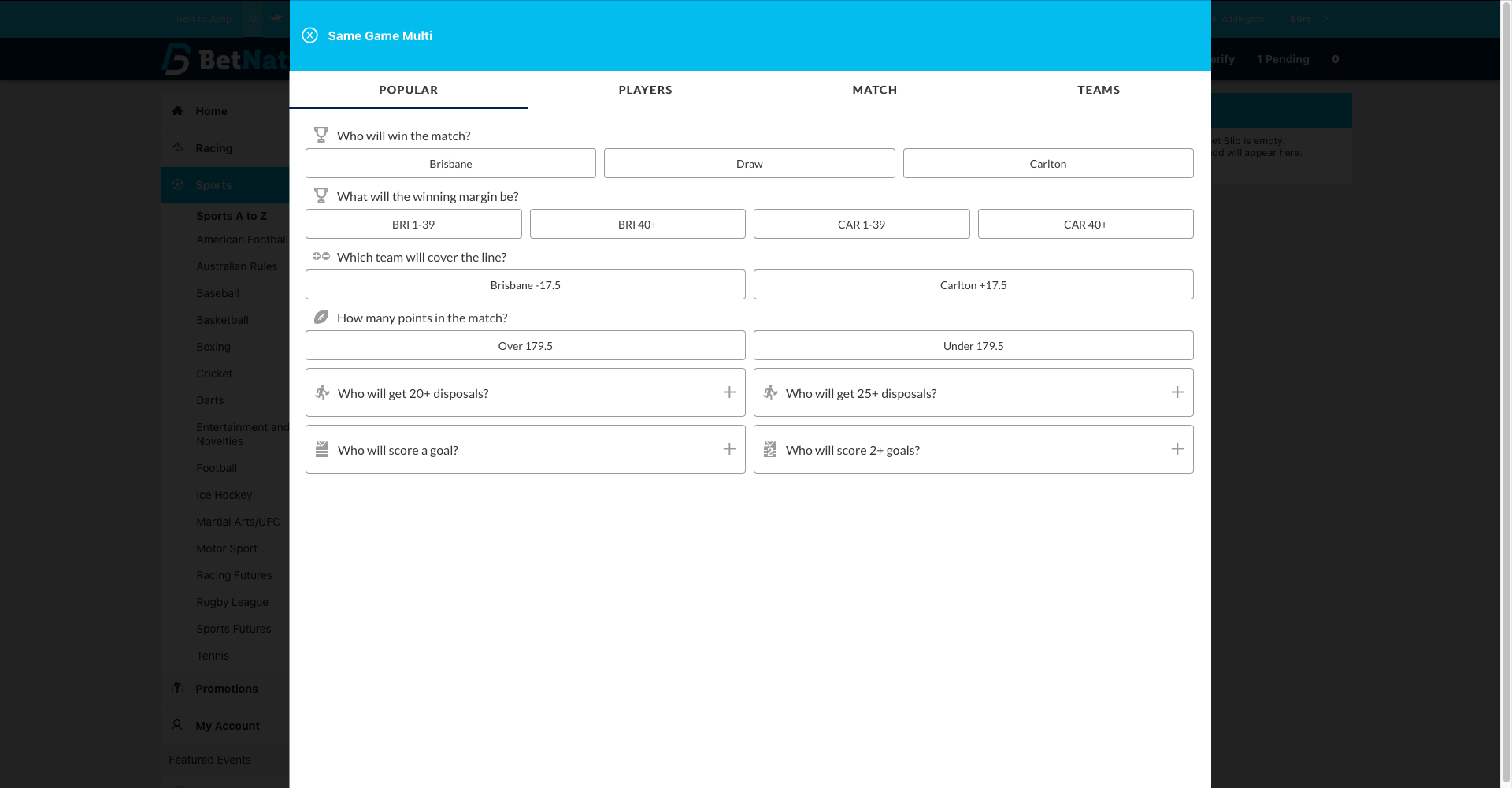 This seems to be a newer style of Same Game Multis available on some of the newer betting sites today, I don't mind the way it makes everything so accessible but I'm a little bit old school and prefer the older style… not to say I don't like it, I just take preference for the way some other sites array their SGMs.
I popped in some bets, and once I was satisfied I clicked the "Place a bet" button, once again whacked a dollar on, and as simple as that my bet was in the system.
Before we forget, we need to verify our account to withdraw funds, so let's quickly hop in and see how difficult it is.
Verifying your account
Located in the top menu, you will find a "VERIFY" button.
Simply click it to begin the verification process.
Once inside you can choose a number of different ways to verify your identity, I chose to use my license as that is the fastest and easiest method, from here I simply filled out my details, ticked the box down the bottom, then clicked the green "verify these details" button.
From there I was met by a friendly little box to let me know my identity had been verified and I would no longer need to worry about taking care of it anymore.

All signed up and good to go!
Verdict
Overall it was quite a good experience using Bet Nation, now that I am signed up I will continue to use them and take advantage of their promotions.
100% worth a look, I have already told my friends to add it to their betting arsenal as I believe they will only go from strength to strength.
Bet Nation Review 2022
Bet Nation Highlights
Bet Nation has stepped into the ring with full guns blazing, with so many features to choose from for a brand new betting site is difficult to pinpoint what could be considered as highlights.
What we do consider highlights for Bet Nation is that they have Same Game Multis and Same Race Multis both available, a very user-friendly app, consistent promotions, and of course the trending bets that customers are able to copy and use at their own discretion.
What We Don't Like
For a new betting site, Bet Nation is superior to so many other bookies in the market today, there are a few things that seem to be missing at the moment though such as Live streaming, limited withdrawal options, and a smaller number of same game multi markets than the major competitors.
Bet Nation Deposits and Withdrawals
Just like the big players in the betting industry Bet Nation has a variety of banking options for depositing and withdrawing your funds which you can check out in the section below.
Bet Nation Deposits
Depositing funds into your Bet Nation account is a pretty straightforward process that takes no time at all, there are multiple depositing options available as listed below.
Deposit type:
Visa
Mastercard
POLi
Bank Transfer
Minimum Deposit
The minimum deposit available for Bet Nation is $10.00
Bet Nation Withdrawals
At this point in time the withdrawal options for Bet Nation are extremely limited, though it is not the end of the world it would be great to see a variety of options to withdraw funds.
Withdrawal Type
Minimum Withdrawal
The minimum withdrawal for Bet Nation is $20.00
Maximum Withdrawal
The maximum withdrawal amount for Bet Nation is $200,000
Bet Nation Minimum Bet
The minimum bet for both Racing and Sports at Bet Nation is $0.50.
Bet Nation Betting Markets
For a new betting site there are quite a few betting markets available, all the standard options that the big bookies have are all there such as head-to-head, first goal scorer, highest scoring half etc. as well as some of the more obscure betting markets that we did not expect to see.
Bet Nation Sports
Bet Nation has a huge range of sports at their disposal which Bet Nation customers can place a bet on at any given time, honestly we were a little blown away at how many sports they do actually have in their list as you can see below.
Sports available
American Football (Canadian Football League, NFL Hall of Fame) (NFL), Australian rules (Toyota AFL Premiership Cup) South Australian National Football League), Baseball (Major League Baseball) (Nippon Professional Baseball) (Korean Baseball Organization) (Triple-A East) (Triple-A West) (Mexican Baseball League), Basketball (Australian NBL 1 East) (International Friendlies) (New Zealand NBL) (Australia NBL1 North Women) (Australia NBL1 North) (Australia NBL1 Women) (Australia NBL1) (Australia NBL1 Central) (Australia NBL1 West Women) (Australia NBL1 West), Boxing, Cricket (Twenty20 Internationals) (LG ICC ODI Championship), Darts (Modus Icons of Darts Live League), Entertainment and Novelties (Triple J Hottest 100) (74th Emmy Awards) (Big Brother 24), Football (Scotiabank CONCACAF League) (Czech Republic Second Division) (M:tel Premier League) (Argentina Torneo Federal A) (England Premier League) (Germany 1. Bundesliga) (Serie A) (MLS) (Sky Bet League 1) (Copa Sudamericana) (UEFA Champions League Qualification) (Sky Bet Championship) (Ligue 1 Uber Eats) (Ecuador Banco Pichincha Serie B) (Carabao Cup) (Serie B) (Copa Bridgestone Libertadores de America) (Chinese League One) (Primera Nacional) (Liga Promerica) (Fortuna Liga) (Serie C) (Liga NOS) (2.Bundesliga) (Korea Republic K-League 1) (Liga Pro) (Sky Bet League 2) (Efbet Liga) (Argentina Primera D Metropolitana) (Tipico Bundesliga) (Juliper Pro League) (NordicBet Ligaen) (Austria Regionalliga West Vorarlberg) (3F Superliga) (Hrvatski Telekom Prva Liga) (Egypt Vodafone Premier League) (Primera Division B) (Brazil Catarinense Serie B) (Primera B Metropolitana), Ice Hockey (Champions Hockey League) (SHL), Martial Arts/UFC (Ultimate Fighting Championship), Motor Sport (Moto Grand Prix Road Racing World Championship) (Supercars Championship) (FIA World Rally Championship) (FIA Formula One World Championship) (NASCAR Sprint Cup Series) (NASCAR Xfinity Series), Racing Futures (VRC Oaks) (The Invitation)(Manikato Stakes)(Thousand Guineas)(Caulfield Guineas)(Turnbull Stakes)(Flight Stakes)(Underwood Stakes)(Moir Stakes)(Sir Rupert Clarke Stakes)(George Main Stakes)(Makybe Diva Stakes)(Memsie Stakes)(Winx Stakes)(Ebor Handicap)(Breeders Cup Mile)(Breeders Cup Fillies Mares Turf)(Champion Stakes)(Coolmore Stud Stakes)(Golden Rose)(Caulfield Cup)(The Kosciuszko), Rugby League (Telstra Premiership) (Betfred Super League), Sports Futures (AFL Futures)(NRL Futures)(Soccer Futures)(Cricket Futures)(NFL Futures), Tennis (Serena Wines Tennis Cup 1881) (Svijany Open) (Serena Wines Tennis Cup 1881 Doubles) (Svijany Open Doubles).
Sports Futures
Bet Nation has a number of sports futures available for their customers to place a bet on including AFL Futures, NRL Futures, Soccer Futures, Cricket Futures, NFL Futures.
Bet Nation Novelty Bets
Bet Nation has a variety of Entertainment and Novelty Bets available to their customers such as the Triple J Hottest 100, 74th Emmy Awards, and Big Brother 24.
Bet Nation Racing
Bet Nation has access to all gallops, greys, and harness races in Australia including many international races as well, one of the best parts of the racing section of the betting site is that customers are able to select which type of racing they are interested in which really helps make it easier to navigate the vast amount of races available.
Racing futures
VRC Oaks
The Invitation
Manikato Stakes
Thousand Guineas
Caulfield Guineas
Turnbull Stakes
Flight Stakes
Underwood Stakes
Moir Stakes
Sir Rupert Clarke Stakes
George Main Stakes
Makybe Diva Stakes
Memsie Stakes
Winx Stakes
Ebor Handicap
Breeders Cup Mile
Breeders Cup Fillies Mares Turf
Champion Stakes
Coolmore Stud Stakes
Golden Rose
Caulfield Cup
The Kosciuszko
Bet Nation Promotions
Bet Nation has a surprisingly decent amount of promotions available to clients to view once they have signed up, the promotions are in line with what the other bigger betting agencies are also promoting such as
Bonus bets if your dog runs second
Bonus bets if your horse runs 2nd-10th
Run 2nd or 3rd on Saturdays
Protest Payout – Every Australian gallops gets paid as a winner up to $2500 if it wins but is relegated due to protest.
Bet Nation Contact and Customer Service
Like most betting agencies these days Bet Nation has opted to minimalise and streamline their contact and customer service options as we move forward with technology, currently, Bet Nation has both Email and Phone available to their customers if you wish to contact them.
Email: support@betnation.com.au
Phone: 03 7005 5842
Customer Service Hours:
8AM-10PM Sunday – Thursday
8AM – 12AM Friday – Saturday